This post may contain affiliate links.
When looking to buy a travel drone you'll soon realise that there are numerous choices ranging from $50 through to $2500. Obviously drones vary in quality and performance. Cheap drones are more like toys and maybe won't give travel photography results you could use professionally, on a travel blog or Instagram account. Likewise you may not need to get the full professional $2500 drone if you're not a professional photographer looking to sell your footage or use it for commercial purposes. We found that we needed to spend around $1000 to get a drone that would do what we wanted in terms of great photography and videography, was easy to operate and safe to fly. We look at choosing the best travel drone and explain why we chose the drone we own. We're happy with it, we've travelled with it in Australia and Asia. So is a drone for you?
All information on this page is personal opinion and intended as a guide only. You must check latest specifications, prices and models for yourself.
Best Travel Drone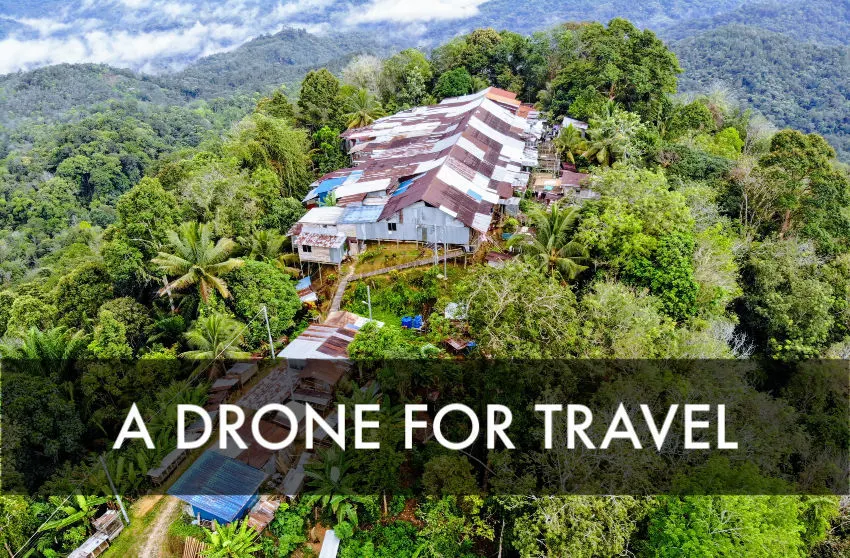 We own a drone which as travel bloggers we carry with us around the world. In this post, we talk about the process of choosing the best travel drone to suit our purposes and detail our experiences in using and travelling with a drone. Our drone pilot here at World Travel Family is just 14 years old and he's got some great results with our drone already, they're not gererally hard to use but they are expensive and a big commitment to travel with.
The DJI Mavic Drones and Why You May Need One.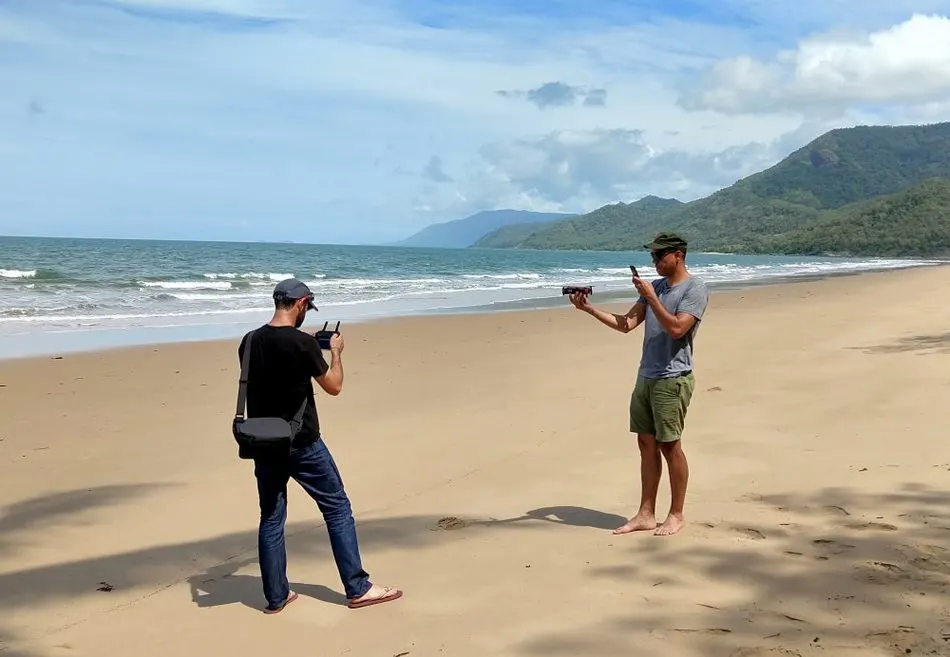 Often seen as the lead in the recreational but serious drone market DJI are based out of China and have a large range of drones that will suit many needs. Their range starts at the Mavic Spark entry-level drone and goes up to the Phantom and Inspire range of Professional level drones.
Drones open up a whole new range of photo opportunities that previously the average amateur photographer wouldn't have been able to capture. Think photos from above looking down at beaches, reefs and rainforests. Hard to reach places such as canyons and dense jungle can now all be photographed and filmed. Look-outs were strictly for looking out from. Drones allow you to get that photo and footage looking back at yourself and others.
Even non-travel related professions can benefit. Builders can survey roofs and other hard to get to places quickly, and easily. DJI have even made drones for mining which can potentially save lives in dangerous situations. Real estate drone photography is big business so owning a drone could open doors for you.
Investing in a good quality drone means you don't need to spend hours learning how to fly and take pictures. Most will be simple to fly and will do most of the flying for you, including return to home programs that are virtually pretty dummy-proof. Your drone, used properly, will return to the take-off point at the press of a button.
Videography is greatly enhanced by 3 axis gimbals making your footage stable, clear and crisp.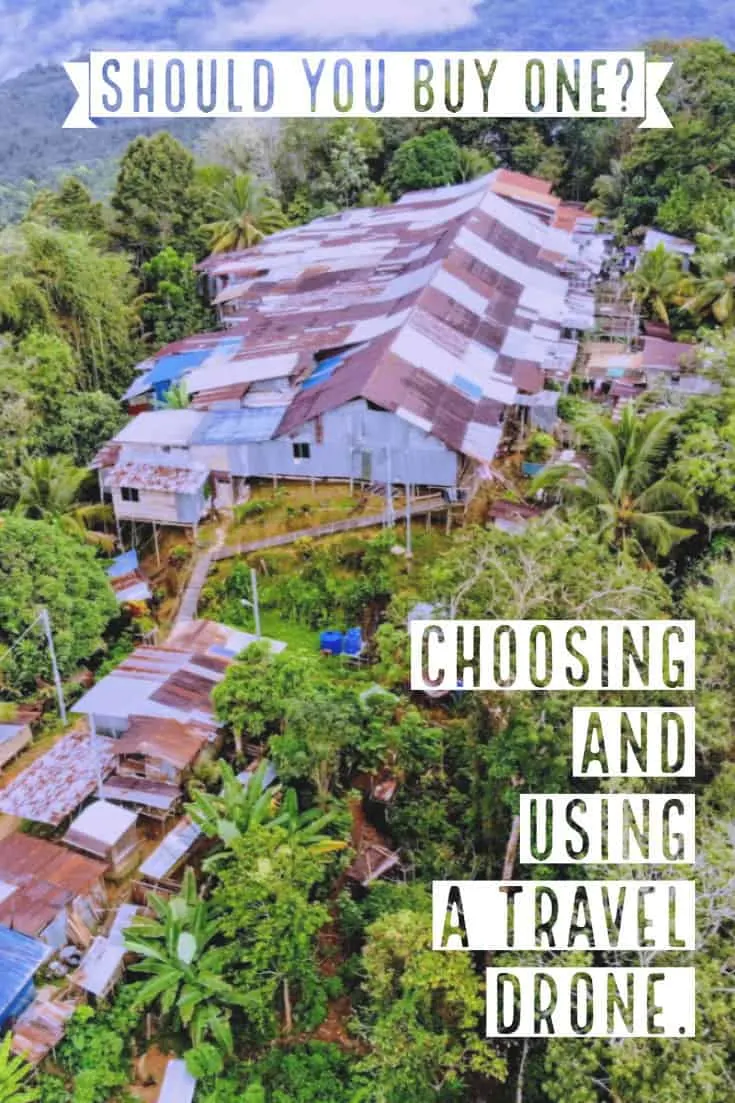 Real Drone Vs Toy Drones
There are certain points and features that separate toy drones with real drones. These are the main ones that make or break it for me.
Flying Quality
Cheap drones may not be able to handle high or even moderate winds. This could make both flying and landing the drone difficult and getting crisp sharp footage might be hard.
With DJI's Mavic range of drones if you take your hands off the controller it will just hover where it is and not move regardless of the wind (up to a certain limit and when following instructions). This is especially important if you want to change the settings or angle of the camera for various photos.
Return to home is a pretty much vital feature. At the push of a button, your drone can fly directly back to where you launched and land within a foot of its take-off point. Your drone uses GPS to do this. This means that if you lose sight of your drone or don't think you can manage to bring it back yourself, you should be OK if you've mastered the settings.
Camera Quality and Multi Gimbal Axis
Real drones will have a 2 or 3 axis gimbal with a genuine high-quality camera. There is no point in getting your camera in a position to get great footage if it then isn't good enough to capture it. You may not use 4k but you want that available if you decided you need it later.
Steady, wobble-free, footage is important. Nobody likes watching jerky movies or blurry photos. A 2, preferably 3 point gimbal is a must and comes with nearly all good quality drones. The DJI Mavic Spark, the entry-level drone, has 2, others have 3. This means that even in high winds and full-motion you shouldl have stutter-free footage to use.
Flight Time
Very few drones fly for long periods of time. Simply put, the bigger the battery the heavier the drone which self limits the flight time. 20 minutes is a good flight time to get out of one battery (you'll want to have a few batteries on hand regardless of your drone). This period includes taking off and landing.
Normally DJI Mavic drones will start 'flying home' after the battery dips below 30% to make sure you don't lose your drone. At 8% the Mavic Air will attempt to land where it is. Some of the Phantom drones will get up to 30 minutes of flight time which is brilliant. Any drone that gets less than 12 minutes I wouldn't bother with as you simply don't have enough time once up in the air to get the footage you want.
Controller quality
Controlling both the drone's flight and the way pictures are taken is perhaps the most important thing. You want to be able to see what is happening with not just the camera but also the drone. DJI have made this easy by giving you a controller that will allow you to connect either a smartphone or tablet to the main controller or even just control the drone directly from your mobile device.
With a smartphone connected to the controller you have the best of both worlds. Your phone is linked to the camera so you see exactly what the drone sees and captures. Flight information such as height, distance and speed are also clearly displayed on the phone.
The controller has toggles for control of both the drone and the camera which makes control seamless. You can even change and adjust the camera's settings while in flight via the menu.
If the drone you're looking at doesn't include this level of controller quality or just has a small screen on the controller instead of broadcasting to your phone you may struggle to get great footage and even control your drone in flight. Good controllers will also make sure that your phone is connected via USB to avoid any drop-outs. The last thing you want is an airborne drone and no way of controlling it.
What to Expect and Demand From a Drone
Most of the following points will rule out buying a cheap toy drone but will give you a great piece of kit that will last a long time and give you great footage to use for websites and or social media.
Complete Package with Included Extras
DJI sell both the drones as a separate unit and as part of a package called Fly More. Fly More is a must for me as you get 3 batteries instead of 1, spare blades, carry case and numerous cables that you'll need plus a charging hub that will charge up to 4 batteries at once. You need at least 2 batteries to get some great footage and with only 21 minutes flight time per battery, I've often used all 3 in one day. If you need to buy a load of accessories separately then this might add up to a whole lot more than that original 'cheaper' drone that you first spotted.
Spare Parts Availability and Affordability
Make sure that you can get spare parts for your drone. If you can't replace the rotor blades then as soon as one is damaged your drone is worthless. Be sure that they are affordable and easy enough to get hold of as parts can go missing and things do break. Batteries will also wear out over time and may need replacing.
After Sales Support and Warranty Reliability
After-market support is important especially if things go wrong or you need to contact the company for any reason including warranty and spare parts. The cheaper end of the drone market won't have great back up service and quite often, while they may be made in China like the DJI range, they will be sold through a less than helpful retailer in your country. DJI have everything from product support right through to repairs and servicing and everything is available on their website directly. While we haven't needed to use it yet the 1-year standard warranty seems to be something you could rely on world-wide which would be perfect for travellers that aren't stationary in one place.
With the actual drone itself the more you spend and the better the drone the more features it will have built-in. These features may seem like marketing but in most cases will come in useful at one time or another.
Return to Home and Assisted Landing
Return to home is probably the biggest feature that you will rely on. It does exactly what it says and makes the drone return to home at the press of a button using GPS settings from the take-off point. This is invaluable if you can't see the drone or can't land it yourself for whatever reason. A slight variation is assisted landing, this will land the drone for you and shut down the engines. The DJI Mavic Air asks you to slide a button on the screen before it will descend from hovering at 1.2 m. This is perfect if you are on a boat that is moving on its moorings, as we have been many times.
GPS Enabled
GPS enabled and follow me modes are two features that I think are something every drone should have. GPS is critical in terms of flying the drone, knowing exactly where it is and getting it home safely. Return to home won't work unless you have GPS as this is what it uses.
Follow me is a great feature allowing the drone to lock onto a subject such as yourself and follow at a specified distance. Great if you want aerial shots of walking, kayaking, cycling or running. This negates the need to be facing and controlling the drone with your phone and or controller.
Obstacle Avoidance
Obstacle avoidance is another top-end feature that could save your drone from things you may not see if it is a long way away. Using multiple sensors, these drones will either go around the obstacle or stop and allow you to steer around the obstacle. This also helps with landing and bringing the drone in to land where the landing zone isn't in the middle of a big open area. This is very handy when flying from boats of between trees. Just be careful as in 'sports' mode the OA is normally deactivated and won't work. Also with forced landings, it is deactivated.
Drone Range and Flight Distance
Not all drones will go as far as others. Range is a big part of selecting a drone and while the cheap toy drones may go a few hundred meters the DJI Phantom will go up to 7 km (4.3 Miles) which is a considerable distance. This will be greatly reduced in built up areas and with radio interference so expect up to half the distance for good control. It is worth noting that a lot of countries state that your drone must be in visual sight at all times and there is no way that you'll see a Phantom from 7 km away. But what you will have is a very strong signal between your drone and controller.
Foldable Drone and Size of Drone When Not Flying
Foldable drones that don't compromise on quality. Only a few on the market are like this but they are worth paying for. The Mavic Air fits inside a handy little case and doesn't weigh much at all. Perfect for travelling. If you don't intend to travel much with your drone then this wouldn't be as important.
We've now flown multiple times with the drone as carry-on luggage, we carry the Mavic Air in its case in a jacket pocket so that it doesn't even eat into our weight allowance. That's one of our best tips for travelling with a drone!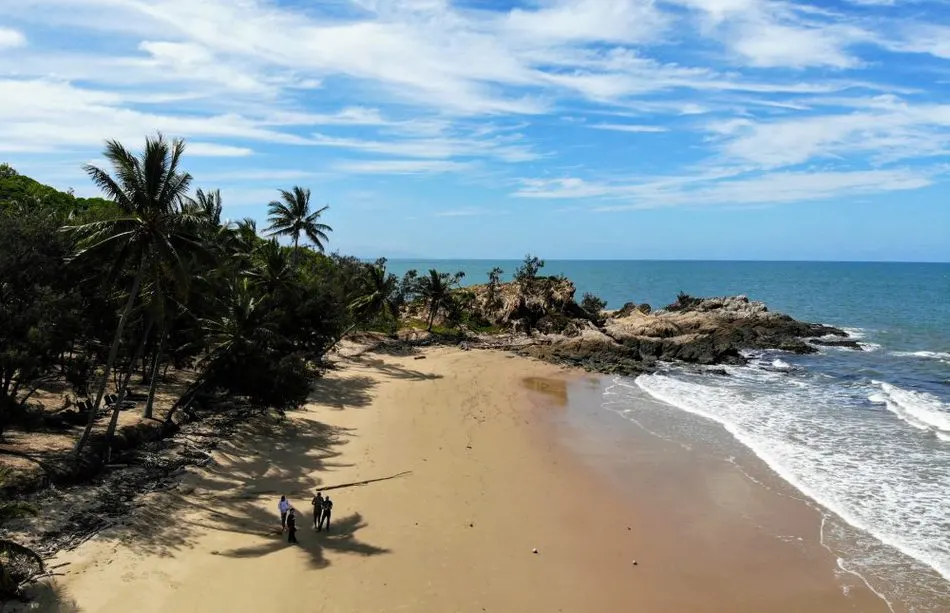 My Top 4 Drones, DJI Mavic Spark, DJI Mavic Air DJI Mavic 2 Zoom and DJI Mavic 2 Pro
I've put this list together from smallest drone to the largest drone. I've also included all as a Fly More packet as you'll realistically need this to get the most from your drone. For me, DJI leads the field and while there are other manufacturers, the DJI Mavic range is my choice. Please check all specifications and what is included and not included for yourself, things do change over time. We give you the links so that you can check.
DJI Mavic Spark
Faceaware allows DJI Spark to lift off from your hand by recognizing your face

Take photos just by using hand gestures without mobile or remote

Intelligent flight modes allow you to take creative pictures and videos quickly and easily
16 minutes flight time with speeds of up to 50 km p/h
Return to home feature and fly smarter which alerts you to any no-fly zones nearby
12 mp camera with 1/2.3″ CMOS sensor
Lens FOV 81.9° 25 mm (35 mm format equivalent) f/2.6 (shooting range: 2 m to ∞)
Enhanced awareness to avoid crashing and flying into obstacles
2 axis gimble

DJI SPARK Drone with flymore pack usually includes Remote Controller, Propeller Guard, 3 pairs of spare propeller blades, Charger, Power Cable, Battery Charging Hub Extra Batteries, Bag, Custom Hard Case, 64 gb or 32 gb High Speed Memory Card 1-Year worldwide Warranty and support directly with DJI
DJI Mavic Air – Our Choice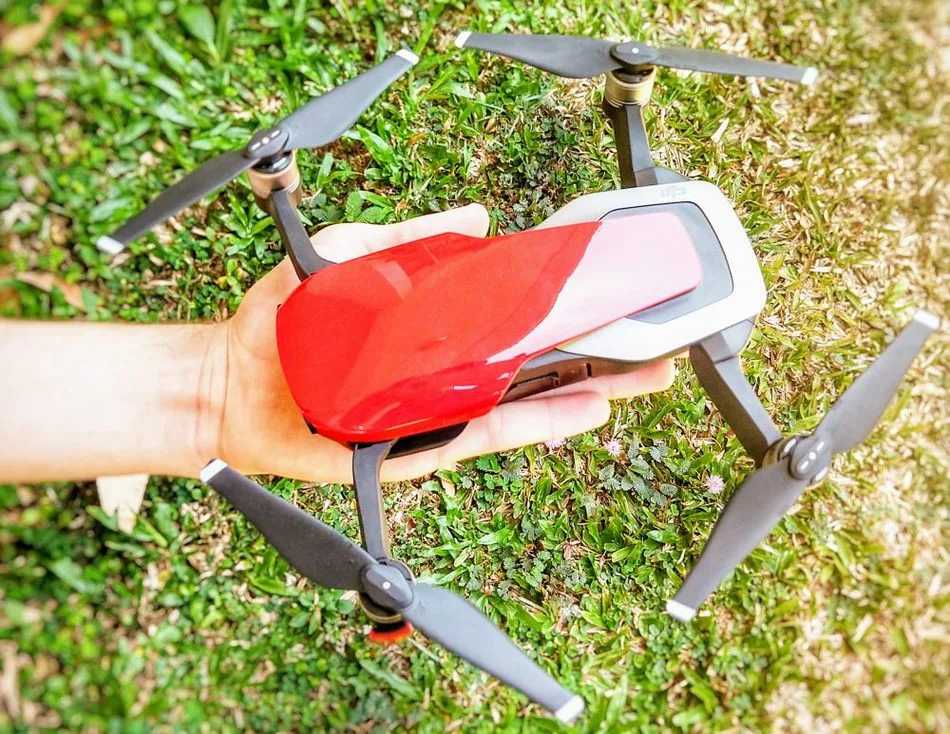 See the DJI Mavic Air here. This is the drone we decided to buy after a lot of research. Always check exactly what is included in the fly more bundles and check current model specifications. We give you an idea below.
Mavic Air fly more package should include 3 Intelligent Flight Batteries, Shoulder Bag, Charging Hub,Gimbal Protector, Remote Controller, 3x Propellers (Pair), Battery Charger, Power Cable, Communication Cable (USB3.0 Type-C), USB Adapter, Spare Control Sticks (Pair), RC Cable (Lightning connector), RC Cable (Standard Micro USB connector), RC Cable (USB Type-C connector) This is the standard fly more package for all 4 Mavic Drones and if you were to buy everything separately it would cost significantly more. Unfortunately, you really do need to have all of the extras especially the batteries if you want to be out for the whole day.

Maximum flight time up to 21 minutes with speeds of up to 42mph (68 kph) in sports mode

32MP Sphere Panoramas

Foldable & Portable with specifically designed carry case

3-Axis Gimbal with a 4K Camera FOV: 85° 35 mm Format Equivalent: 24 mm
Aperture: f/2.8 Shooting Range: 0.5 m to ∞

3-Directional Environment Sensing

8 gb internal storage as well as SD card slot up to 128 gb

SmartCapture allows you to control the Air with your hands

Active track allows you to lock the drone onto yourself or another target and it will follow it without need of the remote control

Quickshot is a selection of preset programs that take great shots at the press of a button
DJI Mavic 2 Zoom
See the DJI Mavic 2 Zoom Here Zoom cameras are this drone's super power. Basic specifications are below, please be sure to double check what's included in your model and bundle.
1/2.3 inch CMOS 12MP sensor with up to four-times zoom, including a two-times optical zoom (24 – 48mm). Dolly zoom. This is, as the name suggests what differs to the Mavic 2 Pro

31 minutes flight time with 44 mph (72 kmph) max speed

low noise propellers, 3-axis gimbal for steady shots

8 gb internal storage with SD card support up to 128 gb

Omnidirectional Obstacle Sensing and return to home capabilities

ActiveTrack 2.0

Hyperlapse and Low-Noise Design which is great for filming

HDR Photos

Mavic 2 Zoom fly more package includes 3 Intelligent Flight Batteries, Shoulder Bag, Charging Hub,Gimbal Protector, Remote Controller, 3x Propellers (Pair), Battery Charger, Power Cable, Communication Cable (USB3.0 Type-C), USB Adapter, Spare Control Sticks (Pair), RC Cable (Lightning connector), RC Cable (Standard Micro USB connector), RC Cable (USB Type-C connector) This is the standard fly more package for all 4 Mavic Drones and if you were to buy everything separately it would cost significantly more. Unfortunately, you really do need to have all of the extras especially the batteries if you want to be out for the whole day.
DJI Mavic 2 Pro
Specifications on the new Mavic Pro 2 ( please always check what's included in bundles and your model's specifications, things do change)
Latest Flagship Drone

Powered by Hasselblad L1D-20C Camera provided Ultra-Image Quality

20 MP 1 inch CMOS Sensor and Adjustable Aperture of f/2.8-f/11 which is reportedly 4x more effective than the original Mavic Pro

10 bit HRD Video

Longest flight time of consumer drone of up to 31 minutes flight time, 44 mph (72 kmph) max speed, low noise propellers,

3-axis gimbal for steady shots even when moving in wind

8GB internal storage, , SD card support up to 128GB

Omnidirectional Obstacle Sensing meaning the Mavic 2 can plan a flight path on its 3D map. It will read, recognize, and avoid obstacles in front of and behind the aircraft automatically

More Functionality than previous drones including ActiveTrack 2.0, Dolly Zoom, Hyperlapse, Low-Noise Design, HDR Photos

Mavic 2 Zoom fly more package includes 3 Intelligent Flight Batteries, Shoulder Bag, Charging Hub,Gimbal Protector, Remote Controller, 3x Propellers (Pair), Battery Charger, Power Cable, Communication Cable (USB3.0 Type-C), USB Adapter, Spare Control Sticks (Pair), RC Cable (Lightning connector), RC Cable (Standard Micro USB connector), RC Cable (USB Type-C connector) This is the standard fly more package for all 4 Mavic Drones and if you were to buy everything separately it would cost significantly more. Unfortunately you really do need to have all of the extras especially the batteries if you want to be out for the whole day.
In Conclusion
As technology moves forward the need to stay abreast also increases. Drones have moved from a rare expensive toy to being another useful piece of kit that professionals in a variety of fields need. Not just travel bloggers but surveyors and even builders and tradesman that may want to check out a roof without physically getting up on it. Drones make this quick and easy.
I didn't buy into having a drone for a long time and part of the reason was the ever-increasing laws that are coming in surrounding drones of any size and for any use. Countries have different laws and requirements making drone flying a mine-field of what you can and can't do. Often it isn't clear exactly what requirements apply.
We were also hesitant about adding more weight to our already tight luggage allowance. As mentioned above, we've now travelled with the drone to Malaysia, Thailand, Indonesia and Australia, at no point has anyone even wanted to inspect the drone and we still made that 7 kg carry on baggage allowance easily.
I believe this has all changed significantly in the last few years. Both laws and drones have made huge improvements and continue to do so.
Law makers have now had time to get their head around what they will and won't allow. Australia has an online registry for commercial use making it easy to register and comply with the rules. Other countries are now putting up their rules on websites taking the guesswork out of what you can and can't do. If a country doesn't want you to use a drone and they are upfront and clear with this I don't mind. I just want to know definitively either way.
Drones themselves are now smaller and with increasing functionality. To fly a drone doesn't take a huge amount of skill and the technology does much more than it used to. If you buy a good quality drone the chances of crashing are now greatly reduced compare to 5 years ago.
The quality and variety of footage that drones offer is something I think you need if you're really serious about being a professional in a variety of industries. Not just the travel industry but so many other industries that would benefit from a whole new perspective. We're very happy with our choice of drone and are happy to recommend the Mavic Air as a solid travel drone for travel bloggers and photography enthusiasts. It's also one heck of a lot of fun to fly. Just check your local laws and fly smart.
If you'd like to hire a car during your stay, use this car rental comparison tool to find the best deal!

We also suggest you take a look at this company to get a quote for all kinds of the more tricky adventure or extended travel insurance.

Try Stayz / VRBO for an alternative way to find rentals on homes/apartments/condos in any country!