This post may contain affiliate links.
Stinger season Cairns, Port Douglas, the Great Barrier Reef area and the whole of Far North Queensland is something you need to be aware of. Insider knowledge on how to be safe, for you and your kids is essential. We live up here and work on the Great Barrier Reef, we can tell you about jellyfish safety, so read on.
Dates for Stinger Season vary, fixed dates don't really exist, but if you're heading to Queensland in the summertime or wet season, you'll probably be visiting during stinger season and you need to know where and when to swim safely, what to wear, where the stinger nets are, and how your Great Barrier Reef tour or trip will be affected.
All of the information you need about Stinger Season is on this page.
Book a Day Trip From Port Douglas, Palm Cove or Cairns, To Mossman Gorge, Daintree and Cape Tribulation, Here
Today – November 2023 the stinger nets are in use on Four Mile Beach, it is stinger season 2023. Stinger season will continue into 2024. Most reef boats have started handing out stinger suits and you should only swim in the stinger net at Four Mile Beach and the Cairns beaches. We are in Port Douglas and Cairns now, one of our team works on the reef, our site is updated with current, first-hand information as often as possible. Reef cruises, snorkelling and scuba trips operate throughout stinger season and are only cancelled in the event of extreme weather.
We can also give you ideas on local, safe, stunning freshwater swimming spots. No trip to the region is complete without visiting one of our jungle swimming holes
There are more creatures to consider in this part of the world, starting with saltwater crocodiles, you can read what life is like for us living with these prehistoric monsters or discover where to spot our crocs in the wild, I kinda love them.
It's not just the stingers, crocs, snakes and spiders that are out to get you, we also have a stinging tree, but seriously, don't worry! She'll be 'right, as they say in Australia.
We hope you enjoy your visit to our old home (we left to travel the world, long story, it wasn't because of the wildlife) and that you get the most out of Far North Queensland.
Stinger Season Information for Cairns, Port Douglas and Queensland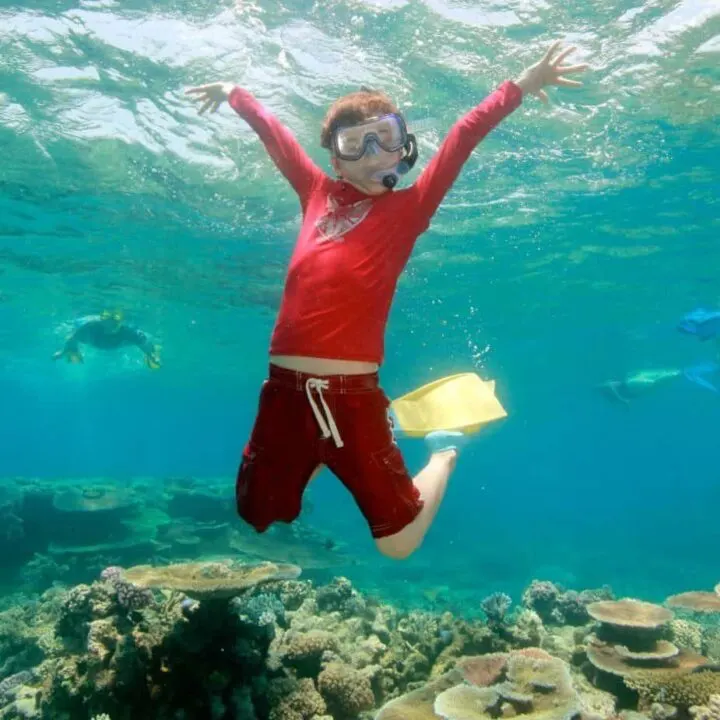 What you need to know about stinger season in Queensland Australia
Stinger season dates.
Where are the stinger nets?
How to stay safe in the nets and outside.
What to wear? Stinger suits and where to buy them.
Swimming pools nearby.
Is the reef safe in stinger season?
Where are the freshwater swimming holes?
Where are the crocodiles?
Stinger Season Video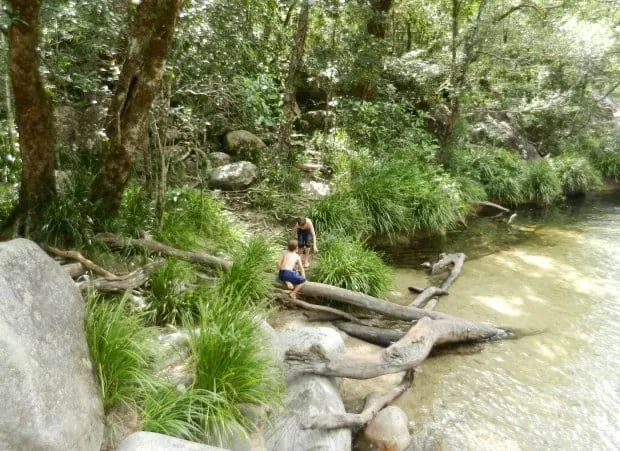 Marine Stingers and Dangerous Jellyfish in Queensland, What are They?
The two most dangerous jellyfish, the ones we worry about in stinger season, are the box jellyfish and Irukandji.
Stinger 1. Box Jellyfish
The most poisonous and deadly jellyfish in the world likes to hang out around Australia. The venom can kill in minutes and is the cause of an average 1 death per year in Australian waters.
There are more deaths in South East Asia, where stinger nets are rare. This jellyfish can get large, with tentacles stretching up to 3m behind it.
Stinger 2. Irukandji
The tiny Irukandji is the smallest member of the box jellyfish family, it takes its name from the Irukandje people of Northern Australia and measures around 5mm in diameter. Its tentacles can be up to 1m long.
Its tiny size is deceiving as its venom is incredibly strong. Death isn't inevitable, but Irukandji syndrome isn't a nice thing to have, symptoms include severe muscle cramps, intense back pain, vomiting, racing heart and a feeling of intense doom.
The Irukandji is the reason many of us wear stinger suits inside the nets, they can be tiny enough to pass through the mesh of the net.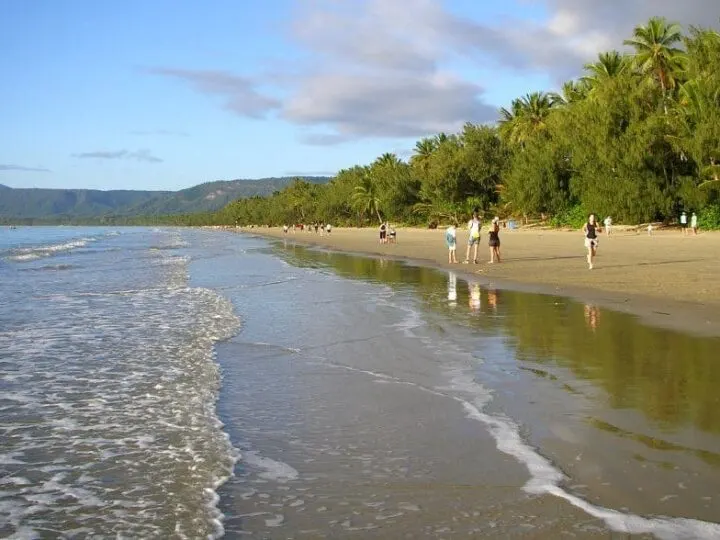 Stinger Season Cairns and Port Douglas Dates
If you're here just for the hard facts, Stinger season is roughly November to May, but there is more to the story than that.
In Port Douglas, down the road in Cairns and throughout Far North Queensland including the Whitsundays, Townsville and Hamilton Island, stinger season comes with summer.
Things get sticky and with the heat and humidity come the most dangerous jellyfish. We call them marine stingers. However, some jellyfish can be here all the time, we don't worry about them too much.
The occasional blue bottle, lonely jelly blubbers, and swarms of annoying sea lice visit from time to time, but they aren't a big problem. Summer is the real danger time, we call it stinger season or jellyfish season.
From around November, it isn't sensible to swim unprotected from Four Mile Beach or any of the Northern Beaches. Deadly box jellyfish and Irukandji can visit our waters and we should all use the stinger nets when swimming from the shore and a one-piece stinger or sunsuit becomes a very good idea. (See where to buy one below)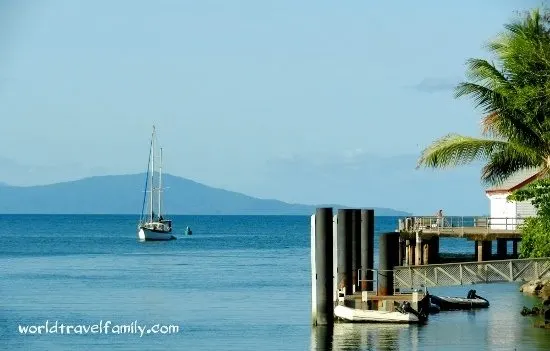 Is it Still Stinger Season Today in Port Douglas?
Today, – November 2023 – the stinger nets are on the beach in Port Douglas. It is stinger season.
There were beach closures due to rough weather in the last few weeks but there were people swimming on Four Mile Beach this week.
I keep this post as updated as possible and I'll post here when the stinger nets are on the beach, year-round.
Beach Closures During Stinger Season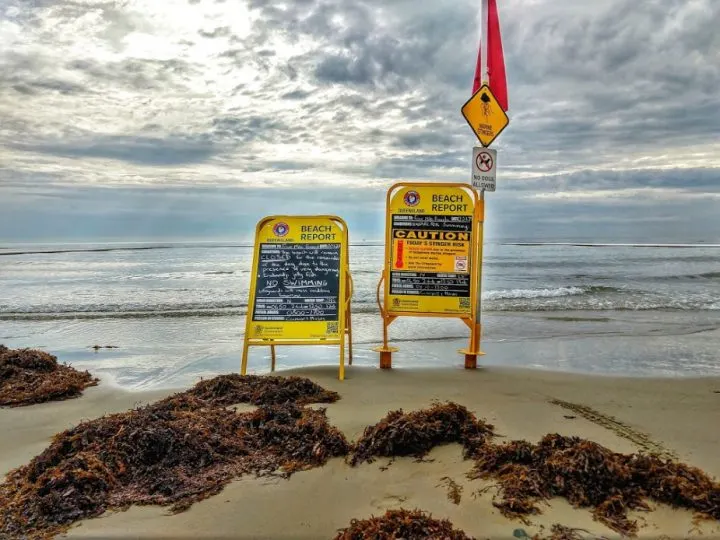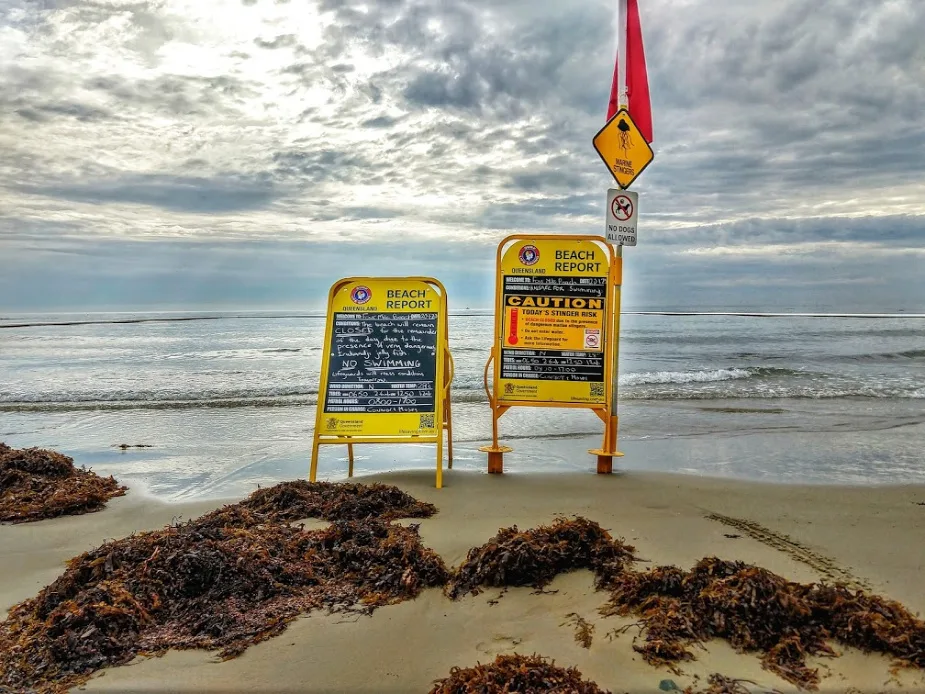 Sometimes during summer the stinger net on Four Mile Beach will be closed intermittently due to the presence of dangerous Irukandje small enough to pass through the net.
At other times during stinger season swimming and conditions are beautiful.
Beach closures during stinger season are fairly unusual. During the wet season, conditions can be very still, but stormy weather can also bring beach and stinger net closures.
The stinger nets are not fool proof, tiny jellyfish can easily get in if they are in the area and the lifeguards check the net often.
When is Stinger Season Around Tropical North Queensland Region?
The further north you go, the longer stinger season lasts.
The marine stingers enjoy warm water and hanging out in mangroves.
Exact dates vary, there is no fixed point but generally expect the season to run from November or December to March between Gladstone and Townsville, October to June in the far north.
While we've been living in FNQ the stinger season Port Douglas has generally lasted from November to May, Cairns will be the same.
The Stinger Nets Will be Out
Stinger season Port Douglas and Cairns stretches from around the first of November to May, the stinger nets will be in the water as soon as there is any possible danger.
The best times for swimming here, we think, are on the shoulders of stinger season, just before and just after the stinger nets go out.
The water is warm and can be crystal clear, you'll find us hitting the beach with the kids most days then.
Beaches With Stinger Nets Around Cairns and Port Douglas
There is a stinger net at the lifeguard station at the top end of Four Mile Beach, Port Douglas.
Tourists use it right through stinger season.
The net is occasionally closed in stormy weather.
You'll also find stinger nets at Palm Cove, Clifton Beach, Yorkey's Knob, Holloways Beach, Trinity Beach, Kewarra Beach and Ellis Beach, most beaches in the area.
How Will Stinger Season Affect Your Great Barrier Reef Trip?
Things are safer on the Great Barrier Reef, your chances of encountering stingers are very small, even in Stinger Season so don't worry too much about stinger danger on your day trip from Port Douglas.
All reef charter boats have head to toe Stinger Suits on board for snorkellers to hire or use. They're not elegant, but you need to wear one in stinger season.
It's a great idea to buy a suit for your kids to keep our fierce sun off their skin at the beach, along with the marine stingers.
This is perfectly normal in Australia, many kids wear them at any time of year.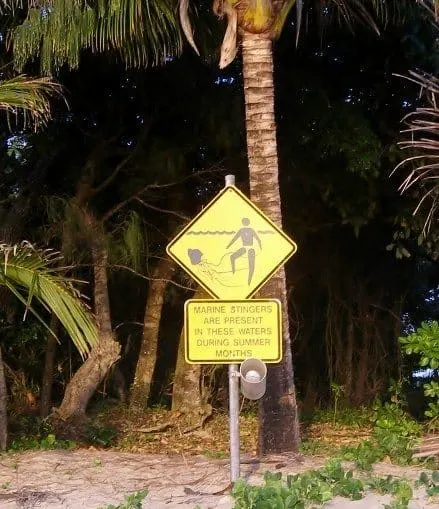 You'll sometimes see local children in full-body stinger suits, exposing only fingers and faces, inside the net.
Stinger nets are potentially not 100% effective, tiny jellyfish can still, possibly, pass through.
Don't be put off, you'll also see plenty of people in bikinis. The stinger suits serve a dual purpose, we also use them to protect our kids from the sun.
The lifeguards drag the net, usually every day, to check for any unwanted visitors. Look out for them, it's interesting to see all the small fish and invertebrates they catch. They're usually a friendly bunch.
Out on the reef the risk of marine stingers is even lower but most reef boats carry stinger suits to loan or hire to all passengers.
If you are snorkelling on The Great Barrier Reef you will be required to wear one in Stinger Season. Likewise, if you are learning to scuba dive, enjoying a trial dive, taking a liveaboard dive trip, or anything else that puts you in the water, you'll need a stinger suit.
Stinger suits are also a very good idea to protect your children from the harsh Queensland sun.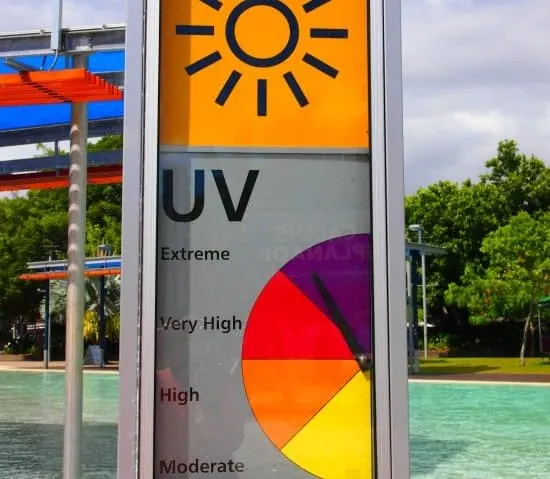 Buy a Stinger Suit Here
If you'd like to buy your own stinger suits to use on the beaches as well as on the reef, have a look here for kids' and adults' stinger suits and rash vests. (works for USA, UK and more).
If you're wanting to buy stinger suits in Australia try here.
Is it Safe to Swim in Stinger Season in Queensland Australia?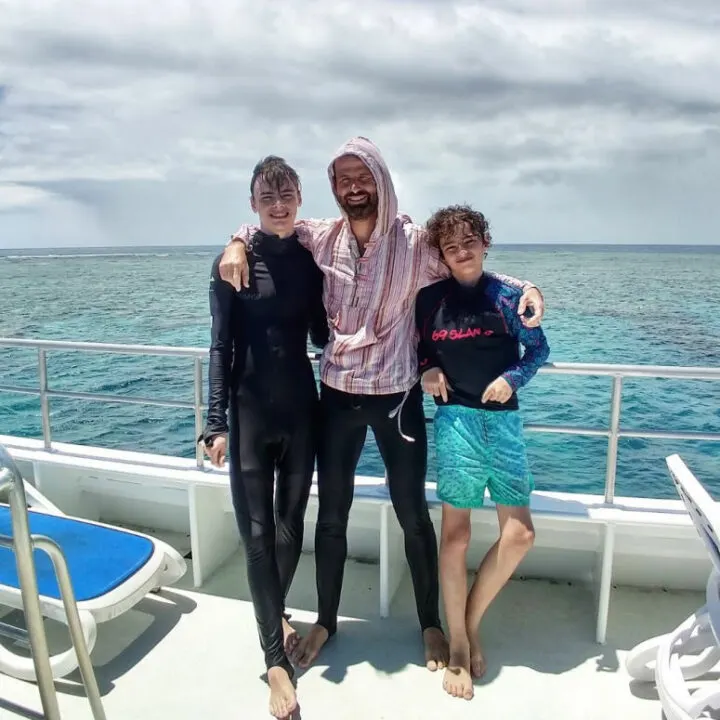 Thousands of visitors swim from Four Mile Beach all year round and problems are very rare. To be safe, take precautions:
Check the lifeguards' instructions on the boards, you'll find them on the beaches.
If the lifeguards say it's safe, only swim in the stinger nets.
Wear a stinger suit or as much body protection as you can, rashies and board shorts help.
Do not touch the nets themselves, stingers could be caught in the net.
For my family, we reduced our sea swimming in season, after all, we lived here all year round and could swim any time.
We continued to visit the reef or Low Isles and felt very safe. Stingers prefer to hang out near the coastal estuaries.
It's great to visit hotel pools, the Cairns Lagoon, or some of our natural, fresh-water swimming spots at this time of year, after all, there are plenty of other things to do in Cairns or Port Douglas.
Other Places to Swim Around Port Douglas and Cairns, Swimming Holes, Pools, and The Lagoon.
Safe Swimming Port Douglas

If you are staying at any of the Port Douglas hotels, chances are you will have a pool. But there are also nearby freshwater swimming spots to try.
Most places in Port, from campsites to hostels, have their own pools. Top-end Sea Temple (pictured above) has an outstandingly huge and luxurious pool with lagoons, rivers, a hot tub and bridges to swim under.
It's one of the biggest and best in the world and we would spend every Christmas there along with many locals. The pool at The Sheraton Grand Mirage is even bigger.
Hotels in Port Douglas With Stunning Pools
Hotels in Cairns With Good Pools
Novotel Cairns Oasis Resort Novotel are a great up-market chain of hotels and they do family and kids really well. We always expect high standards with Novotel.
Hotels in the Port Douglas and Cairns Area with Good Pools
Safe Swimming at Port Douglas in Stinger Season
There are some really lovely places to swim around Port Douglas, some of the hotels allow visitors to use their pools if they are buying food or drinks and Mossman Gorge (click here for rainforest swimming information) is just up the road, perfect for a cooling dip in an icy cold rainforest stream.
Swimming is now discouraged at Mossman Gorge and you may see "no swimming" signs depending on time of year. There have been deaths here, unfortunately.
Safe Swimming Cairns in Stinger Season
Cairns has one of the most amazing Lagoon pools in the world, and it's free.
There is also a small waterpark in Cairns, see this post on places to get wet in the area. There are a few natural rainforest swimming spots nearby, we particularly enjoy Crystal Cascades.
Fresh-water swimming in this part of the world is an experience you shouldn't miss.
Maybe stinger season isn't the best time to visit Port Douglas, but you'll find plenty of things to do in Port Douglas, safely and enjoyably at most times of the year.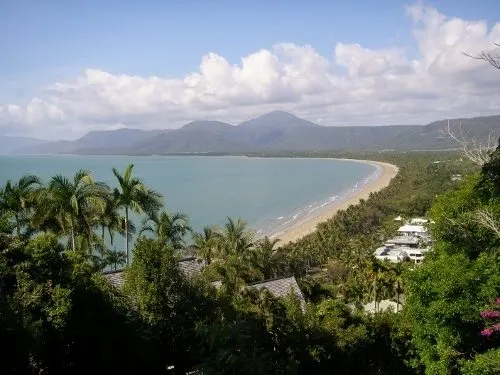 Stinger season is just one of the costs of living in the tropics, sharing our lives with deadly but fascinating creatures, crocodiles, snakes, and spiders.
It's always beautiful here in Port Douglas and the wildlife and scenery are stunning, all year round.
Four Mile Beach, our home, is beautiful, but once the dangerous jellyfish arrive and stinger season starts, just use a bit of common sense.
You have to make your own call, you should be fine inside the stinger net and you'll be safer still on the reef.
Just keep it in your mind and listen to the lifeguards, they drag the net every day to check for stingers.
They know the beach and know when the risk is high, they will tell you.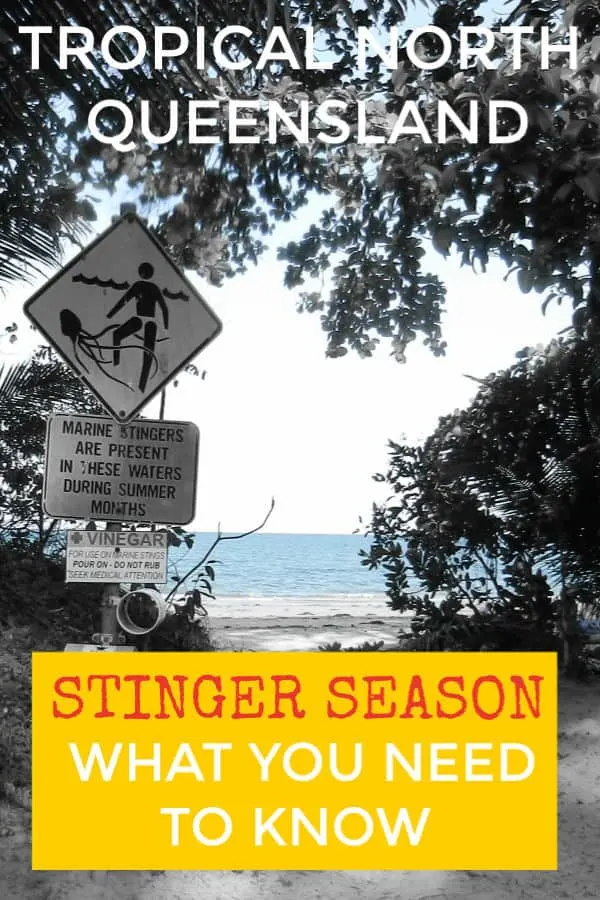 For Pinterest

Book a Day Trip From Port Douglas, Palm Cove or Cairns, To Mossman Gorge, Daintree and Cape Tribulation, Here
Thank you for visiting, this is one of the most popular and well-used pages on our website. Would you tell me in the comments how we can improve it and help you with Stinger Season or Far North Queensland even more? Have a great time! Want more information, try our Australia Travel Blog page.
If you'd like to hire a car during your stay, use this car rental comparison tool to find the best deal!

We also suggest you take a look at this company to get a quote for all kinds of the more tricky adventure or extended travel insurance.

Try Stayz / VRBO for an alternative way to find rentals on homes/apartments/condos in any country!