This post may contain affiliate links.
Yes, we have saltwater crocodiles in Queensland and yes, they can eat you. But mostly they don't, which is good. Taking a boat trip to go crocodile spotting in Port Douglas is a lovely way to spend a few hours, I've taken the children many times and they always enjoy it. Each trip is different so it's always a fresh experience.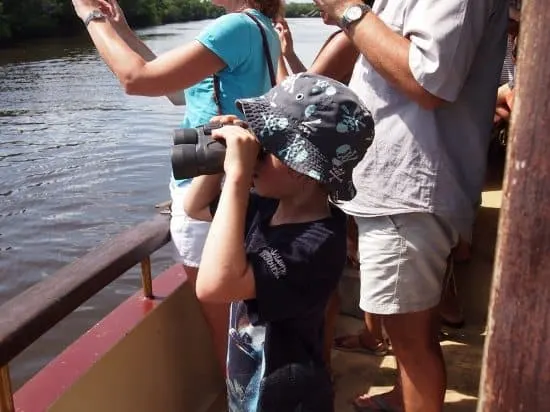 I've posted about living with crocodiles before, what it's like to share a home with them, today I wanted to give the Lady Douglas a special mention. The family that runs the Lady Douglas are passionate about wildlife and extremely knowledgeable about our crocs and this incredible part of the world. If you are visiting Port Douglas I highly recommended their river cruise. ( UPDATE: Lady Douglas has now changed hands and I don't know anything about the new owners as yet, the cruise may have changed.)
If you want to see Crocodiles, take a trip on the Lady Douglas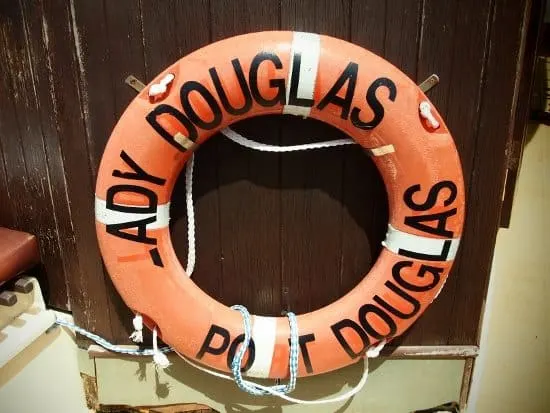 She's a beautiful boat, purpose-built for lazy cruises on Dickson's Inlet, she has plenty of shade and you can truly enjoy a comfortable ride, wine glass in hand. A complimentary glass of something was included in the price, along with snacks, their chocolate cake was yummy. There was an on-board toilet, that makes a big difference if you are travelling with children.
There is plenty to see on the inlet other than our resident crocs. The cruise takes you up Dickson's inlet through narrower and narrower waterways, deep into the mangrove forest to get a good look at the local wildlife. Everything from little mud-skippers and crabs to birds of prey.
There was a family of Brahminy kites ( red-backed sea eagle) that responded to a whistle from The Lady Douglas. They appeared from nowhere, swooping down effortlessly to take a fish.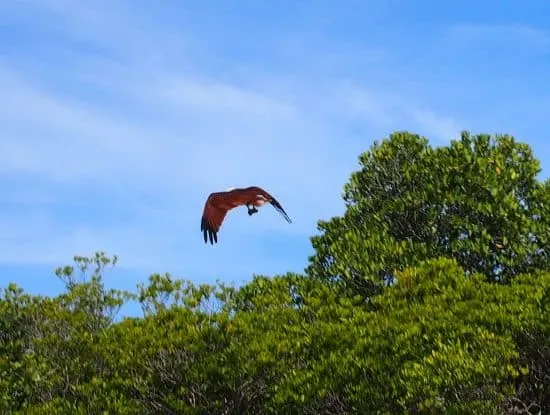 The commentary that goes with the trip is what made it for me, everything from local history to information on the boats you pass. This one below sank in cyclone Yasi and had been sitting there ever since. Boo insisted I take this picture. The kid loves a good shipwreck.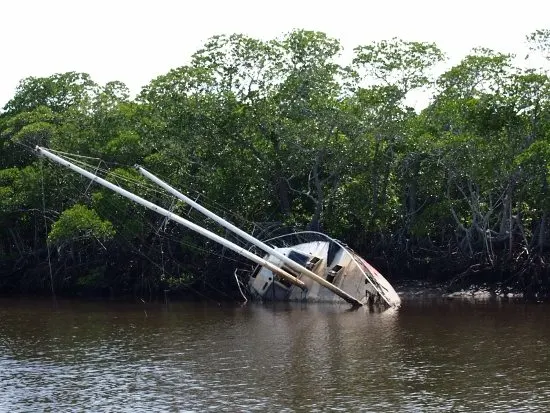 There is plenty of information on our crocodiles and their habits, the Lady Douglas crew seemed to know each one personally. This big male lurking in the mangroves was called Bandit, he got that label for raiding local fishermen's crab pots. This is mud crab territory, try them, they're delicious!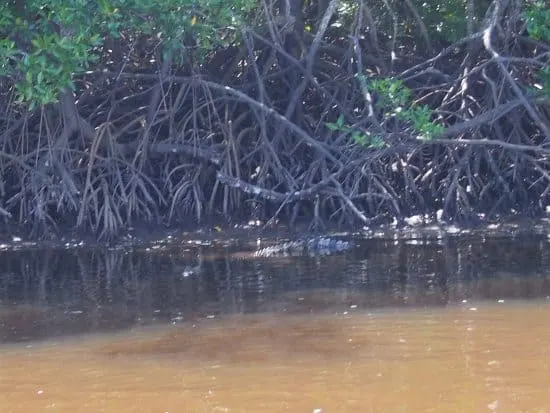 The scenery is spectacular, Port Douglas is backed by mountains. The dip in the middle of the range below is the Mossman Gorge, another local attraction.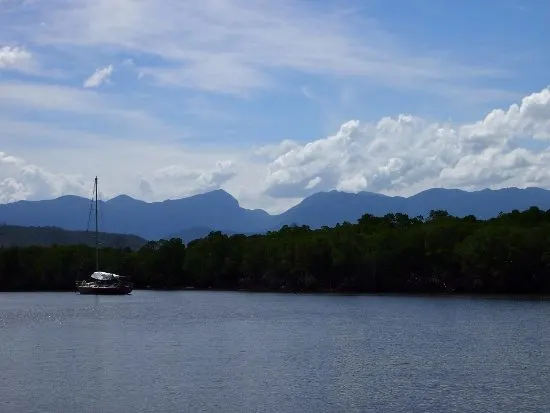 There was a special treat for the children towards the end of the cruise, this was always my boys' favourite part.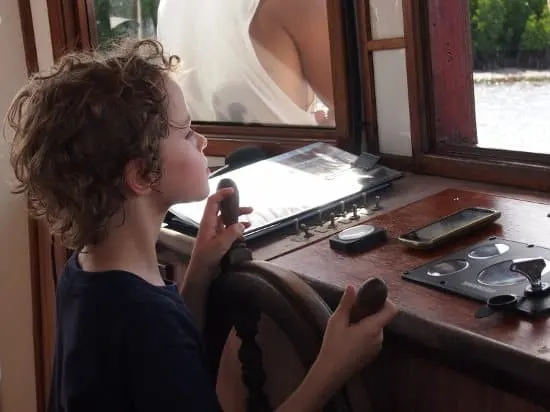 Wild Crocodile Spotting in Port Douglas
If you have a little bit of insider information you can probably spot a crocodile without a boat. You will see crocodile warning signs next to every piece of water in Port Douglas. If a crocodile is spotted and reported to the council a temporary " Recent crocodile sighting" sign will also be put out to make us all extra cautious. You've got a chance of seeing the croc in question if you see one of these signs, particularly on a lake. Please stay well away from the water's edge, metres away, 10m is suggested, crocs can move very, very fast. Ideally, stay in your car.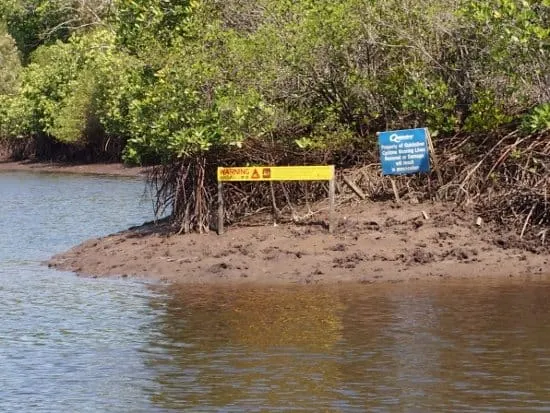 There were resident crocs in the lakes of the Sea Temple and Sheraton golf courses. Golfers see them often. A dog was taken by a crocodile on the Sea Temple course a few weeks ago.
You can, very occasionally, see them swimming parallel with the beach or up Dickson's inlet. They don't hang around down there for long, they'd much rather be tucked away further inland where the inlet is quieter. I have seen them from The Sugar Wharf, from Four Mile Beach and from the petrol station that backs onto the inlet.
I've also seen people swimming in the Inlet. Locals and tourists. Just don't, ever.
If you have a car, drive over the Mowbray river bridge, if you are heading south, towards Cairns, you will often see crocs up on the mud banks on the right at low tide. Don't slow down, your family will have plenty of time to look at normal speed, there have been accidents when crocs have taken drivers by surprise. Pull off the road a little south of the bridge and get a better view from the old wooden jetty that you saw on the left of the bridge. I have seen 3 here at once. UPDATE, the wooden jetty has now been removed so I don't know if you're still able to see them from that layby. July 2019 we saw 2, possibly 3 there and one was huge. Just do not slow down or stop on the bridge. I've even seen people parked up and walking back to the bridge for a better look, this is not OK, it's way too narrow for pedestrians and there are official signs stating that you are not allowed on the bridge on foot.
Winter is usually the better time to spot crocs, they haul out to warm up in the sun. Heading north to Daintree Rainforest and you will possibly see more in the worlds oldest rainforest and we've seen them from the car ferry there.
The Lady Douglas crocodile spotting river cruise departed from Port Douglas Marina every day. Good luck, stay safe, hope your crocodile spotting is successful. I love our crocs, I really do! Another update, we recently headed over to the Northern Territory, if you want to see more crocs, that's the place!
If you'd like to hire a car during your stay, use this car rental comparison tool to find the best deal!

We also suggest you take a look at this company to get a quote for all kinds of the more tricky adventure or extended travel insurance.

Try Stayz / VRBO for an alternative way to find rentals on homes/apartments/condos in any country!