This post may contain affiliate links.
Four Mile Beach, Port Douglas, was closed a while ago by a 4-meter saltwater crocodile. He didn't do much, just swam along the beach about 20m from shore. A crowd gathered and watched, that's about as exciting as the day got. It made me think though, not many people have the experience of sharing their home with these prehistoric giants. The crocodiles here in Port Douglas and Far North Queensland are pretty cool. We consider it a privilege to live alongside these amazing creatures.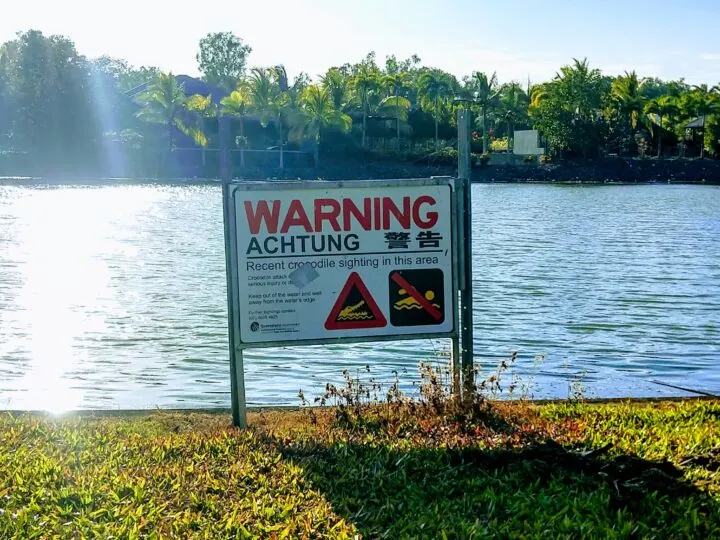 To swim with a saltwater crocodile in Port Douglas in 2023, you need to book here!
Port Douglas Crocodiles
Are there crocodiles in Port Douglas? Yes, they are saltwater crocodiles, the dangerous kind, and yes they can very occasionally be found on Four Mile Beach, but is there really any danger involved in swimming in or around Port Douglas?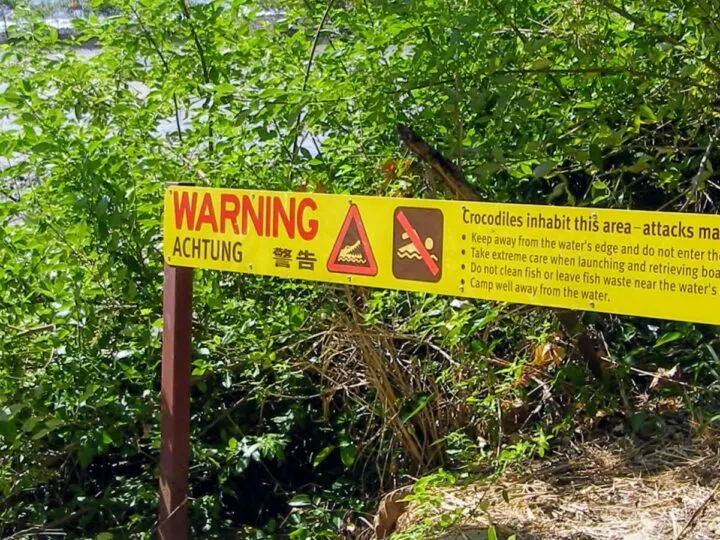 We see saltwater crocodiles in the wild in the Port Douglas area all the time, they are there in the rivers, lakes, and some streams.
We all know about them and yet thousands of tourists and locals swim safely at the beach all year round.
Is it safe? After all, they are Salt Water crocodiles, there's a bit of a clue in the name there.
Port Douglas Crocodiles, Salt Water or Fresh Water, Where to See Them?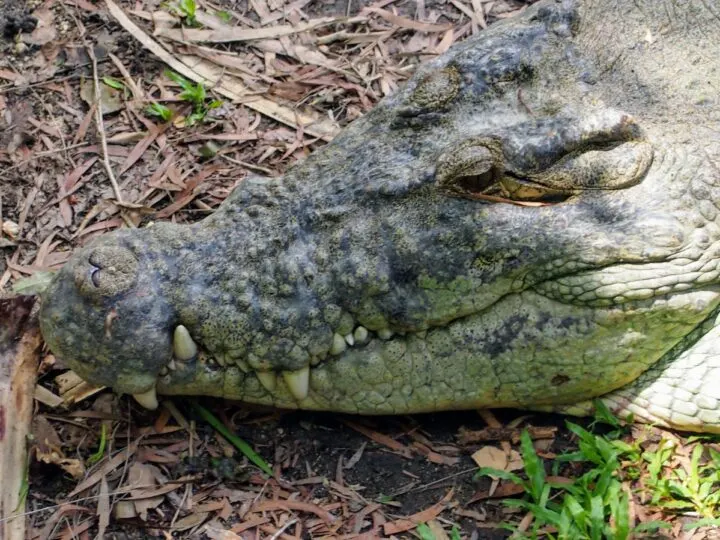 We have salties in Far North Queensland, the big, vicious, aggressive kind of crocodile.
Australia's fresh water crocodiles are a walk in the park compared to our local crocodilians.
There are quite a few around, but after visiting the Northern Territory I got the impression that we have far fewer than the NT.
Crocodile density up there seemed many factors higher.
You can book a crocodile spotting cruise from Port Douglas marina here, to see our wild crocodiles.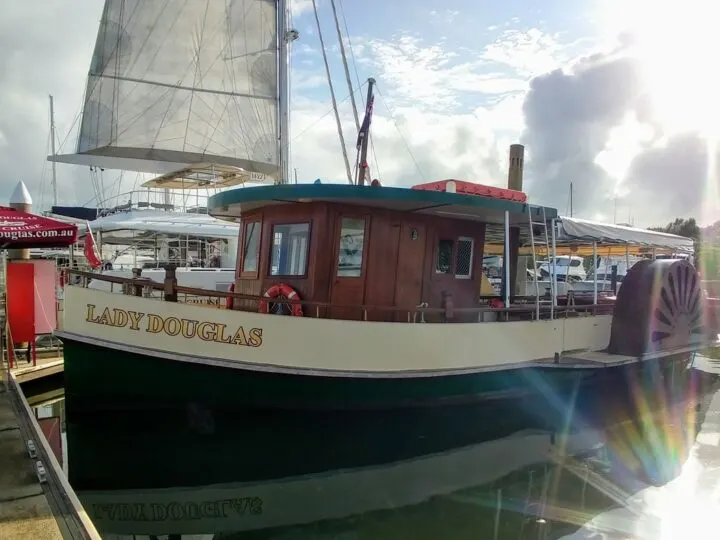 If you want to see our local crocodiles from a safe distance, check out the following options.
Book a Crocodile-Spotting Tour!
Check out our post on Crocodile Spotting in Port Douglas Here. Or, if you'd like to view all tours and activities available in Port Douglas (and nearby), from reef trips, to SUP, to tours of The Wildlife Habitat, this site gives you brilliant ideas.
Port Douglas, Cairns, and Great Barrier Reef Videos
We have many posts and videos from Port Douglas, Cairns, and local attractions. My kids run our video department, if you let them play, they get every cent the videos earn. I hope you do! Visit our Port Douglas archives here.
Crocodile Attacks, Fatalities And Close Encounters in Port Douglas and Queensland
Nobody has been hurt or attacked while swimming at Four Mile Beach in the 5 years I lived there.
There was an attack here in 2001, the girl escaped with injuries.
I have seen crocodiles at the southern end of the beach in Port Douglas a couple of times, but they just swim past, minding their own business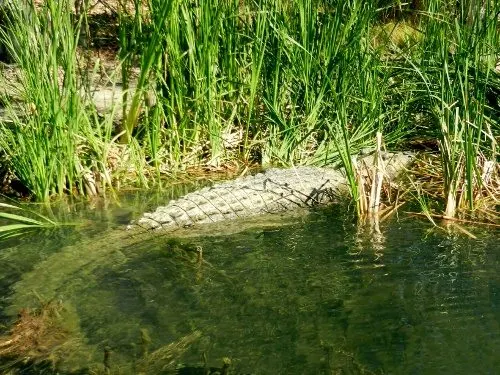 A few years ago, a lady was taking an early morning swim, south of here.
It was stinger season, so she wisely chose to swim in the stinger net.
As she approached the far end of the net she realized that what she thought was a log was, in fact, a large saltwater crocodile.
I think she got out of there pretty fast, unhurt.
Sadly, there have been 2 crocodile related fatalities in Far North Queensland in the last 10+ years that I know of, both involved people venturing into rivers that are full of crocs.
There are a couple of great golf courses in Port Douglas, both have water features, both have crocs. I'm sure it takes quite a few golfers by surprise to find the 18th hole obstructed by a large salt water crocodile, but for us, it's normality.
We often used to take the children for a ride around one of the golf courses to see if we could spot one.
It's rather like my parents taking me for a drive to spot rabbits when I was little, only bigger.
There was (maybe still is) a croc at a country club here, a popular wedding venue.
He sometimes starred in people's photos of the big day, my husband worked there, he saw him often.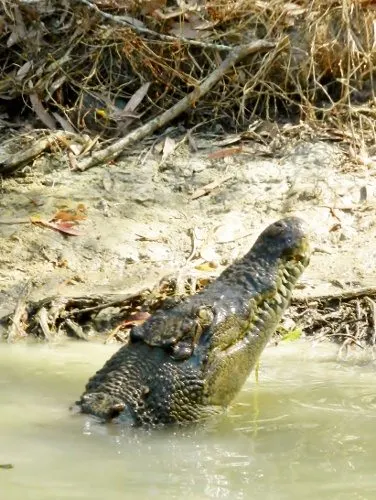 I know a local electrician who once went to work at an empty property to find a small croc in the swimming pool. That's rare.
I don't know why it doesn't happen so much here, you hear about alligators in Florida doing that all the time.
All pools have to be fenced in Australia, by law, maybe that keeps them out.
Occasionally, in the wet season when we have some flooding you'll find a small one strolling down the road, but again, it's rare.
I believe one was found in somebody's garage once.
I have one slightly scary tale to tell.
A good friend was living right on the beach south of Port Douglas. It was Oak Beach. She built a rope swing so that her son and his friends could swing from the coconut palm and plop into the water at high tide.
The boys were delighted and spent the afternoon playing and enjoying the new toy.
The next day she went down to the beach and found a very large croc partially submerged, right under the swing. Crocodiles are very clever you see, they watch, wait and learn.
That's basically all I have to say about our Port Douglas crocodiles.
I rather like them, they are a great source of tourist revenue, but you have to be sensible. They have been fully protected in Queensland since 1974 so their numbers are increasing and they are here to stay.
I keep the children well away from the banks of any lake or river and exercise caution at the beach. We swim in the sea regularly, but I prefer to save it for the days when the water is crystal clear.
You should be perfectly safe on the Great Barrier Reef, but they have been spotted around some of the reef islands.
Salt water crocodile isn't so nice to eat, by the way, it's farmed for meat and skins, try it, but I wouldn't recommend it.
You may see crocodile pie, crocodile sausages, or smoked crocodile up here.
If you want to try crocodile Mocka's pies had a crocodile pie the last time I visited. Crocodile tastes like fishy, soft, chicken.
Hotels With Good Pools in Port Douglas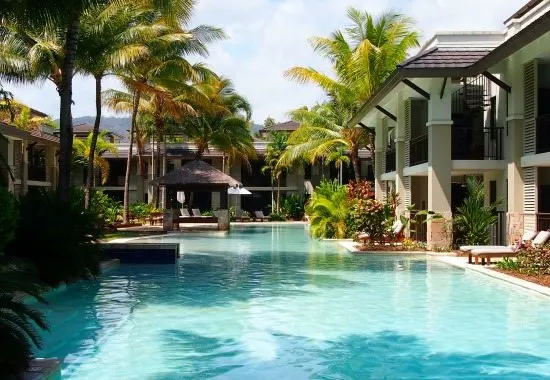 The best way to avoid the crocs is, obviously, to swim safely in a swimming pool.
The beach should be fine, don't be put off, and you really should come up here to check out our wildlife. It's quite amazing,
Below are a selection of some of the best hotels with pools in Port Douglas, each with a swimming pool way above average.
We have some outstanding hotels and pools in Port, they're well worth spending maybe a little more on.
If you'd like a more natural swim, we have a whole heap of freshwater swimming spots nearby, mostly in the rainforest.
Places such as Mossman Gorge are considered safe from crocodiles. Although swimming has been discouraged at Mossman Gorge after accidents and a fatality.
Read our post on fresh water swimming spots nearby.
No-swimming signs have appeared at Mossman Gorge recently. You'll have to check that out for yourself.
Budget, Iconic Dougies Backpackers Dougies has dorms, private rooms and a camp site, along with its own pool, not pictured.
Sea Temple Resort and Spa In the photo above. Sea Temple is further from town than The Sheraton Grand.
Sheraton Mirage Port Douglas The lagoon pool at The Sheraton is vast, it's as close to beach-front as you'll get in Port Douglas and this is a stunning luxury property popular with families and couples.
Swimming with Saltwater Crocodiles
Swimming with saltwater crocodiles is generally a very bad idea, but in Port Douglas you can now get in the water with the salties at the Wildlife Habitat. (book here using our link to avoid disappointment)
Darwin has a similar saltwater crocodile swimming attraction. They tell me it's safe.
Saltwater Crocodiles on The Great Barrier Reef
People will tell you that there are no saltwater crocodiles on The Great Barrier Reef. It's too far from land.
However, I have seen video of a very small crocodile out on the reef.
It was there, near one of the snorkelling pontoons.
It was a small, young saltie, not big enough to be much danger and was likely disorientated and washed out to sea in storms.
The person who took the video was a dive instructor, he was in my home, this is not an urban myth!
Despite the incredibly small number of crocodile encounters, Port Douglas and Far North Queensland are immensely beautiful. There are plenty of gorgeous beaches for relaxing and there are also many restaurants in the area serving seafood and tropical fare. It's an excellent spot to vacation, and you'll find that you won't soon run out of fun things to do.
If you'd like to hire a car during your stay, use this car rental comparison tool to find the best deal!

We also suggest you take a look at this company to get a quote for all kinds of the more tricky adventure or extended travel insurance.

Try Stayz / VRBO for an alternative way to find rentals on homes/apartments/condos in any country!