This post may contain affiliate links.
Port Douglas is a pretty resort town in Far North Queensland Australia, roughly an hour north of Cairns, a much larger city. Cairns has the nearest international airport to Port Douglas and most visitors will arrive here for their Port Douglas stay.
From the airport, either book the shuttle to Port or pick up a rental car at the airport and drive north to their Port Douglas hotel.
Most visitors will take a day trip or two from Port Douglas and there are some very interesting and scenic places nearby.
So what are the best day trips from Port Douglas? We'll tell you in this post, and explain how to book them online to reserve your spot.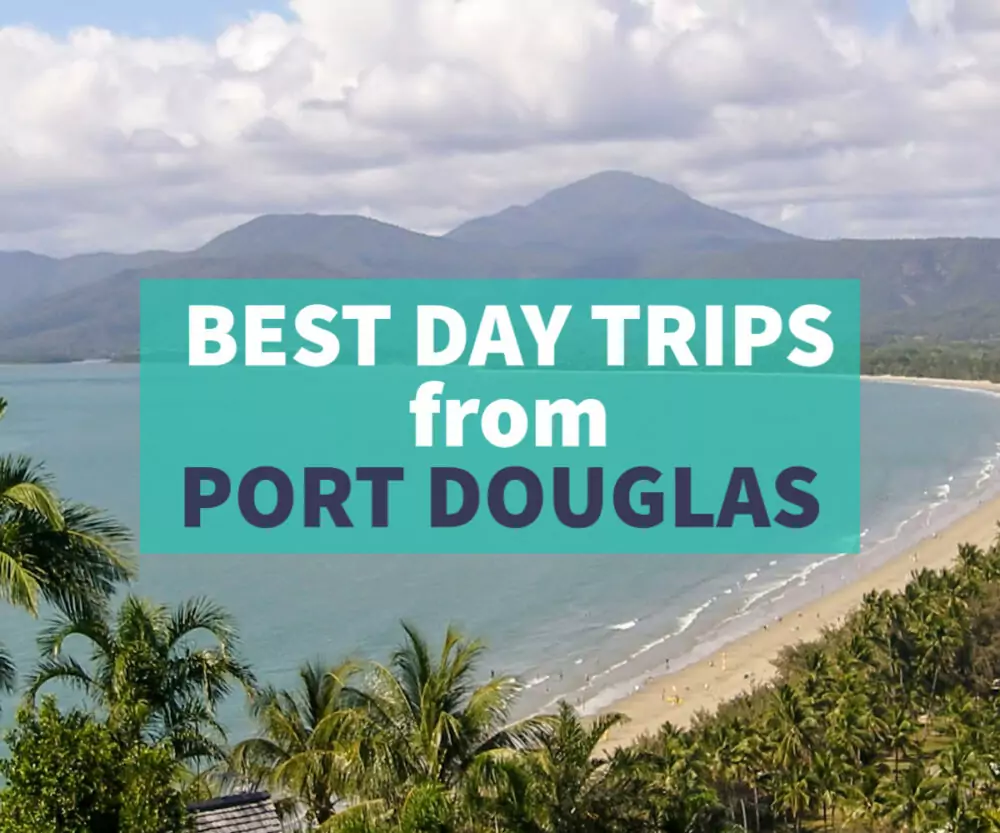 The most popular day trips from Port Douglas are, a day cruise to The Great Barrier Reef, a full day, or half-day trip to Low Isles, a Daintree Rainforest tour which may include a trip to Mossman Gorge, although this can be done separately, plus various trips to places further afield.
Some of the best tours are in the block below, we we discuss many more in our post.
We think the best Great Barrier Reef tour from Port Douglas, is this one.

If you're based in Port Douglas, book the shuttle to Mossman Gorge (return) here and enjoy the walkways and freshwater stream independently.

From Port Douglas, book a half-day (morning or afternoon) tour to Mossman Gorge and the Daintree River. This is a cheaper option and great if you're short of time. Book here.

To book a crocodile and wildlife cruise on the Daintree River, you need this link.

To take a night walking tour in the Daintree Rainforest, spotting wildlife in the dark, go here. This particular tour is for families with young kids, there is also an adult tour.

It's also possible to go trekking in the Daintree National Park, look here.
Interesting places to see near Port Douglas include Paronella Park, Millaa Milla Falls, and the Atherton Tablelands. We'll tell you about these and all the nearby attractions in our post.
If you're planning a trip to Port Douglas and would like to receive news, updates, food guides and more straight to your inbox you can sign up for our Port Douglas only newsletter right here. We are based in Port Douglas and like to try every restaurant, hotel, tour, and attraction to best help our readers. We also have one of the biggest Port Douglas Pinterest boards out there, if you like to pin. It's here. You can pin the image below.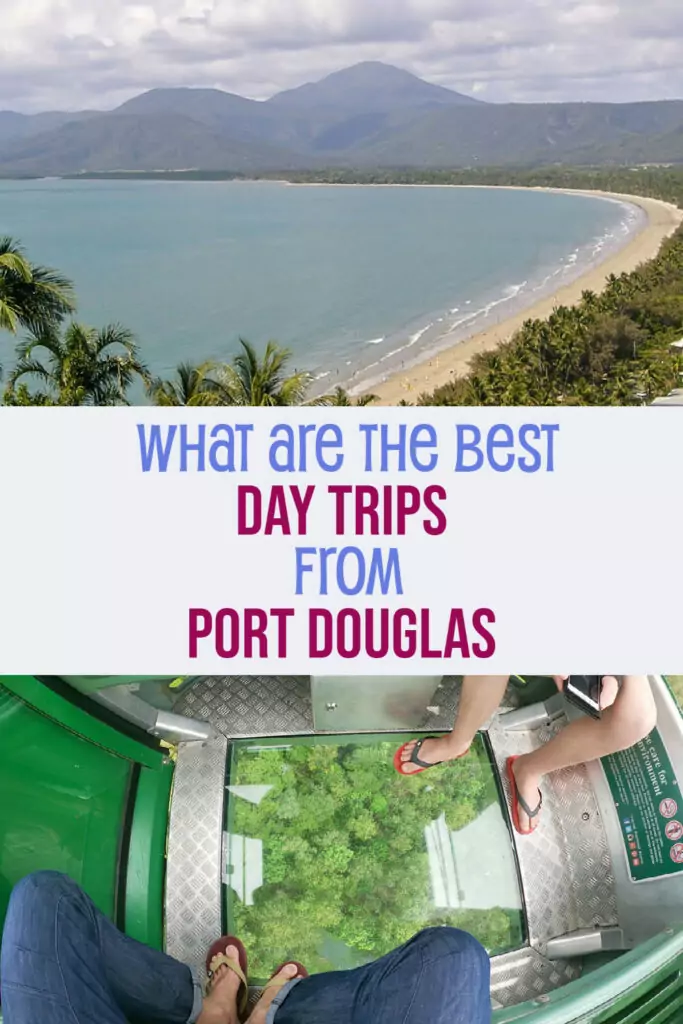 BEST DAY TRIPS FROM PORT DOUGLAS
If you plan to hire or rent a car, try this website to find the best deal. You will be able to see a lot more if you rent a car, but there are still a lot of options for organised day trips and tours which will pick you up from your hotel.
We can tell you where to go for a day out in the car, or using tours, read on!
Map of Places To Go For The Day Near Port Douglas
The map below shows you the location of all of these attractions near Port Douglas. It may take a second to load but it is fully interactive. We hope its useful.
Visit The Great Barrier Reef From Port Douglas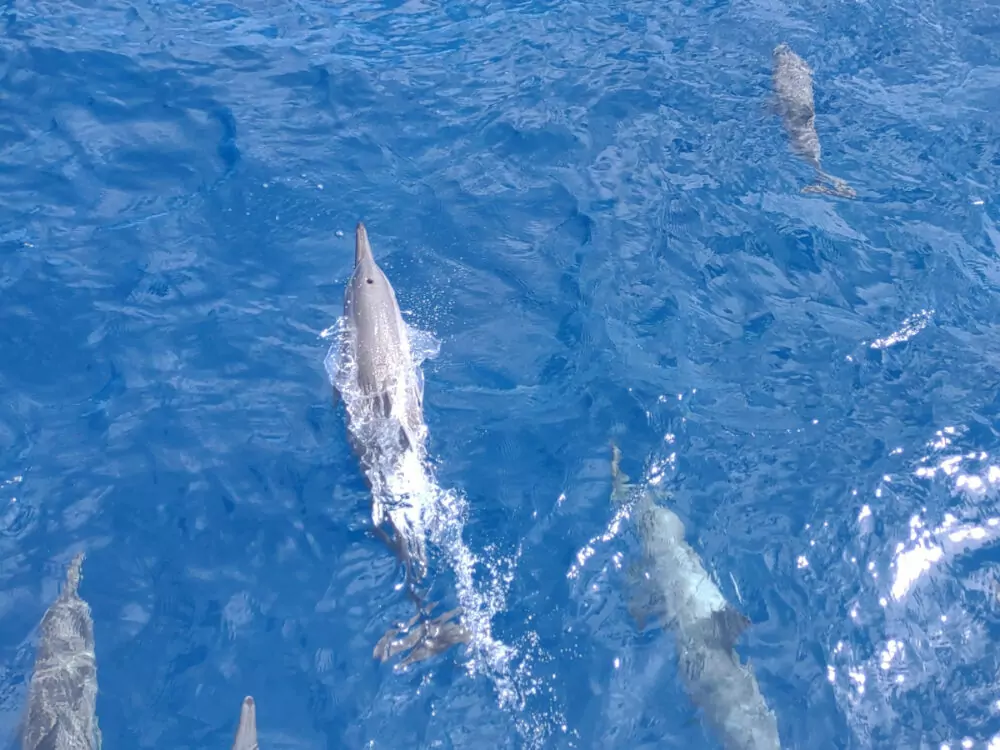 The Great Barrier Reef is closer to shore from Cairns to Port Douglas and up to the Cape, which means it's easier to access from this part of FNQ.
We think snorkelling on the Great Barrier Reef from Port Douglas is the best place to do this in Australia.
Put at least one day aside to take a magical trip out to the Great Barrier Reef, it's an experience you'll never forget, and suitable for most ages. Yes, you can take your kids snorkelling on the Great Barrier Reef.
If you'd like to know everything about booking your reef trip, you need this post on reef tours from Port Douglas, but we'll give you a quick rundown on day trips to the reef from Port Douglas here.
You have options as to how you view the reef. The huge Quicksilver pontoon is permanently moored at Agincourt Reef, or you can visit the outer reefs, Opal, Tongue, on a smaller boat.
A small group on a dedicated snorkel boat (like Wavelength, Calypso) is a great way to see the reef.
You can book your full-day cruise with Quicksilver here. The pontoon offers advantages and varied ways for non-swimmers to see the reef. The pontoon has underwater dry viewing, semi-submersibles, and trial dives. The pontoon offers a lot, but doesn't offer 3 separate sites to snorkel or scuba dive, as the smaller boats do.
We have always visited the reef fairly often as a family. The kids would snorkel from the age of about 4 from the pontoon or from boats. Once they were in the water and could see the fish any fear of deep water evaporated.
My kids joined us scuba diving around their 14th birthdays. Today, as teenagers, they still enjoy a trip to the reef, it's a great family day trip from Port Douglas and you do not need to be a fantastic swimmer as most boats can provide lifejackets or flotation devices.
Lunch on the Great Barrier Reef is usually delicious. Tropical buffets were the norm but these days more boats are serving plated meals. There are usually snacks and hot drinks available between your session in the water.
You're quite likely to see whales at the right time of year (winter), along with dolphins, turtles and sharks. July is when the humpback and minke whales arrive and I know there have been sightings already this year (Writing in July 2023).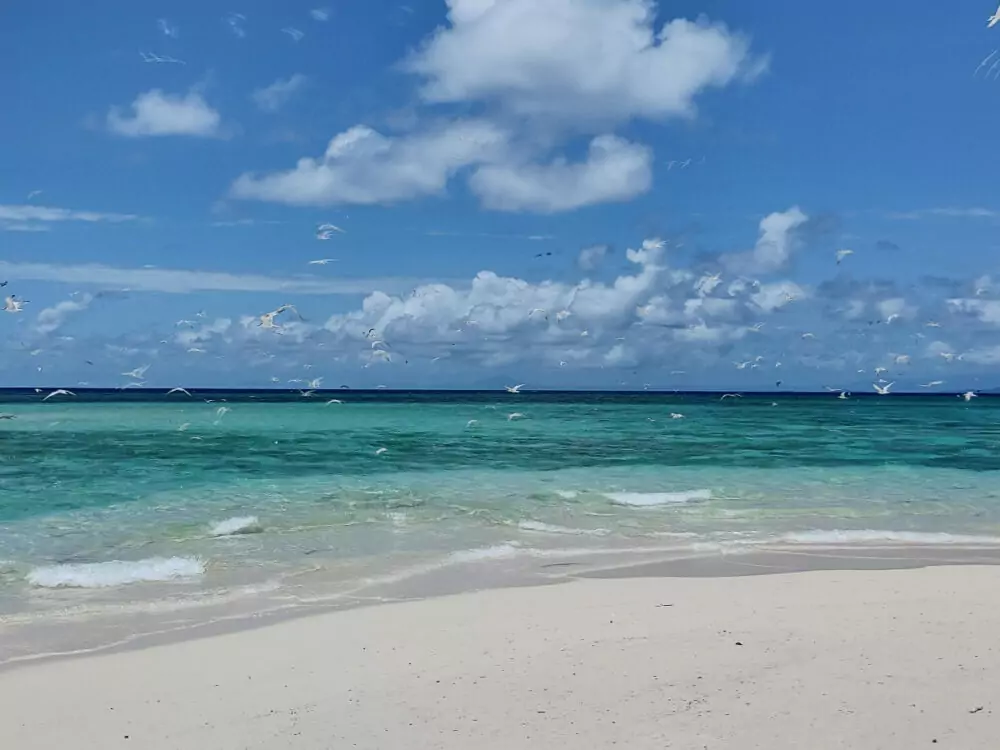 Obviously, you could also see the reef from Cairns, but if you're staying in Port Douglas, that seems pointless. If you"re staying in Palm Cove you can get pick ups for Cairns, I believe, they've stopped picking up from Palm Cove for the Port Douglas reef cruises (checking that for you right now). You'll need to drive up to Port Douglas.
We think the Port Douglas reef boats are a better experience and the Cairns fleet doesn't come this far north.
Whale-Watching Cruises From Port Douglas
While there are no dedicated whale-watching cruises operating out of Port Douglas marina, you are very likely to see whales on your way to or from the Great Barrier Reef. Some operators will stop to let passengers get a closer look.
Humpback whale season is winter in Port Douglas, late June, July, to about late August. Minke whales are also in the waters off Port Douglas in the winter months. Silversonic has a license to swim with minke whales.
Day Trip To Low Isles from Port Douglas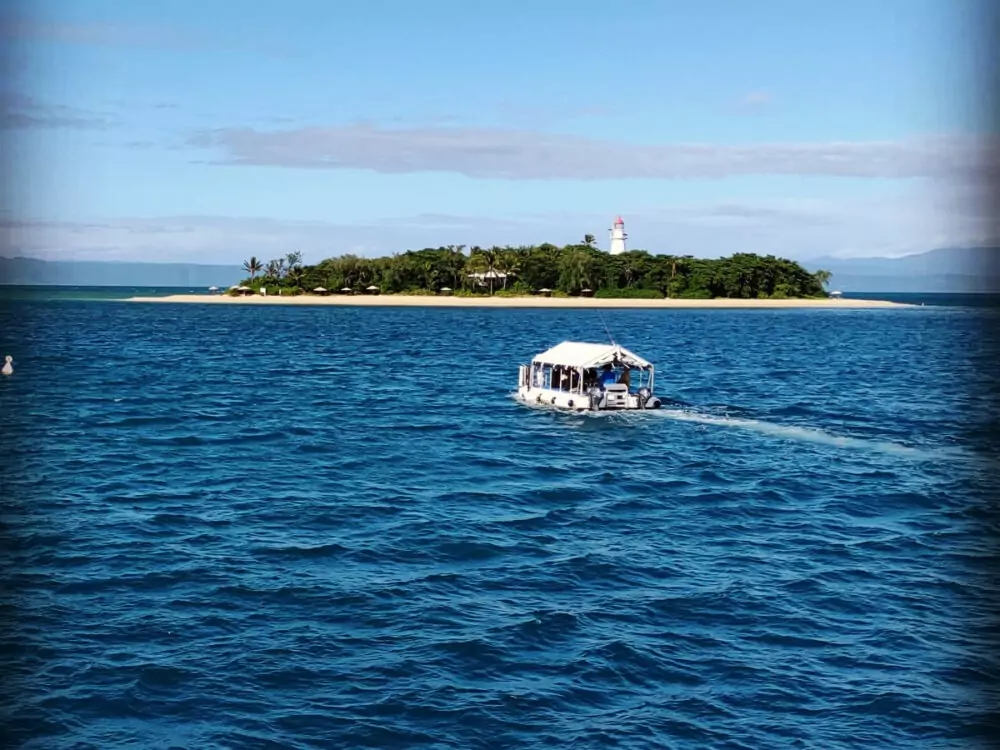 If you don't want to head to the outer reef the Low Isles are a shorter trip. Low Isles are the small islands just off the coast from Port Douglas and to the north. You can get a good view of Low Isles from the Flagstaff Hill walking track and lookouts.
You can enjoy the beach at Low Isles as well as snorkelling by taking a trip out with Calypso, or Wavedancer. Wavedancer being a beautiful twin hull sailboat, Calypso's small boat offers glass bottom boat tours and a half day option. Reef Sprinter (speed boats) allow you to snorkel off Low Isles, but you don't get access to the islands
Tour operators vary, check who's running day trips to Low Isles currently below and prices and available facilities..
Book a 4 hour (half day, morning or afternoon) Low Isles trip with beach access and glass bottom boat option here.
Wavedancer is a gorgeous sailing catamaran that will take you to Low Isles for a full-day trip. Book a day trip on Wavedancer here. Wavedancer allows island access and glass bottom boat tours.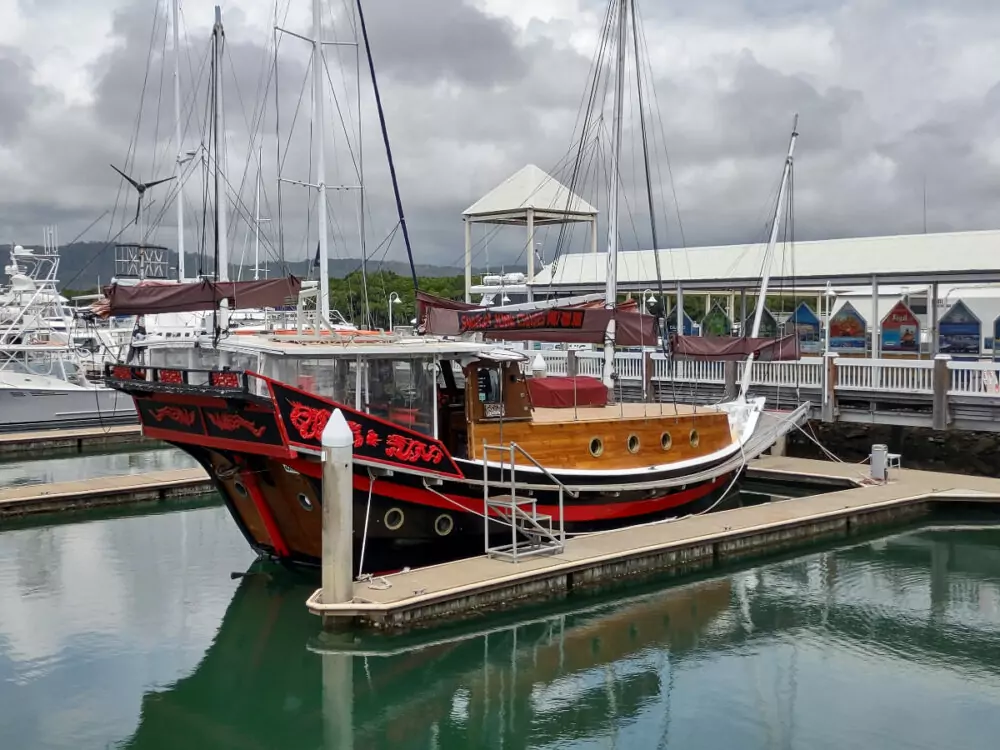 Port Douglas also has its own Chinese junk. The Shaolin can take you for a full-day trip to Low Isles as well as lunchtime and sunset sails. Book a day at Low Isles with Shaolin here.
This half-day trip allows access to the island itself where you can take a stroll and see the Low Isles lighthouse, or just relax on the sand. Even small children can play in the shallows here.
The reef at Low Isles isn't the same as the outer reef and comparing the two is really interesting. If you have time, we'd recommend you take a full-day trip to the outer reef and at least a half-day snorkel trip to Low Isles, book above. A half day at Low Isles is obviously much cheaper and the snorkelling is great.
Around Low Isles you'll see a lot of young reef fish and tiny baby reef sharks circling the island are a cute thing to see. There are usually a lot of sea turtles around Low Isles.
If you like turtles you can sometimes spot them around the rocky cliffs to the north of Four Mile Beach.
If you visit the island you can snorkel from the beach. Snorkelling off Four Mile Beach, you'll mostly just see sand, visit Low Isles instead.
Daintree Rainforest and Cape Tribulation From Port Douglas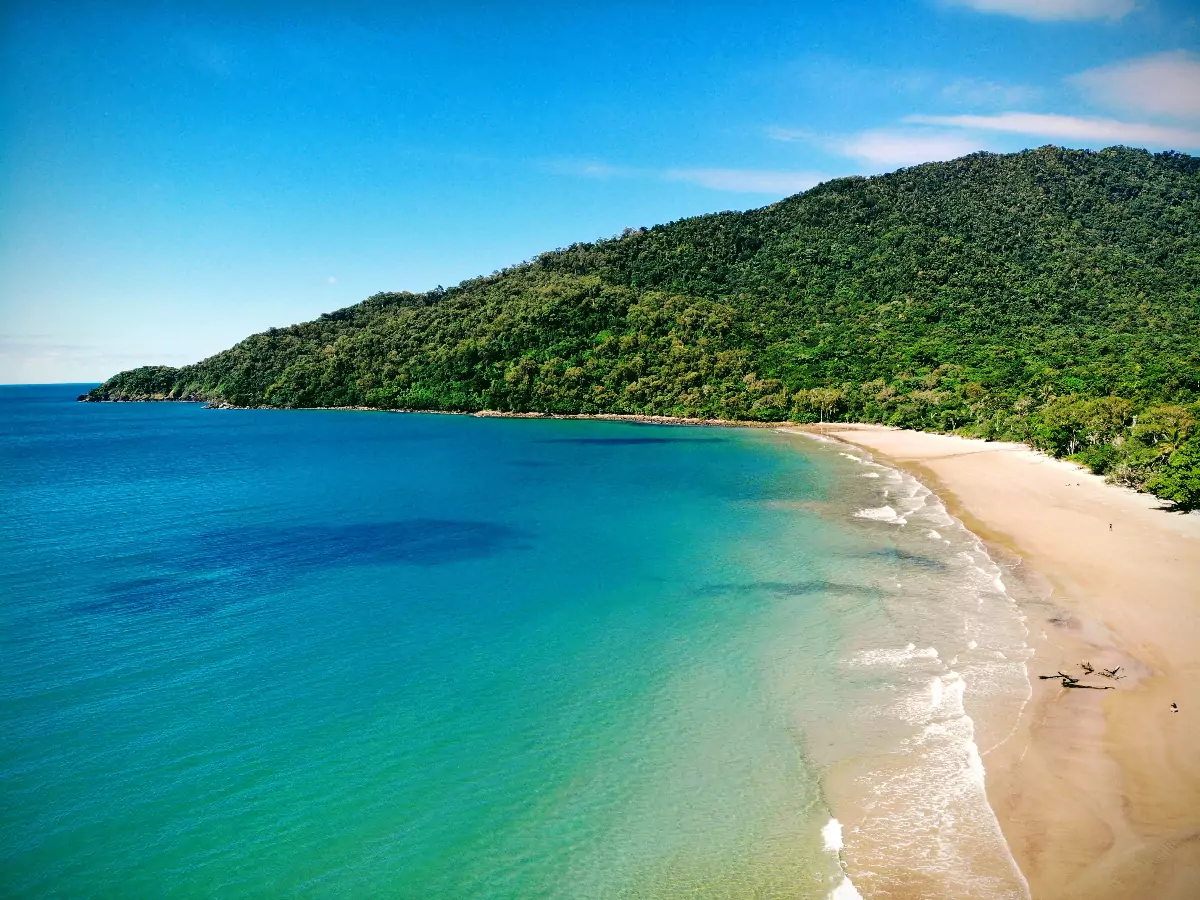 Just up the road from Port Douglas, we have Daintree Rainforest and beautiful Cape Tribulation. You need to take a drive up there, in your own vehicle or with a tour, maybe you'll spot one of the famous wild cassowaries.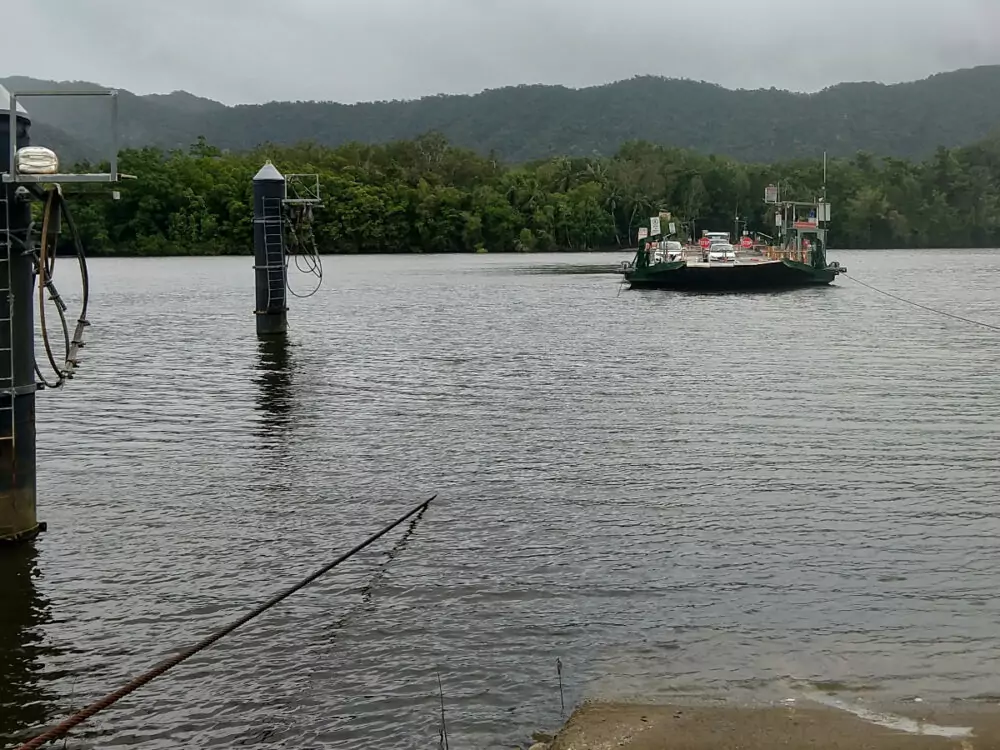 You can spend a day exploring The Daintree Rainforest in your own vehicle. You won't need a 4 wheel drive unless you plan to go all the way to Cooktown. The road proximal to the Daintree River ferry is sealed. You do need to pay for the ferry.
You can visit Daintree and explore Cape Tribulation's boardwalks and beaches easily in one day.
You may have to queue for the ferry at busy times as it only takes about 27 standard vehicles, but most vehicles using this ferry tend to be larger. The ferry crossing itself only takes 15 minutes including the time spent boarding and driving off the ferry. Ferry attendants help with these processes.
How much is the Daintree Ferry? For locals the ferry is normally free (with proof) and locals can access a priority lane at busy periods. For most regular cars the ferry is not cheap, it's around $47 return, $27 one way. Bicycles and pedestrians also have to pay, $5 return approximately.
The ferry runs back and forth between the two banks of the Daintree River all day between 5am and midnight, even on Christmas Day. The ferry is sometimes closed in the wet season because of flooding.
You can travel to Daintree by car, you do not need to book a tour, but you'll experience more if you book a tour, there are some places that are hard to find for tourists.
If you'd like to go Zip-Lining (at Treetops) on The Cape and discover the Daintree Rainforest and Cape Tribulation's beauty, you can, book this day tour here. This includes pick up from Port Douglas and a river cruise (double check what's included incase things change).
Quite a few people live in the Daintree and commute to Port Douglas for work, so this ferry is a vital local service. They have no mains electricity or water up there, everyone uses generators and solar and collect rain water for washing.
Mossman Gorge, although it's south of the Daintree River, is actually a part of the Daintree Rainforest, and some Daintree tours include a visit to Mossman Gorge.
Mossman Gorge probably will only take you an hour or two to explore, it's not a full day trip in its own right. If you combined Mossman with Daintree Village you could easily make a good full-day trip. If you can, get to Mossman on Saturday morning for the Mossman Markets Beneath the rain trees.
If you're visiting Port Douglas in July, the Mossman Show (Late July) could be a fun half-day out. It's a rural country "show" and something very Australian.
Book a Day Trip From Port Douglas, Palm Cove or Cairns, To Mossman Gorge, Daintree and Cape Tribulation, Here
In the Daintree you can take board walk hikes, sample local ice cream and explore tropical fruit orchards. There was a small insect museum. There is also the Daintree Discovery Centre and Zip Lining opportunities.
Cow Bay is a pretty beach to explore north of the Daintree River, named after sea cows, dugongs. There are some dugongs in the Port Douglas area. I've never seen one.
If you'd like to keep driving, you could head all the way up to historic Cooktown but it's a very long drive there and back in one day. More on that later.
The coast road through the Daintree Rainforest is beautiful, but you'll need a 4 wheel drive for dirt tracks and creek crossings in places. The inland road is more passable, but not as interesting.
Port Douglas Fishing Day Trips
There are many boats operating out of Port Douglas offering fishing trips. Some are single day, some are multi-day, particularly if you're looking for game fishing.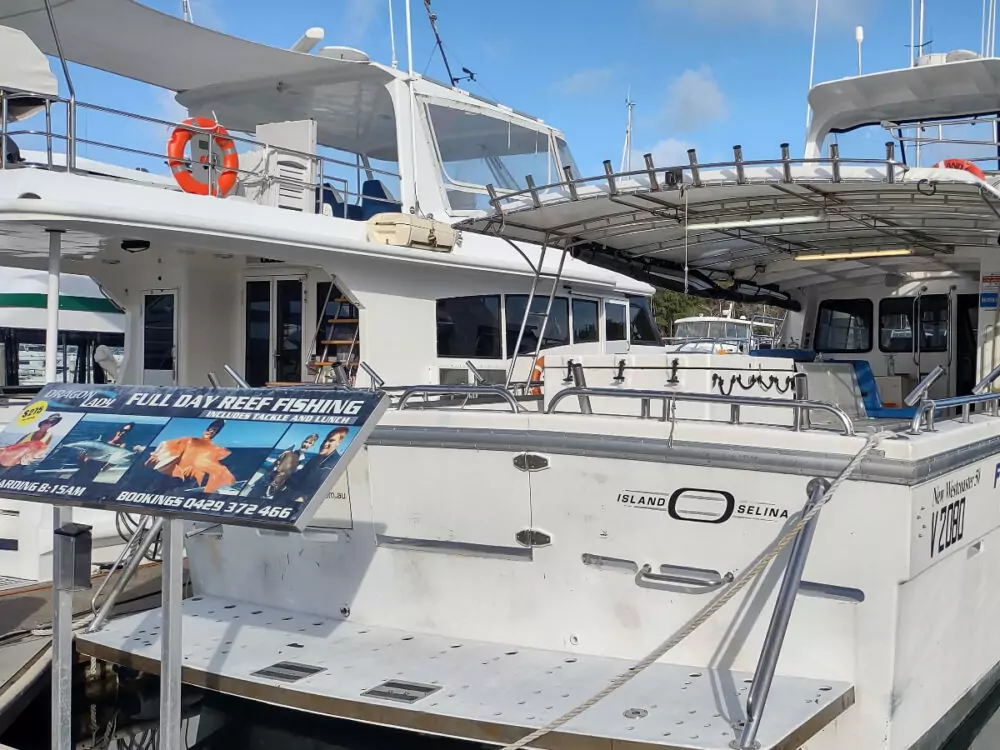 To book a fishing day trip from Port Douglas you'll need to book direct here (Dragon Lady) and the website is very slow, give it a minute. I can't give you one of our discounted links for this unfortunately. I can give you a best price link for a half day fishing trip from Port Douglas, take a look at that option here.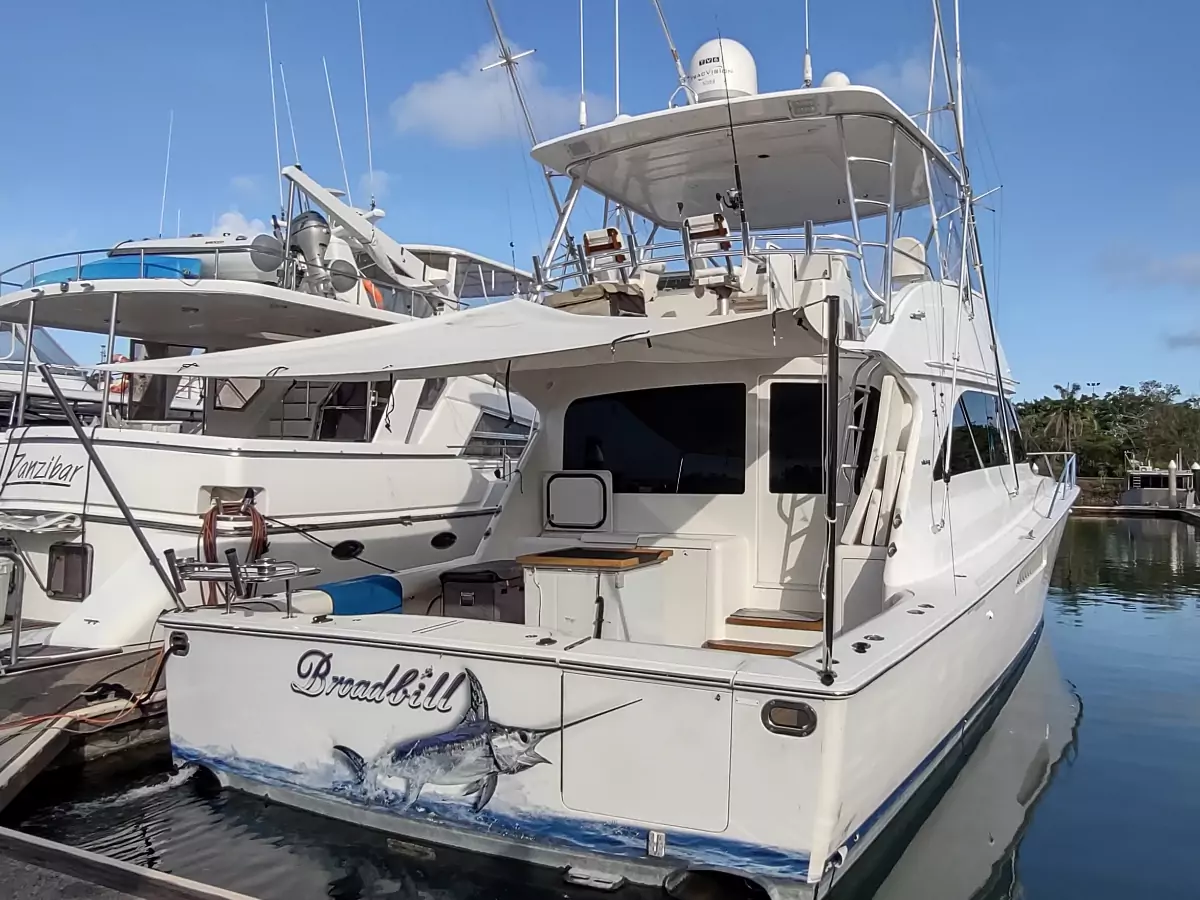 Marlin fishing is possible from Port Douglas in season. If you're packing mega-bucks, you can even arrange a private charter of a luxury yacht.
Another fishing option from Port Douglas is a day tour with local Aboriginal people, including traditional fishing methods, book here. These tours take place just north of Port Douglas, around Wonga Beach.
There are barra fishing opportunities nearby too. Try Hook-a Barra at Wonga Beach, book here.
Day Trips to Atherton Tablelands From Port Douglas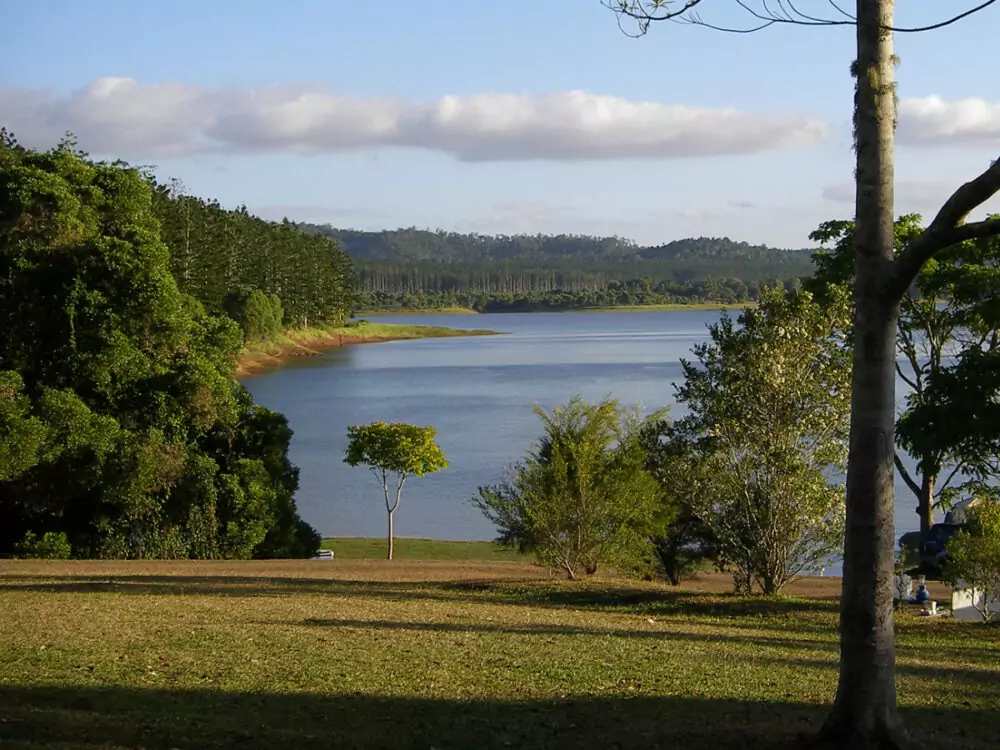 In the relative cool of the Atherton Tablelands, you'll find man-made and natural tourist attractions and things to do.
Attractions on the Tablelands include wineries, coffee and chocolate attractions, dairies, platypus-spotting opportunities, Herberton Historic Village, Mount Uncle Distillary, Granite Gorge, The Wheelbarrow Way, Lake Eacham, waterfalls, swimming holes, and of course, Lake Tinaroo. We've marked all of these places on the map for you.
If you're visiting the Port Douglas are towards the end of the month, check out Yungaburra Markets. Yungaburra itself is a pretty town with platypus spotting just outside the centre.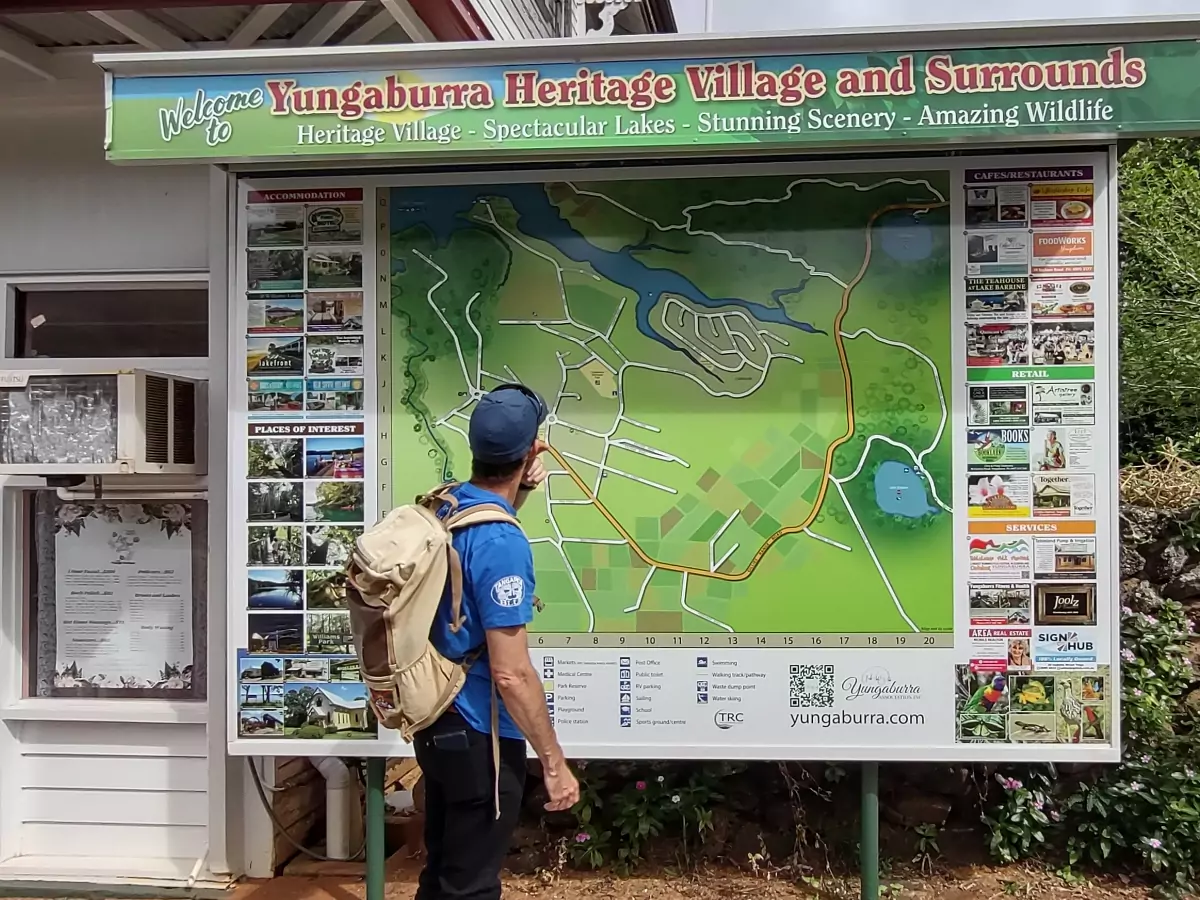 We've marked all of these attractions in the Port Douglas hinterlands for you on the map.
There is good food available at Mt Molloy at the National Hotel (pub) or, just a few doors up, The Mexican in Mt Molloy serves the biggest burgers I've ever seen.
The giant weeping fig tree, called The Curtain Fig, is a local tourist attraction.
Allow about 40 minutes of drive time to get to the Atherton Tablelands from Port Douglas by road, up to two hours to get to Yungaburra or Lake Tinaroo.
Head towards Mossman, then take a left through the cane fields and up the steep, winding hill to Julatten, Mareeba, Atherton, Mt Molloy, and more. As you climb the hill, known as The Range Road, you will enter the UNESCO listed Wet Tropics of Australia, you'll see the sign on the left of the road.
There are also two scenic lookouts on this road, giving you views of Mossman, the Coral Sea and Snapper Island. In season the plume from the Mossman Sugar Mill will be obvious. Watch out for cane trucks and trains from June to Christmas.
You can also take this route to drive to Kuranda if you continue, and then head down the hill to Cairns. Around Kuranda is another good area to spot cassowaries.
Visit Kuranda, Drive, or By Scenic Train and Cable Car From Port Douglas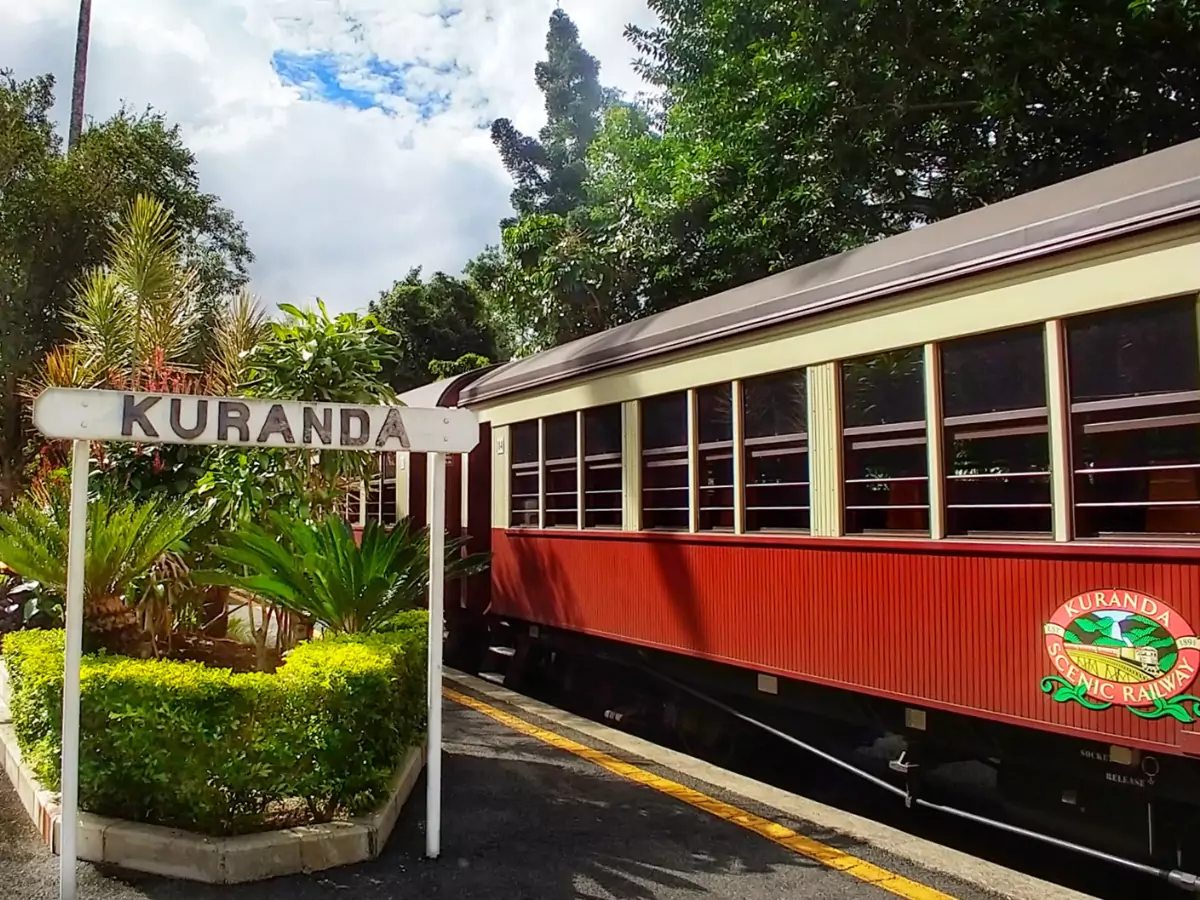 The drive up to Kuranda is spectacular, whether you choose the range road just south of Mossman or the Smithfield (north of Cairns City) option.
Kuranda is a pretty, sleepy, rainforest town full of markets, galleries, shops, and cafes. There are also wildlife, bird, and butterfly parks here.
This is your chance to see the huge Cairns Birdwing butterfly or the iridescent blue Ulysses if you haven't seen them in the wild at Port Douglas, visit the butterfly park at Kuranda.
If you'd rather not drive, you can book a tour to Kuranda via the Cairns Skyrail Cablecar and Kuranda Scenic Railway. This is a big day out and it's worth doing. You'll get to see Baron River Falls and get a little ranger-guided tour at the rainforest stop of the cable car.
ABB7C238
The "Gold Class" luxury trip to Kuranda, including the train upgrade, is available here.
If you want to see Kuranda (and Palm Cove) and skip the expensive cable car and train rides, this budget tour to Kuranda from Port Douglas is perfect for you!
There is no public transport that will get you to Kuranda from Port Douglas and a taxi or Uber would be very expensive.
The Skyrail cable car departs near Cairns, but tours are available from Port Douglas.
There is The Venom Museum, Butterfly Sanctuary, Birdworld, and Koala Gardens in Kuranda.
Take A Day Trip to Cooktown from Port Douglas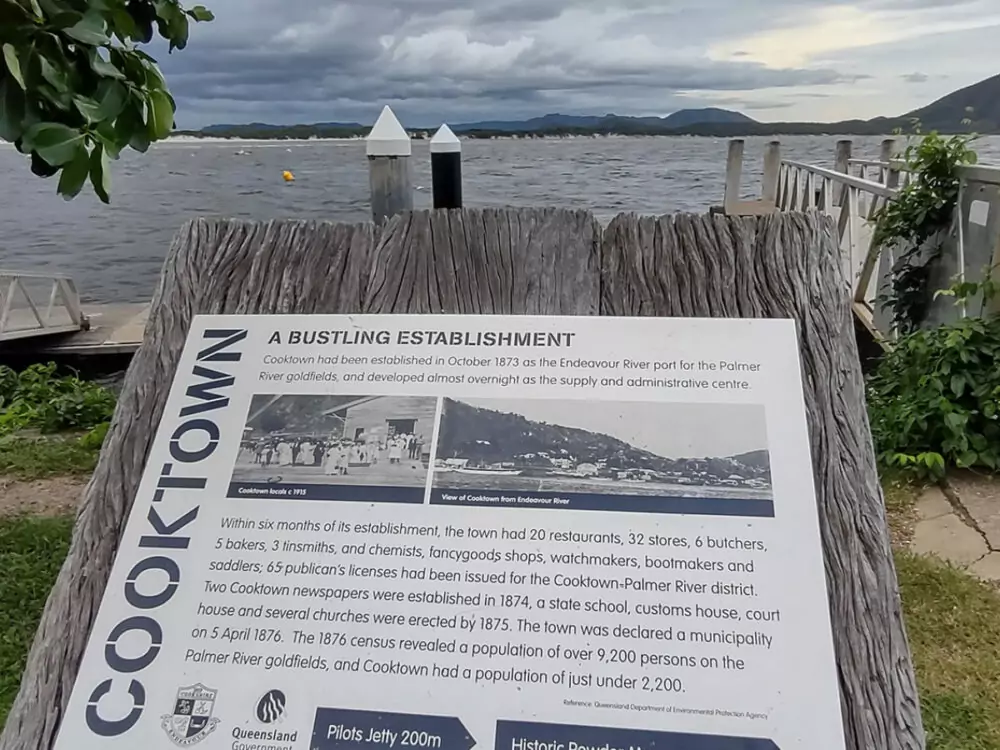 It is possible to drive from Port Douglas to Cooktown and back in one day, but you'll spend a lot of hours in the car. We've done it ourselves on the coastal road, which is very scenic, and on the inland road.
The inland road is mostly quite dull but Black Mountain is worth a look and there are a few scenic lookouts where you can stop and enjoy the view.
Cooktown is well worth seeing for its historic significance and because it's a remote Australian town on a beautiful river, with its own unique quirks.
We'd recommend you drive up, spend a night there, and drive back, but yes, you could visit Cooktown briefly as a day trip from Port Douglas.
There are a few campsites and hotels in Cooktown and staying overnight would be a fun thing to do, try the Gecko Guesthouse in Cooktown, it gets rave reviews.
I believe that they still have groper (grouper fish) feeding at the jetty in Cooktown, I've never seen it, but I've seen it advertised. We used to have George the Groper fed daily in Port Douglas, but unfortunately, that part of the marina has been demolished. It was the best night out in Port!
Now you'll have to settle for Cane Toad Racing at Chilly's pizza restaurant.
The distance from Port Douglas to Cooktown is about 170 Km (165 miles) along the inland route (Mulligan Highway), that's roughly a 3 hour drive.
We have a post on taking the 4 wheel drive route to Cooktown from Port Douglas.
Millaa Milla Falls From Port Douglas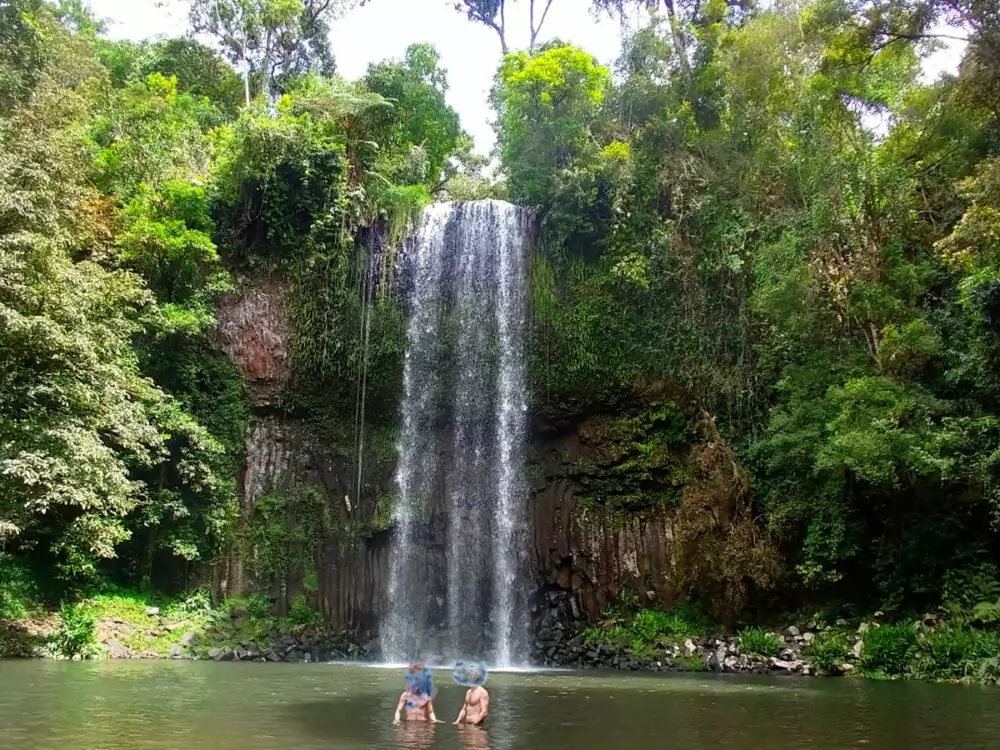 There are a lot of waterfalls and fresh water swimming holes near Port Douglas, much loved by locals. It's Millaa Milla that is probably the most famous and picture perfect because it's here that you can actually swim under a waterfall.
It's nice in the warmer months, I wouldn't do it in winter!
I can't find any tours from Port Douglas to Millaa Millaa and the other waterfalls nearby, but there are tours from Cairns. So for this I'm going to tell you to self drive. Millaa Millaa is on our map.
You could even just hire a car for one day from one of several car hire places in Port Douglas and it would likely be quite economical to visit Millaa Millaa this way.
Paronella Park From Port Douglas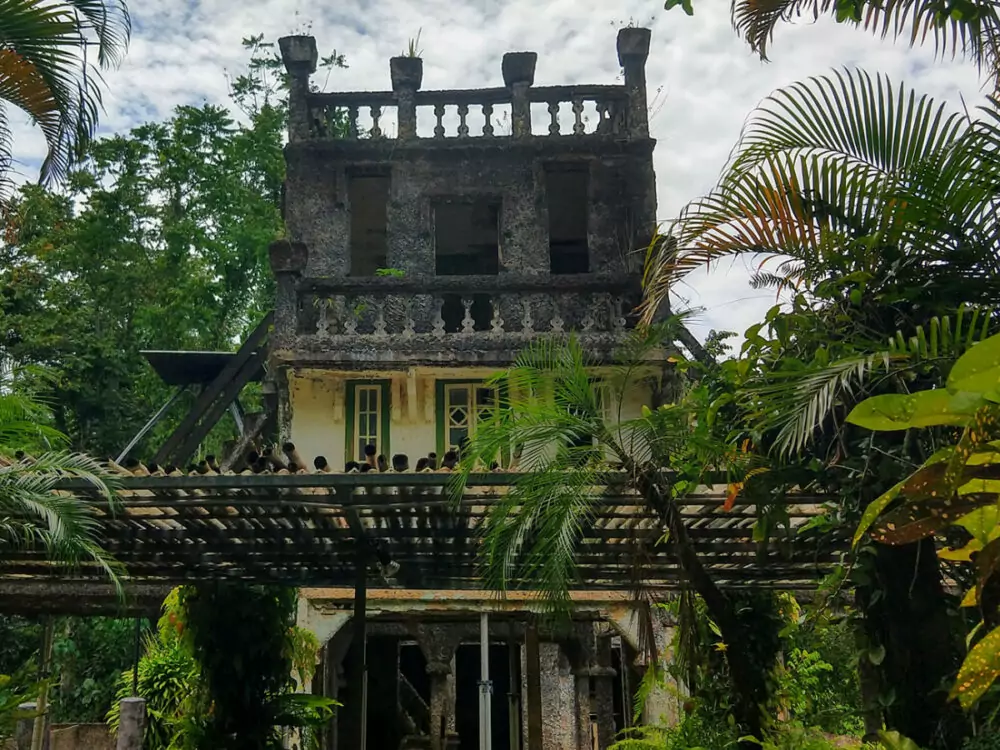 Paronella Park has won awards for being the best tourist attraction in Australia, which is interesting. It is a very cool place to visit and you could do it as a day trip from Port Douglas, again, you would need to self-drive.
We have a full review post of Paronella Park here. It's near Ravenshoe and Mission Beach, way south of Port Douglas and closer to Cairns. Tours are available from Cairns.
The distance from Port Douglas to Paronella Park is about 170 km, 105 miles, a 2 and a half hour drive each way.
Day Tour of Cairns From Port Douglas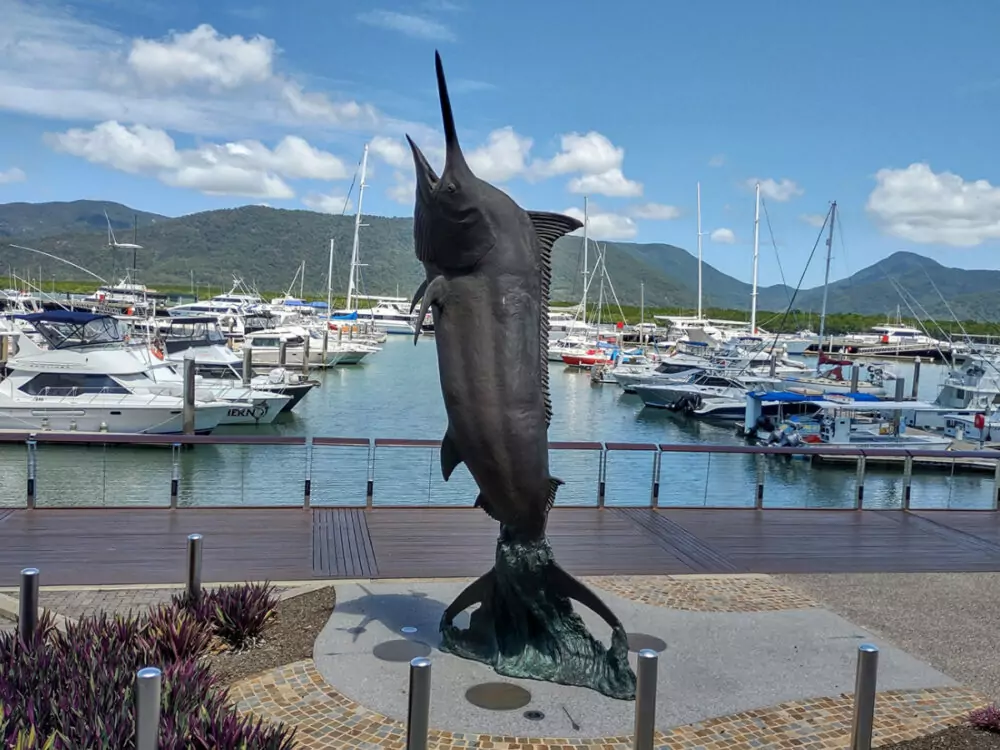 There are quite a few interesting places to see and things to do in Cairns if you're on vacation in Port Douglas.
Cairns has a large, free, outdoor lagoon pool and water play, great for kids, plus there is the marina to explore, the Botanic Gardens, some small museums, and the night market.
While the best time to visit Cairns is the winter months, the Cairns Lagoon can be enjoyed year-round. Occasionally it is closed for maintenance.
If you need to go shopping you'll probably have to go to Cairns, there aren't many shops in Port Douglas beyond basic needs and gifts.
We have a post covering all of the things to do in Cairns for families here.,
Day Trip to Palm Cove From Port Douglas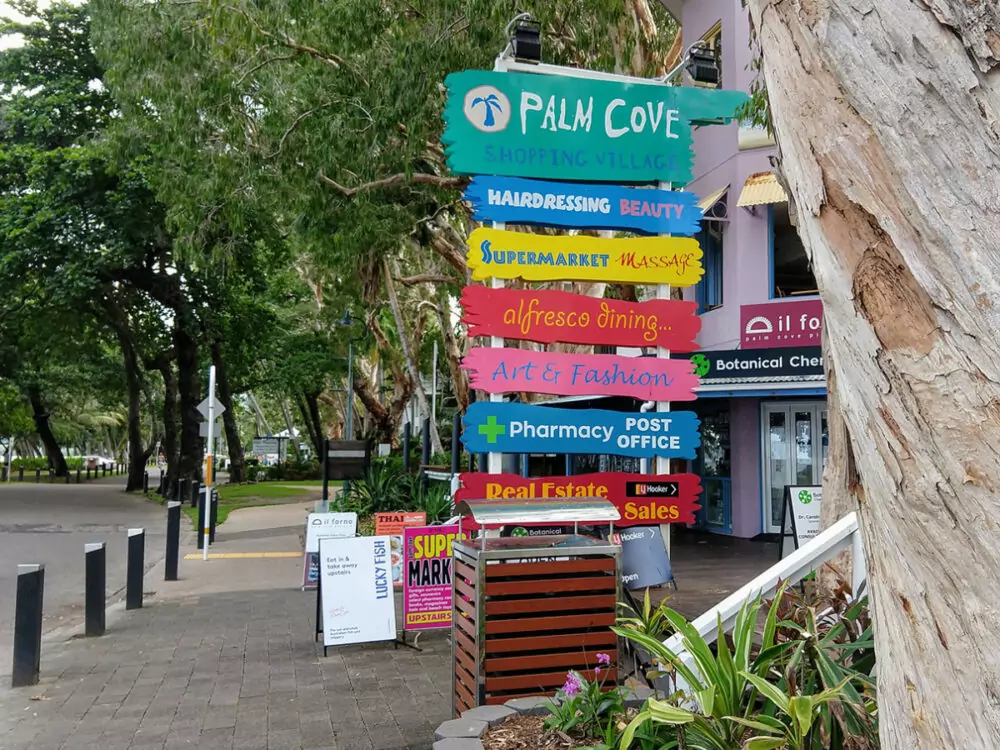 Palm Cove is just one of the beaches between Port Douglas and Cairns. A lot of visitors choose to stay in Palm Cove rather than Cairns, it's close enough to the Cairns airport, but has a similar sleepy village vibe to Port Douglas.
There are a lot of nice resort hotels and good restaurants in Palm Cove along with a nice palm tree backed beach and fishing jetty.
Most of the activities and sightseeing trips in the region (from Cairns or Port Douglas) can be taken from Palm Cove.
The budget trip to Kuranda that we already mentioned also takes visitors to Palm Cove. (book here)
It might be a nice idea to take your day trip to Palm Cove on market day, usually the first Sunday of each month. Unfortunately this clashes with Port Douglas markets which are held every Sunday morning.
The Palm Cove Food Festival would be another good time to visit.
Hartley's Crocodile Adventures Park Day Trip From Port Douglas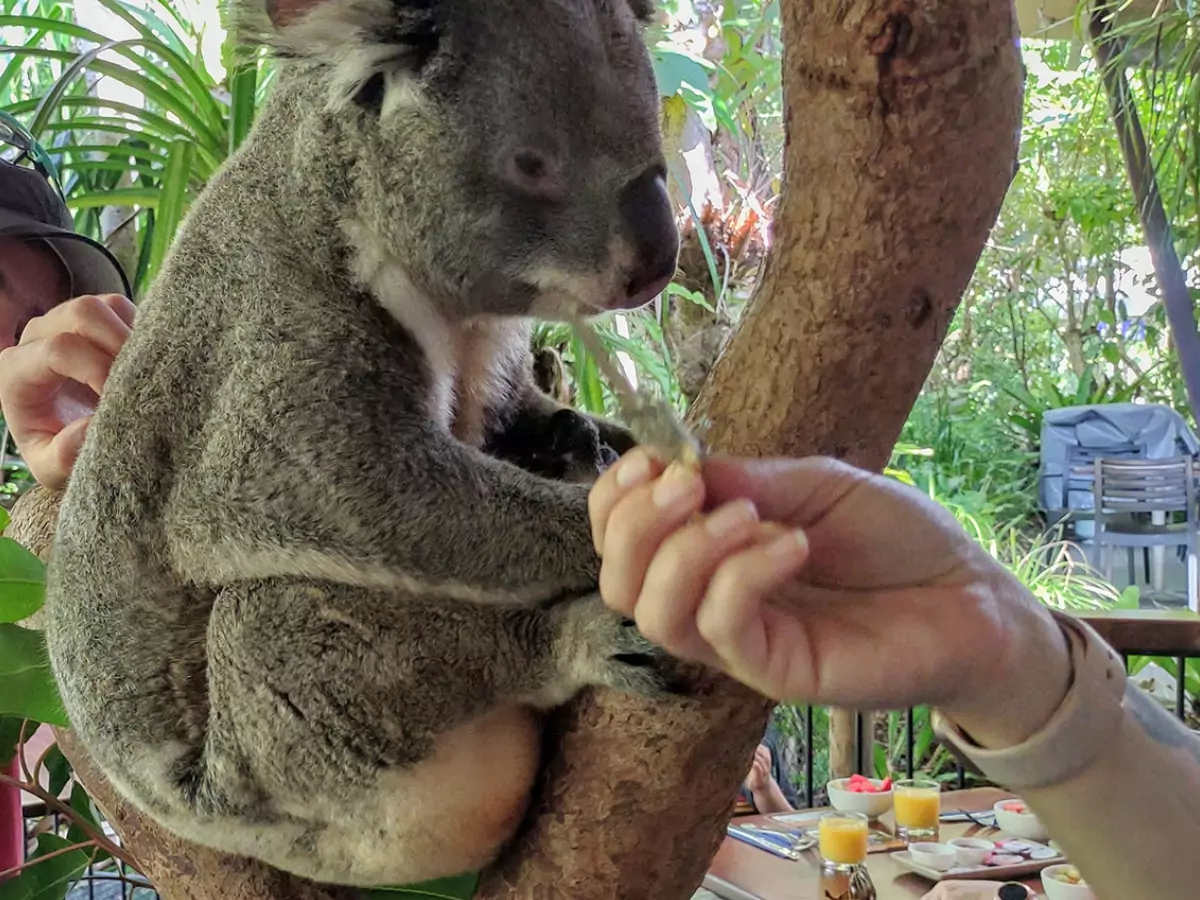 Hartley's Crocodile Adventures is near Palm Cove, between Cairns and Port Douglas. You can have a very full day at Hartley's watching the crocodile and reptile shows, particularly if you start early with their Breakfast with the Koalas option. (Reserve your koala cuddling breakfast spot here).
If you'd like to hire a car during your stay, use this car rental comparison tool to find the best deal!

We also suggest you take a look at this company to get a quote for all kinds of the more tricky adventure or extended travel insurance.

Try Stayz / VRBO for an alternative way to find rentals on homes/apartments/condos in any country!