This post may contain affiliate links.
Hiring a car in Port Douglas can be quick and easy but during the high season the availability of cars will be limited so book ahead if you want a particular type of car. Cars available range from budget small hatch backs to convertible, 4wds and people carriers.
There are far more car hire companies in Port Douglas than you would expect from such a small town.
We live in Port Douglas and don't own a car, so we hire them regularly. We can pass on some reviews tips and tricks for the various car hire companies here. Also, do you really need a car in Port Douglas?
The first place to check to find a car rental deal (including campers and camper vans) in Port Douglas should be Discover Cars, they're great for finding you cheapest or best car rentals. Things change in the Port Douglas car hire or car rental market all the time so please check and double-check all information for yourself.
Port Douglas Car Hire – Facts and Reviews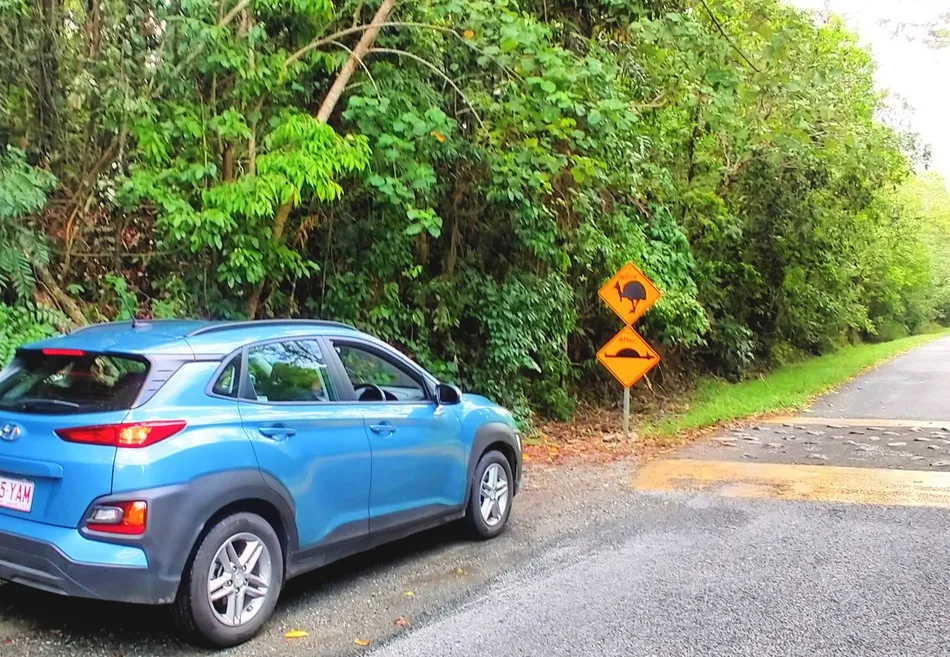 Do You Need a Hire Car in Port Douglas?
No, you don't really need a hire car in Port Douglas Australia.
Port Douglas is small and if your hotel is near Macrossan Street you should be able to walk to the marina, Four Mile Beach, all shops and restaurants.
If you plan to go to the Daintree without a guide in a hire car, yes, you can self drive, but double check your insurance will cover you north of the river.
Be aware that the ferry crossing, while it's not an admission fee for the Daintree Rainforest, is quite expensive.
Bear in mind that public transport is very limited in most of Australia and particularly so in Far North Queensland.
If you do decide to rent a car, use this comparison tool to find the best deal from Cairns airport or in Port Douglas.
For the journey from Cairns Airport to Port Douglas you can book a shuttle here, which is a much cheaper option than renting a car. If you plan to visit the attractions near Port Douglas, such as Mossman Gorge and The Daintree River, the easiest way is to book a tour that will pick you up from your Port Douglas Hotel. Book your Daintree Tour Here. All local tours and reef trips can be booked using this site.
If you've managed to get to Port Douglas without hiring a car, well done. It's possible and we cover that in this post on getting from Cairns to Port Douglas.
So long as you stay close to the beach or Macrossan St, no, you don't need a car, you can walk around town. If you opt to stay further out of town you can catch paid shuttle buses for around $5 a ride. We live in Port Douglas and don't own a car.
But what about getting out and about, heading further north into the Daintree and Cape Tribulation, or heading up to the Tablelands. even taking a shopping trip to Cairns?
Yes, a hire car would be great for that.
Many tourists take organised tours to see local sights and highlights and you can check those out below, but hiring a car is a possibility and it can be affordable depending on time of year. Use this car hire comparison tool to find a good deal.
Most of the Great Barrier Reef Tours from Port Douglas offer a courtesy bus, so you're unlikely to need a car to get to the marina.
Likewise, some outlying hotels offer courtesy shuttles from hotel to beach to town.
Several Hotels in Port Douglas are on the routes of the local shuttle bus services including Pullman Sea Temple, Oaks ( used to be QT) and Sheraton Mirage.
Dougie's Backpackers and award-winning Lazy Lizzard Motor Inn are within walking distance of Macrossan St and the Marina. Global Backpackers and many other properties are right in town.
If You Don't Want to Hire a Car, What Tours Can You Take from Port
Read about reef tour options in Port Douglas here.
Likewise we have a post on visiting Dantree Rainforest and Cape Tribulation here.
Alteratively check out this local bestseller, including Daintree, the Cape and Mossman Gorge.
For all other tours from Port Douglas, see here. ( this is a company we've used ourselves, all over the world, many times, they have a lowest price or money back guarantee)
If you'd like to compare prices on the various car hire companies in Port Douglas ( we discuss them all further down the page ) maybe try this comparison site and have a check for deals.
The Car Hire Companies in Port Douglas
During the lockdowns the Port Douglas car hire shops changed. Some closed, others opened. We're working on getting the information below up to date, but for now, double-check which car hire shops are still trading. Our favourite closed down and is still closed in 2022.
There has been a global increase in car hire cost since 2020. You'll be unlikely to get the prices we mention below currently.
Thrifty is now Sixt Car Hire Port Douglas
Thrifty (This shop is now Sixt) which is part of the Hertz brand is located at the Coconut Grove complex just up from 4 Mile Beach and has an office with cars parked onsite in the underground car park. Hertz doesn't have an office in Port Douglas so customers wanting to use Hertz would need to use Thrifty.
They don't keep many cars and it isn't uncommon for them to have 'sold out' of a lot of their more popular cars during peak times.
Avis/Budget
Editors Note: Currently Avis/Budget car hire Port Douglas has been temporarily closed from March 2020 with no word on reopening. The nearest office is Cairns Airport.
Avis owns Budget and in Port Douglas, both car hire companies operate out of the same office and rental yard. They have different websites and apps when booking.
I've found that Budget is consistently cheaper than Avis by about 5% but make sure to check both first before booking.
Comet Car Hire
Closed permanently as of May 2019- Just heard it's reopened!
This private locally owned company has a range of cars from Jeeps to small hatchbacks. As you'd expect prices aren't as competitive and cars aren't as numerous as the international companies.
Bookings are done via an online form, phoning up or by visiting their shop front. They promise to beat any written quote which could save you money.
They state that they include roadside assistance in each and every rental which others may charge extra for.
Port Douglas Car Hire
Another local car rental agency, Port Douglas Car Hire also promotes tours in the Douglas region. Some of their vehicles include cars such as Mustangs and 4wds.
Booking is via an online form, phone or going into the office. They offer pick up and drop off from your Port Douglas hotel which is a big bonus if you're towards the southern end of Four Mile Beach.
Paradise Wheels Car Rentals
The last of the 3 independent car hire companies, Paradise Wheels is located next to the old Budget/Avis outlet and behind Coles supermarket.
Booking is like the other independent rentals. Free pick up and drop off is also offered when renting cars.
Which Car Hire Company Do We Use?
We use Budget almost 90% of the time because experience and research have shown us they are the cheapest and have great special offers. But our booking normally comes about after using a comparison tool like Holiday Autos, above.
Sadly, Budget is closed in Port Douglas at time of writing.
Costs of Hiring Cars in Port Douglas?
This varies and of course, is seasonal. We've seen prices down around $30 Au per day and of course much, much higher. Add to this your excess insurance, plus fuel, and you may find it cheaper to take an organised tour.
Seasonal fluctuations in price should be something you take into consideration when choosing your best time to visit Port Douglas because coming off-peak will undoubtedly make your Queensland holiday cheaper.
Port Douglas Car Hire Excess
The excess charged by Australian car hire companies including both the international brands and local rental agencies is normally very high compared to other parts of the world with some having a $5000 charge.
The car agency might not pre-authorize that total amount but you'll still be liable for the amount if something goes wrong.
With unpredictable wildlife and roads that vary in conditions from good to terrible, I wouldn't recommend driving in Australia without reducing your excess to either zero or a more manageable amount.
There are numerous companies that offer excess reduction insurance and even some travel insurances and credit cards include it. Check beforehand as once the hire starts you likely won't be able to change it or reduce it.
One way of ensuring that you've covered yourself is by doing a walk-around video of the car when you pick it up. This way if you 'miss' a scratch you'll be able to see it later having recorded the whole car not just photos of scratches you first saw.
So we hope you enjoy your time in Port Douglas, with or without a car. Having a vehicle gives you freedom, but, sometimes, extra cost. It's up to you and honestly, you can holiday in Port Douglas with or without a vehicle. We walk a lot, Port is walkable but there are some big distances and the sun is fierce. There are also bicycles to hire along with electric scooters, and a few local bus, shuttle and pick up services. You may be able to find an Uber driver in Port, but Uber isn't common as it is elsewhere. We can tell you about those in another post, you can see our extensive Port Douglas coverage here.
If you'd like to hire a car during your stay, use this car rental comparison tool to find the best deal!

We also suggest you take a look at this company to get a quote for all kinds of the more tricky adventure or extended travel insurance.

Try Stayz / VRBO for an alternative way to find rentals on homes/apartments/condos in any country!