This post may contain affiliate links.
Yes, you can walk the Daintree Rainforest by yourself at several designated boardwalks. We explain where these rainforest walks are, the dangers you need to know about, and which walks are free. There are also tour options and ways of accessing the Daintree Rainforest in this post.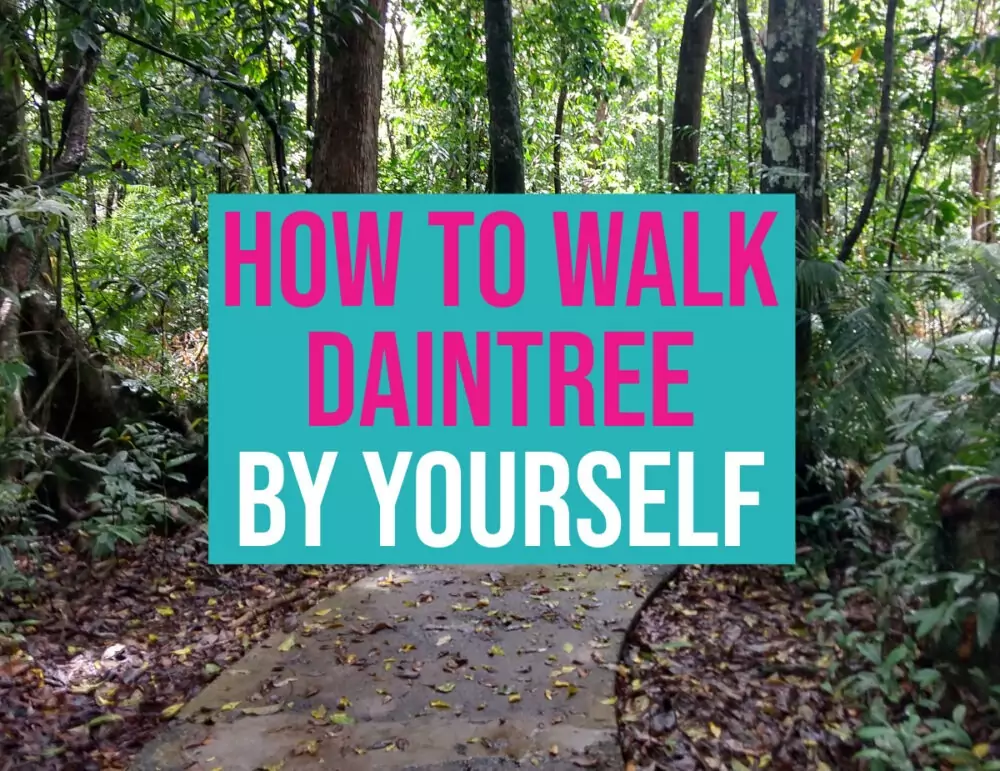 Please find what walking or entry information you need for Daintree Rainforest and Daintree National Park in the index below.
We recommend that you always walk with a buddy, just in case. That goes for anywhere and isn't a reflection on how safe or unsafe the Daintree is.
For more information on the Daintree Rainforest, River, and National Park, hit the "Daintree" tab here.
Walk in The Daintree
It's important to know where the Daintree Rainforest is, and where you can access it.
While there is no charge to enter the Daintree National Park, some charges do exist.
The Daintree Rainforest is inside the Daintree National Park and a location broadly referred to as "Daintree". The town of Mossman is within "Daintree" but it is not part of the Daintree Rainforest, the Mossman Gorge is part of the Daintree Rainforest.
Visitors can walk in the Daintree Rainforest by themselves and access is technically free, but you will have to pay a charge to use the shuttle bus from the Mossman Gorge Visitor's Centre to the start of the raised walking platforms.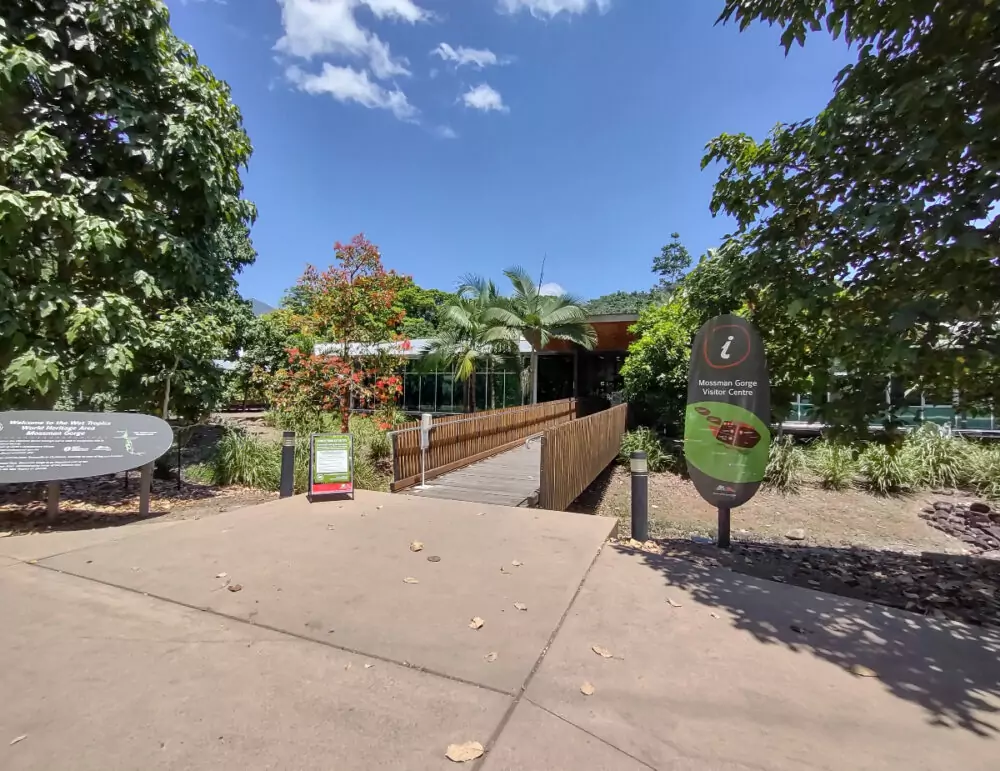 These allow easy pedestrian access to the Mossman Gorge itself.
The cost of the shuttle from the visitor centre to the Mossman Gorge is currently $14 Au for adults, babies are free, kids (5-15 yrs) are $7 Au. There is also a family pass that can make admission cheaper for families, $35 Au (Correct Sept 2023, but it could change so check with the Mossman Gorge Website.)
We'll go into details about how long these rainforest hikes are further down the page.
The Daintree Rainforest is also located north of the Daintree River and Daintree Village.
To access this part of the Daintree you'll need to cross the river using the Daintree Ferry, there is a charge for cars, bicycles or pedestrians using this ferry.
As you drive north from Port Douglas to Daintree you need to take a right off the Daintree Mossman Rd to the ferry.
The charge for the Daintree Ferry is currently $47 Au return. Obviously this changes often so check for updates at the Daintree Ferry website here. (Here currently means Sept 2023)
Once inside the Daintree Rainforest "proper" on the north side of the river, you need to drive to the various walkways and boardwalks that have been constructed through the rainforest and mangroves.
The vegetation is too deep to venture off these paths in most areas. There's also the risk of stinging plant.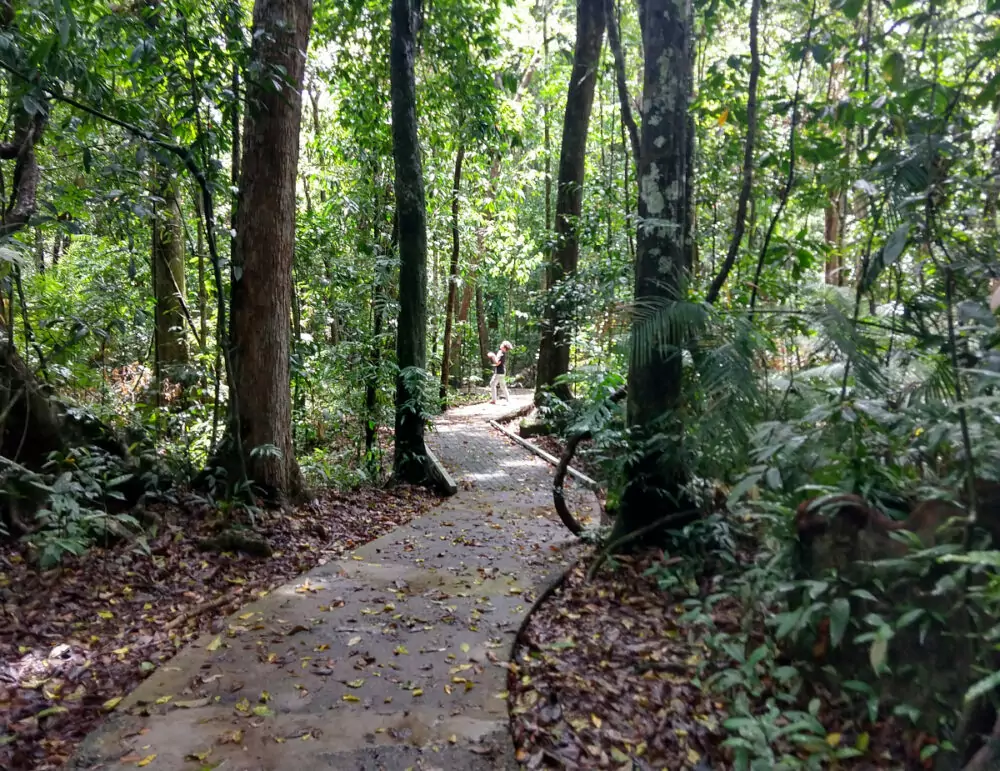 You can, of course, walk on the beautiful beaches that are found alongside the Daintree, the famous border between reef and rainforest.
Just be aware that there are rather a lot of saltwater crocodiles in the region, stay away from the water, be that the sea or rivers and streams. Unless they are well-used freshwater swimming holes that locals consider "safe."
There is no "Daintree Town" as such, Daintree Village is on the south side of the river. There are small settlements and houses throughout the Daintree Rainforest, but no "town".
Several accommodation options for tourists exist within the Daintree Rainforest, at most price points. Some of these will be adjacent to nice places to walk or swim.
Daintree Heritage Lodge has rainforest cabins at a moderate price point near a swimming hole. It gets rave reviews. See it here. This rainforest lodge also has family rooms.
Daintree Eco Lodge (click through to check it out, but this one is an expensive hotel to most of us!) The Daintree Ecolodge is south of the Daintree River, making it convenient for Port Douglas if you plan to take a reef trip or sunset sail.
Dangers of Walking in the Daintree Rainforest
Crocodiles are probably the biggest danger and threat to life, followed by cassowaries. These giant birds are to be avoided.
Then you need to think about stinger season (not that you'll be going near the water anyway), the possible presence of venomous snakes and constricting pythons (which can, and do, bite), plus dangerous plants.
If you venture off the paths you may encounter Queensland stinging plant, gympie gympie, and that's a plant you don't mess with.
There is also a vining plant called "wait-a-while". It's rattan or a relative of rattan. It makes you wait a while because it's covered in tiny hooks. You really don't want to run into one of these.
I've seed this happen to a runner, it's no joke.
There are more dangers, and biting insects are annoying, read more in our post on some of the dangers of Far North Queensland.
But that said, I've walked the boardwalks at Mossman Gorge and in the Daintree dozens of times, with my kids, and nothing bad happened.
We've only ever seen the venomous red-bellied blacksnakes twice. I have recently seen a couple of brown snakes on the roads near Julatten in FNQ, but never in the Daintree Rainforest.
That doesn't mean they're not there!
For those with arachnophobia (like me), you're very likely to see huge golden orb spiders in their webs, usually above your head.
It's Possible To Visit The Daintree Rainforest Without a Tour
Yes, it is possible to visit and walk in the Daintree Rainforest without a tour to save money.
However, these tours are really good and by taking one you won't miss out on hidden gems and wildlife too well camouflaged for you to see.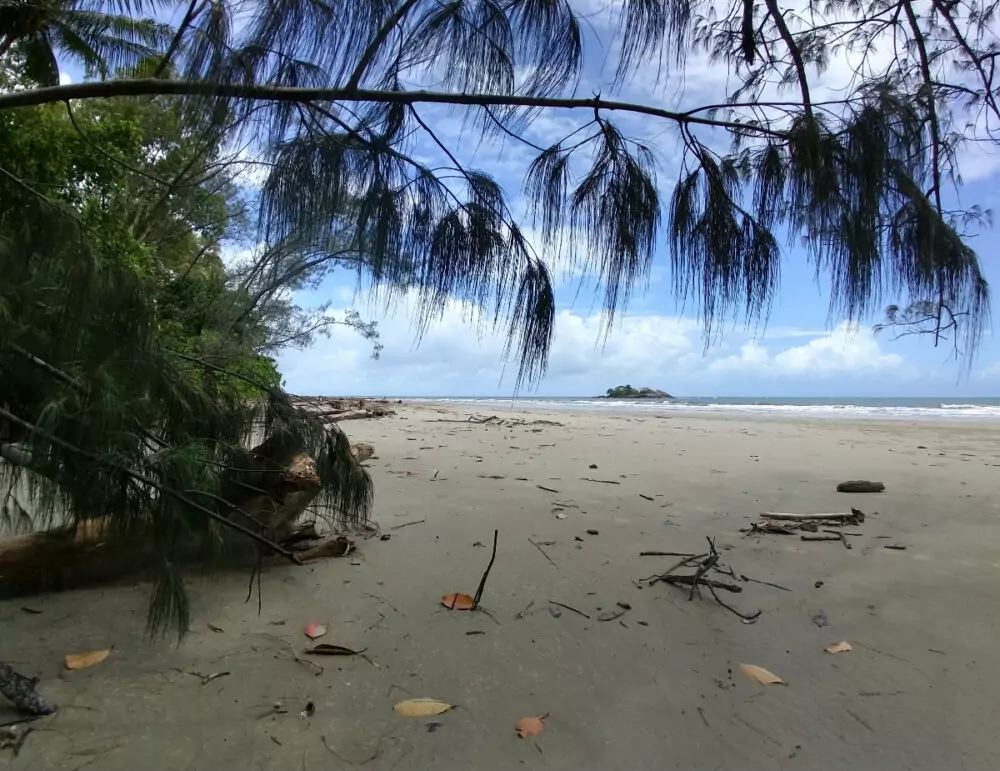 We strongly suggest you consider taking a tour, the best ones are below.
The Daintree River cruises, usually 1 hour long, are very affordable and give you the best chance of spotting crocodiles, snakes, and birds in and around the Daintree River itself.
Local guides are so knowledgeable and good at finding wildlife for tourists!
Book A Daintree Tour To Experience Daintree in The Best Way!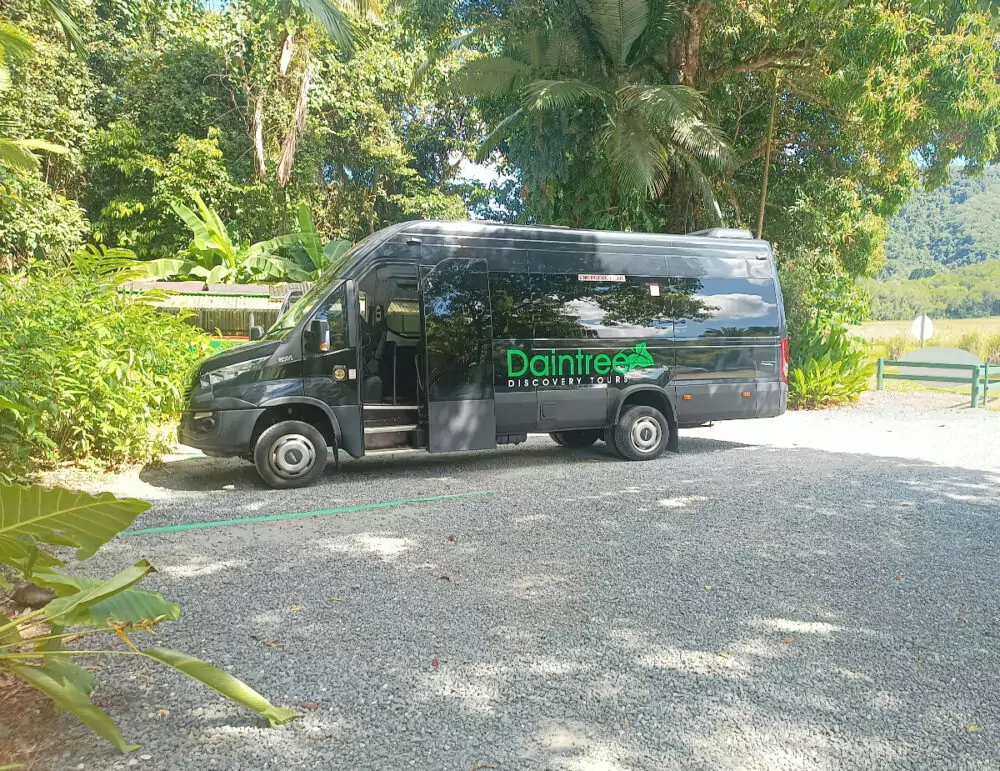 Daintree Discovery Tours are a good choice as they take you to Mossman Gorge, for a cruise on the river, and to the Daintree north of the river on a day tour. This tour is only available from Port Douglas, people staying in Cairns or Palm Cove can drive up and join the tour in Port. This is a great tour, usually including an Aboriginal "welcome to country" with the Kuku Yalangi. Book here.

From Cairns, book a full-day tour to Mossman Gorge and Daintree, including an optional river cruise and indigenous experience. Book here and check details.

If you're staying in Palm Cove, book a full-day tour to Mossman Gorge and the Daintree here.

From Port Douglas, you can visit Mossman Gorge without a car, book the shuttle to Mossman Gorge (return) here and enjoy the walkways and freshwater stream independently. This will be your cheapest way to see the Daintree Rainforest on foot.

From Port Douglas, book a half-day (morning or afternoon) tour to Mossman Gorge and the Daintree River. This is a cheaper option and great if you're short of time. Book here.

To book a crocodile and wildlife cruise on the Daintree River, you need this link. for Solar Whisper (near the ferry), or this link for Bruce Belcher Cruises (towards Daintree Village). These two are usually the same price, both are 1 hour cruises.

To take a night walking tour in the Daintree Rainforest, spotting wildlife in the dark, go here. This particular tour is for families with young kids, there is also an adult tour.

It's also possible to go trekking in the Daintree National Park, look here.
Walks in the Daintree Rainforest
You can either walk in the Daintree at Mossman Gorge, or at Cape Tribulation, on designated walking tracks. None of these are very long or particularly strenuous, but it's likely to be very hot.
You must always have water with you.
These trails are mostly fairly accessible, I've taken a baby in a pram, pushchair or stroller many times. I can't vouch for wheelchair accessibility, unfortunately.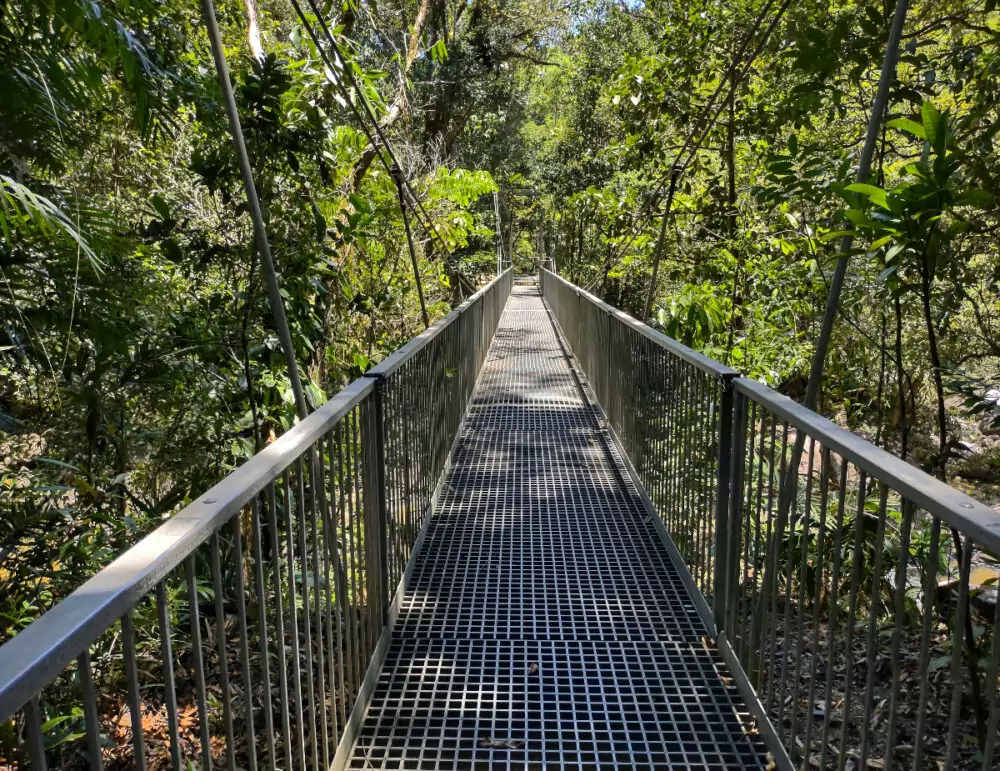 The longest hike at Mossman Gorge is the Rainforest Circuit Track which is 2.4 Km through the rainforest on rough ground.
There is also a 400m River Circuit Track which is quite sloped.
The walk from the shuttle bus to the Mossman River Lookout is 540m. You can see these hiking trails marked on the pdf map here.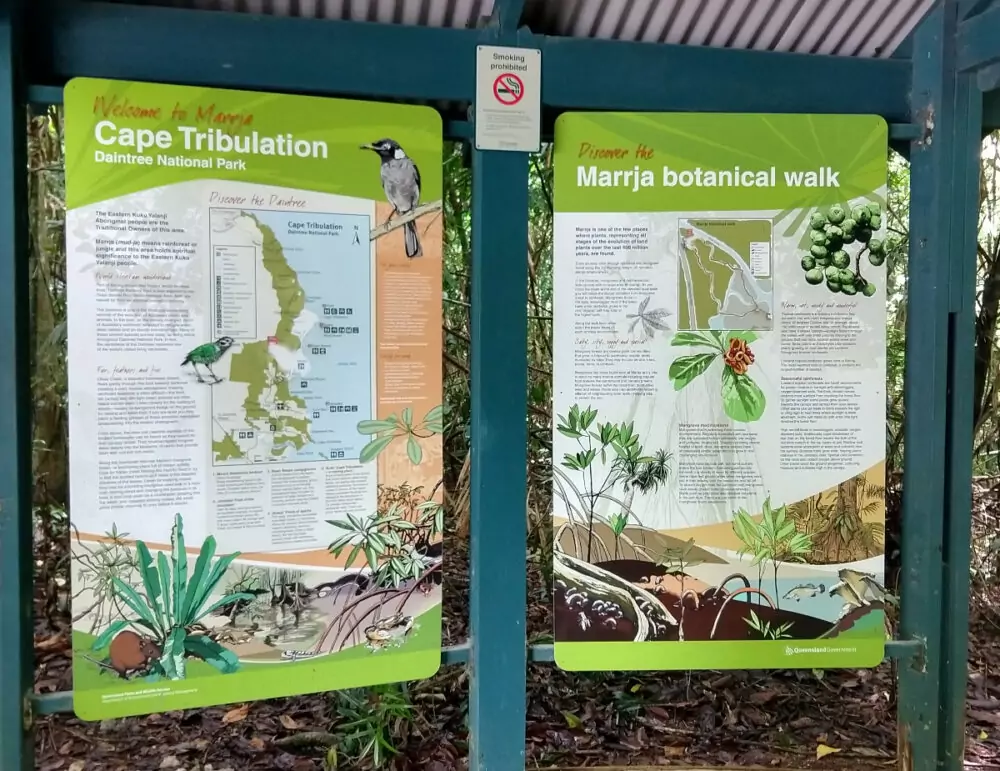 In the Daintree at Cape Tribulation there are the Marrja Botanical Walk (30 mins) and the Dubuji Boardwalk (1 hour).
All walking times are approximate, we all walk differently. There are usually information signs, similar to the ones above, along the trail.
The Jimbalba Boardwalk and Circuit Trek (650m and 3 km respectively) are near the Daintree Discovery Centre.
You can also walk along the beach, either from Mayall Beach to Cape Tribulation Beach or at Cow Bay.
At Emagen Creek there is a trail through the vegetation which, after about 800m, delivers walkers to the most beautiful beach views. This is Emmagen Beach.
If you plan to walk on any beaches, check the tides, not much beach remains at high time, and be very vigilant about crocodiles.
There are also a couple of walking trails from Daintree Village.
The Mount Sorrow Ridge Walk, a 6 Km round-trip, is not an easy one for visitors. The map is here.
A full guide to all of the walking trails in and near the Daintree Rainforest is beyond the scope of this post, but that guide is coming.
Other Hikes Near Daintree
Other good hikes in the area include the Devil's Thumb Hike, and the historic Bump Track walk (south of Port Douglas).
For the Devil's Thumb (Manjal Jimalji trail, map here) you'd probably need a guide.
The Bump Track is clearly marked, it's at Shannonvale, just south of Port Douglas.
There is also the short Flagstaff Hill walk in Port Douglas or the Spring Creek walk.
A little further south, the walk to Hartley's Falls is also pleasant and people often swim at these waterfalls.
Our full guides to walking trails are coming soon, with up-to-date photos of trail conditions.
For more information on the Daintree Rainforest, River, and National Park, hit the "Daintree" tab here.
If you'd like to hire a car during your stay, use this car rental comparison tool to find the best deal!

We also suggest you take a look at this company to get a quote for all kinds of the more tricky adventure or extended travel insurance.

Try Stayz / VRBO for an alternative way to find rentals on homes/apartments/condos in any country!