This post may contain affiliate links.
Paronella Park is a tourist attraction in Far North Queensland, Australia. It was built as a pleasure park business by an inspired Spaniard with a head full of dreams, back in the days when this part of the world was inaccessible to most. But what is it about Paronella Park? Is this crumbling castle in the rainforest really worth it? We bring you our Paronella Park Review. It's the story of the park that gives it unique appeal.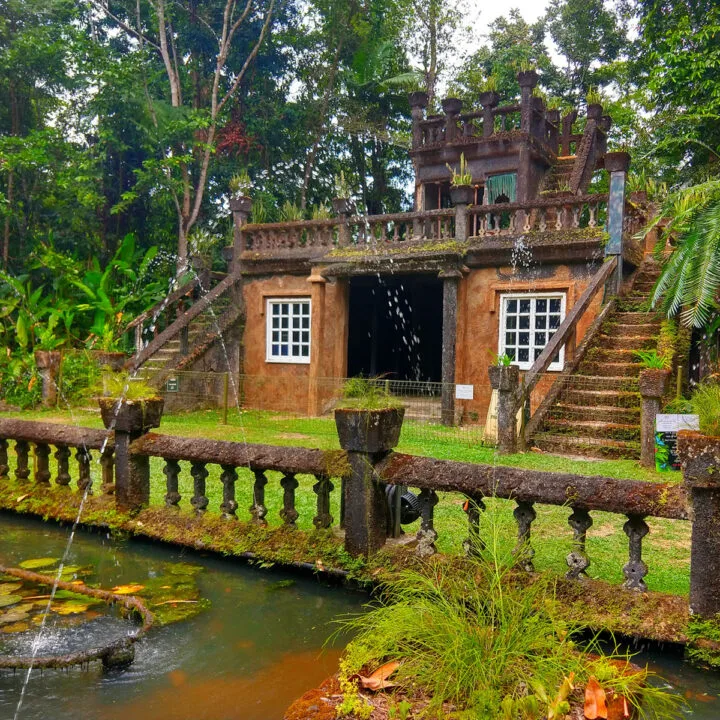 Paronella Park has won TripAdvisor awards for being one of the best attractions in the world, not just in Australia, which seemed a little odd. It looks, from the online photos, like the closest thing Australia has to a stately home or castle, complete with landscaped grounds but with a typical rainforest jungle setting rather than the temperate lawns of Europe.
It comes complete with a before-its-time hydroelectric generating setup that still provides power today. The falls setting is picturesque but has brought extensive flooding over the years.
We've owned a house in FNQ for over a decade and seen most things there are to see in the region, most of them many times, but never been to Paronella Park. We finally went, and it really was good, a very interesting place to visit, but not for conventional reasons. What makes Paronella Park so interesting? It's the story behind it.
Paronella Park Review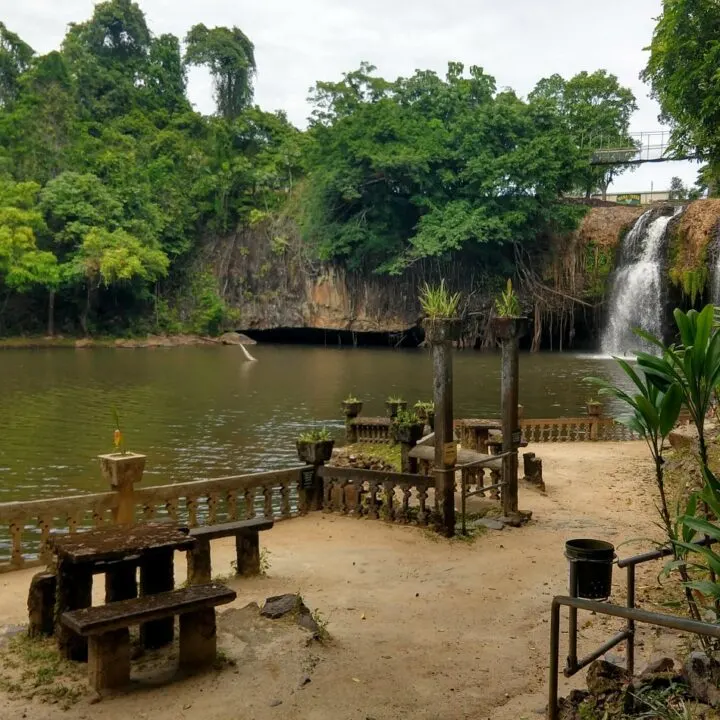 Paronella Park is a tourist attraction in Far North Queensland Australia. It's easily accessible from the coast road and from the inland Tablelands routs along the east coast. The park is not too far from other notable places, such as Mission Beach. Tully, and Ravenshoe.
There is an entry fee and it's not cheap. The high cost of admission was one of the reasons we'd never visited before. We managed to get a family ticket and had to just scrape one of the kids in a child. It cost us $142 Au for 4 people.
Your ticket includes a guided tour and you absolutely should take up this offer. This is what makes the park, the stories behind it. There is an after-dark light show too, but most visitors won't be able to stick around for that. Your visit will probably take between two hours and half a day.
---
Visit Paronella Park From Cairns
It's possible to visit Paronella Park from Cairns as a full-day trip, including pick up and return to your hotel. As your tour of the Park doesn't take too long, this tour also includes the natural wonders of the Atherton Tablelands.
You get to see Lake Barrine, The Curtain Fig Tree, and swim beneath the stunning natural waterfall at Millaa Milla Falls. Book this tour below! and check what's included. Paronella Park is near Cairns, Ravenshoe or Mission Beach.
---
Paronella Park History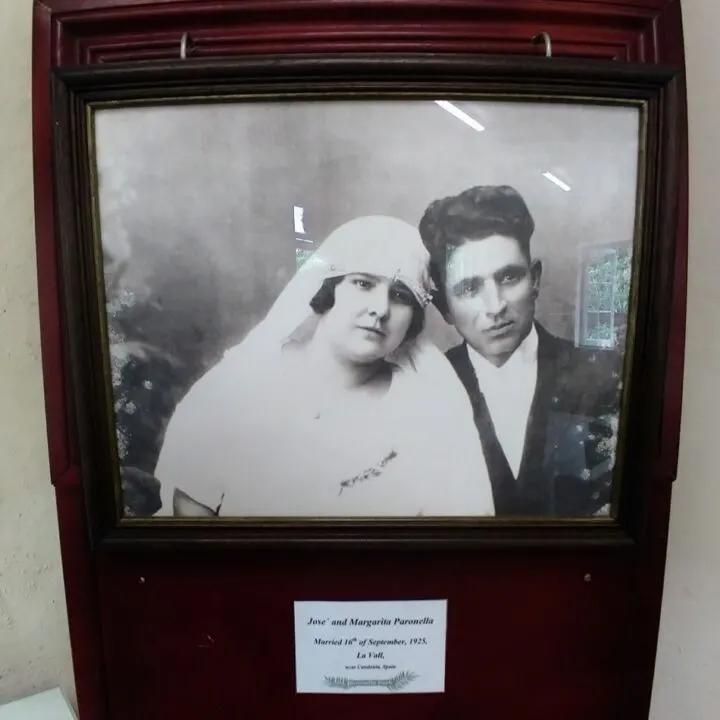 Paronella Park is a folly built by a Spanish imigrant to Australia, Jose Paronella. Jose was obviously a dreamer, a good businessmen, and a hard worker. He created his castle in the rainforest to draw daytrippers and to be a venue for all manner of pleasures. The park was also his family home. He must have been an incredible man.
Jose purchased this piece of land on the banks of Mena Creek in 1929, for just 120 UK pounds. The park opened to the public in 1935. I won't tell you all the stories here, because it will spoil your visit if you ever make it to the park. We found them fascinated, even my teenaged boys enjoyed this visit although the heat was a bit much for them.
We visited in October, my birthday, mid-spring in Tropical North Queensland.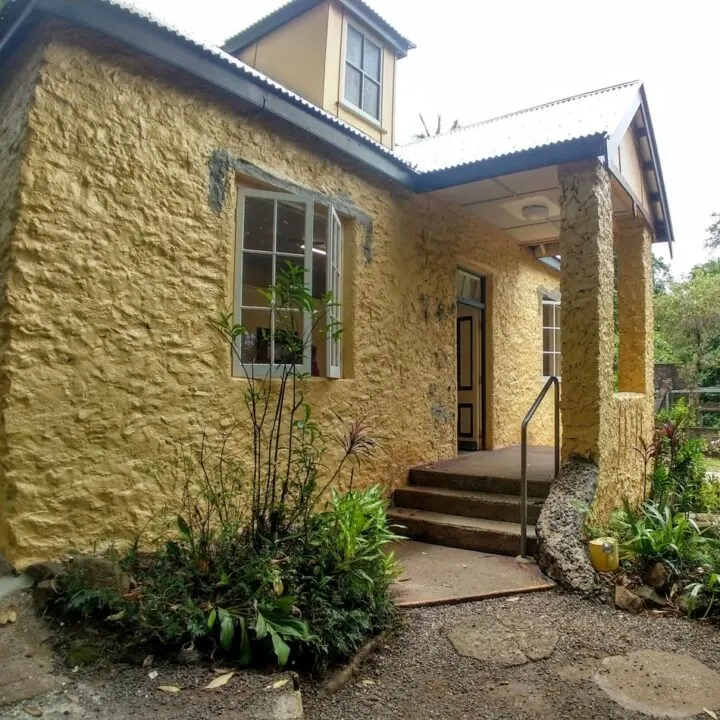 The park has fallen into ruins over the years through flooding, cyclones, old age, fire, and weak construction. It was closed to the public in 1979 after a devastating fire. The current owners bought Paronella Park in 1983 and are doing their best to maintain it as a stand-alone tourist destination and caravan park. They seem to be very successful judging by the number of awards the park has received.
Paronalla Park Gardens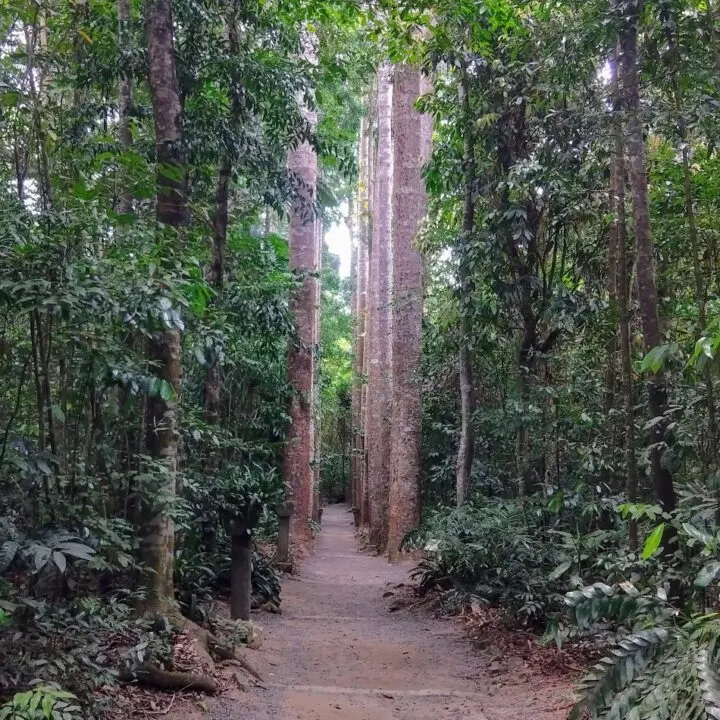 If you're a gardener (as I am, want to see my gardening Instagram?) or just interested in tropical plants, there's plenty to see in the grounds or gardens of Paronella Park.
The park is like its own, mini, botanical gardens and old Jose planted 7,000 or so trees here before his death in 1948.
Don't expect well-manicured beds and borders, everything is still very jungle, but there is a huge collection of plants with demarkated areas for ferns, palms and bamboos. We picked up a plant guide at the front desk and used numbers around the park to identify species.
Paronella Park Falls and Waterside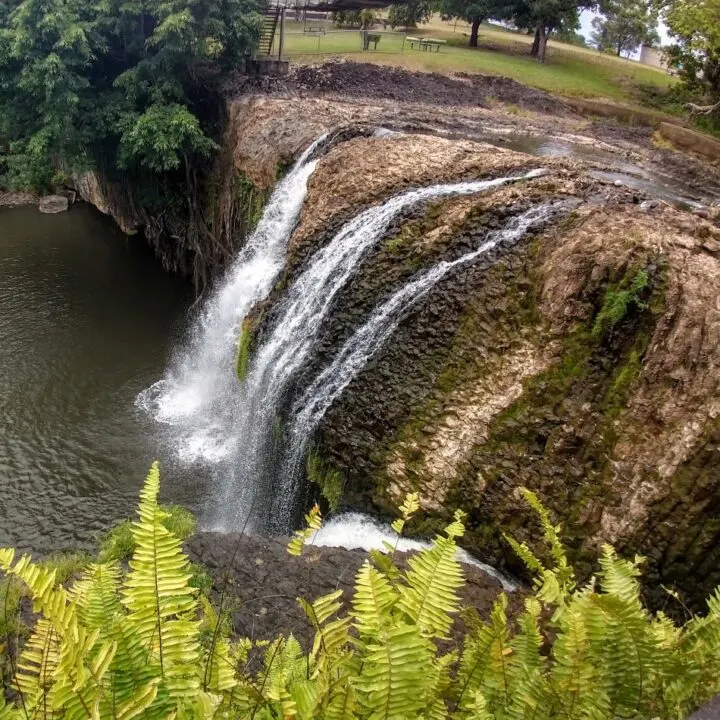 Mena Creek has been the making and, at times, the undoing of Paronella Park. It has seen devastating flooding in tropical wet season. The hydro electric power generated here is impressive. The system was completely restored in 2009 and is fully functional. Jose first commissioned this plant in 1933. It was the first of its kind in North Queensland.
Visitors used to swim here in this waterfall pool but there have been crocodiles found here from time to time. So maybe it's best not to swim. Content yourself with feeding the fish and turtles instead. You get a serve of fish food at reception and thankfully, they reuse the plastic containers. That was good to see.
Paronella Park Buildings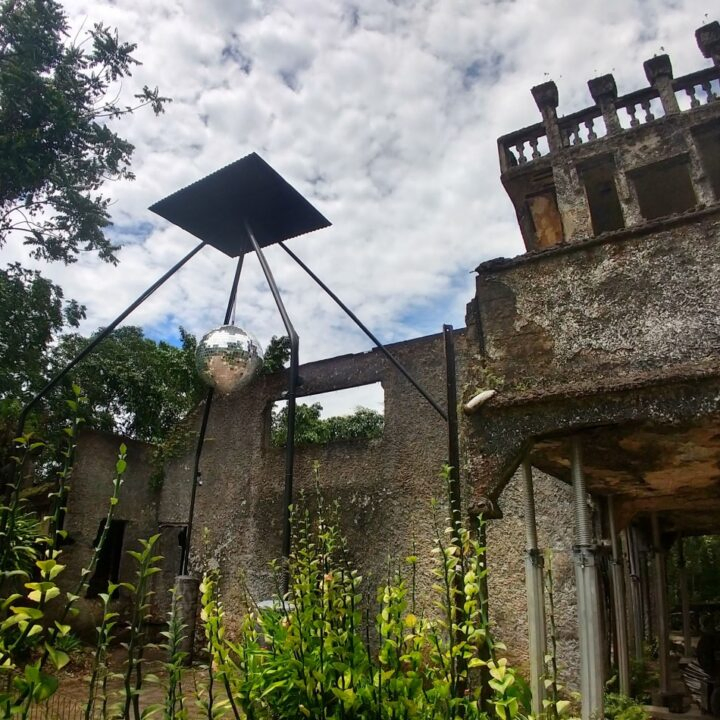 None of the buildings at Paronella Park, except Jose's cottage, are well preserved, most are crumbling. However, the exteriors and their stories are no-less fascinating for that.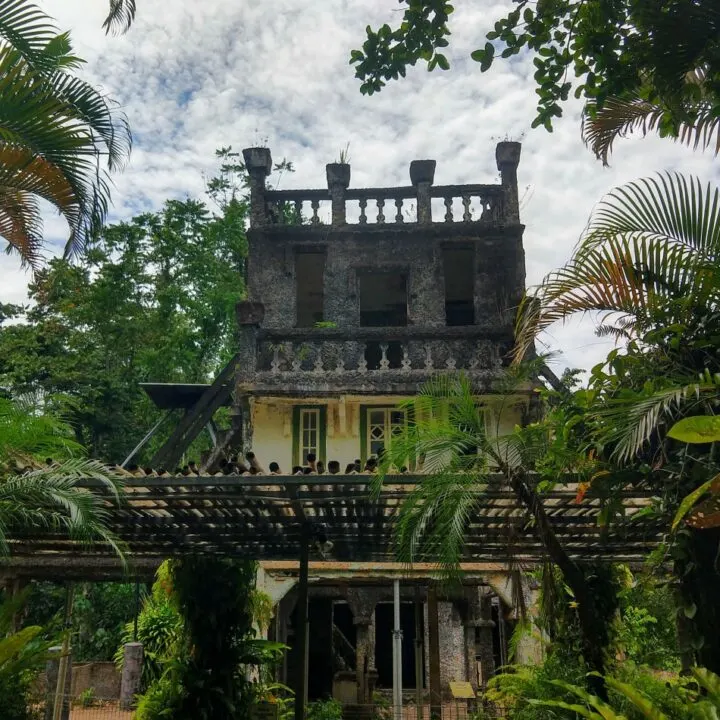 The wishing-well and parts of the old ice cream shop still stand, along with changing rooms for male and female bathers and various castle-like pavillions. The tunnel of love is still there, but it belongs to bats now. Some of the stairways, balustrades, and picnic tables, all made from concrete, are original, others parts are repaired or replicas.
The major downfall of the park was the materials Jose used. Concrete, river sand, and old railway ties didn't make for a sturdy structure in tropical conditions. Don't be put off by the crumbling appearance, the ambiance and quirkiness of this Queensland destination make it very much worth investigating.
Other Famous Follies Around the World
Follies are often so interesting, don't you think? One that jumps out for us is Castell Coch in Wales. It's a fairytale castle and once upon a time, I got married there.
Another is Kelly's Castle in Malaysia. We've visited but I haven't posted about it yet. Can you think of any more? I don't know if Paronella Park is Australia's only castle-style folly, but I'm going to find out.
Where is Paronella Park?
Paronella Park is located approximately 105 Kilometers south of Cairns (65 miles) and the road journey takes an hour and a half to drive depending on road conditions and traffic.
Port Douglas is 170 Kilometers north of Paronella Park (105 miles) and will be about a two and a half hour drive.
Cooktown is 404 Kilometers north of Paronella Park (250 miles) and will take about four and a half hours of driving to reach it.
Australia is a big place, so getting from town to town can take quite a while, so if you're planning a road trip, you should always plan a pit stop or two. Here are some of the towns and cities within driving range of Paronella Park.
Townsville is south of Paronella Park, which is a 3-hour drive, and 254 Kilometers away (157 miles).
Brisbane sits at 1,607 Kilometers south (998 miles) approximately 18 hours of driving.
Where is Paronella Park on the map? Paronella Park is 17 degrees south of the equator (southern hemisphere) in Far North Queensland Australia. The park is marked on our interactive map below, you can use it to help visualise where Paronella Park is located.
Paronella Park Opening Hours
Paronella Park's opening hours are listed as 9:00 am to 7:30 pm every day other than Christmas Eve and Christmas Day. These opening hours are subject to change, however, so you can check for current hours here.
Paronella Park Admission Costs
How much do tickets to Paronella Park cost? For adults, the price of a ticket is $55, $50 for pensioners, and $31 for children between 5-15. They also offer family deals, with the admission fee for 2 adults and 2 children being $162 and 2 adults and 3 children being $171. These prices are subject to sudden change, check current prices here.
How Long Should You Allow To Visit Paronella Park?
Paronella Park has many different attractions available, so how long should you set aside to see them? You probably only need about 2.5-3 hours to see Paronella Park. Keep in mind that there are constant tours available every half hour, that last 30 minutes. These show you around the park and ready you to explore on your own. The park also does night tours, so you can explore the park in another light. You can learn more about the tours here.
Paronella Park, Visiting and Staying Information
We loved visiting Paronella Park and this whole short break. We took a two-day trip, staying one night at a beautiful beach cottage (below) at Mission Beach and visiting many natural and man-made attractions on the Atherton Tablelands. We'll post more about these soon. We hired a car and drove down from Port Douglas, to Cairns, before looping inland and up to the cooler climates and waterfalls of the North Queensland interior. Mission Beach, on this trip, was where I saw a shark feeding just a foot or two from the water's edge. Those photos are on our Instagram account. It's great to getaway. A short break or staycation lifted our spirits after long months of lockdown. We hope you managed to go somewhere interesting in 2020 too.
Buy Paronella Park Tickets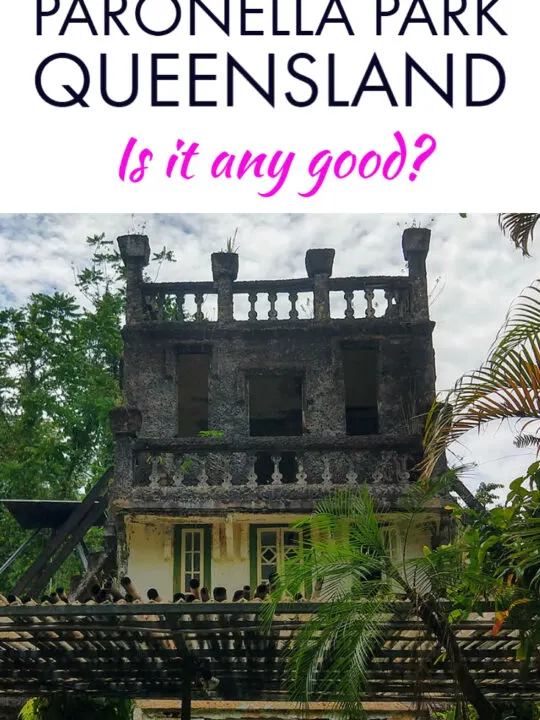 We hope you found our review of Paronella Park interesting. Our reviews are always unbiased, we're very rarely paid to review and we didn't go after a press pass. We visited for my birthday because it was what I wanted to do, this wasn't work. Of course, we are us, and you are you, but we tell our truth. Is Paronella Park a good place to visit with small kids? Maybe, but they'll have to stand around and listen in the heat for quite a long time if parents want to hear the stories. Happy and safe future travels to you all. Let's hope we can all get back to normal soon. Please could you save to Pinterest to help build your Tropical North Queensland Itinerary.
If you'd like to hire a car during your stay, use this car rental comparison tool to find the best deal!

We also suggest you take a look at this company to get a quote for all kinds of the more tricky adventure or extended travel insurance.

Try Stayz / VRBO for an alternative way to find rentals on homes/apartments/condos in any country!