Driving west of Cardiff you can't miss a stunning fairy tale castle emerging quietly from the otherwise uninterrupted forest green of the Welsh hillside. A castle with cylindrical turrets and pointed rooftops worthy of Rapunzel or Sleeping Beauty which fascinates children and parents driving by. This castle is the red castle, Castell Coch in Welsh, and is one of the most splendid places to visit in the region. Often used as a TV or movie set, visitors can enter the castle to explore its ornately decorated chambers, as we did yesterday.
Castell Coch is actually a Victorian folly, a Gothic revival built by the 3rd Marquess of Bute using his incredible fortune. The Victorians had a love affair with design from the middle ages and Bute needed a country residence, not far from his main home and equally opulent building, Cardiff Castle. The structure rests on remains of a Norman castle that stood on the same spot, the lower potions of the castle are original and date from the 1500s. The Bute's never truly lived here, the castle was an imaginative country retreat.
Castell Coch – Inside The Fairy Tale Castle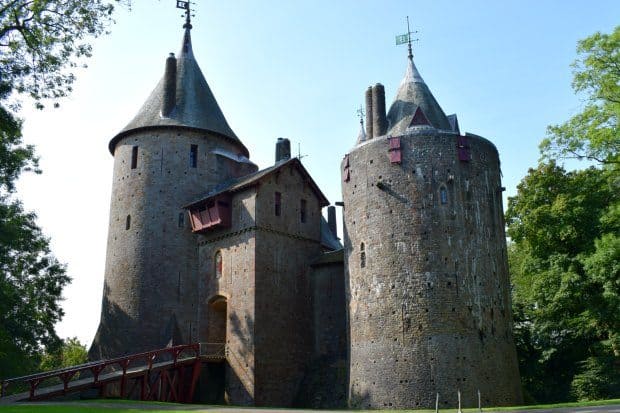 Park your car in the woods just below the castle and walk a short distance up the hill for this view. We only planned on looking at the outside but my son was keen to go within. We were all pleasantly surprised by how much fun this castle visit was. There are winding stone staircases, secret passages and splendid chambers to explore, along with dark, dank dungeons and a stunning central courtyard.
Any post on this site may contain affiliate links. We earn commission on these should you make a purchase. All recommendations are genuine and we are not paid to include products, hotels, and so on.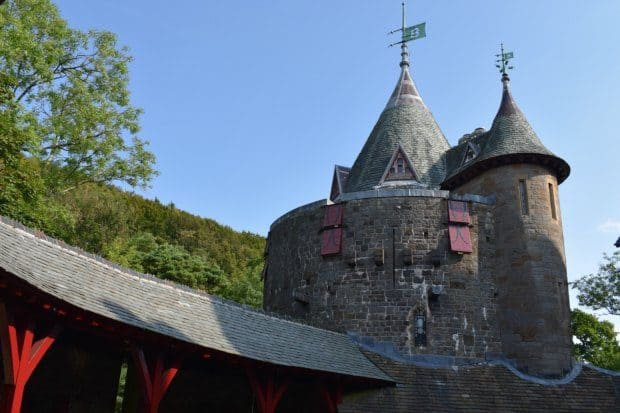 Kitchen fittings at Castell Coch, including a splendid Welsh dresser.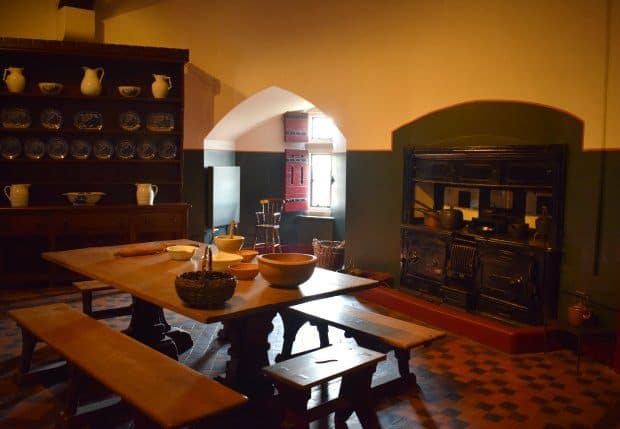 Lady Bute's chamber boasts a crystal ball decorated bed and ceiling art populated by birds.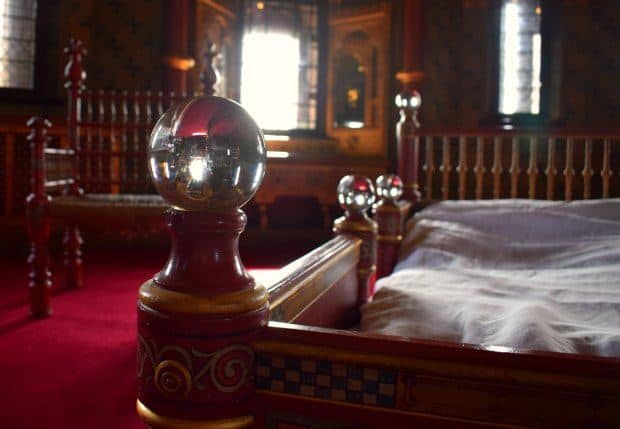 The children's activity room at Castell Coch is particularly good, Boo ( below) enjoyed using stencils, such as those used for the original decoration.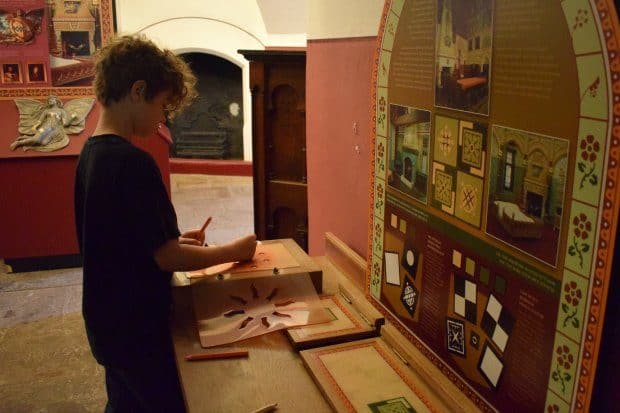 Every castle needs a drawbridge and true-to-form, Castell Coch has one. Visitors can also enjoy a cafe and gift shop within the castle walls.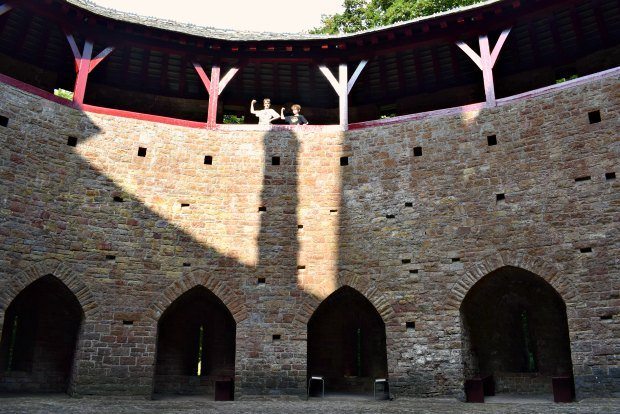 How to Get to Castell Coch
Castell Coch is near Tongynlais and Taffs Well, just west of Cardiff.
To reach Castell Coch, take Junction 32 of the M$ motorway, then the A470. You will see Castell Coch signposted.
Castell Coch Admission Price
Family Admission to Castell Coch was £16.20 at time of writing
Children under 5 Admission free at that time.
Castell Coch is conserved by Cadw, Cadw membership is also available.
For you, for Pinterest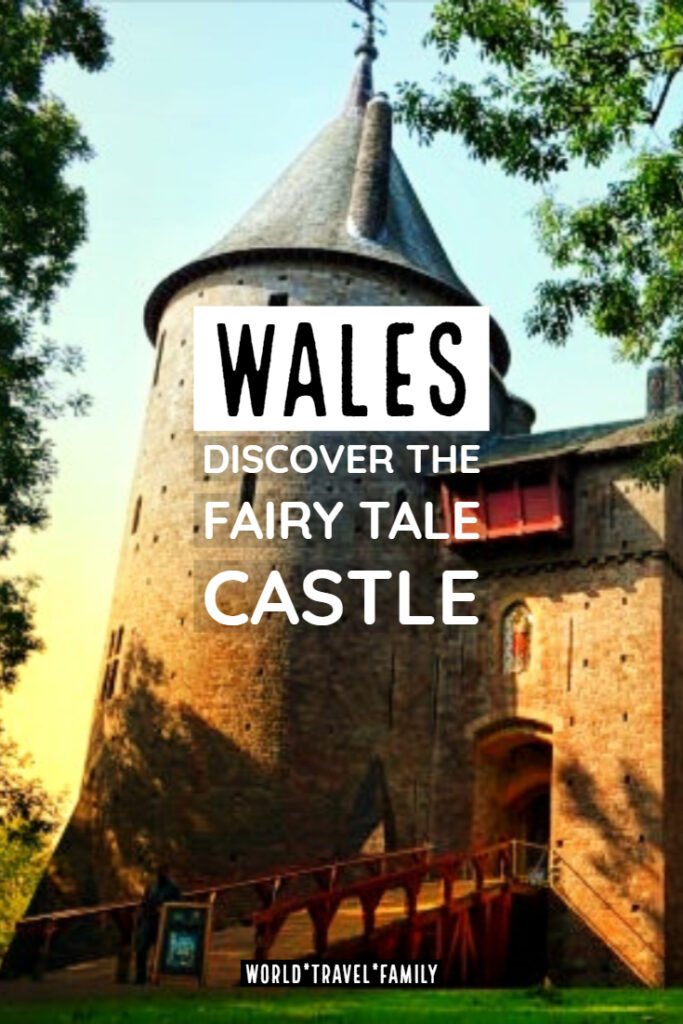 We hope you make it to Castell Coch, for more information on travelling in south Wales and beyond, back to our main Wales Travel page.
Alyson is the creator of World Travel Family travel blog and is a full-time traveller, blogger and travel writer. A lifetime of wanderlust and now over 7 years on the road, 50+ countries allowed the creation of this website, for you. She has a BSc and worked in pathology before entering the travel arena and creating this website. World Travel Family Travel Blog has been helping you travel more, better and further since 2012, when Alyson and James first had this life changing idea. On this site you can find endless travel information, tips and guides plus how to travel, how to fund travel and how to start your own travel blog.