This post may contain affiliate links.
Barry Island Wales is part of my childhood. I grew up just a few miles away and we regularly visited for beach strolls, fish and chips and Pleasure Park fun. Watching Gavin and Stacey sitting on Barry Island Beach from miles away in Australia made me homesick, so we're back, to share Barry Island with our children and with you.
We'll find those Barry Island Gavin and Stacey locations while we're here too. No need for a tour, let us show you where they are.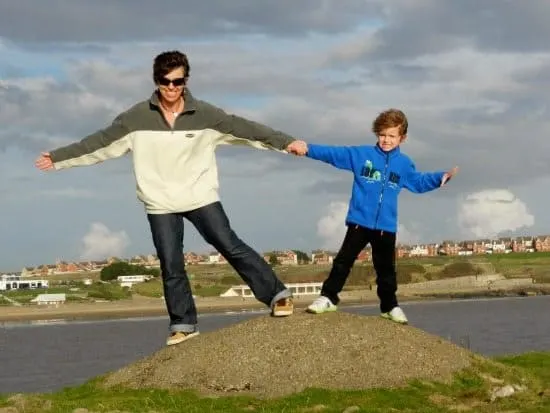 Barry Island Wales, Near Cardiff
We love Barry Island! I've been going all my life, I used to visit Barry Island Pleasure Park as a kid, 40 ears ago now. I thought the rides were awesome.
Mum never allowed us to swim from the beach in summer, something about a dodgy sewage pipe, but there was always the open air lido if the weather was good.
We used to have hotter summers in Wales back then, although summer 2014 has been pretty sensational.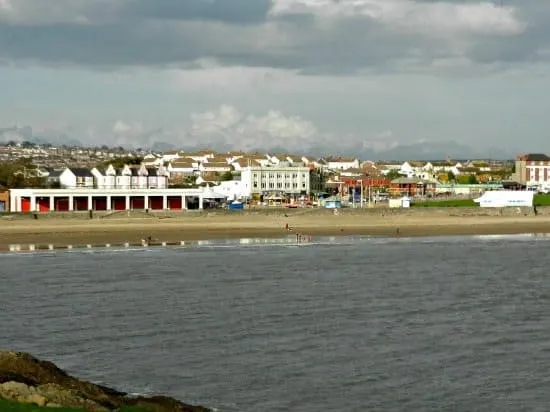 The Lido is long gone, along with Butlins, but the Pleasure Park is still there, it was shut today. We pressed our faces up to the railings and wished we could have a go on the log flume.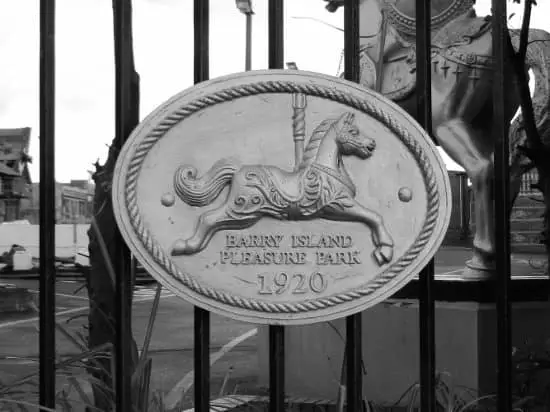 Barry Island has found new fame. It's the home of TV show Gavin and Stacey co-written by Welsh genius Ruth Jones. We're well made up about her MBE. Tidy!
Barry Island Pleasure Park was also used in Doctor Who Spin off, Sarah Jane Adventures, so the kids and I have an extra reason to love the place. See our post about Doctor Who in Wales here.
Barry Island is where Stacey lived before she married English Gavin and moved in with his Mum and Dad in Essex. The Steadman's real house is just up the road from Barry, in Dinas Powys, it's all a big sham.
Nobody ever drove up the M4.
Barry Island Rocks
Even if you don't watch Gavin and Stacey, you should visit Barry Island. I think it's best in winter, you can warm up with chips and gravy and put your head down against the driving wind as you walk out to The Knap.
It can be what you might call bracing.
It's British seaside town at it's best. Fish and chips, candy floss, amusement arcades, pink minty rock with "Oh, What's Occurrin""written down the middle and a real bucket and spade beach.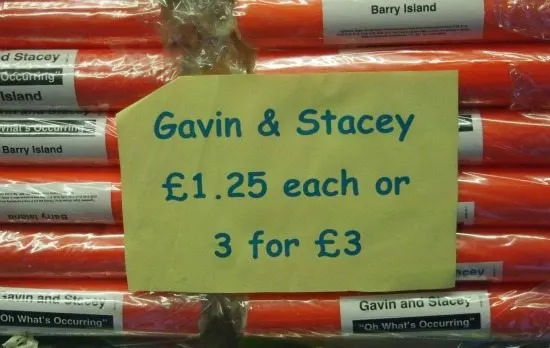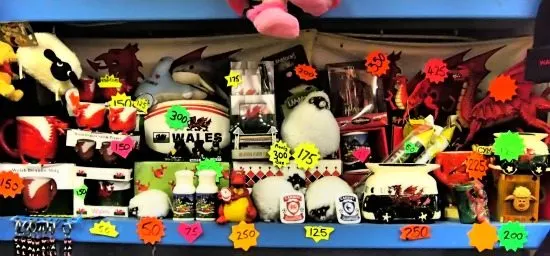 Today, New Year's Day 2014, we happened to catch this crazy lot going for a swim!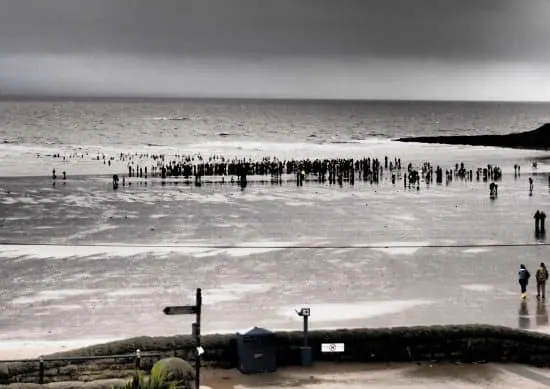 The Gavin and Stacey Locations on Barry Island
You'll see references to the show everywhere.
This is the street where Stacey's family lived, it's really Trinity St.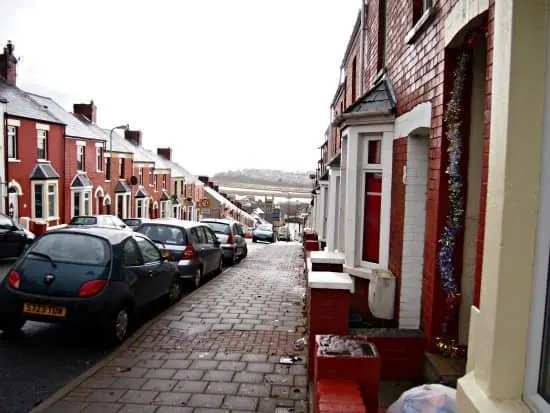 It's number 47 Trinity St. you want, Do's house is next door.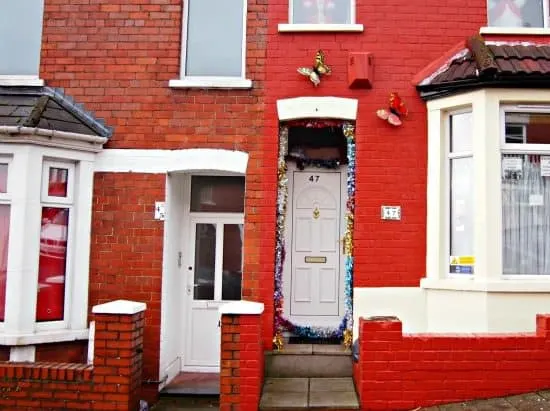 The signs in the window were really charming. "Please Take Photos, You're More Than Welcome". Very Welsh.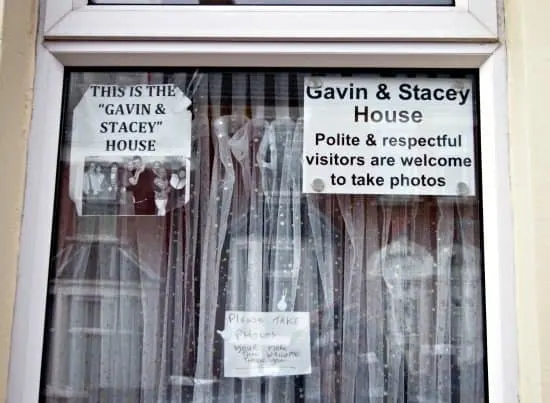 Nessa worked in an amusement arcade on the sea front for a while. This one.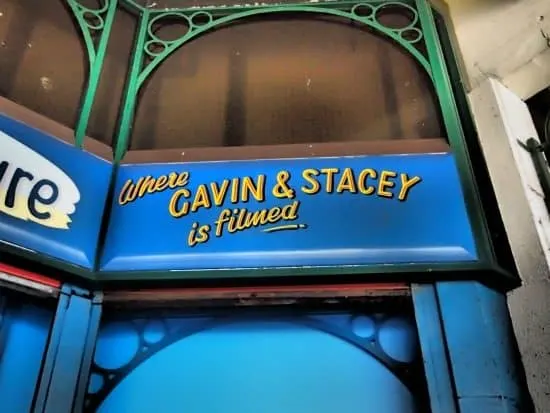 This is where Nessa sat. Remember the scene with Robin Gibb? "I normally sees Barry down Barry."
If you spend 5 pounds they'll let you sit in there and have your picture taken.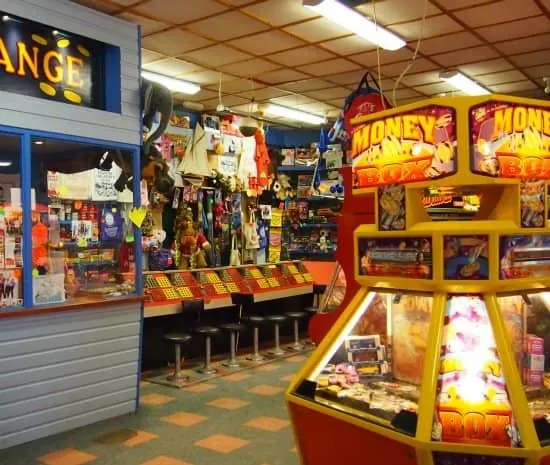 Boofy's fish and chip shop is almost next door. They do most excellent chips, real potato, none of your frozen nonsense. Add gravy or curry sauce for a real Welsh treat.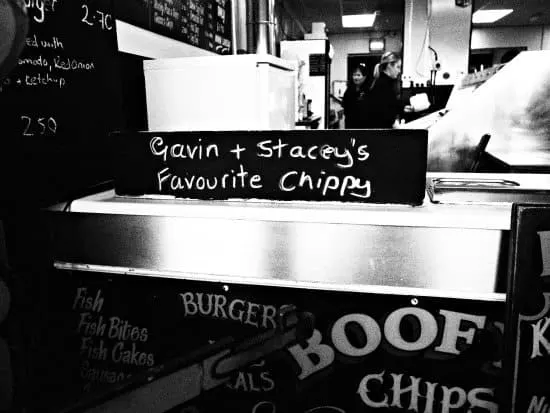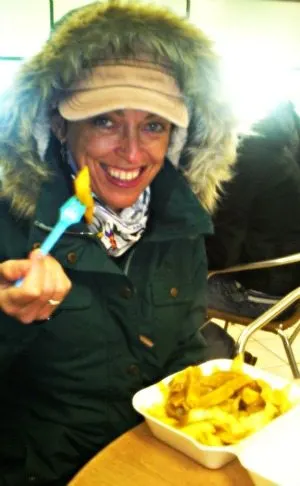 and you'll see lots of this sort of thing.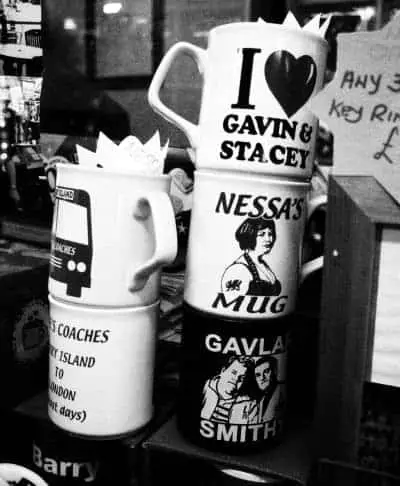 I couldn't be more pleased that a TV show has finally put Barry Island on the map. Suddenly it's cool to live in Barry. I wonder if house prices have gone up? I know I'd like to live there. Back to our main Wales Travel Blog page
If you'd like to hire a car during your stay, use this car rental comparison tool to find the best deal!

We also suggest you take a look at this company to get a quote for all kinds of the more tricky adventure or extended travel insurance.

Try Stayz / VRBO for an alternative way to find rentals on homes/apartments/condos in any country!