This post may contain affiliate links.
This post covers Doctor Who filming locations in, and near, Cardiff Wales, Doctor Who tours for 2022, walks and attractions. It also has photos from the Doctor Who Experience which was based in Cardiff. If you love Doctor Who, you'll love this post.
I was lucky enough to be in Cardiff for Christmas 2013, The Doctor's 50th anniversary. I'm also lucky enough to have two fabulous kids who enjoy Doctor Who just as much as I do, and to have 45 UK pounds in my pocket to spend on a family admission The Doctor Who Experience in Cardiff Bay. Even if you don't have the cash to spare, just being in Cardiff makes you feel close to The Doctor and the incredible story that has been woven over the last half a century. The Doctor is with us in Wales, and I love it!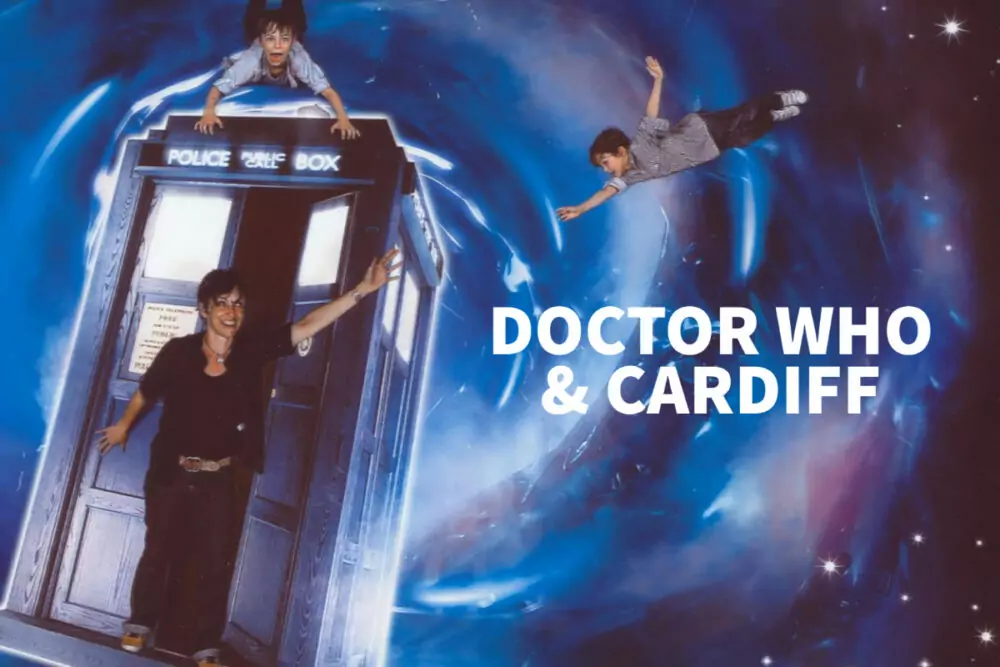 Cardiff Doctor Who tours exist, but with a little insider knowledge from this Wales-based Whovian, you can find the locations yourself. If you'd like to see pictures from the Cardiff Doctor Who Experience, they're also in this post.
We also cover Doctor Who attractions in and near Cardiff and places to visit that were featured in the popular TV series.
Just hover over this pin to save it to Pinterest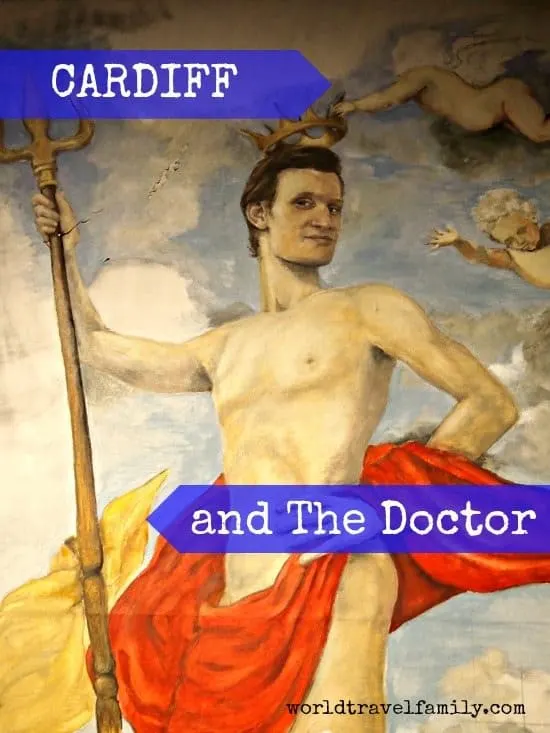 Cardiff and Doctor Who
The photos of Doctor Who attractions in Cardiff below, I took a long time ago now. But I'm sure you'll enjoy them.
These were temporary features, random TARDIS pop-ups to please Doctor Who fans, local and international.
Other Doctor Who related places are permanent fixtures in Wales.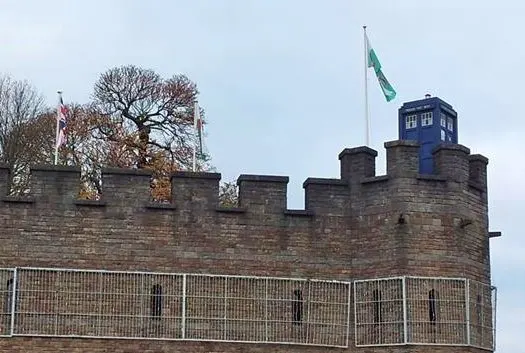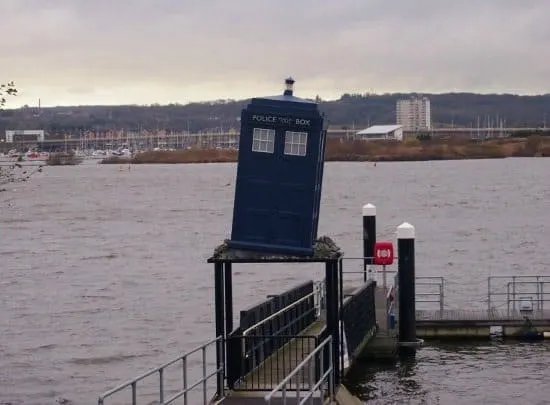 I could be wrong, but I think Cardiff's fabulous Christmas lights may have slight Doctor Who influences, too. Remember the star that appeared over earth one Christmas day? Do they look almost TARDIS blue to you?
This street, was the one Kylie Minogue walked along as Astrid Peth visiting Earth from SS Titanic and where Donna's grandfather Wilf had his newspaper stall.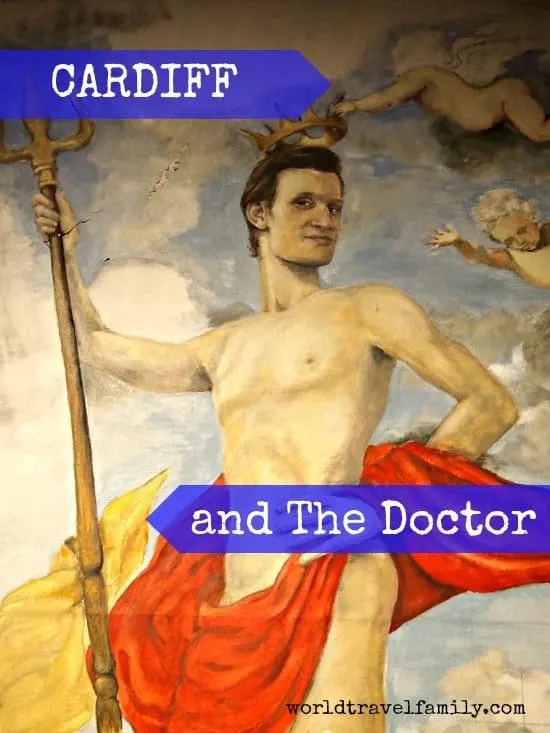 More Cardiff Doctor Who Locations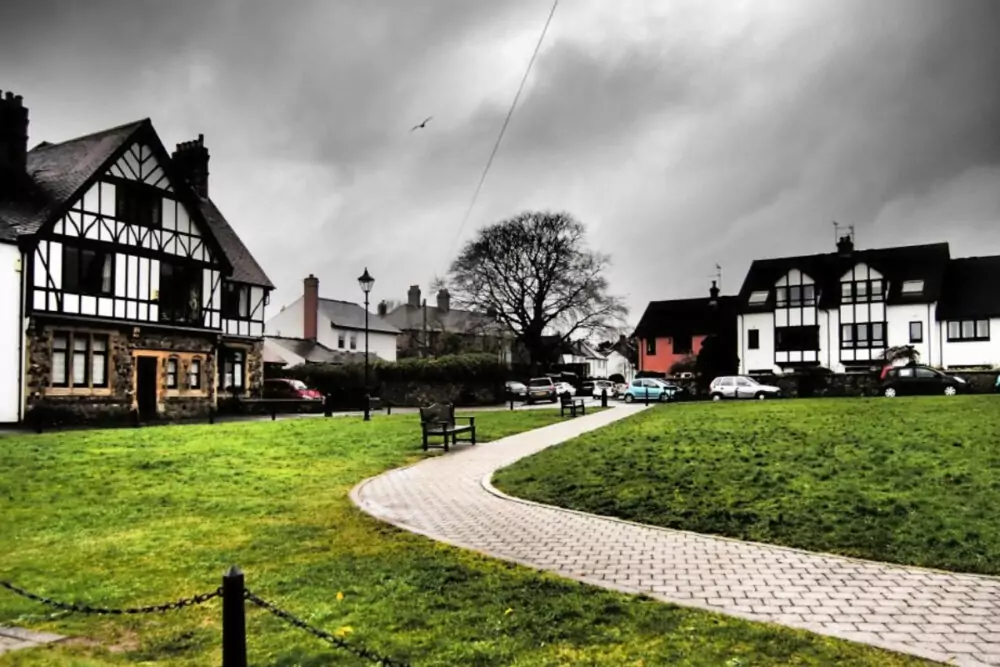 If you know your Doctor Who you'll see locations from the series everywhere.
Amy's village, Leadworth is nearby in LLandaff and Bad Wolf Bay, actually Southerdown Beach, is a short drive up the coast.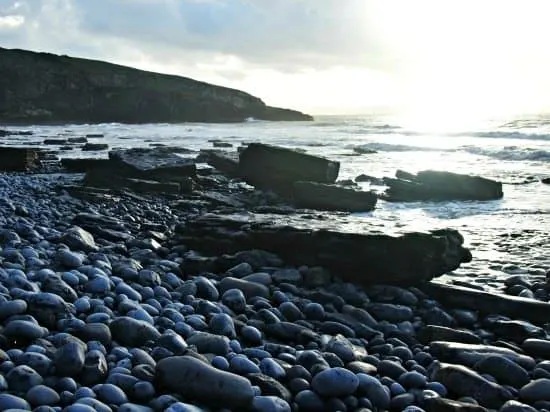 Another fantastic Doctor Who story was based around Van Gogh and "The Monster in the Church". This church was supposedly the Church at Auvers in France.
The real set for this episode was Llandaff cathedral. The spooky churchyard here made a perfect backdrop for the Krafayis, a metaphor for Vincent's depression.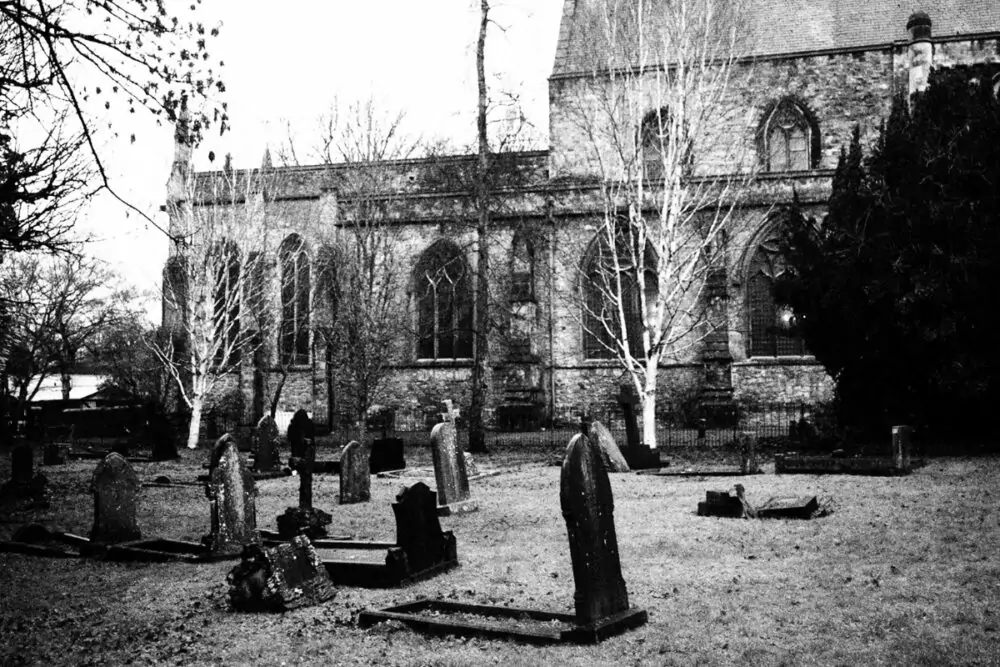 The "Musée d'Orsay" in Paris, France in these Van Gogh episodes, was actually the interior of Cardiff's National Museum. You'll find this in Central Cardiff and admission is normally free. It's a good museum, but quite small.
You will also find a street in Cardiff named after the Silurians. Or is it? Look our for Silurian Place and Silurian Park.
Tredegar House, just outside neighbouring Newport, also features heavily in the series from the Wales period.
Cardiff Castle itself has also featured quite heavily in the series, along with Duffryn Gardens, Caerphilly Castle and the superb Welsh Museum at St Fagans.
Torchwood Locations in an Near Cardiff Wales
There was always some cross-over between Torchwood and Doctor Who and Cardiff features strongly in this series.
My kids have never seen Torchy, it's a bit adult, but the iconic Torchwood tower has appeared in Doctor Who a few times. The Torchwood Hub is beneath Roald Dahl Plass, Cardiff Bay.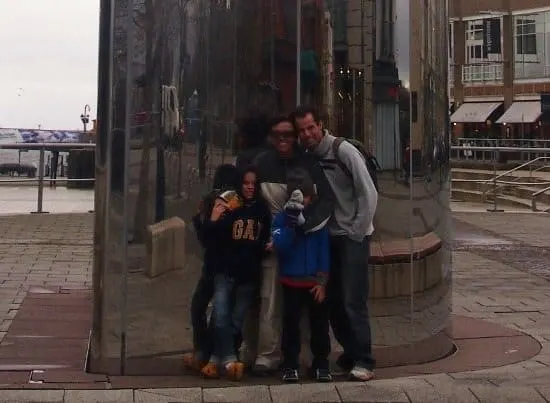 The kids stood at the railing opposite the tower, exactly where The Doctor stood with Martha as they said goodbye to Captain Jack and chatted about him being "the face of Bo". Do you think he is?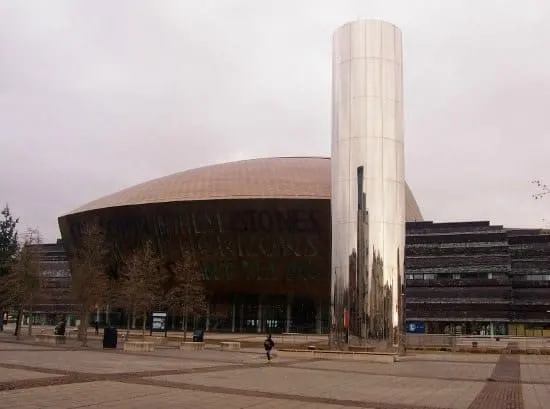 Ianto's shrine was started when the coffee boy died in the series back in 2009, it was still active and maintained when we last visited. It is located at the entrance to the Torchwood hub, on the water in Cardiff Bay.
You'll need to descend to the water side to find the secret entrance to the Torchwood base.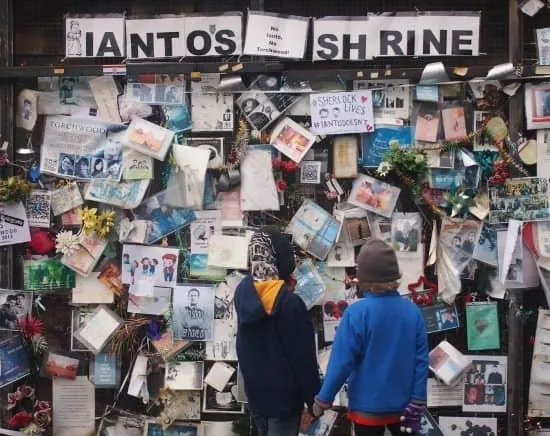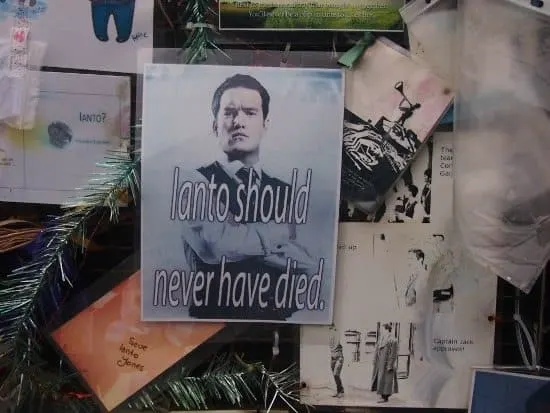 Sarah Jane Adventures Locations Near Cardiff
If you have children you'll probably have watched The Sarah Jane Adventures. Sarah was one of the Doctor's assistant, played by the actress Elizabeth Sladen.
I was lucky enough to meet her, and Tom Baker, at a Doctor Who event at Longleat, many years ago. She has since passed away.
Sarah Jane's house from the Sarah Jane Adventures is in Penarth, not far from Cardiff. You'll also be able to find plenty of locations used in the series around the area.
On Barry Island you may recognise that the pleasure park also appeared in the Doctor Who spin-off series. Barry is, of course, home to another iconic Welsh TV show, Gavin and Stacy.
Doctor Who Things To Do and Attractions in Cardiff
You can book these Doctor Who tours and attractions in Cardiff using our links below. Various Doctor Who themed cafes exist around the world too, sadly, not one that we can find in Cardiff.
Opposite Cardiff Castle you'll find a shop called Forbidden Planet. It's a Cardiff Icon and normally stocks Doctor Who merchandise.
The Doctor Who Experience Cardiff Bay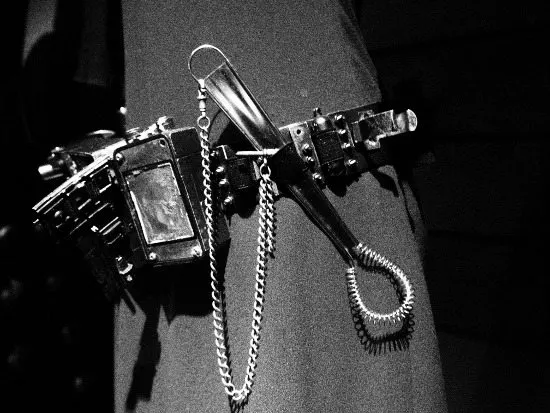 Where in Cardiff was Doctor Who Filmed?
Doctor who was filmed in Cardiff town center often. Other sets included Llandaff Cathedral, Cathedral Green, Cardiff Museum, and the Museum of Welsh Life at St. Fagans. Cardiff Bay was the heart of The Rift and it is rumoured that filming for a new series of Doctor Who has commenced in Roath, Cardiff in 2021. Various spin-off Doctor Who series were also filmed across South Wales.
Years ago the boys and I visited The Doctor Who Experience in London, the exhibition then moved to its new home on Cardiff Bay. The interactive Doctor Who experience was the same, but the exhibition is different and very up to date.
You can find some of our photos from London here. Some of our photos from Cardiff have appeared on our Facebook page already, I'll put more in another post, this one is too long already!
Happy New Year to all of our Whovian followers, there are quite a few of you I know. We were very sad to see Matt's last appearance yesterday, lets hope Capaldi picks up the baton and runs with it Do yourselves a favour, try and get down to Cardiff, the home of Doctor Who, if you possibly can.
Back to our main Wales Travel Blog page
If you'd like to hire a car during your stay, use this car rental comparison tool to find the best deal!

We also suggest you take a look at this company to get a quote for all kinds of the more tricky adventure or extended travel insurance.

Try Stayz / VRBO for an alternative way to find rentals on homes/apartments/condos in any country!