This post may contain affiliate links.
It's not cheap and it was a 4 hour drive through terrible traffic on a cold, wet January day, but was it worth making the trip to the Warner Bros. Harry Potter Studio Tour just north of London? Find out below.What is the Harry Potter studio tour like and what other Harry Potter Tours does the UK offer? Is it worth going to the studios, what's there, and how to book yourself a tour and transport to Warner Bros studios, north of London. UK information for Potter fans.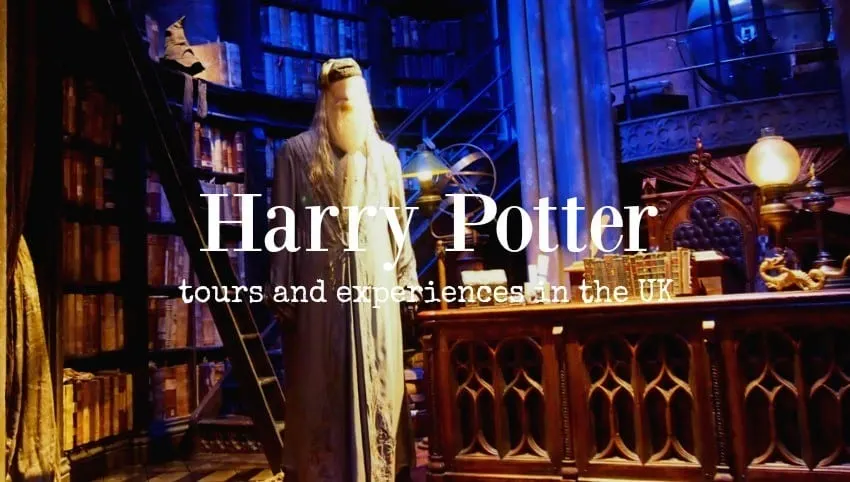 There are plenty of UK-based Harry Potter tours and we've tried as many as we can. We have another to try this summer, expect coverage soon. For now you can see some of what the UK has to offer Potter fans below.
Harry Potter Tours and Experiences in the UK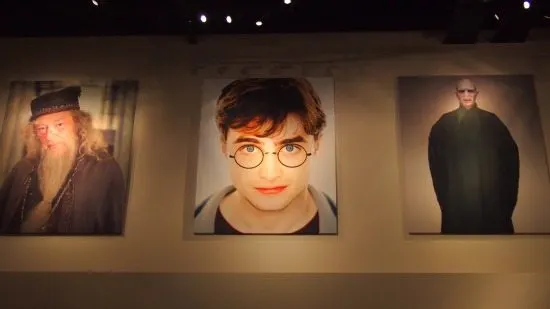 The number of tickets issued per day to the Warner Bros Studios Tour is limited and entries are timed ( however, your time inside was not limited nor restricted when we visited), as such you MUST book in advance or risk not being able to get in.
We use the company below when booking tours anywhere in the world, they have a lowest price or money back guarantee and the reassurance of a big company supporting your booking. The only Harry Potter site that you don't really need to do as part of a tour is Platform 9 3/4, we have a full post on finding that here. However, many of the London based Harry Potter tours do include 9 3/4 as well as Gringott's Bank, Death Eater Bridge and so on. More London Harry Potter places here.
Harry Potter Studio Tour and Oxford Day Tour from London
See it here. here.
Warner Bros Studio Tour, the Making of Harry Potter
Warner Bros Studio Tour with Coach transfer from London
London, more tours
There are loads more options and variations on these tours, some just visit the studios, others add on real world destinations in Oxford or London.
If you'd like to see a bigger range of tours in and around London, try here.
Scotland Potter Tours
Don't forget Scotland, not only can you ride the real Hogwart's Express, there is Alnwick Castle and Durham Castle nearby, Scottish highlands and Edinburgh walking tours, see here.
Oxford Potter Tours
There are also stand alone Harry Potter tours based in Oxford. see here.
You Bet the Harry Potter Studio Tour Was Worth It!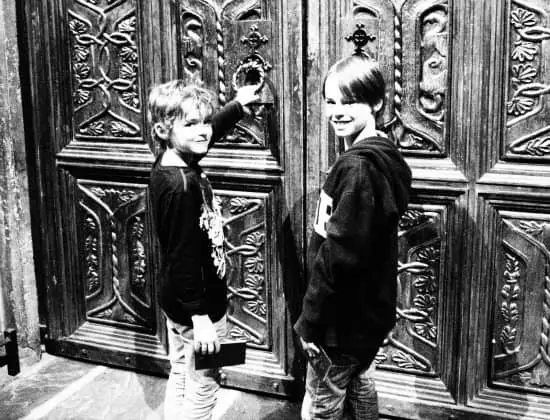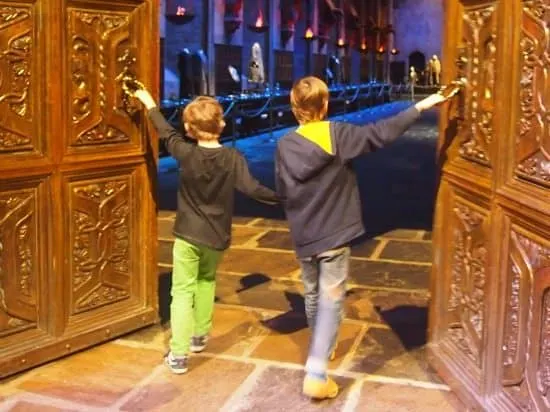 I would gladly have paid double just to experience the wonder and awe of my kids as they opened the giant Hogwarts doors to get their first glimpse of the Great Hall.
The real Great Hall, complete with stone floors, wooden tables and flaming torches as seen in the movies. The costumes and figures of the Hogwart's staff were waiting for us at the far end, including over 8 feet of very impressive Hagrid.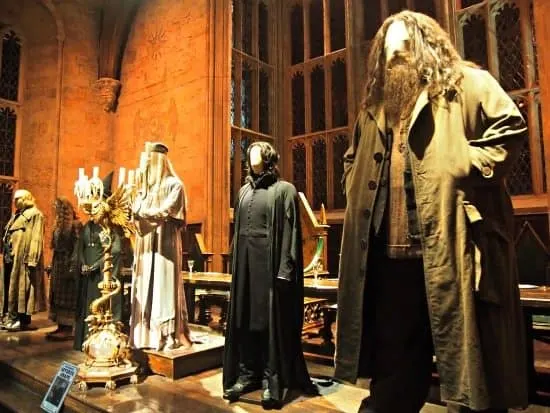 Hang The Expense! It is absolutely worth it even on a cold, wet day.
Our journey is all about making memories. It's about experiencing things we would never have a chance of experiencing if we had stayed at home. It's about learning from them. There is no way we were going to miss the Harry Potter Studio tour while we were in the UK.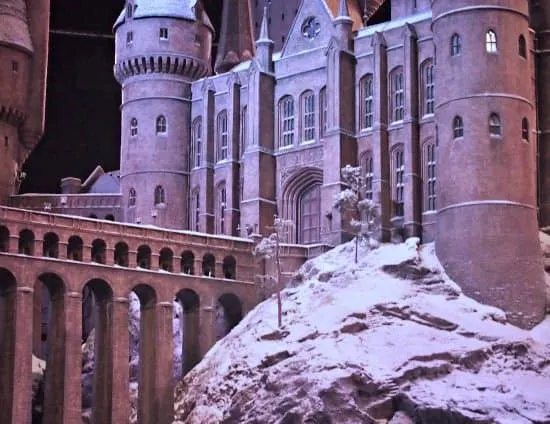 That is how our budget works. We save money on things that aren't important to us and spend big on the good stuff. Life is all about personal priorities, I think. We're running out of money, but what the heck, this first year has been a blast! Maybe later this year we can make it back to Asia and start living on under $50 a day again to stretch this trip out a bit longer, if not, someone gets a job. No dramas. ( Update: we found a way to earn as we travel, we've been on the road over 5 years now).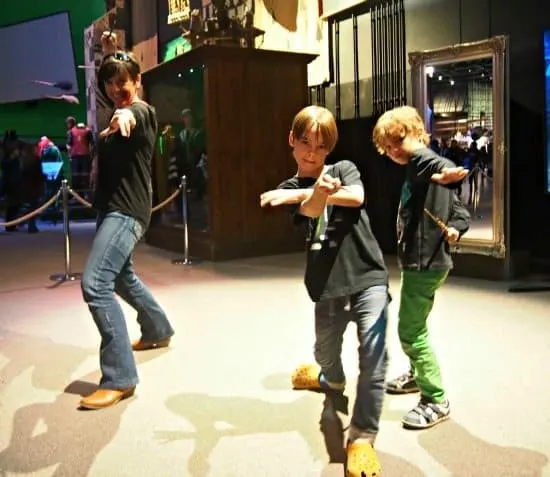 My elder son, D ( then age 9) is a huge Harry Potter fan, he claims to have read all the books 19 times. I think I believe him, he's always going back to those books when he's got nothing new to read.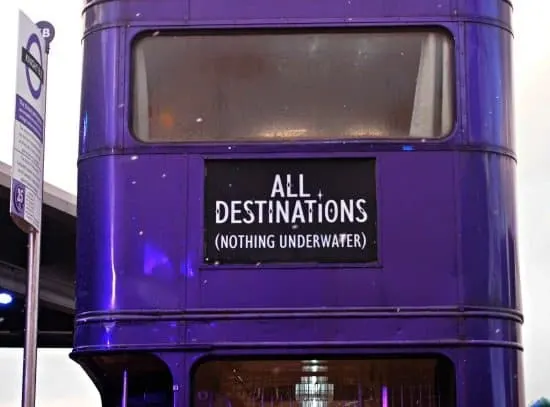 This day was primarily for him, a gift that he will always remember.
My younger son, Boo ( age 7) is the Doctor Who fan, he'd already had his treat at The Doctor Who Experience in London and in Cardiff. He was suitably impressed by our UK Harry Potter experience and went on to also enjoy a London tour of Potter sites.
The Warner Bros. Harry Potter Studio Tour UK is Simply Stunning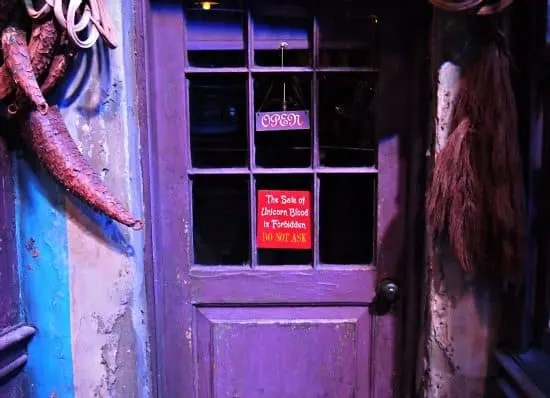 It's all in the detail. The amount of work that went into those films was absolutely incredible, you can only appreciate it fully when you see the sets, props and costumes for yourself. Everywhere you look there are new surprises.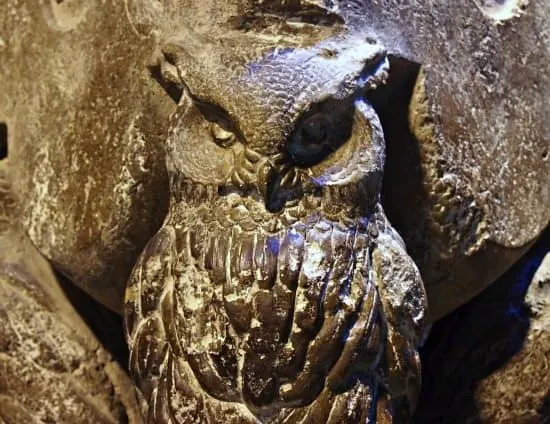 I'd assumed that the movies relied heavily on computer generated images. I was really surprised by just how many of the creatures and objects were real, animatronic creations of stunning intricacy.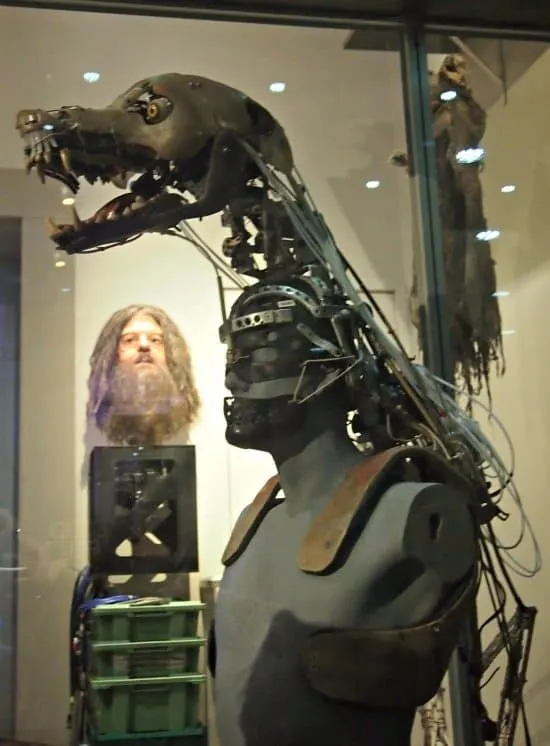 There are Extra Features to Enjoy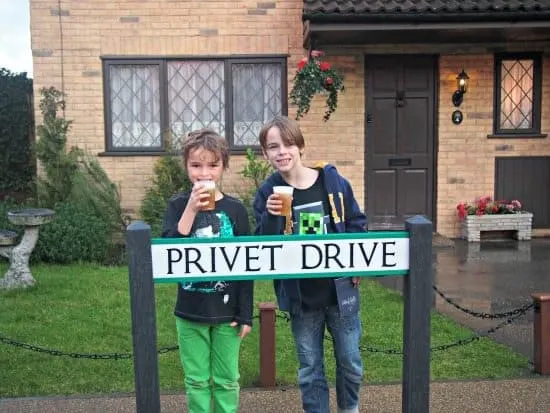 You can take a lesson in wand craft, ride a broom over London and sample Butter Beer.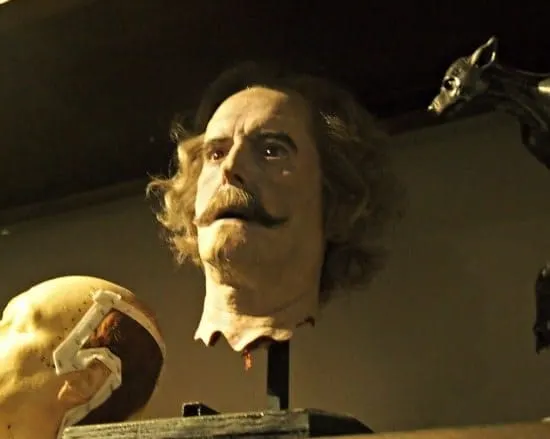 The kids had loads of fun collecting stamps in their Harry Potter passports and spotting the hidden snitches.
Spotting Nearly Headless Nick sitting high on a shelf was a highlight for me.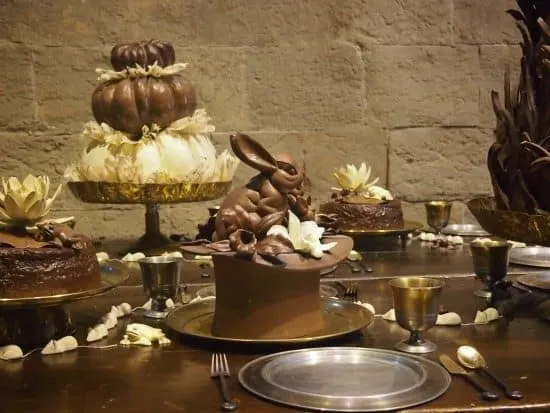 That looks just like real chocolate doesn't it?
You can climb aboard an enchanted car, motorbike or night bus.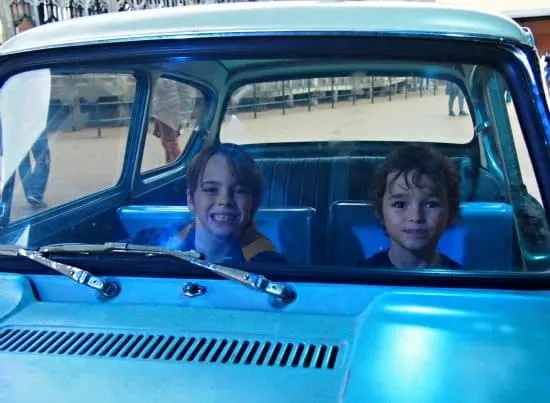 You can learn about the creative processes that brought the characters to life through loads of interactive displays and super helpful and friendly guides.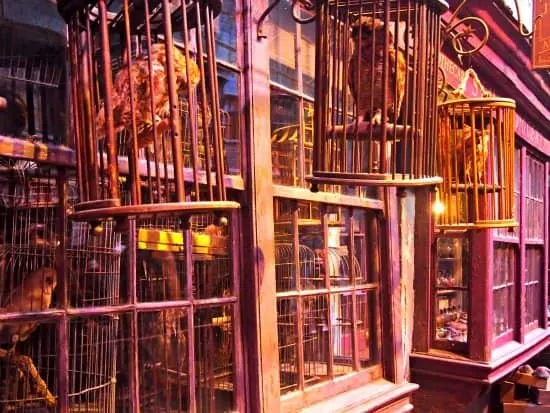 The sets were the most magical part for me. They're all there, Hagrid's Hut, Gryffindor common room, Dumbledore's office and the shops of Diagon Alley.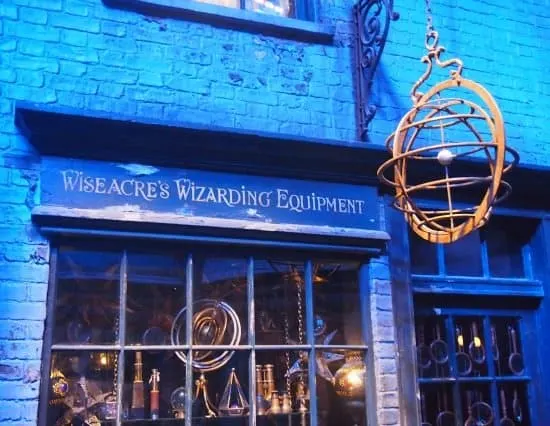 You can learn about the magic of movie snow. Boo was totally captivated by it.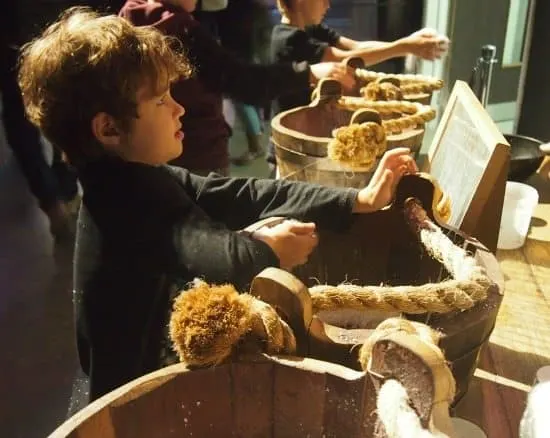 I almost don't want to post too many pictures on here for fear of spoiling the surprise for those of you who will make it to the Harry Potter studio tour. I have so many more, I took almost 500 photos in our 4 hours there. I'll just give you a few, a taste of what was there and I hope you can share some of our joy. I'll post more over on the World Travel Family Facebook page, something to look at while we're on our 10 day Atlantic Cruise next week, we're going quiet for a while through lack of internet.
It is so worth making the journey to see the Harry Potter Studio tour, do it if you possibly can! I'll warn you that you have to book in advance and it does sell out. Visitors have a time slot and you can only enter at that time. The Harry Potter Studio tour and studios hosts different events and attractions throughout the year, Harry Potter at Christmas is very special indeed! There are also banqueting events in the Great Hall from time to time.
You can book your Harry Potter Studio tour here.
for you, for Pinterest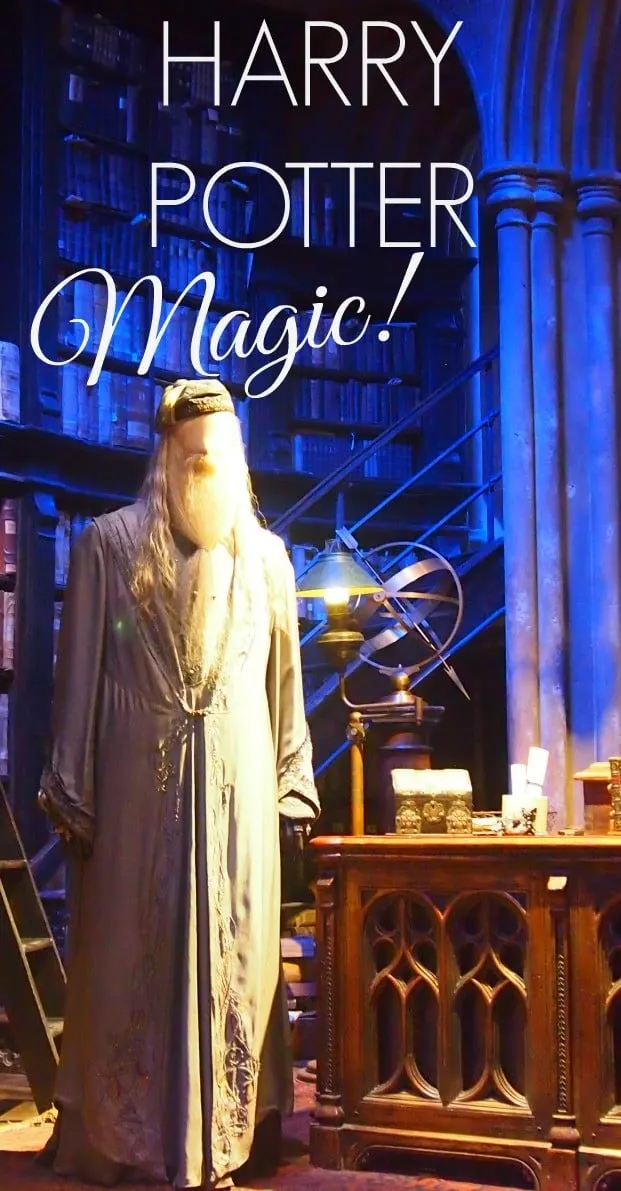 Hover over the image above and a red Pin It button will appear. Bookmark to Pinterest and come back and tell us about your Potter themed adventure. Deal?
Back to our mail London Family Travel Blog page for more ideas on visiting London and surrounding areas, where to stay, how to get around, things to do and so on. We're London specialists, because we love it!
Or you can go to our main UK Travel Blog page for more general UK travel information. We have other Harry Potter related posts too, not just this Harry Potter Studio Tour review, including a Harry Potter tour of London and Harry Potter attractions around the globe.
If you'd like to hire a car during your stay, use this car rental comparison tool to find the best deal!

We also suggest you take a look at this company to get a quote for all kinds of the more tricky adventure or extended travel insurance.

Try Stayz / VRBO for an alternative way to find rentals on homes/apartments/condos in any country!