I posted the other day about our drive down through, Avebury, Stonehenge and the chalk horses of Wiltshire. What a great day out, we loved it! We missed one very important site, The Cerne Abbas Giant. If you're in this part of England take a chance to see this chalk man with his rampant penis not far from Stonehenge.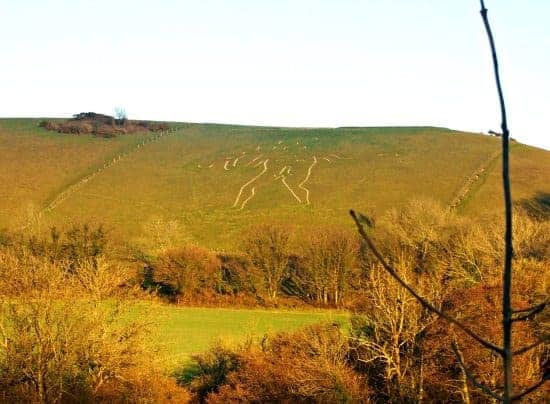 The Cerne Abbas Giant
I'd never seen this very excited chap, ever, in my 47 years of Britishness, so we made the pilgrimage today.
Any post on this site may contain affiliate links. We earn commission on these should you make a purchase. All recommendations are genuine and we are not paid to include products, hotels, and so on.
It was about a 1 hour drive from Bournemouth through beautiful chalk down countryside and some of the prettiest villages I've ever seen. Cerne Abbas village itself was stunning with thatched cottages and ancient coaching inns turned pubs. The drive through the Piddle valley, today badly flooded, was incredibly picturesque.
We got to see the Cerne Abbas Giant up on the hillside. Not a great view, but I forgot to bring my helicopter. If you click the link through to the National Trust site you'll see some better pictures.
It was well worth the drive and, as I said before, it's a shame that so many visitors only make it to Stonehenge. this part of the UK is bristling with history.
The Cerne Abbas Giant is the UK's Largest Chalk Figure
The giant is the UK's largest chalk figure, he's 180ft tall. They haven't quite worked out why he's there or how old he is yet, he's a man of mystery. Maybe he's a fertility symbol, maybe he's a giant chalk two fingers up at Oliver Cromwell. The jury is still out, as far as I know. Have you ever seen a naked man on a hill?
Back to our mail London Family Travel Blog page.
Back to our main UK Travel Blog page.
Alyson is the creator of World Travel Family travel blog and is a full-time traveller, blogger and travel writer. A lifetime of wanderlust and now over 7 years on the road, 50+ countries allowed the creation of this website, for you. She has a BSc and worked in pathology before entering the travel arena and creating this website. World Travel Family Travel Blog has been helping you travel more, better and further since 2012, when Alyson and James first had this life changing idea. On this site you can find endless travel information, tips and guides plus how to travel, how to fund travel and how to start your own travel blog.