This post may contain affiliate links.
Summer destinations in Europe for your family vacation, hidden gems or more unusual places to visit in Europe aside from the most popular European destinations. A few ideas for your next summer vacation in Europe!
Bustling cities, awe-inspiring medieval villages that have stood the test of time, towns that look straight out of storybooks, and natural and beautiful landscapes are just a few of the staples of a trip to Europe. In this post, we give you ideas for the best summer destinations in Europe, some of the more off-the-beaten-track destinations or hidden gems of Europe for you to visit next summer on vacation, or for a short trip or weekend break in the warmer months. These destinations are certainly some of the coolest places to visit in Europe next summer.
You can purchase a 1 week, 1 month or multiple months eSIM for Europe, cheaply and hassle-free, here. These eSIMS are also available for most countries and regions.
These European destinations are not your usual and most popular hot spots, we cover those elsewhere, so if you're Looking for Paris, Barcelona, Greece, or London, follow these links for more information on the most popular destinations in Europe. If you want your European vacation to be somewhere different, check out our suggestions.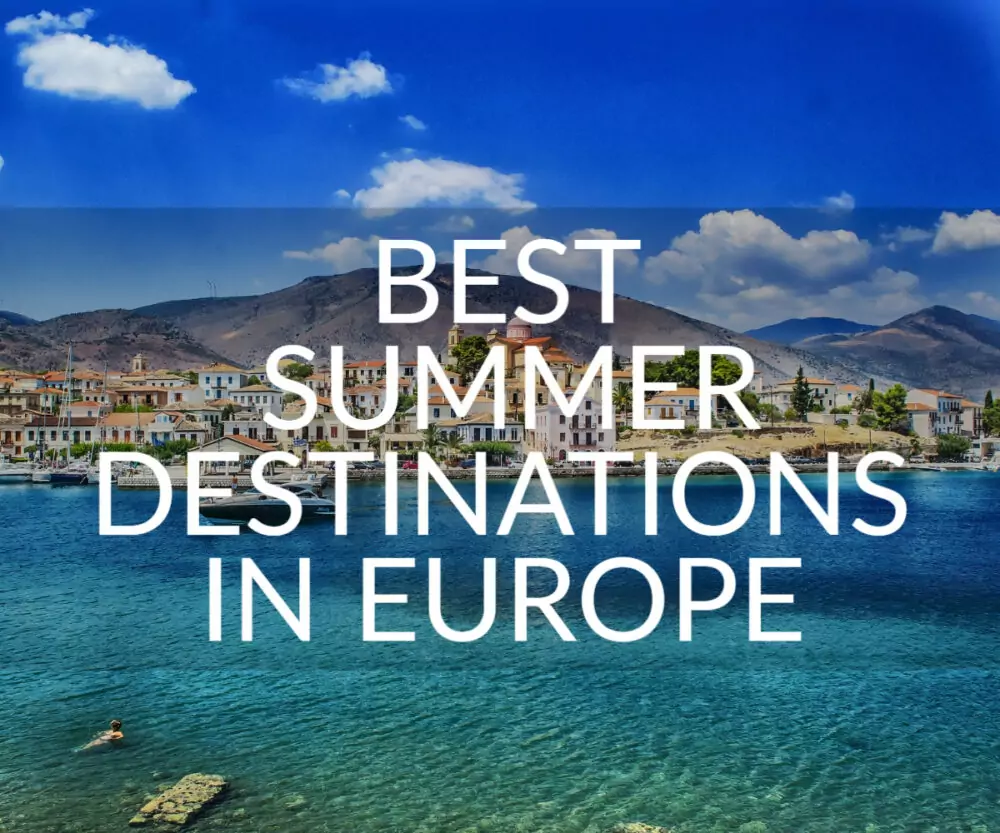 Home to a total of 44 countries and harbouring thousands of years of history, a summer trip to Europe is as exciting and varied as it gets. Even though countries are small and you'll rarely need to get your passport out to get from one nation to the next, the overall feeling, culture, and architecture of each place are vastly different from the last.
Simply put, you could virtually dedicate years to travel around Europe and never have to do the same thing twice. If you're planning an itinerary for a short summer visit, however, chances are you're feeling a bit overwhelmed with the possibilities, so we decided to put together a list of suggested summer destinations in Europe, a few incredible European places well worth visiting in the summer months.
From charming seaside villages to places that harbour centuries-old castles and just about everything in between, here are some of the best destinations in Europe to place on your itinerary.
Summer Destinations Ideas in Europe
These summer vacation destinations in Europe are to give you ideas for your next trip. We also point out nearby places to see and a few family and kid-friendly hotel ideas in these destinations.
Seville, Spain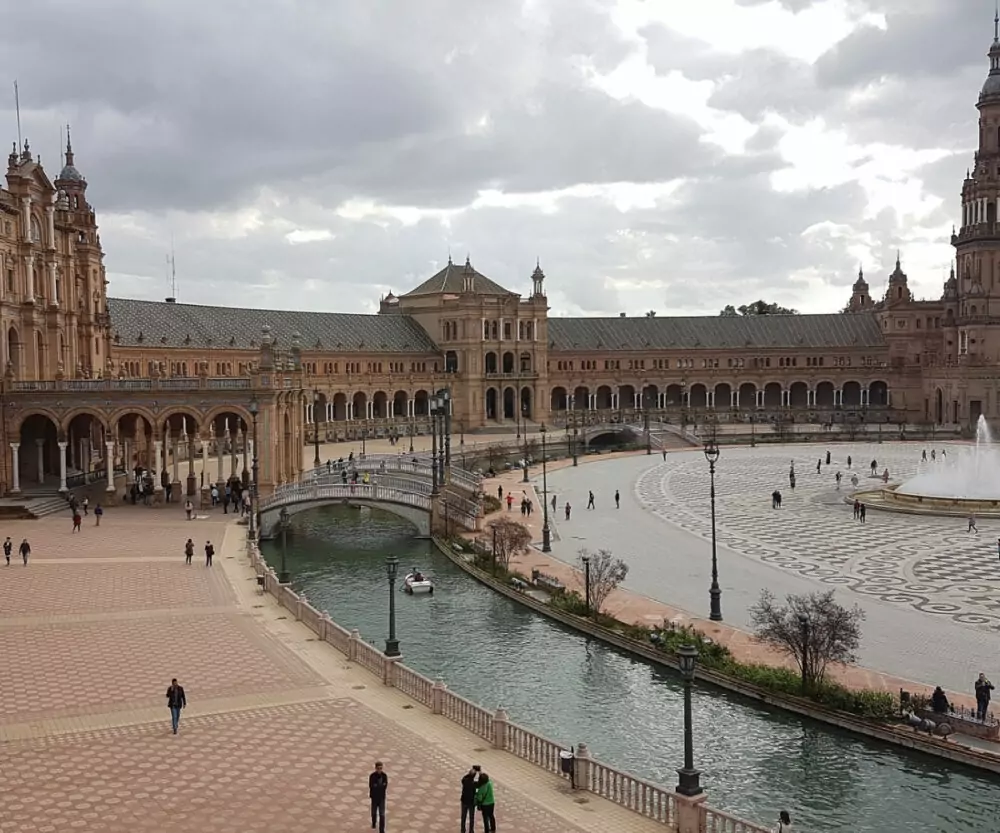 Seville is the capital of the Andalucia region in Spain and one of the most exciting places to visit in Europe if food, historical goodness, and gorgeous architecture are what you're after.
Seville is in the far south of Spain and to the west, so Seville could easily be combined with the beaches of southern Spain or even southern Portugal. You could add a trip to Gibraltar to your time in the south of Spain too. This part of Spain is one of the warmest, expect hot summers, up to 36C is July and August, and no rain in the summer months. In Seville take a tour of the oldest Royal palace in the world and the largest Gothic cathedral in the world. You'll also be able to visit a Game of Thrones location! Seville has plenty of family-friendly hotels, this one has room for a family and is really lovely.
Even though Seville might look like any other Spanish city at first, as you dive deeper into its streets, you'll find yourself wrapped up in a world of stunning Mudéjar architecture from where the Moors ruled the city, food and wine unique to the region, and striking nature located just a stone's throw away.
One of Seville's staples is its architecture. Thanks to the fact that the city has been occupied by plenty of cultures throughout the centuries, you may very well find a Moorish tower located right next to an enormous Baroque church! The Alcazar, the Giralda, the Cathedral, and the Archivo de Indias are just a few of the buildings in Seville guaranteed to make your jaw drop right to the ground.
Rothenburg ob der Tauber, Germany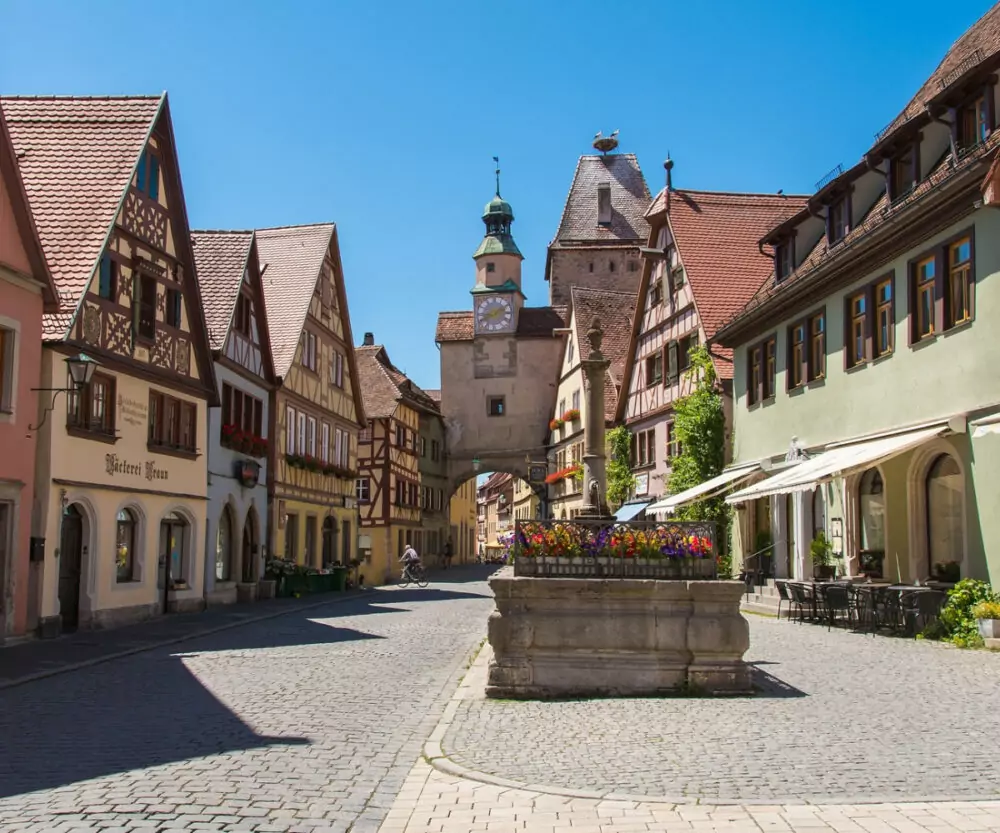 Tucked away in the heart of the Bavarian Alps, Rothenburg ob der Tauber is a charming medieval village where you'll get to feel as though you landed inside the pages of a storybook.
Rothenburg ob der Tauber is pretty central in Germany and towards the south. Stuttgart, Nuremberg and Frankfurt aren't too far away and beautiful Prague is only about 4 hours away by road. For a trip like this, it would certainly be a good idea to hire a car and explore the area by road. Use this car hire comparison tool to find your best deal.
Half-timbered houses, cobblestone streets, and captivating medieval architecture backdropped by the mighty Alps are just a few of the aspects that make visiting Rothenburg ob der Tauber one of the most incredible experiences you can have in Europe.
The biggest attraction is Castle Garden, a viewpoint you can hike to where a mighty castle once stood. Even though the castle itself was destroyed, the views you'll get from this point are absolutely worth the hike up, not to mention there's an authentic beer garden along the way where you can stop and rest your legs if you need a dose of liquid energy!
Lake Bled, Slovenia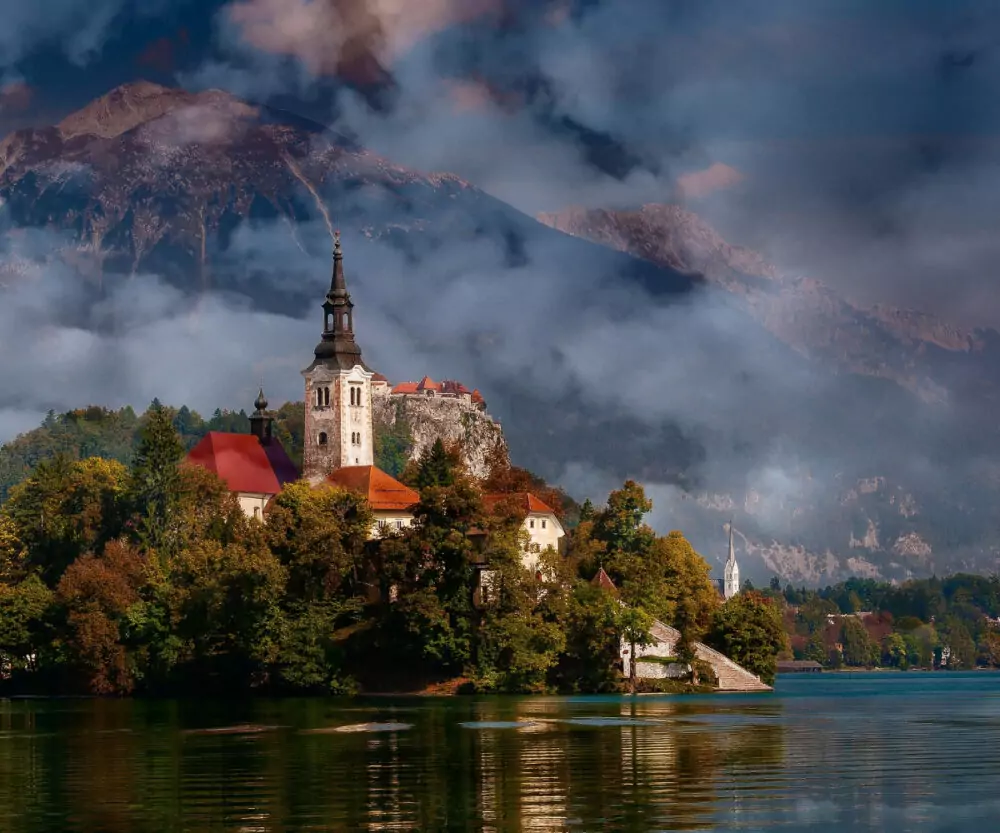 Featuring dreamy blue tones and a church that stands in the middle of an islet, Lake Bled is a lake hidden in the heart of the Julian Alps in Slovenia that looks straight out of a fairytale.
Slovenia is a great country to visit in summer and you can explore much of the country by road. Be sure to visit Slovenia's capital, Ljubljana. If you've always wanted to visit Venice in Italy, Lake Bled to Venice is about a three-and-a-half-hour drive. We've driven this route and visiting Venice this way was great! See our posts about driving across Europe or our 3 day Slovenia tour.
Aside from Lake Bled's unrivalled beauty, what makes Lake Bled one of the best destinations in Europe is just how much you can revel in nature during your visit. Hiking, boating, canoeing, and biking are just a few of the activities you can enjoy here, not to mention you'll have a lovely time simply strolling through the village (make sure you visit a bakery to taste a Bled cream cake!).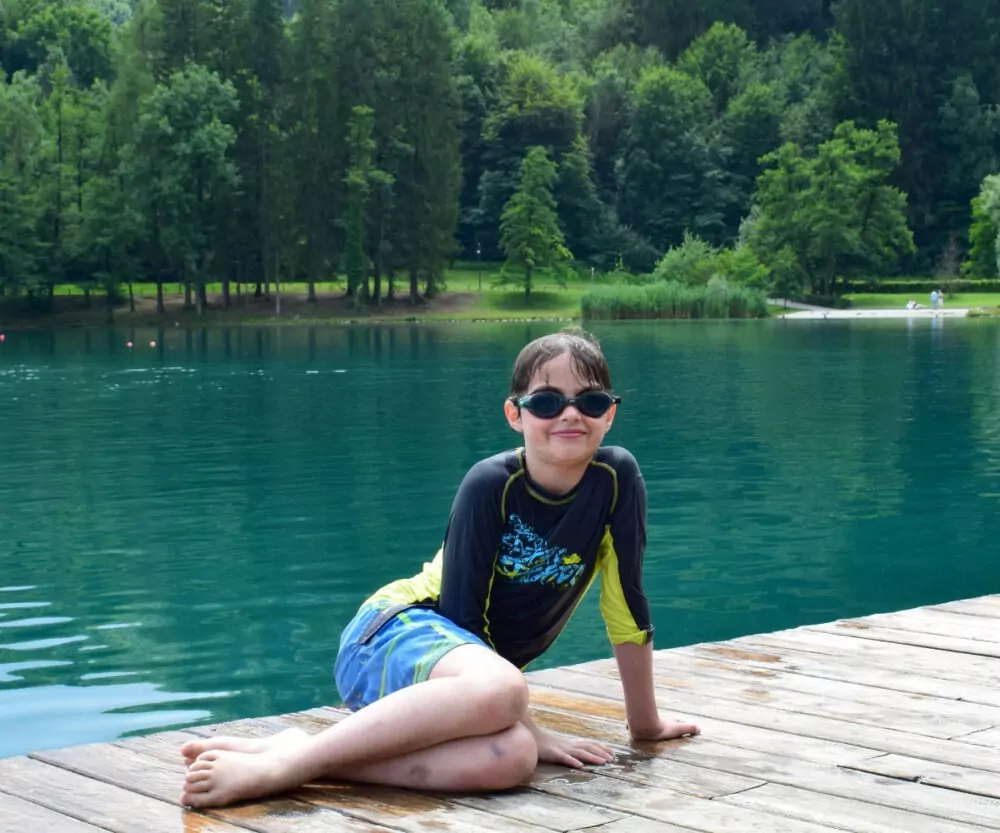 In summer it should be warm enough to swim in Lake Bled itself!
Plus, if you look up, you'll notice a series of caves on the adjacent cliff. If you look a little closer, you'll notice there's a castle perched at the very edge. This is considered the oldest castle in Slovenia and dates back to the Middle Ages!
Slovenia is certainly a highlight of our personal Europe travel blog, this country has a lot to offer.
Krk, Croatia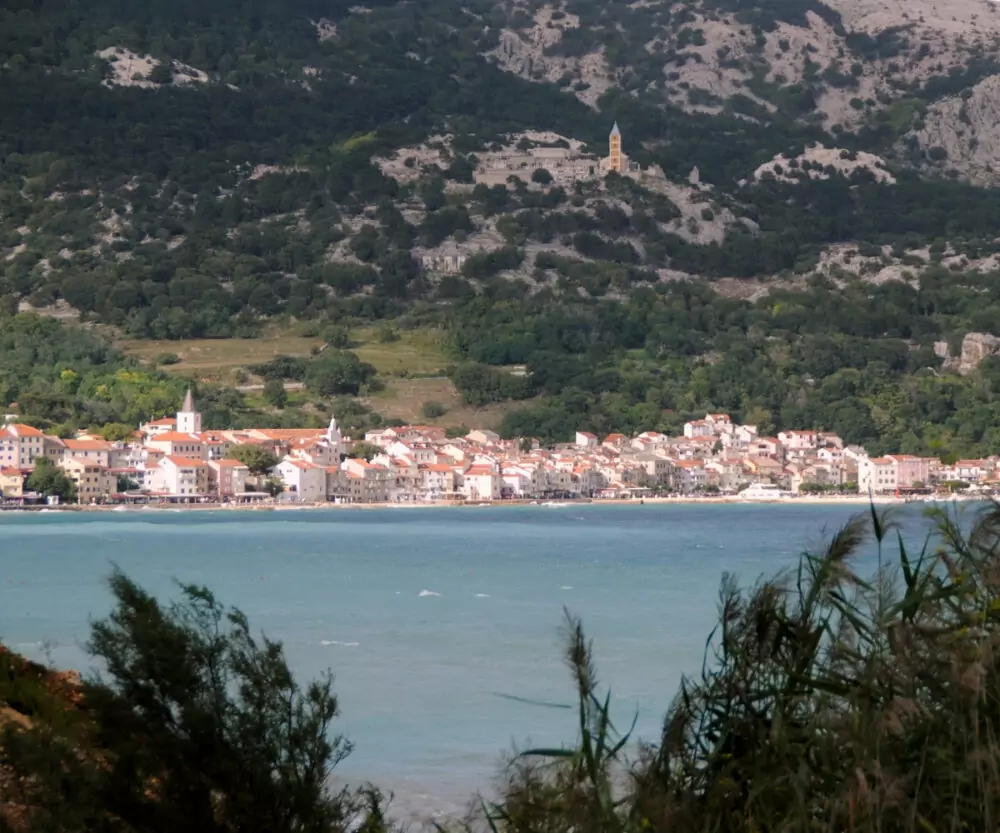 If a not-so-typical European summer destination is what you're after, Krk City is a wonderful choice to get just that.
The city itself is located on an island of the same name in Croatia, right on the northern Adriatic Sea and provides the chance for you to immerse yourself in Mediterranean culture.
This apartment on the Island of Krk has two bedrooms, is affordable, and would suit a family. It would be lovely to sit and look at the sea from the terrace. On Krk, this ziplining adventure is very popular with families.
Stunning beaches and crystal-clear azure waters are the staples of a vacation in this place in Southern Europe, but after you're done enjoying the sun, you can also combine your trip with plenty of culture, history, and architecture.
Plus, scuba diving and snorkeling are huge here, not to mention that you can also head out on a day trip to explore a series of caves that feature magnificent collections of stalactites and stalagmites.
Hungary, Hortobagy National Park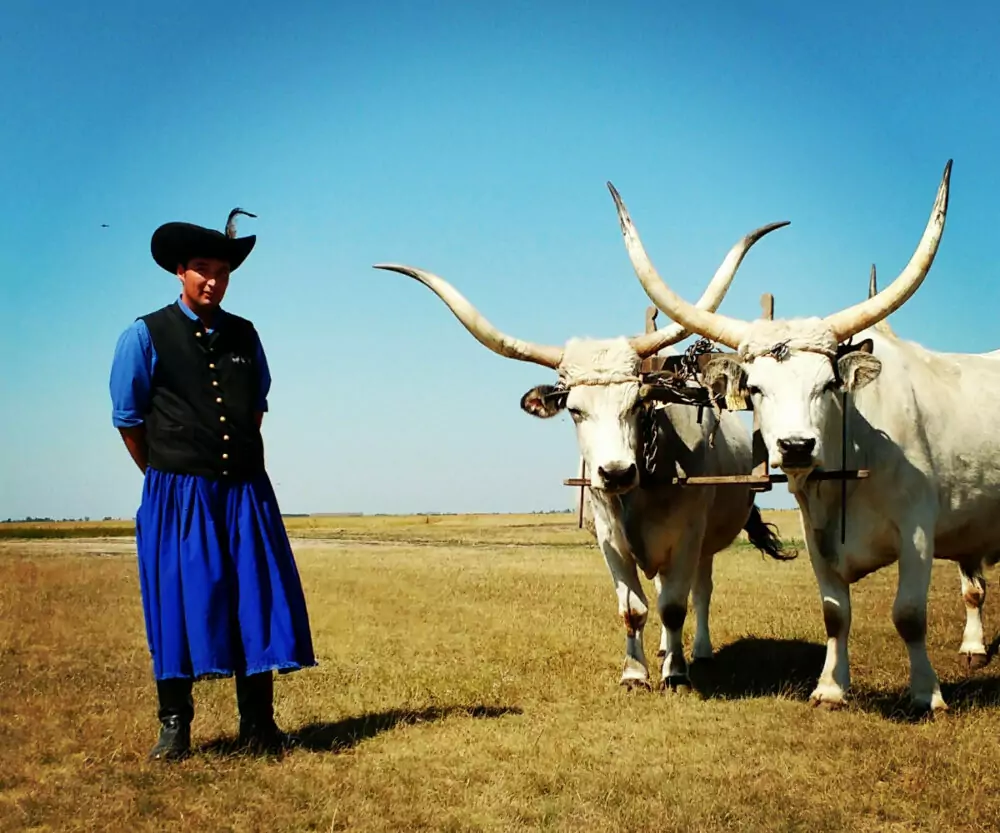 Hortobagy National Park is where you need to go to see Hungary's famous blue horsemen or Cossacks. A trip you can only do in summer, your family should enjoy the shows of horsemanship and the heritage livestock on display.
Hortobagy is just over 2 hours drive from Budapest so you could combine the two destinations in one trip. To visit Lake Balaton, Hungary's inland sea and a popular summer water activity destination, the drive is about 3.5 hours. If you cross the border into Romania the incredible Turda Salt Mine (The mine with the subterranean amusement park) is only about 4 hours away.
Cesky Krumlov, Czech Republic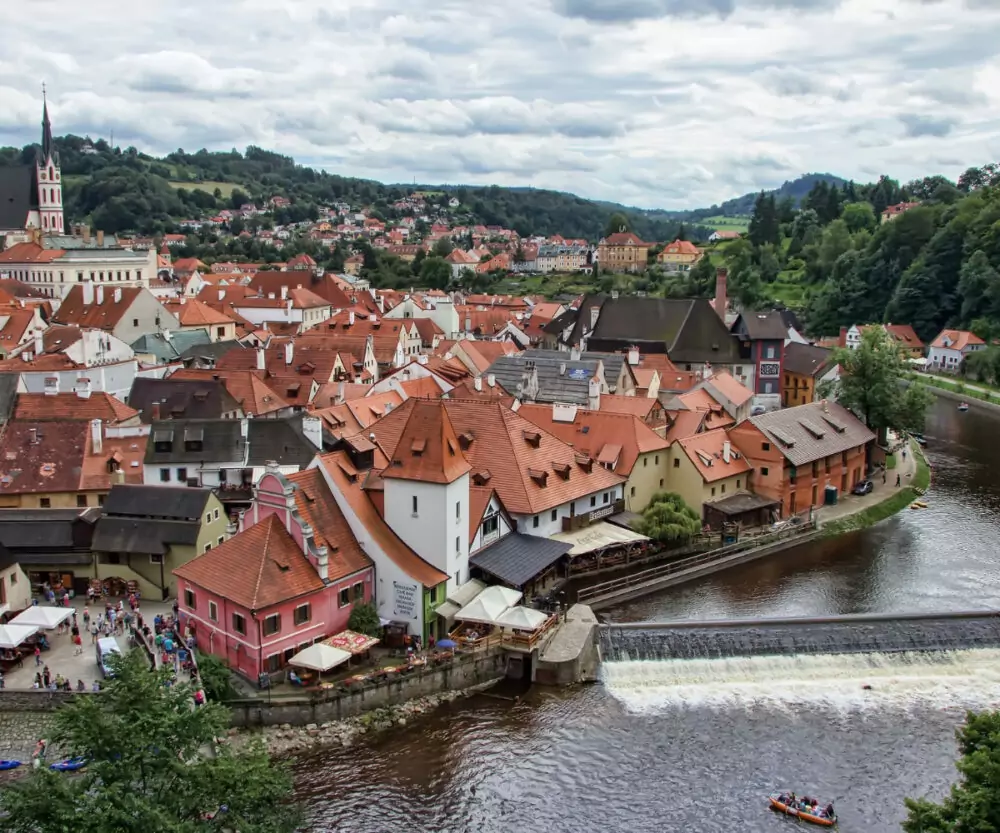 About 2-3 hours south of Prague you'll find Cesky Krumlov, a village so colourful and quaint that you may just feel as though you were transported into a painting. Leave Prague to the summer vacation crowds and head to beautiful Cesky Krumlov to explore medieval architecture.
Simply walking around the village is an absolute treat. As you explore, you'll stumble across houses and buildings that come in shades of pastel colours and harbour cute boutique shops, cozy coffee shops, and local art galleries.
The main attraction, however, is the Cesky Krumlov Castle, which towers high above the houses and provides views as unique as they get. The castle dates back to the year 1200 and aside from exploring its grand interiors, you can also take the time to check out the Baroque Theatre and its outside gardens. The gardens feature labyrinths made out of plants that are believed to hide actual dwarfs who, up to date, continue to guard a secret treasure!
Cesky Krumlov is only about 2 hours from Prague and about 2.5 hours to the Bone Church in Kutna Hora (just outside Prague). If you choose to base yourself in Prague, you can visit both Cesky Krumlov and Kutna Hora on day trips from the city. The tour to Cesky Krumlov is here, the trip to the spectacular bone church is here. My kids loved the artistic use of human bones at The Ossuary!
Malaga, Spain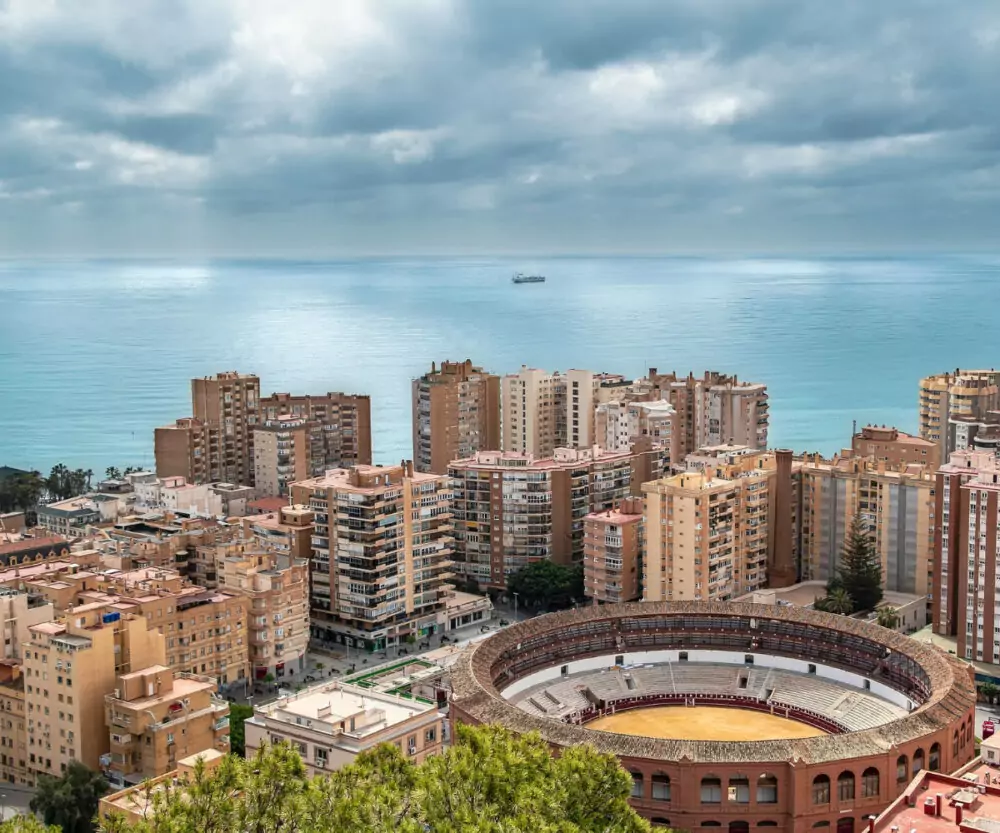 Seaside goodness, history as old as time, and a vibrant cosmopolitan atmosphere are just a few of the things that make Malaga one of the best destinations in Europe for those who want to have a little bit of everything in their itinerary. With so much variety, every family member should find something to enjoy in this European destination.
Malaga sees sunny days pretty much year-round, making it a somewhat warm destination to visit no matter the time of the year. Luxurious beach clubs, Mudéjar architecture, and a plethora of high-end restaurants are what make this European city such a sought-after spot in Spain.
Malaga is in southern Spain on the Mediterranean coast, quite a long way south of Barcelona (10 hours by road approximately). So if you choose Malaga as your summer destination vacation, concentrate on exploring Spain's south. One of the most popular activities from Malaga is a walking tour of the Caminito del Rey. This looks absolutely terrifying (I have major issues with scary suspension bridges) and there's no way I would do this! You'd find me at the Picasso museum or enjoying Flamenco and Tapas instead!
Even though its nightlife and parties are what usually drive Europeans to visit Malaga, make sure you also set out a day in your itinerary to walk around its downtown. A few of the can't-miss activities on your schedule should include climbing the Gilbarfaro Castle for panoramic views of the city, taking in the Alcazaba fortress, and taking a day trip out to explore the many vineyards that surround the city.
Lagos, Portugal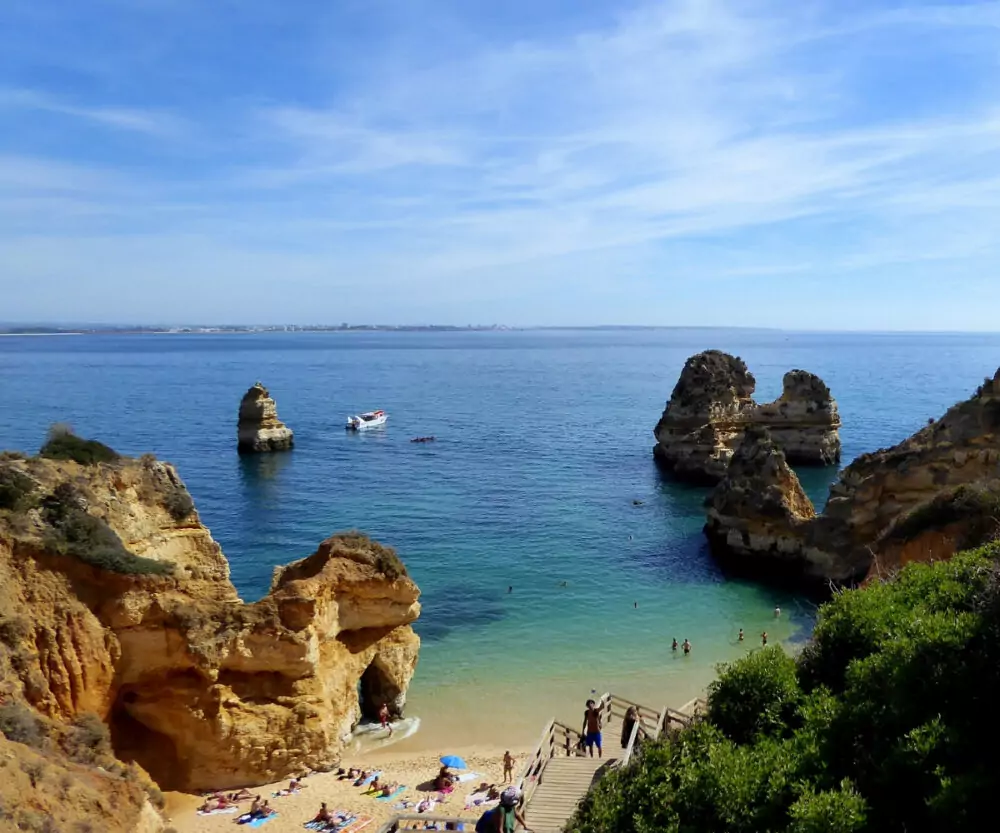 As one of the most popular places to visit in Portugal, Lagos is considered the gateway to the alluring Algarve region, which is known for its gorgeous golden sand beaches, natural marvels, and picturesque villages.
Enjoying the beach is, of course, one of the highlights of visiting Lagos, but if you're not the type to want to lounge all day under the sun, you'll find plenty of other things to do to keep you entertained during your visit.
Nazaré, Portugal is where you can see some of the biggest surf waves in the world, a bucket list place to see! Nazaré is north of Lagos, but only about a 4 hour drive, via Lisbon. From Lagos you can take a boat trip to see some very famous Portuguese caves which you've probably seen photos of online. Check that out here.
Hiking up to the dramatic sea stacks of Ponta da Piedade is an absolute must, and if you want to get a dose of history, make sure to check out the San Antonio Church. For rugged adventures, you can choose to kayak along the Algarve coastline for unbeatable views, or you can take a wine tour in order to explore the many vineyards that surround the city.
Best Summer Destinations in Europe for Your Family
Of course, the best summer destination in Europe for a family will depend on your budget, your interests, and how you like to enjoy your vacation time together. Pick a family destination with plenty to see and do, good weather for what you'd like to do, and comfortable accommodation, and you have the makings of a great trip. I hope our ideas get you thinking about where to go in summer 2023. Want more Europe travel information? Check out our Europe road trip costs. Or find out what travel essentials to pack. Get the best deal on your flight to Europe using our Skyscanner tips.
If you'd like to hire a car during your stay, use this car rental comparison tool to find the best deal!

We also suggest you take a look at this company to get a quote for all kinds of the more tricky adventure or extended travel insurance.

Try Stayz / VRBO for an alternative way to find rentals on homes/apartments/condos in any country!