This post may contain affiliate links.
Further down the page you'll find a list of places to visit in Greece, all with an educational, mythology or history bent, but first an introduction. Touring Greece was our first ever educational holiday. We've been travelling full-time with the kids for the last 3 years which enhances their education in amazing ways. So what was different about this trip, what made Greece an educational holiday rather than more long-term travel? My kids love Greek mythology. We chose places to viit in Greece based on their interest in Percy Jackson and all things ancient.
Greek Mythology. Places To Visit
My 12 year old picked Greece as a destination, a treat for his birthday and one that we were happy to provide. This was a short holiday for us, 2 weeks, not travel of no fixed duration and it was all about the history, mythology heritage and food of Greece.
This trip was short and fast-paced, we had things to see and places to visit in Greece so we never stayed in a town for more than 2 nights. This is the first post about our Greece trip mentioning places to visit in Greece, educational highlights, ancient sites, mythology, and sensational museums you can visit. Our tour of Greece is restricted to the Greek mainland, Peloponnese, Athens, and Corinth area.
Percy Jackson Mythology and Places to Visit in Greece
Everywhere you go in Greece you'll be tripping over ancient sites that bring history and mythology to life. You couldn't possibly visit them all. We tried to get to the main ones and places we'd heard of or knew something about already. For my son this was easy, he's been obsessed with Greek mythology and history since starting to read Rick Riordan's Percy Jackson books . Percy ( Perseus) is the demigod son of Poseidon, this series of books and Riordan's others, on Roman, Norse and Egyptian mythology kindled a thirst for knowledge in my then 8 year old that has kept him reading and re-reading for almost 4 years now.
My younger son is following in his brother's footsteps. This high quality fiction got the ball rolling and sparked an interest, they devour content on their favourite mythological and historical topics. It was this interest that selected our 2 week itinerary and places to visit in Greece. During our stay they picked up copies of The Iliad, Odyssey and Heracles, all now read. A bit of passion goes a long way in education!
Places to Visit in Greece for Greek Mythology
Touring Greece like this requires a hire car. You can get around Greece by bus ( Lonely Planet Greece gives you this information) but we didn't have the time. ( we use Holiday Autos to find the best deals, there is a link below).
We discovered that turning up in a town and looking for accommodation just doesn't work for families in Greece, after one big fail we pre-booked every successive night on Agoda. Why Agoda? Well, we trust them, they have great customer service, its super-easy to cancel and we collect their points. These points quickly add up to give us free stays. Yes we're affiliates, that's because they are our usual booking engine of choice.
Use whichever booking engine you prefer. I think it's best to have one that you stick with and can use on auto pilot.
Costs of Touring Greece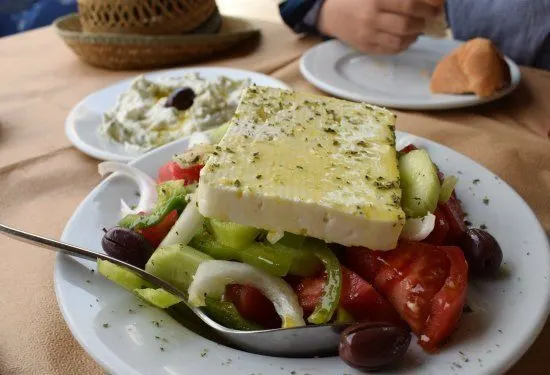 Greece isn't cheap compared to say Asia or Eastern Europe.
Our hire car cost us around 12-15 Euros per day. Fuel prices were on a par with the UK, a full tank cost us 60 Euros and we used 3 tanks in 2 weeks. There are a lot of road tolls on Greece's new motorways, from 1.5 to 5 Euros. Driving conditions were good. Hotel prices were fairly high 50+ Euros per night for a family but often there was air-con and a swimming pool at that price. Athens was, of course more expensive at almost 100 Euros/night. Breakfast was usually included.
The only big saving on accommodation that we made was in Gythios, where we stayed in a caravan for 2 nights at 35 Euros, we actually loved that experience with the camp site pool, playground and restaurant to enjoy. You could feed a family of 4 from about 10 Euros per meal if you ate in Greece's excellent bakeries. Restaurant meals were more expensive, Greek salad for instance will cost you 5 to 8 Euros. A Greek food post, with ideas of costs, is on its way, food quality was almost universally superb.
For car hire we use Holiday Autos, check them out below, they always find us a better deal than anywhere else.
We were not sponsored by any of the hotels we used in Greece, this was a holiday, not work.
Ancient Corinthos ( Korinthos) or Corinth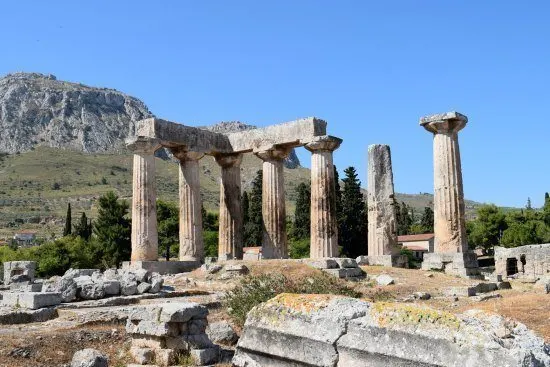 Our first stop from Athens airport was the Corinth area, just an hour or so away by hire car. We chose to stay in Loutraki, a seaside town popular with Athenians in summer season. It was almost deserted during our stay.
The boys took a bracing swim in the Mediterranean after hot days at the ancient sites and we found fabulous food away from the main tourist strip. We used two different hotels in Loutraki, both were large, well located and gave us breakfast. The family rooms were spacious. Admission to Ancient Corinth was 8 Eur/adult, kids free ( kids were free everywhere).
The museum is very good here and has all of the kids' favourite gods as statues, along with the Roman emperors who later held the site. This is where the boys started educating me, the more I learned, the more fascinated I became.
Where to stay: We used Mitzithras Hotel and Hotel Marko in seaside town, Loutraki. Both gave us large family rooms, balconies, air-con and breakfast for around 50 Euros/night. Both were just steps from the water-front and beach.
Corinth Castle, Acrocorinth or Upper Corinth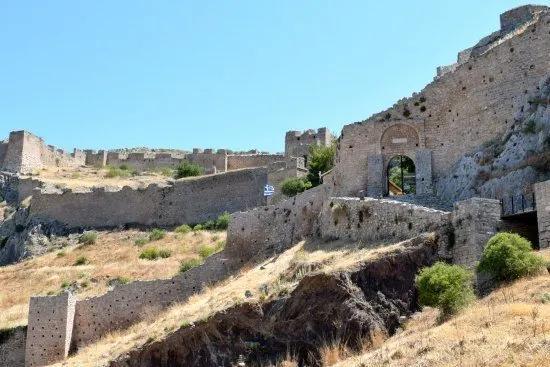 The fort is at the top of the hill overlooking Ancient Corinth, it's the city's acropolis. Every army though history has held this strategic spot, Greek, Roman, Frank, Persian and Ottoman. Admission is free and you can drive up the hill.
Where to stay: Mitzithras Hotel and Hotel Marko in Loutraki as for Ancient Corinth above.
Corinth Canal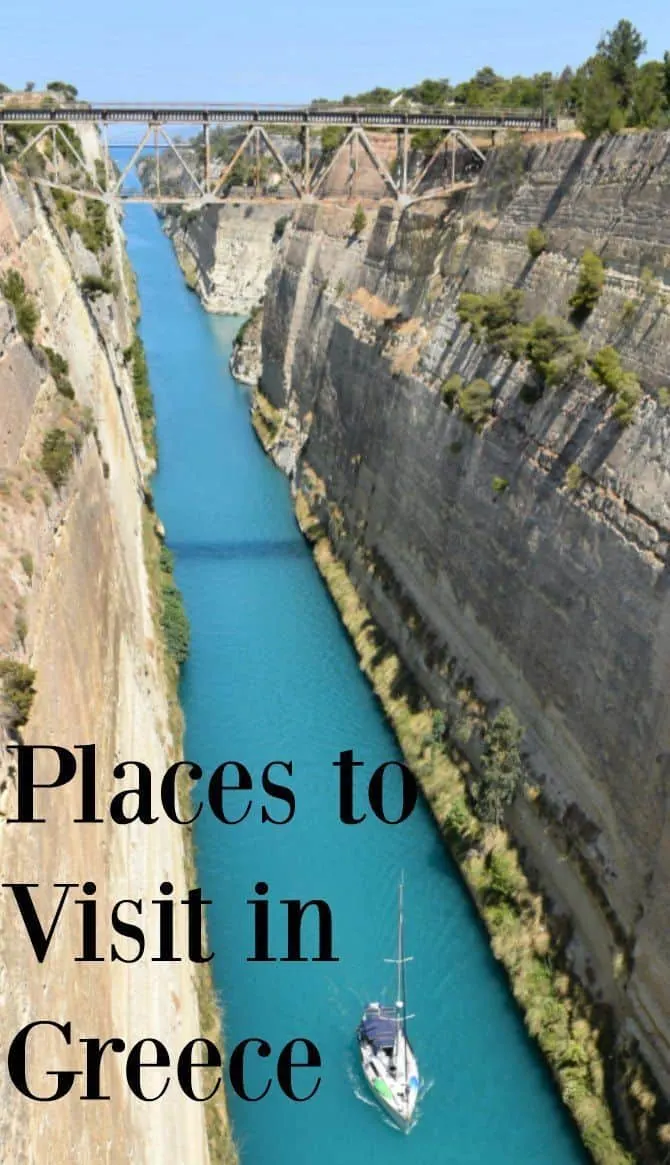 for you to save to Pinterest
The engineering marvel that is the Corinth canal ( finally competed in 1893, but considered and started by Julius Caesar, Caligula and Nero) won't take you more than an hour or so. It's quite likely you'll drive over it a few times during your trip. Make sure you find the ancient canal, the Diolkos, where ships of antiquity were pulled along a stone pathway on tree trunk rollers. The Diolkos dates from around 700BC.
Where to stay: Mitzithras Hotel and Hotel Marko as for Ancient Corinth above. The canal is a 5 minute drive from Loutraki.
Spata or Sparti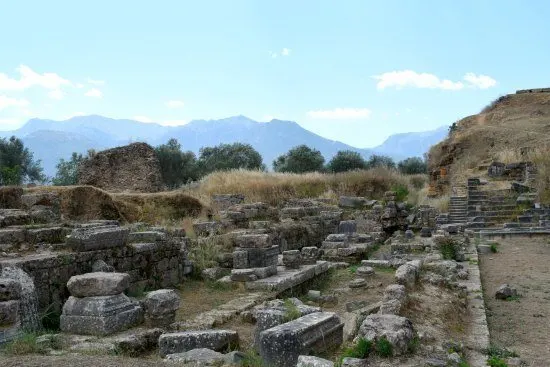 You have to visit Sparta, if only to shout "This is Sparta!" at the top of your lungs. This site isn't fully excavated but the ancient theatre is magnificent and atmospheric, with views of the craggy mountains where Spartan babes were left to die. Most of the ruins are under an olive grove. Admission was free for us, but maybe we caught the ticket guy on his lunch break. There is a great statue of King Leonides of Sparta outside the sports stadium not far from the main archaeological site.
Above modern Sparti, on the Kalamata road is ancient, fortified Mystras. This winding mountain road takes you over the pass the Spartans would have used and is incredibly scenic.
There is a museum and other archaeological site in Sparti.
Where to stay: We drove between Corinth and Gythion Bay stopping in Sparti on the way.
Gythio or Gytheio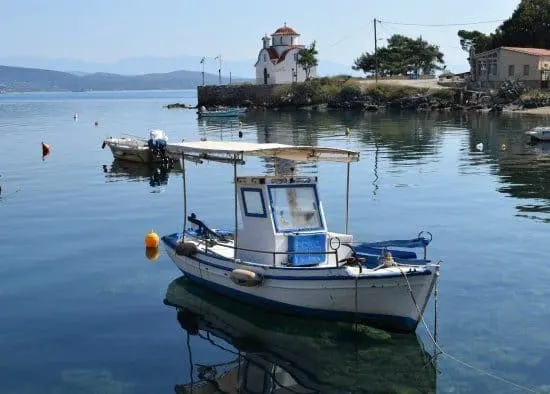 Gytheio is a picture-perfect Greek harbour town but it was also the main port of mighty Sparta. The little island here is said to be the first place Helen and Paris stayed when they ran off and precipitated the Trojan wars.
I was looking for the perfect Greek harbour, with octopus drying in the sun and picturesque tavernas, this is as close as we got to that perfection. We ended up staying 2 nights on a caravan park just outside town, it was cheap and the kids loved staying on the site with pool and playground. The campsite taverna was so good we ate there both nights.
Just up the coast from Gythion is a wonderful beach with more archaeology and a modern rust hulk of a shipwreck.
Where to stay: There are hotels on the harbour's edge in Gythio, but they're expensive and used by tour groups. We stayed at Camping Gythion Bay just up the road, very affordable at 35 Euros and lots of fun for the kids. Of all the places to visit in Greece that we mention here, this camping stay was, surprisingly, the most fun.
Mycenae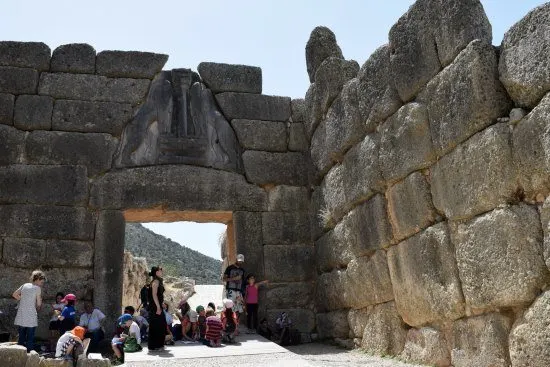 Mycenae dominated Greek civilization around 1,500BC. This is the city of Perseus, demigod son of Zeus. It is where Hercules received his 12 tasks from King Eurystheus of Tiryns and Mycenae. King Agamemnon's tomb is here, just outside the main Mycenae site ( The treasury of Atreus) it's contents can be seen in the on-site museum. The tomb's beehive structure is almost entirely preserved intact, with no renovation. The huge stone blocks flanking the Lion Gate (above) are described as Cyclopean architecture, so huge they could only have been moved by cyclops. This is a really cool site, but over-run with tour groups. Most sites we had visited until now had been deserted.
Where to stay: Kaiafas Lakes Hotel
Nemia
Nemia is just up the road from Mycenae and was the site of Hercules's first task killing the Nemian lion. Admission is another 6 Euros. This is also wine country.
Where to stay: Kaiafas Lakes Hotel
Olympia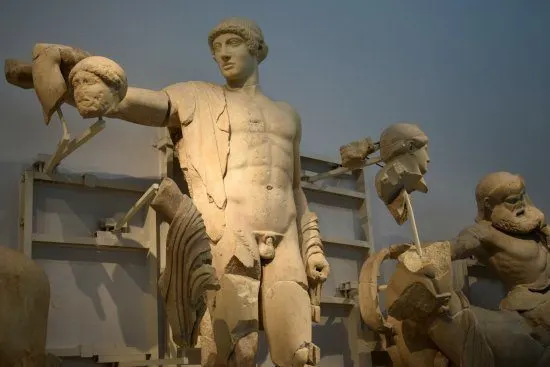 Here we have the biggest WOW of the trip. 1 of the 7 Wonders of The World!
And all that sport stuff.
The Statue of Zeus at Olympia. The statue is long gone but parts of the temple remain. The statues from the temple are stunningly displayed in the on-site museum (above).
And you can run in the ancient Olympic stadium, see where they light the Olympic torch, wander the athlete's massage area, the site goes on and on and was my favourite.
Where to stay: Kaiafas Lakes Hotel is just up the road, peaceful, spacious and with an amazing pool for the kids.
Between Olympia and Delphi, Arkoudi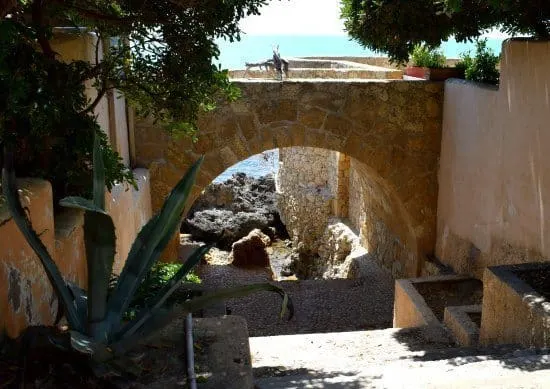 Olympia to Delphi was too far for us to drive in one day so we broke the journey at Arkoudi a tiny beach side town with a real locals' taverna right over the water.
Where to stay: Soulis Hotel Amazing sea views, large rooms and a good breakfast. We really liked this tiny flower-filled town but we failed to come up with a mythology or history connection here.
Delphi
Delphi is breathtaking. The setting , the ancient sites and the museum are probably better than you can even imagine. It's a fair drive from Athens, around 120 Km, some people do it as a day trip. We'd urge you not to, stay in Delphi, waking up to incredible views down to the sea is not to be missed. Get to the sites early before the coach parties and take a cool evening stroll from town to the Temple of Athena and gymnasium. The daytime heat is fierce here.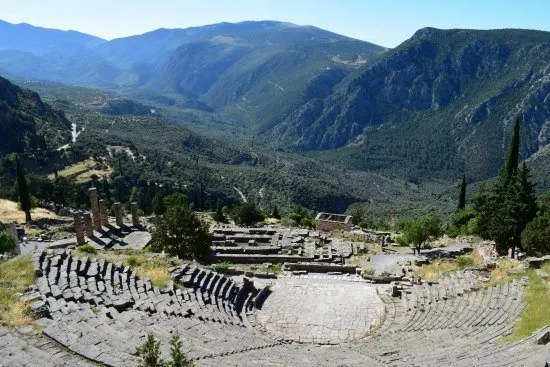 Where to stay: Hotel Lefas gave us stunning views, a private balcony, 4 beds, god breakfast and a mountain lodge feel. We liked it there a lot.
Athens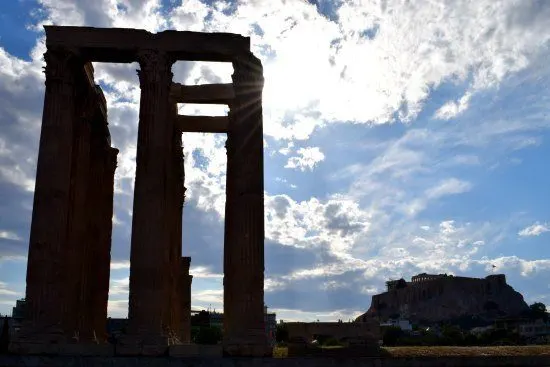 We fell in love with Athens like no other city, the center is an absolute delight with the Acropolis, Acropolis Museum, Temple of Zeus, Hadrian's Gate and stunning old town. It is important to stay near the center, we think, outer parts of Athens aren't very nice. The hotel below gave us a great location and a room with 5 beds. Further from the center of Athens, but still within walking distance, is the Olympic Stadium. Also well worth a visit. Pavement dining in Athens is a joy and no more expensive than elsewhere in mainland Greece. A food tour or cooking class would be a wonderful thing to do here but we just didn't have the time. Yes, food knowledge and cooking is very much part of the kids' education, we try to slot in tours and classes whenever we can.
We stayed at: Art Gallery Hotel After much searching we found this gem. Athens gets busy, book early. We wanted an Acropolis view but prices for hotels boasting one were insane, we gave up. Imagine our surprise when we discovered that our balcony had one! Our family room had 5 beds, shower room and balcony with that precious view. On the floor below there is a lovely bar, again with the view. This area is really nice, a short walk to the Acropolis and loads of places to eat at good prices including a great bakery with coffee. We payed just under $100/night. WiFi was good.
Great Resources for Learning About Ancient Greece, Mythology, History, and Archaeology
Read, listen to or watch these before you go to get maximum value from your tour of Greece.
Khan Academy, Crash Course in World History by John Green (Free)
The Rick Riordan Percy Jackson Books., video or audio books
Before you go, save this page to Pinterest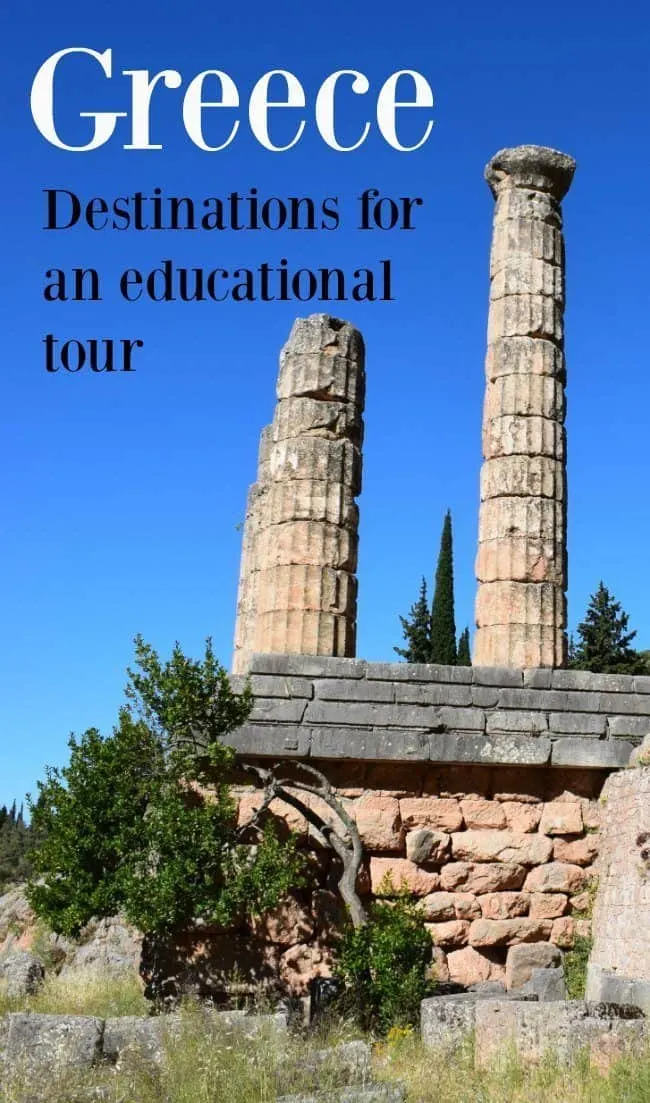 A reminder that Holiday Autos gave us that superb price on car hire

So what do you think? Is a travelling education (worldschooling) better than school or are we insane? Are your kids interested in Greek mythology, archaeology, and history? Would they enjoy these places to visit in Greece? Can you see them loving tzatziki, stuffed peppers, and dolmades? Any questions or comments, leave them below and we hope you get to make your own educational tour of mainland Greece one day, it really was one of our best family holidays ever and all driven by the kids' fascination with history. With deepest thanks to Percy Jackson.
If you'd like to hire a car during your stay, use this car rental comparison tool to find the best deal!

We also suggest you take a look at this company to get a quote for all kinds of the more tricky adventure or extended travel insurance.

Try Stayz / VRBO for an alternative way to find rentals on homes/apartments/condos in any country!