This post may contain affiliate links.
Visiting London with kids is a great idea, as London UK has so many incredible and unique things to do for your kids and for your family. London, among all the cities in the world, is probably the best city to visit with kids. It is my top-pick travel destination for children because of the wealth of child-friendly, fun, cultural, historic, educational, and family-oriented things to do in the UK's capital city. Thankfully, many of the things to do in London with kids are free.
This post is about the practicalities of visiting London with kids, as well as the very best things to do in London with kids. I'm a London mum, my kids were born in London and we've spent years exploring this city, from birth to older teens, to make this family guide for you.
There are a lot of free things to do in London, but London can be expensive too, be ready for that.
However, the devalued pound and good exchange rates could help overseas visitors a lot.
Flights to London have also become more affordable lately. Some ideas, tips, reviews, and guides on London with children, 2023 updated.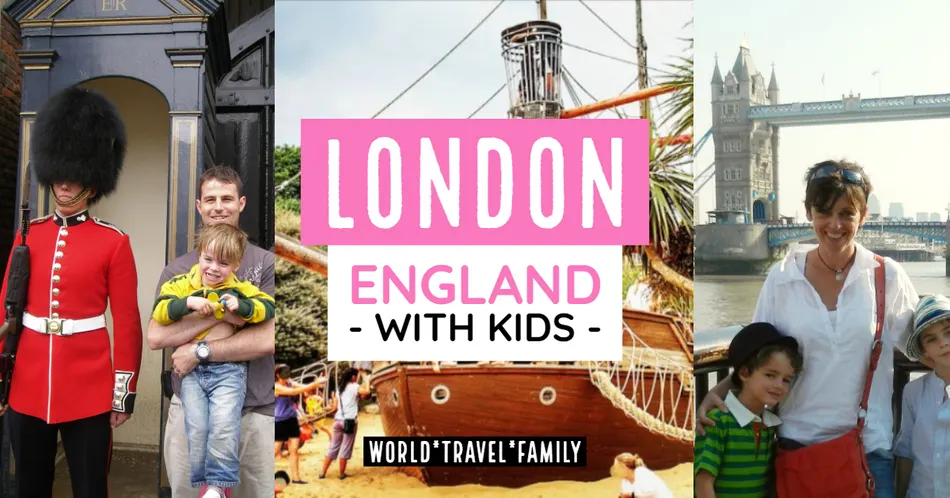 Some of these London attractions for kids are my own childhood favourites, and some are things and places my kids and our family loved to do in London.
Visiting London with children by a Londoner, a local mum, a returned ex-pat, and a full-time professional traveller.
We include things to do in London, things to do near London, the practicalities of visiting London with kids, and the best family experiences we can find.
In our post, we cover the following things to do and attractions for London with kids and for families.
The British Museum
The Science Museum
The London Natural History Museum
The Museum of Childhood and Grant Zoology Museum (Both smaller museums, great for kids)
The V&A
The Tate Modern (Kids Tours)
The London Museum of Art (Kids Tours and Special Events)
The Changing of The Guard
Trafalgar Square and Nelson's Column
Greenwich, Includes Greenwich Market, The Greenwich Meridian, Cutty Sark, Maritime Museum etc.
Famous Shops and Stores for kids, Hamley's (The Greatest Toy Store in the World), Harrods, Borough Market, Camden Market, Covent Garden Markets, etc.
Parks, Gardens and Playgrounds in London for Kids, include Diana Memorial Playground and Fountains. One of the best playgrounds we've seen in the whole world.
The Tower of London
The London Eye
The Terrible Thames (From Horrible Histories, Cruise, and Child-Friendly Performance)
The Shard
Madame Tussauds and The Planetarium
Theme Parks Near London
The Tower Bridge Experience and London Tombs
The Clink Prison Museum
Theatres and Shows
How To Get Around London as a Family
Where and What to Eat in London
Safety and Security in London
Kidzania
Hobbledown Heath (Adventure outdoor play and sports)
Day Trips From London, Stonehenge, The Cotswolds, etc.
Where we have added links to our index list, above, clicking them will take you straight to that section. Just to make life easier for you. This post has a considerable amount of information!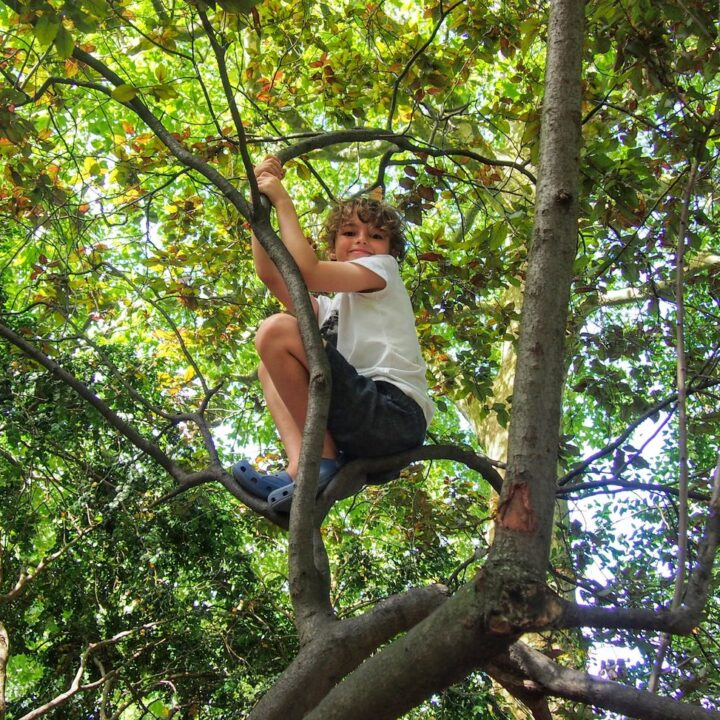 This post may contain affiliate links from which we earn a commission. This costs you nothing extra and doesn't affect our honest recommendations.
London With Kids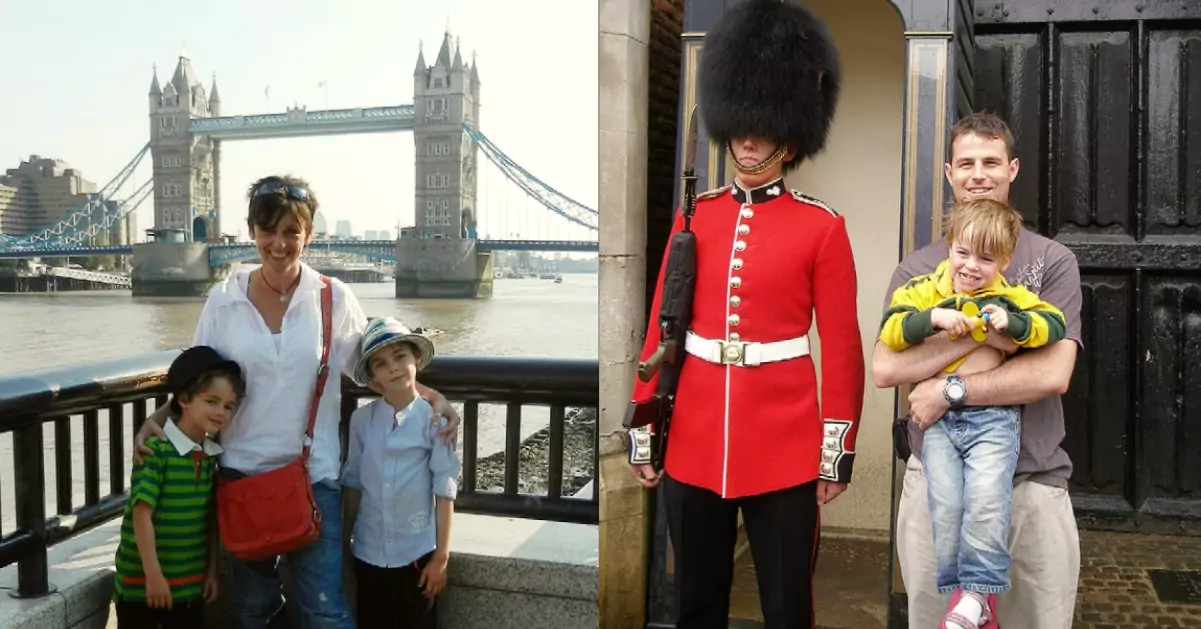 There is so much to do that is child-friendly, educational, and fun in London. There are parks and free museums, historical landmarks, and entertainment, enough to keep your family busy for months, maybe years!
I'll stick to my family's favourites, the things we always enjoyed when we lived in London and visited London. If you are visiting London with children I hope you will enjoy them, too.
I think the key to children getting the most out of travel is preparing them. Show them pictures, tell them stories, watch videos, read books.
When they arrive in London they will be excited to see what the city has to offer and know a bit about the landmarks. We have a few suggested London for kids books below.
What's Open in London for Kids Right Now
Many places in London were closed from 2020-2021. Thankfully, London in 2023 is pretty much back to normal, we were there this year, and some new London attractions are ready for you and your kids to enjoy.
London with Kids Video
Our London with Kids video has been temporarily removed to better serve our readers, you can find it on our YouTube channel here.
Things To Do In London With Kids
There are so many things to do in London with kids that you could stay a month and not do them all.
Throughout 2021 to 2023 we're adding information on what's open, and what's closed. We'll keep this post as fresh as we can but things change constantly.
We start our list below with free things to do and move on to paid attractions and sightseeing.
Fun London Activities and Outings You Can Book Right Now
We know it's difficult right now to keep kids entertained, so many places are operating differently until the Covid crisis is fully over. We've scoured the internet to find you the places that are open.
These outings should keep your kids, and you, happy over the school holidays. Most places now need you to book a slot in advance. London Zoo has been open and you can book your visit here.
London Zoo is a must-see for kids, it's a superb zoo situated on the edge of Regent's Park.
London Full-Day Tours With Kids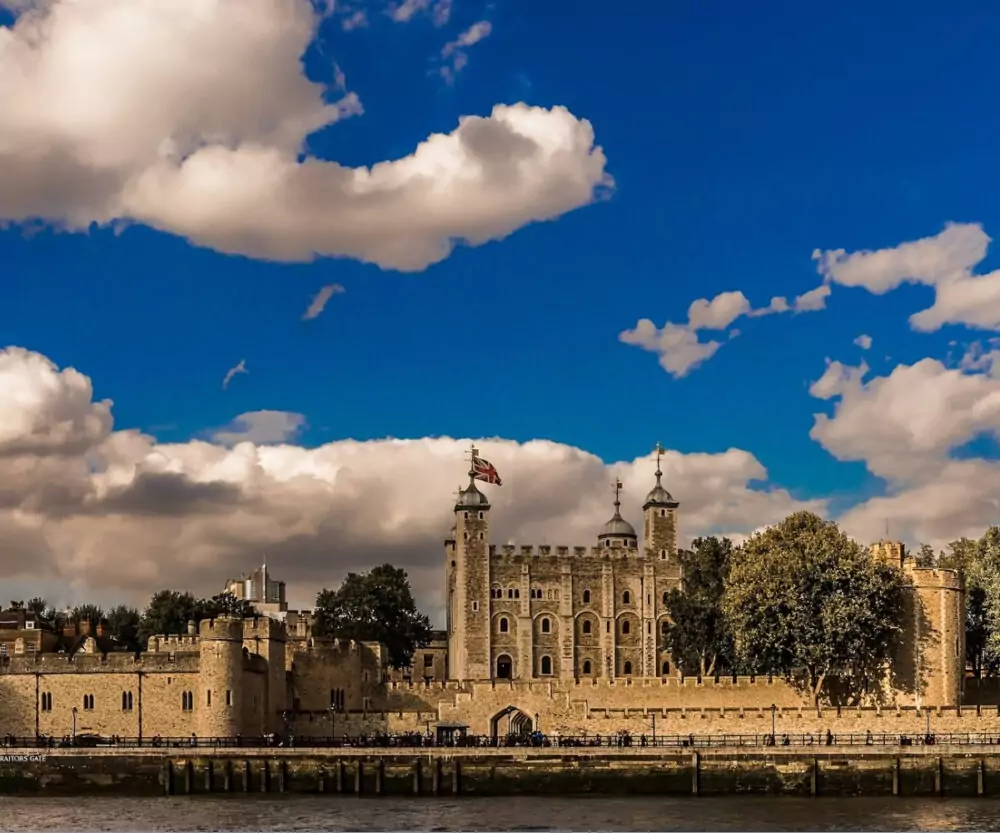 There are several options for full-day tours of London that are perfect if you are short of time and want to get as much out of your trip as possible. In one day in London, you can see and do a lot, even with a family.
This tour will take you to St Paul's, Westminster Abbey, The Changing of The Guard, and Buckingham Palace, a Thames Cruise, plus either cream tea at Harrods or a flight on the London Eye. That's a very full day and an immensely good use of time.
If you were to do all these things without a guide and an air-conditioned bus, you'd be hot, tired, and very unlikely to fit it all in. Even if, like me, you could use London transport and read those tube maps with ease!
Book this one well in advance, these trips sell out and places for tea at Harrods and for The Tower of London and London Eye are very limited. This one comes with a price guarantee and free cancellation pledge from the company if you book here You can even reserve now and pay later.
Free London Museums for Kids
Most museums in London are free, which is brilliant! More and more you will see suggested donations, but these were not compulsory at the time of writing.
As we visit these museums often, I may give a donation sometimes, others not. Sometimes we'll pop into a museum for 10 minutes, sometimes half a day.
London's museums are one of the main things I miss about living in London, particularly as we are home educators or homeschoolers. London has a huge home education community.
Expect queues and bag searches at most of the most popular museums. You may need to check if they are still free, the government was pushing for admission to become paid.
Our favourite London museums for kids of all ages are below.
The Natural History Museum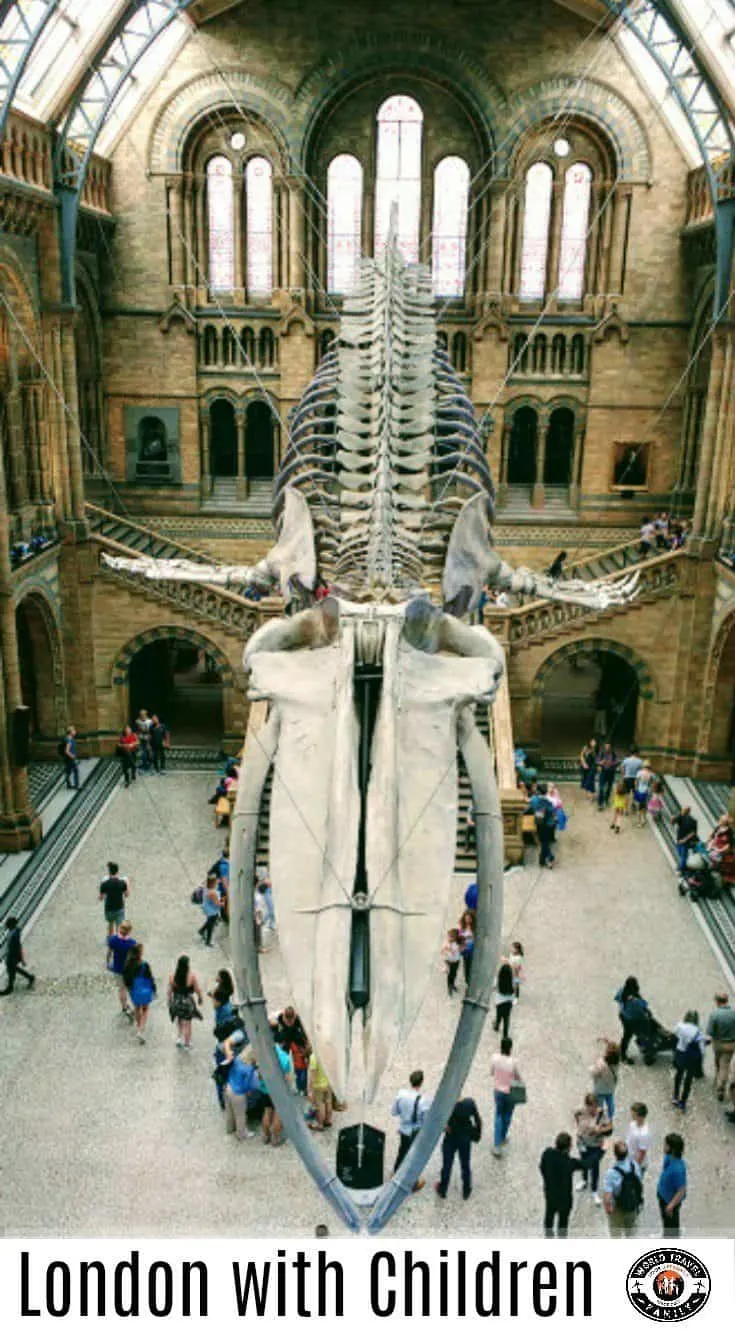 According to The National History Museum's website, the NHM is open currently. The Fantastic Beast exhibition was great for kids but the new exhibition is Titanosaur, Life as the Biggest Dinosaur. You do have to pay and book for these special events. Make bookings and find out more here.
The Natural History opens at 10 am and the last entry is at 5.30 am. Tickets are free but bookings are required at busy times and you are likely to have to book some time in advance. You can book here.
We visited the London Natural History Museum with a group of kids during school holidays in 2023. It was so busy that only people with booking were being allowed in.
You can easily make a booking, for free, by visiting the Natural History Museum website. Another way to guarantee admission to this museum is to take out family membership here. This gives you priviledges, access to a members' lounge and a jump-the-queue ticket. It's perfect for kids with special needs.
You could spend days at this museum, one of the "big 3" in South Kensington, and still not see everything. It is one of the most incredible places on Earth.
The building itself, with its magnificent Victorian architecture, is impressive and then you step through the main doors and come face to face with a whale, or a dinosaur.
Dippy, the iconic replica Diplodocus goes on tour sometimes.
To your left is the dinosaur exhibit. For years this has featured an animatronic T Rex, huge skeletons, and a number of interactive displays.
Tip: The museum can be busy in term time, when many school groups visit, it has sometimes been quieter for us in school holidays, avoid weekends and go early or late. School holidays also bring huge crowds of course. You may have to queue outside.
The mammal hall is spectacular, the life-sized blue whale suspended from the ceiling is a memory from my childhood that still impresses me forty years later.
There are cafes, excellent washrooms and cloakrooms. The food is extremely good quality, but more expensive than elsewhere.
If you visit London at Christmas time you should find an outdoor ice rink and carousel in front of the museum. These photos were taken in November, the weather was beautiful and we didn't need warm coats at all. We were lucky, you have to prepare for anything weather-wise.
I must also mention the Rothschild Collection out in Tring, north of London. It is now owned by the Natural History Museum, and is free. Again, it requires an online booking currently.
It is a compact yet extensive collection put together by Walter Rothschild, a notable eccentric, famous for having a stable of zebras to pull his carriage. They have the most enormous stuffed seal I have ever seen on the top floor, it's well worth a visit.
There is also The Horniman Museum at Dulwich or Forest Hill officially, again, a collection of stuffed animals from a private collection along with a small aquarium and butterfly exhibit.
The 2010 BBC TV documentary series, The Museum of Life, is one of our family favourites. It's a behind-the-scenes look at the work the London Natural History Museum does, it would be great to watch before you go if you can.
I would allow at least half a day of your itinerary in London with kids to visit the museum, however, if you're short of time, an hour or two is fine. There are good bathrooms and an excellent restaurant inside the museum. You will probably have your bags searched on arrival at the Cromwell Road door at the front of the museum.
London Natural History Museum Information
Natural History Museum Address: Cromwell Road, London SW7 5BD
Nearest Tube Station: South Kensington on the District Line and Circle Line.
Where is the Natural History Museum London on a map, here
The British Museum, London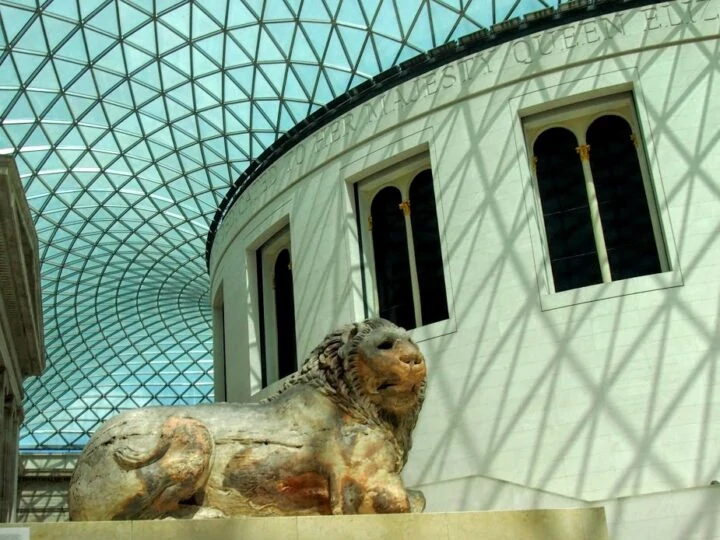 According to The British Museum website, the museum is open daily from 10 am to 5 pm, with last entry 4 pm, with late night opening on Fridays to 8.30 pm, last entry 7.30 pm. See full opening hours here.
At the British Museum admission is free but visitors would be sensible to book an admission slot online in advance, in case the museum is very busy.
We did book in 2023 but didn't need to show our reservations, if you get to any of these museums early you should be OK.
Virtual tours and their online shop are also available. Check the latest news from the museum and make bookings here. You can even book a private family tour of London's British Museum with a professional historian and kid-friendly guide. These tours aren't cheap, a cheaper option is a British Museum treasure hunt for kids. See that one here.
At the British Museum, the Egyptian artifacts are amazing, not as good as Cairo's Egyptian Museum, and, arguably, some of the exhibits should be sent back there, but if you are into Egyptology, mummies, and hieroglyphs you will be in museum heaven.
They have the Rosetta stone, how cool is that?
Just about every culture is represented, from Ancient Greece to Asian civilizations, Egypt is our family favorite. We're always on the lookout for educational things to do in London and the British Museum's kids audio guides are superb.
It's an incredible building with good facilities, food is great but pricey. Washrooms are good but they can get very busy.
I really like the gift shop at the British Museum too, with products from the arty and unique to kids' books and toys. There's so much to admire about this museum, and its close proximity to so many perfectly-furnished short term lets in London is also a huge bonus. Read our full post on the British Museum with children here.
Again, you should probably allow half a day of your itinerary to visit the British Museum, but an hour or two will suffice for a flying visit. There are good food outlets and washrooms at the museum. Try to have a plan for what you and your kids want to see at the museum and consider taking one of the museum's free tours, or a kids audio tour.
London's British Museum Visitors' Information
British Museum Address: Great Russell Street London WC1B 3DG
Nearest Tube Station: Russel Square, Holborn and Tottenham Court Rd are also nearby.
See it on a map here.
The London Science Museum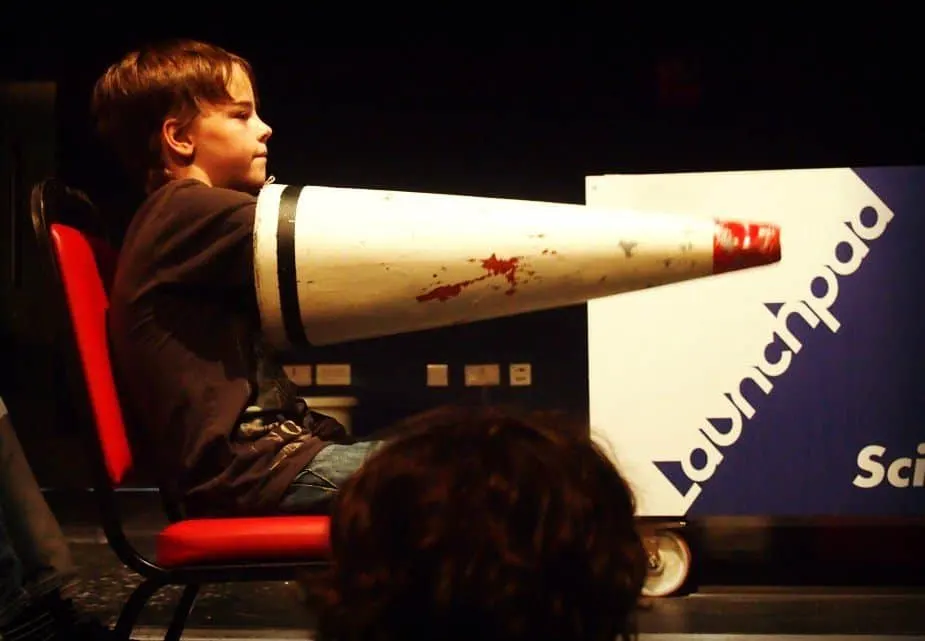 London's Science Museum is right next door to the Natural History Museum and was also free to enter (other than by donation). It's a superb museum for kids.
The Science Museum website states that they are open and that visitors can book free admission tickets online. Check here for opening times and reservations.
There are two hands-on kids' science areas, one for toddlers, preschoolers and young school-aged kids on the bottom floor and one for older kids ( shown above).
Launchpad was on the top floor and has plenty to keep kids busy including science shows and demonstrations throughout the day. Read more on London Science Museum with children here.
London's Science Museum has a nice restaurant and gift shop too.
The Science Museum is often less crowded, so if you can't face the Natural History Museum queues you can try here instead, or even the Victoria and Albert Museum which is just over the road.
The big three are in South Kensington, you need South Kensington Tube Station then take the underground walkway to the museums.
If you're very quick, you can visit all 3 South Kensington museums in one day, but you won't do them justice. If you need to pick just one London museum to visit with your kids, my choice would be the Natural History Museum. My kids might pick The London Science Museum.
We've also visited the New York Natural History Museum. It's a very good museum, and it's certainly worth visiting both, but I think the London Natural History Museum is better.
London Science Museum Information
London Science Museum Address: Exhibition Rd, South Kensington, London SW7 2DD, UK
Nearest tube station: South Kensington on the Piccadilly, District and Circle Lines or Gloucester Rd, same 3 tube lines.
The V&A (London Victoria and Albert Museum)
The Victoria and Albert Museum is open according to their website. (check their website). The V&A, the Victoria and Albert Museum of Art and Design is my kids' least favourite of the big 3 London Museums at South Kensington
Most of it is usually free, some parts have an admission fee. They had a special Alice in Wonderland exhibition running this summer.
I really like the display of theatrical and celebrity musicians' costumes on the top floor. There is also an area to play dress up but the clothes tend towards adult size.
On a lower floor, there are interesting exhibits on art and design around the world and religious art styles.
There are audio guides available and my kids have used these.
The cafe in the V&A is pretty spectacular. You should at least take a look at the decor and architecture.
In this area of London lookout for WW2 damage to the stonework, it's everywhere. If the Natural History and Science Museums are looking way too busy, the V & A is usually quieter.
The Victoria and Albert opens later, at 10 am usually. Last admission 4.45 pm is normal.
The Tate Modern Museum of Modern Art, London
The Tate Modern with children worked well for us. They offer kids audio guides as well as an impressive "Wall of Art" computer feature making this museum very kid-friendly.
Our favourite artist is Salvadore Dali, we've seen several of his works at London's Tate Modern museum over the years along with Picasso. Check which pieces are currently on display.
The Tate Modern is on the South Bank. Keep walking on east past the London Eye and you'll get there.
"Death Eater's Bridge" from Harry Potter crosses the Thames almost directly outside this museum. If you use it you can cross The River Thames to St Paul's.
The Tate Modern is open, but timed admissions seem to be required. Most of this museum is free to enter and doors usually open at 10 am Monday to Sunday.
The National Gallery of Art.
London National Gallery with children was also good. Here we enjoyed a free tour, aimed at adults but good for my kids, along with audio guides.
This museum hosts special kids events and classes during school holidays.
This is where we got to see Van Gogh after a long-held interest thanks to Doctor Who. This museum is directly behind Trafalgar Square.
The National Gallery of Art is open and free other than special exhibitions. Doors open at 10 am normally.
This one closes for a few days over Christmas and on New Year's Day. It has advertised late-night opening Fridays. You must check all this at their website, link above.
Unusual Museums for Children in London
We have a complete blog post on The Museum of Childhood which features the toys I used to play with as a kid and those your grandparents would have enjoyed.
The Grant Zoology Museum is wonderful for budding scientists with plenty of bones and skeletons to interest small ones. It may be a little gruesome for some.
If you're on the South Bank the Clink Prison Museum is worth a look. It's on the site of the original Clink Prison in Southwark (South Bank) and gives you history, education, and gory details. All of these 3 are small museums and won't take much of your time.
You could also visit the Imperial War Museum or the Transport for London Museum on Covent Garden. Then of course there is Shakespeare's Globe (on the south bank) to visit.
The Bank of England Museum
We visited the Bank of England Museum recently with older kids and we didn't find it terribly interesting. It's free and we didn't have to book. Our favourite exhibit was a gold bar, to feel the weight. This is a very small museum near Bank tube station.
The London Transport Museum
The London Transport Museum is quite a good place to take kids with London if they are interested in vintage vehicles. This museum is located in Covent Garden but it is not one of London's free museums.
Admission to The London Transport Museum is fairly expensive for adults, free for kids under 17 years, but the cost can be lowered by buying a London Pass or an annual pass. The London Transport Museum is open 10am to 6pm daily according to their website.
You will need to book a time slot via their website for free admission.
The Changing of The Guard
There are 2 changing of the guard ceremonies that attract tourists, the bigger one at Buckingham Palace and the smaller at Horse Guards Parade in Whitehall. Both are, in theory, daily and at 11 am.
The Buckingham Palace Ceremony starts at 10.30am when the new guard forms at Wellington Barracks (opposite St James's Park). They then march to Buckingham Palace and "change" at 11 am.
The old guard then marches back to the barracks with the accompanying band. They are back at the barracks at 11.30 am.
You need to check timetables as they are seasonal, with weather, and security variations. Try here. It is at Whitehall (near Downing St.) that you can get a photo with a mounted guardsman and stroke a horse, if you're lucky.
Do not touch the reins or get in the way. The guards are working soldiers and they don't mess about with clueless tourists.
The Queens Guard at Whitehall changes at 10 am on Sundays, but do check and double-check these times. If tourists get in the way of the guards, and they do, you'll likely hear "Make way for the Queen's Guard!"
Their website states if the changing of the guard is currently taking place at Buckingham Palace and Windsor Castle due to COVID restrictions. However, the UK is set to drop restrictions in mid-July 2021, so keep an eye on that at the website above.
Trafalgar Square and Nelson's Column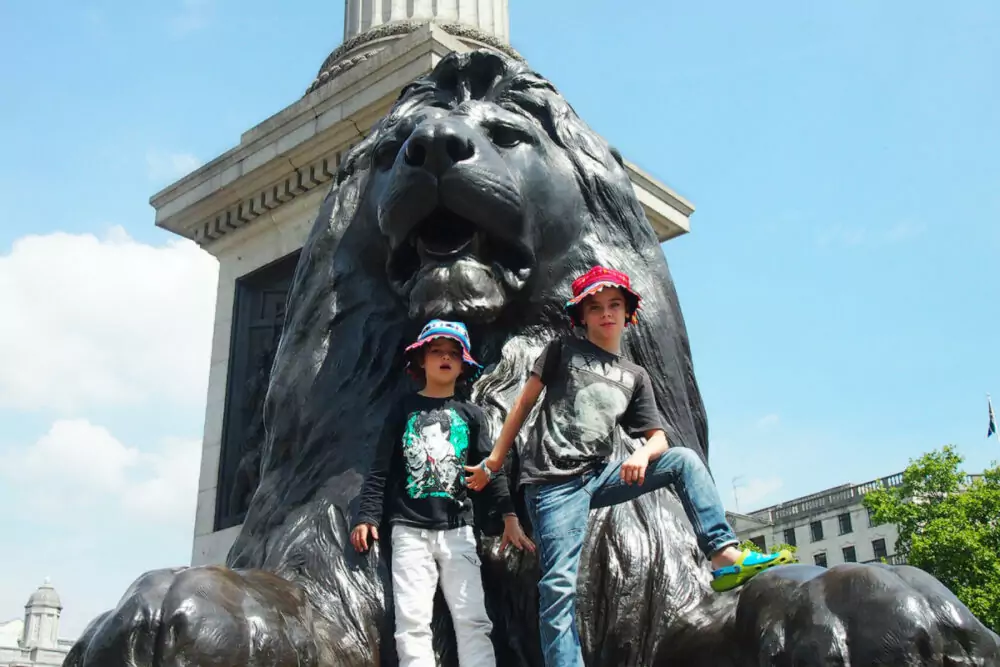 Trafalgar Square commemorates the battle of Trafalgar from the Napoleonic wars and as such, holds a statue of Admiral Horatio Nelson who died in the conflict.
It is in the heart of London and the entrance to The Mall. The Royal Mile, the road that leads to Buckingham Palace, is right opposite.
Nelson's statue is guarded by four noble bronze lions by Landseer. Famously their back halves were modelled on dogs, not felines because the lions used as models became too decomposed to use. If you look, you can see this.
Trafalgar Square is an open public space and great for a run-around. I grew up feeding the pigeons here, but those days are gone.
My kids were able to climb on Nelson's plinth and have their photos taken sitting with the lions when we last visited.
In summer, visitors used to cool off in the fountains, but I don't think that's allowed today.
Look out for contemporary art pieces on the back left plinth, outside the National Gallery. Charing Cross Station is nearby.
London Hop On Hop Off Bus Tours With Kids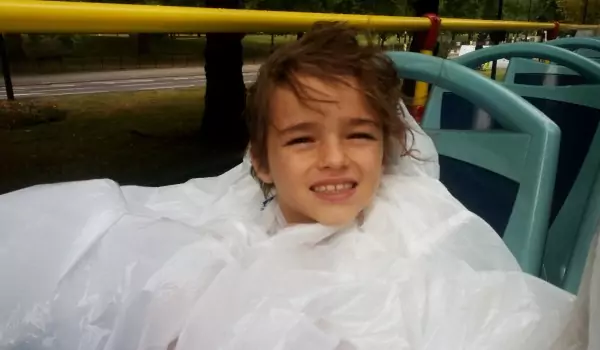 I've taken a hop-on hop-off bus tour with my kids and despite being Londoners, we loved it. They're a great way to see the sights at your own pace, with a fun and informative commentary.
Get off the bus and back on another any time you please, they circulate the city's biggest sites constantly.
The Tootbus is a similar London bus tour, but with a commentary aimed at kids, if you have small children this is the one for you. Check out Tootbus here and reserve your spot. Free cancellation is still possible and you don't need to pay now.
Most of these buses have open tops, so plenty of fresh air up there to enjoy and a perfect activity for summer or winter vacation.
Of course, an open-top bus puts you at the mercy of the elements but despite popular belief, it actually doesn't rain all that much in London.
When we took this tour there was some light drizzle and the company gave us rain ponchos. These buses are double-deckers so you can always go downstairs.
You can normally book flexible tickets that will take you all over London. It's the commentary that makes these tours and if you get a good host you should have a lot of fun with this type of London tours.
Keeping small children happy could be challenging on a regular bus tour, for little ones I'd go for Tootbus, here.
Look out for special night tours and these Christmas lights specials by bus. The open-top deck should keep those germs at bay!
This flexible hop on hop off bus ticket even includes a cruise on The Thames. See all the sites, from on high. A perfect day exploring London. Book here with a best price guarantee.
Combined London Attraction Tickets and Heritage Passes
Many variations on these tickets exist. They're designed to save you money but, maybe, spend more money in total because with these tickets you will visit more attractions than you might otherwise.
I usually list the ones currently available below, but unfortunately, this industry is very confusing right now. I won't share too many until everything is open as normal.
Take a look at this pass, it may suit you. Alternatively look into GoCity London pass, this is an international company with similar passes for most major cities around the world. These passes are designed to save you cash.
Explore Greenwich With Kids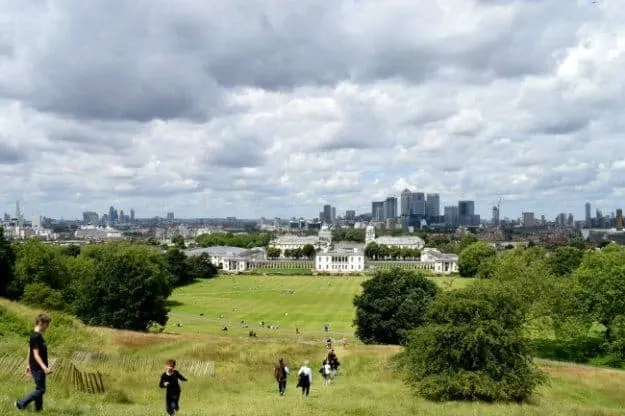 Greenwich isn't far away at all but because it's a stand-alone area, reached by the Docklands Light Rail. we'll keep it separate. There is plenty to fill a day or two in Greenwich and it's one of our favourite parts of London.
We often stay on this side of town when we visit London.
Greenwich is dominated by the magnificent The Cutty Sark, a paid attraction, but there are free museums, the Greenwich Meridian and wonderful markets, traditional pie mash and jellied eels, and modern street food to explore.
See our post on things to do in Greenwich with children. This post includes information on how to get to Greenwich and on visiting the Royal Observatory at Greenwich.
Greenwich Hill, in the photo above, is right next to the Greenwich Observatory and the photo-op for the Greenwich Meridian line. It's a great place for a walk or run-around for kids. My children like to roll down the hill.
Treasure Hunts in London with Kids
There are a lot of treasure hunt experiences in London that you can participate in as a family with kids. For instance, you can book a kid-friendly treasure hunt at The British Museum (book here.) Alternatively, tour the city solving riddles inspired by Charles Dickens. These interactive, self-guided games are great for families, see the Secret London tour here.
Shops and Markets for Kids in London
Harrods
Harrods is worth a visit with your kids because it's such a London icon and for the food hall. You'll find an amazing array of the unusual and the expensive, and plenty of eating opportunities here too, at a price.
My kids always enjoyed a quick outing to the Harrods store.
There is a dress code for entry to Harrods, they don't admit scruffs.
Hamleys Toy Store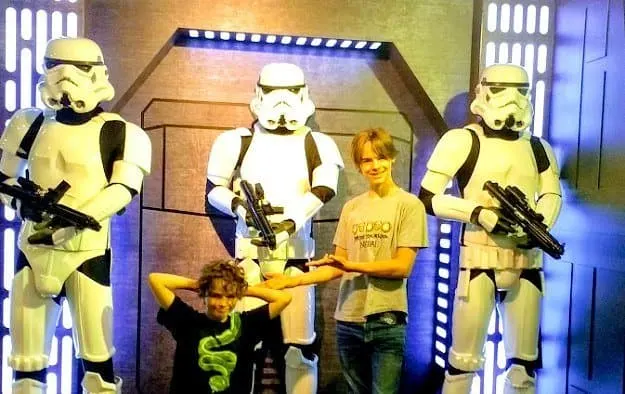 Maybe the greatest toy shop in the world, Hamleys, London, is a fantastic place to take your kids. Hamleys is on Regent St. just a short walk from Oxford Circus.
There are five floors of awesomenes featuring every toy you can imagine, with lifts (elevators) and escalators for easy access for parents with kids in strollers or prams.
A cafe, restrooms, and baby changing facilities were always on the top floor along with the Dr. Who toys.
The Lego department of Hamley's is pretty spectacular, featuring life-sized Lego constructions. Kids also love the incredible array of cuddly tows and Harry Potter toys.
Staff stationed all over the shop keep kids entertained with toy demonstrations.
The window displays at Christmas make things extra magical. This is one of the must-see London shop window displays at Christmas.
At opening time there is often a rope-drop ceremony that can be quite fun with kids.
Covent Garden Markets
The Covent Garden tube station is strange, it's the only station I remember where the access is via elevators.
As you come out and walk right towards Covent Garden you are surrounded by buskers, mostly performance artists standing still pretending to be statues, waiting for you to throw them coins. They are extremely good, most kids love them.
This makes London's Covent Garden a great place to take kids.
In Covent Garden proper you will find more buskers, these are more likely to put on shows, gathering a crowd around them, again, they are excellent, magic, fire tricks, uni-cyclists, jugglers, or, my favourite, the guy that puts on the Charlie Chaplin show.
My son got involved with him last year, it was amazing. They usually pass a hat around for donations at the end.
In the central part of the market are the market stalls, surrounding this are regular high street shops housed in the old market buildings.
I LOVE Covent Garden. Look out for the Christmas fairs and food fairs, there are often special events.
Borough Market
Borough market is another Harry Potter filming location (The Leaky Cauldron is here) and is a foodie destination above all others. Beware, it can get very crowded on weekends and during holidays, particularly Christmas.
The Borough Market website states that it is open, now 6 days per week, although their opening hours show 7 days.
Borough Market dates back to 1041 and is open Monday to Saturday although Monday and Tuesday are smaller market days, not all traders open then. It is likely to be closed on public (bank) holidays. Sundays have now been added, they say 10am to 2 pm.
It is on the South Bank, beneath London Bridge, near The Shard and London Bridge Experience / London Tombs. Around Christmas Borough Market is sometimes open for more days or hours.
Parks, Gardens and Playgrounds in London for Kids
London is absolutely crammed with parks, lakes and playgrounds, the wild squirrel population is a big hit with those that aren't used to them. My husband and I used to laugh at tourists taking photos of the squirrels, now my children chase them around with cameras too.
You will find them wherever there is grass and trees. You're quite likely to see wild red foxes in parts of London too.
The Diana, Princess of Wales Memorial Gardens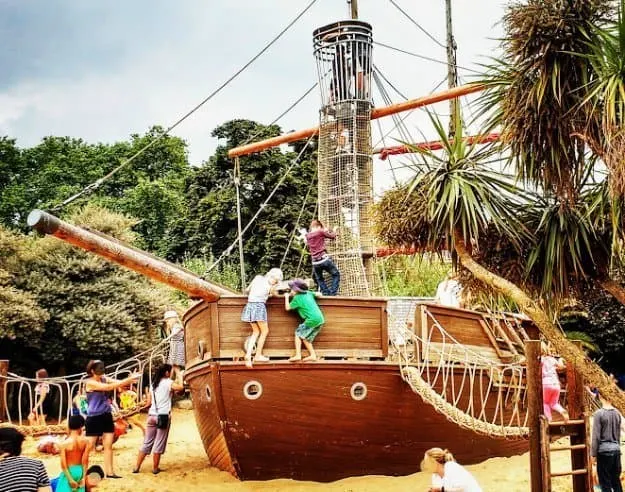 This playground has remained open, but with reduced capacity, maximum 150 children at a time, because of this you may have to queue to get in.
You need to bring your own hand sanitiser (according to their website).
The Princess Diana playground is a magical place, a lovely reminder of a special lady. It is only open to children under 12, and features a huge central pirate ship.
You can find it near her old home in Kensington Gardens. The Diana memorial fountain is in Hyde Park, the two parks are side by side.
The fountain is another lovely spot, children and adults like to paddle on hot days. The fountain opened on the 1st of July 2021, post-COVID. These attractions normally open at 10 am. Find the best up-to-date information at the link above.
The Regent's Park
You can see some of the zoo animals for free from Regents park, certainly the camels (they may have moved them now!) in the old, listed, elephant building and the farmyard animals in the petting zoo.
It's an enormous area of grass and gardens, take the kids for a runaround, to feed the ducks, or for a rowing boat ride on the lake.
It is beautiful in autumn when the leaves are turning. There are a number of cafes serving ice creams, cakes and hot snacks along with rest room facilities.
At the Baker St end, there is a really great kids' playground near the London mosque. This mosque is spectacular from the outside but I've never been inside.
St James's Park
St James's Park is the park you'll walk through between Horse Guards' Parade and Buckingham Palace. It has a lake, plenty of ducks and swans and a really nice kids' playground just steps from Buckingham Palace.
This would be a good place to take a kid-friendly breather before or after the changing of the guard. There is a café near the lake.
Hyde Park
Hyde Park lies between Mayfair, Knightsbridge, and Kensington and is contiguous with Kensington Park and Gardens, but is considered a separate park.
Park Lane runs along its eastern side and Marble Arch is at its northeast corner. Hyde Park is home to Speaker's Corner and The Serpentine.
It is where London's Christmas Winter Wonderland is usually held and of course, is great for kids.
We particularly like a couple of statues that are actually on Park Lane, adjacent to Hyde Park. They commemorate animals in war and women in war. Your kids might like to take a look.
The Southbank Centre
On hot summer days London kids can be found splashing in the fountains at The Southbank Centre. Take a towel.
Coram's Fields
Coram's Fields is another good park with kids playgrounds and water play facilities ideal for hot summer days in the city. It is located in Bloomsbury, not far from The British Museum.
London Zoo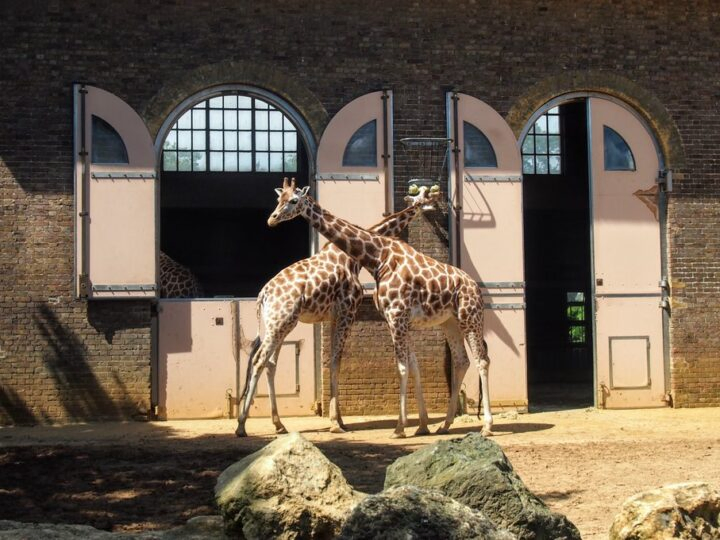 London Zoo is open after lockdown but it looks like you need to book a time to visit to comply with new social distancing regulations. Certain parts of the zoo remained closed longer, outdoor parts opened a while ago.
Gradually the zoo is fully re-opening, you can book your timeslot here.
London Zoo is a big day out, a must-do if you are visiting London with children. I used to take my preschoolers almost every week on our local's annual pass. Unfortunately, it is a little expensive for one-off visitors.
You can see my post on London Zoo here, I'm a zoologist and passionate about animal welfare, the work they do is vital for conservation and London is a shining example of this.
Check out the old elephant house, a listed building, the elephants have now been relocated to Whipsnade Zoo and Safari Park, along with the other larger mammals.(Whipsnade is also excellent) The elephant house was housing camels and pygmy hippos last time I was there.
The cafe at London Zoo was always great and had a good selection of hot food and healthy snacks, they do great coffee and cake too.
According to the zoo's own website, only takeaway food and drinks can now be served. The cafe used to get very busy, try to avoid peak times.
Check out the area in front of the cafe for carousels, occasional face painting, and a lovely children's playground.
The giraffe house is another favourite I love the smell of giraffe and hay as you go into the enclosed area. We used to take a packed lunch and eat it in the giraffe house, sometimes.
I've been visiting London Zoo all my life, things have changed, there are new attractions, (such as the excellent indoor rain forest exhibit) but the old buildings and history remain.
The reptile house is another old building, if you know your Harry Potter films you'll recognize the enclosure at the front, on the left, as the place where Harry first started talking to snakes. Check their site here for latest zoo news.
If you're looking for a birthday treat for a child, London Zoo offers special experiences such as "Meet the Meerkats" and "Keeper for a Day". We have taken the meet the meerkats experience and my kids adored it.
London Sea Life Aquarium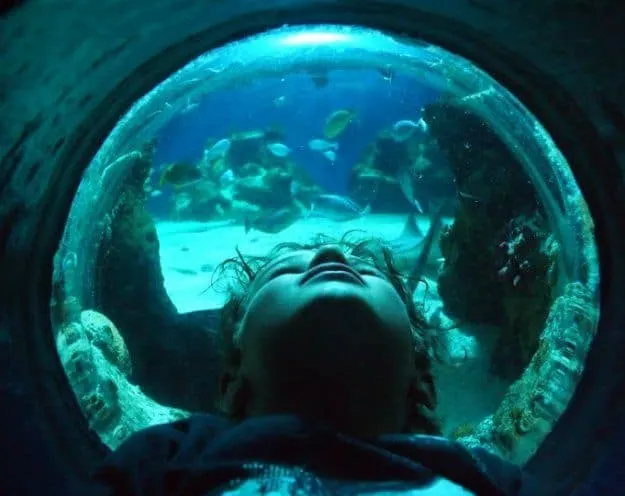 This London Sealife is a great aquarium, the huge shark tank stretched over 2 or 3 stories and housed some unusual types of shark, not just the usual grey nurse sharks.
You can read our review of London Aquarium here. It's just south of the river near the London Eye (one of the very best attractions in London), you could do both in one day and save money by buying a discounted Combi Ticket.
There is a great kids' playground near The Eye on the South Bank too.
Alternatively, go directly to the London Sealife Aquarium website to book a discounted ticket. Compare prices on the two ticket links we give you here, see which offers you the best deal. This website also offers combination tickets with other London family attractions.
The Tower of London With Kids
The Tower of London has been closed but plans to reopen after lockdown soon, they don't mention May as far as I can see, but that would be my guess.
The Tower is another big day out, highlights include King Henry VIII's suit of amour and the crown jewels.
When I was visiting last year they had a special exhibition, Royal Beasts, showcasing the tower's history as a zoo, complete with wandering actors re-enacting the roles of the beast keepers.
We think it's still running. It was a big hit with the kids, as were the ghostly tales of the Beefeaters. These guys are all ex-army, are great with the kids, and tell fantastic tales.
If you can't make it to the tower, check out this book The Tower Menagerie: The Amazing 600-Year History of the Royal Collection of Wild and Ferocious Beasts Kept at the Tower of London.
You can read all about the first polar bear in London, he was kept chained on the banks of the Thames, or the elephant that didn't last long on his diet of beer and bread. (My animal enthusiasm may give away my zoologist roots!)
Tower Bridge is almost directly outside The Tower of London, the striking, tall blue bridge which lefts to allow boats through. A lot of people think this bridge is London Bridge, its not, that one is quite boring looking.
The London Eye With Kids
This is one of my favourites activities with kids in London and is where you see just how small London is, you can see everything from up there.
I've have taken the children since as babies, toddlers and teens and each time they loved the ride. I have a feeling some children may find it a little dull, it's not a thrill ride.
The London Eye does seem to be open, with reduced capacity for social distancing. This attraction is always one to book online, I've seen horrendous queues here for tickets. Book your London Eye visit here.
If you like views from high places also consider The View From The Shard in London.
NEW for kids Summer – The Terrible Thames
Do your kids love the Horrible Histories TV shows, books, and audiobooks? My boys adored them.
Now you can combine live theatrical horridness with a river cruise exploring the horrible history of dear old London.
This is an absolute must-do for me. As soon as I can I'll be on a plane back home to do this. It departs Tower Bridge Quay. Book your tickets for the Terrible Thames cruise and show here.
London's Shard with Kids
The Shard is a building on London's South Bank, not far from London Bridge and Borough Market. It has 95 floors and is 310 m tall.
Visitors can go to the upper viewing decks to take in the incredible views as part of a " View From the Shard" package. Kids are welcome.
I've been up there with my kids, they loved it. I'm scared of heights so I was fairly terrified but the view was immense. This would probably be a good alternative to The London Eye.
We have our full post on going up The Shard. Doctor Who fans might get a particular buzz out of this one as Matt Smith's Doctor once went up the Shard on a motorbike.
Ripley's Believe it or Not
The London Ripley's Believe it or Not is (was) housed in a building overlooking Piccadilly Circus and yes, for a fun half-day, it was well worth going.
My kids adored this place just as they loved the New York Ripley's, the two are quite different. They particularly enjoyed the laser maze, which you could pay to enter in isolation.
A full post on London Ripley's Believe it or Not here. UPDATE – This Ripley's I believe, has now gone, I'm trying to find out more.
Madame Tussauds and The Planetarium for Kids
I haven't been to the London Tussauds since I was a child and have never taken my kids. But, and it's a big but, I recently took my teenager to Tussauds in Bangkok and we absolutely loved it. So maybe Madame Tussauds is a great thing to do with teens.
My small children wouldn't have known who most of the celebrities were as we were not TV watchers so I didn't see the point. My brother and I loved it when we were kids, particularly the horrible Chamber of Horrors.
Sorry, I don't know what it's like now. It's next to Baker St Tube station which is where you'll come for the Sherlock Holmes museum.
Last time I was here the gift shop next door to the tube station had a full-sized TARDIS just inside, handy for photo ops!
You can book a Madame Tussauds combo ticket with the London Eye and SeaLife Aquarium. It's a great deal for families and if I just had one or two days in London with kids I'd certainly try to fit in these three attractions. See the pass here, it saves you cash.
The London Dungeon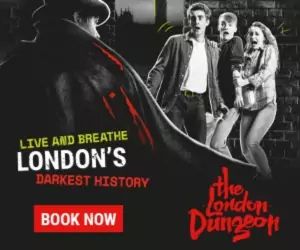 Is The London Dungeon suitable for kids? That depends on the child. This attraction is frightening, horrible and nasty in a good way. It has all the gruesome gory bits from London's history. Small boys and my husband love this stuff but sensitive children could be scared. You can book discounted tickets at the London Dungeon Sales Page, or by clicking the image.
I'm not such a fan, I really don't need to hear about medieval torture methods, thanks very much. They did a great job of making me feel quite ill with stories of red-hot tongue clamps.
The actor-led tours are superb, some new rides have opened since my last visit and this is another place we will visit next time. You could call it educational, its history, Jack the Ripper, the plague and the great fire should be part of every child's education.
If your kids like their history horrible, they'll love this. If you enjoy this sort of thing you could also check out the tour at The Clink prison. One of the oldest prisons in London, it gave its name to all others. It's on the South Bank.
My husband and I found it interesting, but I think for the older children, the London Dungeon would be more fun. London Tombs is similar, but the London Dungeon is better in our opinion. Book London Dungeon tickets 10% off here, you need to book to guarantee a spot.
The Tower Bridge Experience and London Tombs
Another scare-fest built beneath London Bridge. Partly educational, partly a straight-up scare attraction, it's fun for kids if they don't scare easily.
Maybe wait until they are 10-11 years old because it's a little freaky.
We enjoyed it but see the note below about ticket prices.
Theme Parks in or Near London for Kids
We have Chessington World of Adventure, Legoland Windsor and Thorpe Park in or near London and these are great places to take your kids. I should also mention Go Ape, they have one of their zip line and ropes courses at Chessington.
Chessington World of Adventure is southwest of central London, in Surrey on the A243. It's about a 38 minute drive from Central London if you have your own vehicle. The park has thrill rides, a zoo/safari park and aquarium. I've been to the Chessington Park and it's definately worth going. Allow a full day of your London itinerary to visit Chessington. The park opens at 10am. You can book youir Chessington admission ticket here, and we do advise you to book in advance, particularly in the summer or Easter school holidays.
Thorpe Park is also southwest of London, a little further north, about a 43 minute drive along the M4 and then south. You can book your entrance ticket here. Thorpe Park farm used to have animals for visitors to enjoy, but today Thorpe Park is a very large theme park with thrill rides. It is the second biggest theme park in the UK after Alton Towers, the latter being too far from London for most visitors.
Legoland UK is at Windsor and is easy to get to by train. The rides at Legoland parks are generally better for younger children, and you can book your ticket here. Combine this Legoland park with taking a look at Royal Windsor and Windsor castle.
If you're planning a fun summer vacation in London with kids we strongly recommend that you take them to one of these 3 British theme parks, the child's age should determine which theme park to choose, with Thorpe Park being more for older kids. At other times of year the weather may cause you difficulties with these outdoor parks.
London Urban Farms With Kids
2 petting zoos, Vauxhall City Farm and Mudchute Farm and Park are great things to do in London with kids and they are free or have suggested donations only.
A donation is in the region of 3 UK pounds, these donations support the farm's work in bringing animals into the lives of local kids.
Vauxhall City Farm is a short walk from Vauxhall underground, train or bus stations, a 10 minute walk from Oval underground station and 20 minutes walk from Waterloo. It is near the Vauxhall pleasure gardens, south of the Thames at Westminster. It is about a 25 minute walk south from the London Eye and Houses of Parliament.
You do not have to book Vauxhall City Gardens, Opening Times are 10:30am – 4:00pm, Tuesday to Sunday. Entry is free, no booking required but a donation is suggested. Check their website for further information. Thee kids can meet Santa here at Christmas!
Mudchute Farm and Gardens is free to enter and is in East London, on the Isle of Dogs. It is London's biggest urban farm in London and is great for kids. It
Mudchutte Farm is in Cubitt Town on the Isle of Dogs in the London Borough of Tower Hamlets, just south of Canary Wharf. The nearest underground station is Canary Wharf. The nearest DLR station is Island Gardens. If you're visiting Canary Warf, the Museum of London is near, and is also free. You could ride horses at Mudchute Farm, but this had to be booked in advance, but according to their website their
equestrian centre has now closed. Donkey rides are available here on Sundays in summer. See their website for more information.
Theatres and Shows in London with Children
I have taken the children to The London Palladium to see The Wizard of Oz and to the Lyceum to see The Lion King.
After much online research, we found that the cheapest way to buy tickets was to actually go along to the theatre's box office and be very nice to the man behind the desk. We got tickets for that night at the Palladium and a free ticket for my youngest.
Their Granny got her ticket half price as an OAP. Both were evening shows, finishing late at night, we had no issues with tiredness and fidgeting because they were so mesmerized by the performances and the theatrical wizardry going on (indoor snow and a witch flying above the audience).
If you want to see the Harry Potter Show- Harry Potter and the Cursed Child at the Palace Theatre in the West End- (it's actually 2 shows), book well in advance, months, and it would be helpful to win the lottery. It's insanely expensive.
For the 4 of us we were looking at almost $1000 for both shows last summer. So we saw The Lion King instead. To find out what's on in London Theatres for families, look at London Theatre updates here
Money-Saving Tip for London Attractions with Kids
Last week I took my son to the London Tombs and Tower Bridge Experience for his birthday. Before we went we found a price of around 15 pounds on a ticket and tour booking site.
The cost of the same ticket on the attraction's own website was 19 pounds something. We couldn't believe that the tour website had a better price than the attraction itself so we turned up thinking we'd pay on the door.
The price there was a huge 27 pounds! Almost double what we'd pay for our family using this tour booking company. Click through, check the prices. See if you can save yourself time and money by booking smart, in advance.
They have tickets for just about every attraction in London as well as a whole bunch of tours and experiences. In London it's usually best to book everything in advance, lines can be super-long and waste your valuable vacation time. That's an honest tip, from one mum to you.
Finding the Best Deals on Family Hotels, Hostels, B&Bs, and More in London
Whichever way you look at it, London is going to cost you a fair bit for accommodation. A cheap stay would be something in the region of £50 -£100 per night and you'd have to be very smart and have small children to find anything at the £50 end.
You will probably pay a lot more. We recommend you start your search with Booking.com , this online comparison site checks multiple online accommodation options simultaneously to find the best deal for your dates. Agoda are the Asia specialists, but we do sometimes use them successfully in Europe.
Booking.com is a typical booking agent for the UK and Europe, they're excellent for fully refundable deals.
It's also worth checking AirBnb for London, big European cities are one of the few places we have success with using this method of booking. Watch out for hidden cleaning charges on this platform, we usually prefer to use Booking dot com, which also lists apartments and so on.
There are a few hotels in London that specialise in kids and families. Check out Brown's in Mayfair. Here you can find interconnecting suites with adorable kid-friendly features.
High budget guests may also like The Taj at Buckingham Gate. The kids@Taj program offers special treats for kids.
St James's Hotel and Club is somewhat less expensive and has boasted its own kids' concierge and afternoon teas.
The Royal Garden Hotel Hyde Park is potentially the lowest cost option here and can offer scooters to bomb around Hyde Park and dedicated children's entertainment.
London is awash with child-friendly and very special hotel options. Please check which offers apply at the time of your booking.
Getting Around London With Children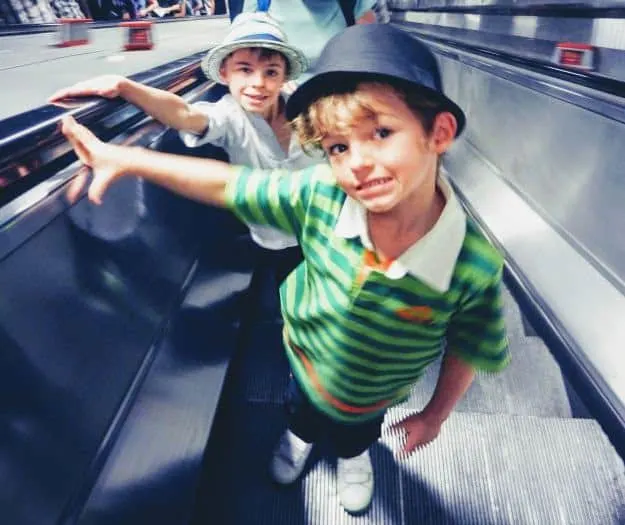 Using the London Underground With Kids
The tube system is fantastic, people love to hate it but it makes getting around so easy.
Trains are regular, frequent and the city is well covered. Avoid peak hours, it can get very crowded and little people can get frightened in the crush.
Probably the easiest way to use the tube for visiors is to simply swipe your phone or credit card at the entrances and exits to train stations. Doing this will automatically calculate your underground fare. This could be hard for families as each person (over 12) needs a separate credit or debit card.
If you can't come up with the necessary number of cards, you can buy regular tickets or invest in an Oyster card.
You can get on the tube at Heathrow and be in Central London in about an hour. The fare will be roughly 10 GBP if you avoid peak hour (after 9.30am usually).
Take advantage of day passes which allow you to switch between buses and tube trains. A ride on the top of a London double-decker or a bendy bus is fun for the children.
Children may enjoy seeing the occasional mouse on the tube track, Oxford Circus and Leicester Square are good stations for spotting subterranean wildlife. There is a children's book about the mice Underneath the Underground – by celebrity Anthea Turner and her sister, Wendy. It's worth looking at this kids' book about London.
If you are a single Mum or Dad with children in strollers or buggies, there are a couple of tube stations with steep stairs, no escalators or lifts. Strangers will almost always help you carry your buggy, plus child, up the steps. Londoners may not smile or chat much, but they like to help.
Walking Around London With Kids
The city is actually pretty small, you are often better off walking than taking the tube. I used to walk for miles in London when my children were small enough to push or carry.
It's easier and cheaper than taking the tube to simply walk, and if you are visiting London with children you may well get more out of wandering the streets than being crammed into a tube train.
For example, Covent Garden, along Regent St to Oxford Circus, isn't far at all.
We find our Google Maps and Pokemon Go apps are good ways to navigate London's streets on foot.
London Taxis With Kids
London black taxis (hackney carriages) are everywhere, they aren't cheap, just flag one down, they are metered.
You'll probably find the Uber app useful, but maybe not in heavy traffic in Central London. Have it ready on your phone.
We recently used Uber to travel from London Luton Airport to London Heathrow, the cost was about 80 GBP, cheaper than taking the bus or Thameslink/tube combination, and certainly easier and faster.
London Bikes and Rickshaws With Kids
Bicycle Rickshaws are a new phenomenon in London. I've taken one all the way from Covent Garden to the London Palladium. I didn't realise it was so far, or that we'd be in heavy traffic on the Tottenham Court Rd.
It was scary, but great fun.
There were 2 adults and 2 children in our party and it cost about $20. I would stick to using them in areas with light traffic, they are popular around Soho.
They have been criticised for being dangerous and uninsured. Maybe it's a risk, but it was fun as a one-off.
Boris Bikes as they're called by the locals is an initiative to get Londoners cycling. You'll see stands of chunky-looking silver and blue bikes all over the capital.
Cycle helmets are not a legal requirement in the UK (at time of writing-check), but take on the London traffic at your risk. I wouldn't do it.
These bikes can be great for exploring the parks, particularly Hyde Park and Kensington Gardens, which interconnect. For 10 pounds (at time of writing-this could change) you can use the Boris Bikes as many times as you like for a week. (half an hour each time).
My 10-year-old is big enough to ride them, my 8-year-old isn't. There were no children's bikes available the last time we visited.
Where and What to Eat in London with Children
There is a full post here on eating in London on vacation and another on London Street Food in Greenwich. There are many and diverse places to eat in London but it really pays to have some insider knowledge and not fall for the over-priced, low-quality tourist trap restaurants.
We highly recommend Borough Market for tasty treats, also the Christmas food fairs, Camden Market and South Bank food fair. There's a link to our Christmas in London post further up the page.
Poppy's in Camden is famous for British fish and chips. Quality in fish and chip shops varies enormously. Don't expect all fish and chip shops in London to be good.
There is street food in London. You're likely to see roasting chestnuts, hotdogs, pizza slices and pies. Be very wary of food hygiene. The sickest my kids have ever been was in London, and we've spent months in the countries most people consider risky for food safety.
Visiting London with Kids – Is it Safe?
I have always felt completely safe in the city. We've had a few unfortunate incidents in London lately but they were confined to gangs and fighting within those gangs, it seems.
I am more cautious today about theft in the city and I wouldn't wander around with my phone in my hand since scooter theft has become more and more common, but otherwise, yes, I usually feel very safe here. I have no issues with taking my kids into London.
However, things are getting worse it seems, so take care. Take a look at our anti theft techniques, bags and devices here. There are pickpockets, but it's never happened to us.
I worked in the city every day for 5 years, I took my kids in every weekend, nothing bad ever happened. These days, I'm glad I'm not raising my teenaged boys there. Violence seems to be increasing.
New Attractions in London for Kids – Summer Ideas
Escape Rooms and VR – Virtual Reality Experiences continue to open in London and would be great fun with older kids, teens and young adults. Check out these, be sure to check age limits, many won't allow younger kids, some are specifically for kids.
DNA VR Caledonian Rd.
Omescape Kings Cross and Alsgate
Space Descent VR at the Science Museum South Kensington
Hollywood Bowl VR Greenwich
Limitless VR East Croydon
HintHunt London
KidZania London
Kidzania fans will be glad to know that there is a branch of the kids' indoor city, run by kids, in London, it's at Westfield and is aimed at kids from 4 – 14. You need to reserve a spot for your child to attend, do that here. Check them out Kidzania.
Day Trips From London That Would Be Great For Kids
A reader asked for ideas, ideally lower-cost ideas, for tours you can take from London with kids. So I started looking.
The Warner Bros Harry Potter Studio Tours from London For Kids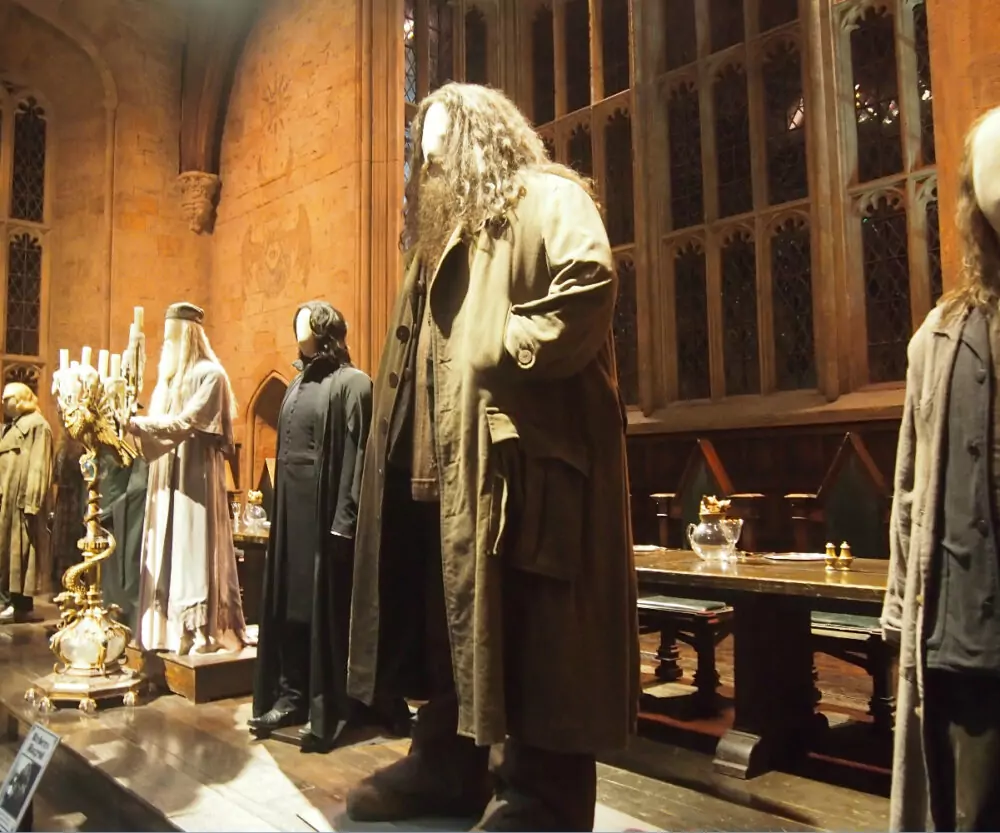 The Harry Potter Studios are about 30 miles from central London. This is an absolute must-do for any Potter fan. I actually cried tears of motherly joy as my boys opened the doors to the Harry Potter Great Hall. It was a birthday treat for one of them.
My kids are teens now and still ask to go back. We will, soon. You can self-drive out to the Warner Bros Studios or book a tour that departs London here.
Places are always limited at the Harry Potter Studios and we had to reserve a time slot, reserve your place now, above.
Other great options for Potter fans are walking, and bus, Harry Potter sights (in London) tours. You can see the sites featured in the movies. My children loved these tours. The walking tour is here, the bus tour is here.
Stonehenge from London
Stonehenge is 87 miles, 140 Km southwest from London. At Stonehenge today you will find a modern visitor's centre with exhibions, a shop, café, neolithic houses and the stones themselves nearby.
I've now been to the new Stonehenge visitors' centre, it's expensive. I'd previously only ever seen Stonehenge from the road, but there are many and varied tours that will take you from London to Stonehenge and back in a day.
These tours can also include other destinations such as Bath, Windsor and Oxford. Check these tours to Stonehenge from London.
Oxford from London
Oxford is 83Km (52 miles) from London and can be reached by train, bus, coach, road or tour. This historic city is a popular destination for lovers of history, architecture, Downton Abbey, and Harry Potter.
If you don't have your own vehicle consider booking a tour to Oxford from London. Investigate your options here.
These tours include Harry Potter tours. If you're very short of time you can even see Oxford, The Cotswolds and Stratford – Upon – Avon ( Shakespeare's Birthplace) in one day.
The Cotswolds from London
The Cotswolds are around 90 miles from London, beyond Oxford to the northwest. You can book tours from London to the picturesque Cotswold villages.
Most tours will include London or Stratford. I don't think this sort of sightseeing would be particularly great with kids. They may find these boring.
See tours here. But if you're heading to the Cotswolds we can recommend a couple of places for them.
What To Pack For London With Kids
Unless you're visiting in December, January or February it shouldn't be too cold in London. The city rarely sees snow.
You are quite likely to see rain, so if you plan to be outside in the wet, take a waterproof jacket and shoes that can cope with rain.
An umbrella is optional but I'll tell you that walking on a busy London street with an open umbrella is not easy. They're also difficult to fold down and take on the tube or bus. I personally don't use one, but a lot of Londoners do.
You can dress casually, jeans are fine. Take layers, a light fleece may be necessary at any time of the year.
Kids can wear shorts, nobody will think that's strange, shorts are less common on adults, but you will see some in warm weather.
What's The Best Time To Visit London With Kids?
The best time to visit London with kids is generally March to October. However, if you can, avoid school holidays.
Christmas is also a very good time to visit London to experience Christmas markets, lights and giant Christmas trees. The holiday period is, of course, very busy in London.
The city fills up with Christmas shoppers, and there is a two week school holiday over Christmas and New Year. Schools go back around the 8th of January usually.
The long summer holidays for UK school kids is in July, August and the first few days of September. At this time London will be packed, it can also get very hot on the tubes and buses as these old systems have very little air conditioning.
Air conditioning is rare in old buildings too.
Easter is usually a pleasant time in the city, as is early fall (autumn). Rain is unpredictable and seems to mostly fall on weekends, but London really isn't as wet as people make out.
Is London good to visit with kids?
London is very good to visit with kids. It is one of the most child and family-friendly cities in the world, bursting with fun things to do for kids, both free and paid. London is a city filled with families and as such, has facilities for local families and the millions of family travellers who visit during school holidays, and at other times of year.
London's climate is good for kids, with no weather that is too extreme, and the local food is extremely kid-friendly. There are plenty of accommodation and transport options to suit families.
Enjoy your day, weekend or vacation in London with kids
We return often to live in London for months on end as part of our full-time nomadic travel lifestyle and we spend most summers there.
Our children lived in London as babies, toddlers, teens, and tweens. We always love being back home and London is a child's paradise. It's one of a handful of destinations that the kids always ask to return to. We're back in London early in 2023, so watch this space!
We know London like the back of our hands so if we don't cover anything here please feel free to ask in the comments. Other travel blogs pull second-hand information from the internet, we don't. We hope we can help.
There are endless options when you are visiting London with children, just take a walk along the river, better still, take a cruise, get out of London, visit Richmond and Richmond Deer Park and see the herds of wild deer, or visit the Botanical Gardens at Kew. Their indoor soft-play area was always brilliant. If you are heading to London and need any help, drop me a comment, I'd be happy to help you out with anything child-related, both my children were born there. I had a lot of fun there being a London mum. Back to our main London Family Travel Blog page. or maybe back to our main UK Travel Blog page.
If you'd like to hire a car during your stay, use this car rental comparison tool to find the best deal!

We also suggest you take a look at this company to get a quote for all kinds of the more tricky adventure or extended travel insurance.

Try Stayz / VRBO for an alternative way to find rentals on homes/apartments/condos in any country!