This post may contain affiliate links.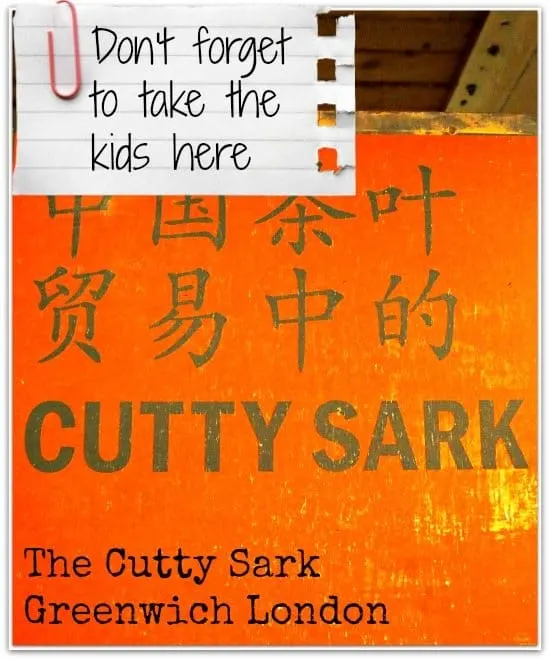 We've spent 3 fabulous days down on the Thames at Greenwich. It's a little bit of a hike for us to get there from Richmond, but it's so worth it for the attractions, history and general ambiance of the place. There are a whole heap of free experiences, just strolling around the area is lovely in itself, but we decided to try one of the paid attractions, the magnificent Cutty Sark.
We thought it was sensational, here are our 10 reasons to visit the Cutty Sark at Greenwich.
1.The Cutty Sark Brings History to Life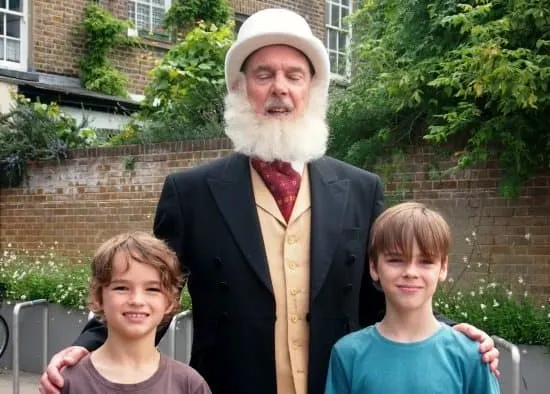 We were in Greenwich for the Tall Ships Regatta, a four day event which brought huge crowds to the Greenwich waterfront. It was a special day so we had a bonus in this splendidly hatted character .Jock "White Hat" Willis, commissioned the Cutty Sark to be built in 1869 and instructed the builders that she should be a ship to beat all others in the China Tea Race. He told us her story, how she was the fastest clipper of her day, an important attribute, on the race from China to London to deliver the freshest tea.
In November 1869 the Suez Canal opened and the tea trade was changed forever. Steam ships could make the tea run far more swiftly that the clippers via the canal, so the Cutty Sark was re-purposed. Her new primary cargo was wool and Australia was where she had to go to collect it.
Preparing kids like this is so important for them to get the most out of anything. Without this brief introduction I doubt they'd have seen the Cutty Sark as much more than an interesting climbing frame. It's not just the kids, background delivered in an interesting way made a huge difference to me too. It's something we always try to do, prepare a little before every visit or trip we take.
2. She's a Magnificent Ship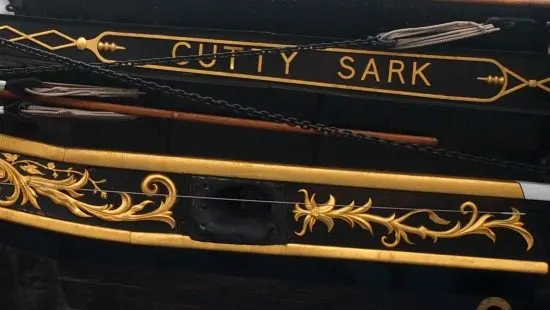 She's beautiful and she dominates the Greenwich waterfront. Restoration work in 2007 lead to a devastating fire, she burned for hours before the blaze could be contained. Luckily, much remained and a large part of the fabric of the ship was elsewhere, being restored . She was fully restored to the condition you see her in today.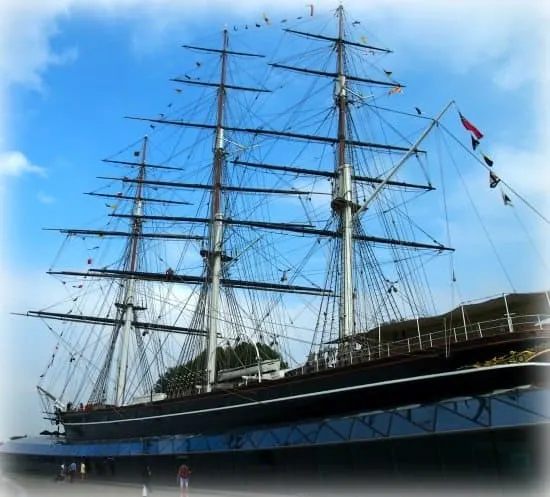 3. Hands On, Touchy Feely Experiences
The kids enjoyed this part of the display, in the ship's cargo hold, far more than I expected. They were fascinated by the copper cladding and the ship's construction of timber on an iron framework. The writing is big, bold and clear, even my reluctant reader was impressed, yet it works for adults too, there is nothing "kiddy" about it.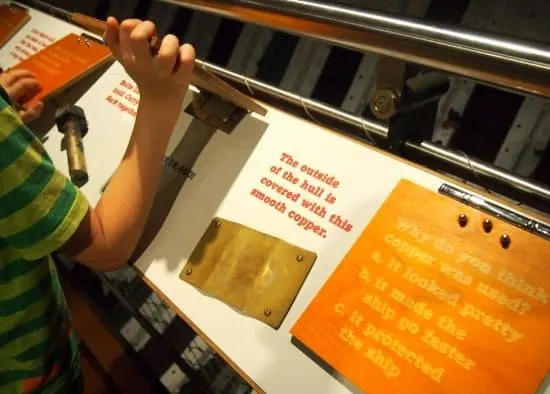 4. Learning Geography
The world and its wonders is all around you, in maps, images and video presentations.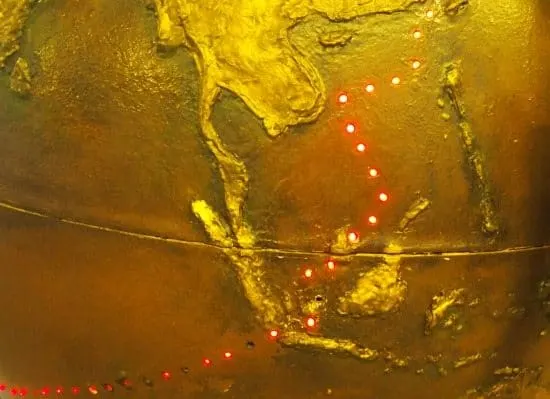 You can't fail to pick up little something about sea voyages, the routes the ships took, the trade winds and the way resources travel around the world from producers to consumers.
5. Just Lots of Fun
The record for the Australia to London sea voyage was 73 days. This display kept my boys captivated for what felt like hours. They navigated the globe and the trade winds to try to match the record. Eventually Boo did it, D was 1 day short. ( Granny was about 3 weeks late!)
I can't stress how much the boys absolutely loved this. I saw other families hurry their children along to look at new things, mine stayed there until they were done, they were having fun, feeling good about themselves and learning something. It made me very sad to see two little girls being ushered away. You can lead a horse to water and you can't make it drink, but when that horse decides to quench its thirst, let it drink deep.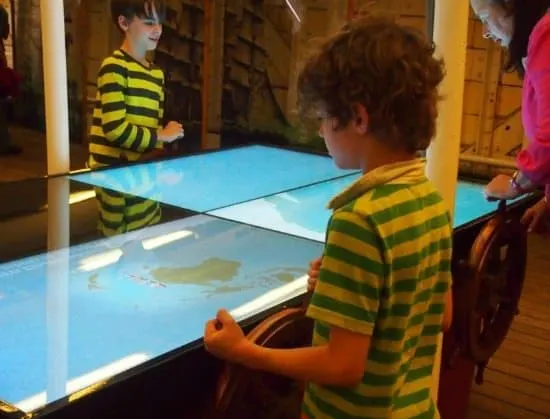 6. She's Displayed Magnificently.
As part of the restoration work the Cutty Sark was elevated 3m above her dry dock to give visitors this view. We thought it was magnificent and hugely visually impressive, but not everyone approves, some say it was a mistake.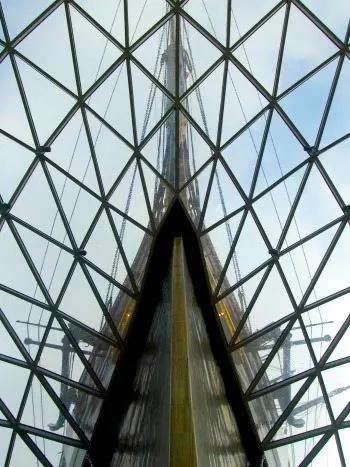 I visited the Cutty Sark as a child, I honestly don't remember much about it, but I don't think I, or the kids, will ever forget the stunning way she is displayed today.
7.Multimedia, Multisensory Displays.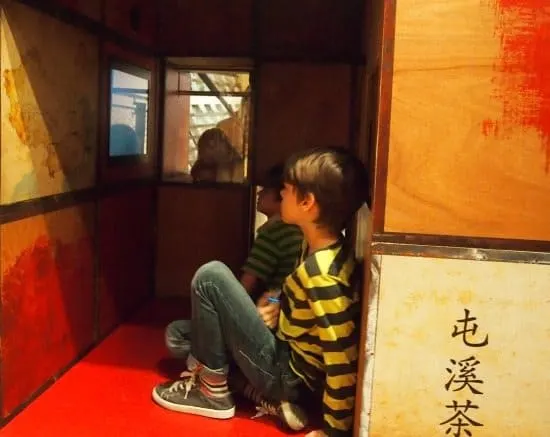 There are films to watch, buttons to press, items to feel, even benches simulating the ship's movement. They really have thought of everything.
8. Adults and Kids will Enjoy Her.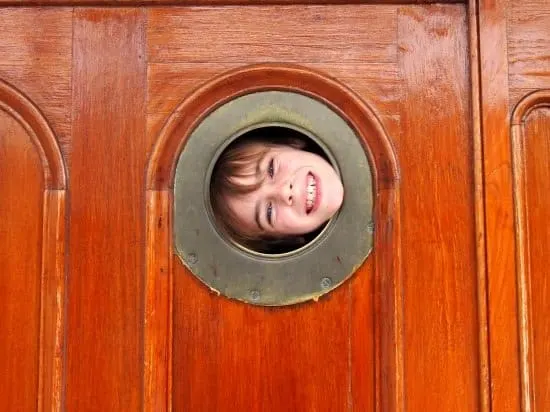 We went on a school day, very few other children were around. The adult visitors we met and chatted to were from all over the world. One gentleman was an expert on shipping and navigation, he loved explaining some of the navigation methods to us and we were suitably impressed by his knowledge. There was no restriction for the kids, they were safe, they could touch, feel and explore.
9. It's An All Weather Attraction
For much of your visit you will be in the cargo hold of the ship, on the mid deck, in the cabins or beneath the ship. We loved the tea-chest theme in the cargo hold and the wool bales higher up in the ship.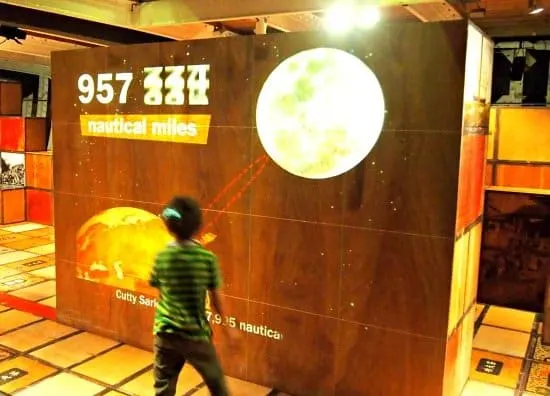 You'll only be up against the elements on deck, all other parts of the ship are enclosed. This is a great feature in London in winter!
10. Everything is Done Outstandingly Well.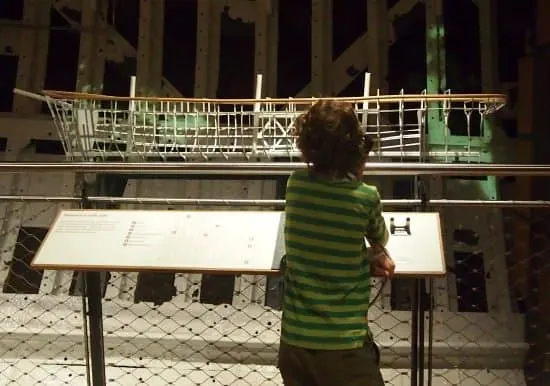 We've travelled the world visiting attractions like this. Honestly, this is about as good as it gets. My geography teacher mother-in-law and I were totally impressed by how well everything is presented, the imagination and attention to detail that has gone into every feature and display. Her restoration and modern display cost millions and it shows. It really is a spectacular day out.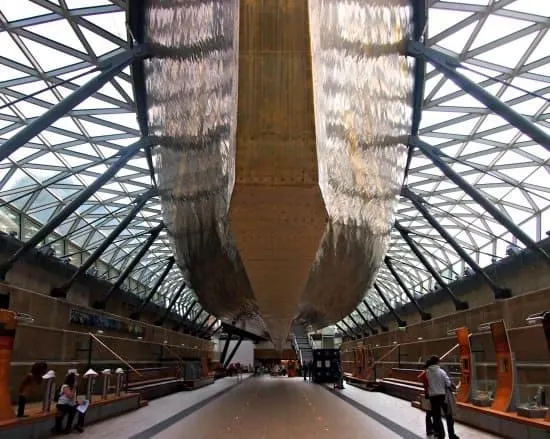 We visited as guests of the Cutty Sark but, as always, all views are entirely our own. We were impressed!
If you'd like to hire a car during your stay, use this car rental comparison tool to find the best deal!

We also suggest you take a look at this company to get a quote for all kinds of the more tricky adventure or extended travel insurance.

Try Stayz / VRBO for an alternative way to find rentals on homes/apartments/condos in any country!