Last Updated 22/09/2020.
As a Londoner of intermittent, but long, standing I have been known to advise visitors that the one very best thing they should do during their time in London, is ride the London Eye. Yesterday was my 4th, highly enjoyable, visit.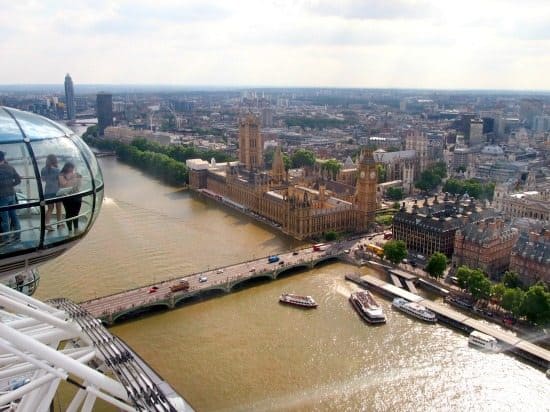 I love it, so do many millions of other people. The London Eye is ranked #5 in terms of visitor numbers for London 2014.
So what makes it so great?
It's Just a Great Big Ferris Wheel, Right?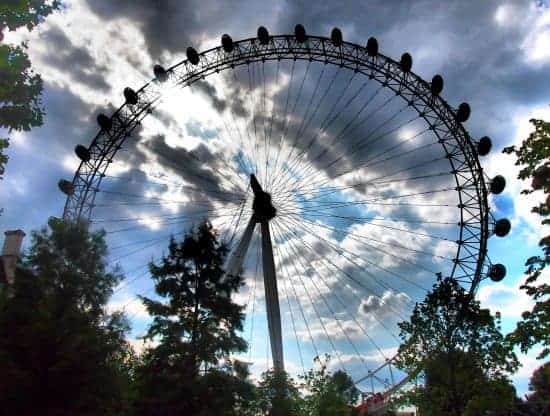 The structure itself is tremendously impressive, it's huge, solid and shiny, like some alien construction dramatically placed in one of the most visually stunning parts of London. It makes wonderful photos, even if you don't get to ride.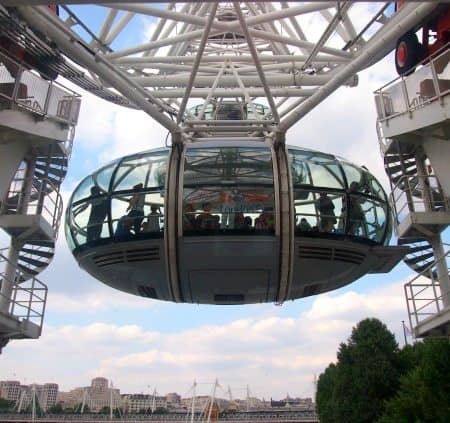 Each pod holds around 28 people. Boarding and exiting are easy, there's no push and shove and wheelchair access is possible. One rotation takes about 30 minutes, the pace is very slow giving riders plenty of time to take in the views. At the highest point you will be 135m above the ground and will be able to see for about 40KM. It's a stunning view, what makes it fascinating for me is seeing how tiny central London is, and so green. All the big attractions are right there before you, framed by trees and park lands.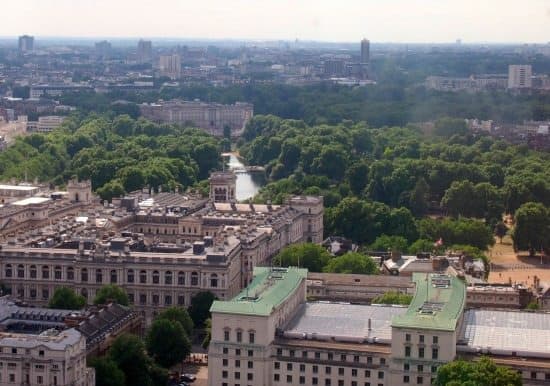 Buckingham Palace and Horse Guards Parade are right there, seemingly a stone's throw from the Houses of Parliament.
The London landmark my kids were most keen to see was The Shard, this magnificent building was used in an episode of Doctor Who, as was The Eye, important connections like that make them far more entertaining for them.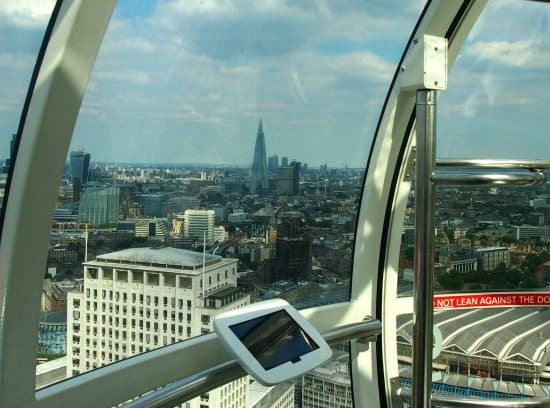 What's New at The Eye?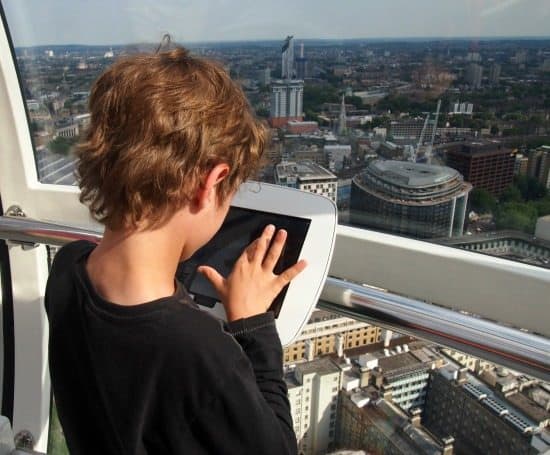 Your ticket now includes free admission to a 4D movie experience featuring the London Eye. It's good, very good actually. We have been to a few of these 4D presentations all over the world, this one is great. I won't give away the surprises, but make sure you don't miss it.
If you are looking for a hotel in London, start your search here.


Each pod now has Samsung touch screen information points that make finding London's various landmarks from the air fun and easy. The kids are pulled like magnets to anything electronic, a big hit.
Tips for Visiting The London Eye.
The London Eye is on the glorious South Bank of the Thames, almost opposite the Houses of Parliament and right next to The Sea Life London Aquarium.
The London Eye gets incredibly busy, particularly on sunny days during July and August school holidays. No surprises there, with the Eye being in the top 5 attractions in London.
We have visited at quiet times in the past and walked straight on but yesterday, one of the busiest days of the year, was another story.
On busy days we would highly recommend buying a Fast Track Ticket, for a little extra you can bypass the boarding queue which, yesterday, was enormous, in excess of 45 minutes. Before joining the boarding queue you will need to pick up your pre-booked tickets. We waited 30 minutes in that line. Pre-booking tickets online is quicker and cheaper than buying them on the day.
All riders on The London Eye have an allocated time slot, this time is pre-selected online.
For more information on opening times and ticketing, visit the EDF London Eye website
I love all of London, I like just walking, looking, exploring, visiting parks and museums but as attractions go, I think The London Eye is my favourite. But, of course, I haven't done them all, yet. What for you is the best thing in London?
If you are looking for a hotel in London, start your search here.


Back to our mail London Family Travel Blog page.
Back to our main UK Travel Blog page.