This post may contain affiliate links.
Is it worth visiting the Tate Modern with kids? We find out. Having an enjoyable and worthwhile visit to a modern art museum with kids is probably one of the harder tricks to pull off. I've only got my kids to go by. I don't know yours, sorry, but mine have zero interest in looking at paintings and art work unless something seriously kid-friendly and incredible is going on.
We took them along to London's Tate Modern Museum and tried a couple of kid friendly tours and audio guides along with testing the kids' facilities for family-friendly appeal. How did our Tate Modern Kids get on? Find out in our review.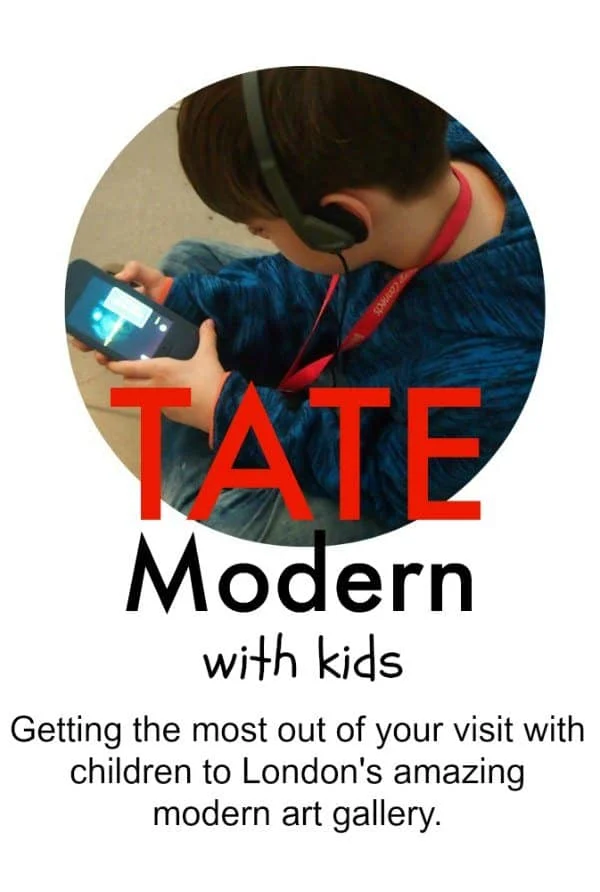 The image is for you, to save to Pinterest.
London's Tate Modern art museum in South London is great with kids and can be very child-friendly so long as your visit stays fun.
There are some child pleasing areas, a good restaurant and cafe, a shop, and kids' audio guides to enjoy.
Many kids can enjoy looking at paintings, so long as you spark some interest first. That's part of how we get our kids through art gallery doors. The well-designed kids audio guides made our day even better.
Be sure to check out the playgrounds, street performers and fun things to see and do near the Tate Modern as part of your visit to the South Bank.
Tate Modern with Kids
When it comes to modern art, I know very little, so the Tate Modern is a hard one for me too.
I was always branded "scientist" and never studied art in school at all, but I'm a Dali fan, a passion found long after school. We all enjoyed our time at his Theatre-Museum in Figueres, Spain, but the Tate Modern is a totally different kettle of calamari.
I'm happy to report, Mum and the boys, then aged 10 and 8, had a wonderful day out at London's Tate Modern and we all learned a thing or two. (And have returned many times since.)
How To Make Museum and Art Gallery Visits Count For Kids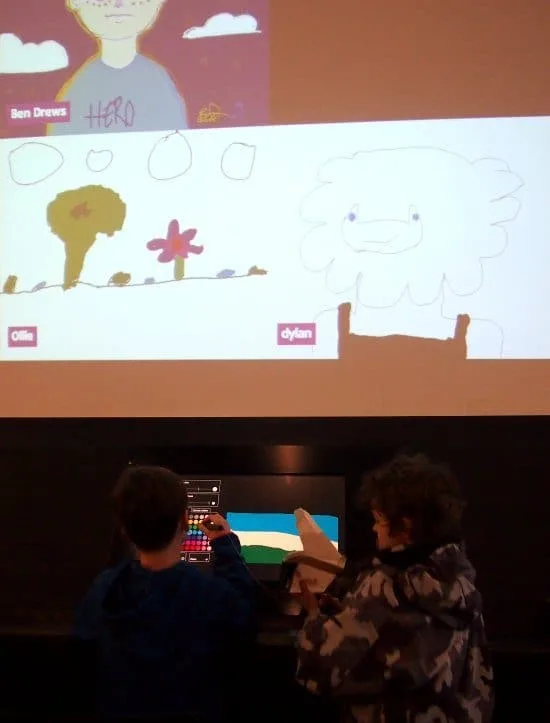 Preparation! Get them interested, excited and hooked, years ahead if you can. My boys have been hearing about this amazing man Salvador Dali and looking at his works practically since birth.
We've found that when they think of someone as super-famous, and know why, they're keener to see his creations in the flesh. So when I told them there were a few Dalis at the Tate Modern, they went from "No-way." to "OK.".
Follow Their Agenda, Not Yours. If they want to spend an hour in the gift shop, watch a video artwork of oil and sugar lumps three times or make creation after creation of their own on the Tate Modern's awesome wall of art, let them.
Keep them sweet and let them enjoy their day. Don't rush them along and force what you want to do on them.
That's how we have to do it anyway!
Feed and Water Them Well. Something yummy from the Tate's cafe improves everyone's outlook.
Audio Guides. My new secret weapon, everywhere we go, we look for kids' audio guides. They've totally changed our way of doing things lately. If none are available, try a guided tour.
The Tate Modern kids audio guides come in variations they had 2 different kid-friendly audio tours when we visited we've done one, I hope to squeeze in the other before we leave. You have to pay a small amount (£10 for the 3 of us), but who's complaining when the museum is free?
So, armed with all my best tricks, what highlights did we three find?
The Tate Modern Art Gallery For Kids, What Did They Enjoy?
Our audio guides synchronized, we started our journey into an artist's brain, on a mission to explore textures, shapes and colours, nightmares and dreams.
We were encouraged to touch surfaces, feel textures, run around particular galleries spotting as many shapes as we could in a given time, then find personal favourites to share with our group.
This tour wasn't about artists and dates, it was more about looking at art and thinking about it.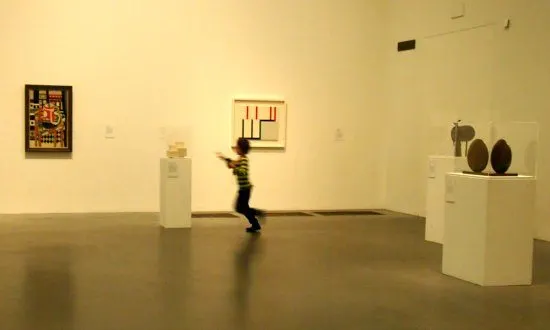 The audio guide split the museum into galleries and gave us time to move around, taking escalators and lifts. The kids remained engaged all afternoon and had a lot of fun.
At times there were pauses where we talked and shared ideas and impressions, at others they were free to explore at their own speed.
We studied this piece and then shared our thoughts, did it make us think of Stonehenge or a futuristic apocalypse?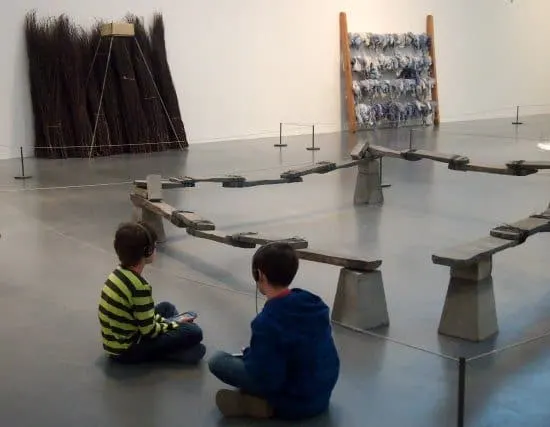 We were asked to pick our favourite installation and use it as inspiration for the start of a novel.
My choice, "Who killed all the sheep!" A work consisting of dyed wool.
The kids found futuristic weapons, like something from Hunger Games, hanging on the wall.
We saved the most well known modern paintings for last, the Dalis, Picassos and the kids' favourite, Hillier's Variation on the Form of an Anchor.
We looked into the artist's brain, at his dreams and nightmares and picked out the worst and best dreams we could find.
My highlight, as always, Dali. And seeing my kids happy and learning good things as part of their worldschooling, nothing beats that.
I haven't shared photos with the artworks as the main subject as I was concerned about copyright, but photography for personal use is permitted. We hope you find our review and information on the Tate Modern with kids useful. The National Gallery of Art also offers kids tours and audio guides that my boys and I enjoyed, read about those by clicking through. We also have posts and information on many more of London's museums, we are travelling Londoners and educators, we dig museums. So get your family down to the Tate Modern and have a fun, low-cost, day out in London. Read more on London with children here.
If you'd like to hire a car during your stay, use this car rental comparison tool to find the best deal!

We also suggest you take a look at this company to get a quote for all kinds of the more tricky adventure or extended travel insurance.

Try Stayz / VRBO for an alternative way to find rentals on homes/apartments/condos in any country!