This post may contain affiliate links.
In this post we share the some of the cheaper family accommodation in London that we've used over the years. We include cheap hotels for families, hostels in London with family rooms, apartment style hotels, rentals and a few suggestions to save you money on accommodation in London with your family.
London is expensive and if you prefer to spend your cash on the incredible experiences the city has to offer, rather than on a place to sleep, you'll be looking for a great deal on cheap or budget family accommodation in London. This could be hotels, hostels, apartments, B&Bs or other family accommodation.
Budget and cheap are two different things, one person's budget could be another person's expensive so here we have some of the best places we've stayed in central and outer London, recently along with tips and ideas on budget accommodation in London. They include family rooms, hotels, hostels and apartments.
We spend a lot of time in London. London is home to us and we've lived there for several years although now we visit as tourists. We hope you can give you an idea on what to expect at the budget end of the accommodation market.
These days apartment rentals and budget hotels with included breakfasts are giving us our best experiences and best deals, apartments with washing machines are particularly great for families. We do luxury stays in London too, the budget accommodation is just for when we're keeping our cash in our pockets!
You can use our index to find the part of this post you need, or just scroll through normally.
Cheap Accommodation in London for Families
Accommodation in London is cheaper if you can travel off season or outside European school holidays. Avoid Christmas, prices are high in London at Christmas. Consider staying further out of Central London or in less popular areas. So long as you are near a tube station you should have very little difficulty in getting around London. Remember that London is small, getting around London on foot is very possible.
Tips for Finding Budget Accommodation in London
Think a little outside the box, you may be able to find free London accommodation, not just cheap.
Consider sites like Stayz and VRBO for private rentals, you'll find these properties on our comparison map below.
Join the YHA for discounted Youth Hostel rates, although you do not need to be a member to stay in YHA hostels.
Use regular hostels – Search " London Hostels" on Booking.com here.
Use a comparison site to search multiple online booking sites at once.
Consider House Swapping – Check out Love Home Swap
Consider becoming a House Sitter.
Family Accommodation London: Price Comparison Map
You will love this tool we made for you! Our interactive map allows you to compare prices and locations across many major booking platforms in London. Have a go, see is you can find a deal on your family accommodation in London. So if you've ever wondered if a private rental, apartment, or a hotel would be cheaper or best for you in London, now you can see!
What Do We Look For in Budget Family Accommodation
When it comes to budget family accommodation, London isn't a complete fail, you will find bargains, but you need to compromise somewhere, time your stay precisely or just get lucky. The criteria below are what we look for when we're finding a budget hotel, hostel or apartment.
Is there room for 4? My two children are now 10 and 12, so we need 4 beds or 2 doubles, but going back a few years we'd happily share beds and take a 3 bed room with a 1 child under x years stays free deal. It's common to find deals where one child under 12 years old stays free.
Does the room have free wifi? This is essential to us and you'd be surprised that some, even in London, don't. We see many hotels and apartments in London with wifi only in public areas and some where wifi is available at an extra charge, usually around 5 pounds per day per device. That's just not good enough and we won't touch those places. Always check the fine print on the booking platform you choose.
Is it a bargain? We search by price. We enter our dates into the booking engine then hit the order by price, lowest to highest button, then we start looking for the cheapest place that suits our needs. A lot of the cheapest accommodation won't be good enough, we'll ignore it, we'll move on until we find the cheap accommodation that we'd be happy to stay in. A map feature is a great thing to look at on your chosen booking engine, you can scroll around that map and find the best deal for the area you'd like.
Location isn't massively important, so long as you are near a train or tube line, even a bus, you can get around London easily, although the more central the hotel, the less your transport bill will be. (Children under 11 usually travel free making the tube and buses a great deal for families.)
A free breakfast can be a bonus, being able to feed the children easily in the mornings makes life easier. Tea and coffee making facilities are essential to me and it's rare to find these absent in a room in London, other than in some YHA hostels. Apartment hotels are surprisingly common and more surprisingly, cheap.
A full kitchen and even washing machine, can be very handy. London is littered with small supermarkets and coffee shops, finding food is super easy and inexpensive, so we don't worry about food provision too much, but a washing machine is gold.
Shared bathrooms often cut costs. Sometimes we use these hotels or hostels and have never had a problem with the facilities. We prefer to avoid them though, as I'm sure you do. There are plenty of London hostels with family rooms that have private bathrooms.
We often look at youth hostels, but so far they have always been more expensive than cheap hotels and apartments. There are a couple of hostels we've used that we will mention here and usually we've booked them for a particular location or because availability was limited at that time.
Where to Look for Great Deals on Hotels in London
There are almost too many options these days, making the searching process very time-consuming and frustrating. Many swear by AirBnb but we usually find hotels cheaper. We have recently had a couple of big wins with AirBnb and enjoyed a month on the Thames at just £60/night, this was a very lucky find. These days the added cleaning fees really put us off using Airbnb for London stays.
Most Airbnb properties will be listed on Booking.com, and often at a better price.
Check out VRBO and Stayz too, they also list private rentals of all kinds, as do the regular hotel booking sites. Your choice of platform is really up to you.
Which booking engine to use for London?
Hotels Combined allows you to compare prices across every booking engine simultaneously. We use Agoda for Asia mostly, but it does work for London sometimes.
Booking.com are usually our best way to find budget London accommodation. We find it's best to just stick to one booking site and get to know it well, you can tie yourself up in knots comparing them all, just have faith in a brand you trust.
Obviously, with 7 years of professional family travel under our belts, we know most of them well now.
What Can You Expect to Pay For a Family of 4 in a Hotel in London?
The lowest we have ever paid is around £50, the most we have paid at the budget end is about £120. Obviously, the sky is the limit, the Savoy will set you back around £1500 per night. But the location is great!
Prices for London accommodation fluctuate enormously, a hotel that is £50 one night could be £150 the next and it is very difficult to predict which hotel will be cheap on which days.
Some hotels are cheaper on weekends, some are cheaper mid-week. Public holidays, special events, peak season, and school holidays will obviously bump up prices.
Use your booking engine to show you prices for 2 nights, 3 nights, 4 nights, you'll see how the prices change, maybe time your stay accordingly.
Examples of Cheap Family Accommodation We've Used in London
We hope these examples will give you an idea of what you'll pay and what you'll get for your money in and around London. Don't forget, this is for a family of four, and the crazy £ to $ fluctuations post Brexit have thrown everything out. But the prices we give here are as accurate as we can make them. Please double-check everything for yourself, we can only tell you what these places were like when we used them, deteriorations, refurbs or changed ownership could have thrown everything out.
A Cheap Place To Stay at Heathrow Airport, London
We often stay a night or two at London's Heathrow Airport if we're waiting for flights or have an early morning departure or late night arrival. On our last visit to London we actually stayed at this hotel and travelled to Central London and beautiful Richmond by tube, which actually worked out very well.
This hotel was actually cheaper than the London hostel we'd used just a week before, and had included breakfast, was much more comfortable and importantly, had a kettle in the room.
There is no luxury like getting off a plane at Heathrow and just walking to your hotel, we really recommend you do this if you ever arrive in London on a red eye.
All of the terminals at Heathrow have free connecting buses, shuttles, trains and walkways. It's super easy to travel between terminals so don't worry about that. There are also free buses out to the car hire depots, so if you arrive late, get some sleep and a good breakfast, then take the shuttle to pick up your hire car. We recommend you use Discover Cars to find the best deal on car rental from Heathrow, just click through.
If you plan to travel into London by tube, the underground stations are underneath the terminals, one for Terminal 4, one for Terminal 5, and then a shared station for 1,2, 3 (although T1 has now gone.)
The fastest way to get to Heathrow from London Paddington is the Heathrow Express. Now the new Elizabeth Line (royal purple, T5, T4, T2&3) also has a station at Heathrow to take you anywhere from Reading to Essex, via Paddington, Woolwich, Bond St stations and more.
I also must say that the front desk staff at Holiday Inn Express at Heathrow went above and beyond in allowing us a very early checkin when we arrived in London on a snowy day. Breakfast is hot and substantial, buffet style and there are restaurants for lunch or dinner on site too.
So if you have a long layover or just a few days in London, think outside the box and consider staying at Heathrow. Check out the Heathrow Holiday Inn Express at T4 here.
Heathrow is in tube zone 6, the furthest zone out. You can just swipe your credit card to use the tube now, but each family member will need a separate credit card.
London Central YHA
We checked out the London Central YHA family rooms on our last stay in London and while they were OK, staying here wasn't great. This was the only time, ever, we've had to rent towels to stay in a hostel and the lack of a kettle in our room annoyed me.
There is a large communal kitchen in the basement of the YHA in London but having to take the lift up and down 6 floors for boiling water wasn't my idea of fun. I had an insulated steel water bottle with me, so at least I could get 2 cups of coffee out of each journey. You'll also need to provide your own coffee, this really is bare-bones hostel accommodation.
Our family room was for 4, with 2 sets of bunk beds and our own private bathroom. It wasn't uncomfortable, but for the same money, we could have booked somewhere better. The location is OK if you enjoy walking and there were some nice restaurants (there was a really good Greek restaurant) and a small Tesco nearby. Book the Central YHA here, you do not need to be a member.
A Central London Apartment Just Off Oxford St. AMAZING!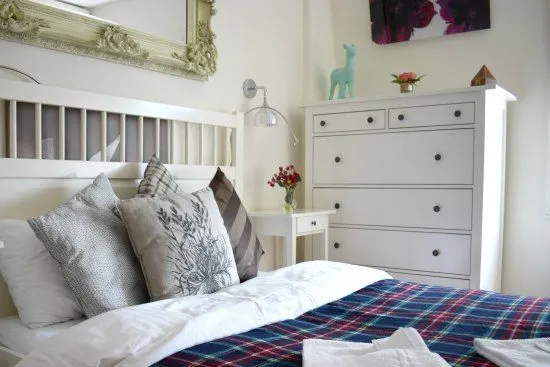 This apartment was directly above Bond St. station. An incredible location! It had a double bedroom and 2 singles (not sofa beds) in the living room for the kids. We enjoyed full kitchen facilities, shower room, flat-screen mega-TV, wifi and washing machine. We paid under $100 in July 2016. What a brilliant deal! The catch, it's on the 4th floor, no lift and there is building noise during the day. But it made a fabulous base for our time in London, highly recommended! Check it out on here Bond Street Station Serviced Apartments
A Serviced Apartment Near Heathrow
We've used the Staycity apartments near Heathrow many, many times now. The apartments are new, large, clean, and well equipped. There was a Tesco Metro (mini supermarket) downstairs and cheap pay-to-wash machines within the building. We've paid under £50 for one of their one-bed apartments (with 2 separate sofa/pull-outs in the living/dining room), but their prices skyrocket at other times. Around £90-£150 seems fairly typical.
Brexit has recently shot £ prices through the roof as the currency plummeted. Think around $125 US. This Staycity is right on an overland train line into London Paddington, so not great if you need to go into the city every day as there is no direct tube connection. You need to travel a few stops on the overland before you connect with the tube but we were still within the Oyster card zone here.
There is a gym on site. They offered breakfast too, at £10 per adult. Kids right to 12 years old ate free, that was a great deal! The wifi wasn't the best, but was adequate.
Please check nothing has changed before booking. We've really enjoyed using Stay City all over London, they also have the following properties. Stay City Apartments ( Hayes and Hillingdon) near Heathrow. | Stay City Apartments Deptford (Near Greenwich). | Stay City Apartments Greenwich.
Realistically, this one is too far out of town for most visitors, but when we arrived and were looking for a job and our own apartment to rent, it suited us fine. It was actually cheaper to stay here than take a rental apartment so as budget accommodation in London goes, I think this was our best deal ever.
I've posted before about Silk House Hotel (click through to check price and availability), we thought this was the best deal in London. Their one child under 8 stays free deal worked extremely well for us for a while, giving us a room at just £48, unfortunately my younger child no longer qualifies.
This one is on the tube network. A DIY cold breakfast was included at this hotel, an added bonus was the garden, the kids loved kicking a ball around here. Don't expect luxury.
A Cheap Apartment for a Family of 4 in West Kensington
We used this converted West Kensington house twice, in two different apartments. The price is good and the location excellent, but the rooms are very small.
Both rooms featured a futon-type bed on a mezzanine level, accessed by a steep ladder. The sofa bed in the living area folds out to provide two more beds. A small private kitchen and tiny bathroom is a part of each apartment.
We managed to get these budget self-catering apartments at just under £60 per night. They were f
ine as a place to sleep in a good location, but no more. If you sit up in bed, watch your head! There are a whole bunch of apartments like this in West Kensington, most in converted historic buildings. It's a pretty good location. Take a look here.
A Luxury Family Apartment in West Kensington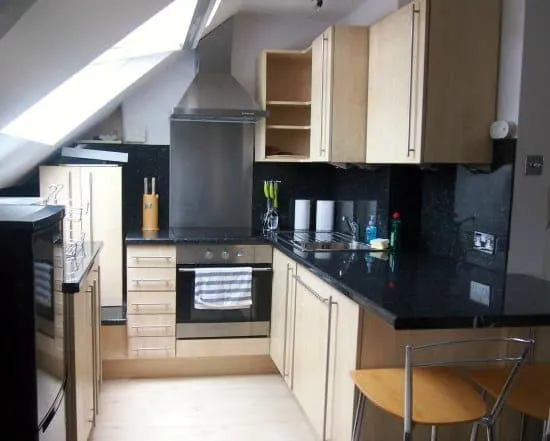 I honestly don't know the price of this one, we were invited to stay as guests, but I'll include it for you to make your own enquiries. This luxury apartment (find a full post about it here) was beautiful, large, well-equipped and well-located.
The apartment rental company, FG Property Management, has many more luxury apartments in various cities around the world. FG Properties in West Kensington.
A Hotel with Family Room and Included Breakfast in Shepherd's Bush
More of a traditional British style B&B, Comfotel Grn (click to view) is named as an hotel. Our room was OK, a reasonable size with comfortable beds and the bathroom was large and modern. The whole building was in the process of being refurbished while we were there.
Breakfast was good, eggs, cereal, fruit, yogurt and sweet things, made to order in the kitchen/dining room by pleasant staff. The young man on the front desk was super helpful.
Shepherds Bush is a great location, we were a short walk from Hammersmith's excellent transport connections, there are plenty more hotels along this road. We paid around £70 to stay here. See Comfotel Grn here.
An Apartment in Greenwich
This place was great, if in need of TLC, a very short walk from all of Greenwich's amazing attractions and that to-die-for food and craft market.
We got a large studio style apartment, 2 big double beds, kitchen, washing machine, shower room and good WiFi for around £100. It's on Deptford High St. which at first sight is a bit sketchy, but look closer, you've got a fabulous multi-cultural community here, cool coffee shops and diners, it just feels good to be here.
There are loads of dining options from all over the world, from plentiful Vietnamese to Caribbean, or wander into Greenwich for something more up-market. Don't expect the Ritz. It's basic, but was superbly well equipped when we stayed, from washing powder to bleach to cooking oil.
This budget apartment was just steps away from London overland and DLR stations. See Greenwich Park Apartments here.
Holiday Inn Express at London City Airport for the ExCel
Holiday Inn Express give you clean comfortable rooms with aircon, wifi, nice shower rooms and a good breakfast. We've used them at London City airport, Heathrow, and Luton airport for early morning flights.
Breakfast starts in the wee-small hours, perfect for early fliers. Functional, modern, and efficient, you get a big double bed plus a pull-out double sofa bed. Expect to pay around £80 to £120, as always, prices fluctuate.
See Holiday Inn Express for London City Airport near Excel here, and Holiday Inn Express for London Luton Airport here.
Londonears Hostel Earl's Court
A 4 bunk room does for a family, but the shared bathroom, weird people hanging about, and non-existent kitchen…ugg! This hostel was not a good place to stay for our family.
What's good about it? Well it's not far from Earl's Court station where you can find a lovely TARDIS on the pavement. Earl's Court is OK, but this hostel was pretty grotty when we stayed and the price didn't always reflect that. But still, look at Londonears Hostel Earl's Court for yourself.
We hope this gives you an idea of what to expect at the cheaper end of the market. We think we're pretty good at finding great deals and we hope you enjoy your stay in our home city, we love London passionately.
Need more London ideas? Try our posts on:
FREE places to take your kids in London
Best areas of London to explore
If you'd like to hire a car during your stay, use this car rental comparison tool to find the best deal!

We also suggest you take a look at this company to get a quote for all kinds of the more tricky adventure or extended travel insurance.

Try Stayz / VRBO for an alternative way to find rentals on homes/apartments/condos in any country!