This post may contain affiliate links.
World Travel Family, a name picked for SEO reasons, we don't call ourselves that in real life. We are just a normal family, like yours, the only thing different about us is our passion for travel and education and our tendency to share destinations and travel experiences on our websites and social media.
We hope, and have always hoped, that our experiences will inspire and help fellow travelers and educators, everywhere in the world.
Our blogs have been running since around the time we decided to sell everything and start travelling again, that was 2012. We started them for fun, World Travel Family was my first site and blogging was just a hobby.
As the blogs grew and I learnt more about the industry, they started to make money to help fund our travels, not much, but it helped.
Today, over 10 years later, these small boys are taller than their mum and this website is our family business. It all worked out way better than we even dared to dream.
So this is us, the 4 people behind our blogs, in particular, the World Travel Family website, we have several others.
The Long family, 4 people who have been travelling together and working as a team to get us to some of the most incredible destinations on Earth.
World Travel Family is:
Alyson Long Born: 50+ years ago in Wales UK.
I am the main voice of World Travel Family, I set up the website for fun, teaching myself as I went and still 90 % of the technical stuff, the writing, photography, SEO, page speed optimisation, and social media, are my responsibility.
My husband, Chef, and elder son D, now help me with the site. D is now my business partner.
They're learning the ropes and both are finding their feet as content creators. I'm forever learning to do it better.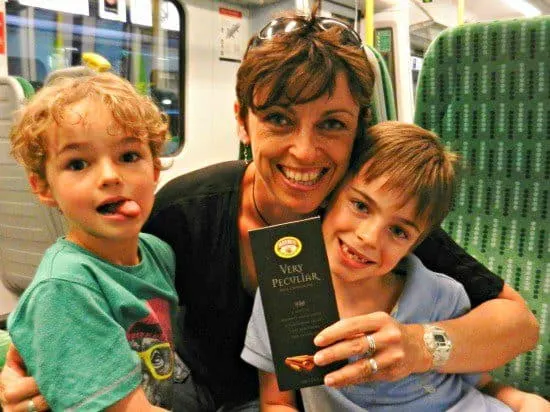 I am also responsible for the boys' education, it's a big deal and a task that I thought long and hard about before I accepted it.
Being responsible for their education is labour intensive. Yes it's hard sometimes, but no, I wouldn't change it for the world.
I grew up in Wales before going to Birmingham University to study Biological Sciences. After graduating I worked for 20 years in hospital pathology, almost completed my Masters in Cellular Pathology rising to the dizzying heights of Chief Biomedical Scientist in London, before quitting to be a full-time mum.
When Boo was a baby and D 3 or 4, we emigrated to Australia to make our financial life easier. I experimented with face painting and being an Airbnb landlady before setting up the blogs (there are currently 8) and realising that blogging would maybe, one day, give us an income.
I used to be super fit, I was a runner, a cyclist and a hiker, but these days I rarely get above trekking speed, a 5 Km run once or twice a week and a bit of beach yoga.
I do still enjoy scuba diving and cycle sometimes, as well as having recently trekked to Everest Base Camp.
I love living in London and my favourite country to visit is India or Nepal. I did try to be as vegan as possible which was hard with these 3 boys plus full time travel, but it made my health suffer, so today our diet is not vegan or even vegetarian. We're all about good natural food, much of which we grow and raise ourselves.
The most important thing in my pack is my laptop.
Chef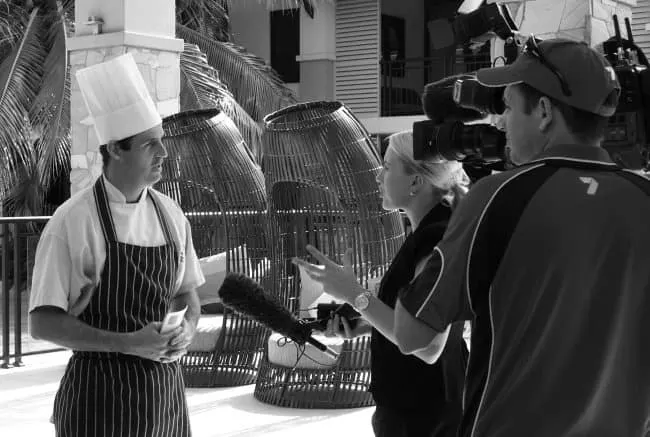 Born: 40+ years ago in Sydney Australia.
Chef moved around a lot as a child, he lived in Sydney, Adelaide and Canberra, along with stints near London.
He was a boy scout to the age of 18, receiving his Queen's Scout Award.
He trained to be a chef in Sydney and after qualifying packed his bags for the career advancements and experience that top London hotels offer.
Within a year of arriving, he'd met me in Egypt, we'd found a rented house together in Kilburn and were plotting our first 12-month RTW.
After that first sabbatical Chef and I returned to London and hard graft. We bought, renovated and sold 2 properties while working full-time jobs.
During the same period, the children were born. D was born, at home, the same day our first kitchen was installed.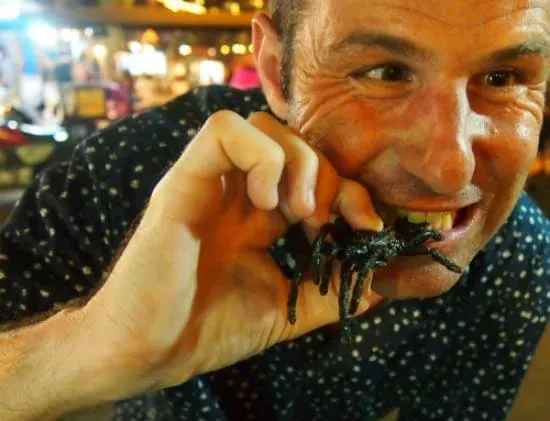 He lead us to Australia in 2007 where he became executive chef at a 5 star resort in Port Douglas. He prefers Thai food, usually.
Chef enjoys triathlon and has competed in full IronMan distance events, marathons and ultra marathons all over the world. These days we travel with his triathlon bike.
He REALLY wanted to buy the house in Romania. He loves a renovation project. But it fell through. We ended up buying a project homestead in Australia instead.
James loves living in London and his favourite country to visit is Nepal.
The most important thing in his pack was his Swiss Army Knife. (Boy Scout!) But lately he is our drone pilot and Go Pro engineer as well as being the family's IT support guy. You can see some of the tech we carry in our Travel Essentials post. He writes all our tech-related posts.
D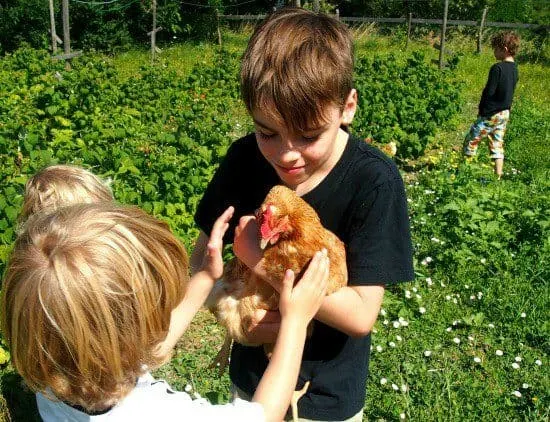 Born: 2000 and something in London UK.
D was a home birth and an extremely vocal and lively baby. At 4 he was required (we thought) to start school in Australia. By 7 it was clear that school was doing him no favours so we registered as homeschoolers for the first time.
D loves reading and thinks life without books would be a living hell. The Harry Potter, Percy Jackson, and Eragon series were his favourites early on.
He's a gamer and one of the best kids in the world. He constantly makes me smile.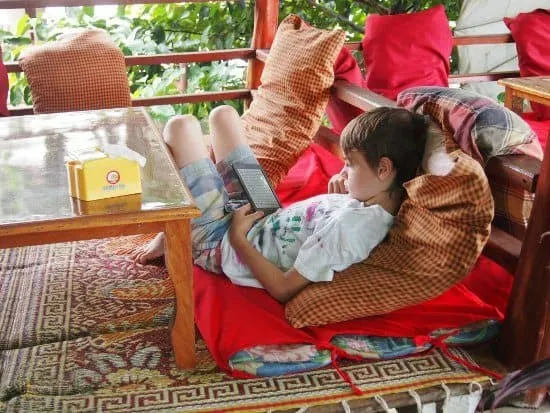 He has a particular interest in ancient history and mythology, he took us to Greece for his 12th birthday and Egypt for his 13 th. You can read what the kids learned in Egypt here, it was one of their first writing efforts.
D is now a certified scuba diver with a deep interest in marine conservation.
D is outstandingly confident, eloquent and talkative, he makes friends easily and is still a ball of energy.
D loves living in London and his favourite country to visit is the USA mostly for the junk food and huge portions.
The most important thing in his pack is his Kindle and he loves Nepalese food for bottomless dal baht.
D is a partner at World Travel Family today.
Boo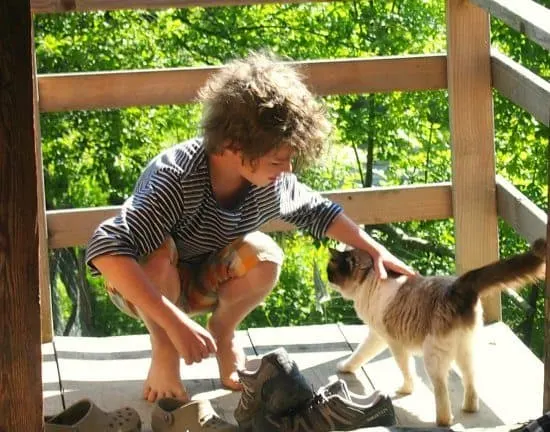 Born: 2000 and something in London
Boo was also a home birth and the exact opposite of his older brother, he was a quiet, peaceful, easy child. That was a relief!
Boo has never been to school and has no desire whatsoever to go. He's more reserved than his brother and loves his curly hair.
His constant travel companions are his bears and a stuffed kitten named Sheila. He seems to have a natural ability with numbers, his maths came naturally to him.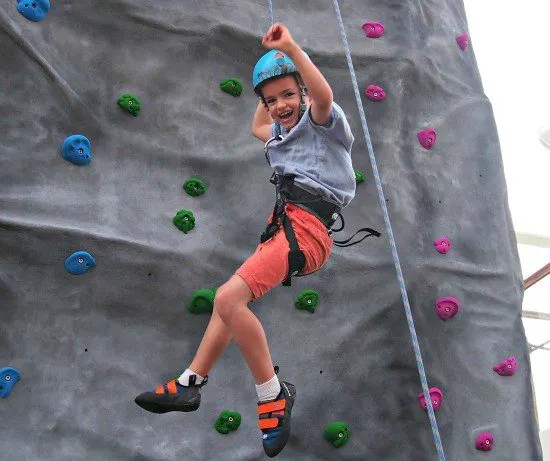 Boo is our huge Doctor Who fan, we always have at least 2 Sonic screwdrivers in our backpacks. His preference to travel with as much stuff as possible means we're rarely able to travel carry on only.
He is also a gamer.
Boo loves living in Romania and his favourite country to visit is England or Vietnam.
He loves crispy banh xeo pancakes and most Vietnamese food.
The most important thing in his pack was his bear.
The two boys are very different, both my favourites, both the best kids ever.
Thanks for following our journey, our online audience is a great source of support and we're grateful to have you all along for the ride. I must admit, I find being called World Travel Family a bit embarrassing, it's the name of the website, not us. We're not one and the same thing and our private lives do remain very private. We blog about travel mostly, don't confuse that with the entirety of our lives. If you have any questions at all, always just drop them in the comments, I'm happy to help. Maybe you'd like our post on the realities of being a nomadic family?
If you'd like to hire a car during your stay, use this car rental comparison tool to find the best deal!

We also suggest you take a look at this company to get a quote for all kinds of the more tricky adventure or extended travel insurance.

Try Stayz / VRBO for an alternative way to find rentals on homes/apartments/condos in any country!