This post may contain affiliate links.
Hi there, so you're as crazy as us! Great to meet you. You're thinking of selling everything you own and setting off to travel the world or just moving abroad for fun. We did just that. We were that family that sells everything to travel. We didn't sell everything but we sold a lot, and we were on the road full-time for 6 years. When we eventually returned what were we glad to still have, what do we wish we'd sold? How did it feel to be reunited with "stuff"? How do you sell everything to travel and start over? What options do you have, where can you store your stuff, and is it a good idea?
For us it was a great idea and our lives changed the moment we took the decision the start over.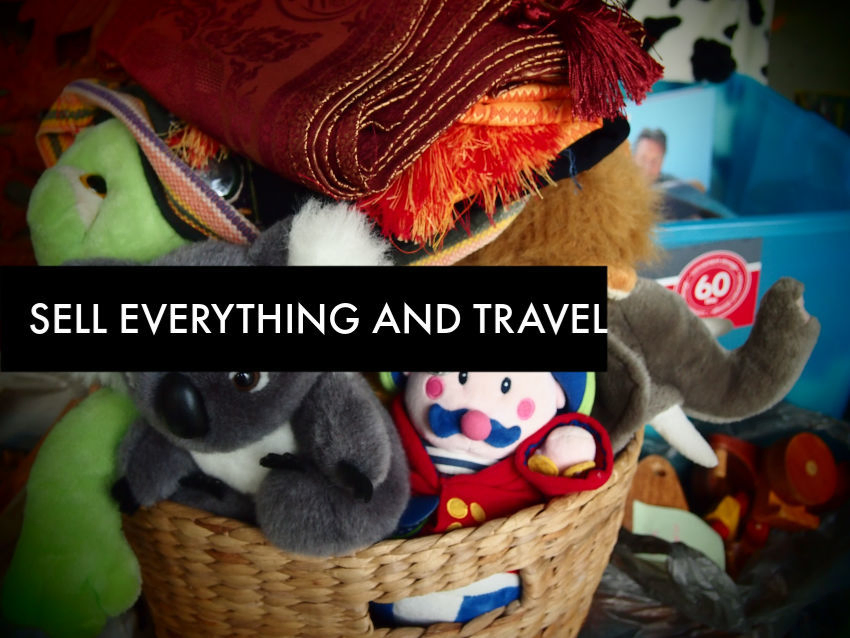 It is our opinion that the sooner you can "retire" and start over by selling everything, the better! With kids or without.
We did it with 2 small kids. That further complicated matters, but people do this at any age.
We now have a completely new outlook, business, and greater success and happiness. So how is this thing done?
The first step is making the decision the second step is selling your stuff.
If you'd like this full series delivered to your inbox, just scroll down to the bottom of the page and sign up. We have much to share,
Selling Everything You Own to Go See the World
Our choice was to sell everything and travel, but others sell everything and start over, both are possible.
What are the options for selling everything? What can you do with your possessions while travelling?
You can quite literally sell everything and compress your life to a few important documents and the contents of your backpack. You can even sell your house.
You can keep your house and rent it out.
You can sell a lot, raise cash that way, but keep and store sentimental, or perennially useful items.
You can reduce and de-clutter but keep all the big things if you rent out your house furnished.
You can store items in your loft or attic if you are a homeowner.
You could lock one room of your house, rent the property, and use that room for storage.
You can store items with friends and family.
You can use paid storage facilities, but this quickly gets expensive.
If you plan to keep your home and rent it out while storing personal items inside or in an out-building, be sure to have this written into your renter and landlord contracts or otherwise check legality.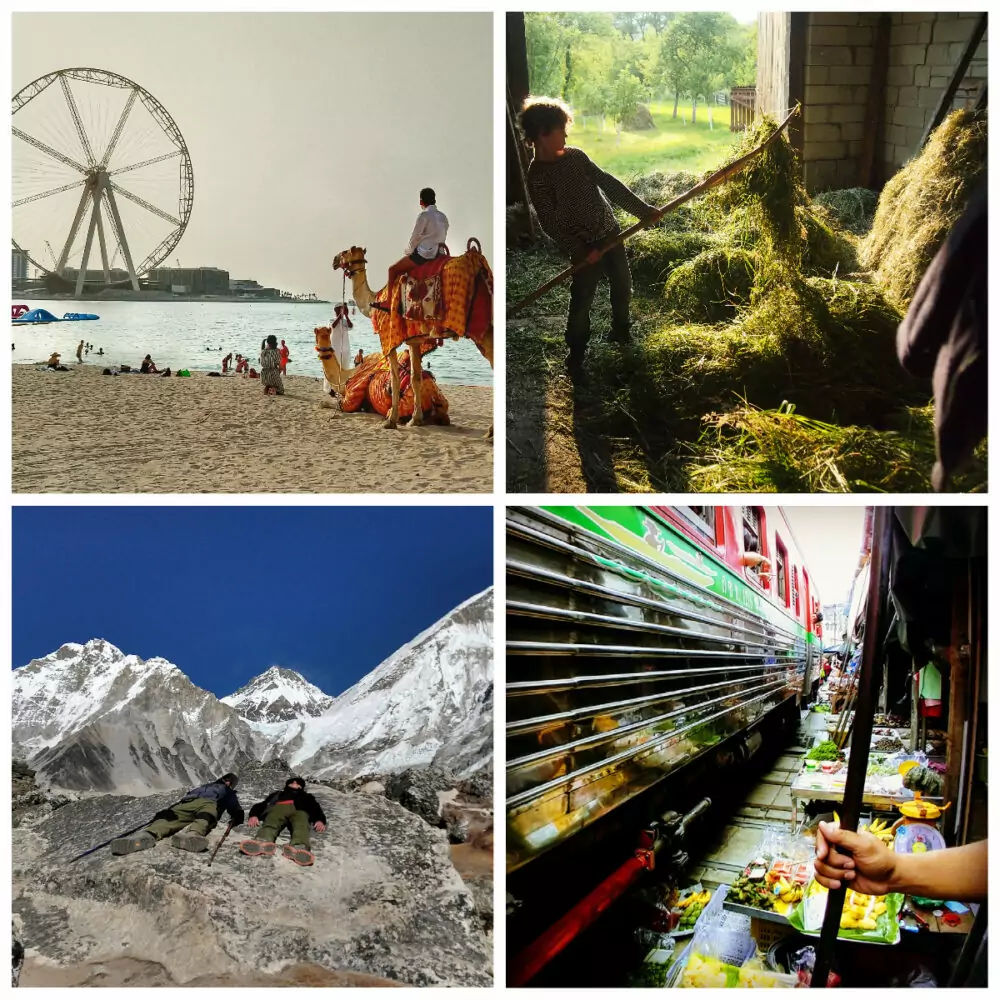 Sell Everything
Certainly, sell your car, go ahead and sell your house, those two things have well-established mechanisms.
How to sell your possessions and gear? We found that local buy swap sell Facebook groups were our best option for reaching potential buyers. If there isn't one in your area, start one.
Facebook Marketplace is a new innovation. You can pretty much sell anything legal on Facebook Marketplace.
You can even buy and sell houses on Facebook, without an agent. We know, we've done it!
Once we'd sold the big-ticket expensive items and they were gone and we were closer to departure we opened our garage and had a garage sale that lasted weeks.
Most things we wanted to sell, sold.
If you're in other parts of the world a yard sale or car boot sale could be a better way to sell everything.
Items that sold easily, some surprising, included:
paperback and hardback books.
stacks of old magazines
kitchen items
furniture
some good quality clothes sold but most didn't sell
sports gear
dive gear
kayaks
fishing gear
craft equipment
good quality toys in good condition
gardening equipment in good condition
good shoes
good handbags
quality decorative items
table lamps
camping gear
towels
furniture
soft furnishings
DVDs ( I doubt you'd find this today!)
We didn't have any jewellery to sell but the garage sale pros all wanted gold.
Items that were in bad condition, CDs, clothes that were nothing special, anything non-desirable, didn't sell.
We totally failed to sell our BBQ, which was surprising.
Everything that didn't sell, that we didn't want, went to a charity shop. Our garage sale raised several thousand dollars. Obviously, this will depend on you and how much "stuff" you have accumulated.
Options for Renting Your House While You're Away
We rented out our property long-term through a local agent. We got lucky, our tenants paid on time, did little damage and the second set were in our home for 4 years, accepting annual price increases.
You must have renters insurance.
You also need a trustworthy agent who will monitor the state of your property.
There are a lot of horror stories of tenants refusing to pay or trashing houses along with many, like ours, of things going well.
If you value your garden and have a swimming pool you will need a pool guy and decent gardener.
The gardeners we paid didn't even come close to maintaining the gardens and we came back to a jungle. Probably our own fault for over-estimating tenants' desire to keep their surroundings pleasant.
Another option would be shorter-term leases, either through an agent or via AirBnb.
If you choose these options you can charge higher rent but there is more risk of periods of emptiness and more hassle and drama at change-over times.
If you choose the AirBnb route you'll need either a good friend to do this for you or you can pay an agency to deal with this.
Such agencies are fairly common as Airbnb booms. You will need reliable cleaners and laundry technicians.
It helps to have some money put aside for emergency repairs, we had bills for new pool pumps and air conditioners while we were away.
A Note About Buying and Selling Second Hand Items
We'd bought some second-hand items in the preceding year, without exception these sold at the same price, or a higher price, than we'd paid.
There's a lesson there, always buy second-hand. A million little tips on saving money add up to a big cash pot in the end.
The Things We Kept – Sentimental, Useful, and Evergreen Items
We didn't sell everything to travel. We kept a basic set of pots, pans, plates, and cutlery and were glad that we did.
We kept some small items of furniture in the loft, some larger items that we couldn't move stayed in the house.
They were in great condition when we returned and I really wish we'd kept more of our wood.
Keep good clothes, it's been great to come back to a full wardrobe but it was a wake-up call as to how ridiculous this huge clothes collection is.
It really does feel better to just have a few items of clothing that you love and use often.
I scanned all of our photos but still I stashed the originals in the attic. I probably should have ditched them.
We kept all paintings, art, and photos in frames as they were, wrapped in plastic wrap. It was very good to see them again.
The few books that we kept, I'm glad we kept. My kids are older now and they are reading them.
We kept all of the kids' most important toys and books and they were thrilled to see them again despite being far too old for them.
Most of the toys we sold had been gifts that they never really wanted nor connected with. Our culture of gift-giving really needs addressing, it's so wasteful and an unnecessary use of earth's resources.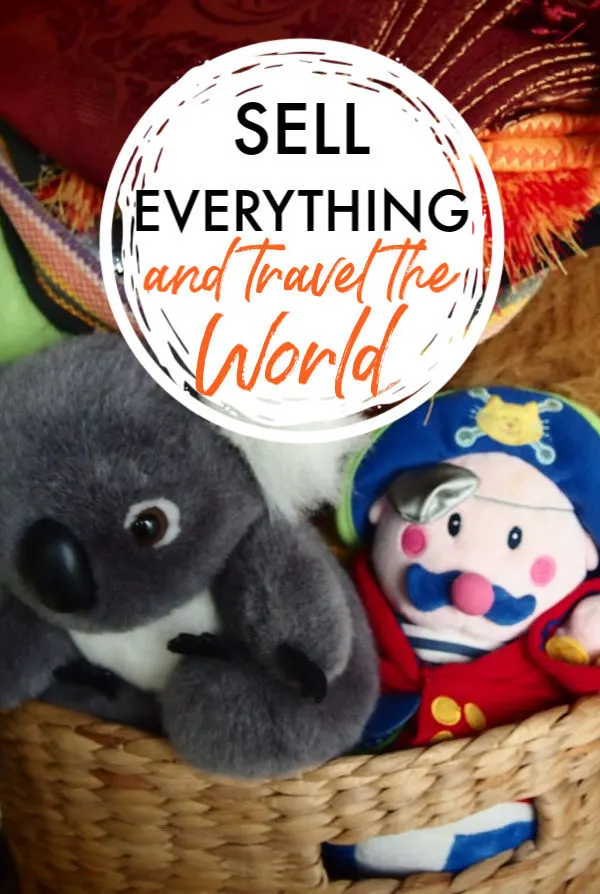 The Things You Really Should Sell or Get Rid of That We Didn't
Get rid of as much electrical equipment as possible. Including Christmas lights, extension leads, and power boards.
Wire coatings start to break down and plastics become brittle, I don't trust this stuff now.
Anything that lives outdoors should go. Weathering ages outdoor gear, including the BBQ and gardening equipment, fast. Sell it while it still has value.
Get rid of as much paperwork as possible, we have boxes of the stuff that I'm dreading sorting.
We did get rid of loads, so this next sorting will be repeating a task that we should have got right the first time around.
Be brutal with sentimental items.
How to Package Items for Storage and What Condition Was Our Stuff in After 6 Years in the Roof
Most of the "stuff" we got down from the attic after 6 years away was in perfect condition. One or two boxes had been infiltrated by mice, cockroaches, or spiders but by far the majority was absolutely fine.
Items packed in cardboard boxes came out worst. A mouse had chewed its way into one and another had disintegrated under a tiny roof leak. If you don't meticulously tape every flap and join, the bugs will get in.
Clothes and linens stored in zip suitcases were fine.
Items stored in plastic tubs with lids, taped around the edges, were best of all.
Very little had really deteriorated through age, other than, surprisingly, running shoes. We'd left our good running shoes at home but after 6 years of storage their soles fell off after the first jog. So if you can, sell your running shoes.
A couple of kitchen items, plastic-handled spoons and spatulas had gone sticky with age and had to go in the bin and as mentioned above electric items no longer feel so safe but otherwise, everything was fine.
So our best advice is to invest in plastic storage tubs and plenty of tape. Be sure that everything you pack is completely clean and clothes freshly laundered.
We think the mouse had come hunting for a crumb inside a toy. Dirty clothes would have gone mouldy as they do here in the laundry bin after a day.
How to Sell Everything to Move Abroad Or Travel Full Time
There are obstacles to consider in moving to other countries, nomadic travel, and leaving your home country to live abroad.
Do you have the money to do it? Will you have an income, or will you live off the sale of your possessions?
Are you able to get the required visas?
Do you meet current health and entry requirements?
Do you have insurance?
Is your passport valid, with plenty of time left on it?
How is your health? Is getting older going to impact your ability to travel negatively?
Moving abroad to travel is fairly easy, tourist visas are normally straightforward to get so long as you meet requirements.
These normally allow you to stay in your destination country for a short time, maybe two weeks or three months.
Before your visa expires you'll need to move to another country and again, have the required permits.
If you plan to move abroad for good, or for months or years, you'll have to study that country's visa requirements closely. You'll quite likely need a residency permit and these can be difficult to get.
These days some countries are starting to offer special digital nomad entry visas, that allow you to stay and work online.
What you do about tax depends on which country you are from, and which country you are in. Check all regulations carefully.
What Should Travel With You? What Do You Need in Your Backpack?
Don't think you need to buy all the travel accessories the marketers want to sell you. Take what you have and upgrade or replace as you go.
Clothes are no problem at all, just take normal clothes but electrical items quickly become a headache, particularly for us as nomads of the digital variety.
You can see our Travel Essentials here. These are the items you should keep, pack, and buy.
Read more from our "personal" section here.
So does it sound like a plan? Are you ready to sell everything and travel, start over, move overseas or become a nomad? Tell us in the comments. If you'd like this series delivered to your inbox just sign up, alternatively, follow us on Instagram. Want to know more about what we went through during the selling process? Take a look at our answer to Do You Have to Be Rich to Travel The World? Maybe also look at our 3 month and 1 week countdowns to departure to get a taste of the realities, it was hard at times and maybe I was a little scared to make the jump into travel as a lifestyle. Another post I'd like you to read is this one on the realities of a nomadic lifestyle. For us, it was the best thing we ever did. Fast forward a few years, and we made another big jump, we sold up again, this time to buy a remote farm in the country. But that's another story.
If you'd like to hire a car during your stay, use this car rental comparison tool to find the best deal!

We also suggest you take a look at this company to get a quote for all kinds of the more tricky adventure or extended travel insurance.

Try Stayz / VRBO for an alternative way to find rentals on homes/apartments/condos in any country!