This post may contain affiliate links.
Transatlantic cruise reviews, crossing the Atlantic on a cruise ship, what's it like? And tips for transatlantic cruise crossings.
Nerves got to me in Southampton in February before our journey across the Atlantic to New York. I had no idea what lay ahead on our voyage and weather conditions concerned me. Want to know the good news?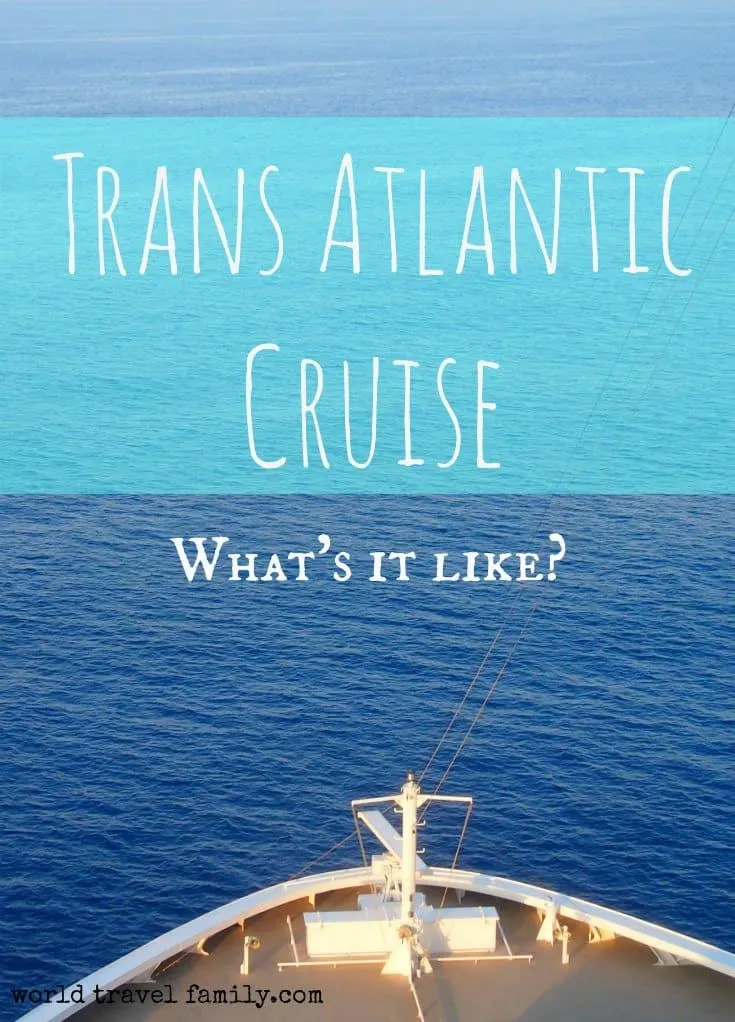 We loved our Atlantic crossing on Norwegian Getaway. So much so that we booked a return Atlantic crossing on Norwegian Epic for later in the year.
Read on to see how our maiden cruise, NCL Getaway's maiden voyage, her repositioning cruise, went.
Everything you've ever wanted to know about crossing the Atlantic on a cruise ship and transatlantic repositioning cruises.
What's a transatlantic cruise like? Let's get that on the travel blog. Watch our short video, below, to see what a transatlantic cruise can be like.
Are you wondering what it's like to cross the Atlantic on a cruise ship?
Maybe you're a first-time cruiser, as we were on our first transatlantic cruise crossing.
Are you a wannabe cruise traveller or a flashpacker looking for the most affordable way to cross the Atlantic?
We were budget travellers when we slotted our first transatlantic cruise into our round the world travel itinerary.
I wouldn't even call us a flashpacking family because this cruise was so cheap.
Discover how cruising can fit into a round-the-world trip or gap year with ease and affordability.
Everything about cruising will be new on your first transatlantic crossing, the experience of being on these huge ships, the ocean herself and the thought of 10 or so days at sea.
Transatlantic Cruise Review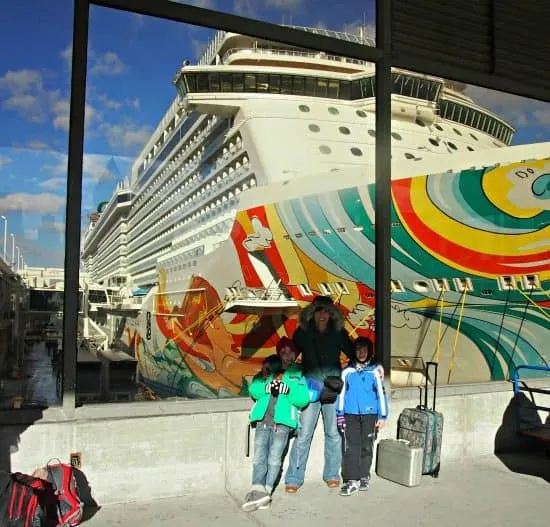 We've arrived in New York after our 10-day Trans-Atlantic Cruise on Norwegian Getaway and we're still buzzing with excitement and swaying like drunken sailors.
We didn't sink. That's a relief.
It was strange at first, getting used to cruise-world. I think I actually experienced culture shock for the first time.
That's not something that's ever happened to me during my lifetime of travelling adventures.
The cruise was something so totally different to our normal lives and experiences that it just weirded us out for a short while.
But we got into it quickly and we had lots of fun.
We're really, really glad we took this opportunity to cross the Atlantic the slow way when we did.
A Maiden Voyage Repositioning Cruise From Southampton to NYC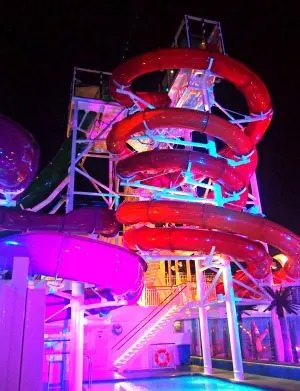 It's pretty special being on the maiden voyage of a brand new ship.
We guinea pigs enjoyed the luxury of the ship being 2/3 empty.
We saw no queues, no waiting and no crowds.
Since taking a full ship on a second transatlantic cruise, we can compare and know how lucky this was.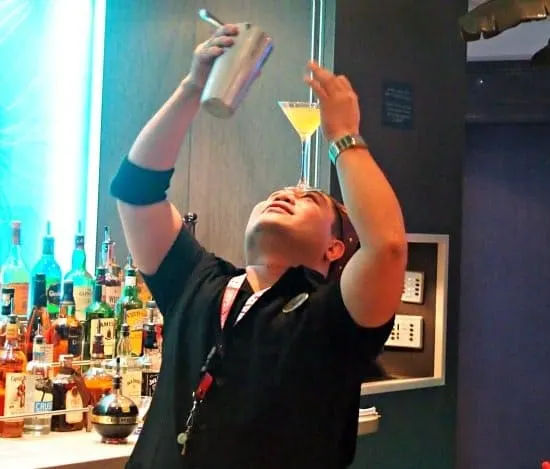 The crew was fabulous and would do anything and everything they could to make everyone's cruise experience the very best it could be.
There was actually more crew on board than customers on our Atlantic crossing on Getaway.
I think there were more entertainers than customers, there was a different show in the theatre every night. That won't continue, shows will be repeated on future cruises and customers will have to book seats.
We could just turn up at the theatre and bag front row seats.
She is a magnificent ship, beautifully equipped, particularly the outdoor ropes and climbing set up. That was superb.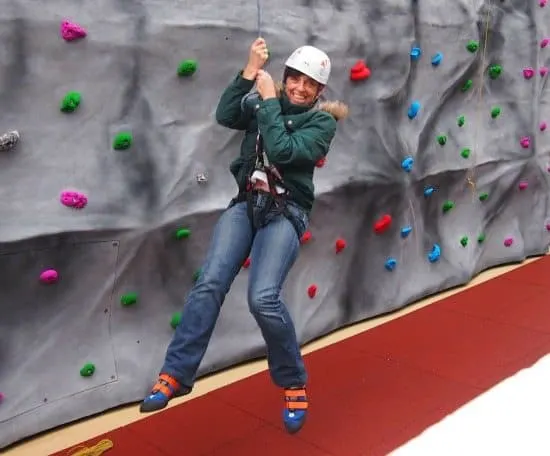 CruiseDirect: Best Price Guarantee, Low Price Assurance, No Booking Fees & Weekly Cruise Deals. Book Now!
What's It Like On a Cruise Ship in The Atlantic?
No internet was top of the list of weird experiences. Satellite internet was available but at $15/hour. I stayed offline.
I think it's easier for me to go cold turkey than to ration myself.
They teased me for the first day with free access to Facebook and Twitter, but after our first night at sea, that vanished.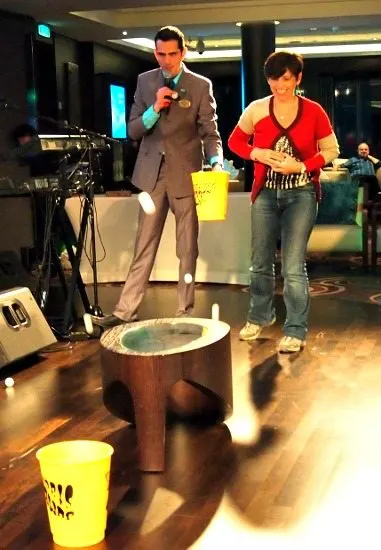 I've not even tried to write many posts offline, we've been too busy.
That's not like me at all, a day never goes by without me working.
But we really were rushing around from one activity to the next and falling into our beds exhausted, I didn't miss my computer. You'd be amazed by the number of things to do on a cruise ship.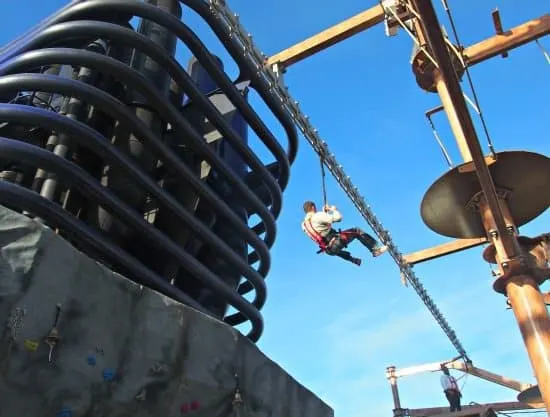 Entertainment and Activities on a Transatlantic Cruise
The activities and entertainment on Getaway were great and extremely diverse.
There was a full schedule every day, but none of them were the sort of things we'd normally take part in at home, or on our usual travels.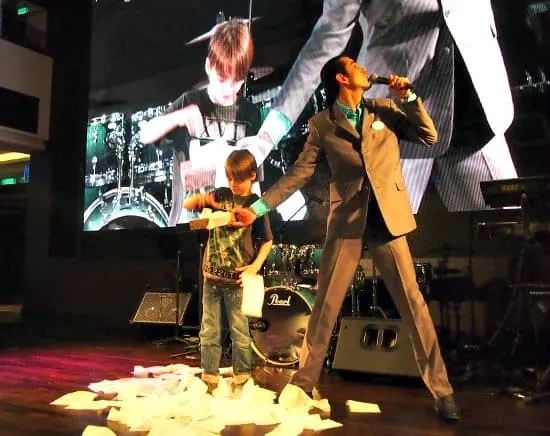 We've watched dance, magic, hypnosis and music shows, joined in silly competitions, done crosswords and Sudoku puzzles, won quizzes, tried our hands at cake decorating, been to a hypnosis seminar, eaten foods that we normally wouldn't eat and played a lot of ping-pong, and that's just for starters.
It was a little tricky to get our cruise heads on at first.
We looked at the entertainments programme on the first day and just thought it wasn't for us, but once we started having a go at everything we had a really good laugh.
It was fun!
Chef developed a new interest in the highly competitive world of blongo ball, you'll have to take a cruise to find out what that is.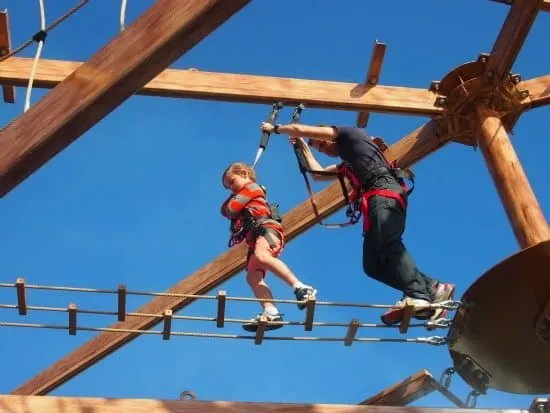 We've done some stuff that is more normal to us, swam in pools, wallowed in hot tubs, whizzed down water slides, climbed on an outdoor climbing wall and had a go at a terrifying outdoor ropes course.
Normal, other than they were 15 floors up on a constantly moving monster platform in some pretty wet and windy conditions.
That was scary and weird, although the boys showed no fear, as usual.
It's a very long drop to a very big ocean from the top of that rope swing.
You could even walk the plank in very calm conditions.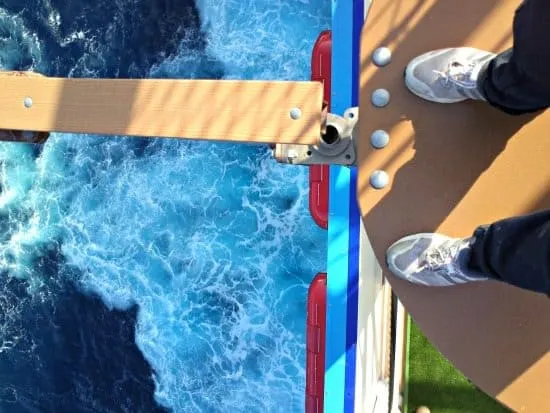 We were busy most of the time and it took its toll, we were worn out and slept longer than usual despite the 25 hour days as we cruised through the time zones.
The evening shows started at 8 pm. We're normally in bed around then, but in cruise ship world that's the start of the evening.
It was weird, but it made a nice change.
Being around people who freely and openly discussed their millionaire status, loudly, was interesting and weird.
They were in the minority, most customers were as un-cashed-up as us.
It's really not particularly expensive to cross the Atlantic this way, but you do need time and that's a luxury few of us have.
If you keep an eye on regularly updated sites such as this one, you'll see special offers you may otherwise miss.
CruiseDirect: Special Offers & Top 10 Weekly Cruise Deals.
There is a Trans Atlantic cruise on there for under $600 at the moment, our favourite, Norwegian Getaway is on sale in the Caribbean too. We know NCL have a Transatlantic Crossing for this year. Take a look. (this section is not current)
Hanging out with a professional world-class magician and his family was weird but super cool.
Alain Nu, The Man Who Knows, was a superstar on stage and off.
The boys and his family had a ball together.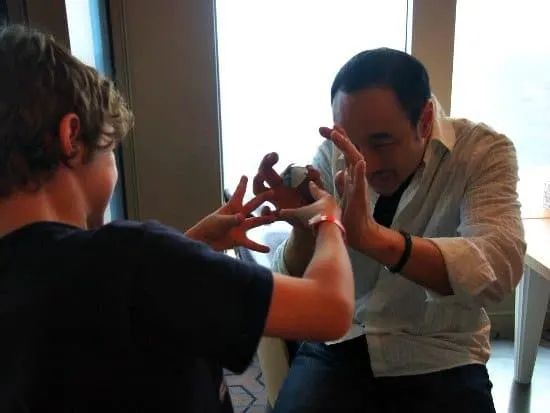 Sailing through the Sargasso Sea was amazing and weird.
I never thought I'd be able to say I've been there.
Yes, we saw sargassum weed! (I get excited about some really strange things!)
Freaky weird was the art photo on our deck. We're 99% sure it's Mirissa, Sri Lanka, our last slice of paradise.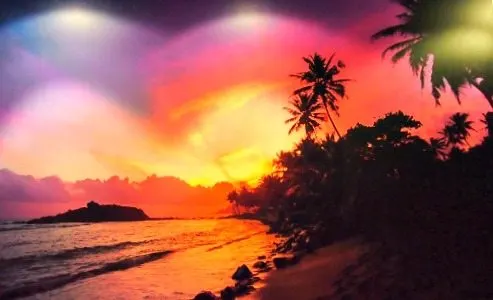 We were in the middle of the Atlantic Ocean on a floating holiday camp. That, in itself, was totally weird!
The Transatlantic Cruise Route
The route we took from Southampton to New York wasn't what you might expect.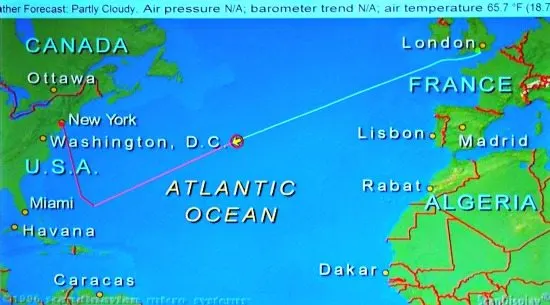 We went a long way south, past the Azores and on southwest almost to Bermuda, taking a sharp right up towards New York.
The course changed a few times, at one point we were heading south of Florida. The captain's announcements told us that this was a ploy to catch good weather, he was expecting blue skies and sunshine down south, but we hit a patch of rain and fog.
Changing course seems to be big deal in the transatlantic cruising industry.
Is a Transatlantic Cruise Rough? Weather and Conditions
The seas were mostly fairly calm.
In the middle of the Atlantic Ocean we only had 1.5 m waves.
We had a bumpy couple of days just after we left the English Channel, then north of Bermuda and approaching New York waves got up to 5m and the ship was rocking a bit.
When the ship was really rolling the swimming pools and slides closed but they were open for most of the crossing.
They were heated enough to be comfortable.
I didn't expect to be using the water park at all on a trans-Atlantic cruise, in January, so that was a really nice surprise.
It's pretty amazing to be in a pool that sloshes about violently with the movement of the ship, you can almost swim on the spot. The children loved the moving pools.
Rain closed the climbing wall and ropes course now and then, but we had plenty of chances to use all the outdoor facilities during dry periods.
All equipment on the cruise ship was pretty outstanding, brand new equipment and the staff were great with all of us.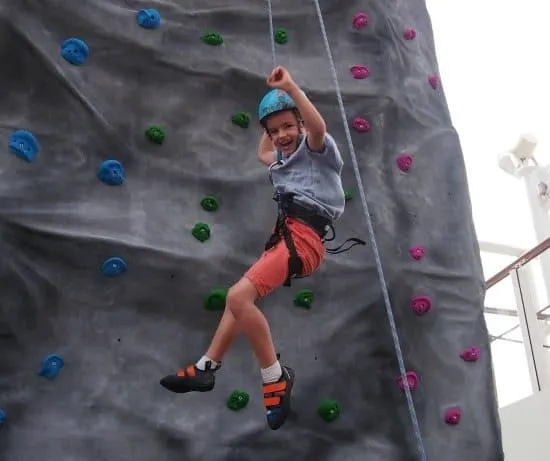 Another surprise was how focused the Norwegian team were on avoiding outbreaks of illness, the smiling, gorgeous "washy washy" crew reminded us to use hand sanitiser before entering the dining rooms.
The kids loved them.
Seasickness Crossing the Atlantic, in Winter?
There was no seasickness at all on this transatlantic cruise. Which was great because I was worried about that.
I stopped worrying about sinking Titanic-style pretty quickly, too.
When we were lying in our bunks we seemed to be totally immune to seasickness. The only time the ship's motion started to feel a little odd was when we were getting dressed or moving around in our cabin, maybe trying to balance to put socks on, that sort of thing.
Other than that we were all totally fine with the ship's motion, it was relaxing really. Gently rocking us to sleep.
What Are Cabins Like on a Transatlantic Crossing?
Our cabin was on floor 11 high up at the back of the ship, interior, with no windows and it was fine. On our second transatlantic crossing we took an outside cabin or stateroom.
Either is fine. We really didn't care about not having a window or balcony because we spent no time in our room.
From our interior stateroom we could hear the purring sound of the engines, but nothing that would disturb anyone.
Soundproofing of the cabins was excellent, I never heard any outside noise other than the engine purr and a few loud slaps and bangs as the ship hit bigger waves (I think that's what they were, I'm not sure.)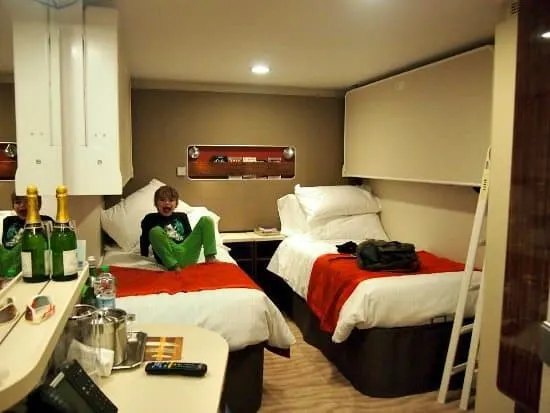 Did We Have to Dress for Dinner on This Repositioning Cruise?
I was wondering if we'd have to wear formal clothes on this transatlantic cruise. We didn't.
There was no requirement for formal wear at all.
We only have our backpacks, and most of our clothes are worn out after almost 8 months of travelling but we did treat ourselves to new (charity shop!) jeans and tidy shoes before we left the UK.
There were two evenings designated as "Dress up or Not." A few people pulled out their best bib and tucker but we were perfectly comfortable in our jeans.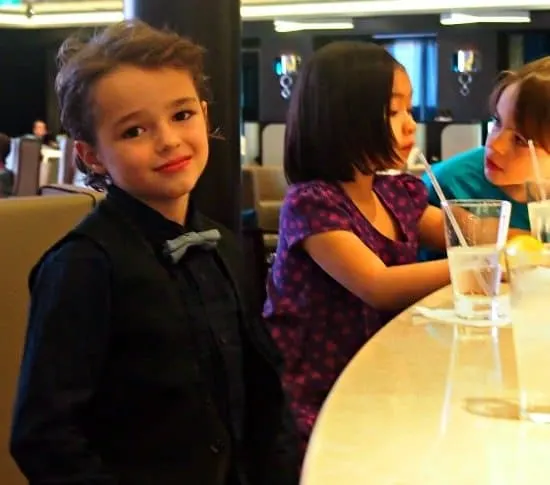 I had a dress and some borrowed shoes with me and never wore them.
Most people on this ship wore casuals. We saw a lot of tracksuits and extremely dressed-down outfits.
Were There Families and Kids On-Board?
There were a handful of families with children around my boys' ages and younger on this Atlantic crossing.
One pre-departure worry for me was around safety. Would a cruise ship be safe for kids?
I'm pleased to report that I had no safety concerns at all.
So long as you're keeping a watchful eye on your kids, particularly around pools and on deck, it was good.
We heard there were 30 kids in total. Families were in the minority, most of the passengers were older people with a smattering of singles.
We were told that in future, on Miami based cruises in holiday time, this ship would have more like 2,000 under 18s on board.
That would be a totally different experience for everyone.
The boys made friends and had loads of fun, with us, and without.
They met some lovely people from all sorts of backgrounds.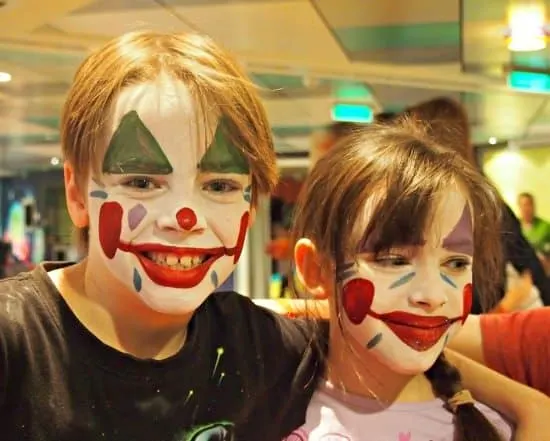 Most passengers seemed to enjoy having children around, but a very few were intolerant or grumpy with kids. That's their problem.
We've seen far more of this bad attitude on other cruise lines and would avoid those cruise companies in future.
The crew was fantastic with the younger passengers, particularly the chefs and front of house staff in the main buffet restaurant.
I got the impression that a lot of them were missing their own families back in their home countries. The crew came from over 60 countries and it was beautiful.
Most of the school-aged children on our cruise were homeschooled, it was great to meet others like us leading non-conventional lives, living differently, and to the max.
A Transatlantic Cruise With Kids
This totally depends on the cruise line (some aren't so great) but on this Norwegian cruise ship there was so much to do that my boys now want to live on a cuise ship!
On this cruise there were endless, fun, adventurous activities for the whole family, multiple swimming pools and a kids' club that ran from around 9am to 1am (crazy right?).
The boys weren't very keen on kids' club at first, they couldn't pick what they wanted to do there.
Parents couldn't enter to supervise or make sure the kids were happy which was a huge red flag for us.
We prefer to do things as a family, so we were occasional kids' club users although D (9) and Boo (7) did get really into the club by the end of the 10 day crossing as they developed confidence and trust in the youth crew.
By day 10 we were struggling to get them out of there.
We would drop them off and ring the club often to see if they were happy and wanted to stay in the club or come and try some activity with us, which worked well.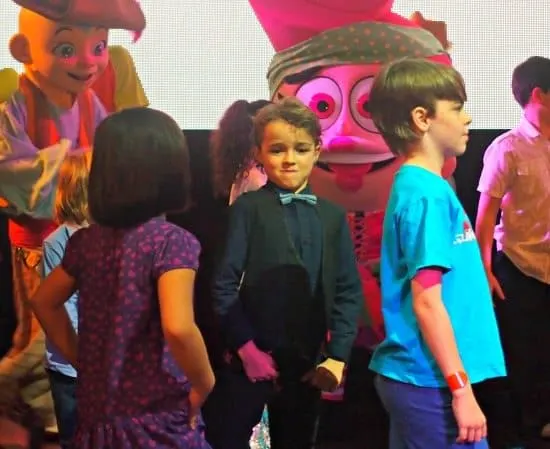 The boys made friends with another little girl, also not a huge kids' club fan, and they played together between activities.
If the weather was good all the time Getaway would be kid paradise, they'd be in the pools and using the sports facilities all day, but bad weather drove us indoors sometimes.
There wasn't an indoor play area, which was a bit of an oversight. We all hung out and played in the quiet end of the buffet restaurant when we didn't have any activities lined up.
The children loved the nightly shows in the theatre. They could also join in with the indoor games, throwing bean bags, ring toss, that sort of thing.
They enjoyed the daily trivia quizzes. We won two, go the homeschoolers!
There were daily family craft classes and demonstrations and talks on all sorts of weird and wonderful topics.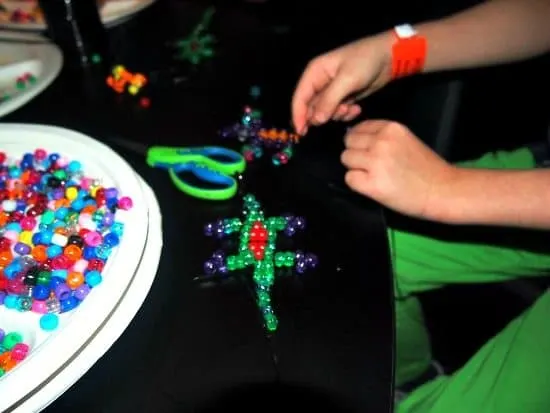 The kids' club had a very limited choice of computer games and they were only available for an hour twice a day.
That was a major disappointment for the boys, they were looking forward to Skylanders after 7 months of travel and of course, an hour isn't even close to long enough to get into a game.
Mario was the only game on offer at first.
Once we told the manager how much it meant to the boys, he set up Skylanders for them.
Despite our teething problems with the kids club, we were very happy with how things eventually worked out.
The manager handled our issues extremely well and with grace.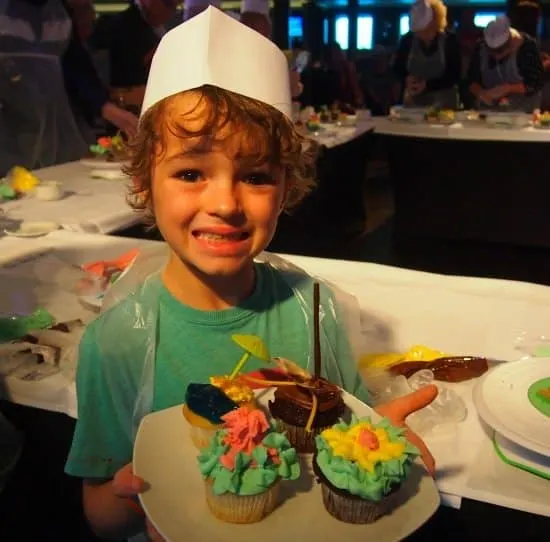 With my homeschooling head on for a moment, the cruise was an absolutely stellar learning experience. An incredible amount of learning happened for all of us in those 10 days.
I'll get another post out about it on Homeschool Group Hug.
One mind-blowing example. I bet my boys are the only kids in Australia to have seen the short film collaboration between Dali and Disney and some of the original 1940s storyboards.
They had a screening as part of the onboard art programme, just totally wow!
(But I've just discovered it's on YouTube, the auctioneer made it sound like a never-before-seen short film, sneaky!)
What Was The Food Like on The Transatlantic Cruise Crossing?
There was so much food on Getaway!
You could eat right round the clock if that's your thing.
We ate in the free buffet restaurant for most meals and there was a huge choice to suit us all, from fairly healthy to diet destroying and the sea views from deck 15 were pretty incredible.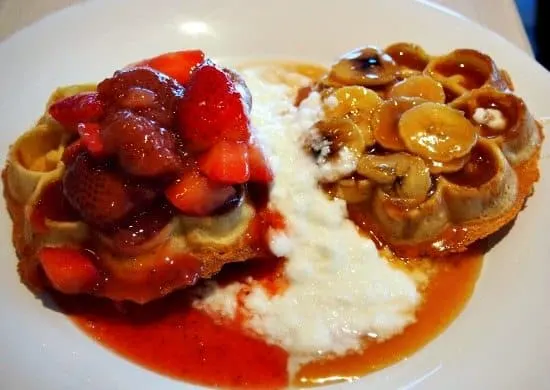 The food was good, but not spectacular, mass catering and buffet dining always rule out top-end food. Chef (my husband, he's Exec Chef at a 5-star resort back home) says they hit their market well.
I really think it would be hard to put on a better buffet, based on my experience over the years of Chef's widowhood.
The cakes were fantastic and I think just about everything was made onboard and not bought in.
We tried seated complimentary dining twice when there was entertainment on in that dining room.
The food was similar to that on the buffet really, nothing special, but the dancing was great.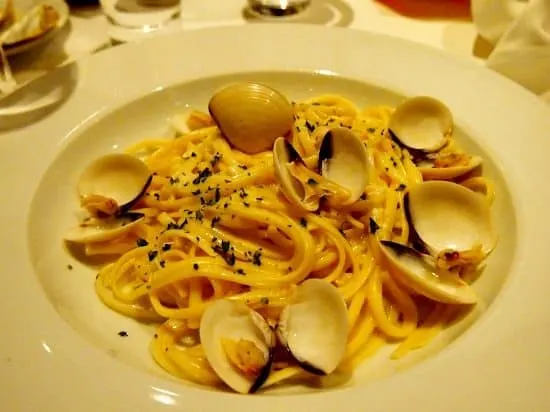 We paid extra for the premium dinner and magic show one evening, at $25 each (no reduction for children) it was a pretty expensive night out for us.
The magic show and The Illusionarium were spectacular, the food less so.
There was nothing wrong with it at all, it just wasn't what we wanted to eat.
The set meal was steak with mashed potato and courgettes, we had no choice.
We would have preferred the show without the meal and would happily have still paid the $25.
I guess they really go to town with the food in the pay-to-eat restaurants.
Chef and I aren't too bothered about paying extra for fine dining, we do it often enough back home as part of his work, so we didn't.
I took away the impression that food on cruise ships is OK, it's just mass catering, not restaurant quality but some diners were very excited over the availability of steak or lobster.
It was there, but it wasn't done particularly well.
My favourite part of the buffet was the wine dispenser machine. It's not free, (prices are good, as are the wines) or it would be dangerous!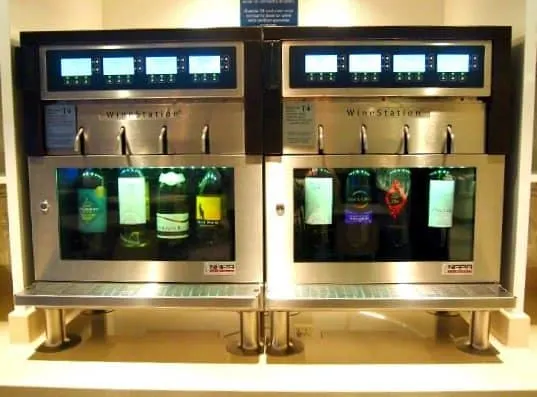 How Much Does a Transatlantic Cruise Cost?
Our tickets on this transatlantic cruise were $700 each including taxes. There are additional charges on top of this ticket price.
Compulsory tipping charges came in at $12/person/day. Children pay too, so in total $480.
The ticket price included all complimentary dining, tea, coffee, and juice at breakfast and a fruity drinks machine at dinner and lunch.
Room service before midnight was also complimentary.
We paid for alcoholic drinks, the prices were good $7-8 for a glass of wine, about the same for a cocktail.
Tipping
They added a 15% gratuity to drinks prices, even when you bought them from the machine.
We thought that was a bit odd when we'd already paid for tips upfront.
Some of the staff were so lovely that I found myself giving them a tip on top of the 2 sets of tips that we had already paid.
Entertainment & Shows on a Cruise Ship – Costs
The ropes course, climbing wall, mini-golf and water park were free.
Illusionarium, $25 each. Premium seats were $35 each. We think the kids got a better view from the cheap seats at the back, they could stand up, they wouldn't have been able to do that in the premium seats.
We took part in a Margherita tasting event, it was $15 each and loads of fun. I'm now an expert on Margheritas.
You could spend a lot of money on board if you used the pay-to-dine restaurants and the spa.
There were a few shows and tastings that had a fee, too.
We didn't feel we were missing out on anything by not spending more and we were very happy with what we got for our money.
We were disappointed that we didn't get to see the ice bar, the kids were really looking forward to that.
There was an entry fee of $20 US each, kids too. That gave the grown-ups 2 cocktails. I'm not sure what the kids got for their $20.
I'm not usually a cocktail drinker and $80 is a lot to us, so we had to skip it. New York is still frozen solid anyway.

Update: We visited the ice bar on Norwegian Epic on our return transatlantic cruise and loved it!
We thought the laundry service was a bargain at $25 to fill a laundry bag, less than we were paying to take our clothes to the launderette back in the UK.
That special offer appeared towards the end of the cruise, to get items washed individually was more pricey, $6 for jeans, $2 for socks.
Would We Recommend a Transatlantic Cruise?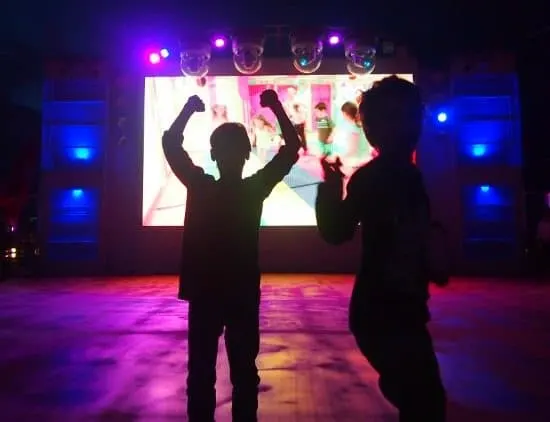 We had a great time on Norwegian Getaway. Even with all the research we did it wasn't exactly what we expected, but that's not necessarily a bad thing.
We'd jump at the chance to do it again and we did.
Our review of this first transatlantic crossing is entirely positive.
We never expected to see a different show every night and to enjoy them as much as we did.
The magic show in the Illusionarium was sensational, they had some top innovators from the world of magic on board.
The Burn the Floor dance show and The Beatles tribute, From The Cavern to The Rooftops were fantastic too.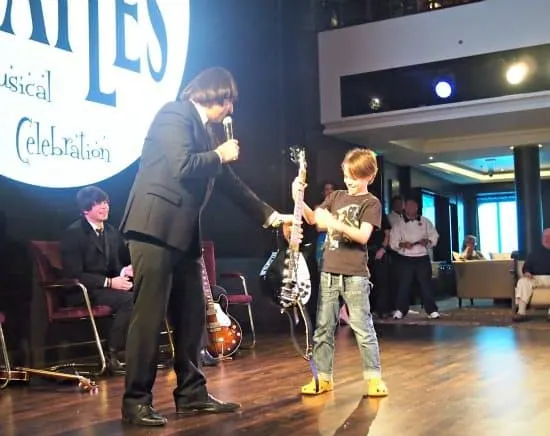 We saw this Transatlantic Cruise Crossing as a once-in-a-lifetime chance to experience something completely different, it certainly was that.
We are considering booking another Atlantic Crossing, in reverse, on Norwegian Epic in a few months' time. If we can find a great deal, we'd love to travel this way back to Europe.
UPDATE: We have booked a return 11-day cruise Trans Atlantic cruise at under $30/person/day
Is a Transatlantic Cruise Crossing Boring?
I wasn't bored on Getaway at all, I could happily have stayed on board for a couple more weeks and it was sad to leave our floating home as she carried on down to Miami, her new base.
I'll miss her.
So what's a Trans Atlantic cruise like? For us it was awesome!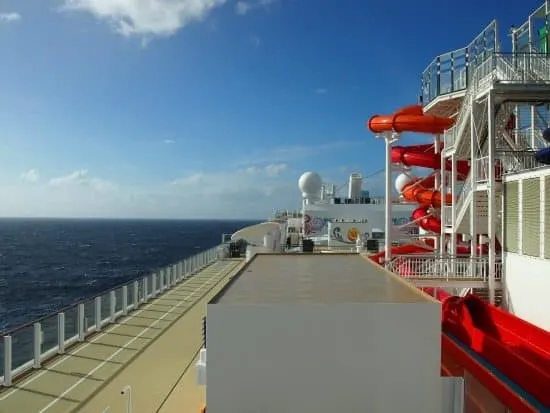 I can't possibly fit everything we experienced on Norwegian Getaway into one post, but I've done my best. Sorry, it's so long.
If you actually read it all I'll be surprised, maybe stick something in a comment to tell me you did. Would you?
We have more content relating to cruising, take a look at our comparison on crossing the Atlantic in an outside v inside cabin, here.
If you have any questions I'll get back to you, either here or on our Facebook Page, either is good. Thanks for reading!
If you'd like to hire a car during your stay, use this car rental comparison tool to find the best deal!

We also suggest you take a look at this company to get a quote for all kinds of the more tricky adventure or extended travel insurance.

Try Stayz / VRBO for an alternative way to find rentals on homes/apartments/condos in any country!