This post may contain affiliate links.
If you're yearning for the Christmas holiday season to feel a little different this year, there's no better way to celebrate Christmas than by jetting off to a special Christmas vacation destination. In this post we bring you some of the best Christmas vacations for families, in the US, Europe, UK and Asia. Some of these Christmas Vacations will be warm, others icy cold. What's better than a little snow to make you get that special Christmas vibe?
Even though cosying up by the fireplace at home is definitely tempting, if you find yourself considering spending the holidays somewhere new, there are plenty of destinations that sure know how to take the Christmas spirit to the next level for your family. It's a great bonding experience for families to be on vacation together at Christmas and these vacation ideas should get you thinking about where your family could spend Christmas.
From winter towns tucked away in the snowy Alps where Europe's Christmas markets reign supreme to big cities where you'll get to feel as though you were transported into a cheesy movie, these are the best places to visit around the world for Christmas in order to do the holiday season right.
Best Christmas Vacations for Your Family
Best Christmas Vacations For Families in The USA
North Pole (The City) Alaska, USA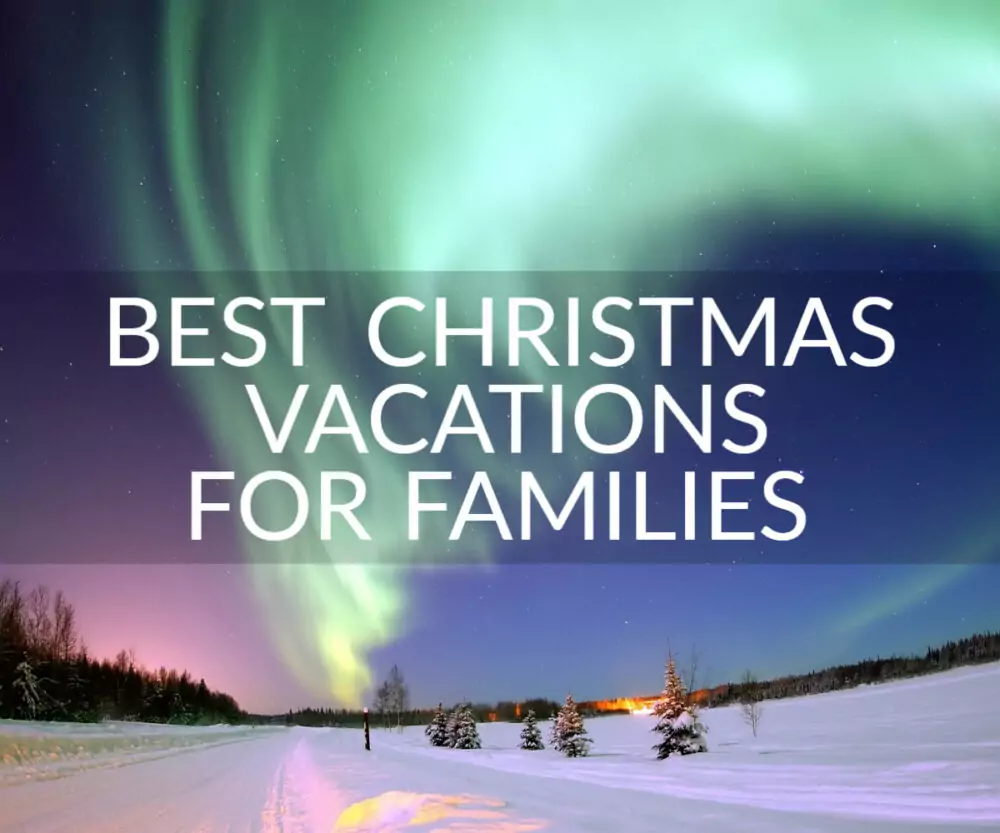 Believe it or not, there's a town that is actually called North Pole in Alaska USA!
As far as quintessential places to visit for a Christmas family vacation go, this one definitely takes the cake. North Pole is located a short drive away from the city of Fairbanks in Alaska, and even though most people who get here do it during the winter holidays, the town is commonly nicknamed "the place where the spirit of Christmas lives all year".
North Pole definitely makes sure to bring justice to its name. Its downtown streets are usually lined by gigantic candy canes and draped by colourful glimmering Christmas lights, not to mention you'll pretty much be able to find every single motif that celebrates the season here.
There's even a house that is said to be the "official home" of Santa Claus, and don't be surprised if you come across a reindeer or two during your visit!
Moreover, thanks to its location close to the Arctic Circle, visiting North Pole during the winter months means you'll have a pretty high chance of witnessing the Aurora Borealis, the Northern Lights. Seeing them right from town is not unusual, but if you want the ultimate experience, you can drive over to the nearby Chena Lake Recreation Area where sightings are said to be out of this world!
For a family-friendly hotel in North Pole Alaska try Hotel North Pole, the family rooms here are just a 5 minute drive from Santa Clause House! Click through to view!
Leavenworth in Washington USA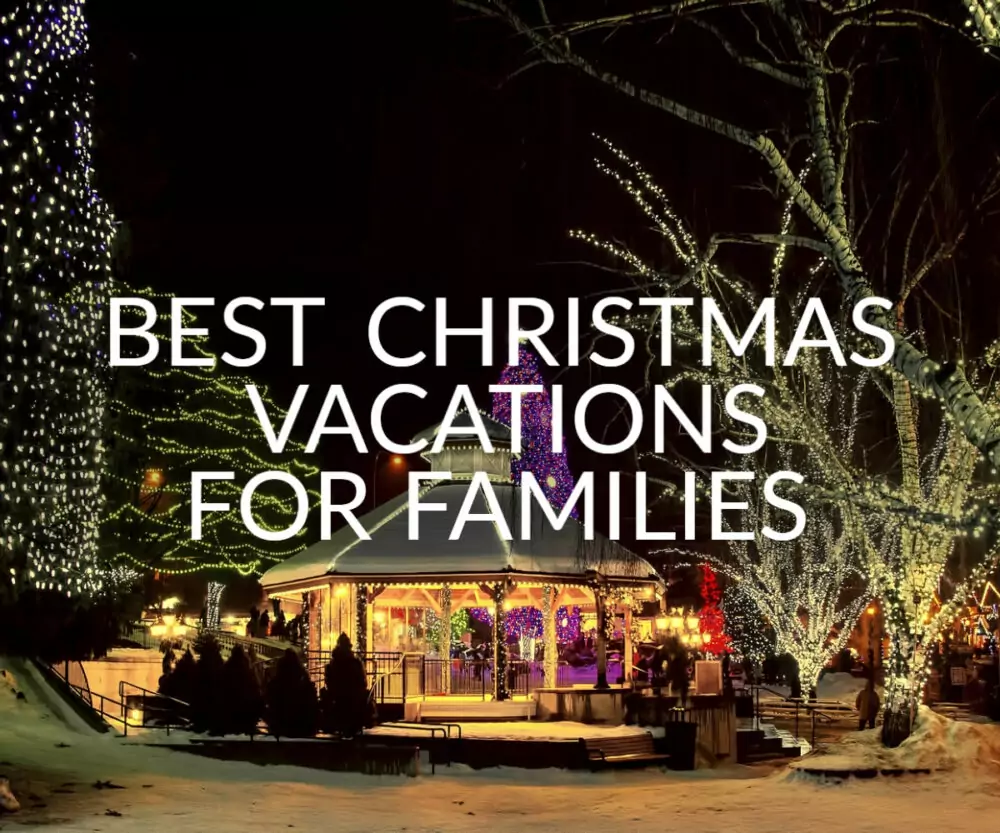 Christmas in the Bavarian Alps is as dreamy as it gets, but if you can't quite make it to Germany this year, visiting the town of Leavenworth in Washington State is a great alternative. Get that European Christmas vacation feel at Leavenworth Bavarian Town and Christmastown, The Village of Lights, without having to leave the US!
Tucked away amid the enchanting Cascade Mountains, Leavenworth has still managed to preserve its Bavarian roots, which become even more visible once the holiday season begins.
As you walk along its downtown, you'll stumble across remnants from when Leavenworth was inhabited by Germans – think half-timbered houses, German craft beer served at quaint bars, and plenty of culture that has stood the test of time.
During the Christmas season, Leavenworth turns itself into what's known as "the Village of Lights" when over half a million lights cover its streets. As a bonus, you'll also find an authentic German Christmas market here for all things shopping, and you can take a look at the town's calendar in order to plan for more Christmas activities such as gingerbread house contests, advent calendar competitions, and so much more!
Icicle Village Resort in Leavenworth has Bavarian good looks, family rooms, a spa and hot tub, plus bicycles for guests. Check costs here.
New York, USA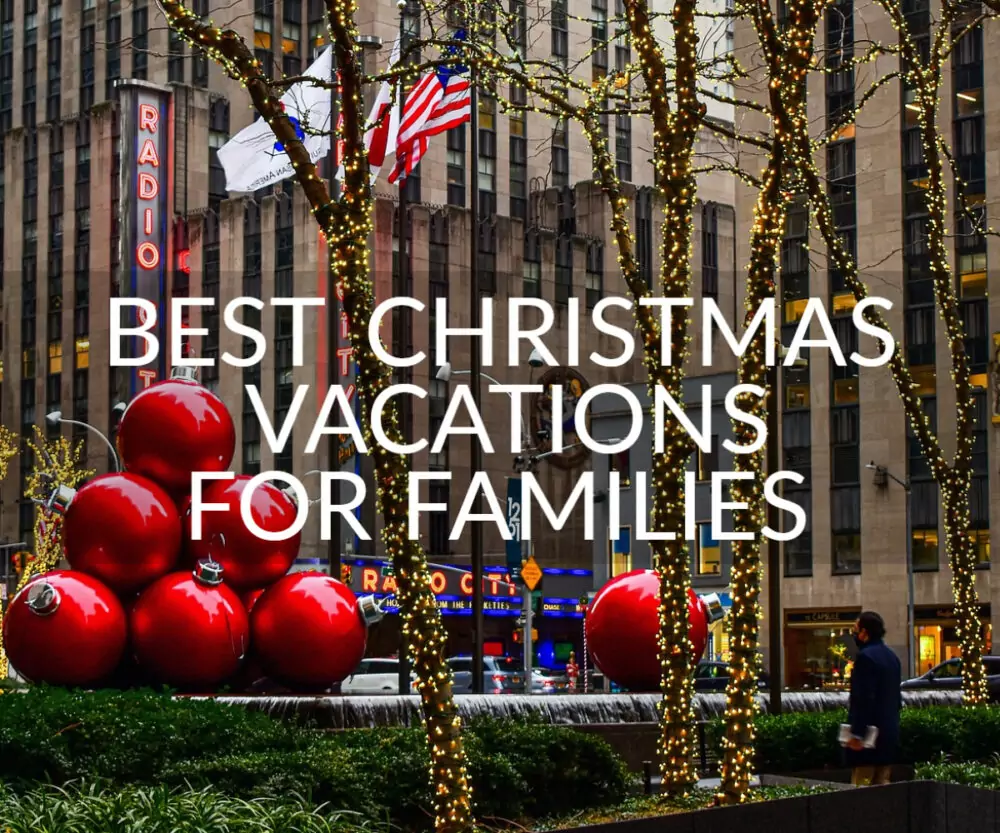 City breaks make fantastic Christmas vacation destinations for families because there is just so much to see and do! New York is no exception and to see The City That Never Sleeps in her winter festive finery is a bucket-list item!
The big tour that families should take in New York at Christmas, or around Christmas is this one, to see the light show at Dyker Heights.
To find out where best to stay in New York at Christmas with your family, click through. The rest of our New York content is here. It can get pretty cold in New York City in winter and at Christmas, wrap up warm!
In New York, stay in Manhattan to be in the thick of the action near Times Square. Try the Artel Hotel for a budget family stay with great theming for kids!
Best Christmas Vacations For Families in Europe
London, England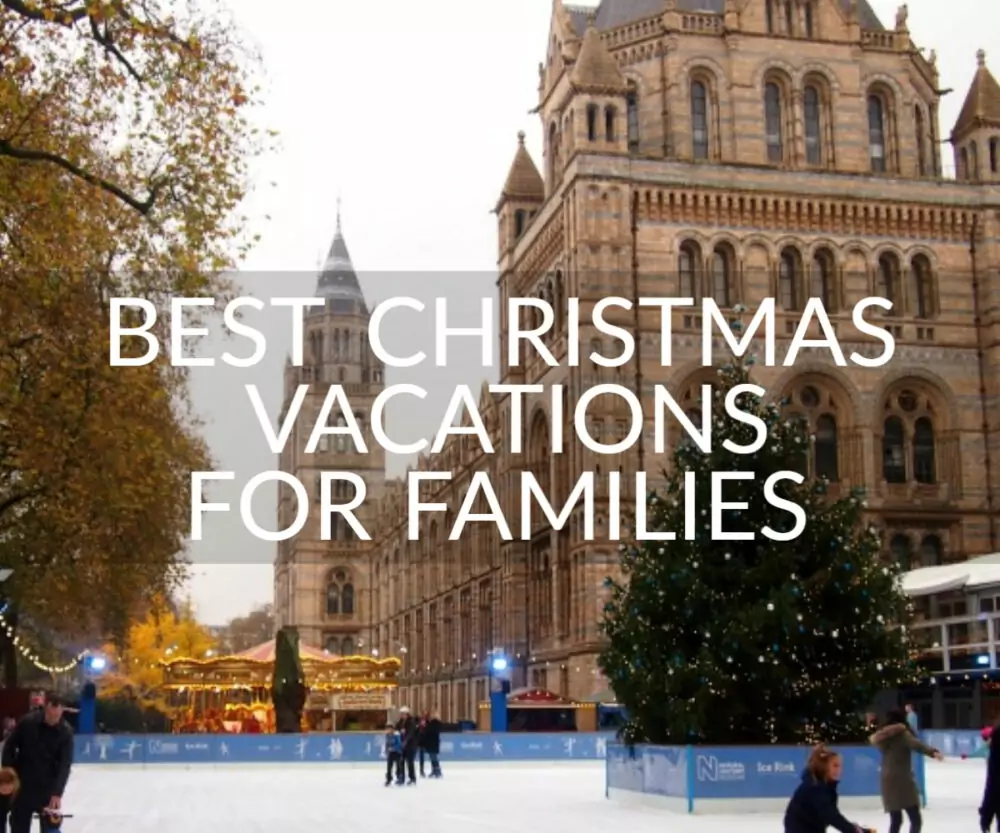 It may sound slightly cliché, but London is a favourite Christmas destination for all the right reasons.
Once December approaches, the English capital becomes a setting straight out of Love, Actually as millions of twinkling lights and Christmas decoration blankets the streets.
A must-do during your visit to London with kids during the Christmas season is checking out the annual Winter Wonderland at Hyde Park when one of London's most beloved green spaces turns itself into a mecca for all things Christmas. Thinks German-inspired Christmas markets, live music, an outdoor skating rink, and serendipitous entertainment to get an idea of what this festival is all about!
Other somewhat cliché (but totally can't miss) activities include visiting Trafalgar Square to listen to Christmas carols, catching a Christmas show at the many theatres in town, drinking wine at the Covent Garden's Winter Warmer Mulled Wine Festival, and plenty more. Round out your family trip with a visit to Hamley's, billed as "The Greatest Toy Shop in the World" the Christmas displays here will wow your family.
You can even take the popular vintage open-top bus tours in London to see the best of the city's Christmas lights twinkling in the early evening or late afternoon. Our full guide to London at Christmas is here. Looking for a nice hotel in London? Check out our guide to kid-friendly London places to stay.
In London the Legoland Resort Hotel would be a great place to take your family, it's at Windsor, which is close enough to Central London for your trip.
Rovaniemi, Finnish Lapland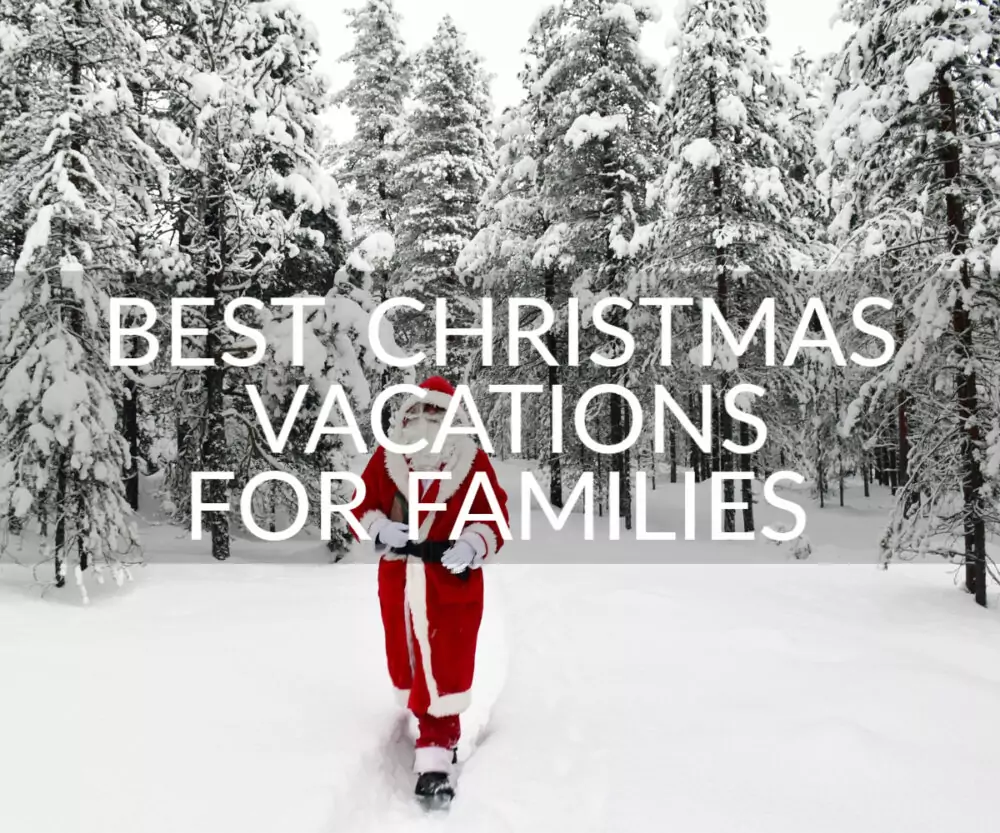 Santa's official hometown as a Christmas vacation destination? Yes, please!
If you don't mind a little cold, Rovaniemi in northern Finland is definitely one of the best places to visit around the world for Christmas for postcard-perfect scenery and experiences you'll be very unlikely to ever top.
Whether Santa actually lives here or not still remains a mystery, but there is a Santa Claus-themed village in town where you'll find plenty of hands-on activities where you can help elves prepare for the big event.
As if that weren't enough, Rovaniemi is known for its fun-in-the-snow entertainment, with tons of activities ready for you to take the season to a whole new level. Snowmobiling safaris are a favourite, as are reindeer sleigh rides, ice skating, and husky sledging, to name just a few!
In Rovaniemi try the Santasport Apartment Hotel.
Stuttgart, Germany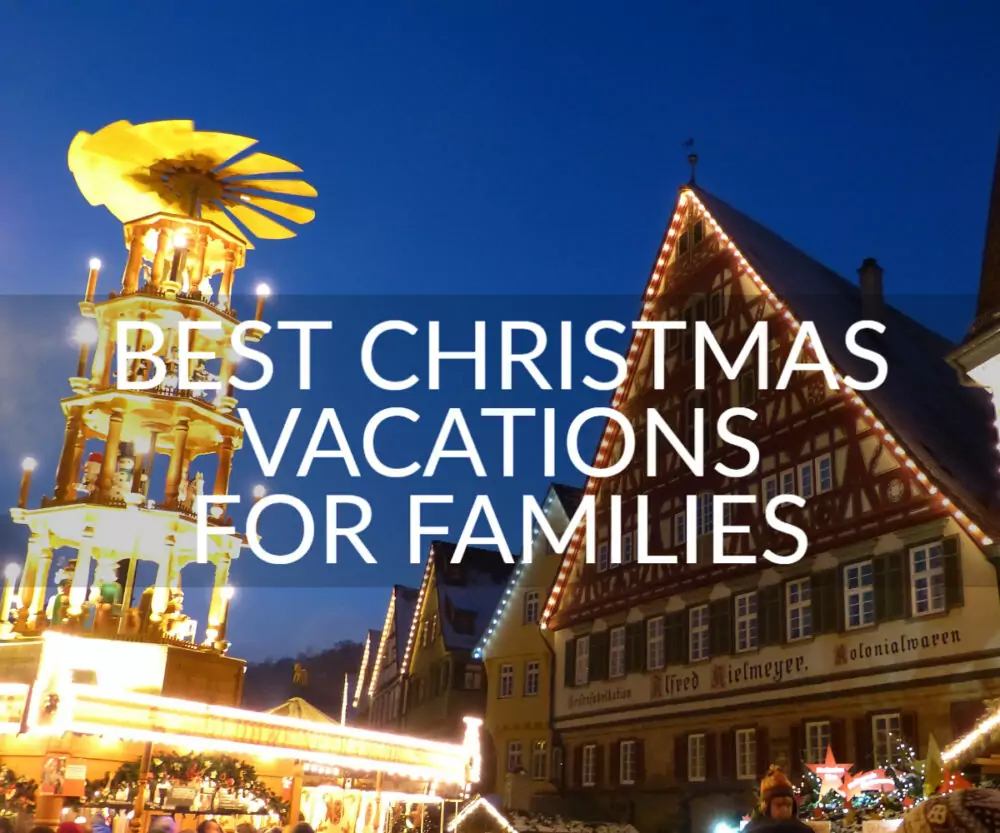 It's not exactly a secret that Germans love all things Christmas, and if you want to enjoy a holiday season that's as unique as it gets, the city of Stuttgart is a wonderful choice.
Once late November creeps in, the somehow sleepy city of Stuttgart bursts to life with a plethora of authentic Christmas markets, decorations all over historical buildings, and a calendar filled with exciting activities that take the spirit to an entirely new level.
As if that weren't enough reason to convince you to make Stuttgart your next Christmas family destination, the city is known for being the gateway to the alluring Black Forest, where you'll find plenty of small villages that also host their own holiday events and markets for a truly local experience.
Esslingen is a gorgeous medieval town that's worth taking a look at, while Gegenbach hosts a wonderful Christmas market away from the tourist crowds you'll find in bigger cities. If you love chocolate, you can head over to Tübingen to celebrate their annual chocolate festival, or you can opt to take a day trip out to Breitnau in order to attend a Christmas market set right under a gorge in the middle of the forest.
Paris France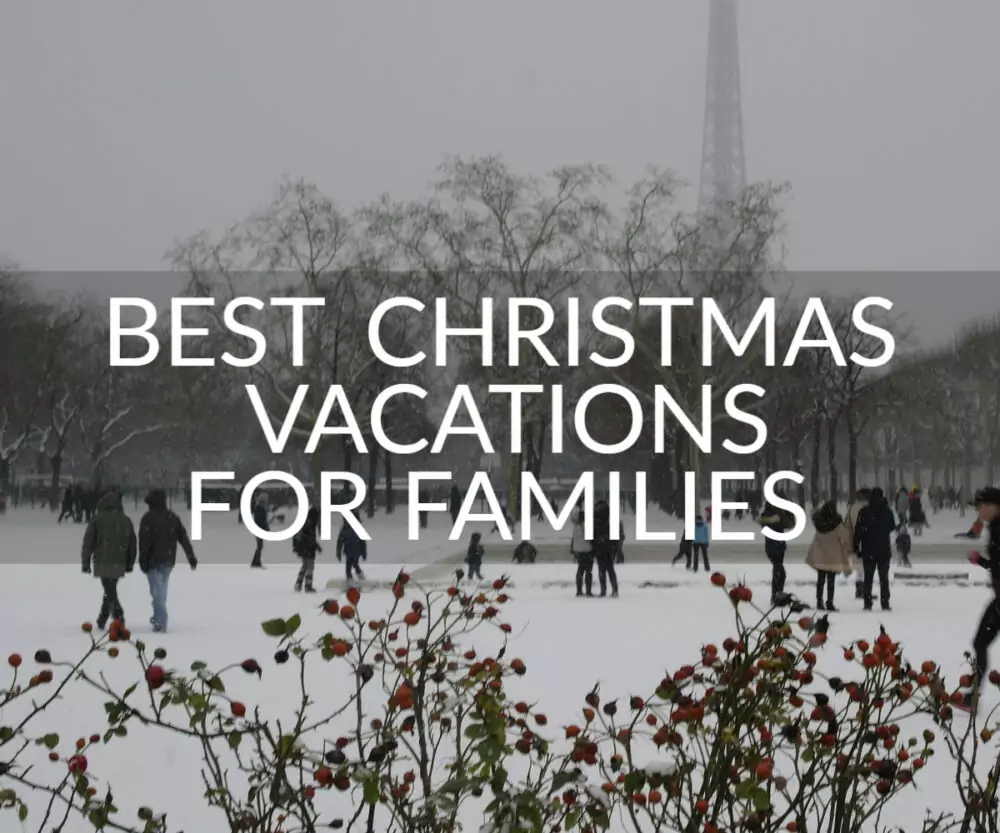 Paris is a dream destination no matter the time of the year you decide to visit, but during the festive season, the City of Lights sure knows how to put on a show in order to fully showcase its love for Christmas.
Come December, Paris gets decorated with garlands and thousands upon thousands of colourful Christmas lights, not to mention you'll find classic European Christmas markets, events, and ice skating rinks all over the city.
For the ultimate Christmas experience, make sure to book yourself a holiday cruise over the Seine River, check out Lafayette's Paris Haussman to awe at their incredible Christmas decor, ice skate right under the Eiffel Tower, and treat the family to a day of festive fun at Disneyland Paris' annual Christmas festival.
Alternatively, take your family to the Parc Asterix theme park just outside Paris.
Where to stay in Paris with your family – we have a guide to the most family-friendly hotels in Paris.
In Paris, Hotel Le Bristol is a popular family choice.
Dresden, Germany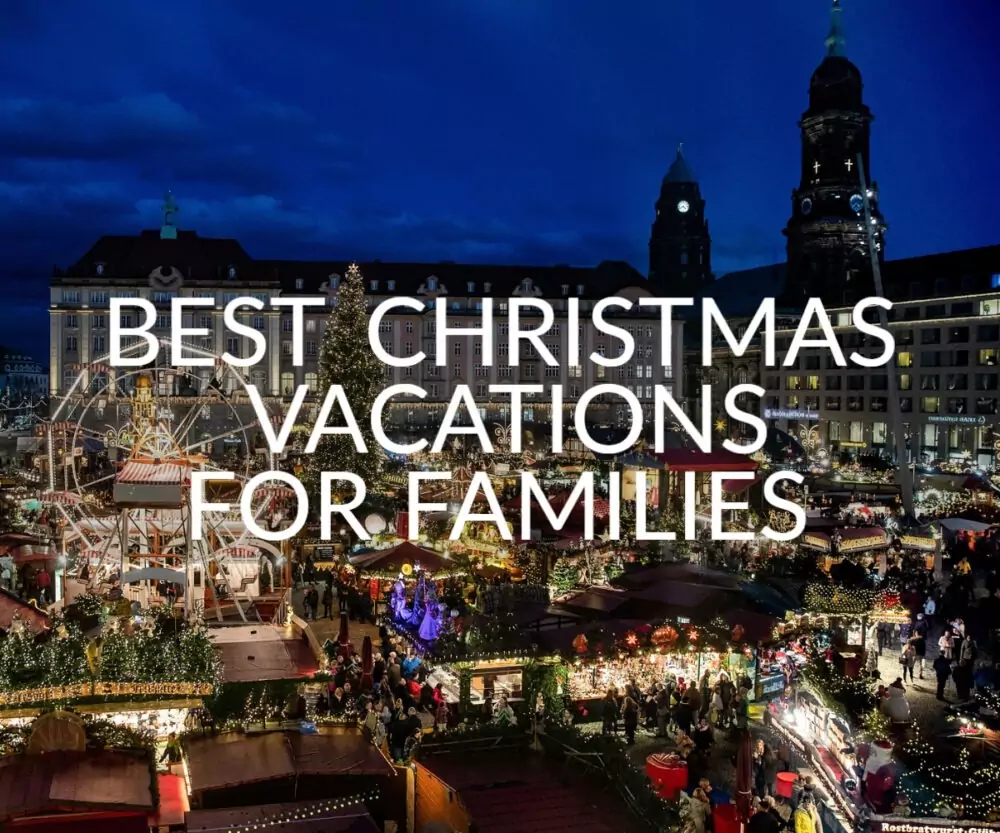 If you want to dive deep into the history of Christmas in Europe, Dresden is the ultimate place to be.
This gorgeous medieval city was the first place in the entire world to host a Christmas market, and up to today, the exact same one is held every year!
Even though the city is now a modern place, its residents still make sure to stick to their roots and traditions, especially when it comes to Christmas. A perfect example of this is that, instead of putting on a Christmas tree, a Christmas pyramid is held instead – pyramids were the predecessors of the trees we know today, and they root back to the folklore of the Ore Mountains in Germany!
Try this place for a family party, with great location!
Best Christmas Vacations For Families in Australia
Sydney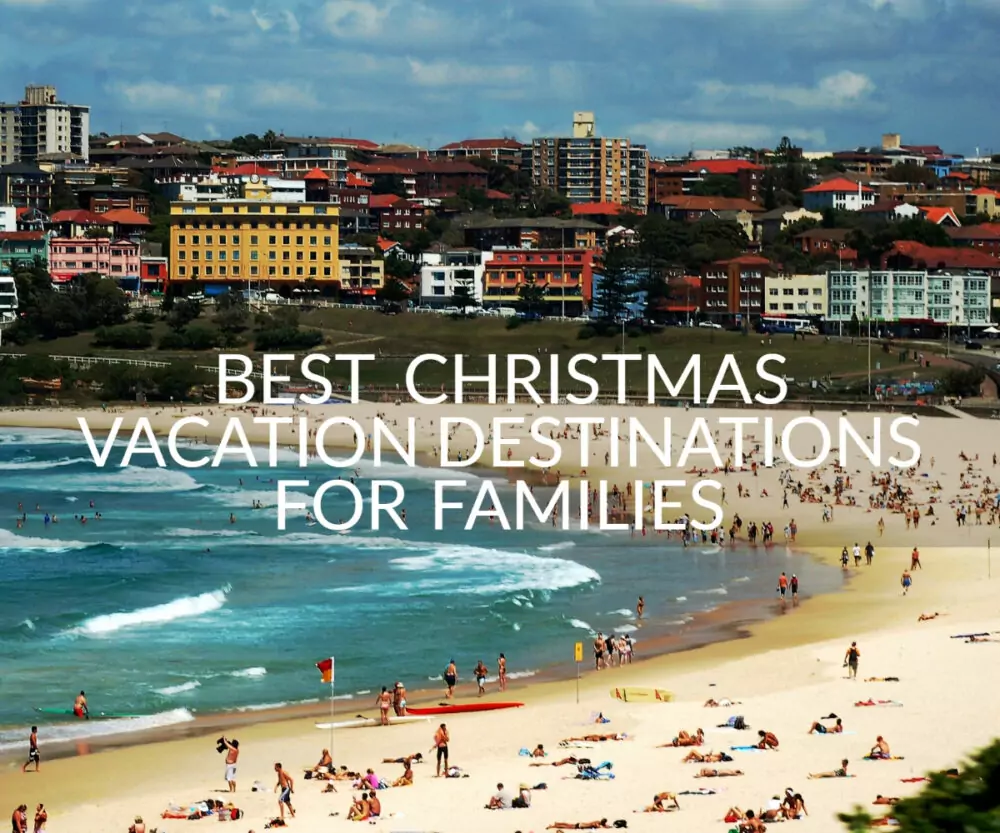 How about going to Bondi Beach on Christmas Day? If that sounds good to you, you'll want to be in Sydney Australia for your family's Christmas vacation! If you can stay through to New Year for the city's iconic firework show, even better.
In Sydney, choose The Novotel Sydney Darling Harbour for one of the best family-friendly locations in the city.
The Great Barrier Reef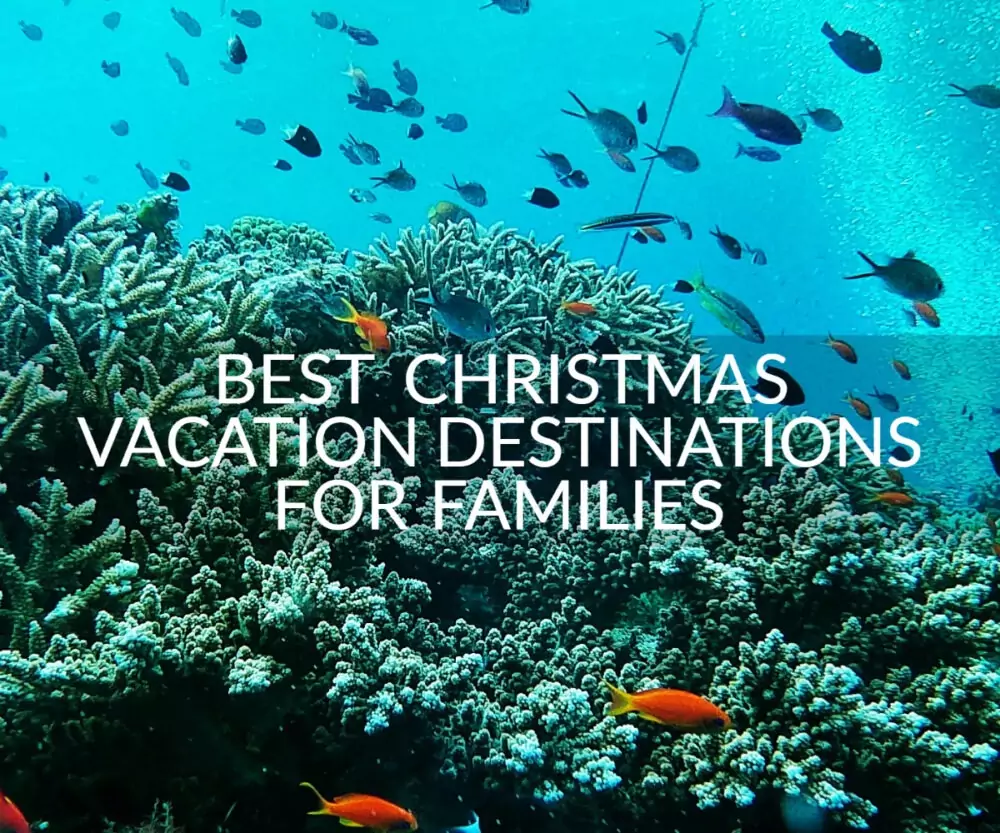 Don't underestimate the size of the Great Barrier Reef, it is over 3000 Km long. Can you snorkel on The Great Barrier Reef at Christmas? Yes, and conditions can be great, but it is our "stinger season" in Queensland and you need to wear a protective suit. This is no big deal usually. There is a chance of storms passing through around Christmas, so if you don't have a few days to allow any bad weather to pass, this may not be the best time for you to visit. That said, Christmas (school holidays through to Australia Day) is a popular time to visit Queensland and the reef. Port Douglas is our number one best place for holidays with family. Maybe we're biased because Port Douglas is on our doorstep and we are on the reef often. Check out Port Douglas and things to do in Port Douglas, here.
If you're visiting the reef with young children or maybe older relatives or grandparents, a pontoon-based day on the reef could be your best option. These normally have ways to see the reef without going in the water. Check this reef cruise out here In Port Douglas at Christmas temperatures should be around 30C, January is normally the hottest time and the wet season will be doing its worst by then. The water should be very comfortable, in the high 20s C.
In Port Douglas stay at The Sheraton Grand Mirage Resort, it's pretty much on the beach and near the main street with great dining options nearby. Their pool is incredible.
Best Christmas Vacations For Families in Asia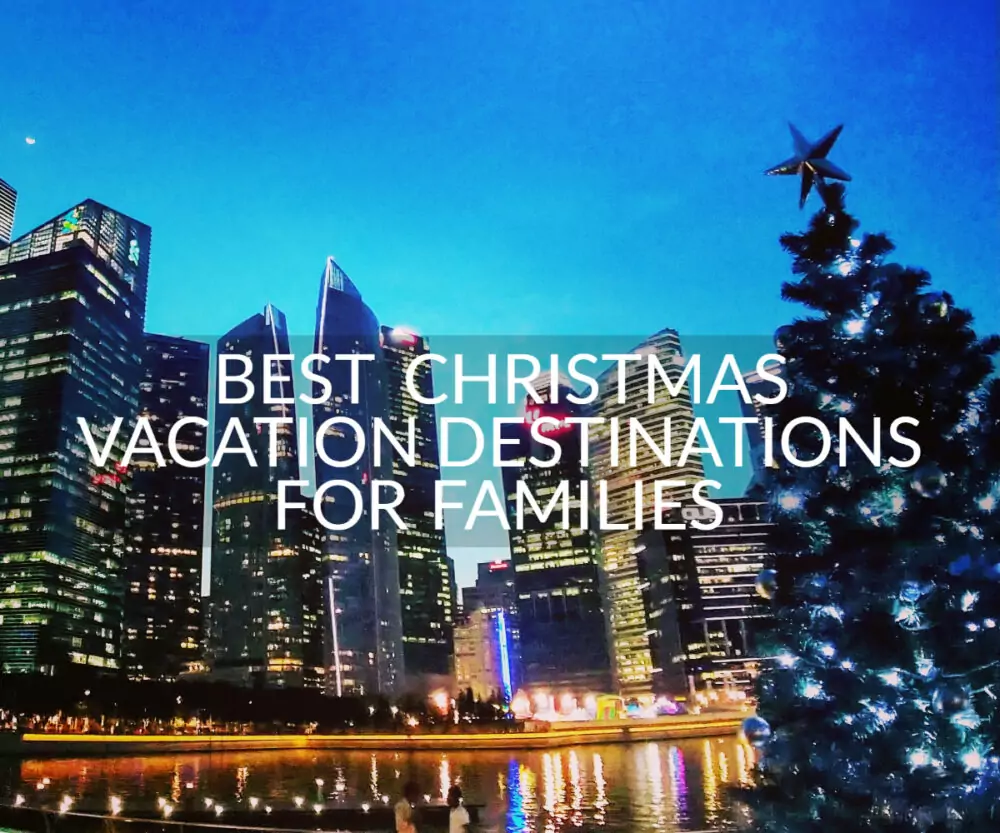 Singapore
Singapore is a fun Christmas destination where, if you choose, you can visit Universal Studios on Sentosa Island (Singapore's Entertainment and Resort hub) on Christmas day. Singapore does, absolutely, celebrate Christmas and you'll see lights and decorations in abundance. There was also a spectacular light show at Marina Bay the year we spent Christmas in Singapore, plus a Huge Christmas event encompassing the super trees directly infront of the Marina Bay Sands hotel, plus one of the Super Domes was taken over with Christmas theme. We visited Santa's grotto in Singapore too.
Obviously, Singapore will be hot at Christmas, this is a tropical/equatorial climate that never gets cool, expect temperatures between 24C and 30C plus some rain. That said, December is a very popular time to visit Singapore. Your family can enjoy fabulous resort hotels, beaches, plus numerous tourist attractions. See our full post on Singapore at Christmas here.
The place to stay in Singapore for your Christmas Vacation with your family has to be the Marina Bay Sands Hotel, make this vacation one to remember and splurge on this incredible place to stay.
Dubai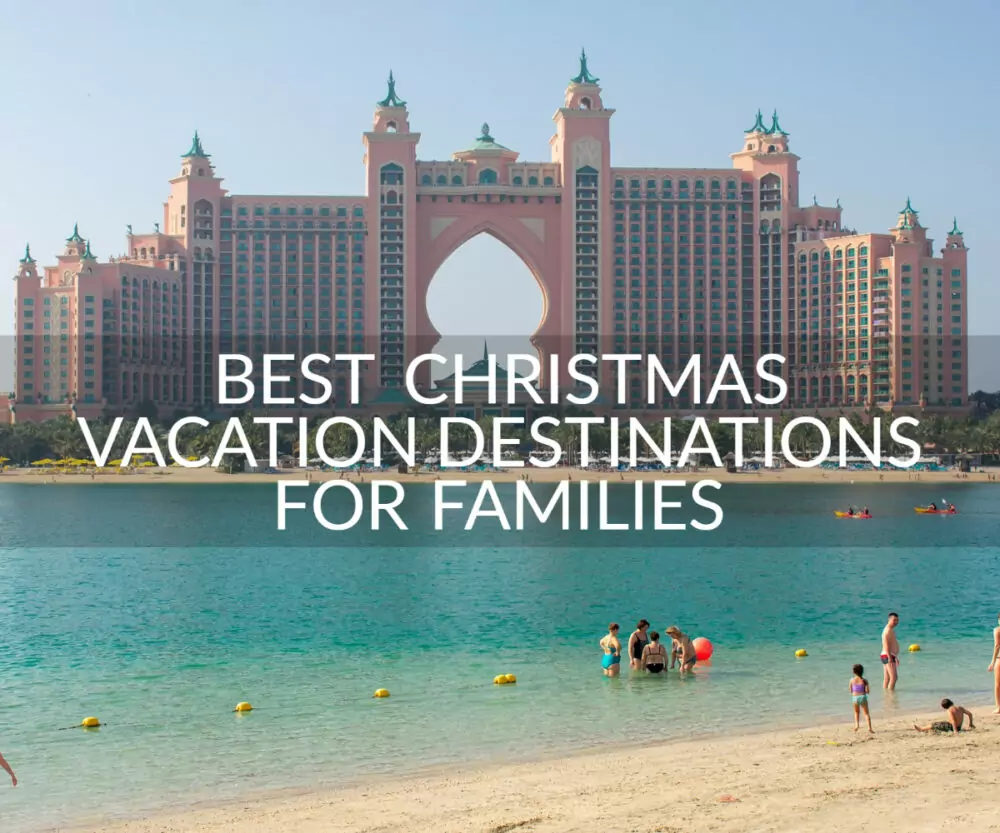 In December in Dubai temperatures are pretty moderate, and December and Christmas into New Year are very popular times to visit Dubai on vacation. Enjoy activities such as dune bashing, camel safaris, cultural tours and explore the souks along The Dubai Creek. Don't miss the dancing fountains outside the fabulous Dubai Mall and Burj Khalifa.
In Dubai, stay at Atlantis The Palm, you'll be on the beach plus have a huge water park and aquarium for your family to enjoy over Christmas.
Thailand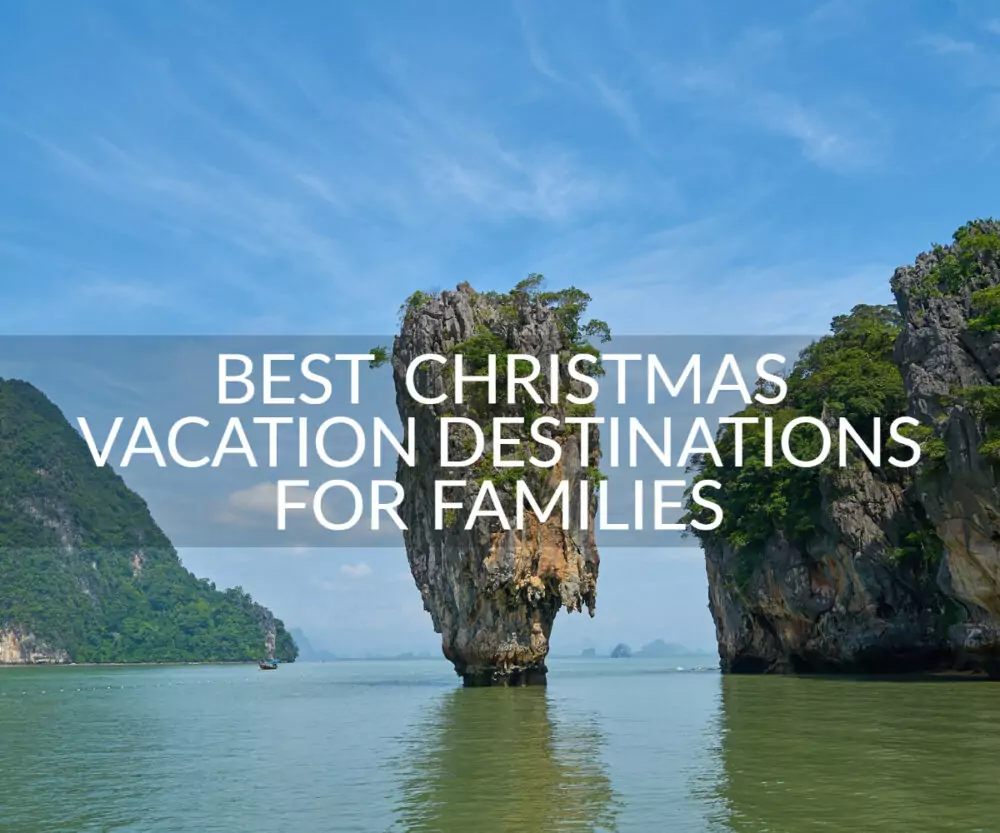 Thailand is an easy and affordable family travel destination that is also popular with the one or two week vacation crowd. There is no shortage of very nice resort hotels, plus affordable family options. You could explore Thailand over the course of a two-week vacation, or check into a resort on the beach and just relax. Our post on Thailand with kids will give you more information on travelling around Thailand as a family. Phuket is the favourite beach vacation destination for many families.
Expect temperatures between 24C and 34C in Phuket over Christmas. December is after the wet season and rainy days will be becoming less and less.
Choose the Surin Beach Residence, Surin Beach Phuket, for an affordable family apartment-style hotel.
Kuala Lumpur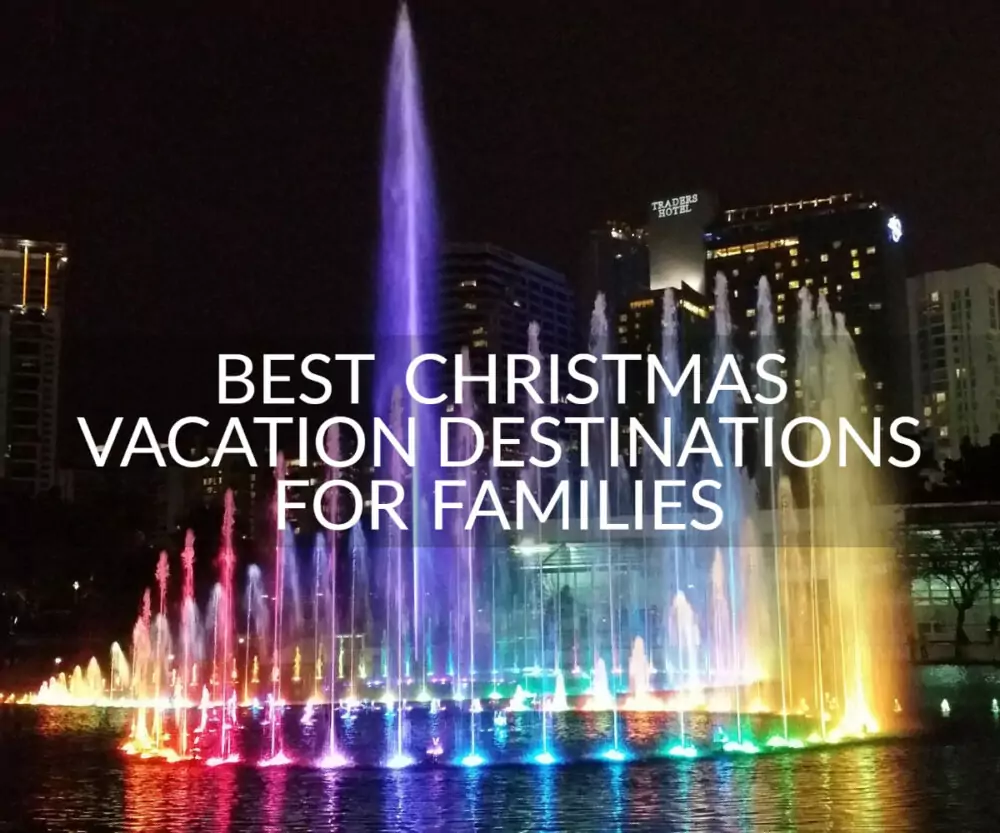 Kuala Lumpur is a surprise Asian city destination at Christmas, but one we have enjoyed over the festive season. You should find abundant festive decorations in KL at Christmas and of course, you could combine visiting this incredible city with a trip to the beaches of Langkawi, Legoland Malaysia, or lovely historic Malacca. You could even hop over to Malaysian Borneo and visit Sarawak for incredible wildlife. Malaysia is a fascinating destination with much to offer the curious visitor, take a look at our Malaysia family travel page for more information. Also check out our family guide to things to do in KL as a family, The Petronas Towers, KL aquarium, Bird and Butterfly Parks and Museums are all great to see. There is also a huge water park very near KL city, perfect to cool down over Christmas.
We have a full post on where to stay in Kuala Lumpur, so take your pick!
More Family Christmas Vacation Ideas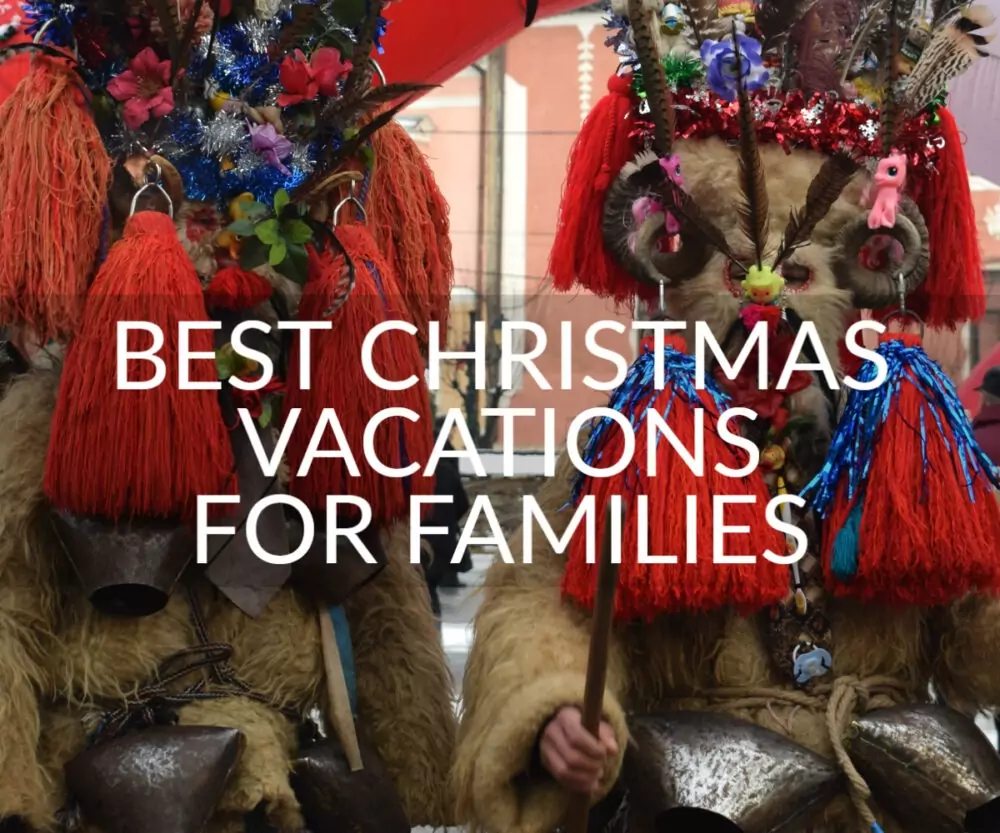 I always mention Romania because we have so many good memories of spending Christmas in Romania, but there are so many more good options for a family vacation over the Christmas period. How about Bethlehem, Florida, Dublin Ireland, Goa India, Sri Lanka, California or Bruges, Belgium? Your choices are endless, enjoy your Christmas vacation with your family! All of our posts about Christmas around the world are here. Or head to our post about using Skyscanner like a pro to find your next flight! Our Travel Essentials guide will help you pack!
If you'd like to hire a car during your stay, use this car rental comparison tool to find the best deal!

We also suggest you take a look at this company to get a quote for all kinds of the more tricky adventure or extended travel insurance.

Try Stayz / VRBO for an alternative way to find rentals on homes/apartments/condos in any country!