This post may contain affiliate links.
My boys adore the Asterix and Obelix books as did their dad before them. They played a big part in their learning to love books as they pulled every volume of the series from library shelves and read them over and over again.
These gorgeous cartoons also introduced historical concepts into small heads.
Think about it, they were discovering the concept of Roman soldiers and battles across Europe, sewing the seeds of Cleopatra and Vikings. It's a good starting place for kids to develop an interest.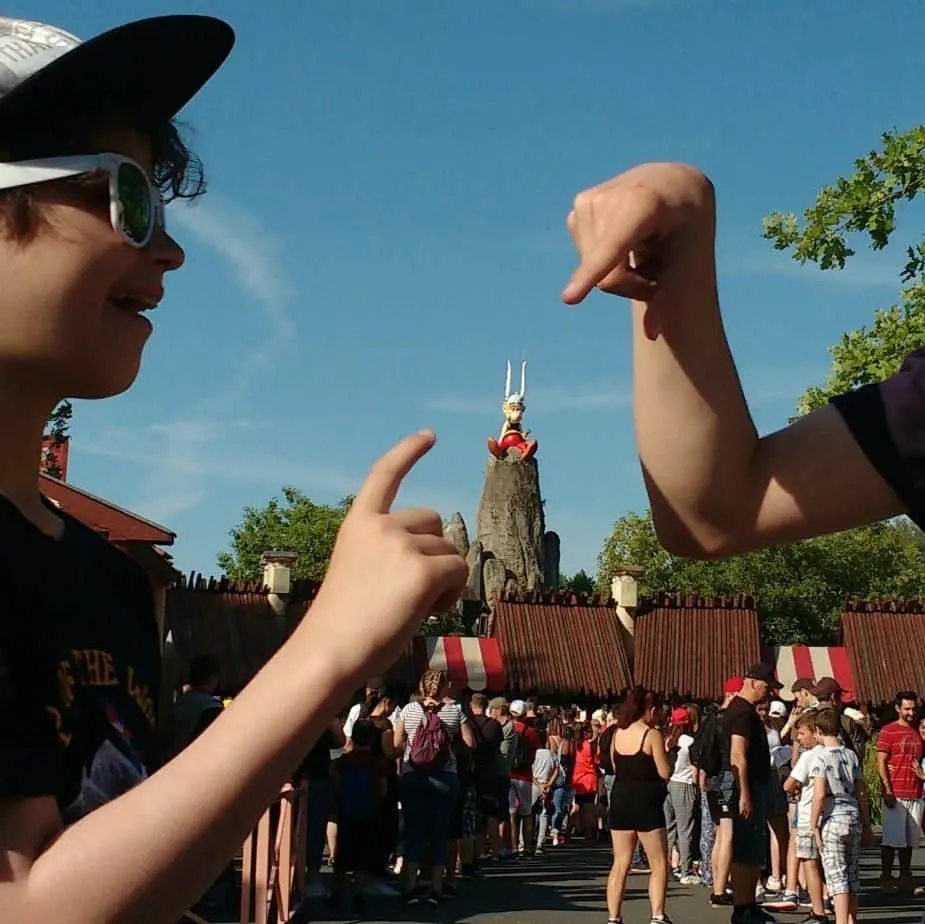 Now my teen and tween still read them, a couple of well-thumbed copies inhabit our globetrotting backpacks, so imagine the excitement when we discovered that an Asterix Theme Park existed just north of Paris.
Apparently, it's been around a long time, but we'd never heard of it and I know we're not unusual in that.
Parc Asterix faces stiff competition from the Paris Disney park but we decided to try something different, with bigger rides and unique theming.
We've done Disney in Florida and in California multiple times, it was time to try something new.
A few words and pictures about the theme park and a video towards the end of the post and yes, they have a real, live Dogmatix!
Parc Asterix Review
Although the Asterix theme park has been around a long time it looked brand new, from the theming to the up-to-the-minute rides, you'd swear you were visiting a new park.
We were suitably impressed by quality and appearances in all areas of the park.
There are areas themed for Ancient Rome, Greece, Egypt and the Norse Lands, each with a superb variety of rides and themed food options.
The only thing that put a dampener on our day was the heat, there were few places to escape and no air con that we found. We visited on a very hot day and it sapped our energy.
The wait times were reasonable, but in the heat we all struggled a little. The park is huge, we walked over 10 Km (we had our fitbit) between 10am and 5pm and I'm sure we didn't see everything, I know we didn't try every ride.
Before you visit Park Asterix check out the park map, make a plan of attack and keep an eye on the weather forecast.
The Parc Asterix map is here
Also, consider taking your own water bottles in a small daypack, food options were good but we didn't find any free water bubblers, bottled water is expensive and not kind to the environment.
Our Honest Asterix Theme Park Review, Video
Rollercoasters look much better in video than in photos, so we took some video for a change. Look out for the real, live Dogmatix at the end.
You need to hit "play."
The Big Rides at Parc Asterix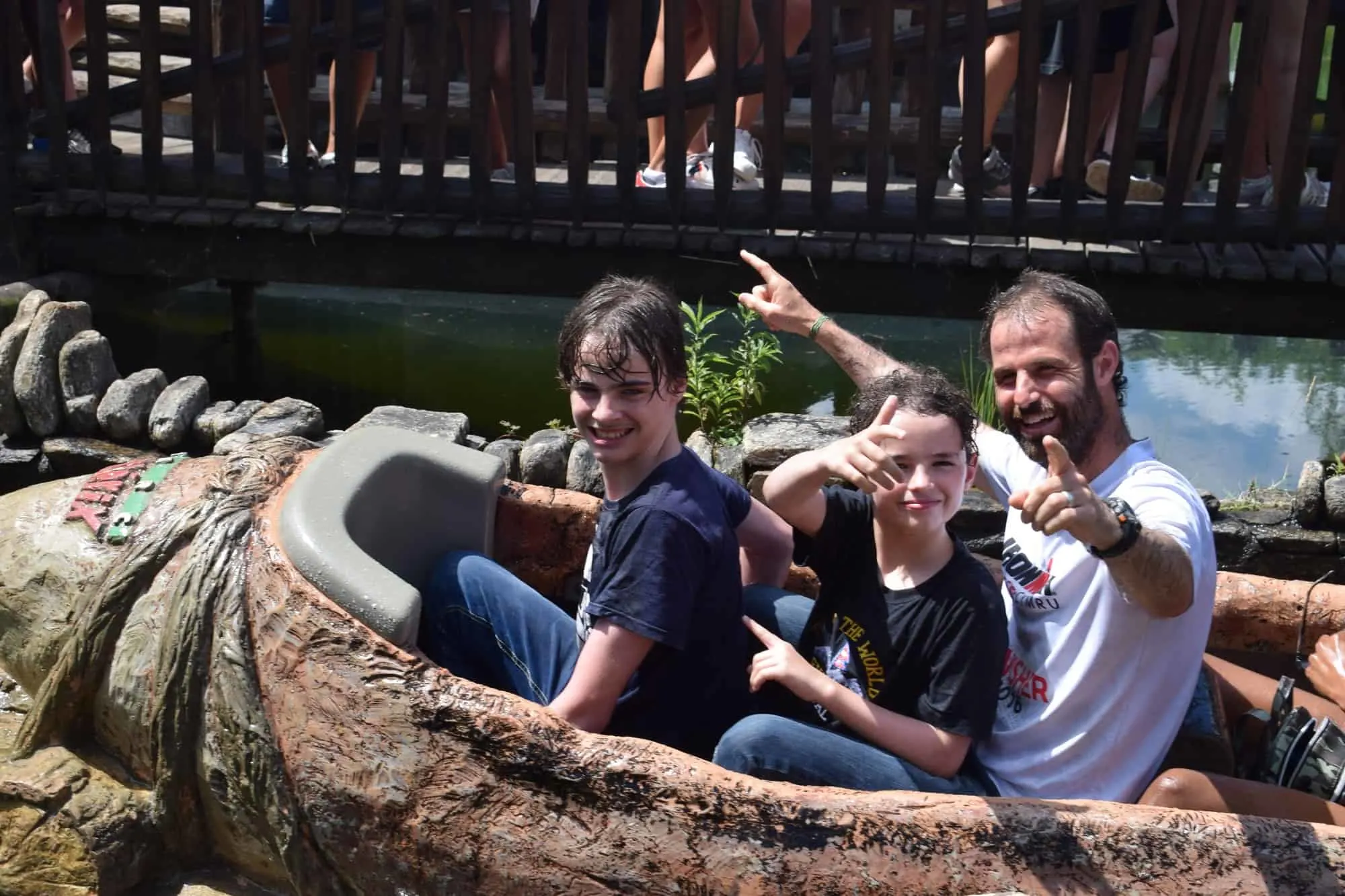 There are several huge roller coasters, you can loop the loop, spin upside down and dangle from the skies to your heart's content.
You certainly won't find anything like this at most Disney parks.
My boys, at 10 and 13 years old, were tall enough for every ride and found the coasters suitably terrifying.
Another big ride, Obelix's Disc ( you can see it in the video below) was not only ultra cool to look at, it scared us off completely, nobody wanted to be that scared. But never mind, there were heaps of other rides to try.
You'll also find a decent selection of medium-scary rollercoasters. These suit me just fine and I had several rides in the Greek and Egyptian themed areas. You could compare them to the biggest rollercoasters at Legoland Parks, for instance.
There were at least 3 huge water rides, a traditional log flume with a big drop (Menhir Express), the more sedate water ride featured in the video below (Le Grand Splatch) and a round, river rapids type, conveyance ( Romus et Rapidus).
All were good, all gave varying degrees of soaking which was welcome on a hot day.
We also noticed, but didn't try, a water play area for those who have brought swimwear.
Parc Asterix For Small Children and Toddlers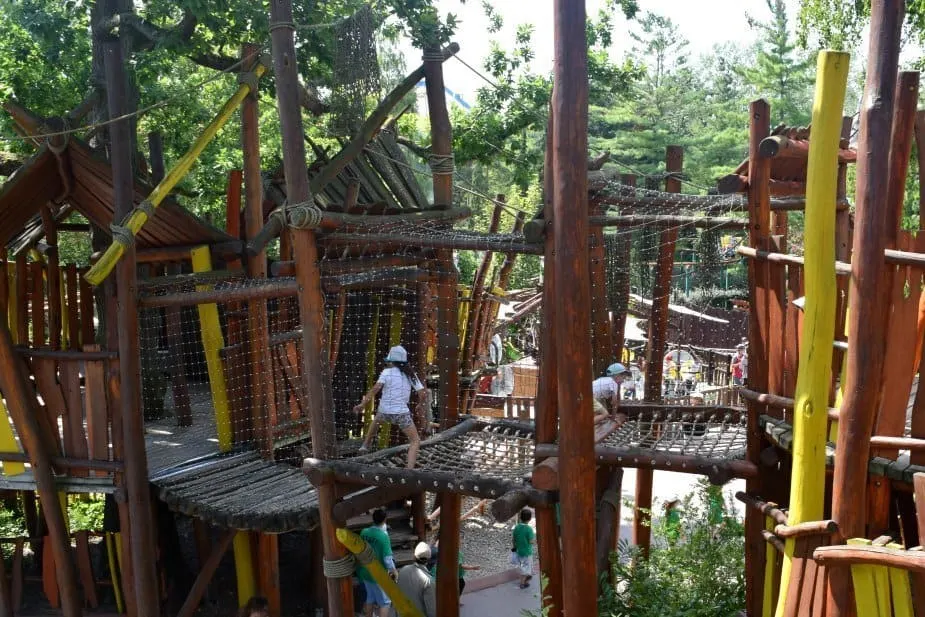 There is a huge area dedicated to small children with an adventure playground and multiple junior rides including mini-rollercoasters.
Also you'll find Asterix's Village to explore (Check out Unhygienix's fish shop in the video), a mellow boat ride and a high, but leisurely, monorail ride that covers a lot of the park.
Of course there is a carousel, every park should have one of those.
Small children should enjoy the Romans v Gauls battle in the covered arena, this is where you get to meet Dogmatix and watch a crazy circus style battle and dance off.
It was all in French and there was no air-con, be prepared for that.
There was a dolphin and seal show at the park too, we didn't visit.
How Were the Wait Times? Do You Need Rapid Pass?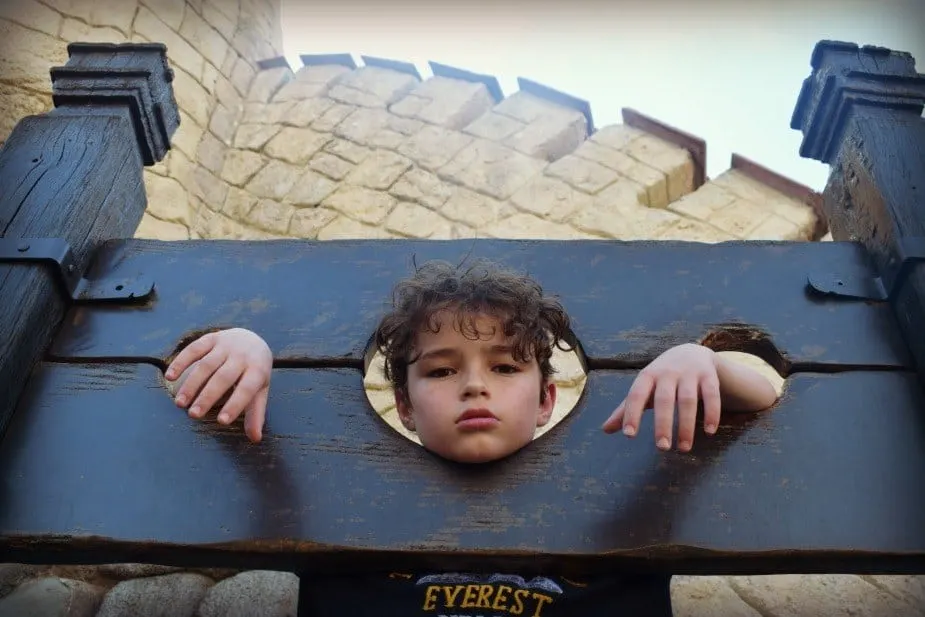 Wait times were reasonable, we never saw a ride with more than a 45 minute queue and there were always alternatives with shorter wait times.
For comparison, we're seen wait times of almost 2 hours at Disney.
Electronic message boards round the park display wait times to help you plan.
Arriving early in the day there was zero queue on the ride we targeted, the big Goudurix roller coaster in the Viking area.
You'll see it in the video, the boys rode 3 times back to back with zero wait. From there on in, queues gradually developed.
Rapid Pass works a little differently to Disney's Fast Pass, guests need to buy a Rapid Pass ticket, it's not cheap.
For us it wouldn't be worth the extra $100 or so but for big rollercoaster fanatics it would be a sound investment.
Where is Parc Asterix and Where to Stay?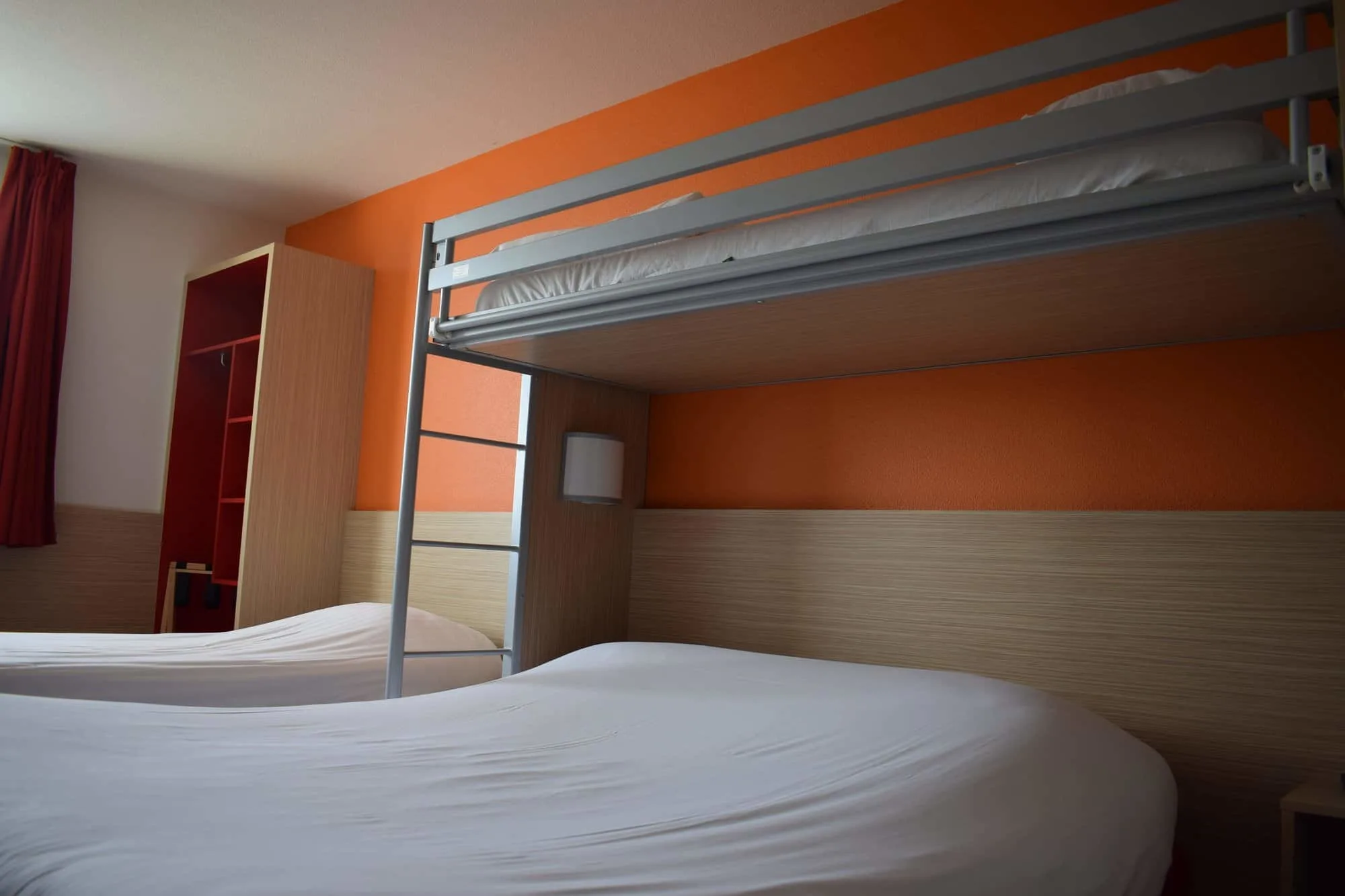 The Asterix theme park is to the north of Paris, not far from Charles De Gaulle airport.
We normally get to France by ferry from the UK, it costs us around $70 to take the car over then it's easy enough to drive to Paris, this time we broke the journey on the Somme Battlefields, but it's not too far to drive in one day.
Taking our own vehicle gives us flexibility and allows us to bring back plenty of cheese and wine.
Parc Asterix has its own woodland accommodation adjacent to the theme park. We chose to stay at its partner hotel a couple of Km away.
This hotel was great value and had parking and excellent wi-fi along with super friendly, helpful reception staff.
There were a number of food outlets very close to the hotel and a garden full of free-range white bunnies along with pet goats and pigs for the kids.
We can recommend this hotel, but if you want to spend a little more, go ahead, stay in the park, we'd love to try it one day.
Check prices and availability for Premiere Class Saint Witz here.
We used a couple of Premiere Classe Hotels in France (also in the Somme region, see here), they are a hotel chain are a solid, low-cost family option for touring France.
For more up-market family stays, take a look at the top kid-friendly hotels in Paris.
Parc Asterix Theme Park Video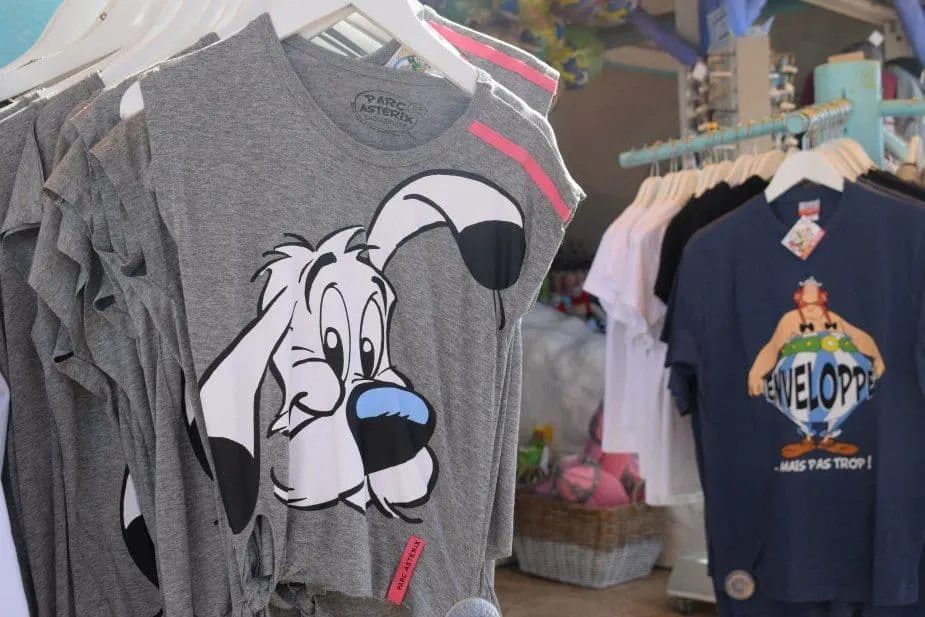 Parc Asterix Contact Details and Website
Click on the image above to check prices on Asterix books for your kids.
Find the Parc Asterix Website Here
Phone Number Tickets +33 (0) 826 46 66 26
Phone Number Stays +33 (0) 826 46 66 20
Parc Asterix Address: 60128 Plailly, France
Follow them on Facebook, on Instagram, on Twitter.
For you, for Pinterest..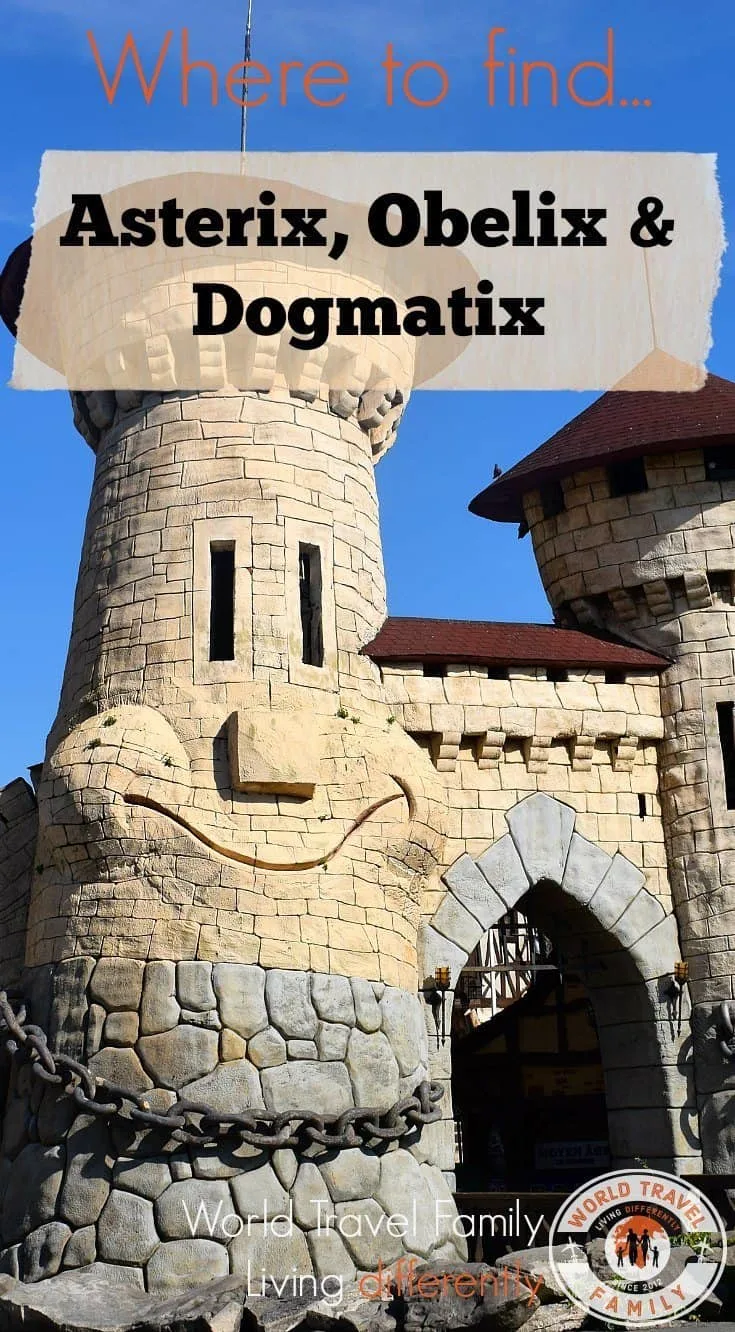 So if you're travelling to France, maybe spending a few days in Paris or even if you're just looking for a fun day trip, check this Asterix theme park out. We had a ball and it was great to discover a new and unusual theme park in Europe.
If you'd like to hire a car during your stay, use this car rental comparison tool to find the best deal!

We also suggest you take a look at this company to get a quote for all kinds of the more tricky adventure or extended travel insurance.

Try Stayz / VRBO for an alternative way to find rentals on homes/apartments/condos in any country!