We set ourselves a challenge while we were in Orlando, Florida. Visiting four Disney parks in one day. Not only that, we wanted to ride all of the biggest and best rides. Do you think it's possible?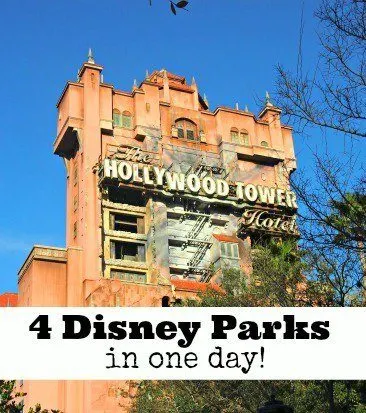 If you're wondering if the queues will make visiting 4 parks in one day impossible, don't. See my post on beating the queues at Disney.
Here's how we got on.
The Four Disney Parks
The Four Disney Parks are below, in the order in which we visited. These are the DisneyWorld parks in Orlando Florida, not to be confused with Disneyland, in California. We don't recommend seeing these parks this way if you're a first-timer, not a fast walker, or if you have the time and money to spend a day in each.
If you can only visit one of the Disney World parks, you'll have to pick the one that suits you best. The Magic Kingdom is hard to beat! We had visited all of these parks before so we didn't feel we were missing anything by speeding through the parks.
If you're visiting Florida, there are other Disney attractions nearby. What used to be called Downtown Disney is a real favourite of ours, and there is also at least one water park. You can stay in Disney's own hotels, or in a regular hotel nearby. Villa rentals are also a popular choice in this area.
Park 1. Disney's Animal Kingdom.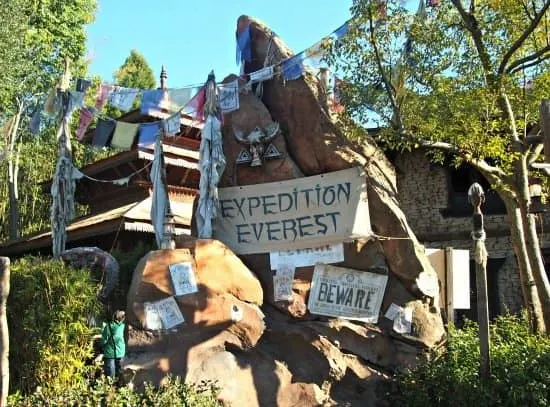 Park one of our four Disney parks in one day mammoth themeparkathon was Disney's Animal Kingdom.
On the day we visited it opened at 8am so we were there bright and early and raring to go.
Disney's Animal Kingdom is my favourite Disney park in Orlando and that's almost entirely because of the theming. I adore the "Asia" area, you could almost be in Nepal or South East Asia, particularly around Expedition Everest, the biggest roller-coaster at this park. Find our posts on taking the kids to the real Everest here. Alternatively, see our full guide to Disney Animal Kingdom with kids.
I'd never ridden Expedition Everest before, the first time I was there I was pregnant and the second Boo (now 7) was too short. But I was game!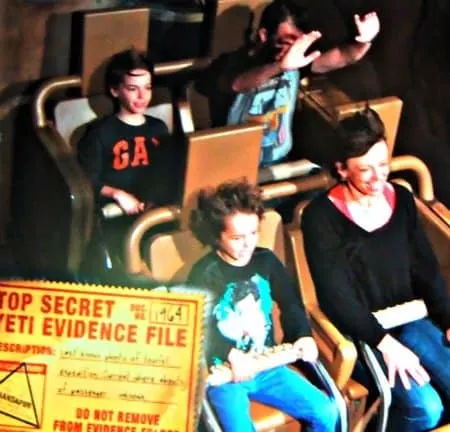 We were first on the ride and it was awesome, quite possibly the best roller-coaster I've ever been on. It's full of surprises. At one point you encounter broken tracks, torn apart by the huge yeti who stalks you on the ride. There is no way forward, you have to go backwards.
We all adored this ride, the boys screaming out "This is Awesome" at the tops of their lungs. We rode it 5 times back to back with zero wait time.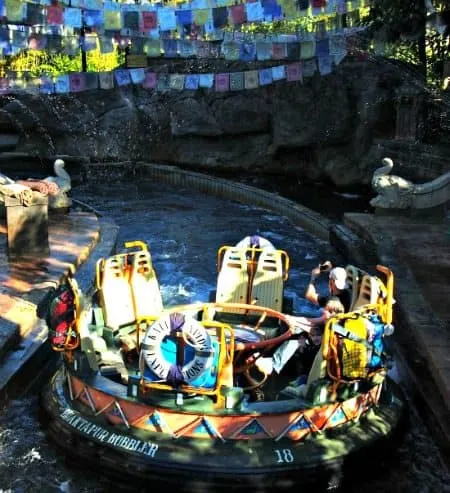 Next was the Kali River Rapids ride next door. It's a great ride and you get absolutely soaked. I quit after 1 go, the three boys rode it twice more until they were soaked to the skin. I'd persuaded two of them to take their shirts off beforehand. Good thinking Mum!
The Dinosaur ride at Animal Kingdom is another big, slightly scary ride, we had a couple of goes on that one before trying out some of the smaller rides. We always do the big rides first as they are the ones that develop the longest wait times.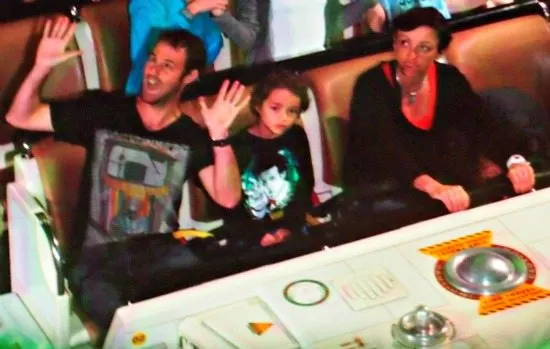 Just by the by, we snapped these on-ride photos from the screens at the end of the rides, nobody minded.
By noon we'd done all we needed to do, so we headed back to the car at a brisk pace and drove the short distance to Hollywood Studios. Our brief visit to Animal Kingdom with kids had been a lot of fun.
Park 2. Disney's Hollywood Studios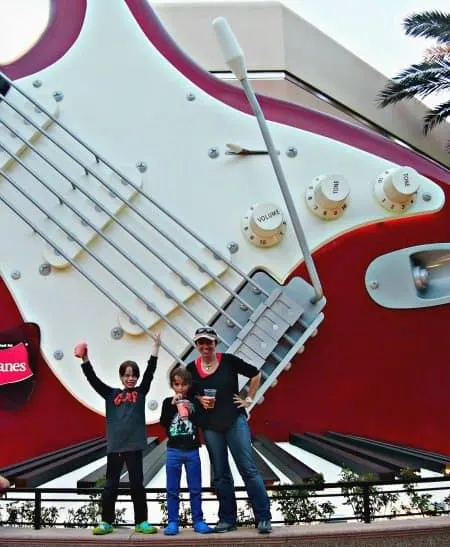 Wait times were starting to build up by now but we managed to get on the Star Wars ride within 10 minutes. We used fast pass for the Hollywood ride and then made our way over to the Tower of Terror.
This was another first for me and it looked terrifying A group of people locked into a lift cage in an old ruined hotel, they ascend and at the top the lift malfunctions and plummets downwards. Not just once, but several times. It was pretty horrific the first time.
I had my eyes shut as the on-ride photo proved, but by the third time, I was cool with it. It's a great ride. It's the one pictured up-top, the lift cage is visible through the doors as it bounces up and down.
Next door is the Rock n' Rollercoaster. Here is where we really hit the queues, there were no fast passes left for the day so we stood in line for almost an hour. It wasn't so bad, we got friendly with our fellow passengers which made the wait more fun.
As with all Disney rides, you can't really see what awaits you from the outside. My husband (a Rock n' Rollercoaster veteran) didn't tell me I would experience more Gs than a space shuttle astronaut as we accelerated into a loop the loop followed by a few corkscrews, until we were boarding.
I figured that it was too late to back out so off I went. It was brilliant! Music thumps into your ears as you scream your way through the darkness.
Time to leave, back in the car and on to Epcot.
Park 3. Epcot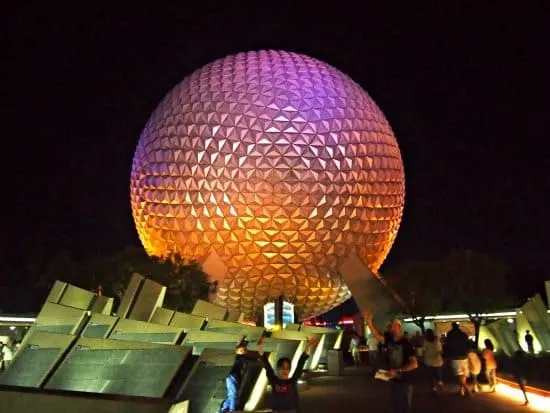 We had no interest in most of Epcot this time, we only visited the rides close to the gate. We always have a ride on Spaceship Earth, it climbs up through the giant ball pictured, it's educational, so I love it. We took on the Test Track and Mission: Space before Epcot closed at 9pm.
We ran out of time, we didn't get to try Soaring, it's another big ride and I've heard it's great.
Park 4. Disney's Magic Kingdom.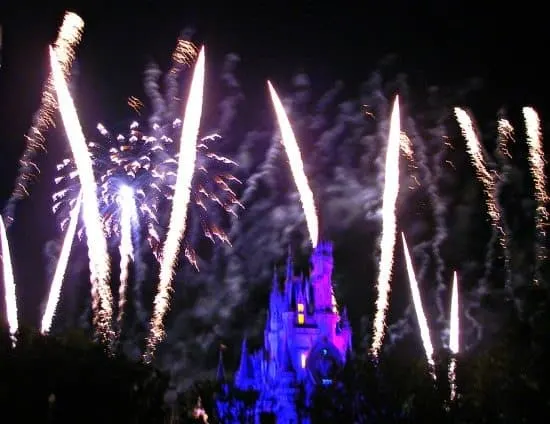 9pm was not too late to get to the Magic Kingdom. Wait times will be down and you can see the fireworks if you choose.
We were all pretty tired by now so we just had one more go on our favourite Magic Kingdom roller-coaster Space Mountain and a wander around to soak up the lights and the atmosphere.
It's worth knowing that there are 2 versions of Space Mountain within the dome, one for Fast Pass, the other for regular customers. The fast pass version isn't as good as the regular version. Be sure to try both.
So yes, it's entirely possible to visit four Disney parks in one day, even with kids in tow. All you need is a hopper ticket and a lot of enthusiasm. My boys have the latter in spades.
This was honestly one of the best days of our whole 9 months of non-stop travelling to date and certainly of our USA road trip. We ended up spending over a week in Orlando and also took a look at a farm animal attraction for kids and the town of Celebration before heading to The Everglades. It's wonderful to all be having fun together, making memories as a family. Disney is always a day your kids will remember. Hop on over to our Disney travel gift guide!
If you'd like to hire a car during your stay, use this car rental comparison tool to find the best deal!

We also suggest you take a look at this company to get a quote for all kinds of travel insurance.

Try Stayz / VRBO for an alternative way to find rentals on homes/apartments/condos in any country!