Since I was a kid watching wildlife shows on TV, I've wanted to take an airboat ride in the Everglades, yet for some reason, despite visiting Florida before, I'd never done it. We usually head to Florida for the Disney parks, we've been 3 times now and loved every visit, (check out how we visited all 4 parks in 1 day or read our tips on beating the queues) but this time we were further south, down towards Miami waiting to connect with our cruise ship to Barcelona. We had to go.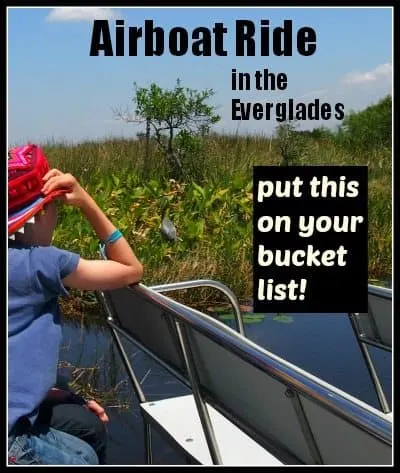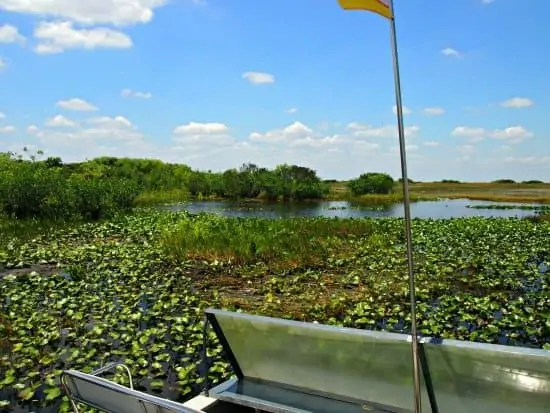 Airboat Ride in the Everglades
I know I tend to rave about most things, but really, I can't stress this strongly enough.
Our airboat ride in the Everglades was one of the best things we have ever done. If you're in Florida, anywhere near the Everglades, do it, hang the expense, it's so totally wow!
What's so Great About Airboats and the Florida Everglades?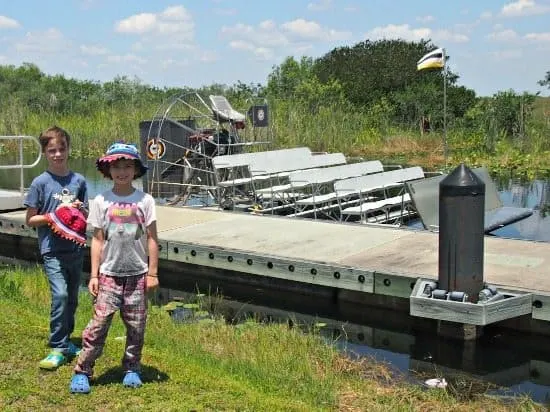 It's a ride so thrilling it had us whooping as our driver did donuts and slid us sideways over the water and vegetation. It's noisy, we were given ear plugs, so nobody could hear us shouting and laughing with joy. We had the added bonus of being the only customers on this particular boat, just us and our Miccosukee Native American driver, we didn't see another person for our whole ride. The sense of remoteness and isolation in the middle of this sea of grass in incredible.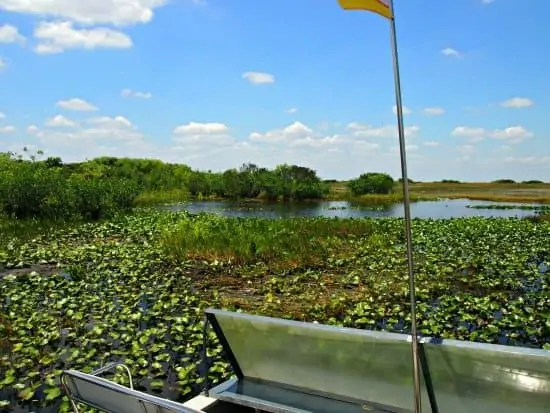 In parts we were skimming over shallow clear water, in others we were ploughing over and through grasses and other vegetation at high speed.
The wildlife was incredible, alligators fled as they heard us coming, birds took flight, dragonflies scattered and turtles ducked and covered.
Our particular tour took us to a remote wooden walkway or Mikkosukee Indian camp ( as it's described) to get a closer look at the critters.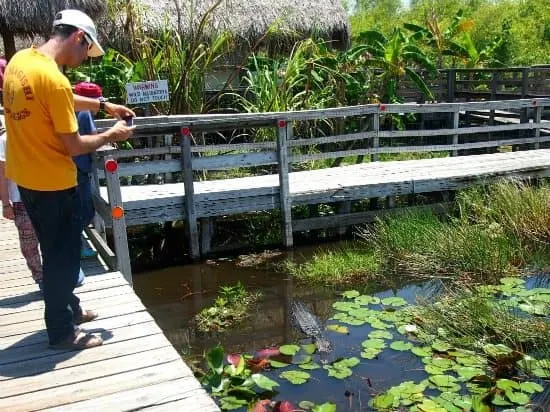 Finding an Airboat Ride in the Everglades
It's not hard at all to find an airboat ride in the Everglades, there are dozens of operators along the Tamiami Highway ( the 90) that comes off the Florida Turnpike (821) just south of Miami. Some offer big boats, some small, some have zoos, restaurants and Native American attractions. We picked the cheapest we saw, with the shortest wait time. We paid $65US for the 4 of us. The tour was described as 40 mins but our driver took us out for way longer and it was greatly appreciated. We weren't given discounts or advertising payments, we just thought it was a great deal, so this is the company we used.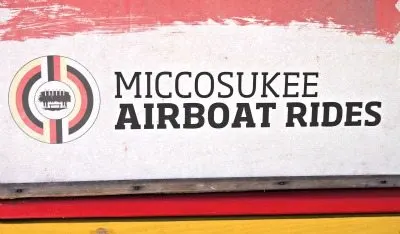 As always, if we find great deal or attraction we're happy to share, what goes around comes around.
But really, do yourself a favour, take an airboat ride on the Everglades. Florida is amazing, certainly my personal favourite part of the USA after driving from Canada to the Keys, an airboat ride will make your trip even more amazing-er! Want to see our other US content? It's on our USA travel blog page. Or you can take a look at what to do in Orlando Fl.
If you'd like to hire a car during your stay, use this car rental comparison tool to find the best deal!

We also suggest you take a look at this company to get a quote for all kinds of travel insurance.

Try Stayz / VRBO for an alternative way to find rentals on homes/apartments/condos in any country!