We came at New York pretty much blind, I'd done almost no research on what to do nor where to go. All we had organised was a 4-night stay in a Holiday Inn not far from Times Square. Times Square sounds like a good place to stay, right? Check current prices on our bargain Times Square hotel here, there was plenty of room for our family and the location was good. It was about the cheapest place we could find and it was the most expensive place we'd ever stayed. New York is not cheap! We hit New York in Arctic winter conditions, snow was on the ground, and temperatures were set to drop to -11 degrees C. That was pretty exciting for us, my kids had never seen snow and ice and they mostly loved the new experience.
This trip was for my husband. Chef loved exploring the city, it was a dream come true for him.
He was out wandering and exploring while we stayed indoors in the warm.
What we did manage to see we loved, New York is a great city, and it is possible to make it budget-friendly.
Seeing the Statue of Liberty as we arrived on our cruise ship (it was Norwegian Getaway, an Atlantic Crossing to New York) was amazing. My fingers were frozen as I tried to take photos and my camera wasn't cooperating.
This is the best photo I could get.
Even more amazing was where Getaway was parked (berthed?) almost in Central Park.
Our hotel was just a few blocks away. Right next door to Getaway's berth, concord, and a submarine were sitting among the ice and snow. Manhattan is probably the best place to stay in New York City if you need a central location, we were pleased with our choice.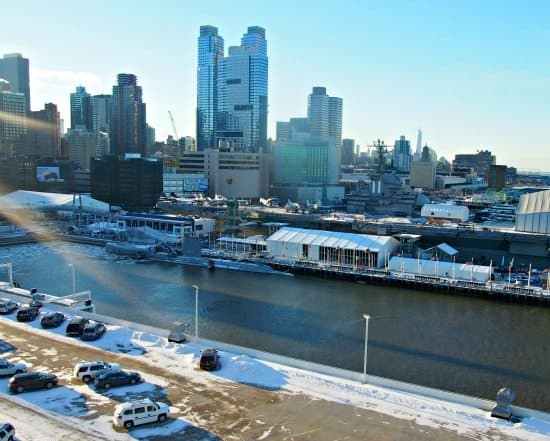 The kids wanted to see The Empire State building, they'd seen it in an episode of Doctor Who and we all wanted to check out Central Park and the museum featured in Night at the Museum.
We weren't sure which museum that was, but we were pretty sure we could work it out.
I'm absolutely no expert on New York, so I'm not going to write any sort of authoritative post, but here are some of our experiences and things we worked out as budget travellers in the Big Apple.
This post may contain affiliate links from which we may earn commission.
New York on a Budget
Budget-friendly things to do, ways to eat, and how to save are listed below. We were on an ultra-tight budget, but we made New York work for us.
New York City Pass
Were we to visit New York again and wanted to save some cash while seeing as much as possible, we'd certainly invest in a New York City Pass.
Unfortunately, when we visited New York, we didn't know they existed. You can buy your New York City Pass here. This should make a trip to New York more budget-friendly.
Taxi Cab or Subway?
Taxi cabs work out cheaper than taking the subway (tube train) in New York,for a family of 4 on shorter trips. Cabs are really good value, we thought, compared to London.
Budget New York Eats
Pizza at $1 for a really huge slice fills us up on the cheap. It's pretty good pizza and available everywhere.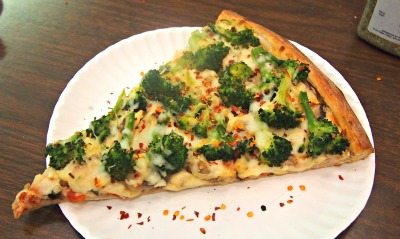 Night at The Museum
The American Natural History Museum is where you need to go to see a lot of things from the movie "Night at The Museum".
From the Hudson to Times Square
Ships dock almost IN Central New York, just a few blocks from Central Park on the Hudson River, a cab to our hotel just off times square was under $10.
Included Breakfast Save You Money
Breakfast in cheap hotels (ours, at least) is odd and served on disposable polystyrene plates and bowls.
I'd never seen that before.
But there is plenty of it, a few bananas followed us up to our room and made great snacks. Free tea and coffee all day in the hotel lobby was good news for me and others on a budget.
Take-away cups and lids made it portable. A hot cup of coffee is a good hand warmer in New York in January.
We paid around $140/night for a 4 bed room, including breakfast and wifi, we couldn't find anything cheaper for a hotel with the features we needed. See the hotel we used here.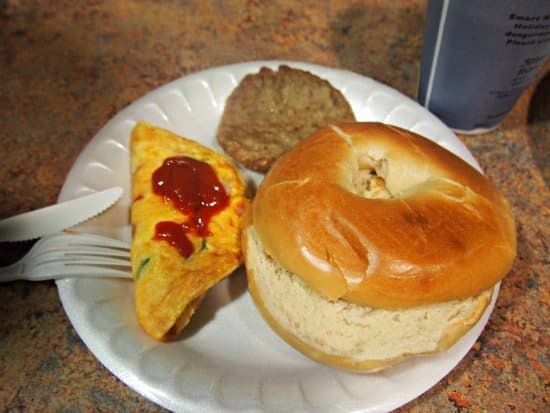 Hailing a Cab
You can't call a cab, you have to hail a cab. It's super easy.
Winter in New York
-10 degrees C isn't too hard to take so long as you aren't in the wind.
Walking around New York was OK in the big freeze in jeans, normal shoes and a good hat and coat. It was interesting to experience the famous Arctic Vortex.
I was starting to go down with a cold picked up on the boat, but I hit it with vitamins and Echinacea and soldiered on, no problem.
Museums Can Be Free
High admission costs in New York museums are somewhat off-putting at first after London's free museums.
A lot of museums have a suggested admission fee only. If you're cheeky, you don't always have to pay.
Toys R Us Times Square
The big Toys R Us store on Times Square isn't like the warehouses we have in the UK and Australia, it's more like London's Hamleys. It's well worth a visit.
Update – I've just been told that this store has since closed.
The M&Ms Store in Times Square
The huge M&Ms store on Times Square is also worth seeing. They were handing out free M&Ms and you can buy a bag of assorted pic 'n mix chocolate goodies.
I've never seen this happen in the London M&Ms store.
Raspberry M&Ms were divine. The Hershey's shop was directly opposite None of us likes Hershey's, we tried and failed.
The American Museum of Natural History
The American Museum of Natural History was fabulous. I'm a life-long fan of London's Natural History Museum. I actually thought the New York version was better.
Their dinosaur collection was fantastic and exhibits are presented in a really visually stimulating way, the kids loved it.
Walking Around NYC
Because of the grid layout of the streets and avenues it was super easy to find our way around.
We walked from Times Square, to Central Park and on to the museum, it wasn't far at all.
We rarely needed to use public transport, good news for those seeing New York on a budget.
Sony Wonder Technology Laboratory
The Sony Wonder Technology Laboratory is a great free and educational attraction for kids. We passed a pleasant couple of hours there. The website says you need to pre-book a time slot, we just turned up and got in straight away. Maybe phone first to check if they're busy.
Intrepid Sea Air and Space Museum
The museum next to our birth was the Intrepid Sea Air and Space Museum. We didn't go but it looked cool!
Staten Island Ferry
Had we wanted to get a 2nd look at the Statue of Liberty we could have taken the free Staten Island ferry. Staten Island has a park and it used to be a huge rubbish dump, but the views of the city skyline and Lady Liberty are great.
Ripley's Oditorium
Ripley's Believe it or Not was better than expected. If you chat to the guy trying to entice you in, he'll drop the price for you. Probably to the price you'd get with a discounted ticket. To save more money we sent Chef for one of his walks while the boys and I got out of the cold in the museum. Buy your Ripley's tickets in advance here, no need to sweet talk the door guy!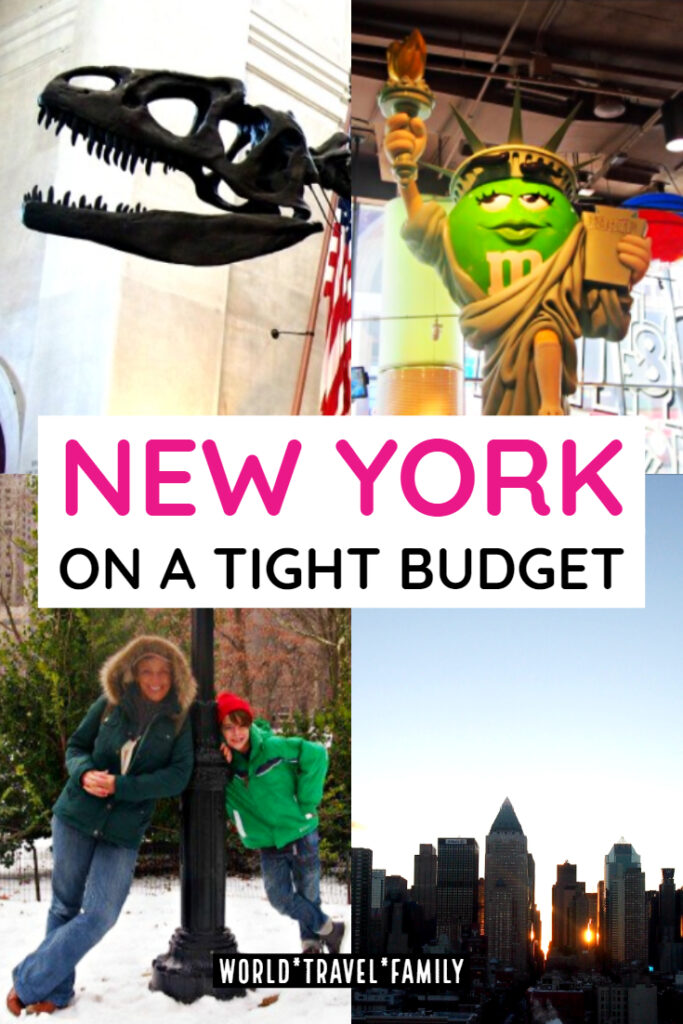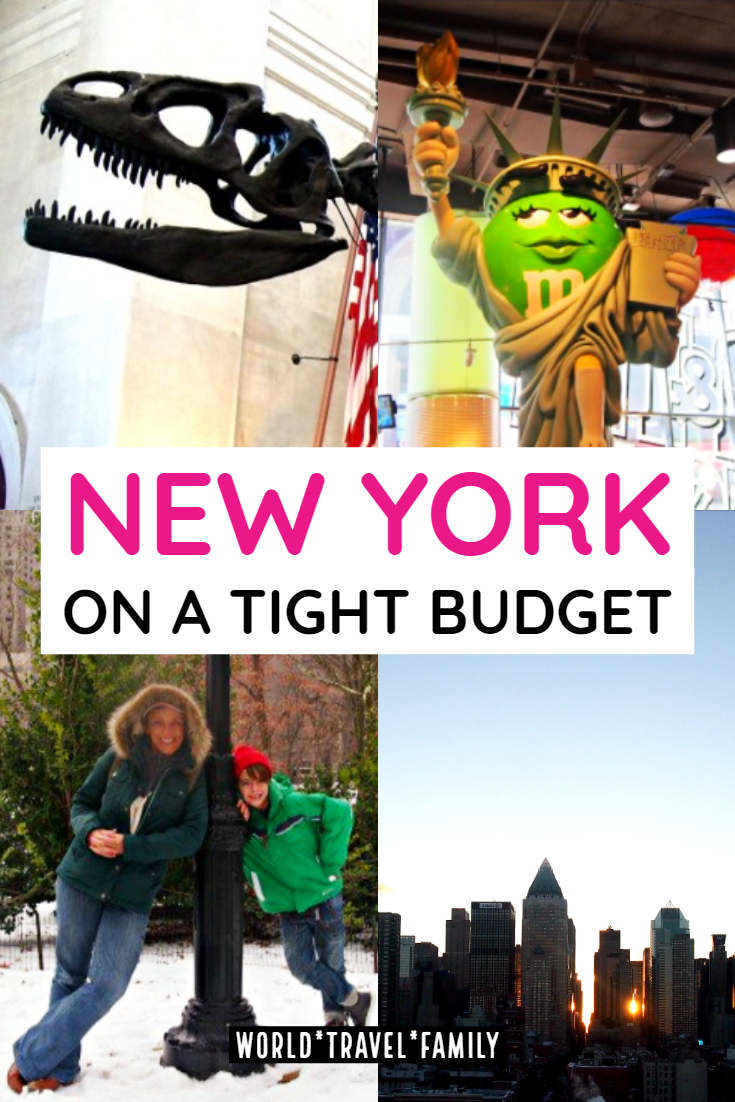 Onward From New York
We've hired a car for a month for a USA road trip, we're going to tour around the East Coast states and just see what we can see.
I'm writing this from Amish Country Pennsylvania not a very big drive away at all. Our motel here was a bargain $40/ night, again, including a basic breakfast on polystyrene plates, so New York really is exceptionally expensive .
We're seeing hotel deals on Priceline.com all over the country from around $35/night.
So far so good, we're having fun in the US. It's wonderful to not have any schedule to follow, we may pop up to Niagara falls tomorrow then down to Washington DC before slowly travelling on to Orlando Florida, New Orleans and the Florida Keys.
We have to be in Florida to drop off our car in a month's time, that's all the rules we have!
Update: We made it to Niagara and it was magical, post here! New York on a budget was probably the toughest part of our trip, financially. We're seeing much lower prices now we're out of town, good news for budget travellers like us. Want to see where else we went in the US after New York? It's on our USA travel blog page.
If you'd like to hire a car during your stay, use this car rental comparison tool to find the best deal!

We also suggest you take a look at this company to get a quote for all kinds of travel insurance.

Try Stayz / VRBO for an alternative way to find rentals on homes/apartments/condos in any country!