This post may contain affiliate links.
We've just spent an amazing few days in New Orleans at Mardi Gras and, honestly, we spent a lot of that time eating. In our whole 1 month USA road trip, I think New Orleans offered us the best food, even on our moderate budget. We did wonder a little, where to eat out in New Orleans with kids, because we ran into quite a few places where children weren't allowed. Signs saying "Patrons must be over 21" seemed to crop up fairly regularly, but we found a couple of gems that we'd like to share with you.
Food is important to us, regular readers will know that my husband is an executive chef, or was, until he quit to travel the world, and that I'm a food nut. Trying local food specialties is a big part of travel.
The kids dig good food too, you won't catch them eating mac and cheese.
So here are two of our favourite places and a few favourite dishes we tried in New Orleans.
Where to Eat Out in New Orleans with Kids.
1. Mother's Restaurant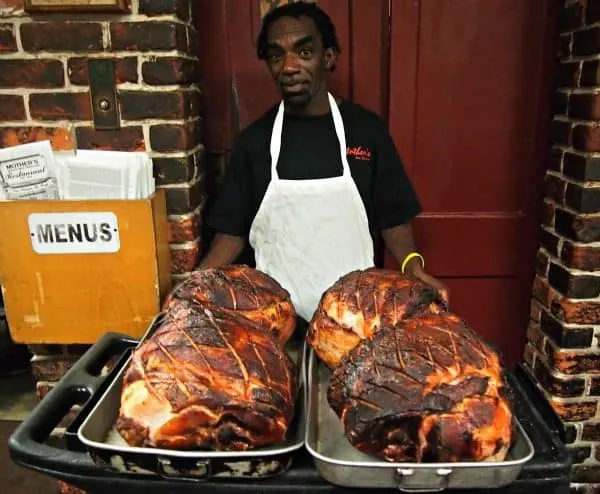 Mother's Restaurant (see their Trip Advisor reviews here) is at 401 Poydras on the junction with Tchoupitoulas and was a chance find. We found out later what a great reputation this place has.
If you want real southern-style home cooking this is where you need to be. The prices are great, the quality is amazing and the staff are lovely.
We tried po boys, jambalaya, collard greens, biscuits with egg, debris and gravy, smoked sausages and all sorts of, to us, totally new foods. We even tried the grits, not bad at all!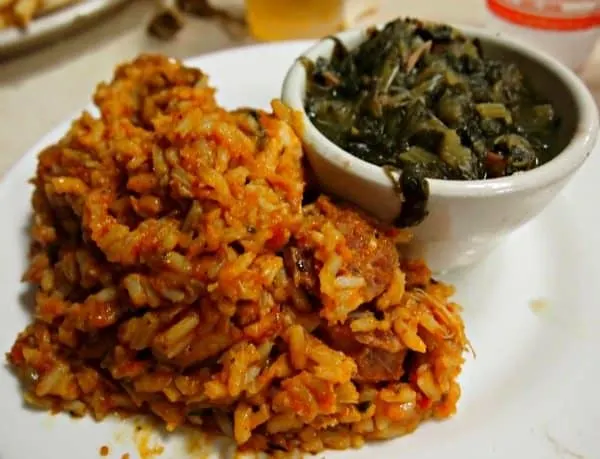 You can get a beer or a Bloody Mary to go with your meal and watch the crowds pass through. It's busy, but we always found a seat.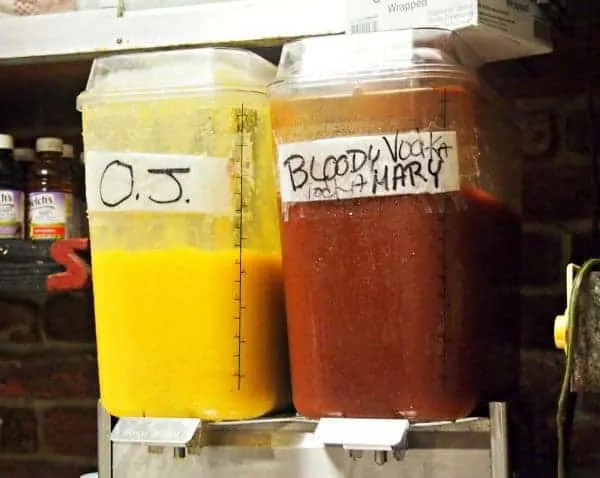 We'd tried biscuits on our cruise ship and in various fast food joints on our trip south, they were always a bit… blegh. These biscuits were the business, soft and fluffy and great with gravy or Mother's blueberry jam. I need to learn how to make them.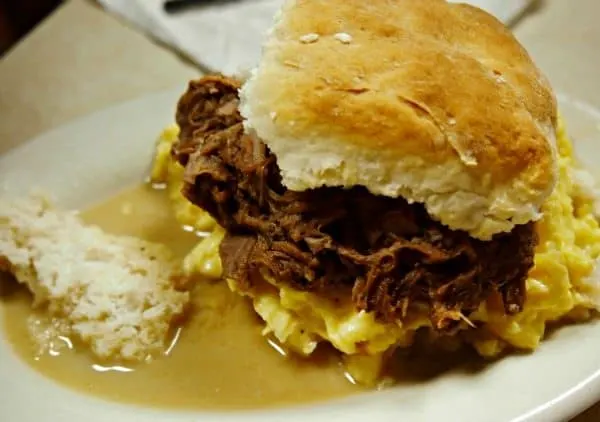 Mothers had an amazing home-made condiment on the table right next to the hot sauce ( loving that hot sauce!) Vinegar, black pepper corns, garlic and hot chilies. I'm not sure what it's supposed to go with, I put a splosh on just about everything because it was so good.
We want to eat at Mother's every day, but my jeans are getting tighter and tighter, time to get back to Asia and see the pounds drop off again!
2. Lucy's Retired Surfers Bar and Restaurant.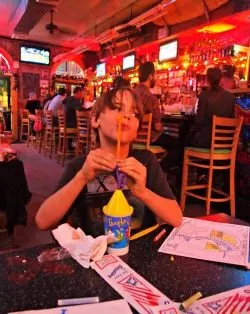 Lucy's was another chance find on Tchoupitoulas in the warehouse district. ( See Lucy's on Trip Advisor here)
What really impressed us with Lucy's, other than the really good $4 Margheritas (top) and the great music and decor, was how good and how cheap the children's menu was. I've never seen edamame beans on a kids' menu before and it was great to see.
My boys both went for kid-sized burgers with sweet potato fries and pronounced them delicious. We always try each other's food, Chef said they were amazing too. Interestingly, my kids had never eaten burgers before we got to the USA, the quality is really good here if you look around.
My nachos with fried oysters were yum, it was a starter (entrée here) meant for 2. How anybody could eat any more after even half a plate is beyond me. Chef polished mine off.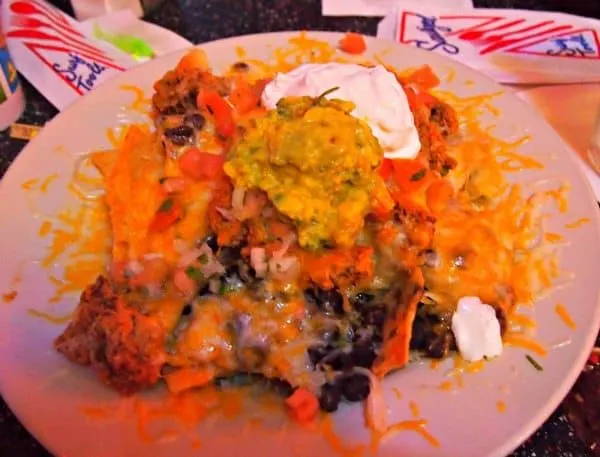 I've never had my oysters anything other than raw before but I'm converted to this new taste sensation.
Chef went for smoked sausage with red beans which was also extremely good.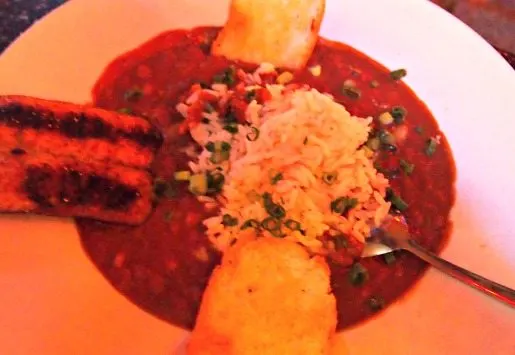 They also had the best kids colouring sheet we've ever seen. It was cool, nice to see a restaurant realising that kids like cool stuff not fluffy bunnies.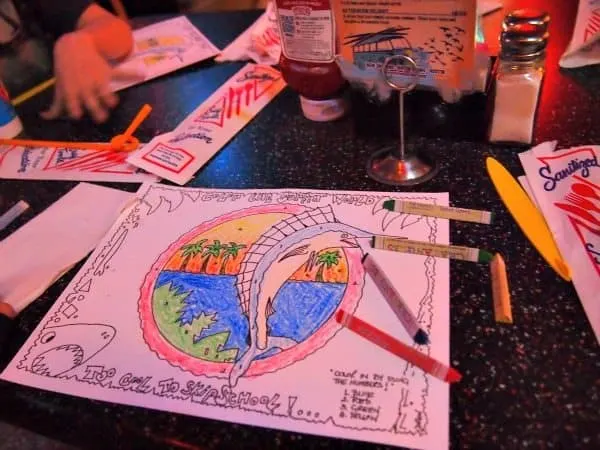 So that's our two recommendations on where to eat out in New Orleans with kids, I'm sure there are many, many more amazing restaurants but we couldn't try them all. This was mostly because we kept returning to Mother's.
New Orleans is a wonderful city, one of the best in the world and a great place to finish off our USA road trip. We'll be back! Our trip was short and we only got to try a few places, we also kept going back to Mother's, but there are plenty more places to find amazing food and cheap eats in New Orleans.
Where to eat out in New Orleans with kids appeared on World Travel Family travel blog.
If you'd like to hire a car during your stay, use this car rental comparison tool to find the best deal!

We also suggest you take a look at this company to get a quote for all kinds of the more tricky adventure or extended travel insurance.

Try Stayz / VRBO for an alternative way to find rentals on homes/apartments/condos in any country!