This post may contain affiliate links.
We've fed our travelling children in some incredible travel destinations, in over 50 countries now. They're still alive, still healthy and one, at 12, is now dwarfing his mum. We're doing OK. Do you want to know a few tricks and tips for finding food for kids while travelling? You need food they will eat and that will keep them well-nourished and healthy while travelling. Hungry kids are grumpy kids. Even your picky eater, toddler or baby will be able to find food they like to eat with a bit of know-how.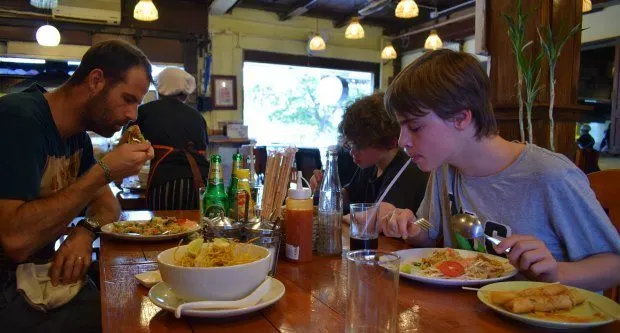 A typical family dinner in a small restaurant in Thailand, pad thai, spring rolls, khao soi, pad se-ew and sweet and sour chicken. All under $2/ plate.
No problem at all with my 10 and 12-year-old kids. This isn't the spicy Thai food everyone worries about with kids, all of these Thai dishes were very child friendly.
Food For Kids While Travelling
There was a CNN article a while ago now suggesting that children only eat french fries and macaroni cheese and could only be taken to institutions and countries that served the above. That's not fair or true and rather insulting to kids and their parents.
Feeding kids while travelling isn't so hard, even outside the french fry zone (actually, I'm yet to find a country devoid of fries). Sure, some kids are picky eaters, adults can be too. There is such a thing as a super-taster, a person to whom some foods taste remarkably bad, but most people aren't.
If you have a picky eater, or worse still, a child with food allergies, you have my full sympathy and I know it's hard.
I've talked many a client through negotiating countries like Thailand with dairy, gluten or worst of all, peanut and seafood allergies. It can be horrible and frightening, but here we're mostly talking about kids without major dietary restrictions.
Where to Eat While Travelling With Kids
You can eat just about anywhere while travelling with kids. As I'm married to a Chef, my two have eaten in hotels and fancy restaurants all over the world and we've not had any issues.
I've never found a restaurant that doesn't allow kids other than in the US, where there seemed to be a lot of bar/restaurants that kids couldn't use. I've not really seen that anywhere else.
In most countries kids are fine in restaurants that double as bars. My kids eat street food all the time and when we're in Asia we eat out 3 times a day, every day. Actually, that's a lie, we often cut back to 2 meals a day, late breakfast and early dinner.
We like to book accommodation with included breakfast if we can, that makes life easier and often cheaper. We love eating out, we travel to discover local food and eating out is a big part of that. Food tours are great too, and cooking classes, you can often take kids.
Travelling With Your Kids and Picky Eating
The theory goes like this, expose kids to a variety of foods when they are young and model a willingness and excitement to try new things. They quickly get used to the idea and are adventurous with their food choices as they grow up. I know it doesn't always work, please don't jump on me, but it can.
I have children who love the chance of trying new foods, but it took a while to get there. Not all children will do this, some kids, and adults, remain picky eaters.
Weird things we've eaten whilst travelling include frogs, alpaca, guinea pig, buffalo, civet cat, locusts, camel, emu, snails, kangaroo, spider, crickets, 1000 year eggs and KFC. One man's weird is another man's normal, I highly recommend the 1000 year eggs!
Both my children are pretty good eaters, they've always eaten with us and have at least tasted anything new and funky looking.
I haven't adjusted my eating habits to suit them, so they've had all the curries, spicy food, shellfish and vegetables alongside me. I do, or did, take out the chillies, but moderate spices were fine with them. Now, as teens, they love anything spicy or hot.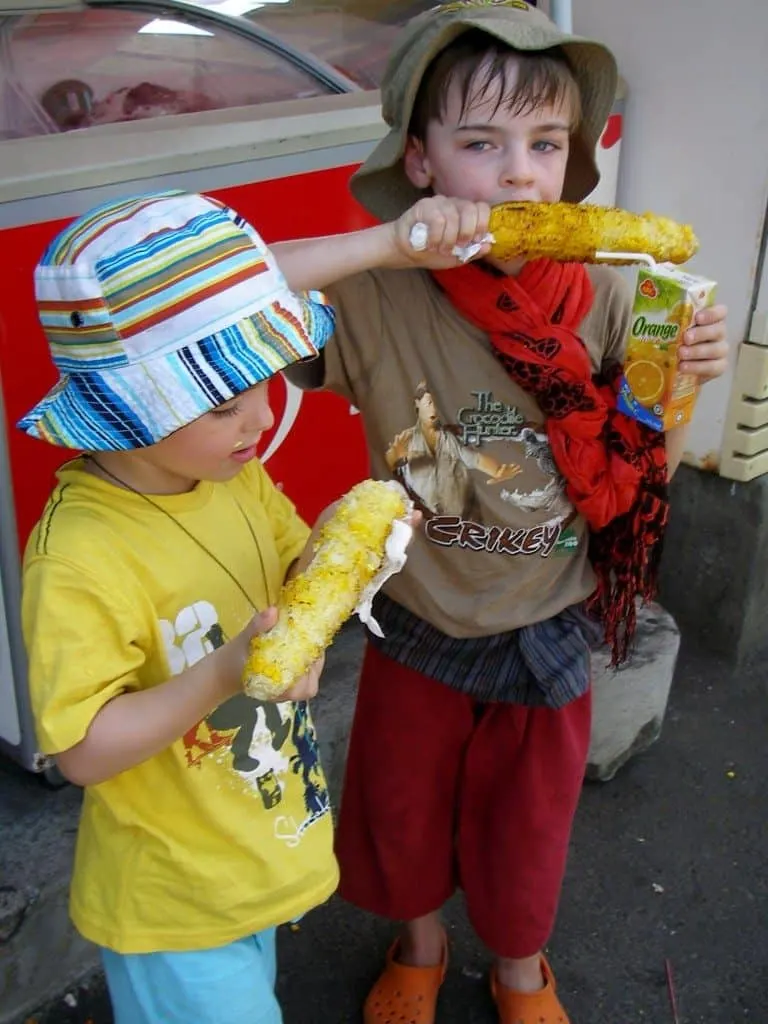 They're not perfect, one of them doesn't like mushrooms or courgettes and the other one swears he hates avocado but loves guacamole and will eat just about anything else, except oysters with cocktail sauce.
I have an advantage, I'm a Chef's wife, exposure to restaurant dining comes with the position. No, I wouldn't pay for oysters for a 7-year-old either.
However, young children can sometimes become very unstuck in foreign countries where all the food on offer is new and different.
Picky Eaters May Have To Self-Cater
If you have a child or toddler who is a super picky eater there may be nothing you can do other than self-cater. If you need to do this you're probably going to have to book an apartment-style hotel, a house or an actual apartment. For finding these VRBO or AirBnb can be a good choice but self-catering apartments and homes are also on Booking.com and Agoda, and can be cheaper and easier to book.
Some kitchens in rental apartments are well equipped, some not. If you need to cook just double-check what's provided. If you're travelling with a baby or toddler it may be a good idea to pack a travel-sized blender or Nutri Bullet.
Some Ideas For Food for Travelling Children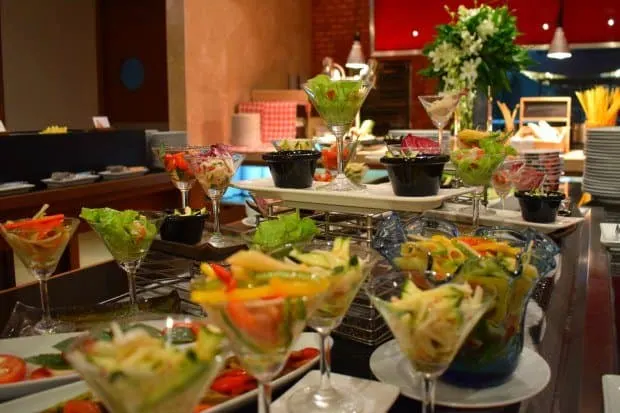 If they're maybe getting used to a new environment, try easing them gently into the local eating scene with familiar foods. You should be able to find burgers and pizzas in most countries but consider food hygiene. It's often a much better idea to stick with local dishes, cooked well.
Carry Emergency Food Supplies
Always carry water in hot countries, unless, of course, you're in a town or city and can dive into a convenience store to buy hydration any time you like. If you're trying to consume less plastic, always carry a water bottle, for you and your kids.
These are the water bottles that we use, the best we've ever tried, made of steel so they don't affect the taste of the water, insulated, and easy to clean with a screw top. You can get them in Australia Here, in the U.K. here or in the U.S.A. Here.
Keep something they can eat in your bag or daypack. Hungry kids are grumpy kids and it's best to be prepared. My best tip here is don't let them know you have it, particularly not if it's something yummy.
Familiar Foods You Can Find 99% of the Time in Every Country
Chips. (I mean French Fries, not crisps, but you can get those everywhere, too) I know, it's what they said on CNN, but if you are stuck there are always chips, everywhere in the world, in almost every restaurant. You'd probably find it pretty difficult to get any sort of food poisoning from a chip.
Fruit. I've never been anywhere without fresh fruit. Maybe take along a little knife for peeling. Many countries, for example, Malaysia and Thailand, have fresh fruit stands on the streets. They seem pretty safe to eat in our experience. The fruit normally comes peeled and chopped in little plastic bags. Avocados, coconuts and bananas do a good job of filling kids up.
Eggs. We love our eggs. Anywhere on the traveller circuit, you will find some variation on eggs and toast for breakfast. In countries with a lot of curries, my boys often go for an omelette at dinner. It took them a while to become curry connoisseurs. Thai omelettes and Indian massala omelettes are delicious, but can be a touch spicy.
Dairy. I'm forever filling my boys up with milk or yoghurt drinks, find them in convenience stores or in cafes and restaurants preparing their own. In Thailand, for instance, you'll find a 7-11 convenience store every few paces, and it's easy to grab a milk-based drink.
Western breakfast foods are a great way of feeding travelling children. They love banana pancakes, hot chocolate, porridge, eggs any way you like, and toast with jam. We tend to stay away from cold cereal and prepared fruit salads unless we're confident with hygiene. Anywhere tourists go, you will find somewhere selling western-style cooked breakfasts. Accommodation that includes breakfast can save you a lot of money
Global fast-food outlets and coffee chains pop up in the most unexpected places, you can find them in most large towns if you are totally stuck. We've been known to hang out in them, sharing a coffee and lingering over books, just to bask in their air-con. The restrooms are usually pretty good, too. So if you're struggling and your child is "over" the local food, let them eat cake.
Snack Foods. Crisps, chips, biscuits, sweets, candies, lollies, nuts and chocolate are ubiquitous. Peanut butter is something else you can find just about anywhere. I've travelled around China with a large jar of PB for emergency snacking.
Countries With Spicy Food and Kids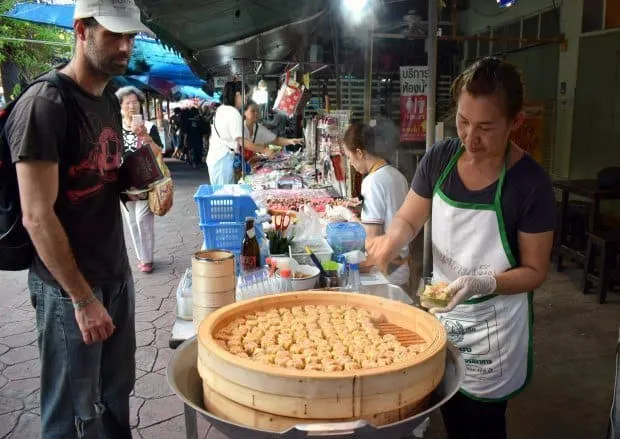 Food in Asia and Southeast Asia are usually considered spicy for kids. Some Asian dishes are spicy (contain chillies) not all. You will, in fact, find "spicy" dishes in most world cuisines, even in British food, in Europe and in the USA.
Indian and Sri Lankan food along with some Thai foods can be challenging for young kids. There are usually gentler versions of traditional dishes that your kids can enjoy and you can always ask for milder versions, sometimes successfully. Local dishes without too much heat include the following:
Vegetable spring rolls often suit children, mine eat them a lot, they like the dipping sauce, too.
Sweet and sour chicken or squid is a winner for us. It's not usually the battered stuff, lots of vegetables and fish or chicken in a mild sweet and sour sauce. We've found both in Thailand, Vietnam, Bali and Sri Lanka.
Satay
Squid fried in batter or calamari
Pad thai
Samosas, freshly cooked in front of you in an Indian market, are delicious and pretty safe. Some are very hot (spicy), it can be a bit trial end error, buy one and if they like them buy more!
Pancakes or Roti a roti isn't really a pancake but they are often called as such. You can find them filled with just about anything at street stalls in Laos, Thailand, Sri Lanka, parts of India, many places. Egg roti is usually a good option. In Sri Lanka look for egg hoppers, a bowl shaped pancake containing an egg.
Breakfast foods are a great way of feeding travelling children. Most kids love banana pancakes, hot chocolate, eggs any way you like, and toast with jam. Accommodation that includes breakfast can save you money. We have a post on the best breakfast foods from around the world.
Foods to Avoid to Stay Well
One of the best ways to get tummy trouble in Asia with kids is to order western food. Pizzas and pastas aren't the local speciality and can be kept warm or not heated to a high enough temperature to kill any germs. You will find them easily, we've eaten them and not had any trouble, but I'm always a bit wary.
Rice can be dodgy, too. I was once served a bowl of rice with a garnish of mouse poop in Ooty, India. The waiter very kindly removed it for me.
If you stick to restaurants that are busy the high turn over should keep you safer with things like rice, it's usually only a problem if it's been hanging about. Don't eat rice if it smells weird.
The usual rule is to avoid ice and salads. I think this rule is now pretty out of date, but use your discretion. We have ice and salads often but maybe we're immune to most things.
Cutlery & Chopsticks For Kids
In some parts of Asia it is polite to eat with your fingers, it's probably best to get used to it and just dig in. If you hang about, the proprietors may grandly produce a fork or spoon and polish it with their fingers and a bit of spit. It happened to me.
Most children will take to finger eating like ducks to a very familiar stretch of water.
If the children aren't into chopsticks you can usually get a spoon.
It's a good idea to travel with metal drinking straws. I really wouldn't drink out of bottles or cans without giving them a really good clean, you don't know what's been climbing all over them. Here are some we recommend, for the US click here, For Australia click here and for the UK, click here.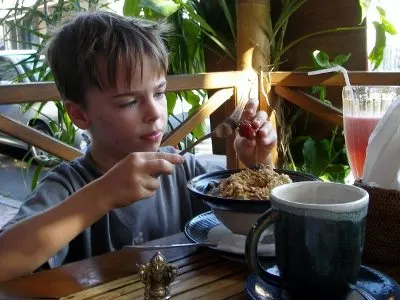 Feeding Travelling Children As Education
Just think how much the children will learn from exposure to the different foods of the world, it reflects culture and religion, climate and distribution. They will experience the staples of different regions and see why they are so. They will compare farming, shopping, marketing and availability of foods from many regions.
Local Cookery Classes and Kids
These are a brilliant idea and my kids have taken cookery classes in many Southeast Asian cuisines, plus some European. My kids have learned to cook in Thailand, Bali, India, Malaysia, Vietnam, Italy and Cambodia. The kids usually need to work with an adult and they can modify their dishes to suit themselves, nobody will mind if they prefer to leave out the chillies.
We find that kids are far more inclined to eat food they've cooked themselves and at least helped to prepare. It can really get them over any mental food block, we've seen it happen.
For you, for Pinterest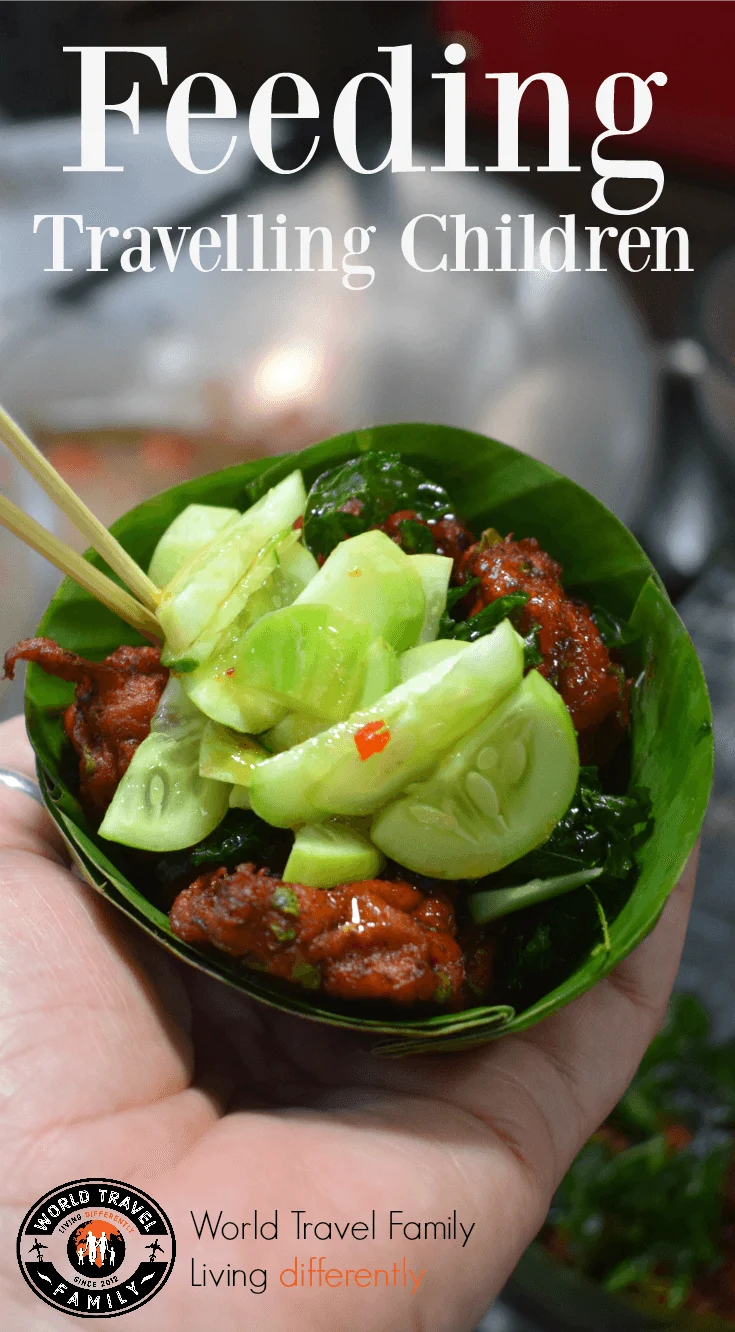 Resources:
So, even if there is no mac 'n cheese and your child just doesn't dig the local cuisine there will always be french fries, fresh fruit, eggs and pancakes, feeding travelling children isn't so hard and your kids are unlikely to starve. Maybe they will enjoy the culinary adventure as much as you will. Head over to our post about the best world cuisines.
If you'd like to hire a car during your stay, use this car rental comparison tool to find the best deal!

We also suggest you take a look at this company to get a quote for all kinds of the more tricky adventure or extended travel insurance.

Try Stayz / VRBO for an alternative way to find rentals on homes/apartments/condos in any country!