This post may contain affiliate links.
Thai omelettes are really tasty and in Thailand, a country with so many amazing dishes, I find myself eating and ordering Thai omelette rice surprisingly often. I've ordered it from street food stalls in Bangkok, tourist restaurants on Thai islands and it even appears on menus in the shopping mall food court in Chiang Mai. The Thai omelette is found all over Thailand and it's easy to make, as well as being one of the cheapest foods to buy for budget travellers in the country.
What makes a Thai omelette so tasty?
It's the seasonings and dressings that make something so simple, so special, and so distinctively Thai.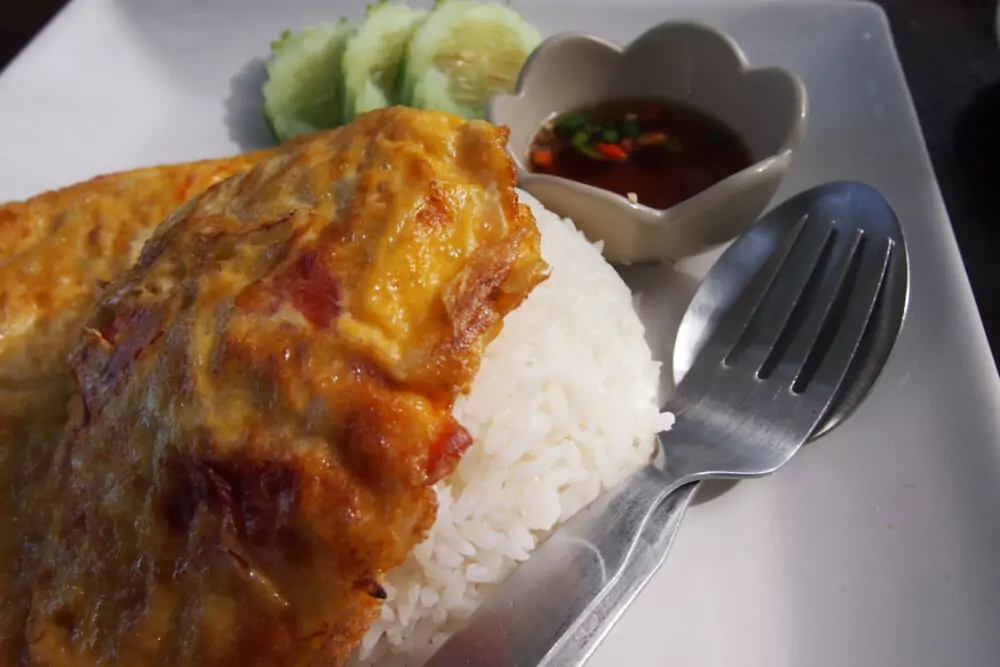 After returning from Thailand I wanted to create the Thai omelette flavours back home.
It was actually in my little farmhouse kitchen in Breb, Romania, that I started working on making an authentic-tasting Thai omelette at home.
I had no recipe, I was just going on instinct.
It turned out to be super easy to make a Thai-style omelette that tasted like the omelettes in Thailand.
Thai Omelette Recipe
In Thai food there is always a balance of salty, sweet and sour, and a Thai omelette is no different.
Fish sauce gives a distinctly Thai tasting saltiness, so this is what we used rather than straight table salt. The sweetness comes from a little sugar, and then you need the chopped chilli, I think.
If you don't have fish sauce soy sauce works fine too, or a mix of the two. If I'm out of one I happily substitute the other.
I don't add water, vinegar or lime juice to my Thai-style omelettes. My husband is an executive chef, he says he never adds water to omelettes in his restaurants either.
I do like to add a squeeze of lime to the cooked omelette as fresh juice will hold its vitamins better.
The Thai omelettes are always pretty "well done" with crispy curly edges from being fried in quite a lot of flavourless oil.
They're almost, not quite, deep fried. Make sure your pan is super hot before you throw in your egg mixture.
Don't serve Thai style omelettes under-done as some do with Western omelettes. This is my pet hate, I can't eat raw eggs and always send an under-done soft, slimy omelette back.
Is that just me?
Did you know that head chefs test new employees by asking them to cook an omelette or poached egg? These are things they have to get right.
If you chop your green chilli super finely you likely won't be able to taste them in the cooked omelette. Chopping them roughly is better so that you get the taste, texture and flavour of the vegetable as you chew.
Ingredients For a Thai Omelette
2 chicken's eggs
1/2 a fresh green chilli
fish sauce (can substitute soy sauce)
sugar
lime juice to serve
You will need
a balloon whisk
a bowl, stainless steel is durable and doesn't break easily.
a teaspoon for measuring
a frying pan or skillet
a stove, gas, electric, wood, or camp fire
What to Serve With a Thai Omelette?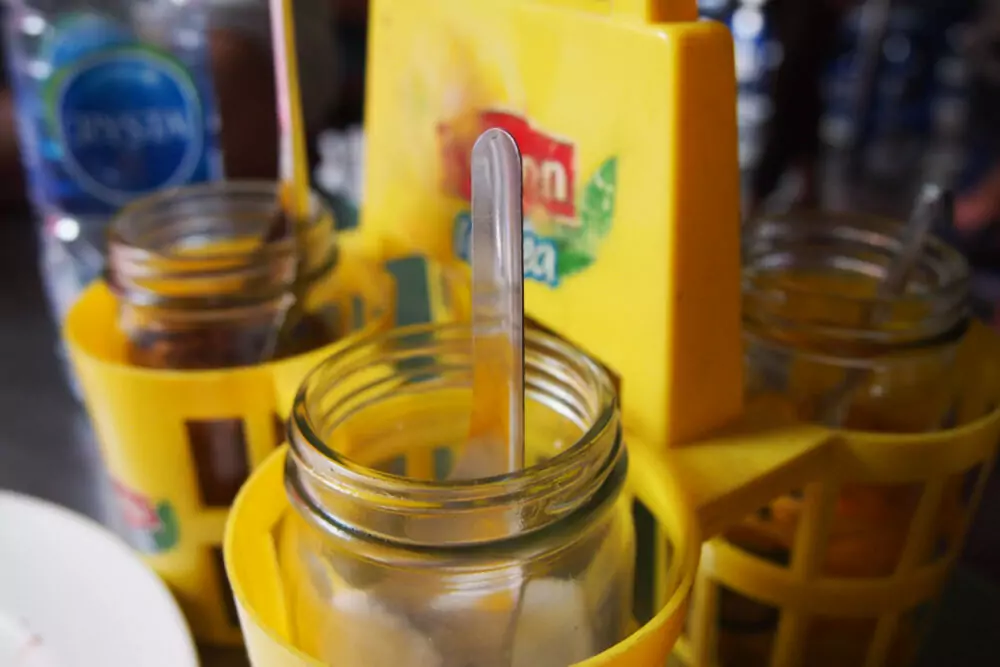 Serve your Thai omelette with a mound of rice. For authenticity use a small bowl to shape the rice, or a scoop.
I quite often use a 1 cup measuring scoop to shape and serve rice from the rice cooker.
If you have Thai jasmine rice, that's perfect with Thai omelettes.
As you can see in the first photo, a little cucumber or other salad is often served alongside a Thai omelette and there should always be condiments.
On just about every restaurant or street food stall table in Thailand, you'll find condiments for diners to add to taste.
These can include sugar, ground peanuts, chili paste, dried chili flake, and sauces or dips made with fish sauce, vinegar, lime, and sugar.
A small wedge of lime also goes well with most Thai foods.
My kids put ketchup or chilli sauce, even sweet chili sauce, on Thai omelettes. That's OK too.
Yes, I have seen Thai people sprinkle sugar on a Thai omelette. I wouldn't but, there's no rules here!
You can garnish your omelette with a few coriander or Thai basil leaves if you have them.
Should a Thai Omelette Contain Chilli?
I've eaten Thai omelettes in Thailand with and without finely chopped chillies in the omelette itself. Sometimes they're green, sometimes red chillies. It's up to you, I like things hot. Some people call it "spicy" but there are no spices in a Thai omelette, just chopped vegetables, (actually, fruits) chilli peppers.
Fresh chillies are way better than chili powder in an omelette, if I didn't have any fresh, I'd make something else. Chef always says that with Thai food, if you need to substitute more than 2 ingredients, make pasta instead!
I can't remember if we ever made omelettes at any of our cooking classes in Thailand. It's been a while but we've taken several cookery courses. Maybe we did.
Most certainly chilli should be available as some sort of condiment to add to taste with these omelettes, either a sauce, paste, or dried red chilli flakes. are needed to make this dish pop.
Variations on Thai Omelettes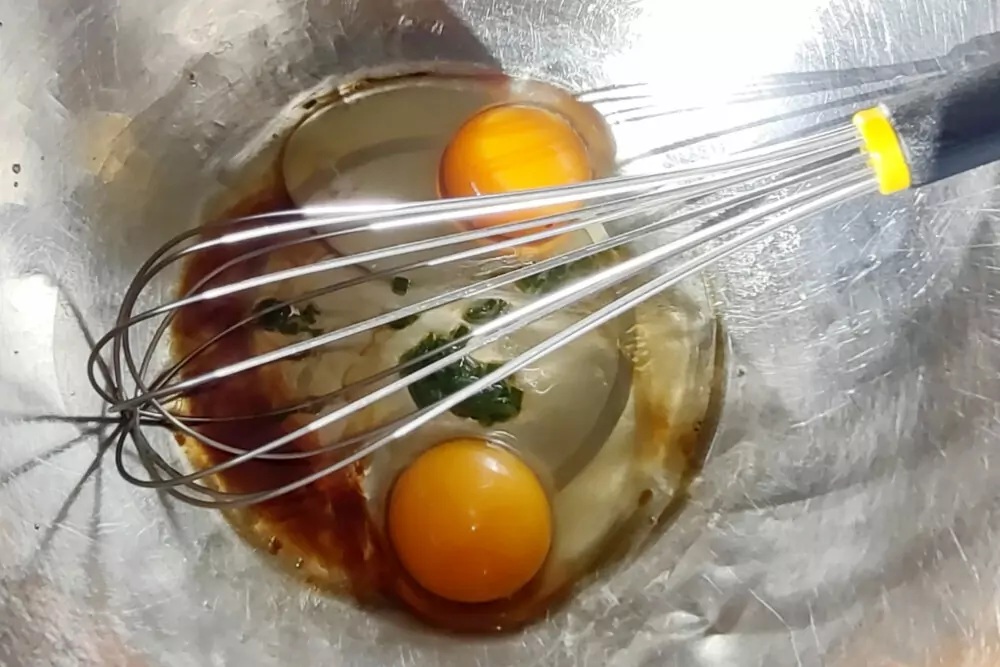 Because we live in the tropics and I'm a gardener, we always have typical Thai fresh ingredients on hand.
One variation on the Thai omelette that we really like is with shredded lime leaves. Sometimes I grate in some fresh ginger or garlic too. I like to play around with recipes.
Actually, I never follow recipes, I just make things up and go by taste.
Omelettes filled with minced pork (moo) are a thing in Thailand too, and they're delicious. In this case, the minced meat is cooked surrounded by omelette, But that's a recipe for another day.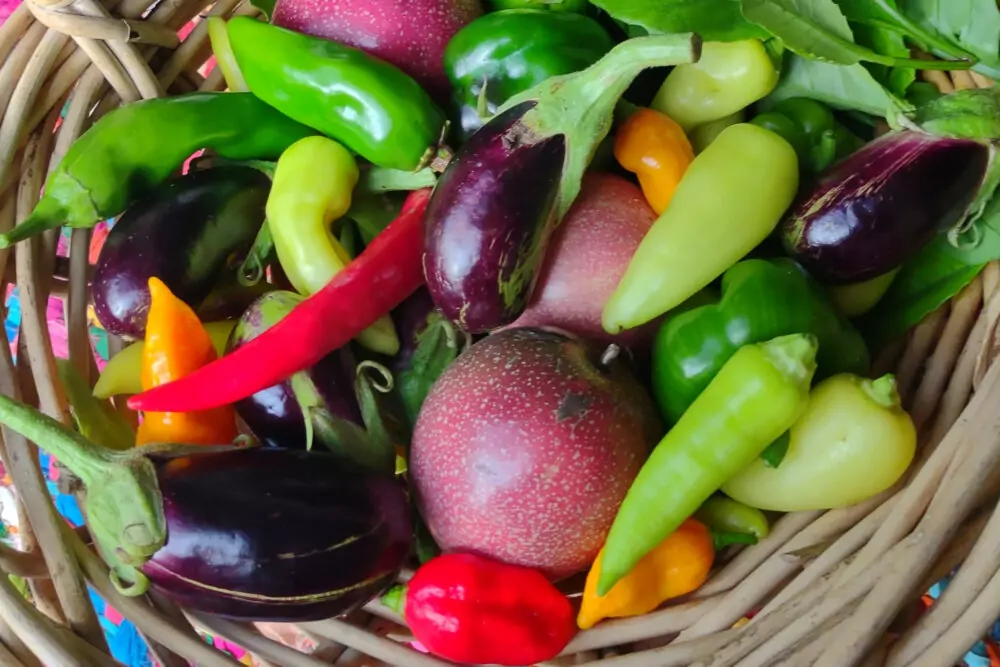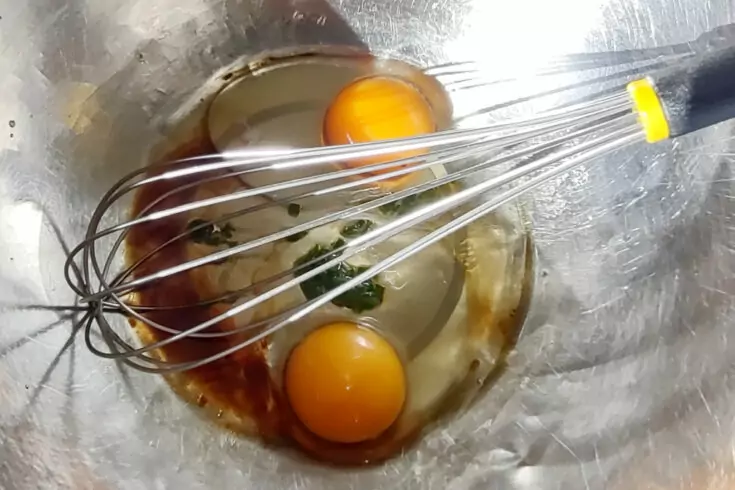 Thai omelettes are delicious! A simple omelette, a little spicy to have a taste of Thailand at home.
Ingredients
2 eggs
1.5 tsp of fish sauce
1/2 a fresh green chilli
1/2 tsp sugar
oil for frying
Instructions
Roughly chop half a fresh green chilli. Use more if you like, leaving the seeds and ribs in if you want it hotter, removed for milder.
Add the fish sauce, sugar, and chopped chilli to the eggs
Whisk
Heat the oil in a frying pan, add the egg mixture when the pan is hot. Cook the eggs until set.
Serve with rice and Thai condiments
Nutrition Information:
Yield:

1
Serving Size:

1
Amount Per Serving:
Calories:

280
Total Fat:

24g
Saturated Fat:

4g
Trans Fat:

0g
Unsaturated Fat:

18g
Cholesterol:

372mg
Sodium:

849mg
Carbohydrates:

4g
Fiber:

0g
Sugar:

3g
Protein:

13g
This recipe is a guide only, adjust to your particular taste.
In these days of travel bans, we've had a lot of fun creating recipes from our travels back home in our domestic kitchen. We've made a lot of dishes from Thailand as Thai food is one of our favourite cuisines. Southeast Asian food generally is our favourite. Our garden is bursting with lemongrass, limes, galangal, and even little round Thai aubergines. The Thai basil is a perennial, almost a weed, and chillies grow by the Kg. Cooking, growing, and preserving food has got us through lockdown, sort of. It's not been fun, but the taste of a Thai omelette can brighten lunch, breakfast or dinner. What's your favourite Thai dish?
If you'd like to hire a car during your stay, use this car rental comparison tool to find the best deal!

We also suggest you take a look at this company to get a quote for all kinds of the more tricky adventure or extended travel insurance.

Try Stayz / VRBO for an alternative way to find rentals on homes/apartments/condos in any country!