This post may contain affiliate links.
Southeast Asian food is quite possibly the best on the planet. We think so anyway. Southeast Asia is also our favourite place to travel, with trying every local dish we can, being a huge part of the travel experience. With that in mind, Chef (my husband) and I have put together this guide to Southeast Asian food, an overview of food in this part of the world, along with some of the best dishes you will find in Southeast Asia.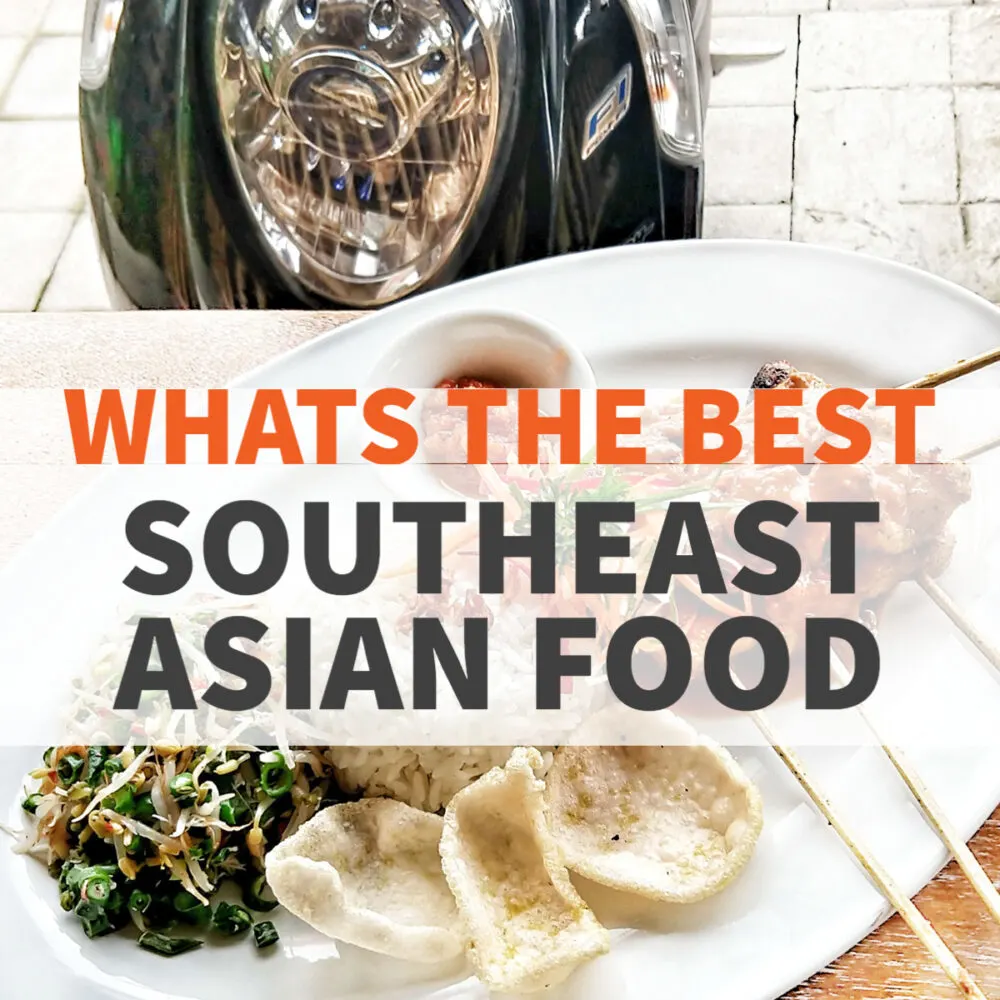 Southeast Asian Food
First a chart, we'll list all of the countries in Southeast Asia, along with some of the best dishes you'll find there.
There are rather more countries in Southeast Asia than you may think, today, there are 11 countries in Southeast Asia and broadly, the cuisines are fairly similar reflecting the climate and influences of the region.
We think Vietnam and Thailand have the two best world food cultures in Southeast Asia, and the tastiest, most interesting foods.
Just about everything in Thailand and Vietnam is delicious. Of course, the other 9 countries in Southeast Asia have famous dishes to offer too, be they home cooking, restaurant food, or street food.
Culinary influences in Southeast Asia include French, Indian, Dutch, and Chinese cultures and cuisines. The spice route and the influence of French occupation still leave a flavour trail through mainland Indochina and the Malay archipelago, Look for France in Vietnam and Cambodia, Indian and Chinese in Malaysia and Singapore, but of course, the whole region has influenced its neighbouring countries.
You'll notice some dishes appearing for multiple countries and of course borders have changed over the years.
Thailand
Fried, or stir-fried noodles (including pad Thai and pad see ew)
Khao soi (soup curry with fried noodles, regional, North Thailand)
Som tam (green papaya salad)
Various soups (including tom kha, coconut, and tom yum, spicy)
Various Thai curries (nothing like Indian curries, including red, green, Penang, and Massaman curries)
We have a full post on Thai food.
Vietnam
Pho (beef pho is classic but you'll also find chicken, vegetarian and vegan versions)
Com ga (chicken rice)
Banh xeo (crispy Vietnamese pancakes),
Banh mi (means bread, a French-style baguette, filled with various things, notably pate and pork)
Cambodia
Fish amok (a kind of custard containing fish, steamed)
Nom banh chok (Khmer noodles)
Laos
Larb or larp
Khao soi (curry noodle soup)
Baguettes (from French times)
Philippines
Adobo
Lechon
Crispy pata (deep fried pork knuckle)
Indonesia
Satay
Gado gado
Babi guling (slow roast suckling pig),
Beef rendang
Singapore
Roti canai
Hainanese chicken rice
Laksa
Satay
Fish-head curry
Char kuay teow
Chili crab (whole crab cooked in chili sauce)
Myanmar
Tea leaf salad
Burmese curry
Shan style rice
Brunei
Ambuyat
Nasi Katok
Kelupis
Pulut Panggang
Nasi Lemak
Timor Leste
Ai Manas
Bibinka
Budu
Caril
Malaysia
In Malaysia there is a lot of Indian food, particularly South Indian food. There is also Chinese and Nyonya cuisine.
Chicken rice (Chinese influence)
Nasi lemak (fat rice)
Roti canai (flat bread with thin curry sauce, Indian influence)
Chili pan mee (fried noodles with toppings)
Beef or tempeh rendang
Our favourite dishes from Southeast Asia, with delicious photos, are below. We plan to publish recipes for these so that we can all cook them at home when we can't travel in Southeast Asian countries.
Satay From Indonesia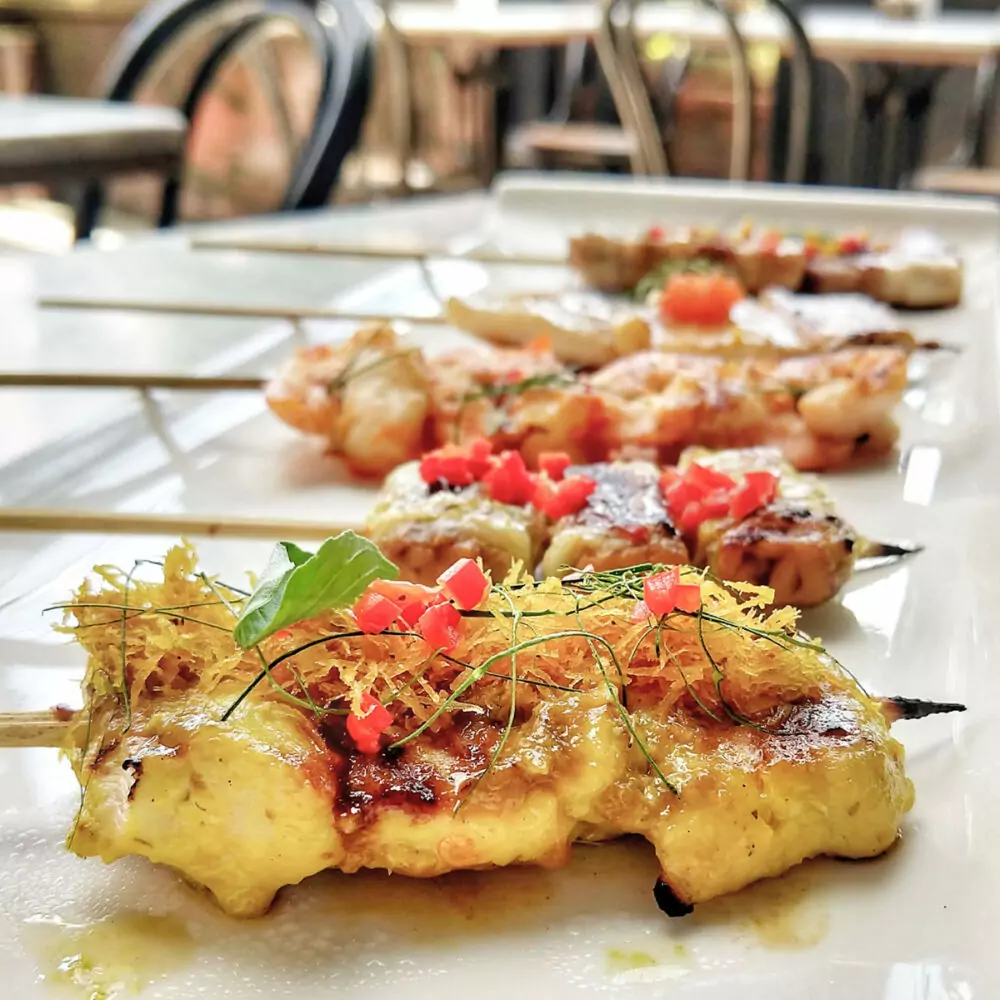 In Bali we eat a lot of satay. Mostly we eat tofu and tempeh satay in the warungs but the photo above is from a rare restaurant treat, a selection of fish, seafood, and prawn satay skewers that were executed perfectly.
Gado Gado from Indonesia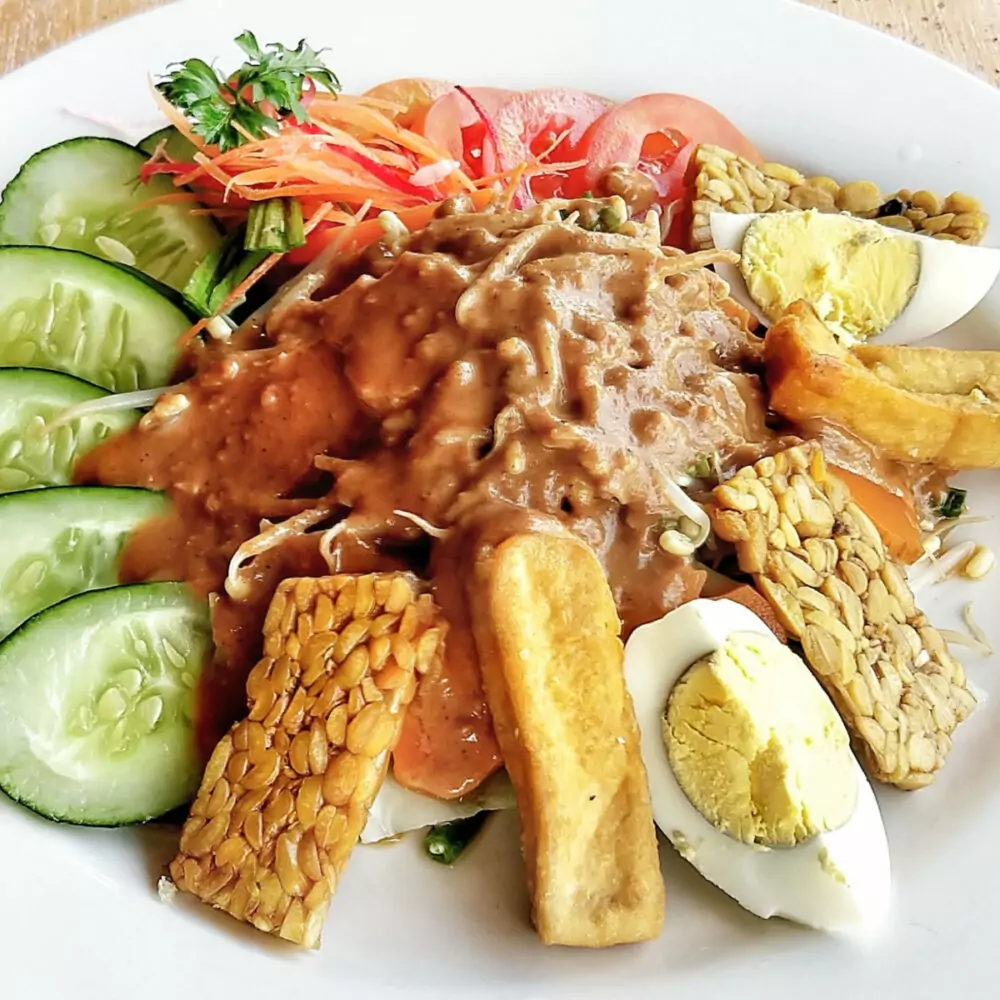 I love gado gado. It sounds odd at first but it's surprisingly good. This dish is basically a salad, with some raw ingredients and some cooked. Items like beans will be blanched or boiled. There's usually a hard-boiled egg and some fried tempeh or tofu too.
The peanut sauce with the salad is often identical to satay sauce. When we make this at home we use a basic satay mix containing peanut butter, soy sauce, coconut milk, sugar, garlic, ginger, and chillies. It is sometimes served topped with krupuk.
Tom Kha from Thailand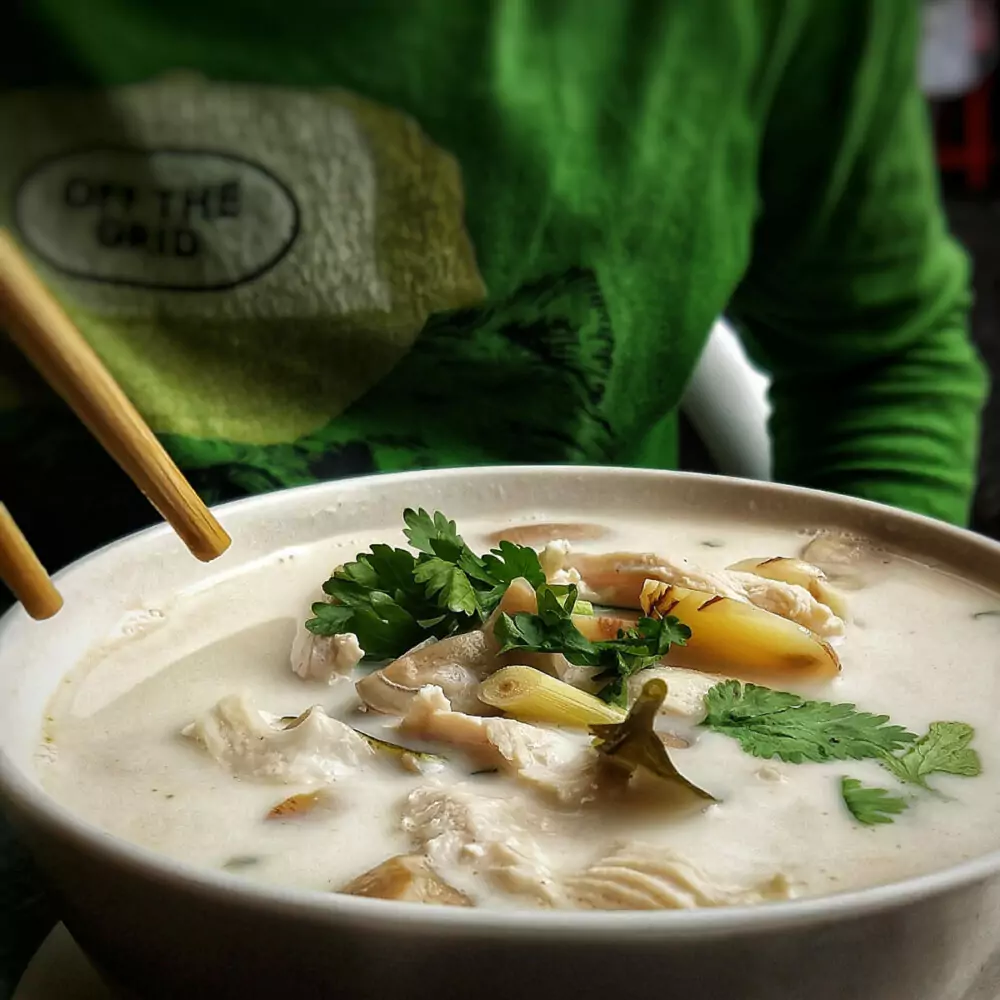 Tom kha is a dream of a soup. So fragrant that just this image should get your mouth watering. My son, above, is tucking into a bowl of tom kha gai, chicken tom kha. We've also eaten a lot of tom kha tofu and tom kha vegetable. When you've finished your soup you'll be left with slices of ginger (galangal), lemongrass, and kaffir lime leaves in your bowl. Don't try and eat these!
Mi Quang from Vietnam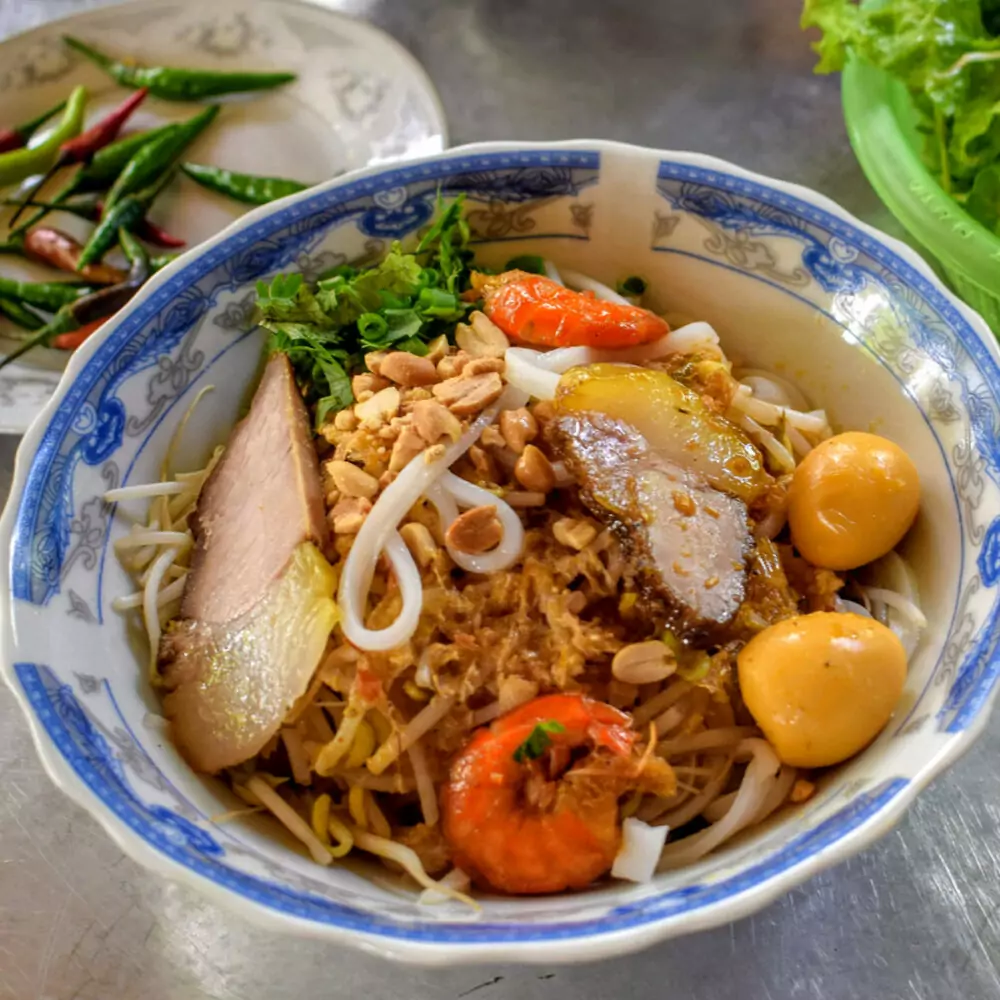 Mi Quang has to be up there as one of the tastiest noodle dishes in the world. But there are quite a few good noodle dishes in Southeast Asia.
This one is a stand-out delicious meal in Vietnam and most certainly makes it onto my top ten list of best dishes in Southeast Asia. We only ate mi Quang at street food stalls in Quang Nam province. The soup is topped with pork, prawns, quail eggs, and the usual Vietnamese leaves and herbs. This dish is so perfectly balanced, it's a work of art. We ate it for breakfast or early lunch usually, by dinner time the street food vendors would be gone. A serve of mi Quang usually cost us $1 US.
Khao Soi found in Thailand and Laos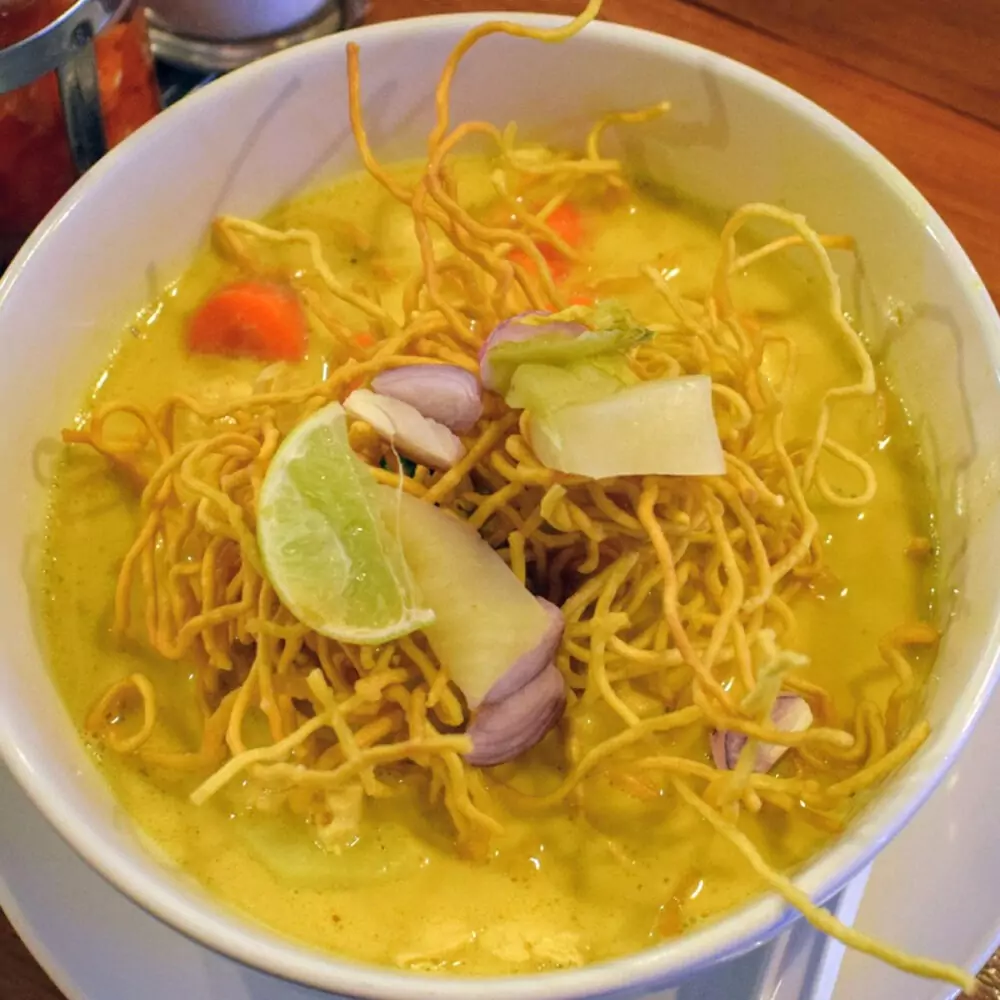 Khao Soi is one we cook at home often and my husband, Chef, has published his home khao soi recipe already. You get noodles in two forms in a bowl of khao soi soup, there are soft white noodles hiding under the surface along with the crispy fried noodles on top. This dish contains a lot of lemongrass stalks and is highly fragrant in the Thai way, as well as having a gentle curry spice zing. We usually eat this in North Thailand but you can find it in the south too if you look.
Tom Yum from Thailand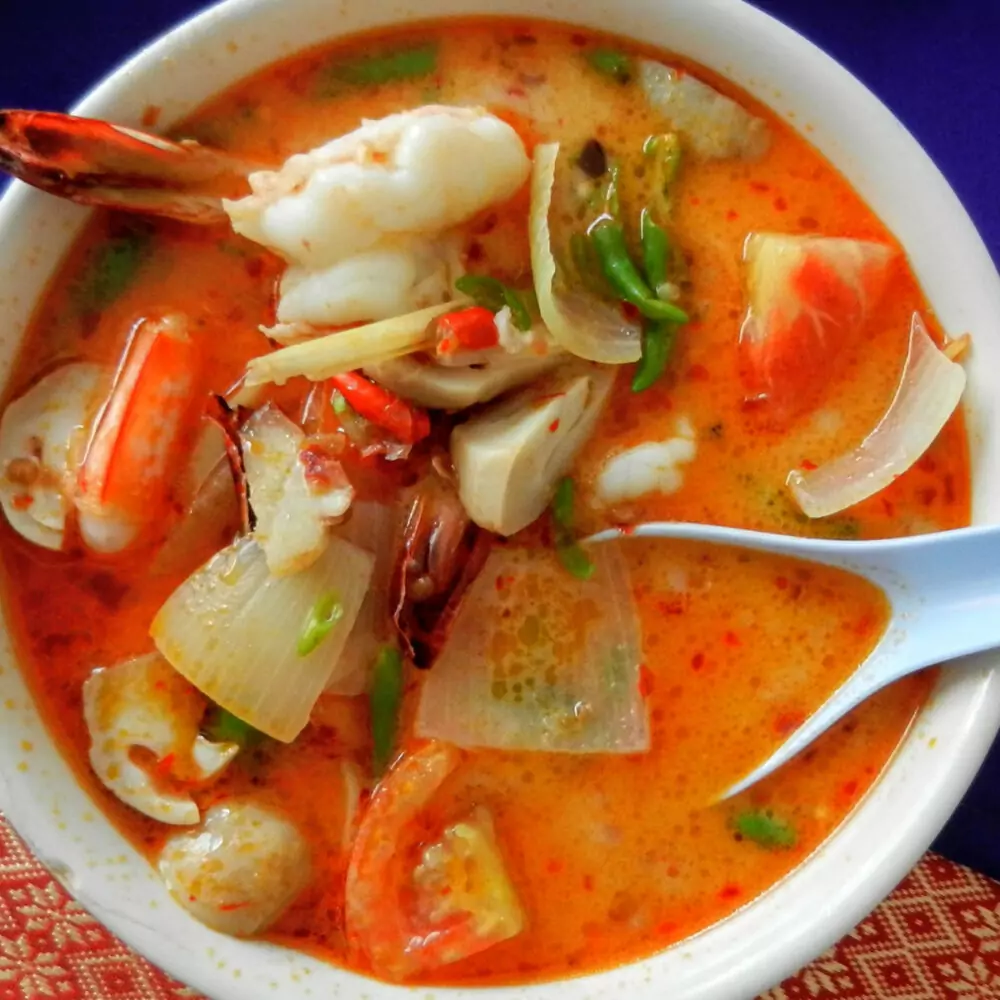 This particular bowl of tom yum soup, in this case, tom yum goong, prawn, is the best food in Southeast Asia, I ever personally had. You know how certain dishes just stick in your mind forever as being outstanding? This was one for me. I've had many a tom yum and some have been very ordinary, but this was out-of-this-world good.
I ate this in Hua Hin in Thailand. It wasn't a destination I particularly loved, but this little hole-in-the-wall restaurant gave me a meal to remember as one of the best ever. Thai food in general is hard to beat.
Fish Amok from Cambodia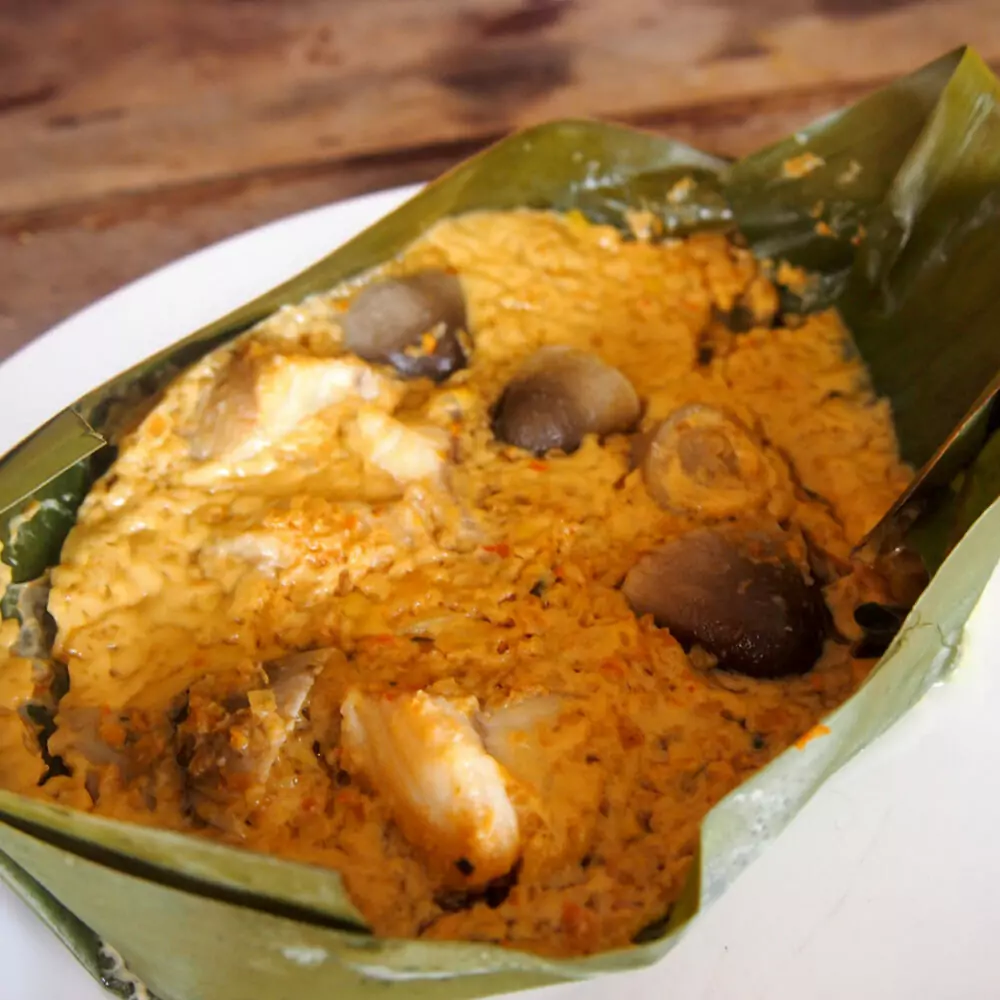 Fish amok is an unusual dish in a region of Asia dominated by soups, curries, stews, and noodles. We made the fish amok above at a cooking class in Battambang Cambodia. It's not the best photo, sorry, but I can't pop back right now to take another! I will one day. When we're travelling in Southeast Asia with the kids we always make a point of taking cooking classes, we all learn so much and the dishes are usually fantastic.
Banh Xeo from Vietnam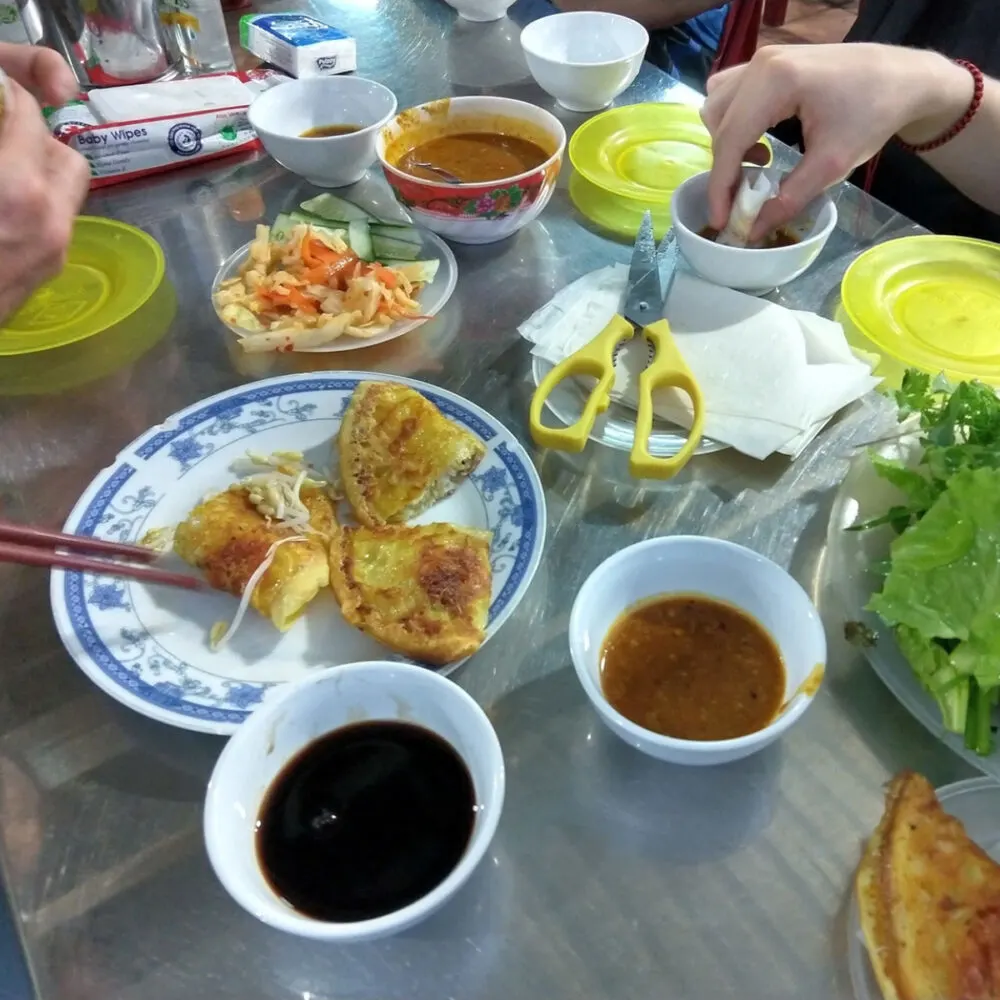 This is my other son's absolute favourite food in the world. Other than cake. Banh xeo is a crispy sizzling Vietnamese pancake that has to be eaten in a certain way.
Diners place their piece of pancake onto rice paper, add a selection of fresh herbs and leaves, particularly mint, then roll and dip in the Vietnamese dipping sauce. This sauce contains fish sauce, sugar chillies, and lime or lemon juice. It's also essential with Vietnamese rice paper rolls, another favourite that's simple yet good. We make these at home often too.
We lived in Hoi An in Central Vietnam for about 6 months, we went to great lengths to try every dish we could to put together a guide to food in Hoi An along with a Vietnamese food introduction.
Pad See Ew from Thailand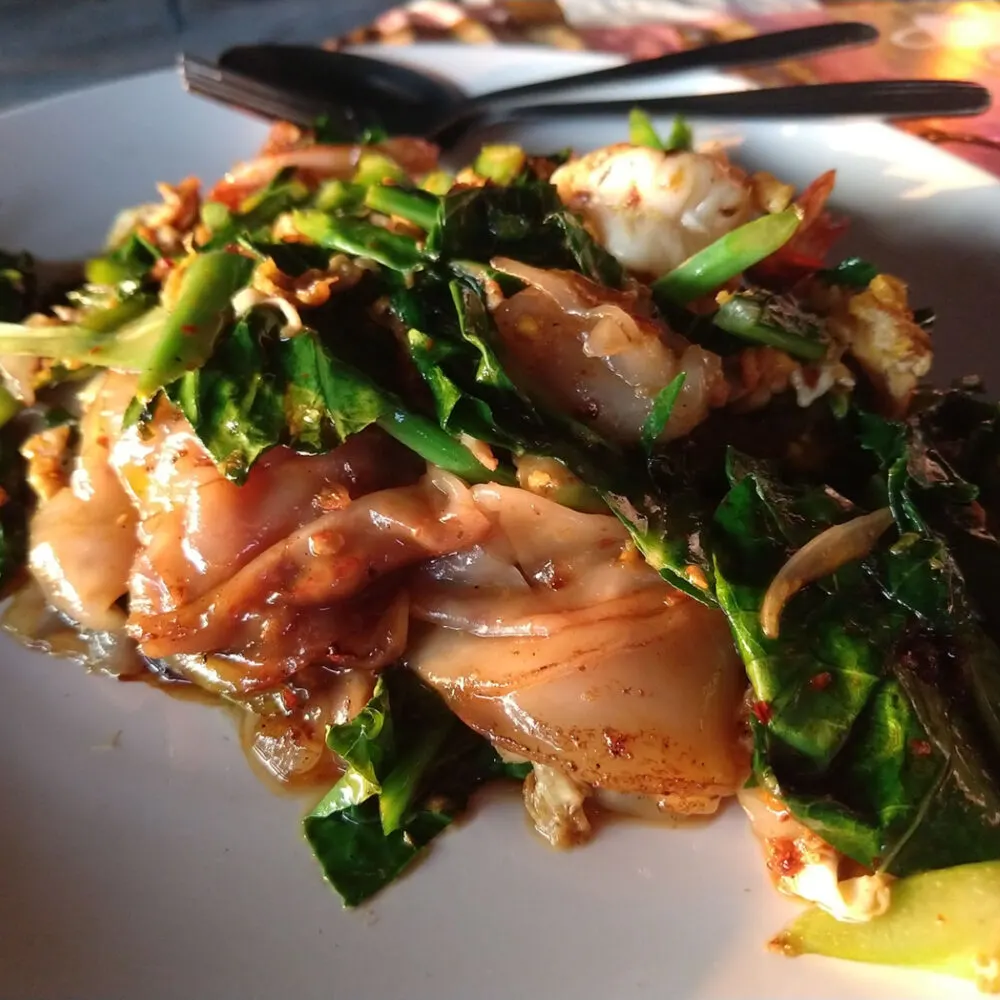 This is my husband's (Chef's) favourite dish in Thailand and it's not one most people would know instantly. Of all Thailand's fried noodle dishes, he likes this one best.
Pad Thai can be good, for sure, but we've had a lot of really bad pad Thai, so be ready for that. This is Pad Seew Eew. The spelling varies and the pronunciation is tricky.
We're going to say pad see ew is the best noodle dish in Southeast Asia. If you know of a better Southeast Asian noodle recipe, let us know in the comments.
Tempeh Rendang From Malaysia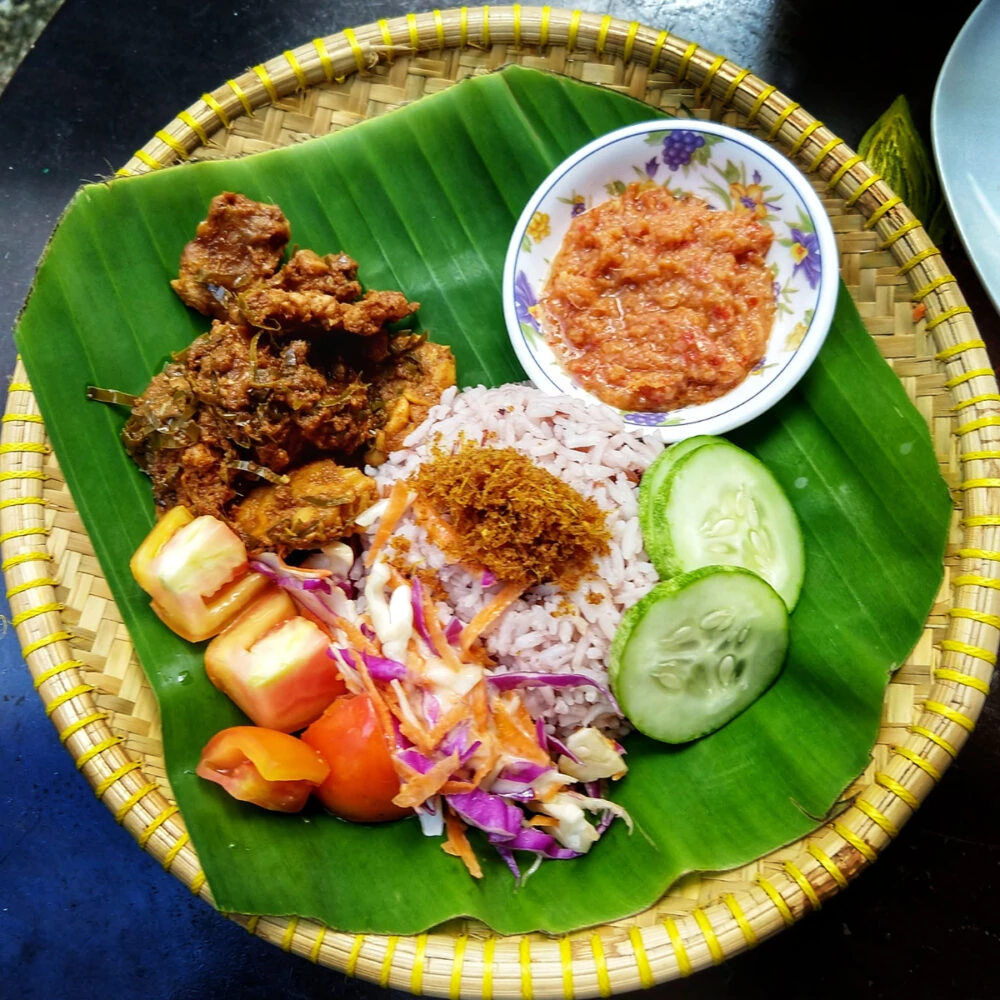 We're not generally huge fans of Malaysian food but this tempeh rendang was the dish that won us round.
We've eaten this many times, along with good vegetarian roti canai in one particular restaurant in Kuching on the island of Borneo. I think this is one of the reasons we love Kuching so much, we can get great food there!
I think the issue for us with Malaysian food is the fatty and skin-containing bits of meat. I've found unpleasant parts of a chicken in what I was told was a vegetarian dish more than once.
The spicing and flavourings are pretty good, but the meats and fish just aren't for us. There is, however, outstanding south Indian food in most of Malaysia, truly authentic and mostly cooked by Malaysia's Indian population.
Malaysia and Singapore are actually our least favourite SEAsian food destinations despite their food reputation. We've spent only one week in Singapore, I'm sure there must be great food hiding there that we've missed. We will be back, and next time we'll go looking for it.
Likewise Ipoh Malaysia, a famous foodie destination, we couldn't find any of the famous foods to rave about. We really liked Ipoh and likewise, will return.
Could you save this for Pinterest? Bottom right, blue sharing widget.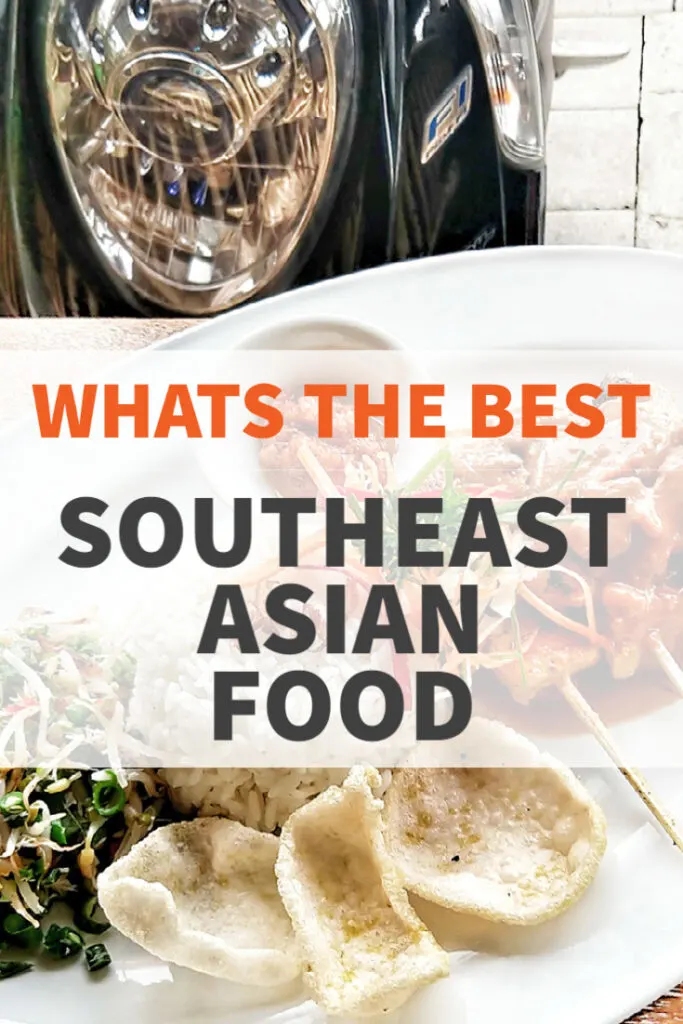 Southeast Asian Food Round Up
That's it for today, our favourite foods and dishes from Southeast Asia. If we were covering the rest of Asia I'd have a lot more foods to add, more curries, for sure. Food in Southeast Asia is pretty fantastic. What's your favourite dish from the region?
If you'd like to hire a car during your stay, use this car rental comparison tool to find the best deal!

We also suggest you take a look at this company to get a quote for all kinds of the more tricky adventure or extended travel insurance.

Try Stayz / VRBO for an alternative way to find rentals on homes/apartments/condos in any country!