This post may contain affiliate links.
Breakfast foods are possibly the most interesting and variable as you travel around the world. Through 6 years of travel, 50+ countries, we sampled traditional breakfasts in many countries. Here's our take on the best, and worst, breakfasts from various countries around the world.
---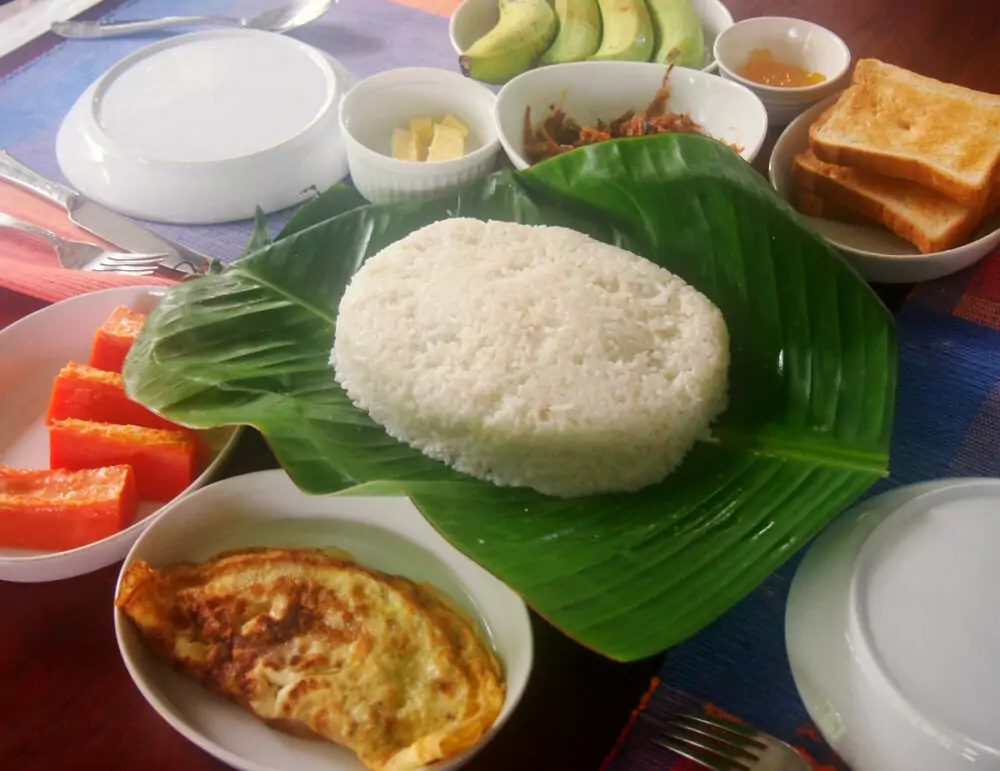 Are you a morning person? I am, so that first coffee and something to eat are very welcome, particularly if I'm sitting overlooking a stunning, deserted Thai beach or a sleepy Central American town just starting to wake up. We've been sampling breakfast around the world on our travels, 50+ countries over 6 years. Here are some global breakfast food highlights and disasters, traditional, local, and modern.
Watch our short video on the best, and worst, breakfasts around the world, below.
We try to seek out local and traditional specialties as we go because life is more interesting that way. Some we love, some we hate, but we'll give them all a try. What do you think? Do you like to try new things or stick to breakfasts from home when you travel?
Breakfast Around the World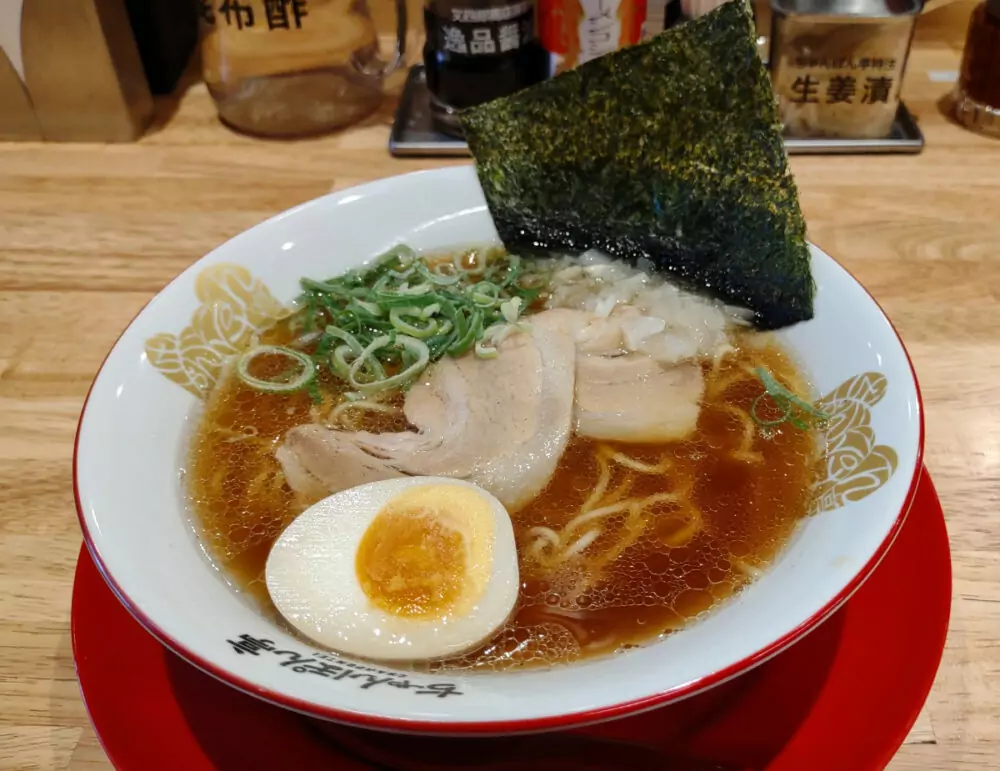 Breakfast around the world, what we were served at breakfast time in the countries listed below. Many are traditional breakfasts from that country, some are Western-influenced and created more for tourists. But this is what you can expect for breakfast if, like us, you set off around the world.
Breakfast in Sri Lanka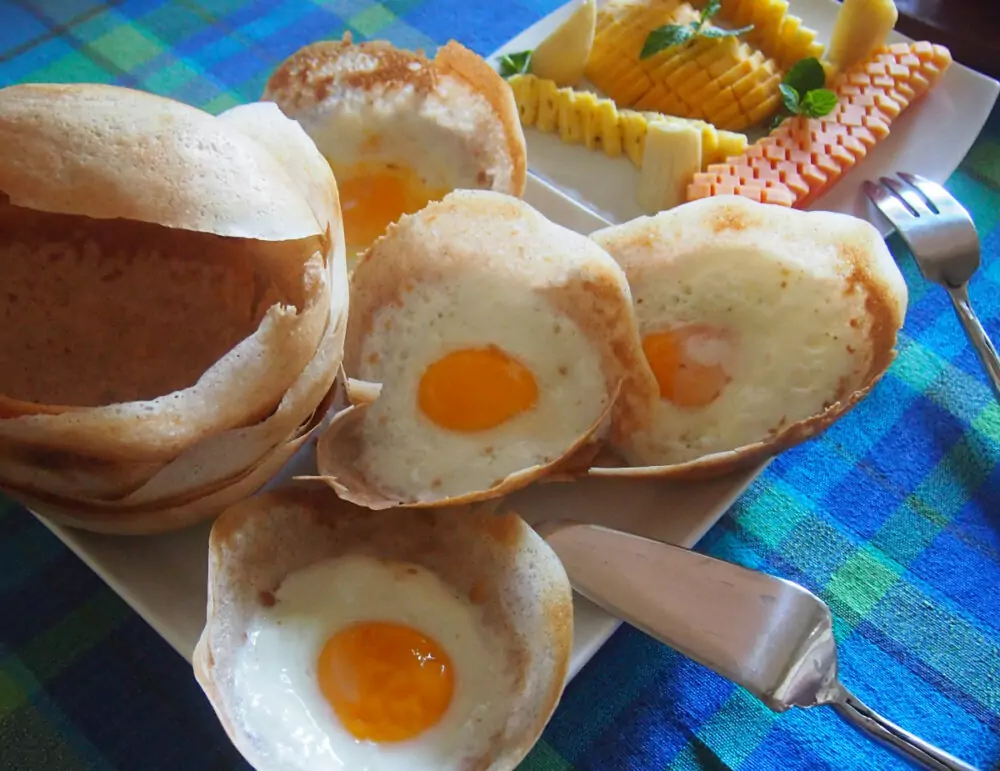 Forgive me for going on about how much I love Sri Lankan breakfasts (read more here), but they totally rock my world. Chef and the kids are big fans too. When travelling in Sri Lanka breakfast is our most successful meal of the day, at dinner time options sometimes aren't so great.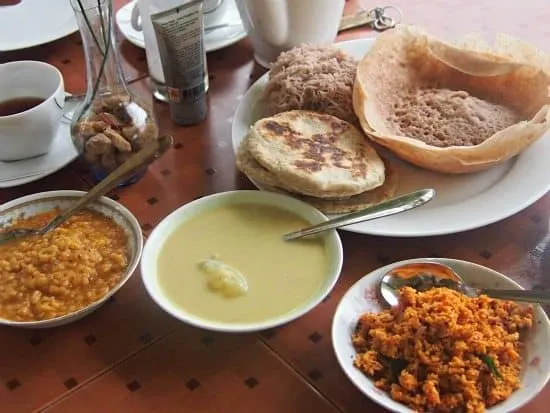 Here we have dahl, various roti and hoppers, a delicious coconut curry and fresh coconut sambol spiked with chilies. Click through to the above post for more on authentic Sri Lankan food.
Breakfast in Thailand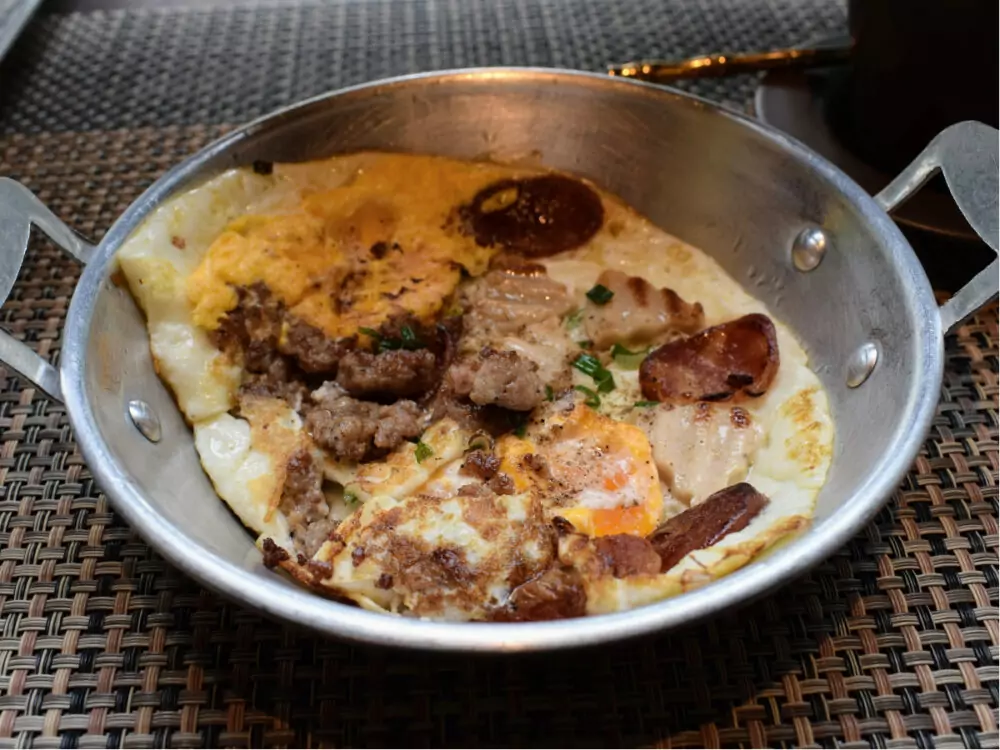 You can expect almost anything for breakfast in Thailand, from a continental breakfast, to an American breakfast, to Thai noodles and curries.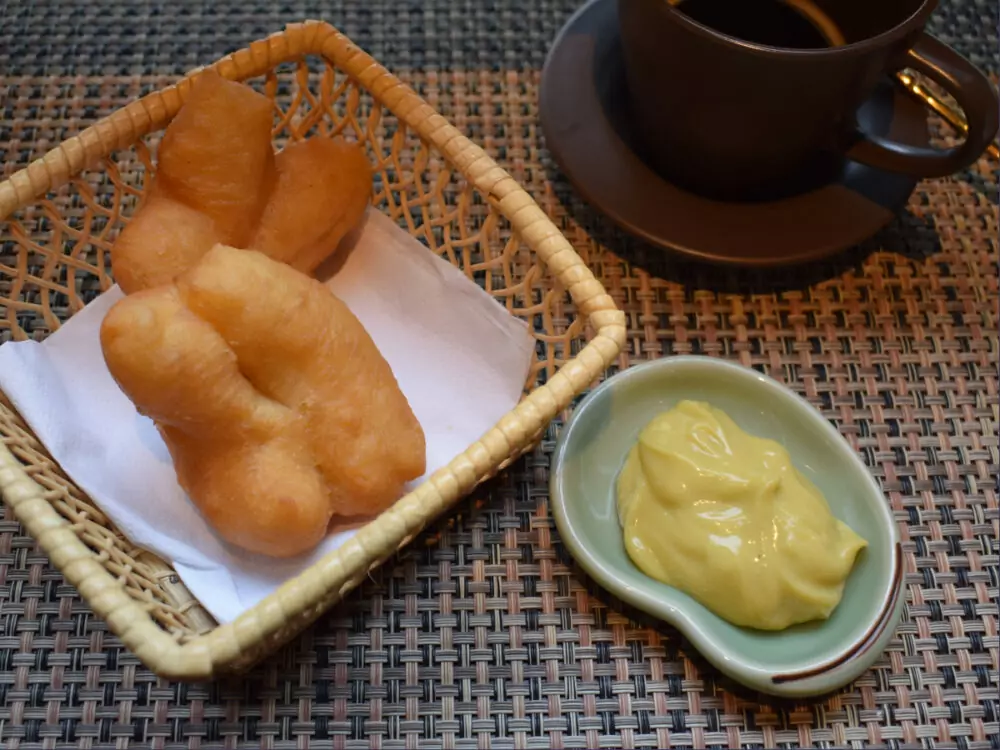 Some Thai speciality dishes include a savoury rice porridge (more like a soup) with chicken or vegetables, and Thai donuts, fried dough with pandan jam.
Malaysian Breakfast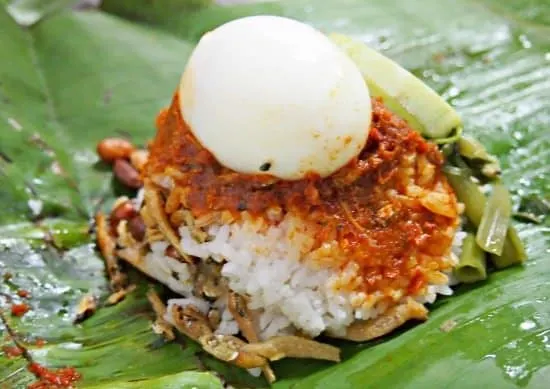 Nasi Lemak is the classic Malaysian breakfast dish. Nasi means rice, nasi lemak means fat rice.
In this dish the rice comes with the red sauce ( sambal), cucumber slices, a hard-boiled egg, peanuts and those fiendish little dried fish. I'm a big fan of anchovies, but these weren't what we in the west love for their oily saltiness.
The sauce we had above was sweet and we would have preferred more spice. Nasi lemak comes in plenty of varieties, you should able to find one that suits you. For other breakfast dishes in Malaysia try this post about food options on Penang.
Nasi lemak wasn't our favourite, but it was an interesting experience as trying new things always is. After a while we discovered vegan Malaysian food and we like this a lot more.
Breakfast in El Savador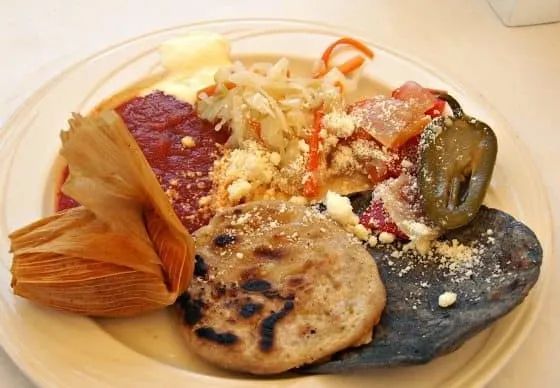 In El Salvador you'll find pupusas, yummy little corn-based flat cakes filled with cheese, beans or chicharron ( a pork cracking mixture). They usually come with tomato sauce and a sort of vinegar-soaked coleslaw. We like pupusas a lot and ate them at roadside pupusarias made and cooked fresh to order. The kids dig them too.
Breakfast in the United Kingdom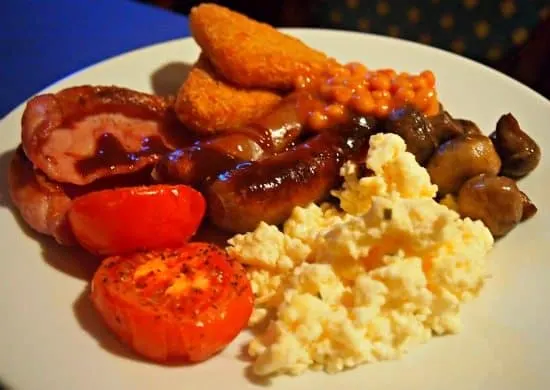 The Great British breakfast will certainly keep you going all morning. We had a full English every day while staying in hotels in Britain. We thought it was great value, room and a breakfast this size for around £10 each. Cereal, fruit, juices, toast, teas and coffees were also included.
Your traditional British breakfast will include eggs, sausage, bacon, occasionally black pudding and, hopefully, some vegetables, baked beans, tomatoes, mushrooms, sometimes fried potatoes of some sort . Serve with ketchup or HP sauce.
To make a full Welsh or full Scottish, local specialties like lava bread, potato scones or haggis may be added.
Guatemalan Breakfast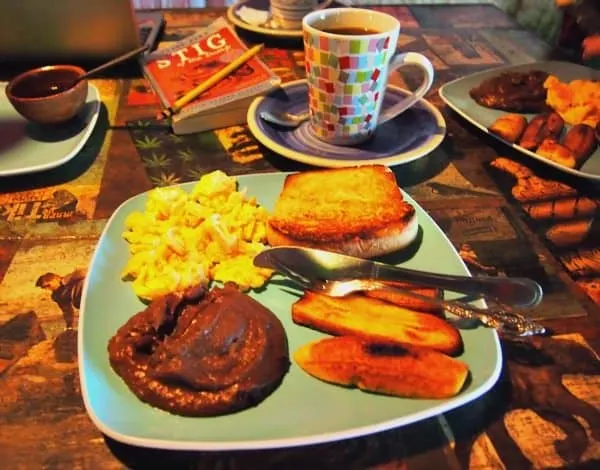 Breakfast typicos is Guatemala, eggs, refried beans and fried plantains. The home-made bread was a bonus at Cool Beans in Flores, Guatemala. I joke about being over refried beans, they do serve them with everything in Central America, but they're absolutely delicious. We also tucked into many plates of huevos rancheros while we were in Guatemala, eggs poached with tomatoes and vegetables, Guatemalans know how to do breakfast!
Australian Breakfast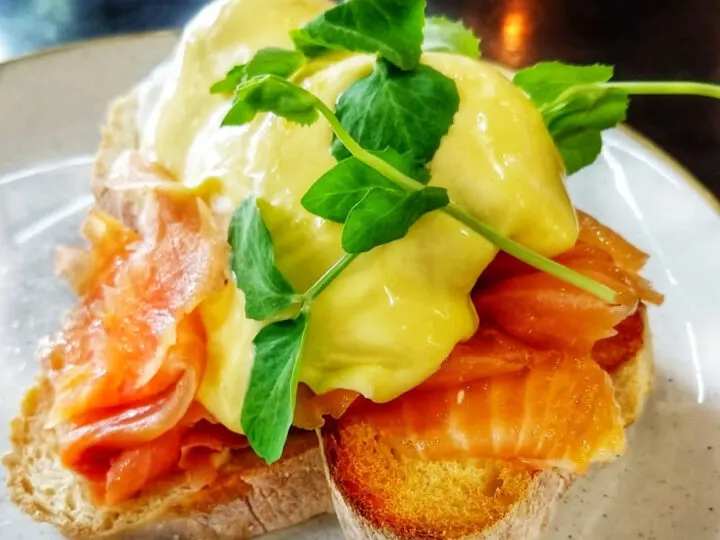 Eggs Florentine or Eggs Benedict with salmon (not bacon) was always my pick when we went out to breakfast back home in Port Douglas. I guess it's a fairly typical Australian restaurant breakfast but I can't think of anything uniquely Aussie for breakfast. Australian food, because of Australia's history, is very blended but there are some very Australian dishes. You'll find these two breakfast egg dishes just about anywhere in the world.
Most of the hotels in Port Douglas or anywhere in Australia have buffet breakfasts with the usual western dishes, bacon, eggs, pastries and so on. Sometimes with miso soup for our Asian visitors. When the four of us went out for breakfast in Australia we'd pay $40-$50 upwards with drinks.
Cruise Ship Breakfasts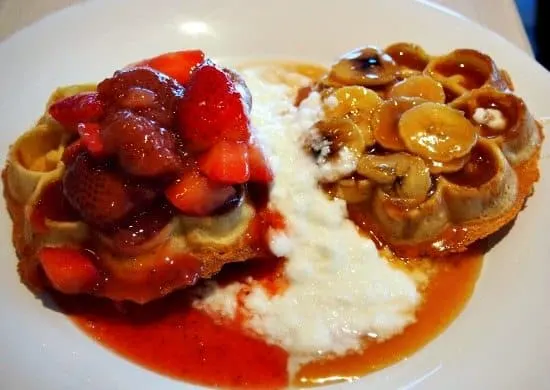 On a cruise ship you can have anything you like for breakfast, so long as you don't want Asian.
Made to order omelets with lots of vegetables or smoked salmon with capers and lemon are my favourite but if you wanted ice cream, bacon and egg pizza or something resembling desert ( the above was Chef's breakfast), it was your lucky day!
Endless choices from a buffet that changed daily. Read about finding a budget cruise here, our next is costing us just $30/day.
Breakfast in the USA – The Bad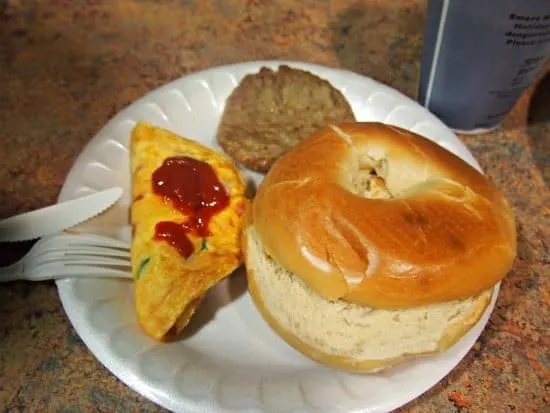 Breakfasts in cheap hotels during our 1 month USA road trip were interesting, but not the best. They filled a hole and were good value. We've not seen anything like this, with plastic disposable plates, anywhere else in the world.
This was one of the better ones, from a hotel in New York. American motel breakfasts were mostly highly processed carbs with eggs, even this microwaved variety, being rare.
A lot of places had waffle machines, which the kids adored. Most had oranges or apples alongside cakes and other sweet things. Coffee was always free, all day. That's got to be good!
Breakfast in the USA – The Good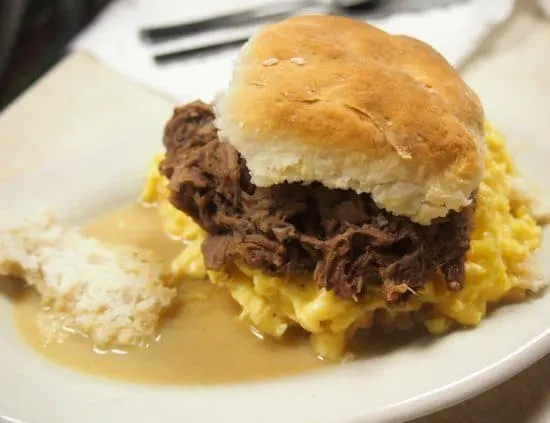 The southern states and better quality restaurants gave us sensational breakfast dishes. In Mother's Restaurant, New Orleans, we discovered what biscuits ( similar to scones) SHOULD taste like. Superb!
We also sampled grits, gravy and collard greens. Beignets ( sweet donuts) were another famous NOLA favourite.
Breakfast in India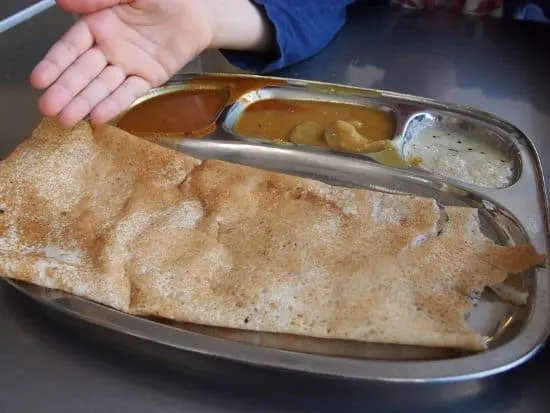 In 2015 we spent a month in India, our third trip, and we also found some awesome Indian food in Malaysia. Dosa, roti, vada or idli with sambar and coconut chutney are very typical of Southern India and they are delicious.
Above we have a huge dosa with sambar (thin veg curry), fresh coconut chutney, and an extra veg curry dish on the side. Waiters with huge stainless steel buckets of curries weave between tables replenishing plates as diners enjoy.
What iA dosa is a type of pancake and comes served in many ways, plain, filled or even sweet.
In Malaysia you will also find Indian dishes like this served at breakfast time.
Laos Breakfast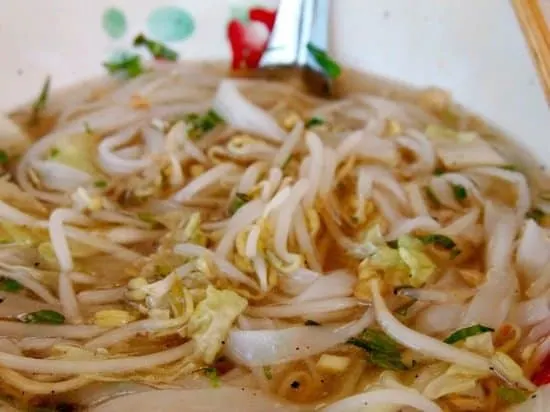 In Laos, like most places on the backpacker trail, you can get just about anything for breakfast.
We had cheese and onion roti, baguettes, excellent shakshuka, (an Israeli egg dish with vegetables), tofu with chilies and ginger and this yummy vegetable noodle soup bought from a street stall.
I guess this is the most typically Laos dish of the bunch and we all enjoyed it immensely.
Breakfast in Cambodia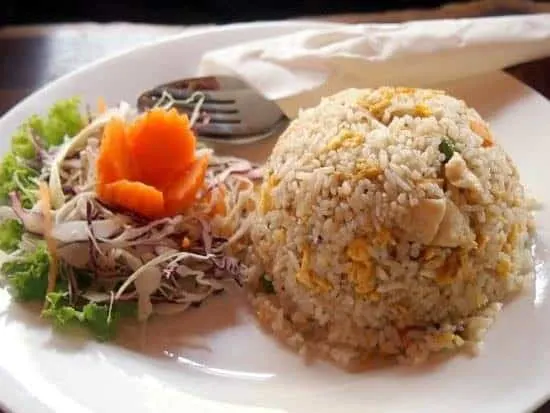 Cambodia has some interesting and tasty dishes, we even took a cookery class there and learned to make fish amok and a Cambodian style stir fry dish with chicken and greens. There didn't seem to be any particular breakfast meal, we ended up eating a lot of fried rice, or, the backpacker special, omelettes and toast.
Oh, and deep-fried spiders. But not for breakfast.
Turkey- Amazing Breakfasts!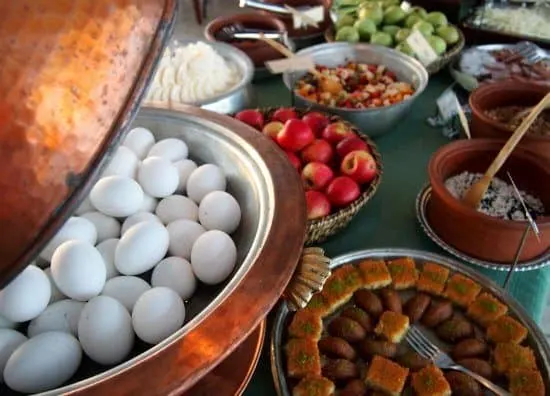 Turkey gave us amazing breakfasts of local cheeses, olives, breads, fruits, vegetables and pastries. It was foodie heaven. I had no idea Turkey produced such great quality, interesting foods. You could go there just to eat.
Read up on breakfast in Istanbul here, my husband has taken away a few great ideas for his 5 star hotels from the Turks.
Romania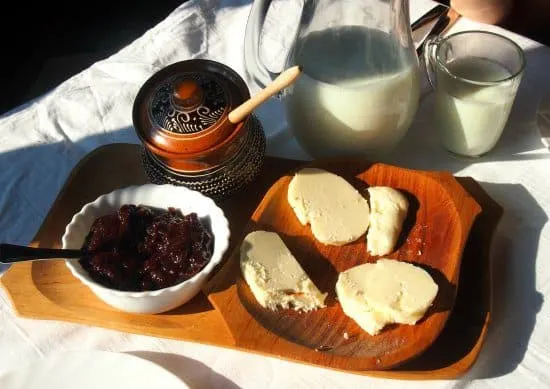 Not too dissimilar from Turkey, Romania gave us cheeses, tomatoes, home-made bread, milk and butter straight from the cow and jams from the fruits in the orchard.
There were a few processed meats and some interesting dishes such as fried hard sheep's cheese. We had our best breakfasts in Romania when we were staying with families in home-stay type accommodations with well-practiced home cooks, passionate about good food. We lked Romania so much we kind of never left, but that's another story.
The World's Best Breakfasts-Video
We made this video to bring you real photos of different countries making, and serving, breakfast.
Favourite Breakfast Around The World – Vietnamese Breakfast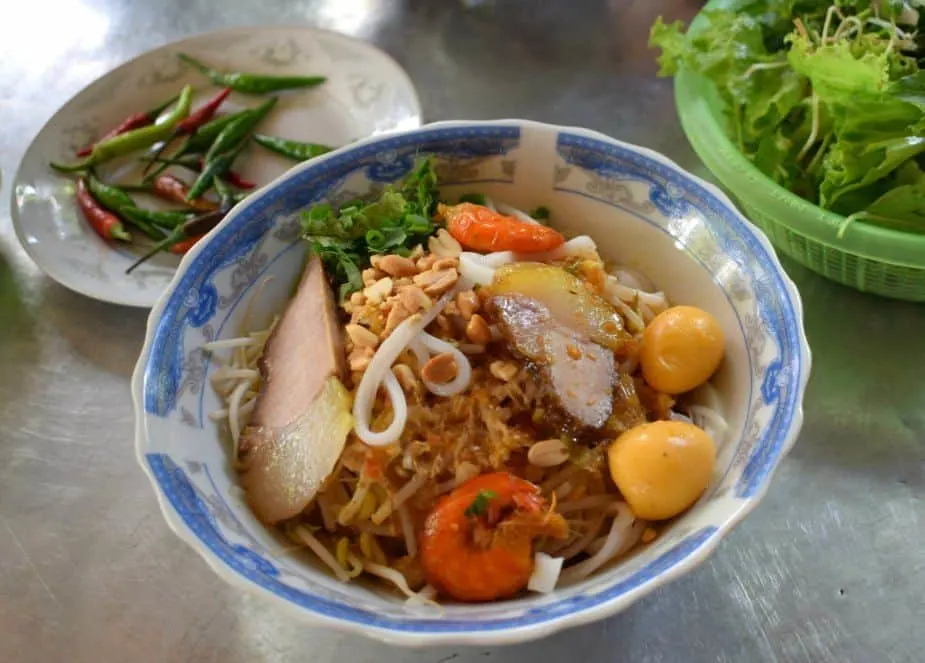 Vietnam is currently favourite breakfasts from around the world. In Vietnam it's hard to pick between pho, mi quang, cau lao and op la, but the picture above shows our personal favourite, mi quang. For more on these Vietnames dishes, see here. Vietnamese coffee is also famous around the world look out for egg coffee, coconut coffee and salt coffee in Vietnam.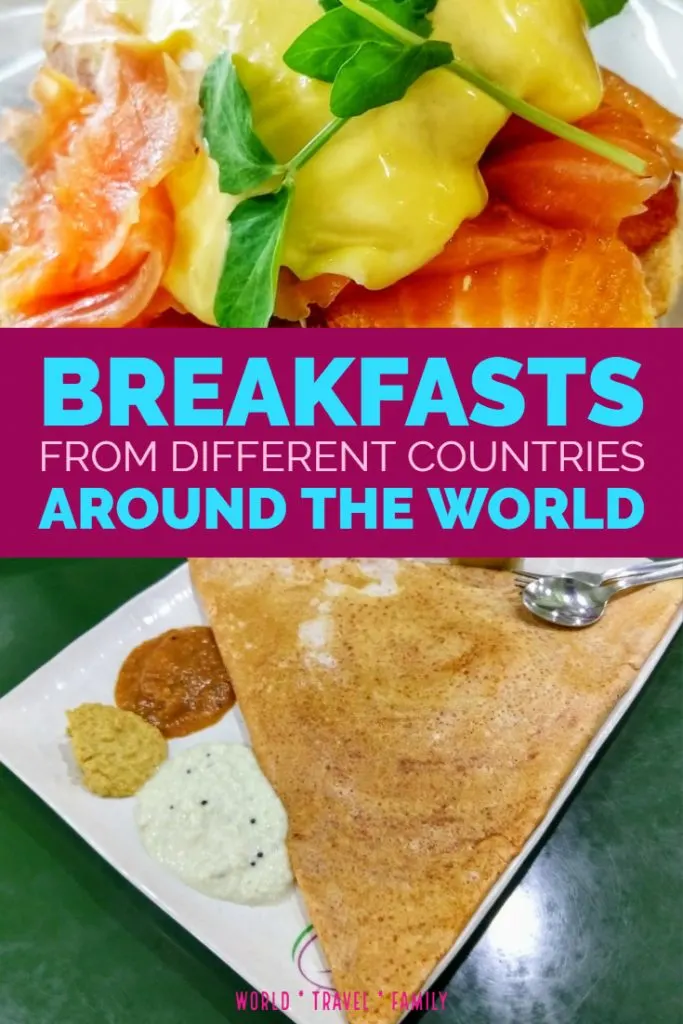 That's it for now, our breakfast around the world favourites from the last few years. What's your pick for the best breakfast from around the world? Tell us in the comments.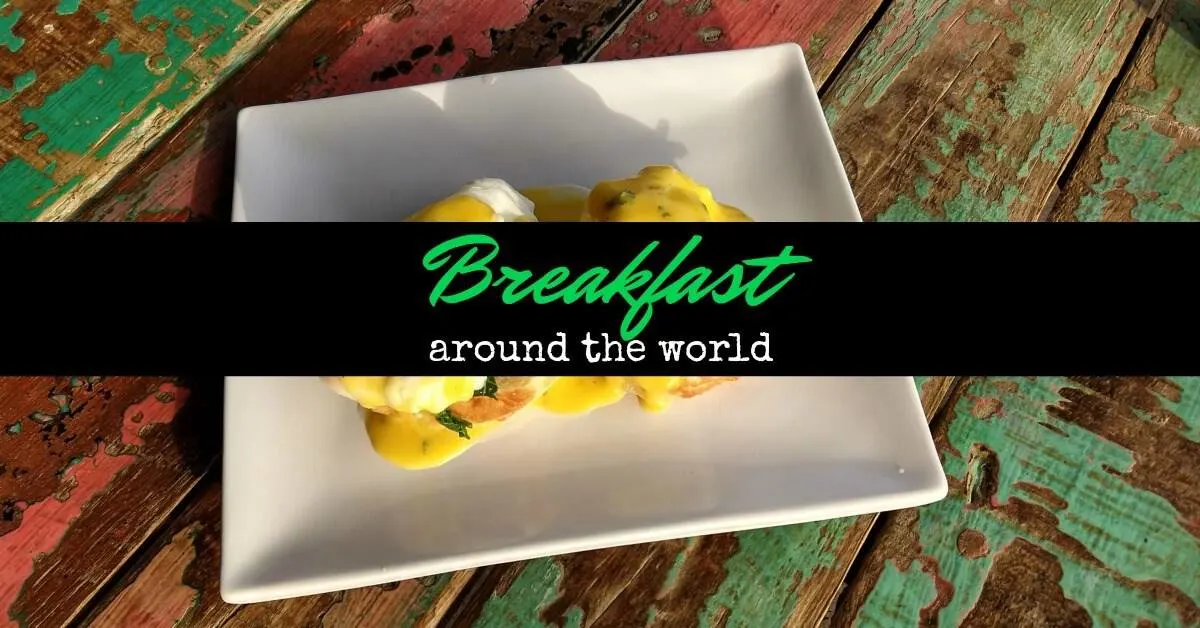 If you'd like to hire a car during your stay, use this car rental comparison tool to find the best deal!

We also suggest you take a look at this company to get a quote for all kinds of the more tricky adventure or extended travel insurance.

Try Stayz / VRBO for an alternative way to find rentals on homes/apartments/condos in any country!