This post may contain affiliate links.
Salt coffee is all the rage these days, but did you know salt coffee has been around for years in Vietnam? We were lucky enough to spend a day touring the ancient city and nearby tombs of Hue Vietnam with two local girls. My son and I joined them, each hopping on the back of their expertly driven motor scooters. Our day began with coffee. Not in a modern chain coffee shop, there is indeed, Starbucks in some parts of Vietnam. No, they took us to a place to try local coffee, a place the locals go, not a tourist in sight. But this Hue coffee shop was special, it had been there forever and was the home of Vietnamese salt coffee. And there's a very special story behind that.
If you'd like to book a food tour in Hue to try Vietnamese salted coffee, do that here through Viator, we have been unable to find a tour that includes salt coffee in Vietnam on GetYourGuide.
If you need to buy the device needed to make Vietnamese salt coffee (a phin or Vietnamese drip coffee filter), you don't need to go to Vietnam, you can buy one below in the US, UK, Canada, Australia etc. This phin is pretty, it's one of the more luxury version in stainless steel (rather than aluminium), you will need one per person. Buy it here. Or there is a basic version, a few dollars cheaper, here. Another version, great for camping, would be this stainless steel model. These coffee filters do not require paper filters but waiting for your coffee to brew takes time, if you are making coffee for more that one person you do need one per cup.
What type of coffee to use for Vietnamese salt coffee? You need a robusta bean and you can buy that here. If, like me, you prefer Arabica, go ahead and use that too, we have bought excellent Arabica in Vietnam, freshly ground.
So on with the story of salt coffee!
Salt Coffee in Vietnam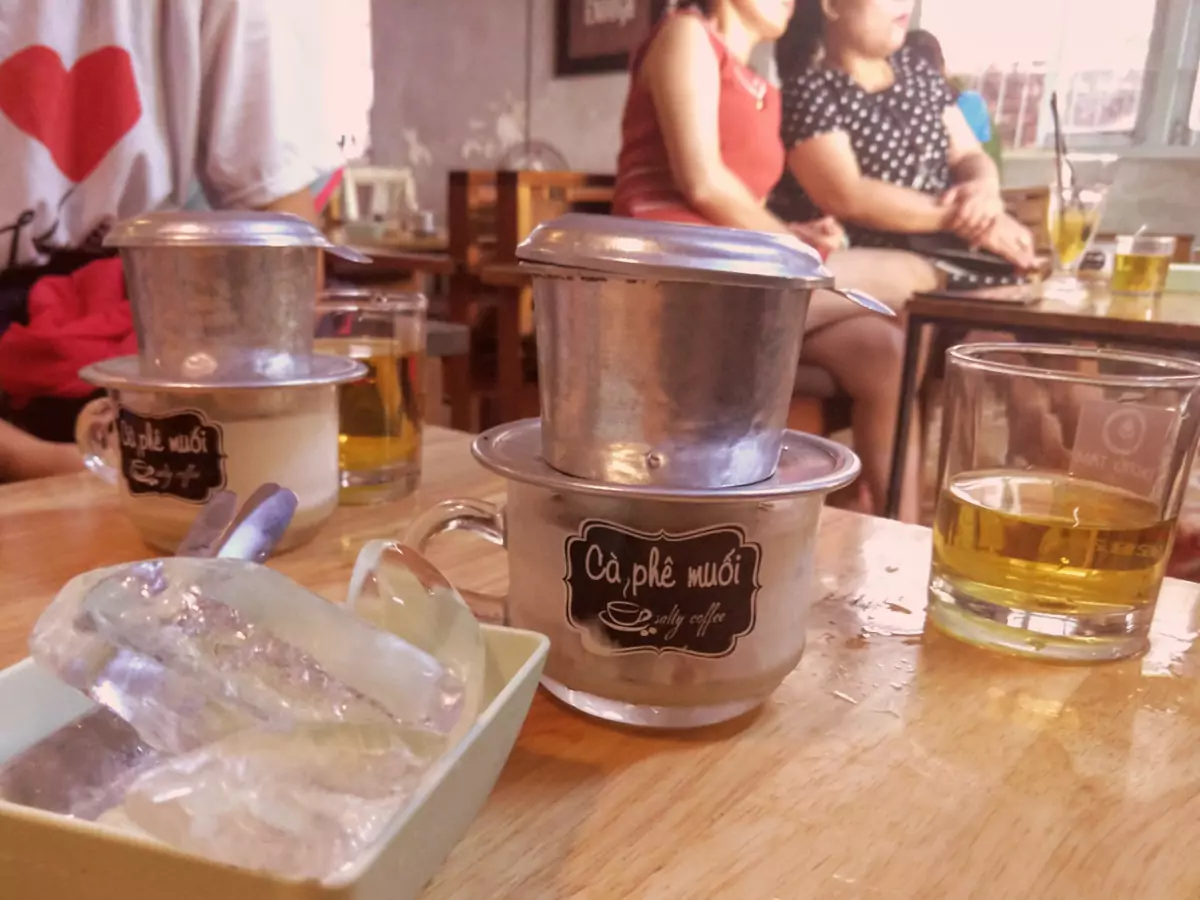 This Vietnamese salt coffee wasn't a new invention. Vietnam is famous for coffee and they serve it in some very inventive ways. Salt coffee in Vietnam is traditional and may be the original salt coffee.
The girls told me that salt coffee originated in the ancient city of Hue, their home, and that this cafe was one of the most famous places to buy and drink salt coffee. Drinking salted coffee was a morning ritual for many local Vietnamese people.
The Story Behind Salt Coffee in Vietnam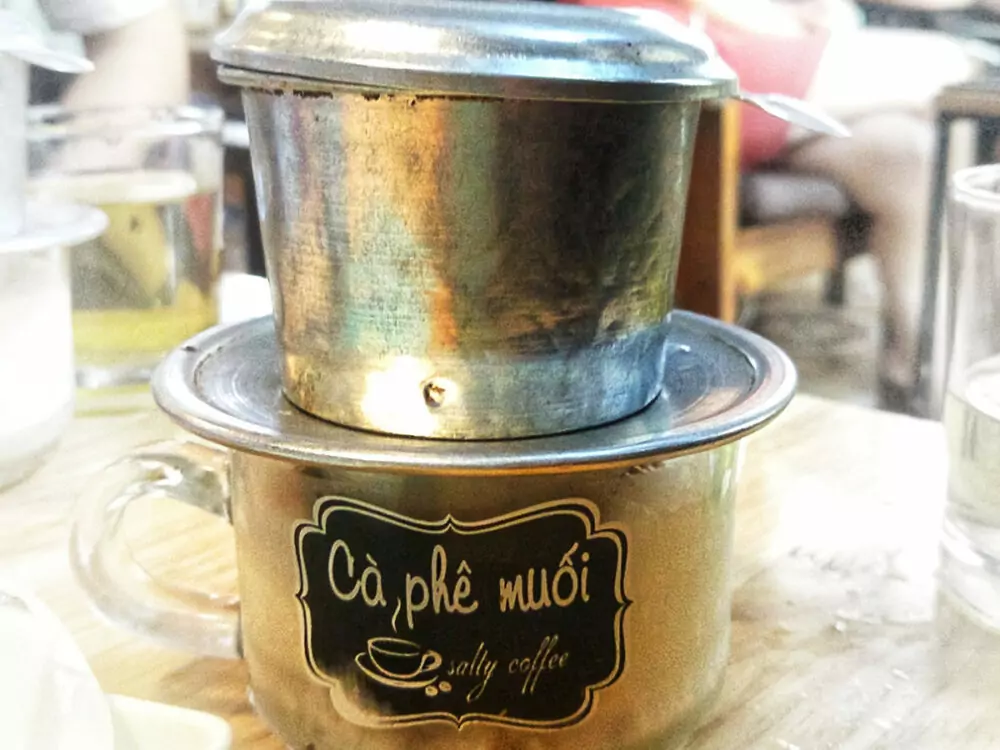 This is the story they told me about the origins of salt coffee in Vietnam. As it was handed down to me, so they passed this history of salt coffee on to me.
A young fisherman got married. His young wife served him coffee as a new bride and accidentally added salt instead of sugar. He didn't want to upset his new wife so he made a big fuss about how delicious his coffee was with salt. She was surprised, but delighted that her mistake had made her husband so happy. Because of this, she served him coffee with salt every day of their long and happy marriage. He never once complained and grew to love the salt coffee. It reminded him of the sea and his life as a fisherman.
How is Salt Coffee Made?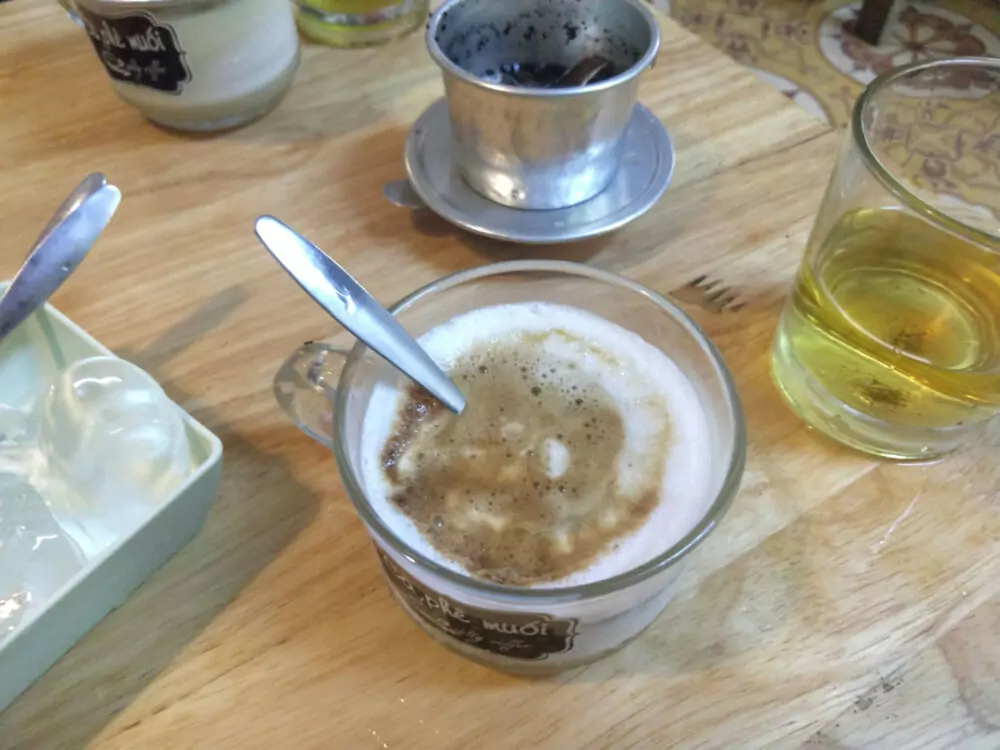 Salt coffee starts in the traditional way by brewing in a stainless steel device called a phin. You can buy a phin at any market and they make a great souvenir of Vietnam. If you're not lucky enough to be in Vietnam, you can see a phin and buy one here. We have one at home and use it often.
Your coffee will come to the table dripping down into your coffee cup from the phin. The base of the cup will already contain salted cream or sweetened condensed milk. You then simply wait for the coffee to finish dripping into your coffee cup.
When the coffee has finished filtering, stir the cream and coffee together, then comes another unusual feature of salt coffee in Vietnam. You add ice cubes. This is something we do at home in tropical heat too, it suits the climate to drink hot drinks like coffee, cooler.
The combination of sweeted cream, salt, and the Vietnamese coffee beans, which are quite different to western coffee, give the drink a salted caramel or fudge-like flavour. My son absolutely loved it, he's not usually a coffee drinker. I prefer western coffee made with arabica beans, black. This coffee wasn't for me, but if you have a sweet tooth I'm sure it's good.
We enjoyed our salt coffee at Ca Phe Muoi in Hue. Most Hue cafes will serve salt coffee, but this one is particularly popular and famous. Our local guides told us this was the best place to try salt coffee in Vietnam, certainly in Hue.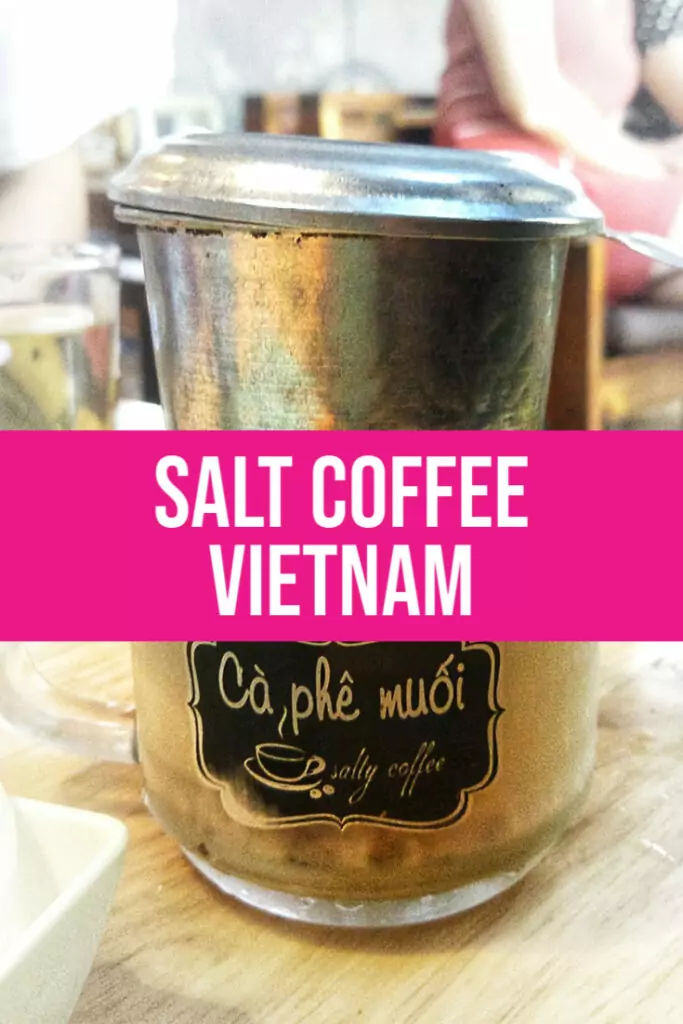 Salt in Coffee
Adding salt to coffee brings out sweetness in coffee and naturally reduces any bitterness. If you'd like to try salted coffee, simply add 1/4 tsp to your cup of coffee. Ideally, add the salt to your ground coffee and brew the coffee by pouring water over the coffee plus salt using a coffee filter.
You can add salt to coffee alongside sugar or instead of sugar. You can drink your coffee with salt black, or with sweetened creamers or condensed milk as they do in Vietnam. Overall, adding salt to coffee creates a more rounded, mellow flavour because of the way salt interacts with your taste buds rather than with the coffee itself.
If you use good quality salt (Himalayan, rock salt, or sea salt) rather than table salt, adding salt to your coffee may maye your cup of coffee more healthy than coffee with sugar and creamers. Coffee is naturally low in sodium (depending on the type of bean) and drinking coffee can actually strip your body of essential minerals because of its diuretic properties. So adding salt to coffee can be a good way of replacing valuable electrolytes.
Salt coffee can be hot or cold. In our example of Vietnamese salted coffee, the coffee is brewed hot, then dripped onto a cup of ice to be drunk cold.
Where is Salt coffee traditional?
Other than in Vietnam, salt coffee is also traditional for sailors (Navy coffee) and in Turkey, where a wife will serve her new husband salted coffee as part of marriage rituals.
Recipes for salted coffee vary, really, you don't need a recipe, just make salted coffee to your own personal taste.
If you're visiting Vietnam be sure to taste as much Vietnamese food as possible. If you're visiting Vietnam with kids, as we were, your kids may enjoy these sweet, creamy coffee treats. In Hue, look out for bun bo Hue, a local specialty. All regions of Vietnam have distinct dishes particular to the region. Food in Hoi An (also in Central Vietnam) is particularly famous but Hue, being an Imperial city, has royal cuisine, there are many dishes to try. Coffee is a big part of the Vietnamese taste experience. Vietnamese coffee beans are less harsh than arabica, they're slightly chocolatey in flavour. The robusta bean is more common in Vietnam than arabica. Also, look out for egg coffee in Hanoi and coconut coffee further south. We hope you found our post on egg coffee in Vietnam interesting. We met our young students for a day tour of Hue by booking with this company. We highly recommend these tours and it's a local Vietnamese-owned company. Could you save this to Pinterest? For all of our Vietnam content, go to our Vietnam index. For the foodies, head to World Food.
If you'd like to hire a car during your stay, use this car rental comparison tool to find the best deal!

We also suggest you take a look at this company to get a quote for all kinds of the more tricky adventure or extended travel insurance.

Try Stayz / VRBO for an alternative way to find rentals on homes/apartments/condos in any country!