This post may contain affiliate links.
What is Australian food and what are the most popular Australian foods?
Modern Australia exhibits a diverse blend of global cultures and histories in its modern cuisines. Many popular Australian dishes are synonymous with Australia, verging on the unique, yet they tend towards Australian variations on international dishes.
Other dishes that are most certainly popular Australian food can be found in many other countries, yet their popularity in Australia is greater than elsewhere.
We give you a list of foods popular in Australia, that you should try and seek out when visiting Australia. It might give you a glimpse into Australian dining and culture.
We include some branded products because you can't discuss popular Australian food without mentioning Vegemite and Tim Tams, can you?
You can see which foods are popular in Australia, by which dishes appear most regularly on menus. My husband is a chef. There is always steak, a burger, fish and chips, and seafood.
In this blog post, we've presented common popular Australian food, the foods my husband ate during his childhood in Australia, and prepared later as an Aussie chef.
We also include the dishes that are popular on most Australian restaurant menus today.
It's rare to find a mid-range restaurant without a parmy, for instance, as well as street food, foods to grab, breakfasts, lunches and dinners.
Australian Food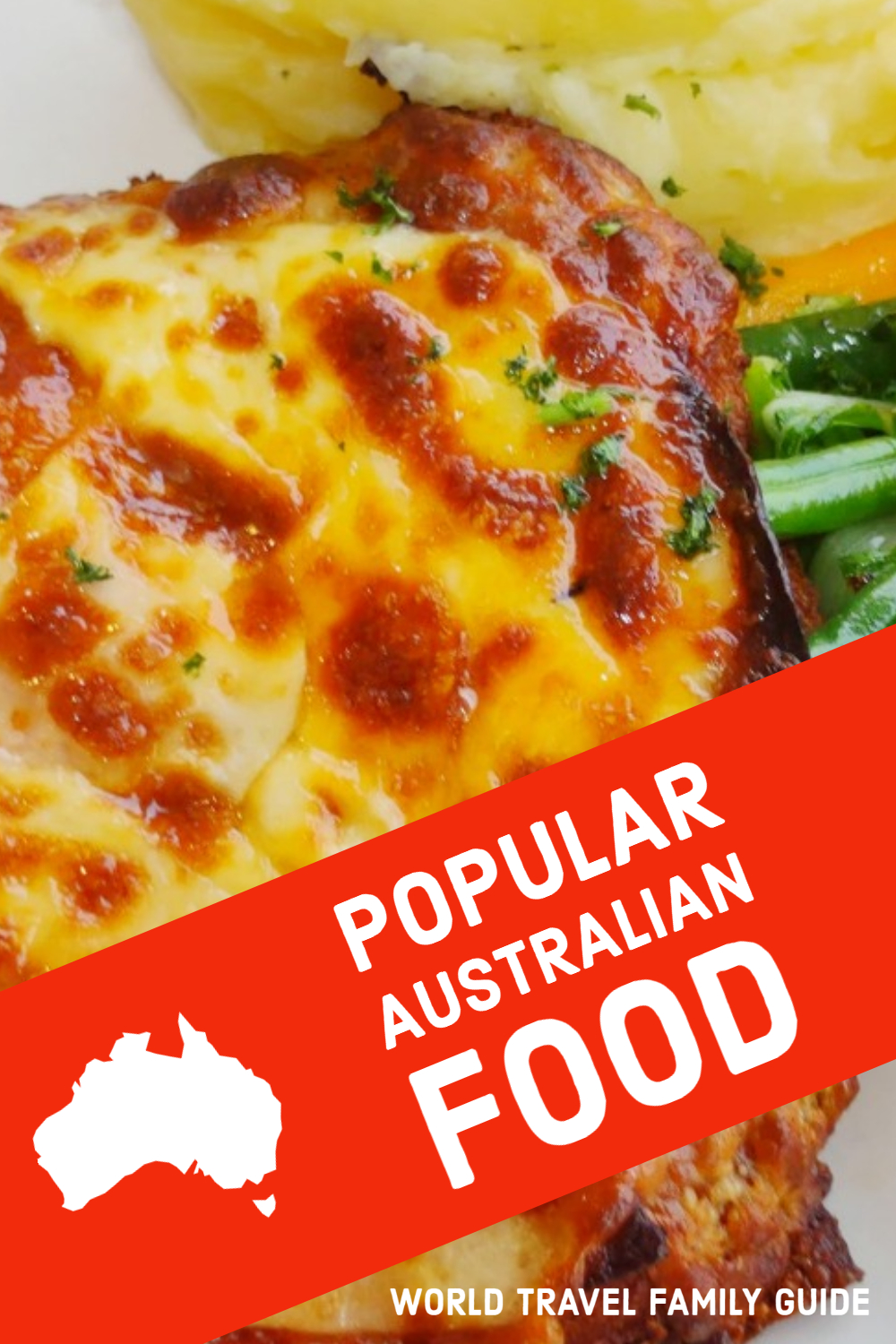 Some of the most popular Australian food traditions feature local produce and flavours, often very plainly cooked.
For instance, prawns, yabbies, and barramundi are commonly eaten and popular.
You will also find Australian flavours featured in more complex dishes. Lemon myrtle and wattleseed, native Australian flavours, can appear in desserts or savoury dishes.
A surf 'n turf could be made more Australian by using local Australian beef and yabbies.
Moreton Bay Bugs, freshwater crayfish, Davidson plums, finger limes, and quandongs, are found in popular Australian restaurant food, representing Australia's native plants and animals.
Likewise, kangaroo and more exotic meats sometimes put in an appearance.
The bush tucker of Australia's native indigenous people has been consumed for thousands of years. Foods such as sea turtle, goanna, and emu, sometimes roasted in paperbark, are the foods of the land and sea.
Seafood is, of course, popular in Australia, with most of the population living on the coast, but Australia is also a big producer of beef, along with dairy and many Australian fruits and vegetables.
You will find tropical fruits as well as more temperate produce.
Australia, being a huge country, has the climate to grow and raise many foods.
Popular Australian Food List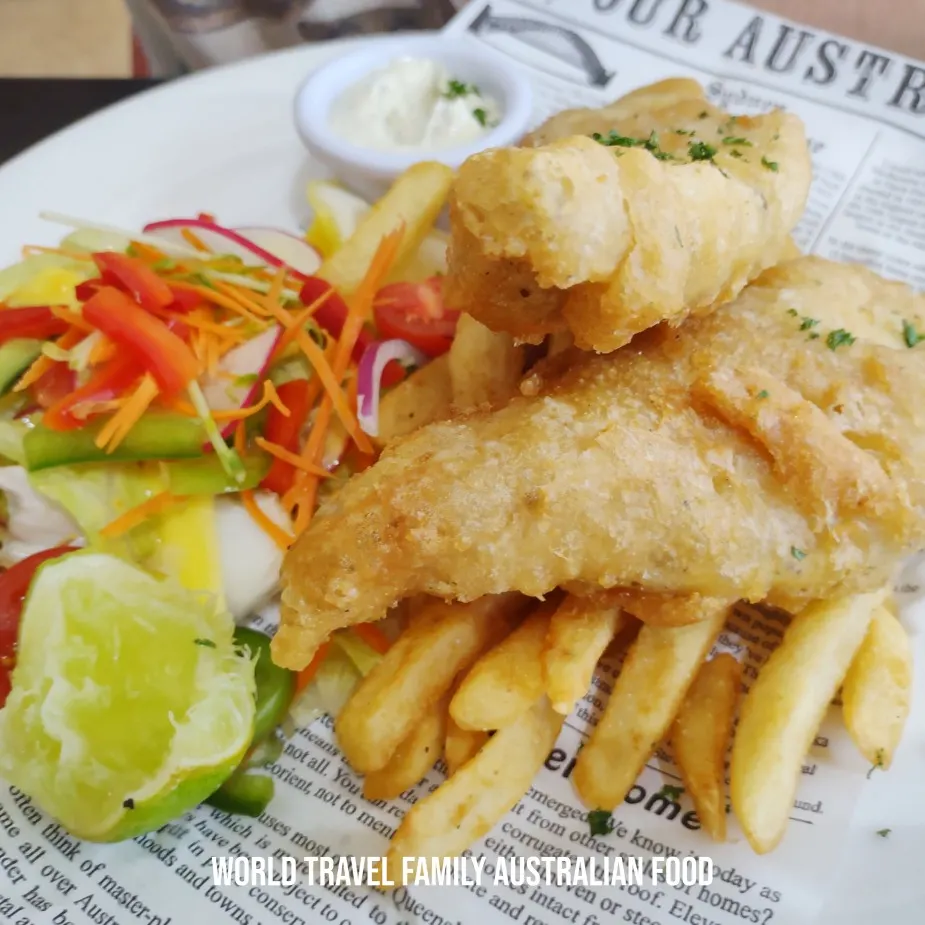 Some of the popular Australian foods in the list below, you may not have heard of, we give you a brief description of each to help you out.
Vegemite. A yeast spread for toast or bread, similar to British Marmite, but quite different.
Tim Tams. An oblong chocolate-coated biscuit, available in many flavours.
Dagwood Dogs. A deep-fried coated sausage, like a corn dog.
Snags. Sausages.
Damper. A type of rustic campfire bread.
Fairy Bread. Sliced white bread, spread with margarine, coated in hundreds and thousands.
Meat Pies. The Aussie meat pie is an institution. Very similar to the meat pies served in chip shops in the UK, but much more popular. Corned beef and white sauce is a very Australian filling.
Sausage Rolls. Again, sausage rolls are very popular in Australia. Sausages wrapped in pastry.
Sausage in bread. No, it's not a hotdog, and no, Australians don't want your hot dog buns. A slice of plain white bread is favoured to wrap a sausage from the grill. Look for "sausage sizzles" outside stores on weekends.
Lamingtons. A light square sponge cake coated in chocolate and desiccated coconut.
Milo. A malty chocolate drink powder. You'll find the original and Milo-flavoured items.
Sweet flavoured milk drinks. These sweet drinks are incredibly popular in Australia. Coffee flavour is a key player. Find them chilled in shops and supermarkets.
Beetroot. You see canned or pickled beetroot often in Australia, commonly in sandwiches or burgers.
Barramundi. Asian sea bass. A popular, soft-fleshed, wild or farmed fish.
Yabbies or "red claw" are freshwater crayfish. Treat them like a prawn, or shrimp to our US friends.
Prawns. Prawns in Australia are big, and, ideally local.
Native (and introduced) animals, crocodile, goanna, emu, kangaroo, camel, witchety grub, and more. You'll see kangaroo in most supermarkets, the other meats are more novelty items, something to try.
Pavlova. A meringue base coated in fruit and whipped cream.
ANZAC biscuits. An oat-based biscuit (cookie) is very popular in Australia.
Barbecues. It's often really hot in Australia. It makes sense to cook outside instead of heating up the house. But Australian BBQs are normally gas-fired, not charcoal. Expect meat, fish, seafood, and vegetables. Pretty much anything goes.
Avocado. Smashed avo on toast is an Australian obsession.
Chicken Parmy. Parmigiana, to give it its full name. Breaded chicken coated in tomato sauce, bacon (or ham), and cheese. Rather like schnitzel with extras. These can also be called a parma, parmie, or parmi.
Fish and Chips. Good old British fish and chips? Well, in Australia it's good old Australian fish and chips. Expect warm water species like coral trout and Spanish mackerel, not cod and hake. Another unique Australian addition is chicken salt. A lot of Australians use chicken-flavoured salt on their fish and chips, and lemon, not malt vinegar. Chips are usually called hot chips, to avoid confusion with cold potato chips or crisps.
Moreton Bay Bugs. Bugs are flat, squat, crustaceans found usually in Moreton Bay. They taste like prawns, lobster, or crayfish.
Burgers. Burgers are massively popular in Australia, Australianised with ingredients such as beetroot or deep-fried barramundi to mane an "Aussie burger with the lot" or a "Barra burger".
Pizza. Pizza is as popular in Australia as it is just about anywhere else. I can't think of any particular Australian adaptations other than maybe the combo of prawn and pineapple, or the occasional slice of kangaroo.
Steaks. Australia is a big meat producer and consumer. Cuts of steak may be named differently.
Tea and coffee. Both are popular in Australia and both are grown in Australia. Australians, particularly those from the state of Victoria, are notorious coffee snobs. You won't find an "Americano" here, instead, you'll have to order a "long black" It's not quite the same and the beans are different.
Chicken Parmie, a Popular Australian Pub Food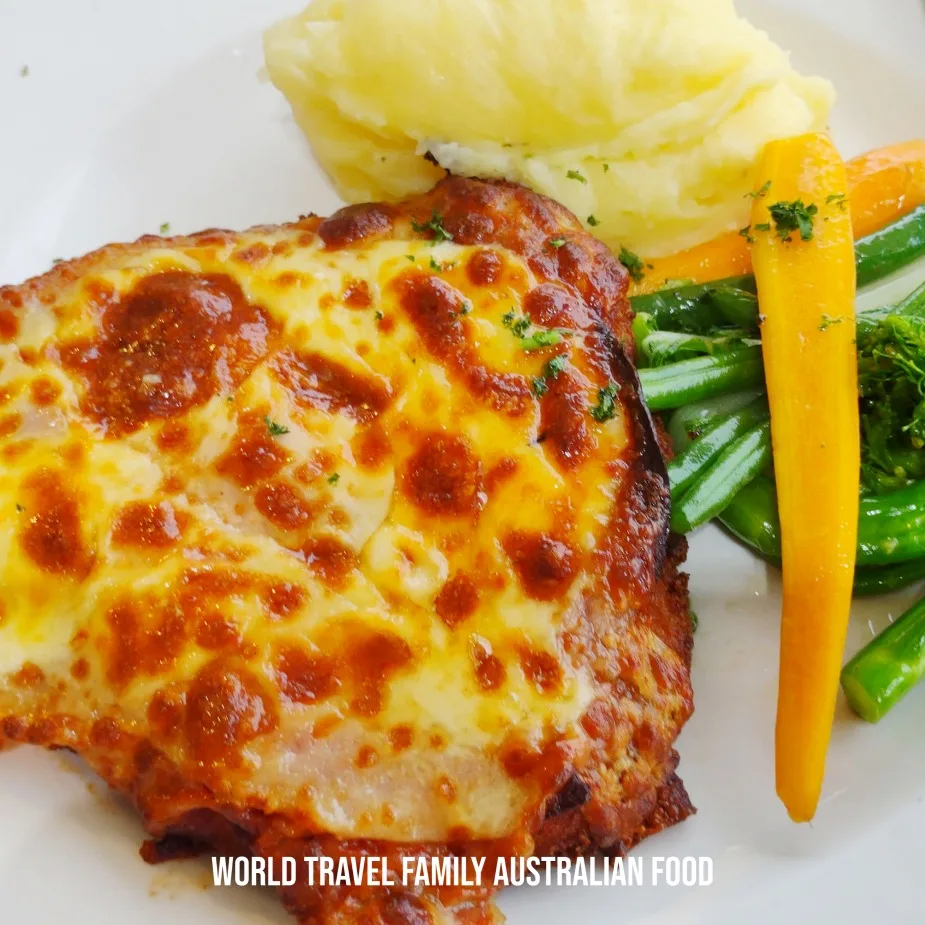 I doubt you'll get out of Australia without trying a parmie. Chicken Parmigiana, to give it its full name, is basically chicken schnitzel, with extras. The dish is hugely popular with many pubs, clubs, and mid-range restaurants having "Parmie Night". The parmie usually comes served with potato chips (fries, called hot chips in Australia) or mashed/boiled potatoes and salad.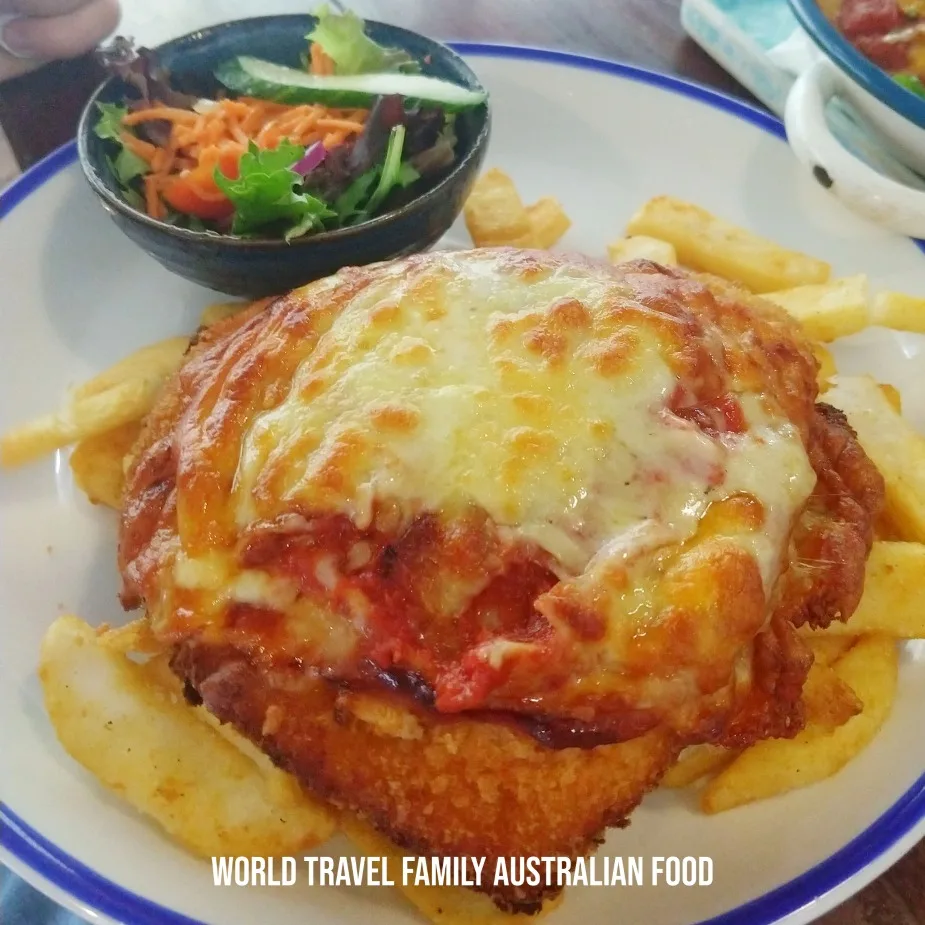 The origins of the Aussie chicken parmie seem to lie in Europe. Italian communities moving to Australia switched eggplant (aubergine) for chicken, making the first chicken parmie in the 1940s or 50s. The dish spread, populating every pub and mid-range restaurant country-wide. Interestingly, it's not always called a "parmie". The dish has regional abbreviations. Down south you'll find it called "chicken parma" "parmy" or "parmi". It is the equivalent of chicken parmesan in the US. I've never seen it in the UK but my parmie-loving son replaced it with schnitzel in most of Europe.
Australian Meat Pies, Always Popular in Australia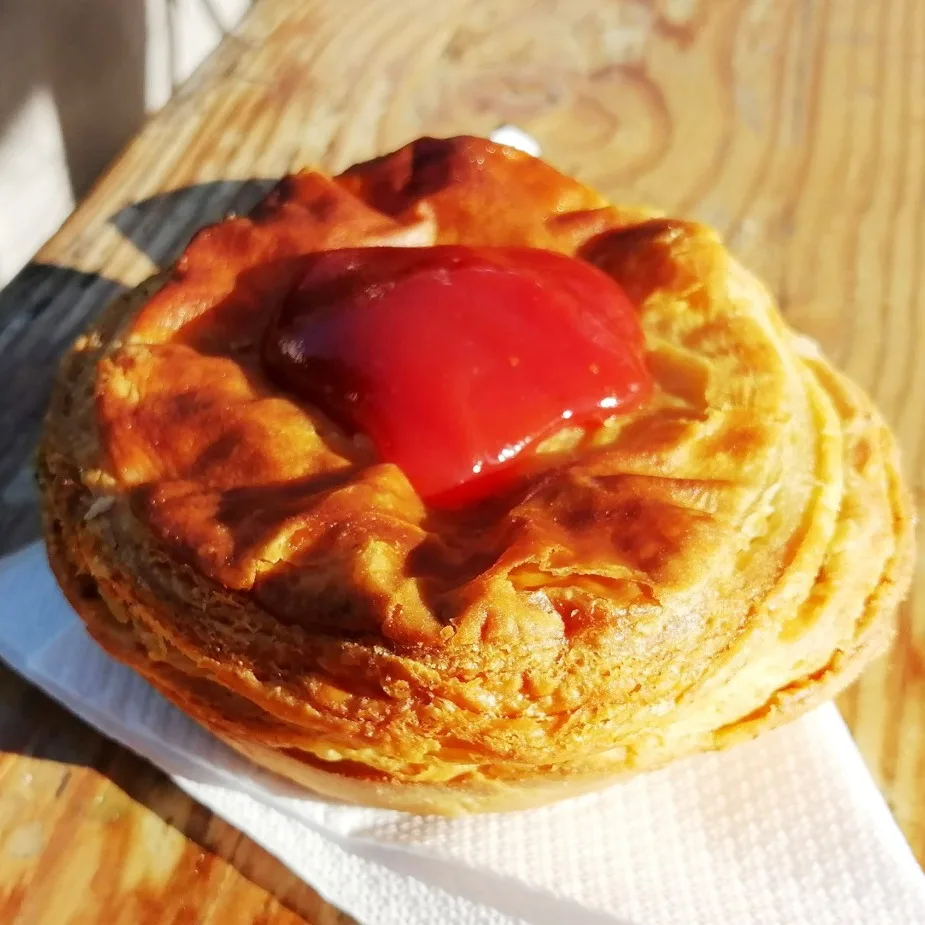 Meat pies are an Australian institution and it's traditional to serve tomato ketchup on top. The meat pie moved to Australia with the first fleet way back in 1788. Sargents in Sydney were Australia's first industrial meat pie producer, documented from 1906.
You can find Aussie meat pies in bakeries throughout the country or kept warm in gas stations and stores. Gourmet pies are better, of course, but the majority of pies sold in Australia are mass-produced for sale in supermarkets. Vegetarian and chicken pies are fewer, but they do exist. Fish pies are rarer, but if you can find a bakery that makes them, hopefully, you will enjoy them.
The meat pie's sibling, the sausage roll can be found in similar outlets. It is a key component of what my husband grew up eating, the "surfers' breakfast" of sausage roll and flavoured sweet milk drink.
Vegemite, The Popular Australian Spread
There's a fair bit of confusion over the world's black yeast-based spreads. Vegemite is unmissably Australian but Marmite exists in the UK and New Zealand.
New Zealand Marmite is not the same as British Marmite, they're totally different. The Kiwi Marmite is sweeter.
British Marmite is sold as " Our Mate" in supermarkets in Australia to distinguish in from New Zealand Marmite.
As an Aussie, I should make out that I love true blue Aussie Vegemite, but actually I'm pretty indifferent to both Marmite and Vegemite. You make your own mind up!
Any way you look at it, if you don't try Vegemite in Australia, it's a wasted opportunity.
Barramundi, a Popular Australian Fish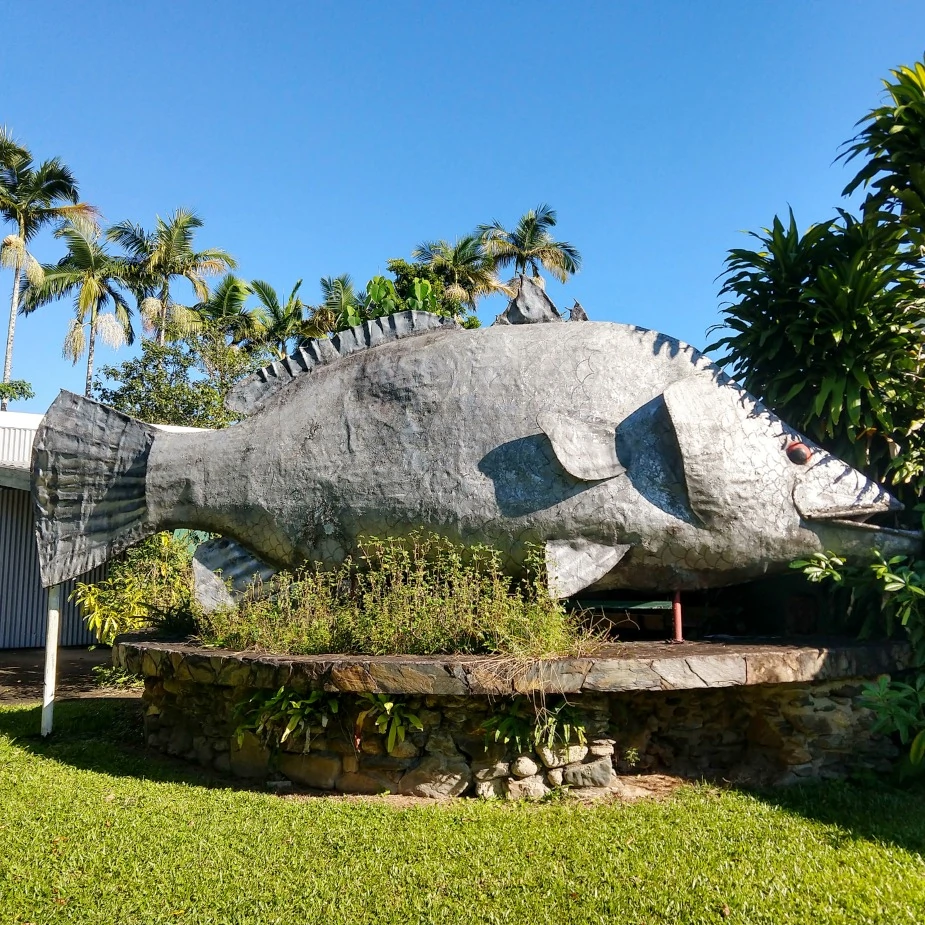 Barramundi became barramundi in the 1980s. Before then this Australian delicacy was usually called Asian or Australian sea bass. Barramundi as we know it is not unique to Australia, it is to be found in Southeast Asia, India, Sri Lanka, Papua New Guinea, and the tropics of Australia. It is farmed commercially in many countries, not least in Australia, but wild barramundi, freshly caught, is a much nicer fish. A lot of the "barra" sold in Australia is actually imported
The word " barramundi" is from an Aboriginal word for a big-scaled estuarine fish.
Barramundi has a delicate flavour and very soft flesh. It's not a meaty fish so the words "melt in the mouth" are often applied to barramundi flesh. It's an easy fish, no strong flavours here. This fish, along with sea turtles, is a tasty snack for saltwater crocodiles. It's common to find barramundi deep-fried in batter or in barra burgers. Up-market restaurants will handle their barra more delicately.
Aussie Prawns, Very Popular Seafood in Australia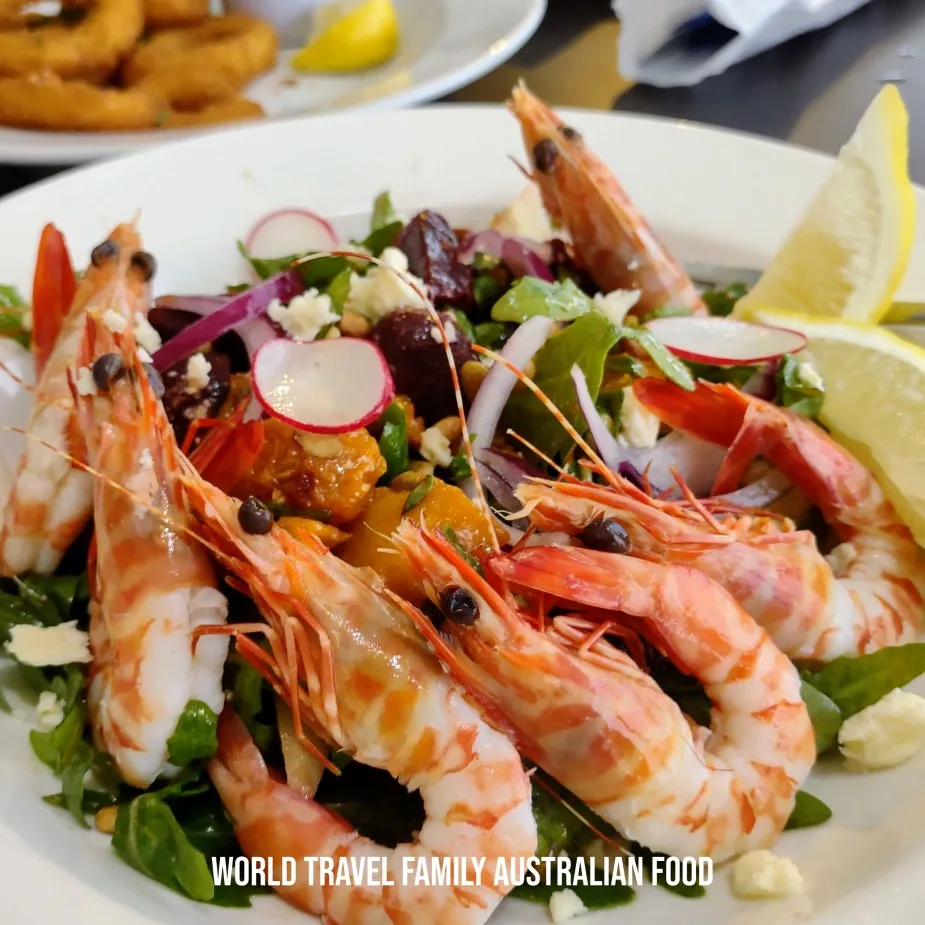 There are a whole bunch of different types of prawns that are popular in Australia, including tiger prawns and banana prawns. Most are large, if not huge. Australians do not call prawns shrimp. A shrimp is a much smaller crustacean. A prawn cocktail is a prawn cocktail, even if fairly small prawns are involved. This ongoing prawn/shrimp controversy involves Paul Hogan prior to his role as Crocodile Dundee. He was responsible for "Chuck another shrimp on the barbie" in an advertisement designed to attract US visitors "Downunder".
Prawns are popular at Christmas and holidays and are usually served cooked and chilled. A bucket of prawns is a popular pub, club or restaurant dish, as is a prawn salad or prawn "sanga" or sandwich.
Vegetarian and Vegan Food Popular in Australia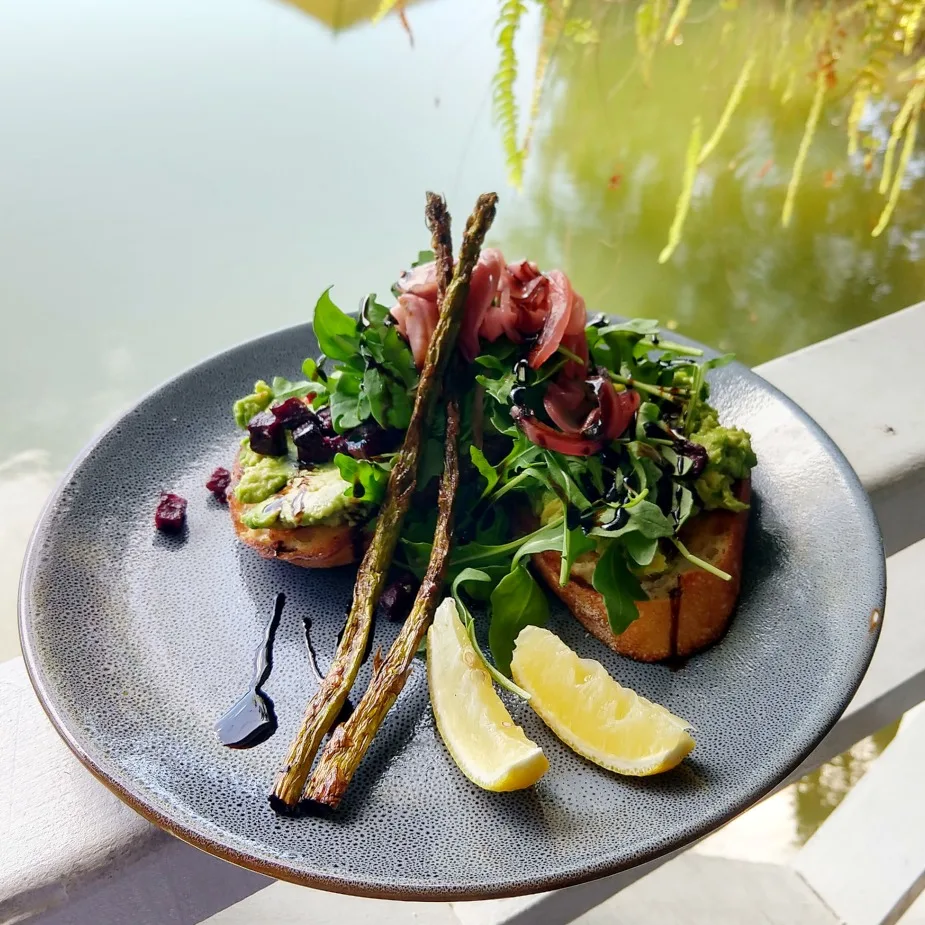 Is vegetarian and vegan food popular in Australia? Yes and no. Vegetarian and vegan food is fairly easy to find and most supermarkets will have a good supply of everything a vegan could need. If you're in more remote parts of the country, this will become more difficult. Is vegetarian and vegan food popular with staunch meat-eaters? No, absolutely not. But it is usually not too difficult to find. There is a tendency to add ham or bacon to just about anything, particularly sandwiches or baked goods, so outside of cities this could be an issue for you. Things are changing and the availability of plant-based dishes on menus gets better every day.
Kangaroo Meat and Other Native Animals Popular in Australia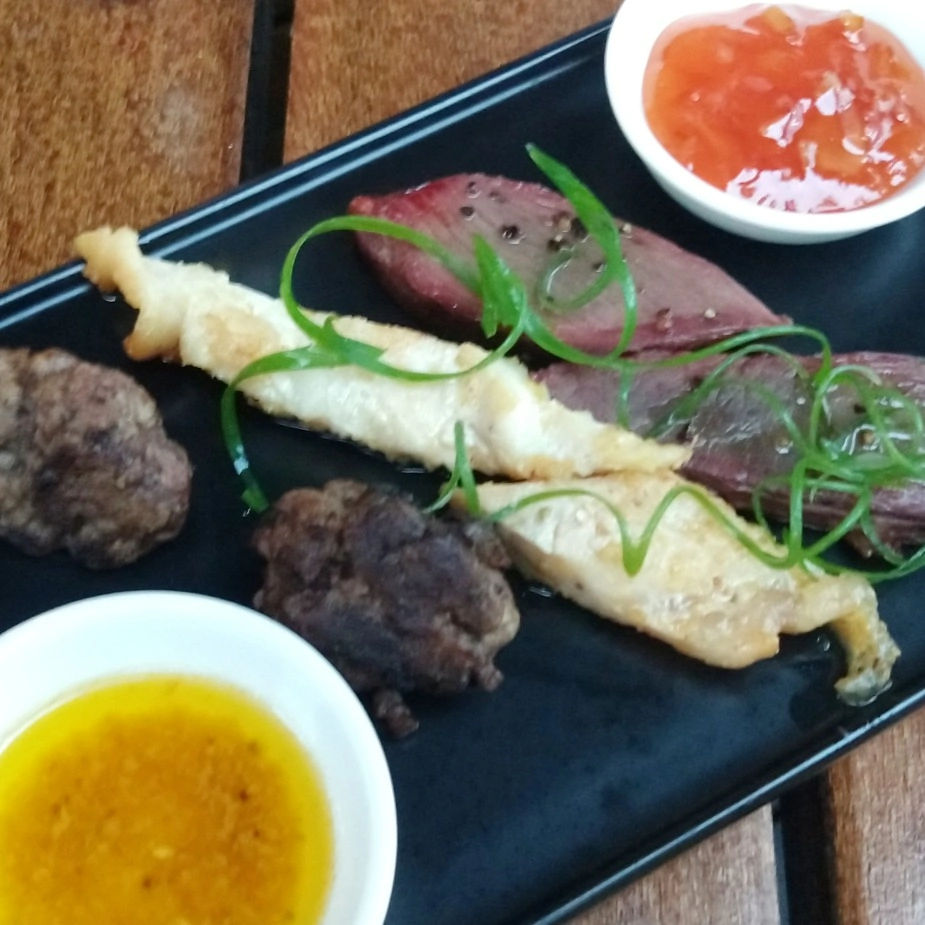 I wouldn't say that these unusual meats were commonly eaten, but they are popular, judging by the number of restaurant menus they appear on. Kangaroo meat is popular, you'll see it in every supermarket, even in the form of sausages. Our local butcher also had crocodile sausages, alongside the roo.
I have seen and eaten kangaroo, crocodile, emu, and camel in restaurants in Australia. Many native and resident Australian animals can be eaten. They're often there for novelty value, but if they didn't sell, they wouldn't be featured.
Kangaroo meat is tasty but can be dry, with a strong gamey flavour. It will be venison-like if you get the cooking right and if you want game in Australia, you'll probably have to settle for kangaroo. It's pretty rare to find venison, pheasant, or other traditional European game animals in Australia. In contrast, emu and ostrich have been farmed for meat here.
If you visit an Australian crocodile attraction in Queensland or the Northern Territory you'll probably be visiting a crocodile farm. You might not realise it, but that croc shows stems from farming these animals for meat and skins. Places like these often have crocodile pies or smoked crocodile on the menu. Farmed crocodile tastes like wet chicken. The crocs are fed the laying chickens once they get too old to produce eggs.
We have a full post covering native and imported animals in Australia and eating them.
Australia's National Dish? The Popular Lamb Roast
Roast lamb with all the trimmings is a popular family dinner for those in Australia who enjoy cooking the old-fashioned way. Because Australia is so hot, roasting meat like this indoors can raise your cooling bills. This is one reason why barbecue food is so popular in Australia today.
Popular Australian Coffee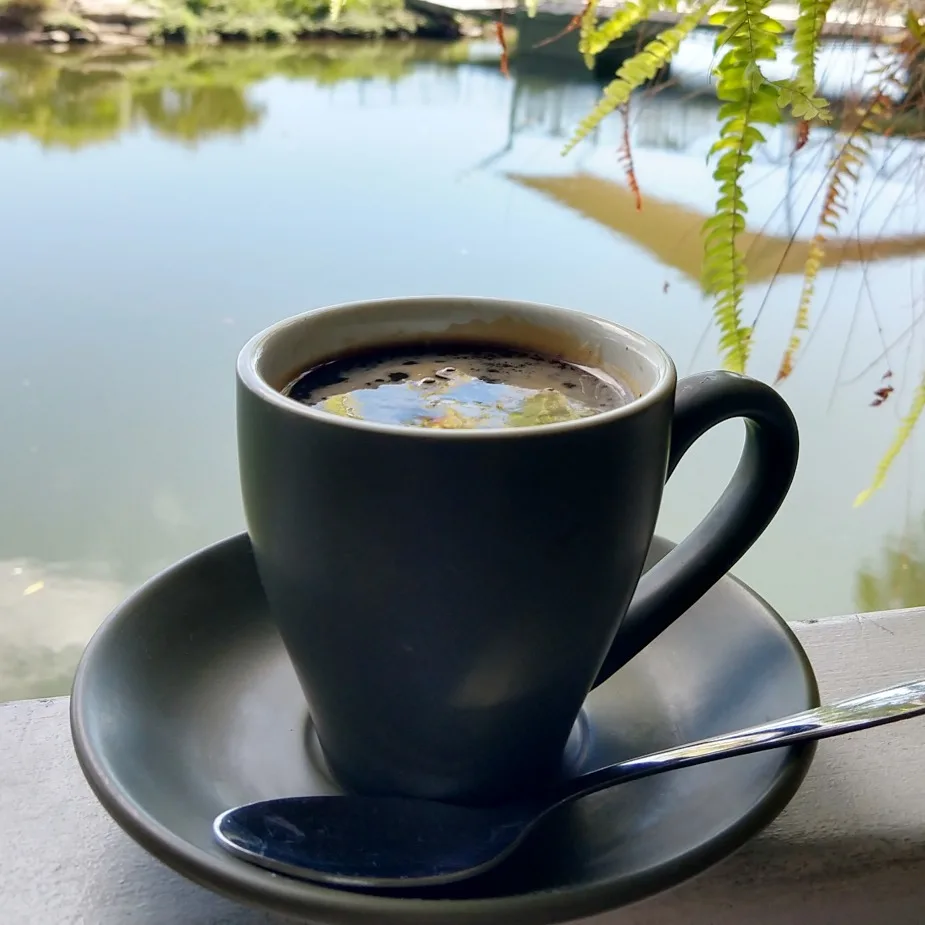 Melbourne and coffee go together like Seattle and Starbucks. Victoria, as a whole, is famous for its coffee obsession and, of course, Victorians think they have some of the best coffee in the world. Coffee is big news in Australia and coffee farms can be tourist attractions.
The beans here in Australia are different, so expect a different flavour along with different names. For instance, the closest thing to an "Americano" is a "long black". Both Robusta and Arabica beans can be found in Australian coffee.
What's Your Favourite Popular Australian Food?
Let us know in the comments if you have a favourite popular Australian food we didn't think of. We can, and will, add to this post over time, we keep every post on this site updated. We cover many cuisines from around the world, along with dozens of posts about destinations and travel in Australia. We've owned a house in Australia for a very long time and one member of the team is an Australian-trained Chef, learning his craft in Sydney New South Wales before furthering his career in London. We love creating food posts, take a look at our "world food" category for more. Our Australia travel blog page gives you plenty of information on travel in Australia. We also cover Australia with kids, places to see in Queensland, destinations in The Northern Territory, Western Australia, and our home base, Port Douglas Australia.
If you'd like to hire a car during your stay, use this car rental comparison tool to find the best deal!

We also suggest you take a look at this company to get a quote for all kinds of the more tricky adventure or extended travel insurance.

Try Stayz / VRBO for an alternative way to find rentals on homes/apartments/condos in any country!