This post may contain affiliate links.
Sydney is Australia's most famous city. It contains such exciting and famous landmarks as The Sydney Opera House and The Sydney Harbour Bridge. But anyone can tell you the regular things to see in this vibrant and spirited capital city. Taronga Zoo, Sydney Harbour Bridge Climb, Manly, Bondi Beach, Darling Harbour, and Circular Quay are all impressive things to see, for sure. A trip to Sydney would not be complete without setting your eyes on our illustrious landmarks that are synonymous with Sydney, and Australia. But peel back a layer of city tourism and you may discover some hidden gems of Sydney. It's a great city, and one where exploration will be rewarded with unique attractions and activities.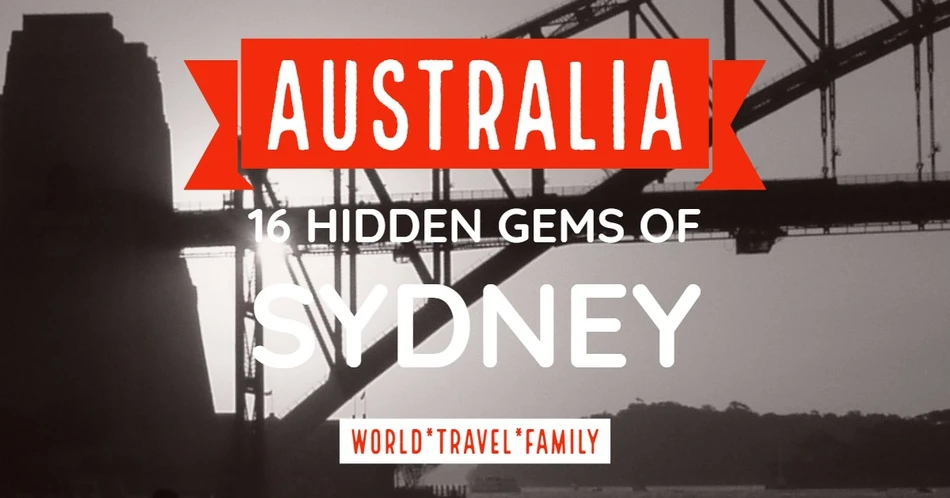 We try to keep this post as up to date as possible but please check and double-check prices, opening times and availability for yourself. We provide links where we can.
You can use our index , below to find the hidden gem for you. Don't forget to save this list to Pinterest, hit the red button and a choice of pins will appear for you.
Cheaper Alternative to Sydney's Big Attractions
Climb the Harbour Bridge Pylon
Most people don't realise that there is a much cheaper alternative to a Harbour Bridge Climb. Between 10 am and 5 pm every day, you can enjoy the same views as on the Bridge Climb, but for a fraction of the price. The southeast Pylon is scalable in 200 steps, and only costs $25 per adult. It's also less scary.
Tank Stream Tours
This is an incredibly privileged private tour of Sydney's literal underground which happens only twice per year. The original Tank Stream was the first water supply for olden-day Sydney from back when it was just a burgeoning colony. These days, excited history buffs can explore the old underground storm water drains which lie deep underneath the modern-day city. The damp and unique tour covers 60 meters of the historic tunnel which was built by convicts and stonemasons hundreds of years ago. Entry is twice per year and is achievable only upon entering and winning a ballot. The tickets cost $40 per person. Enter the ballot here https://sydneylivingmuseums.com.au/events/tank-stream-tours-may-2019-ballot
Elizabeth Bay House
The iconic Elizabeth Bay House was built 'at considerable expense' and once stood as 'the finest house in the colony'. Second in charge to the Governor, Alexander Macleay built this magnificent house with commanding views over the harbour before he descended into financial ruin. The house remains as a testament to the once aspiring times of the early Sydney days and can be visited for around $12 per adult.
The Rocks
The Rocks is a historic part of Sydney which lies in the shadows of the Harbour Bridge. Defined by narrow laneways and Sydney's oldest pubs, a visit to Sydney is not complete without wandering around the Rocks. Check out the open-air Rocks Markets for street food and handmade goods.
The Markets are held from Friday to Sunday at Jack Mundey Place, Playfair Street and George Street.
Sydney Ghost Tours
Cockatoo Island
This heritage listed island is the biggest island in Sydney Harbour. Visit and camp on Cockatoo Island for a unique history of Sydney, and indulge your senses in a ghost tour of the former convict penal establishment. For more information, see their website https://www.cockatooisland.gov.au/en/
Q Station Ghost Tours
Whether you believe in ghosts or not, a chilling nighttime tour of Sydney's former Quarantine Station, reputed to be one of Australia's most haunted spots, will have you questioning everything. Visits range from a couple of hours to a sleepover if you dare. Visit a burial ground and wander down haunted pathways after dark with a chance to encounter eerie paranormal activity. The scariest ghost tours are only for 15 years and over and prices start at $49 per adult for a Ghostly Encounter. There are less spooky tours for younger kids too, and even scarier ones for the brave. Located 1 N Head Scenic Dr, Manly.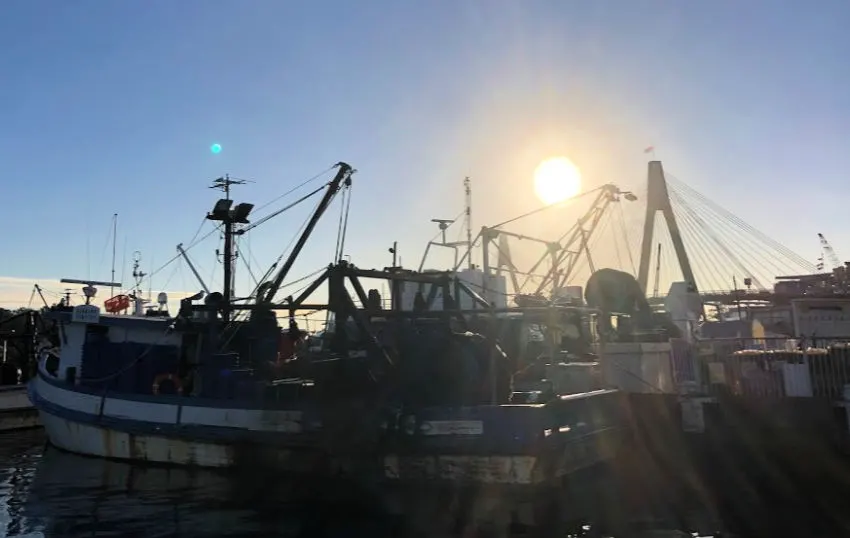 Paint and Drink with Cork and Chroma
Cork and Chroma offers you the chance to release your inner artist in an acrylic on canvas art lesson with a difference. Unleash your creativity by bringing your own wine along to the class! Sound perfect. There are 2 locations in Sydney, Surrey Hills and St Leonards. Bookings are essential https://www.corkandchroma.com.au/
Find Mary's Burgers in Newtown
If you are wandering through Newtown, Sydney's hippest inner city suburb and feeling peckish, look for a darkened doorway with texta handwritten over the top 'Mary's'. It looks completely nondescript, but the sublime burgers at Mary's are absolutely to die for. The fried chicken is finger licking good too. The cool grungy interior is incredibly atmospheric. Seek out 6 Mary St, Newtown for the best burgers in town.
Sydney Fish Market
If you love seafood and you adore markets, then Sydney Fish Market is the place for you. The largest seafood market in town, this fun market place offers seafood, deli items, wine & baked goods, plus restaurants galore. An incredibly dynamic hidden gem of Sydney. The Fish Market is located at the corner of Pyrmont Bridge Rd and Bank St, Pyrmont. Super foddies can even book a class at the Seafood School. Check out the seafood cooking classes here.
Glebe Market
Every Saturday from 10 am to 4 pm, Glebe Markets is the most happening place to be in Sydney. This groovy market is all at once lively and zestful, with hip vintage and boho mixed with modern and eclectic wares. Sit on the lawn enjoying exotic foods while listening to world beats, before hunting for the perfect re-worked, upcycled or funky article you never knew you needed. Location: Glebe Point Rd and Derby Place, Glebe.
Shark Island
Just off the exclusive Eastern suburbs of Sydney lies Shark Island. A place so named for its shape, not its marine life. This is a perfect place for a picnic with the best views of Sydney Harbour. Relax on the foreshore, hang out in the shaded interior or explore the many interesting rock pools surrounding the small island. A national park fee of $7 is applicable to all visitors and you can catch a ferry from Darling Harbour or Circular Quay, or paddle your own kayak to arrive on this special island. Visit https://www.nationalparks.nsw.gov.au/things-to-do/picnic-areas/shark-island to arrange your National Park Pass.
Wendy's Secret Garden
This stunning garden is located in Sydney's Lavender Bay with wonderful views across the harbour. When Wendy Whiteley's husband Brett died, she invested her grief and her love into developing a government area adjacent to her house to become this beautiful space. This public garden, not so secret anymore, is a perfect place for inspiration and contemplation. Sandwiched between office buildings and with an impeccably framed view of Sydney Harbour Bridge, Wendy's Secret Garden is a great place to while away the day. It is open 24 hours and is located on Lavender St, Lavender Bay.
Obscure Gems of Sydney
Museum of Human Disease
If you are into pathology, The Museum of Human Disease has your back, literally. Home to Australia's only publicly accessible pathology exhibits, this museum provides real information about human health and disease with real specimens. It is open from 10 am to 4 pm Monday to Friday. Entry costs approximately $10 per adult and $5 for a child. Due to the sensitive and tangible nature of the exhibits, please consider this museum's suitability for your children. Located Ground Floor, Samuels Building, UNSW, Sydney
SS Ayrfield
The SS Ayrfield is an almost ethereal shipwreck which floats on the surface of Homebush Bay. The decommissioned ship which survived WWII has inexplicably given rise to a mangrove forest on its deck, making it an atmospheric photo spectacle and a total hidden gem of Sydney. The 110-year-old boat is viewable from the southwestern shore of Homebush Bay.
Purikura Photoland
Have you ever seen those fun Japanese photo booths? They allow you to cram up to 10 people into a booth at once, and then edit your faces with whiter skin, rosy cheeks and widened eyes. Purikura Photoland has heaps of these booths along with other Japanese favourite arcade games such as the claw machines. Turn your perfect Purikura photos into instant stickers for a cryptic souvenir of Sydney. It is open from 10 am daily and closes at 11 pm Monday – Wednesday, midnight on Sundays and Thursdays, and 1 am on Friday and Saturday nights. Purikura Photoland is located in the Capitol Square Building, T39, Haymarket.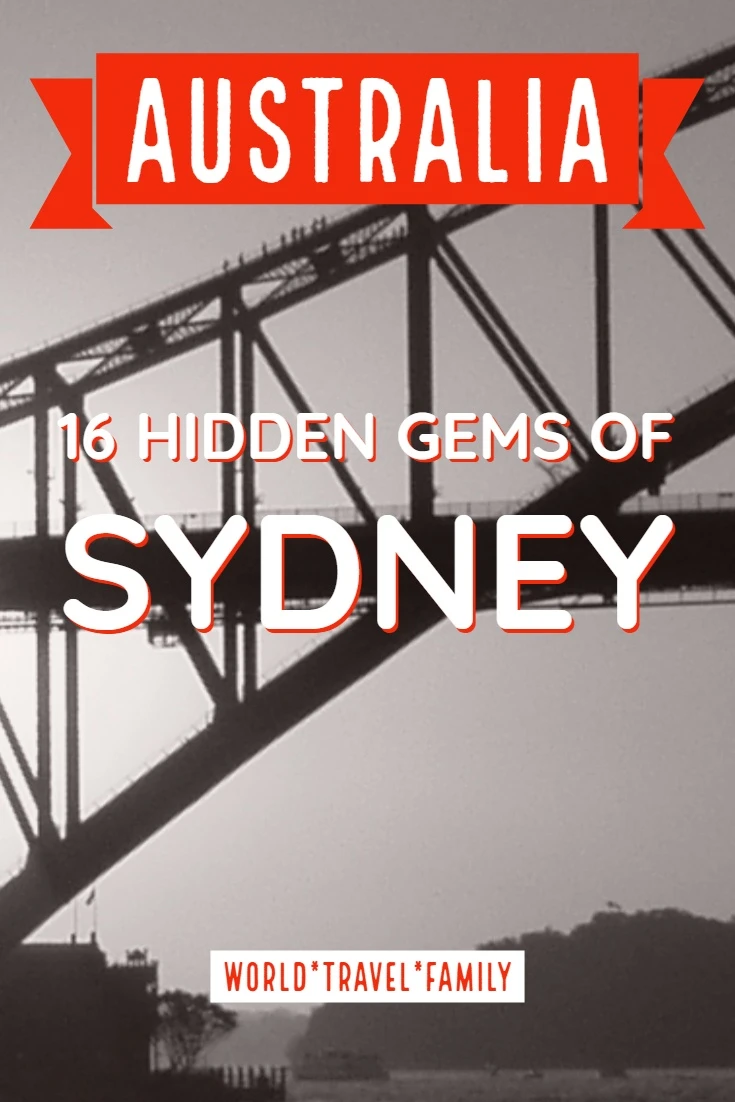 Save this to Pinterest, hover and a red button will appear. Choose your favourite pin !
The Gems of Sydney
Sydney Tours and Trips to Book
For loads of things to do in Sydney, including tours, passes, transfers and day trip, see this page. Here are a few other ideas for your time in Sydney:
Sydney is a gem itself. There are just so many unique things to see and do in Sydney, it is not funny. If you visit for a couple of days or a couple of months I hope you will find some of these different and intriguing activities to include on your Sydney itinerary. Want to head back to our main Australia Travel Blog page? Or maybe you'd like to explore the best places to visit in Queensland, Canberra, gems of Western Australia, or the vast Northern Territory highlights?
If you'd like to hire a car during your stay, use this car rental comparison tool to find the best deal!

We also suggest you take a look at this company to get a quote for all kinds of the more tricky adventure or extended travel insurance.

Try Stayz / VRBO for an alternative way to find rentals on homes/apartments/condos in any country!