This post may contain affiliate links.
Visiting Canberra used to be rather humdrum and uninspiring. But, Australia's capital city is finally shaking off its boring reputation to become a destination in itself. Canberra is a bustling cultural wonderland first and foremost. Also, with a range of world-renowned exhibitions at Australia's National Gallery, the fascinating and somber Australian War Memorial, and the interesting and historical Houses of Parliament visitors to the city are spoilt for choice. Furthermore, a visit to the Australian Mint and the Institute of Sport will round out your usual tour of Canberra experiences. However, as part of its emergence as a captivating city, there are some hidden gems of Canberra that you should definitely add to the normal itinerary.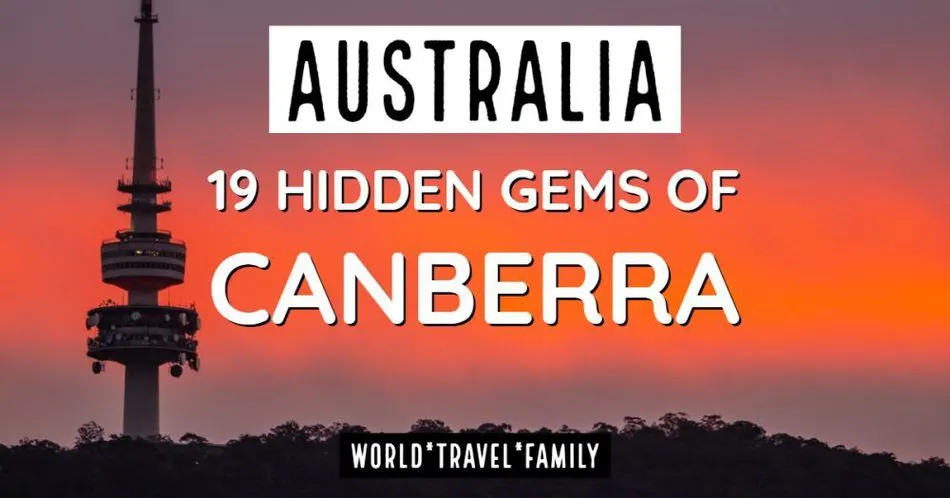 Do you use Pinterest? If so, visit our Australia Pinterest board, (the link opens in a new tab so you won't lose this page) it's one of the biggest on the platform, go ahead, pin some cool Australian stuff!
---
---
My husband called Canberra home for many years and most of his family still live there so yes, we've been to Canberra often. If you have any further questions about Canberra just ask in the comments.
Canberra was only founded in 1913 after American architect Sir Walter Burley Griffin won a design contest for the city. Australia needed a new capital, therefore the location was marked easily halfway between Sydney and Melbourne. Sir Burley Griffin planned a garden-filled city with roads in concentric circles. It is this enticing composition that makes the city so attractive today.
We do our best to keep everything up to date here at World Travel Family, but we can only give you a guide and personal opinion. Please check and double-check all information, opening times, and prices for yourself. Particularly in 2020, things are starting to get back to normal in Canberra but not everything will be fully open.
---
---
Canberra is Australia's capital city, the federal capital of The Commonwealth of Australia. It is in the ACT, this is a state of Australia, the Australian Capital Territory. t is in the southeast of Australia. Canberra is about 296 Km from Sydney and 662km from Melbourne, by road. The ACT and Canberra were created to be the federal seat between 1901 and 1913. Overseas visitors often name Sydney or Melbourne as the capital of Australia, this is incorrect. Our post is about hidden gems of Canberra, places to see, things to do and explore, in Australia's capital city.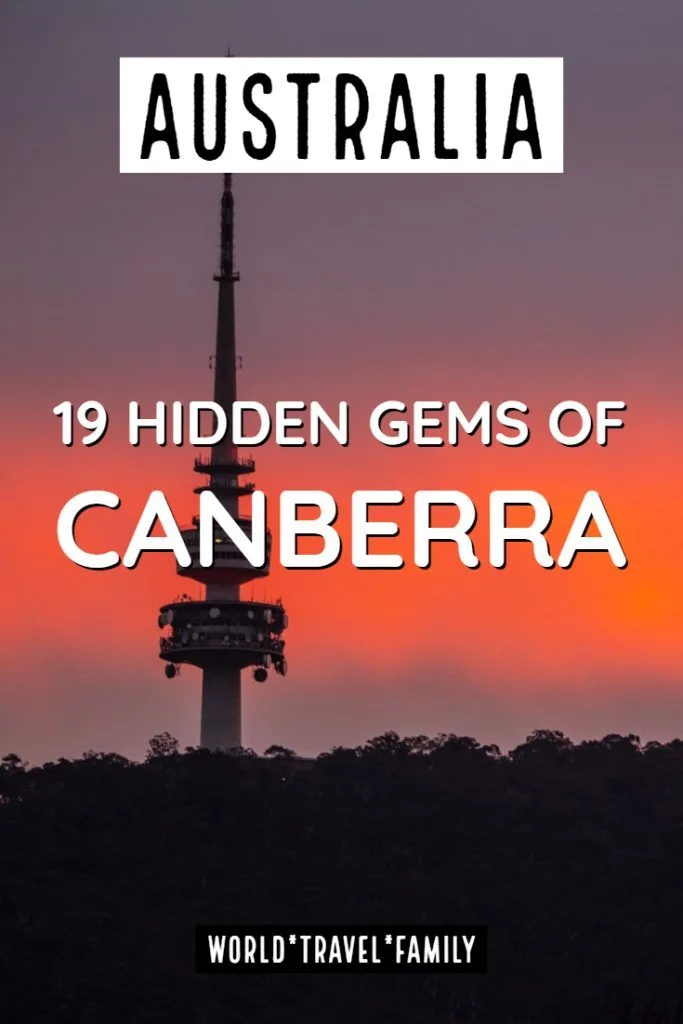 ---
Canberra for Foodies
1 NewActon
The edgy new urban precinct of NewActon houses some of Canberra's best drinking and dining options as well as the funkiest hotel in the city. Ovolo Nishi Hotel is an absolute work of art and a must stay if you are visiting Canberra, see below for details. Try Parlour for exquisite cocktails, or Fekerte's Ethiopian for something special for dinner. Likewise, Canberra's best coffee is found in NewAction, at Interlude Espresso Bar, or The Cupping Room.
2 Guild
Have lunch and enjoy every board game available at this entertaining bohemian bar/restaurant. This is definitely one of those hidden gems of Canberra that is just unique. It will have you coming back for more. Guild is located at LG Baileys Corner, 150 London Circuit, Canberra and is open every day, 12 pm til late.
3 The Truffle Farm
The Truffle Farm can only open during truffle season from late May to early September. Here you can participate in a truffle hunt, following the truffle dogs through the truffle trees! There is an opportunity for tasting as part of the truffle hunt, and they also have sparkling brunch and degustation events at the farm. This is a unique way to experience one of the most sought after foods in the world. The Truffle Farm is located only 15 minutes from Canberra's CBD.
4 Dave's Brewery Tours
Craft Beer and Micro Brewery Tours of Canberra's best-loved boutique labels will give you an exclusive perspective on the best drops in the city. For lively half-day and full-day tours of breweries, wineries, and distilleries around Canberra, check them out.
---
---
If you'd like to book an apartment or rental, the Australian site Stayz (the link will take you there, it's like VRBO) is probably your best option, but for a nice hotel, with character, check out the Canberra hotels below.
5 Ovolo Nishi Hotel
The most artistic and luxurious hotel in Canberra is the Ovolo Nishi, formerly Hotel Hotel. This fantastically designed concept hotel is located in the funky New Acton lakeside precinct.
6 Jamala Wildlife Lodge
This hotel is actually located inside the Canberra Zoo. Their rooms offer up-close encounters with animals through the glass. Choose to stay in the Giraffe Treehouse, the Reef Room which houses a giant aquarium, or one of the Jungle Bungalows. These are shared with bears or big cats. Your room has several large windows. And you can view the animals so closely, as if they are right with you in your living room or bathroom!
If you're looking for a very special (and not always very expensive!) home rental, try Plum, below.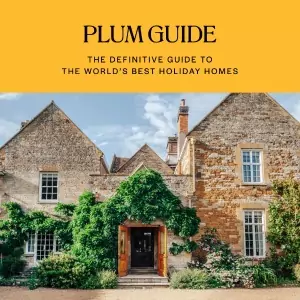 ---
The following are even more cool tours and activities available in Canberra, you can book them from these links.
Unusual Tourist Gems of Canberra
7 Canberra Glassworks
The Canberra Glassworks offers make-your-own glass souvenir sessions at their Kingston studio. These are one-on-one teaching sessions which go for either 20 or 40 minutes depending on what you want to make. Participants must be over 14 years of age. They also have a variety of creative workshops such as glass blowing and engraving for all levels of ability. This is such an interesting and engaging way to learn more about the extraordinary craft of glasswork.
8 Telstra Tower
This tower is the communications hub for Australia's biggest telephone company. It also offers 360-degree views day or night over the city of Canberra from its commanding position atop Black Mountain. The observation deck is open from 9 am to 10 pm every day and costs a reasonable $7.50 to enter. There is also a coffee shop on site.
9 Cockington Green Gardens
Venture into a fantasy world at Cockington Green Gardens. Meticulously handcrafted replicas of world-famous buildings contend for space in an enchanting garden. There is also a miniature train which you can ride, picnic areas, a cafe and a playground. A visit to the pleasingly offbeat Cockington Greens costs $21 per adult and $12.50 for a child.
---
---
10 Questacon
The great thing about the Questacon National Science and Technology Centre is that it is so hands-on and engaging. Kids and adults alike will enjoy the 200+ interactive exhibits at one of Canberra's best museums. Adult tickets are approximately $23 Au with kids $17.50 for a day of fun at Questacon. Definitely a hidden gem of Canberra.
11 Deep Space Communication Complex
This Earth Centre was responsible for tracking the Apollo manned mission to the moon in 1965. The visitor centre is located on the ground floor of the complex. It contains a cafe, playground and gift shop along with fascinating space and aeronautical memorabilia. The Space Centre is located 35 km southwest of Canberra and is open every day except Christmas from 9 am to 4 pm. Entry is free.
---
Shopping Gems in Canberra
12 Old Bus Depot Markets
This is a perfect day out for market enthusiasts. Find unique and eclectic new, second-hand, reworked, vintage, or handcrafted items for sale. Marvel at the industrial and atmospheric former bus station. Find exactly what you need at these landmark markets and everything you don't need. Open every Sunday from 10 am to 4 pm here.
---
---
Adventure Gems of Canberra for Daredevils
13 Jet Flight Simulator
This amazing Canberra experience certainly is one of the hidden gems of Canberra. Aviation enthusiasts, kids and everyone in between will love the thrill of being in control of their very own Boeing-737. Pilot the most popular passenger plane in the world. The Jet Flight Simulator experiences start at around $99 Au.
14 Hot Air Ballooning
A gentle ride over Canberra in a hot air balloon is the perfect way to appreciate the design and architecture of the city. Go ballooning all year round with award-winning balloon company Balloon Aloft.
15 Big Splash Waterpark
With 9 water slides, a splash pool, wet cinema and more to keep you entertained in summer, Splash Water Park is the place to be! Entry to Canberra's only water park is just $27 Au ( approximately – at time of writing ) and the slides are open from 11 am to 5 pm usually. Subject to weather conditions. Interestingly, my husband used to be a lifeguard here in his younger days.
16 Corin Forest Mountain Retreat
Corin Forest is located only 45 minutes outside of Canberra. Enjoy this modest ski field in season with snow play areas and a perfect beginners slope with a magic carpet lift. During summer, Corin Forest is a haven for biking, camping and a fun alpine slide down the mountain.
17 Boundless

–

Canberra's Best Playground
Located on the shores of Lake Burleigh Griffin, Boundless is Canberra's first all-abilities playground. With climbing walls, a water park, sandpit and so many structures and slides to entertain, there is heaps of adventure to be found. There are lots of things to do for all ages, with toilets, shade and a surrounding fence too. Boundless is located here: Kings Park, Parkes, Canberra. It is open from 8 am to 8 pm every day.
18 Bike Riding Around Lake Burley Griffin
Cycling around the iconic centrepiece of Lake Burley Griffin is a beautiful way to see more of this gem that is Canberra. Bring your own, or hire bicycles from Mr Spokes. They can also advise on different circuits to take you around the lake. The entire Bridge to Bridge circumnavigation is 28 km. But it can be broken down into more manageable bite-sized paths for every ability.
19 Segway Tours of the Lake Foreshore
If biking is not your thing, why not join a segway tour? Explore the beautiful shores of Canberra's famous man-made Lake centrepiece with ease. Seg Glide Ride offers tours starting from just $28.
---
Staycation Canberra
More of us than usual will be taking staycations this year and they're a great chance to get to know Canberra a little better, pamper yourself, and fully enjoy everything the ACT has to offer. You won't be spending thousands on international flights, so why not fully enjoy your staycation?
Pack in some of the adventures, sights, and activities above but also book a lovely hotel or apartment for the duration of your stay. For private apartments, Plum, AirBnb or Stayz can be a good choice.
---
Canberra and its hidden gems are probably best seen on a self-drive holiday of the Australian Capital Territory, the ACT. A quick (3 hour drive approx) day trip from Sydney will allow you to visit the main attractions, but the city is worthy of a few days at least. The Canberra International Airport is serviced by Singapore Airlines and Qatar. Additionally, domestic flights will take you directly to major centres Australia-wide via Virgin Australia and Jetstar.
If you're short on time there are numerous tours that start and finish in Sydney and include all of Canberra's main highlights. It will be a long day but is another option for seeing as much as you can with limited time. There is a button to book one of these tours at the top of the page, at certain times of year these tours include Floriade, Canberra's spring flower festival.
---
---
Don't forget to save this post to Pinterest, either use the buttons top and side or hover over a Pinterest image and a red button will magically appear in the centre.
If you're interested in family-friendly travel in Australia, this site now has an Australia-only Facebook page and group. Come along and share your advice, tips, and favourites in Australian destinations.
Hop on over to Skyscanner to find your cheapest flight to Canberra. Want more information on travel in Australia? Head to our main Australia Travel Blog and Guide, or see the related posts below.
If you'd like to hire a car during your stay, use this car rental comparison tool to find the best deal!

We also suggest you take a look at this company to get a quote for all kinds of the more tricky adventure or extended travel insurance.

Try Stayz / VRBO for an alternative way to find rentals on homes/apartments/condos in any country!