This post may contain affiliate links.
The capital of South Australia, Adelaide is a unique city filled with rich culture. It is brimming with decadent wining and dining, stunning metropolitan beaches and world-class boutique shopping. There are so many things to do in Adelaide! Likewise, there are many more opportunities for short nearby day trips. This makes Adelaide a great place to visit for a weekend or longer.
For World Travel Family regulars, Chef lived in Adelaide as a kid and was regularly taken to the wineries as a day trip. We visited as a young couple some 20 years ago, we haven't yet taken the kids. Please double check all prices, opening hours etc. for yourself as there have been some big price increases in Australia lately.
Things to do in Adelaide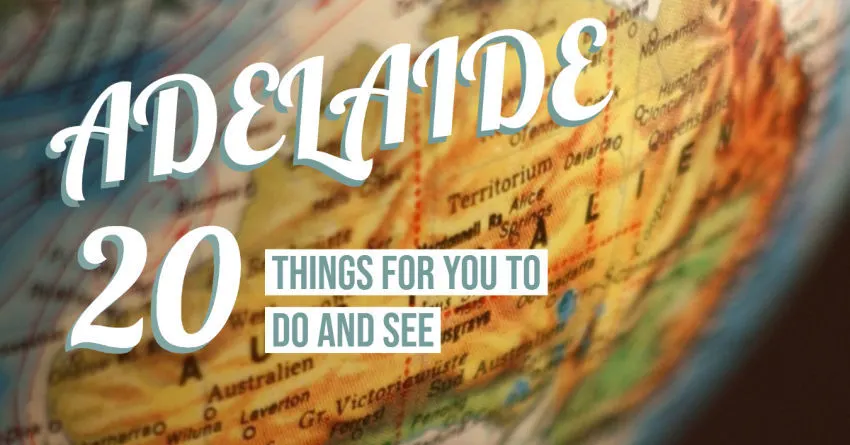 There are so many different things to do in Adelaide catering to every taste, and budget. From casual to sophisticated, Adelaide is full of diversity and good taste. Read on to discover the brilliant attractions of this great city.
All opening times and admission prices are intended as a guide only, obviously things change. Please double check all information for yourself.
Visit a Wine Region
South Australian wines are famous globally. So it is little wonder that visiting a winery is at the top of our list of things to do in Adelaide.
Barossa Valley
The Barossa Valley is world renowned for the amazing Shiraz produced here. It is only 60km northeast of the city which makes it perfect for a day trip. The Valley encompasses the townships of Tanunda, Angaston and Nuriootpa.
You can find many well-known wineries offering (free!) tastings and cellar-door wine purchases. Besides wine, many wineries also have restaurants overlooking the vineyards. Seppeltsfield, Yalumba and Jacob's Creek are firm favourites here.
Be sure to stop at Maggie Beer's Farm for delicious morsels too.
The wineries are mostly kid-friendly, and often offer a toybox or a small playground to entertain the kids. Prices for day trips from Adelaide start at about $129 US. It is easy to rent a car and self-drive, as long as you have a designated driver.
McLaren Vale
At only 35km south of Adelaide, McLaren Vale is another stunning wine region famous for its Shiraz grapes. The Mediterranean climate here really lends itself to producing world-class wines.
Located amidst the Mt Lofty Ranges, you can take in the breathtaking scenery while sampling wines from South Australia's oldest wine region.
There are also boutique breweries around the valley which are a great stop on any tour. Check our Ekhidna Wines and Beer, Vale Ale and Goodieson's Breweries.
Clare Valley
A little further afield, Clare Valley is another beautiful wine region. It is home to over 40 wineries and famous for its brilliant Rieslings. While it is located 100km away from Adelaide, it is well worth the drive if you are a Riesling lover.
Adelaide Beaches
Adelaide is lucky enough to have some picture perfect city beaches, as well as plenty of white sand nearby. The crystal clear water is a pleasant temperature too, thanks to a warm current.
Glenelg Beach
This white-sand beach is perfect for relaxing, swimming, sunbaking and people watching. Sit at one of the great variety of cafes which line the shore. This is Adelaide's most popular metropolitan beach and it is a buzzing hive of beach time fun. There is a vintage tram line which traverses the length of Jetty Road. This is Glenelg's main shopping precinct. Walk out the 215m along the jetty for commanding views back to Adelaide. Check out the Beachhouse Amusement complex at Glenelg for waterslides, mini golf, and an arcade.
Brighton
A similar vibe to Glenelg with a jetty and shops, Brighton Beach has the best fish and chip shops in town.
Semaphore
Big dunes frame this expansive beach which is overlooked by impressive art deco hotels and beach houses. Have lunch at the iconic Semaphore Palais for sweeping views and decent food.
Henley
Another perfect place to lay your towel, have a swim or get some quality food. There is a big green grassy square overlooking the bay and plenty of food choices here.
Port Noarlunga Beach
Only 30km south of Adelaide is this gorgeous stretch of beach which is perfect for snorkelling and diving. Snorkellers are looking for the elusive leafy sea dragon which can be found hiding in the reef here. The patrolled beach is wide and so hard that you can drive on it. Red sandstone cliffs and a long jetty make for a very scenic beach excursion.
Christies Beach and Moana
These beaches are paradise for surfers and bodyboarders and well worth the drive south of the city.
Visit Kangaroo Island From Adelaide
Kangaroo Island is one of the very best wildlife destinations in the whole of Australia. Want to see seals, koalas, echidnas, kangaroos, and all the usual Aussie wildlife during your time in Adelaide, go here!
The trip involves an airconditioned coach trip to the Kangaroo Island ferry. After your 45 min journey, you will explore the island with the benefit of a qualified ranger guide.
Adelaide Hills
The charming towns and villages of the Adelaide Hills, under 30km from the centre of Adelaide will have you wanting to come back for more. Visit Hahndorf with its quintessentially German village atmosphere. Stop in at picturesque Bridgewater with its working water mill, and the historic Echunga too.
The tour below packs in some of the very best experiences from Adelaide into a one day trip. This is a sensational way to experience Adelaide, and Australia.
Things to do in Adelaide for Foodies
Adelaide is a food lover's paradise. From Australia's first pizza restaurant to an amazing array of epic multi-ethnic offerings, you can eat very well here indeed. Don't forget that the Maggie Beer Farm is also near Adelaide! So, here are some of our favourite restaurants in Adelaide:
Top End
Peel St

Orana

Magill Estate Restaurant

Jolley's Guesthouse

Chianti

Africola
Mid-range
Jasmin Indian Restaurant

Ruby Red Flamingo

Gin Long Canteen

Andre's Cucina and Polenta Bar

Lucky Lupita's
Budget
Lucia's Pizza and Spaghetti Bar (Australia's first pizza restaurant)

Zen Kitchen

Likewise, Central Market and Chinatown have many budget offerings
Central Market
The Adelaide Central Market is open from 7am to 5.30pm Tuesday to Saturday. Primarily, this is one of Australia's top fresh food markets. It has become a tourist destination thanks to the bright lively atmosphere, and the amazing choice of food to be found here. The coffee, bakeries, fresh fruit and vegetable, seafood, deli and ethnic goods are top quality. The prices are good too.
Chinatown
Right next to the Central Market, Adelaide's Chinatown is well worth a stop on any food tour of the city. Similarly, taking a stroll down Gouger Street or Grote street will reveal a rich Asian food selection. Anything from Japanese, Korean, Indian, Vietnamese, Thai, Chinese and Malaysian all hawk for your patronage in street cafes and five-star restaurants. There are impressive gates at either entrance. A visit here will allow you to soak up the wonderful multicultural atmosphere of Adelaide at its finest.
Museums in Adelaide
South Australian Museum and Art Gallery of South Australia
These two cultural icons are adjacent to one another along Adelaide's North Terrace running parallel to Rundle Mall. The museum houses an impressive dinosaur section which the kids especially love. Similarly, the museum and art gallery have important indigenous artefacts on display. Most importantly, entry is free to both, however donations are appreciated. They are both open 10am – 5pm
Migration Museum
Just behind the Gallery is the perfectly unique Migration Museum celebrating Australia's diversity. Admission is free, and they offer free guided tours on weekends too.
National Railway Museum
This is a great place located at Port of Adelaide. It includes interactive exhibits and an indoor-outdoor viewing area filled with fun examples of old trains. Entry is $12 per adult and they are open 10am – 4.30 every day.
National Maritime Museum
Also found at Port of Adelaide, the Maritime has fun and interactive displays depicting South Australia's maritime history. They have loads of interactive exhibits to keep everyone interested including a full replica of a merchant ship. It costs $15 for an adult entry.
Adelaide Gaol
Step back in time and experience prison life! Adelaide Gaol was fully operational as a prison up until 1988 and now houses an intriguing historical exhibition. Furthermore, they even offer nighttime ghost tours! Prices start at $9 for children and the Gaol is open between 9am and 4pm daily. For ghost tours, book online.
National Wine Centre of Australia.
This special place is home to over 120 wines varieties which you can sample in Australia's largest tasting facility. View the vineyards, shop at the cellar door and enjoy fine dining too. The Wine Centre is located next to the Botanical Gardens and is open 9am to 6pm every day. The Wine Discovery Journey is a complimentary self-guided tour departing every day from the reception desk at 11.30am. No bookings are required and it is totally free, ending in the tasting room. If you want to learn more about wine and it's place in Australia's history this is a great tour.
Adelaide Zoo
This is actually Australia's second oldest zoo (after Melbourne Zoo). Therefore it is very well established with the usual array of over 2500 local and exotic creatures. The biggest drawcards here are the Giant Panda exhibit (The only giant pandas in Australia)and the orangutans. Entry is roughly $40 per adult and $20 per child. Usually, under 4s are free and they are open 9.30am to 5.30pm every day of the year. If you're in Adelaide for Christmas, this could be your Christmas Day big day out!
You will need to book in advance for a specific day on the zoo's website.
Cleland Conservation Park
If you would rather hand-feed a kangaroo or get up close and personal with a koala, head to Cleland Conservation Park. Entry costs about $31,00 Au per adult and $16 Au for a child. The park is open 9.30am to 5pm every day except Christmas. Located at Mount Lofty, about 22km southeast of the city centre, (20 mins or so to drive) this wildlife experience is adjacent to some excellent walking tracks.
The famous 4km long Waterfall Gully to Mount Lofty walking track is located here. There are some challenging steep sections, and some awesome views to be found along the way.
Visit the Cleland Wildlife Park Website for more information.
Adelaide Botanic Garden
After a trip to the zoo, enjoy a walk in the Adelaide Botanic Garden, soaking up nature's finest. You can find cafes and wine bars within or have a picnic on the grass by a pond. It is a lovely spot to while away a few hours, right in the middle of the city. The gardens are open from 7.15 am to 6 pm Monday to Friday, and 9am to 6pm on the weekends. Visit the Botanic Gardens Website for more.
Rundle Mall
No visit to Adelaide would be complete without a visit to the Rundle Mall. It may be just a usual mall, with a bunch of usual shops. However, the infamous Malls Balls sit in the middle which is the best photo opportunity in Adelaide.
Mount Lofty
The highest peak of the Mount Lofty Ranges is situated 15km to the east of Adelaide. This is a popular spot for cyclists and hikers. You can also reach the summit via car, and there are cafes and souvenir shops at the top along with great views.
Himeji Gardens
This is a delightful natural and peaceful setting in the centre of the city. There are Japanese-styled ponds, waterfalls and a rock garden which all inspire tranquility. The Himeji garden was a gift from Adelaide's sister city Himeji and is open every day from 8am to 5.30pm (until 7.30pm Sunday). Entry is free and the garden can be found on South Terrace.
The World's Biggest Rocking Horse
Only 40 minutes outside of Adelaide you can find the Big Rocking Horse and Toy Factory at the picturesque town of Gumeracha. The rocking horse costs about $2 to climb, and from the top you get amazing views of the surrounding countryside. They also have a small wildlife park on site with a $1 entry fee and $2 for a bag of food. There is also a cafe and of course a toy store, and they open from 9am to 5pm every day.
River Torrens Linear Path
This is an unassuming yet scenic walk along the River Torrens. Fortunately, the grade is easy, and the path is busy with early morning and late afternoon exercise fraternity.
Mega Adventure
Probably one of our favourite things to do in Adelaide is a visit the Mega Adventure park. This is an epic multi-level aerial obstacle course which is perfect for all levels of fitness. Imagine playing tennis or rowing a boat mid-air! There are over 80 obstacles in all. To enjoy the Mega Climb structure, you have to be minimum 120cm tall. But there other activities available such as Mega Swing, Skywalk and Mega Bounce for smaller people. Mega Adventure is located at West Beach and costs $35 to $75 depending on the package.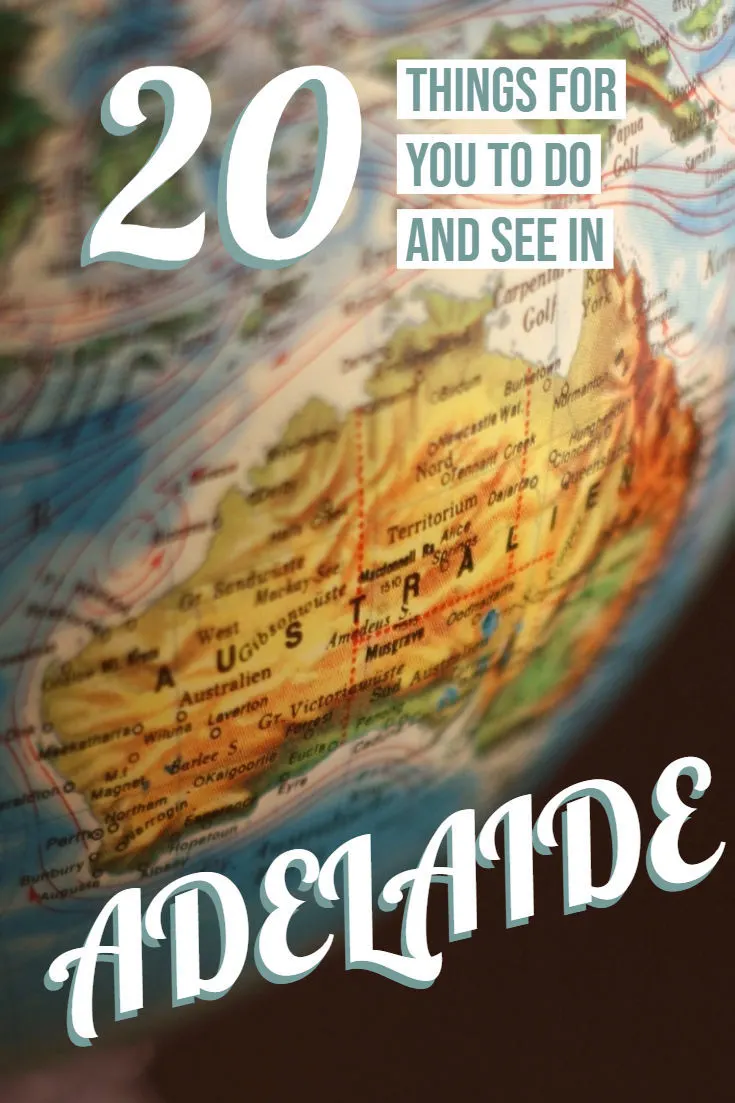 So that's it for now! This great list of the top things to do in Adelaide will definitely keep you occupied and entertained on your next holiday! Have any to add? Comment below. Want more information on travel to and around Australia? You need our Australia Travel Blog page.
If you'd like to hire a car during your stay, use this car rental comparison tool to find the best deal!

We also suggest you take a look at this company to get a quote for all kinds of the more tricky adventure or extended travel insurance.

Try Stayz / VRBO for an alternative way to find rentals on homes/apartments/condos in any country!