This post may contain affiliate links.
The Atherton Tablelands, known locally as "The Tablelands" covers a huge area in Far North Queensland, close to top holiday hotspots, Cairns and Port Douglas. There is a vast amount to see and do on the Tablelands and your average visitor probably won't be able to do it all. So once you've been to the reef, visited The Daintree, and checked out Mossman Gorge, head up the hill to The Tablelands!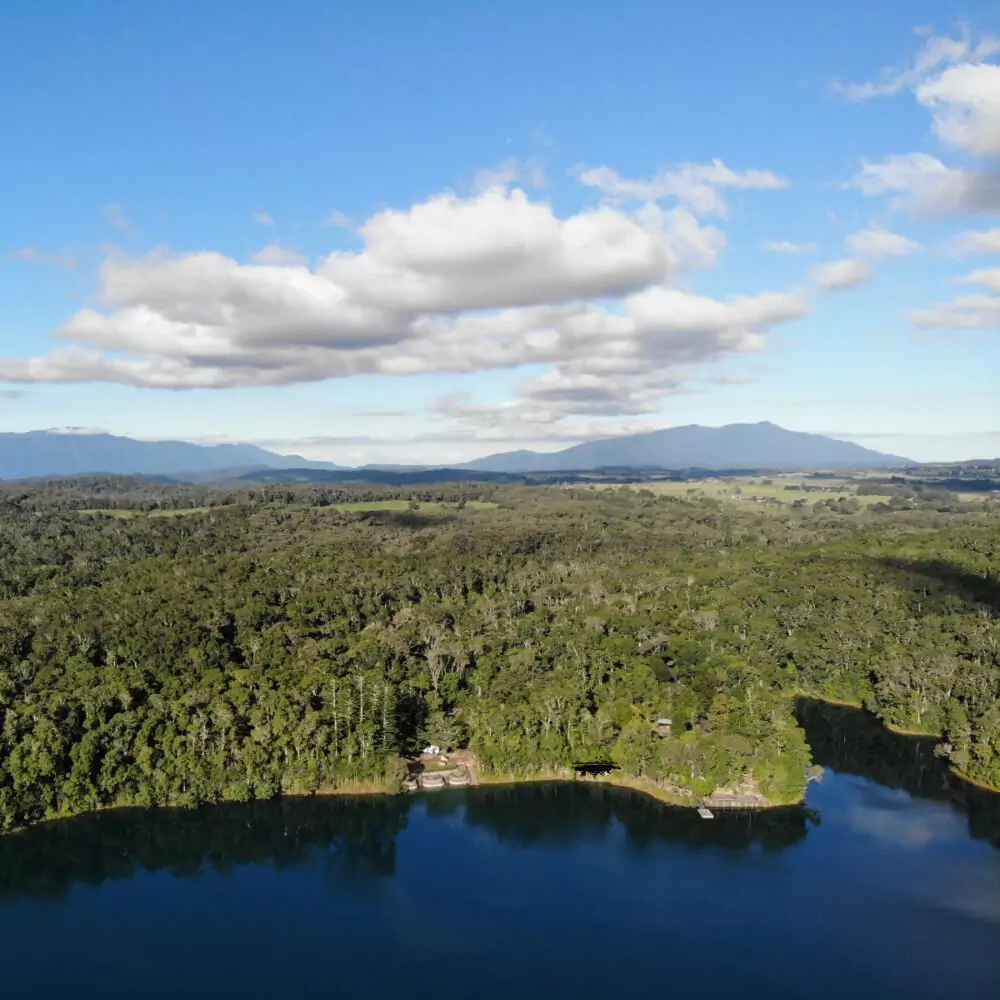 Yes, it is very much worth visiting the Tablelands, this area is quite unlike the coastal towns and some of the scenery is stunning. There are also loads of attractions to visit!
In this post, we'll give you all of the best things to do on The Atherton Tablelands and how to do them.
World Travel Family is a global travel site, Alyson Long, the author has been a Port Douglas resident since 2007, up to 2020, when she and her family moved to The Tablelands. You'll currently find her living on a farm in Julatten when she's not travelling, so expect all the local knowledge on FNQ on this site from a professional travel blogger.
Where we place links in the post, that link should take you to more detailed information. Also, scan our index to find what you need.
Where Are The Atherton Tablelands?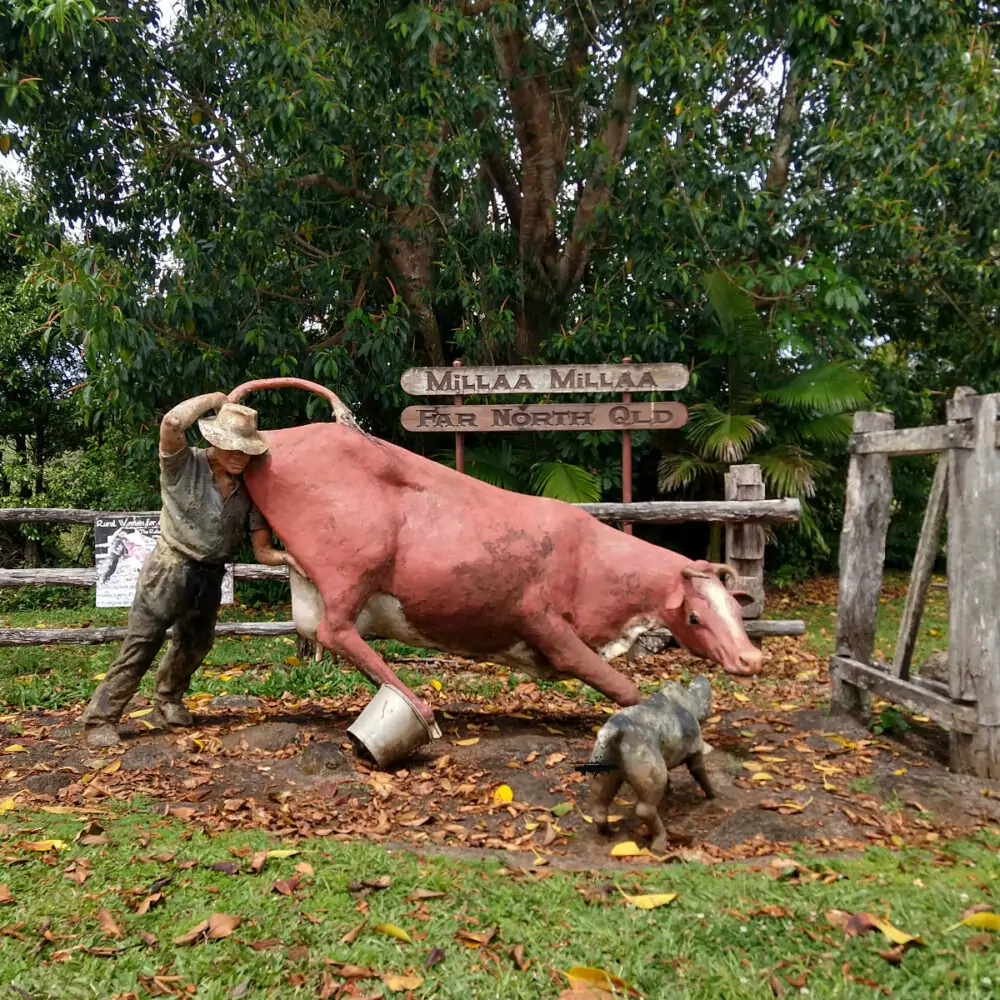 The Atherton Tablelands are a highland plateau region west of Cairns and Port Douglas and can be reached by car on winding uphill roads from Cairns, Smithfield, Port Douglas and Mossman.
The Tablelands spans an area of 12,000 square miles (31,000 square km, that's bigger than Wales!) with an average elevation of 2,000–3,000 feet (600–900 metres). This elevation makes the climate much more pleasant than on the coast.
You can even get a frost on the Tablelands sometimes.
It's usually 3-5 degrees C cooler on the Tablelands than in Cairns or Port Douglas. We drive up and down the range road a lot, so we know its true!
The mountain range the Tablelands are a part of, is Australia's Cassowarrie Range, part of the Great Dividing Range which runs up Eastern Australia.
Queensland's Highest Mountain, Mt Bartle Frere, is up here. You can hike up Bartle Frere, but it's recommended that you take 2 days and camp. It's much taller than Ben Nevis at 1622m high.
The tablelands are south and west of the Daintree Rainforest and Daintree Village.
The southern border of the Atherton Tablelands is south of Ravenshoe, at the Burdekin river. (source for all of this geographical information here) Here you enter Charters Towers Regional Council. The northern boundary is the Palmer River which is a long way north and west.
The "Atherton Tablelands" includes the rural town and local of Atherton, the Waterfall Circuit, south of Atherton, the towns of Ravenshoe, Herberton, Yungaburra, Tolga, Walkamin, and more.
Mareeba Shire is independent of the Tablelands Regional Council, but is at similar elevation, north of Atherton. In this post we will include places to see in Mareeba and our home, Julatten. Visitors to "The Tablelands" will have to drive through these areas on their way to Atherton proper, from Port Douglas, Mossman or Cape Tribulation.
If you're driving towards Atherton from Mareeba, you'll see a sign "Welcome to the Atherton Tablelands" as you enter Atherton from Mareeba Shire. The actual boundaries are a little confusing, with every source giving different answers.
Our facts above on the dimensions of the Atherton Tablelands are from the Encyclopedia Britannica.
From either Cairns or Port Douglas it will take about an hour by car to reach the tablelands. They are the hinterland of Cairns, cooler, elevated, in parts rainforest, in parts savannah.
Take a look at our map of the Tablelands, below and figure out which highlights you should include on your day trip to the Tablelands, or make a longer itinerary, you could easily spend a week up here!
Atherton Tablelands Map
We made you a map of attractions on the tablelands and up to Cape Tribulation from Cairns or Port Douglas.It is fully interactive, and you can zoom in and out.
See the location of the Atherton Tablelands below.
Where to Eat on the Tablelands
Try to visit the dairies, Mugalli Creek, and Gallo and Malanda, both serve food, dairy products, chocolate, cheeses, etc.
At the Gallo Dairy you can eat a full meal, enjoy their cakes, chocolates and cheese, or watch milking and cheese making taking place.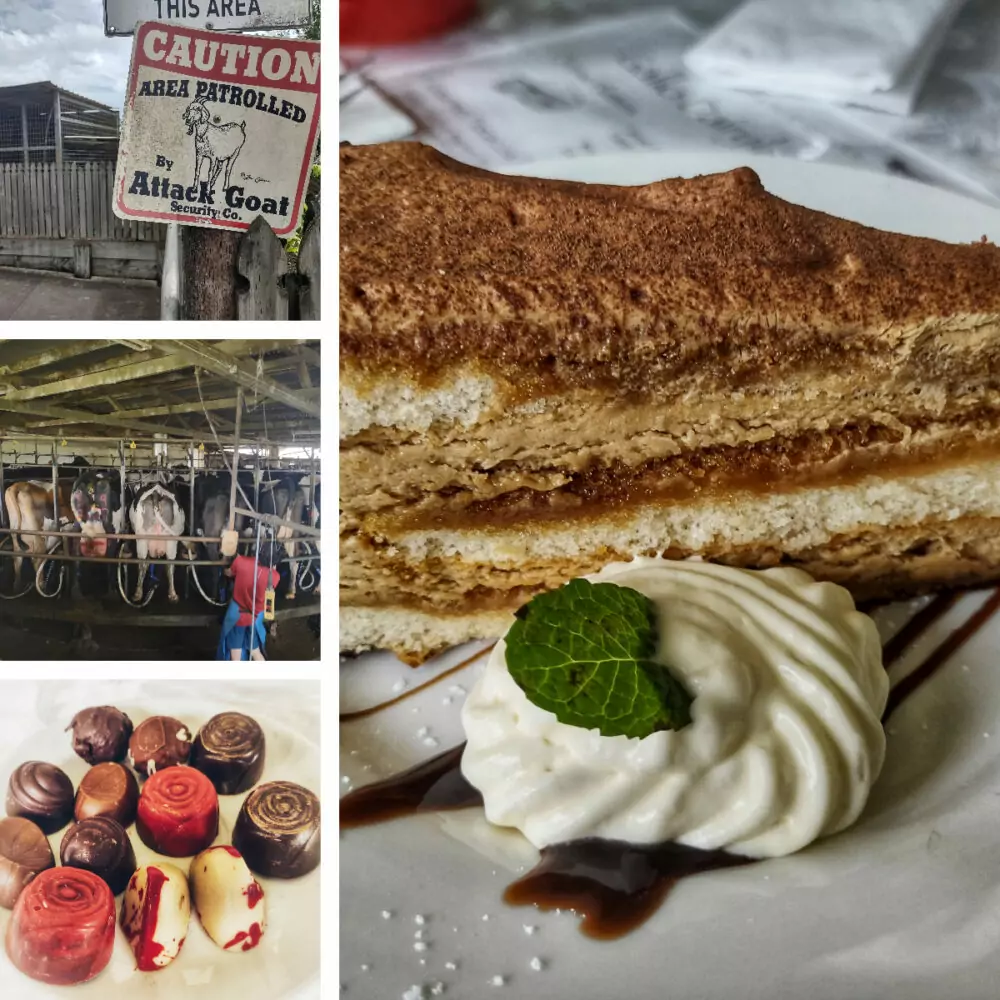 There are some animals at Gallo for the kids to see, but this is a working dairy farm and it can smell like a farm. There isn't usually any smell in the restaurant.
Gallo is probably the dairy I'd visit if I had to pick one. They have a small gift shop too.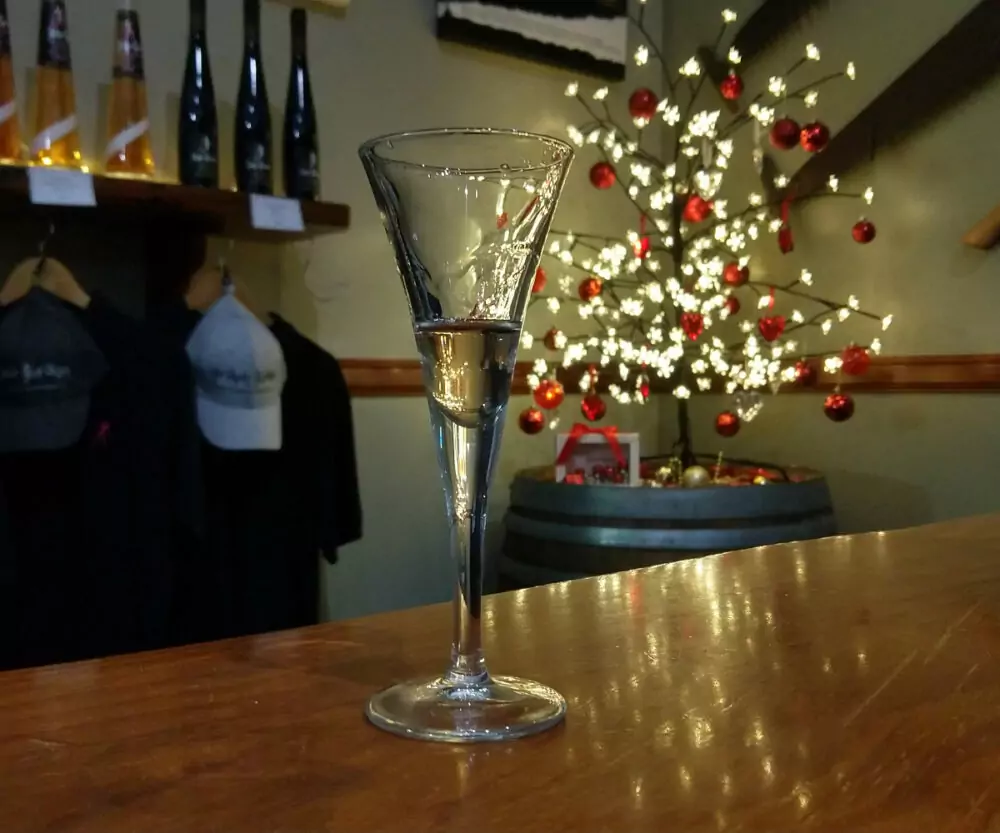 Mount Uncle Distillery also serves food in its restaurant.
Coffee Works is in Mareeba, Mount Uncle is in Walkamin, between Mareeba and Atherton, Gallo is just outside Atherton near Malanda, Mungalli Creek Dairy is at Mungalli which is south of Millaa Milla. All of these places are marked on our map. We give drive times further down the page.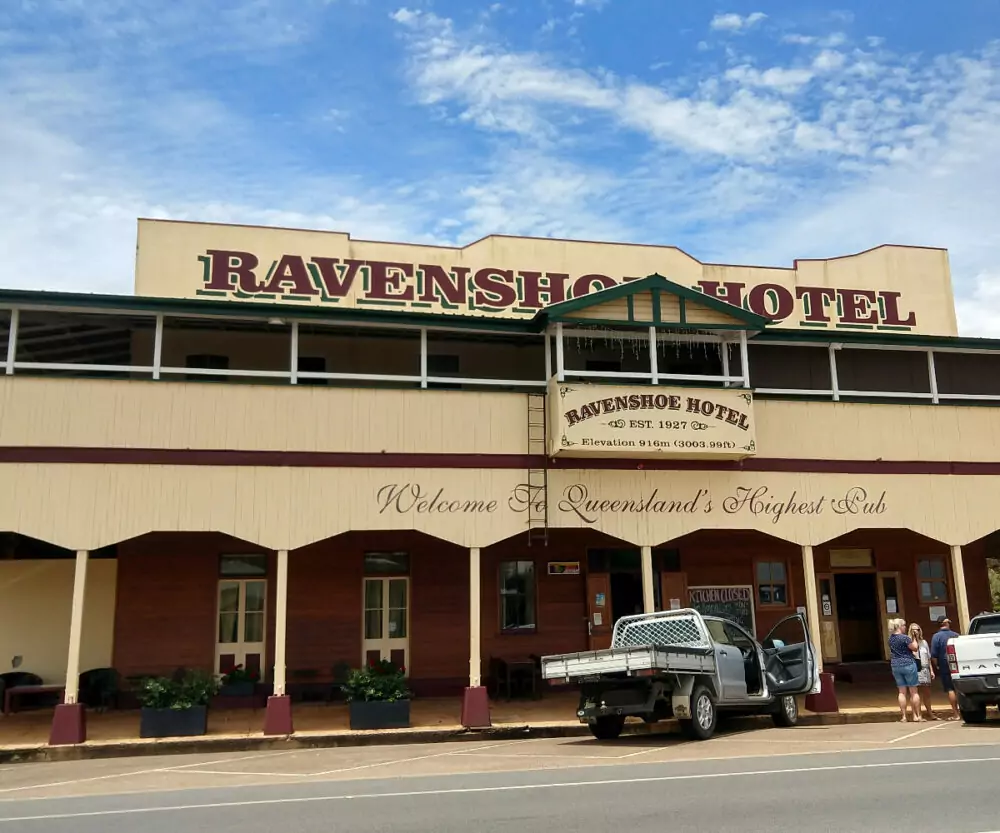 There are a lot of historic pubs where you can dine on the Tablelands, the highest pub in Queensland is in Ravenshoe. We recommend the National Hotel in MT Molloy too. They serve good local steaks and huge portions.
The opening times for food at the National Hotel are a bit restricted though, they don't serve food all day. Dinner service is only after 6pm.
Just up from the National Hotel, there's a little Mexican cafe that serves the biggest burgers I've ever seen! They claim to serve the best burgers in the world and they are pretty good.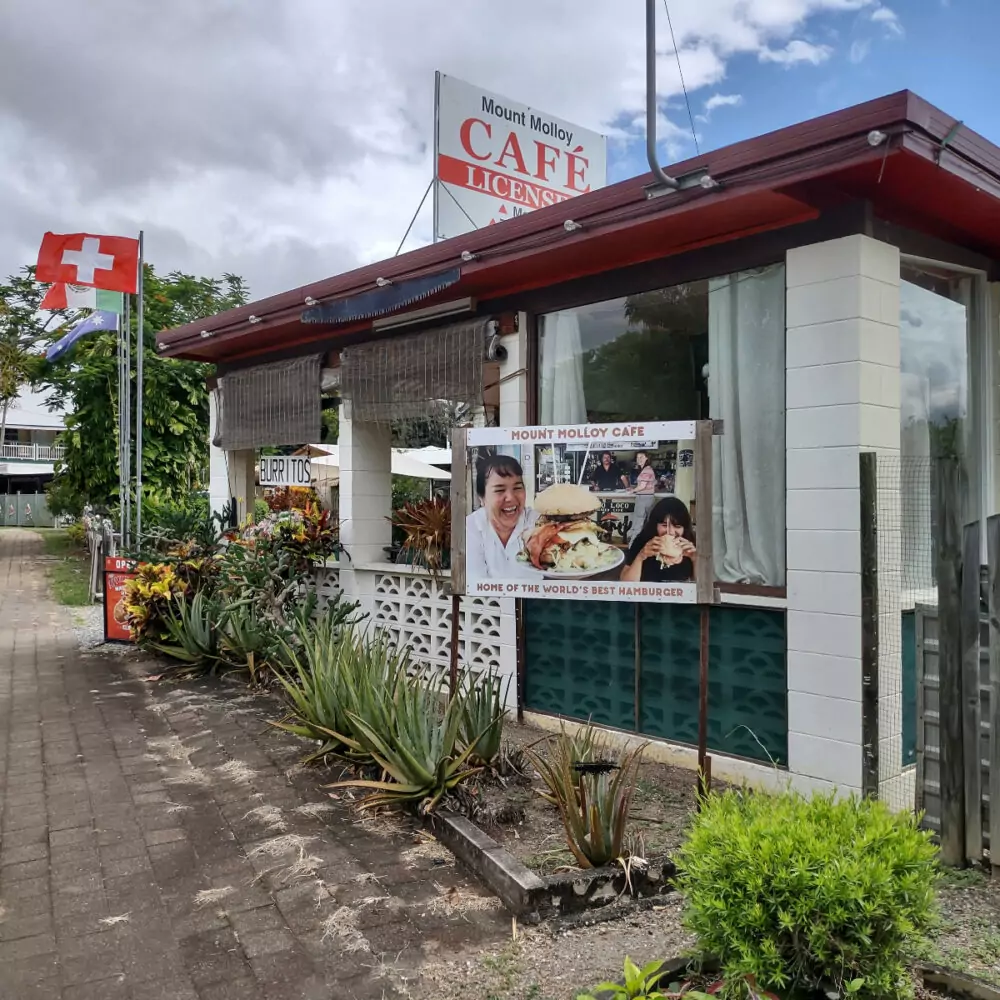 If you do stop in Mount Molloy the MT Molloy Labyrinth is worth a look, as are some of the historic buildings. Opposite the pub, The Ahoy Molloy coffee shop and garden is a good spot for a cake and a cuppa.
Lake Barrine has a good tea room with pleasant views.
In Atherton itself we recommend The Station Cafe, they do great breakfasts. You'll often find us here for an eggs benny or avo smash after the Atherton Parkrun (7am every Saturday, 5Km group run)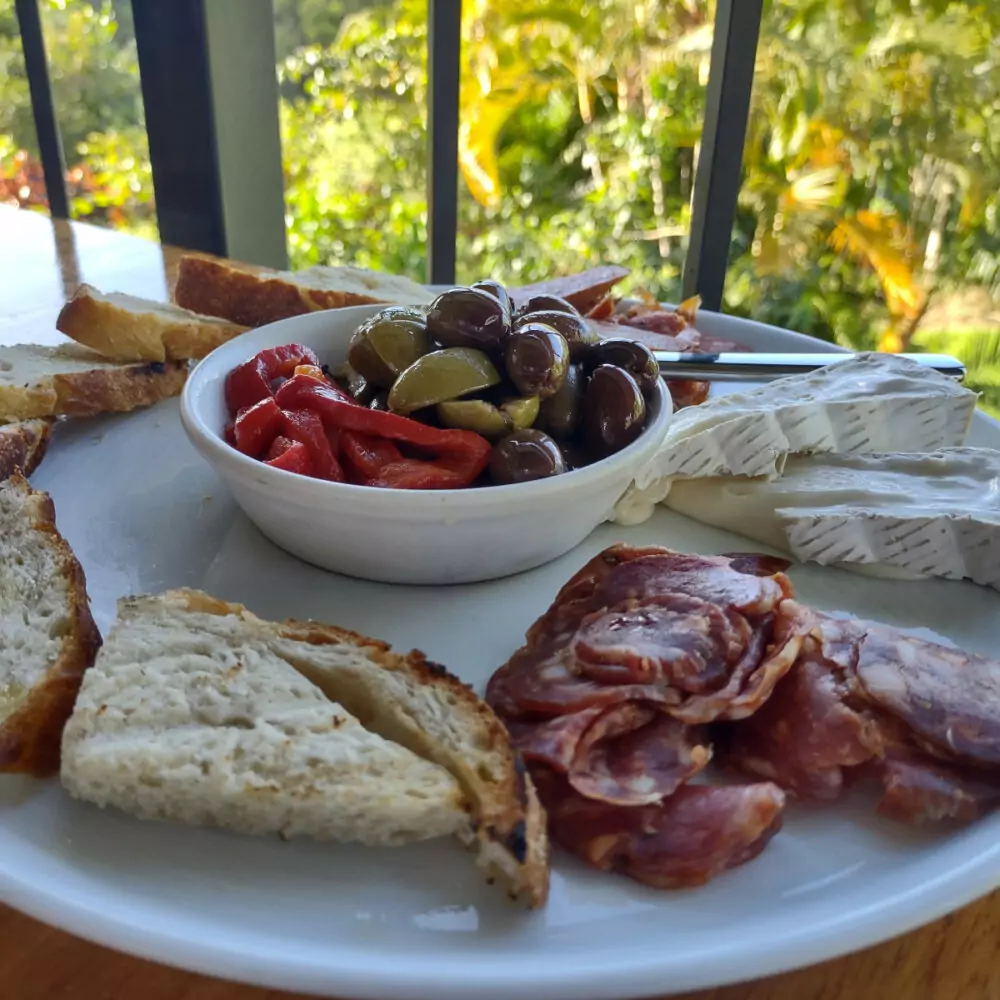 If you carry on past Mount Molloy towards Mossman or Port Douglas, The Julatten Hotel (pub) does decent pub food and has cheap steak or parmy nights. (You need our post on Australian food!)
The view from the deck of The Julatten Pub (Formerly the Highlander) is really nice. It's on the corner of Mt Lewis Rd and the highway.
If you carry on down Mt Lewis Rd you'll come to a really nice swimming hole. It's in our post on places to swim around Cairns and Port Douglas.
We plan to explore the dining scene on the Tablelands more in coming months, I'm sure there are some hidden gems we haven't yet found. If you know of somewhere, let us know. There are Tablelands food tours, such as this one. If you can, do it!
We also have a full guide to food in Port Douglas, written by my husband, a former executive Chef. He also works out on the reef helping tourists to find Nemo, so we can tell you all about snorkelling on the Great Barrier Reef.
Where To Stay on The Tablelands
We can give you a few recommendations for places to stay on the Tablelands that we have enjoyed ourselves. But our top recommendation is at Lake Eacham, the Chambers Wildlife Rainforest Lodges (link to Booking dot com for reservations) gives you access to nocturnal creatures such as the gorgeous sugar gliders. It's really a must-do!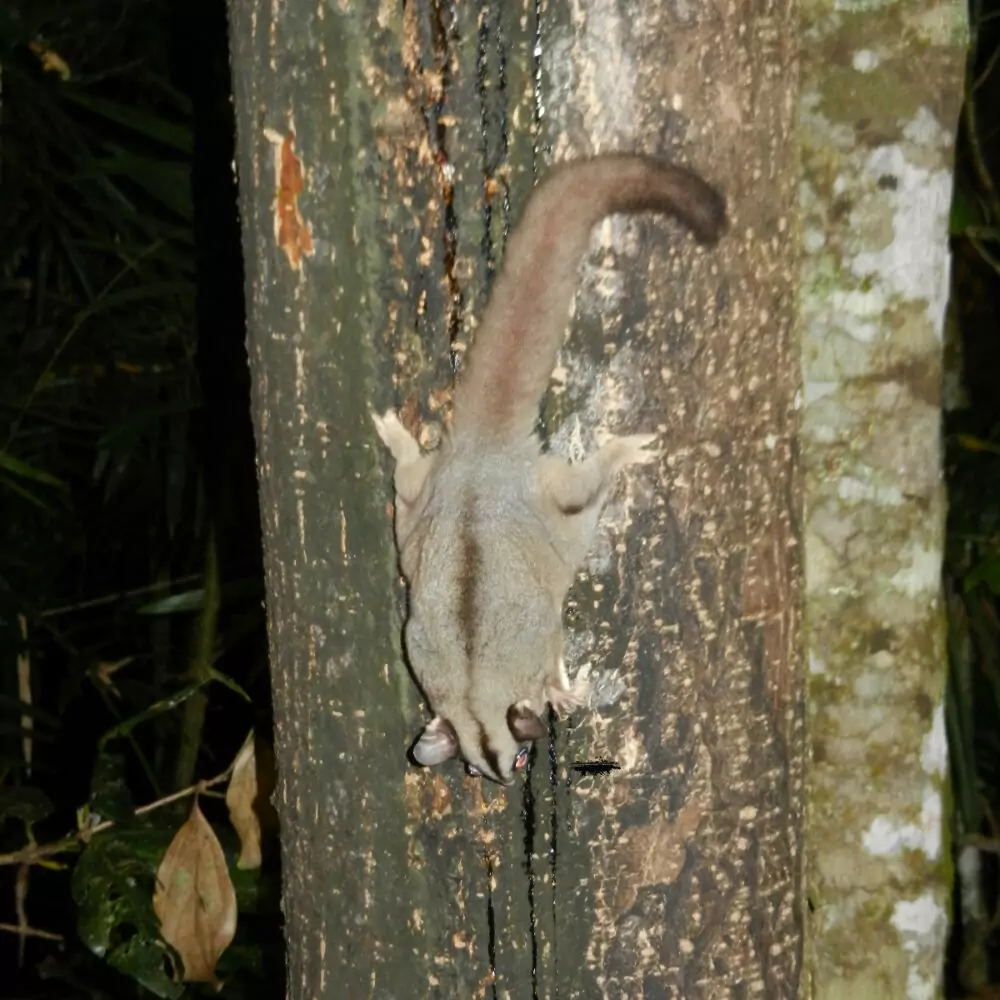 Yungaburra is another nice place to stay on the Tablelands, pick a time when the Yungaburra Markets are on if you can. It's a good central spot from which you can explore. The cheap option is the On The Wallaby Lodge.
For a more comfortable stay for a larger group on Lake Tinaroo check out this villa with lake views.
There's also a holiday park on Lake Tinaroo and various campsites.
There is free camping near MT Molloy. A lot of landowners on the Tablelands offer camping through HipCamp. We don't recommend Airbnb up here. Use the Booking.com links above.
Things To Do on The Atherton Tablelands
The tablelands are famous for waterfalls, lakes, unique wildlife, particularly birds, caves, hiking trails, culinary delights, historic villages and towns, agriculture, mining, and some beautiful scenery.
Parts of The Tablelands are inside the UNESCO-listed Wet Tropics of Australia World Heritage site.
Most of the Tablelands is real country Australia, and that's something international visitors should see. If you're here in the winter months, try to get to the Mareeba Rodeo, that will immerse you even more in Aussie country life.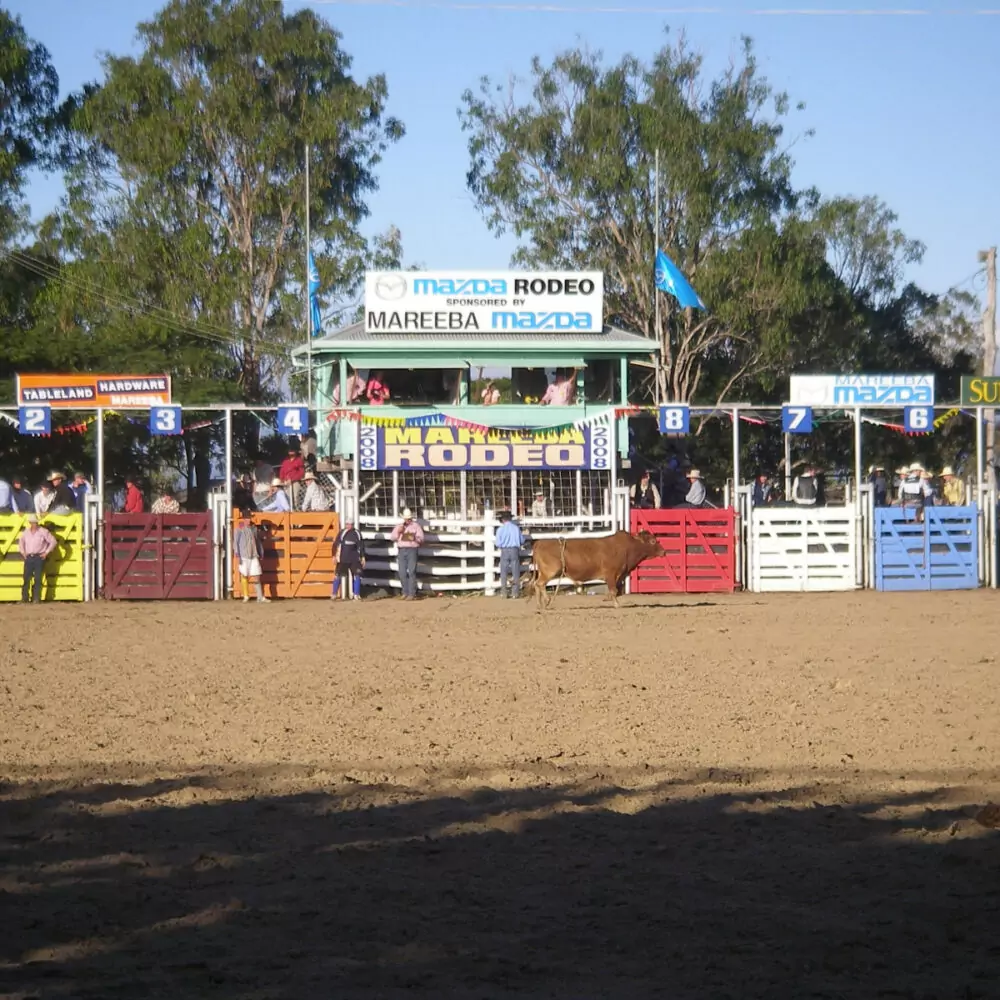 How much you can see of the Tablelands will depend on how much time you have and how much time you want to spend driving. There's a lot of area to cover.
Most of these attractions on the Tablelands are very spread out with some big distances between towns and settlements.
To reach Chillago Caves you have to take an unsealed road, so a 4×4 or off-road vehicle would be better.
In the wet season there can be flooding and some attractions may be inaccessible.
Tours Of The Tablelands
You can take various tours and day trips to the Tablelands from Cairns or Port Douglas, the best are below.
The #1 Tablelands tour that I would book, is this Outback food tour from Cairns. It would be a treat! Then I would consider this full-day waterfall and rainforest tour, also from Cairns.
To see the waterfalls and another FNQ gem, Paronella Park, I'd book this tour from Cairns. We have a full write-up on Paronella Park here, it's really good.
To see Kuranda and Barron River Falls, you need to book this tour, you can go up on the cable car, back on the scenic railway. This is a must-do. (Cairns or Port Douglas / Palm Cove)
The Tablelands food tour is also available from Port Douglas, here, but the waterfalls are a bit of a long way.
Tablelands Wildlife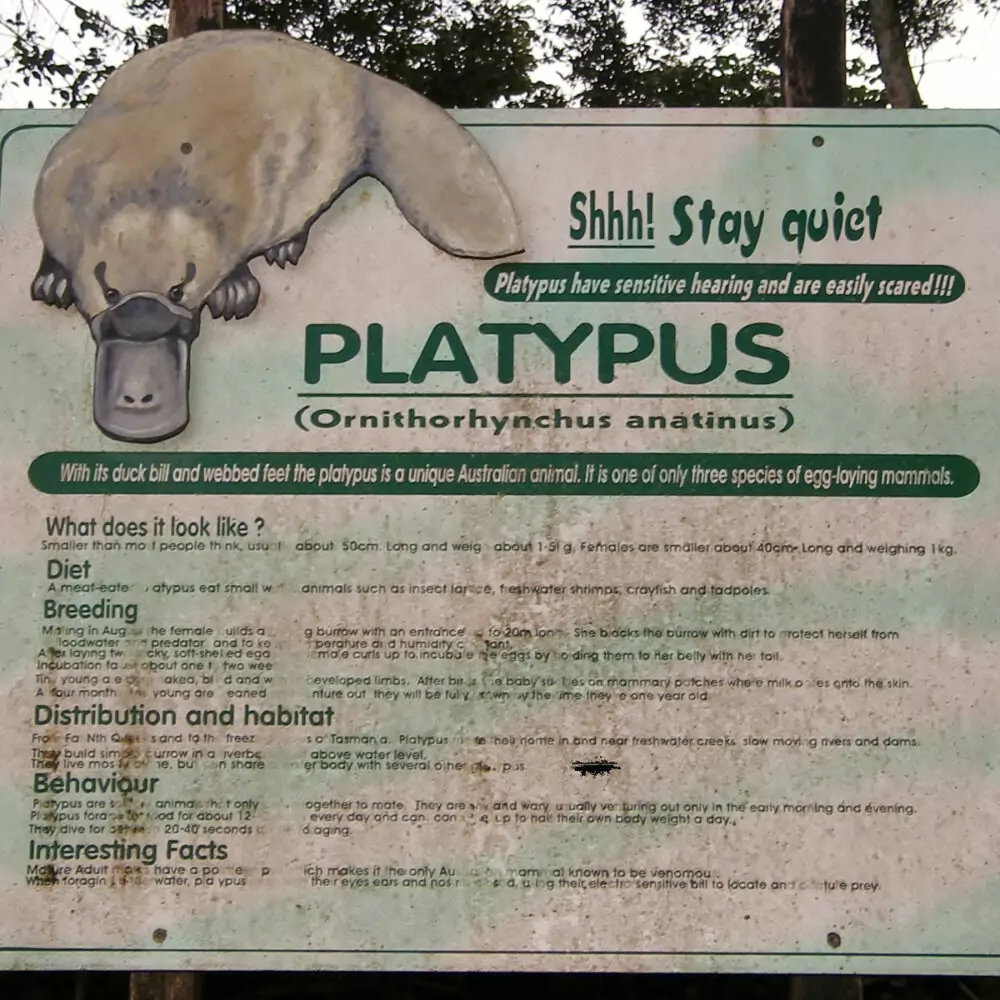 Expect to see a lot of kangaroos and wallabies near roads on the Tablelands, so please drive carefully. You can buy a kangaroo repelent device for your car, in our experience these do work.
There are many species of endemic animals to be found on the Tablelands, including some that are unique to this region.
You may be lucky enough to spot a cassowary, platypus, tree kangaroo, dingos, or echidna in the Atherton Tablelands and Mareeba Shire. Most of Australia's wildlife is represented here.
We have a post about spotting platypus at Tarzali Lakes on the Tablelands, in Atherton itself there is a place called Platypus Park, I've never seen a platypus there, but it's a nice spot, right next to the old Chinatown and Atherton Station, now The Station Cafe.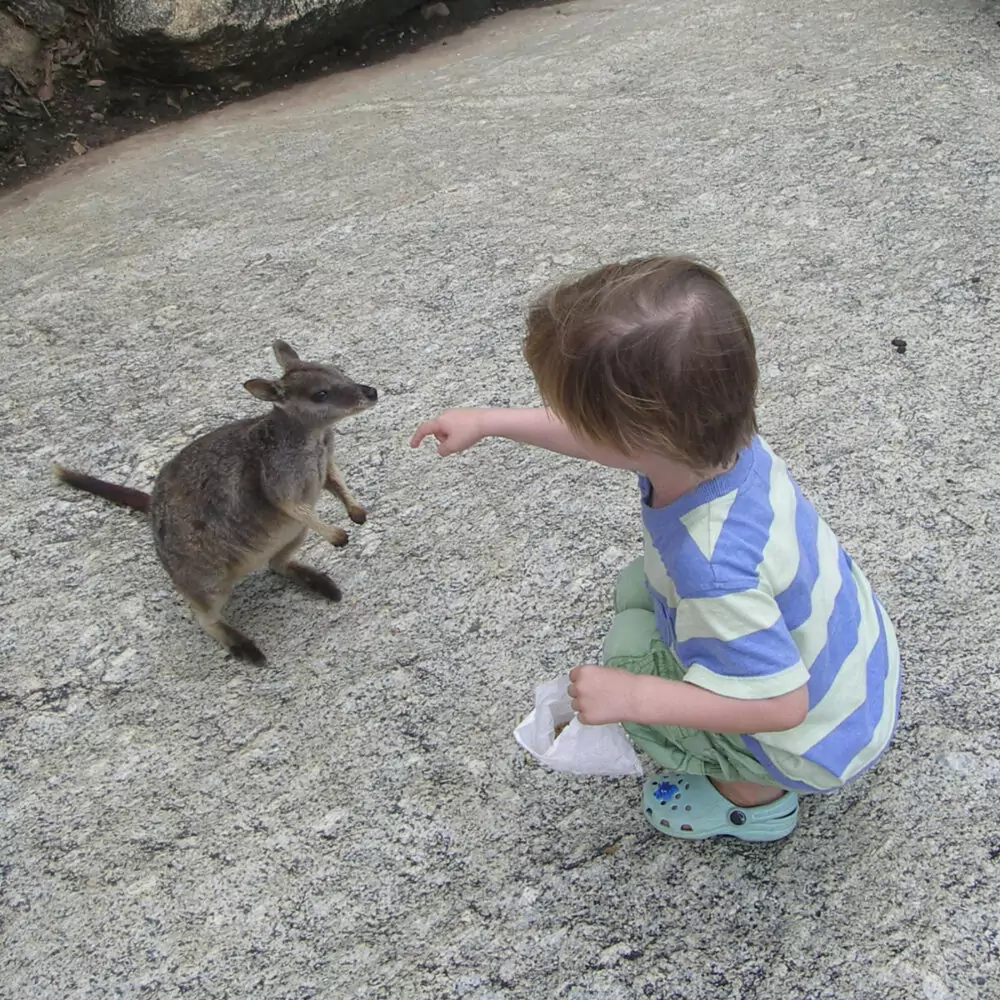 Don't forget to visit the rock wallabies at Granite Gorge. It's near Mount Uncle Distillery.
This region is famous for bird life and bird-watching tours are available. You will find almost half of Australia's bird species in this region, including sunbirds, cockatoos, fig birds and lorikeets.
There are green tree frogs on the Tablelands and snakes, a lot of snakes. You're quite likely to see huge pythons on the road after dark and this is home to venomous snakes like the Eastern brown snake and coastal Taipan.
It was up here that Steve Backshall came to find taipans for his TV show, it was actually at a property just up the road from mine.
We've seen pythons up here up to about 4m in length, and yes, theey do sometimes get inside the house. There are huntsman spiders and giant golden orbs, but we don't see them too often.
You may be able to spot a goanna or two too.
Look out for the beautiful gree tree frogs we have here. They often appear on windows at night.
Tablelands History
The Tablelands area was colonised around 1875 just over 150 years ago, when tin was found and mined and later gold. It was this mining which both lead to the development of Cairns and Port Douglas.
A man called J V Mulligan (the Mulligan Highway runs through Mareeba and Atherton) first explored to area, but John Atherton was the first European settler on the Tablelands. He ran a big cattle station and brought them up to the Tablelands in 1873.
The Port Douglas Sugar Wharf (built in 1904) was originally used for shipping minerals, not sugar!
There was also extensive logging on The Tablelands and you'll see a reminder of that near Ravenshoe, photo below.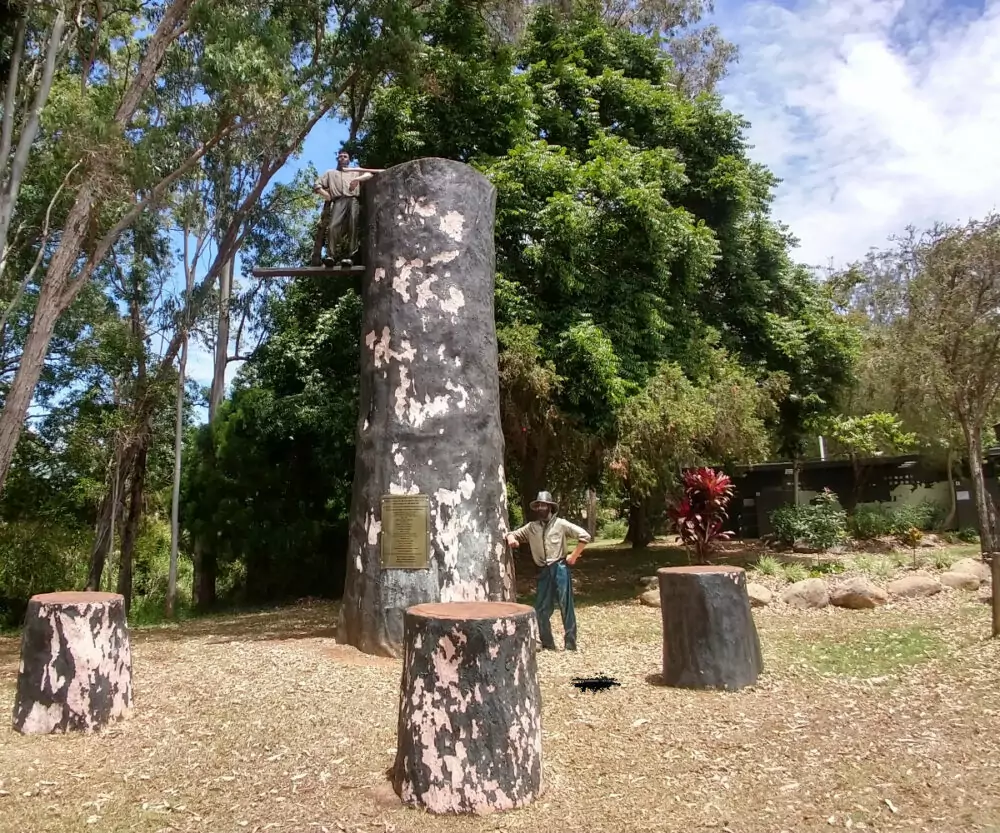 There was a large Chinese population on the Tablelands in the mining days, you can visit the old Chinatown close to Atherton, it's well worth your time if you're interested in history, as is Herberton Historic Village and the mining museum there.
Once the mining subsided, the Tablelands became a food-producing area, you'll see acres of bananas, mangos, and citrus.
Coffee is also grown up here, and strawberries. There were also huge lychee plantations. Our farm near Julatten has the remnants of this, we have over 40 lychee trees that were formally part of a much bigger property.
Cattle, for both beef and dairy are also farmed on the Tablelands.
Coffee on the Atherton Tablelands
The Mareeba area is Australia's biggest producer of coffee and actually produces 5% of the world's coffee. On the Tablelands be sure to check out the coffee plantations.
The Jaques Coffee Plantation offers guided tours or you can take a self-guided walk. The Jaques Coffee Plantation is between Mareeba and Atherton on Leotta Rd. To visit, check their website.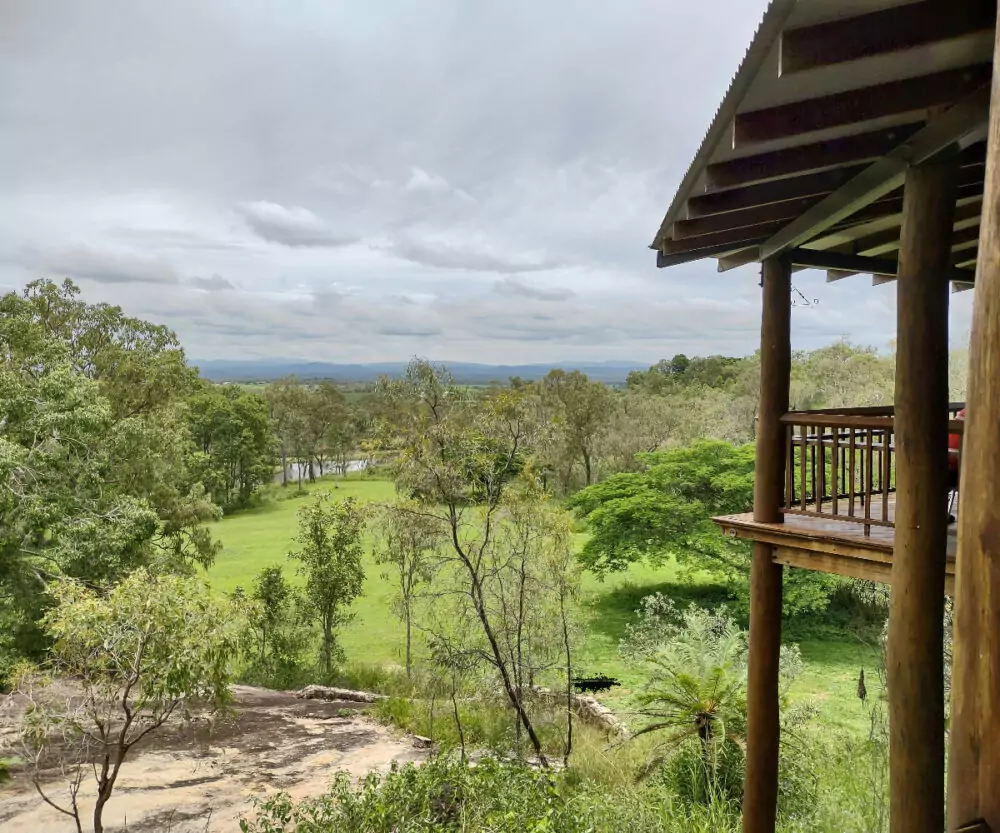 Skybury Coffee has a nice cafe with great views. There is a small shop and you can taste samples of coffee. Skyburry is on the Mareeba to Dimbulah Rd. (The Wheelbarrow Way) Check their website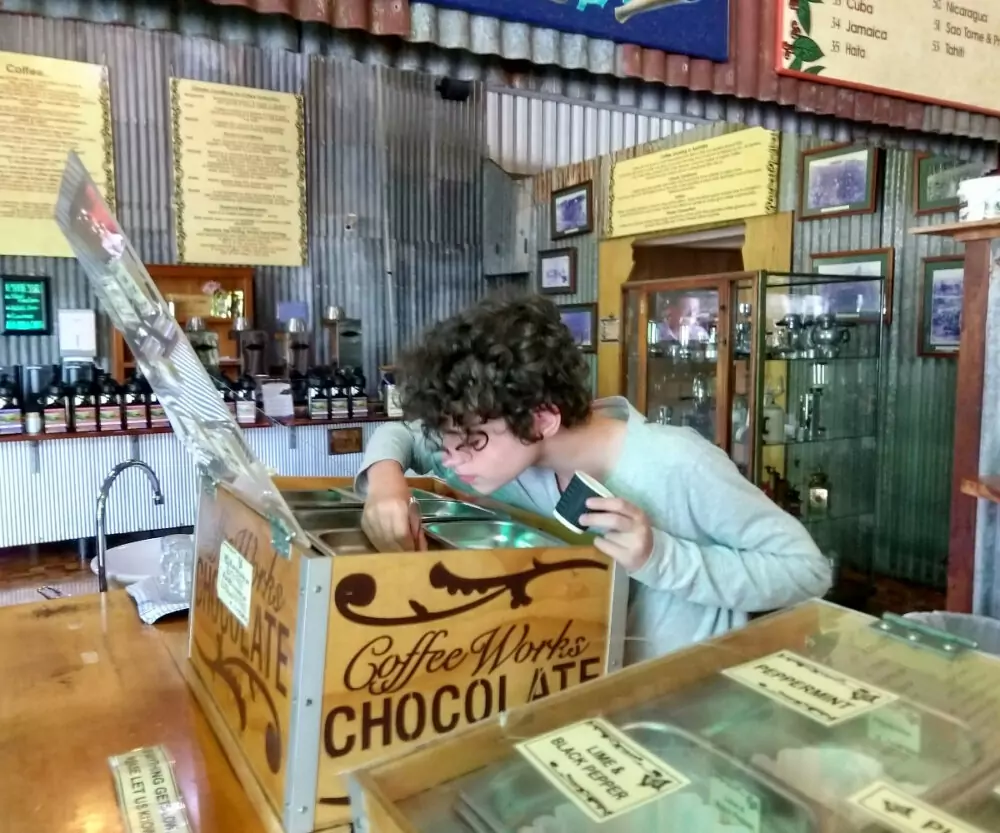 Coffee Works is in Mareeba and this is possibly the biggest coffee attraction as they also serve chocolate. There is a coffee museum on site, a restaurant and a nice gift shop.
There is an audio guide for the museum and activities for kids. This is a great place to take kids as admission includes all-you-can-eat chocolate samples. We recommend the dark chili chocolate.
Coffee Works also has shops in Port Douglas, Mareeba, Atherton, Townsville and Cairns. Check their website for opening times, but they're normally open 8am to 3pm.
Best things to do in the Atherton Tablelands
Probably the most popular place to visit on the Tablelands is Kuranda, it's an easy day trip by car, train, or cable car. If you're driving to the Tablelands from Cairns you'll likely pass through Kuranda and cross the Barron River.
I wouldn't say Kuranda was the "best" place to see on the Tablelands, it's very tourist-focused and not the country Australia you'll see if you venture further.
The other really popular attraction on the Tablelands are the waterfalls, particularly Millaa Millaa and the Waterfall Trail. We'll go into more detail on the falls further down the post.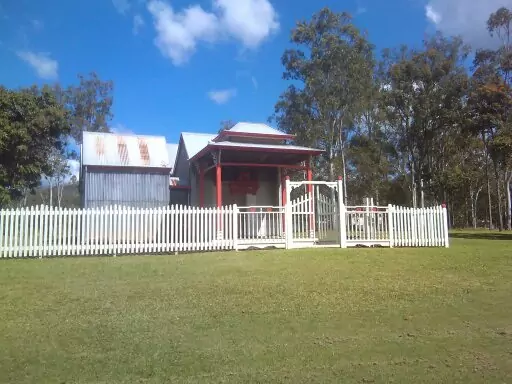 One of my personal favourite places on the Tablelands is the old Chinatown, it's just outside Atherton on the way to Herberton Historic Village.
This historic place is not free to enter but there was good information on the signs around the miners' buildings.
I visited Chinatown in 2023 and was sad to see that many of the old shacks I remember had gone. I was told be a local that the council had bulldozed them because the upkeep was too much. If you're interested it's still worth going.
The temple is still there, plus the old pig oven and there's a museum and art gallery at the old Atherton Post Office building. It's right next to Platypus Park and the end of the rail trail, unless you take the extension on to Hasties Swamp.
Hasties Swamp is amazing for bird watching and there is a hide there. To drive there take the Atherton-Herberton Rd. It's on the left.
If you take a look through our list of things to do, pick your favourites and turn them into your own personal Tablelands itinerary.
The two large-ish towns, Atherton and Mareeba, really don't have a huge amount to see. The Crystal Caves in Atherton draws lovers of gem stones, most of the attractions on this page are outside the towns. Both have supermarkets if you need supplies.
You will likely drive past Abatoire Swamp Environmental Park, it's near our home and we stop their often. Not because it's a must-see, there is a boardwalk and a bird watching hide, but because its a Pokemon Go gym.
Walking Trails in The Tablelands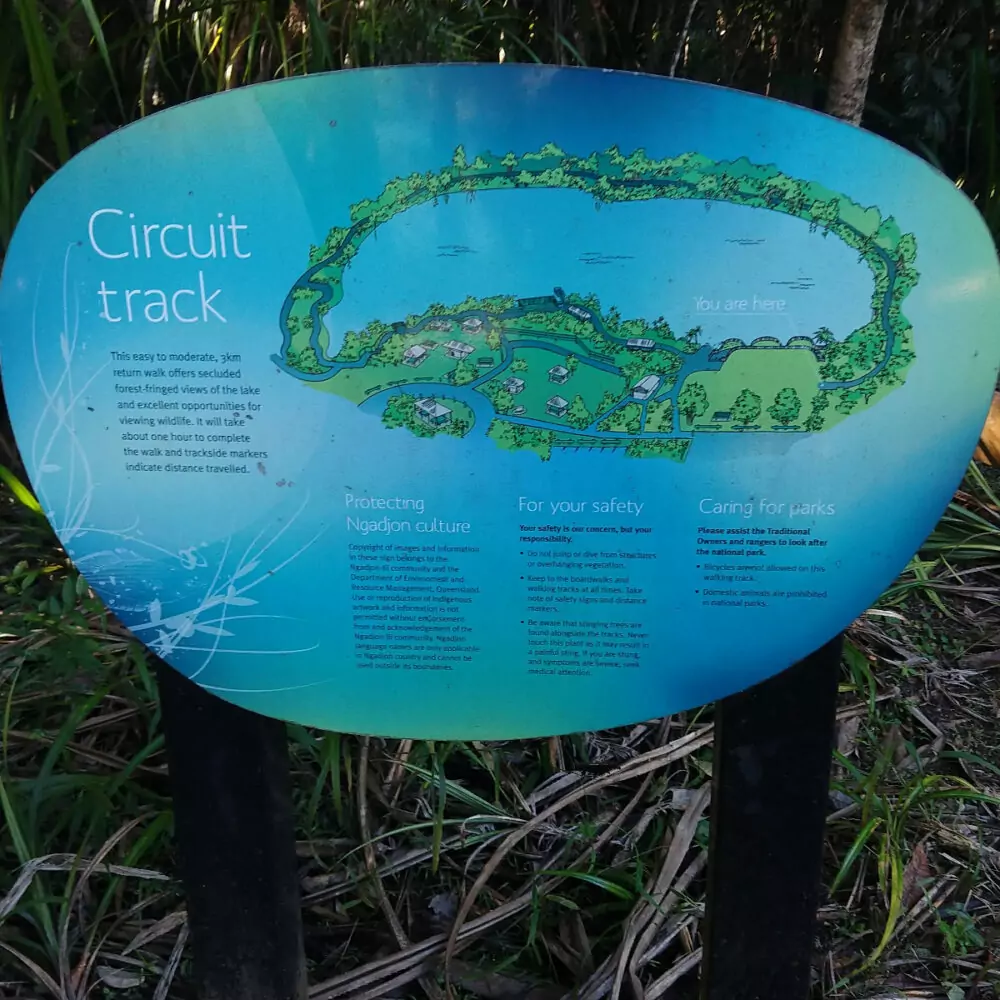 There's an easy 5 km walking trail around Lake Barrine and another 3 km walk around the circular crater lake at Lake Eacham. When you've finished your hike you can swim in the lake. There are thought to be no crocodiles up here, but you hear rumours from time to time.
There are also a number of hiking trails around Herberton and Mt Baldy walking track at Atherton.
There is also 5k hike at Yungaburra. This walk may give you a chance of spotting platypus and other wildlife.
Bike Trails on the Tablelands
The Atherton Tablelands Rail Trail is a famous cycling route along a decommissioned railway corridor.
This is a nice gentle 20.5 km route from Walkamin, through Tolga, Atherton (via Platypus Park). The end is where the Atherton Park Run starts, almost opposite The Station Cafe.
If you want to continue you can walk on to Hastie's Swamp, past the Station Cafe.
We've run this 5Km track often, but as yet we haven't cycled it. But we will!
There are also a lot of Mountain Biking trails up here, The Bump Track connects the Tablelands with the lowlands at Mowbray, near Port Douglas, this is a good cycling track for experirenced mountain bikers.
Herberton
Herberton Historic Village is a fantastic museum and attraction showing the Australia of yesteryear.
This really is a good day out and there are other attractions in and arround Herberton including mining and some hiking trails.
We tried our hand at panning for gold at Herberton.
Herberton is south of Atherton on the Atherton Herberton Rd (the 52).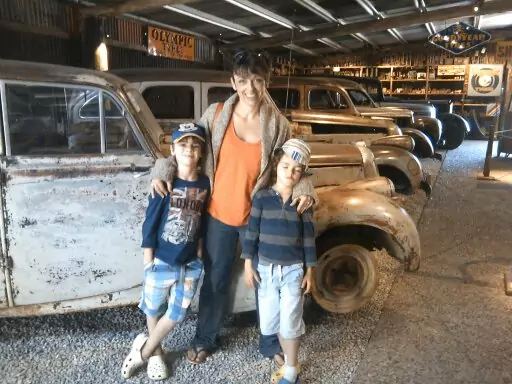 The Village is set over 16 acres, and has around 60 original buildings, plus clothing, tools, medical equipment and more. Visit their website here.
Strawberry Picking on The Tablelands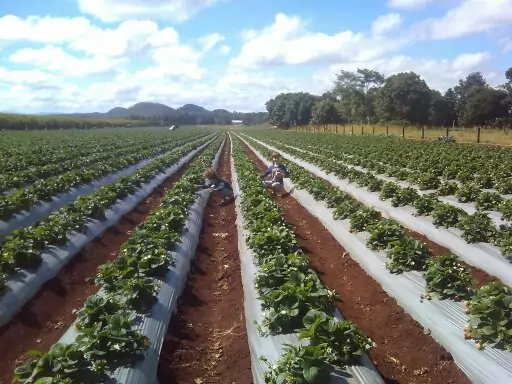 Shaylee Strawberry Farm is between Atherton and Yungaburra.
Strawberry picking season is from July to November, July is winter, November is the last month of spring. You can also buy strawberry jam and gelato on-site.
The photo shows the authors children picking strawberries, this was something they loved to do when they were small.
Waterfalls on The Tablelands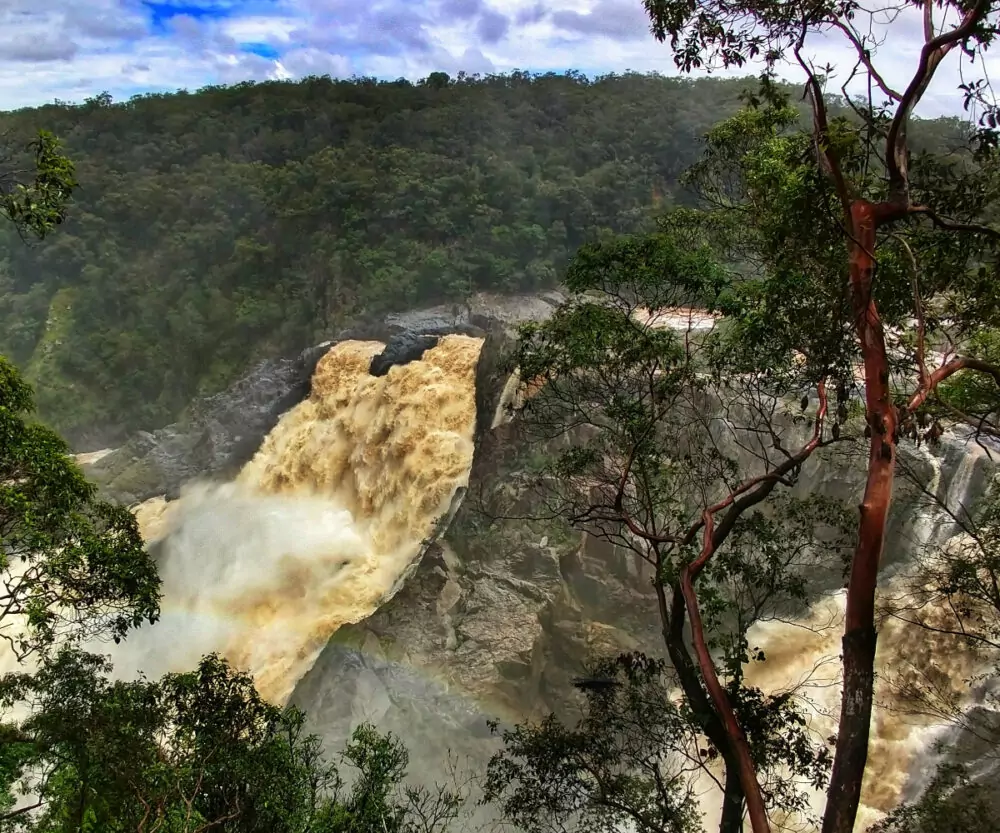 Barron River Falls near Kuranda is really impressive in the the wet season. But if you visit in winter, it's still worth a look.
The best way to see Barron River Falls is from the gondala ride that takes you from the north of Cairns, up to Kuranda, this ride has a special viewing platform and a good rainforest boardwalk track to explore.
Most people go up to Kuranda on the Skyrail, and go back down to Cairns on the scenic train.
If you're planning a Tablelands Itinerary, we'd suggest you do this first, and then continue to explore the Tablelands proper over a few days. You will need a car to see the Tablelands properly. Get a good quote on car hire here.
The Waterfall Circuit is a very popular route about half an hour from Yungaburra or accessible from Cairns. This circuit includes Millaa Millaa, Ellinja Falls and Zillie Falls.
If you're in the area, also take a look at the small crater lake nearby.
Starting at Millaa Millaa Falls, where you can swim, a 10 minute drive takes you to the Zillie Falls viewing platform, a further 5 minute drive and you reach Ellinjaa Falls.
Millstream Falls is Australia's widest single-drop waterfall, this one is further south, near Ravenshoe.
Lakes on The Tablelands
Lake Tinaroo is a popular spot with locals and tourists and many a local resident will be taking their boat to Tinaroo on weekends.
The man-made lake is used for kiteboarding, wakeboarding, paddleboarding, canoeing, swimming and fishing for barramundi or yabbis.
People do swim here but there are far nicer places to swim in freshwater streams on The Tablelands.
Lake Tinaroo has some very affordable camping spots if you'd like to stay a few days plus some lake view accommodation options, none of them cheap.
If you don't own a canoe you can rent them from On the Wallaby hostel in Yungaburra or head out on one of their night wildlife canoe tours.
Pacific Watersports give paddleboarding instruction in several locations in and around Cairns including Lake Tinaroo.
Lake Tinaroo can be incredibly busy at peak periods and at the more popular spots.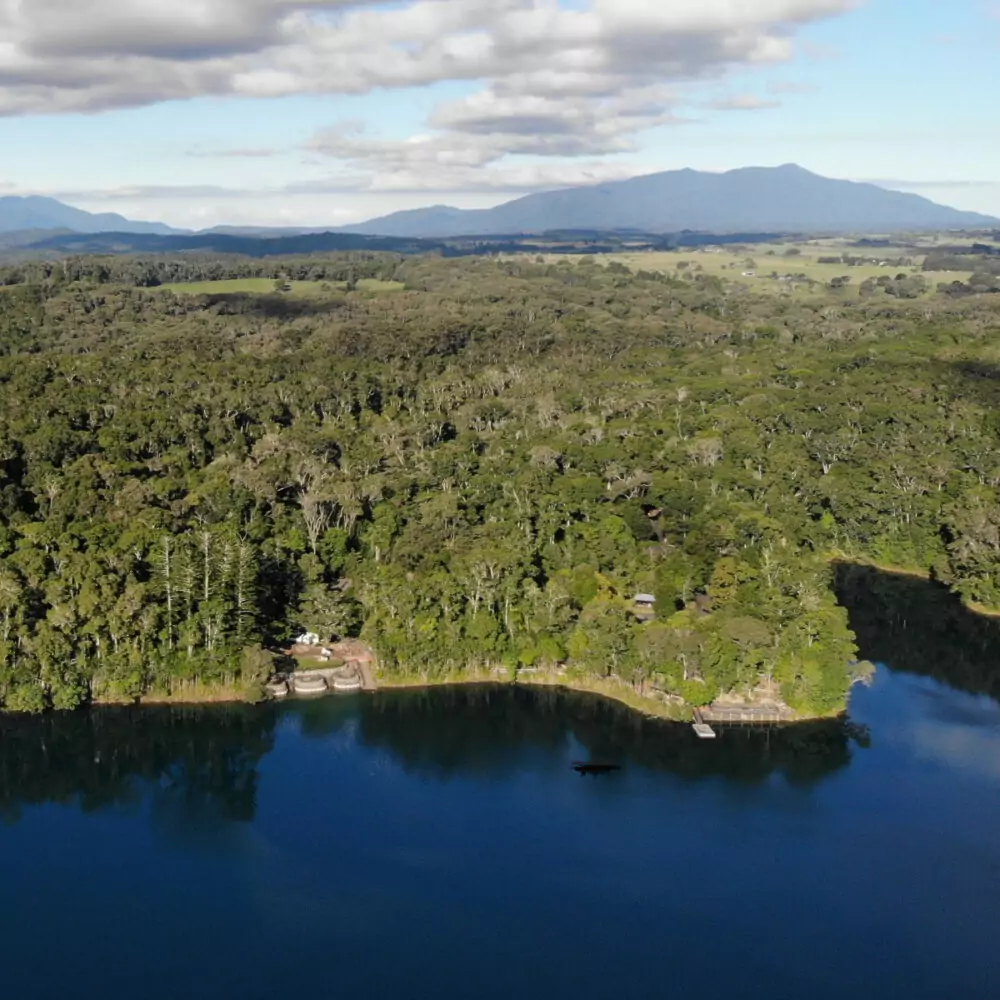 Lake Eacham is a much smaller, almost round, crater lake sunk into the rainforest near Yungaburra. It's a good swimming spot and has a circular walking track around its perimeter.
Yungaburra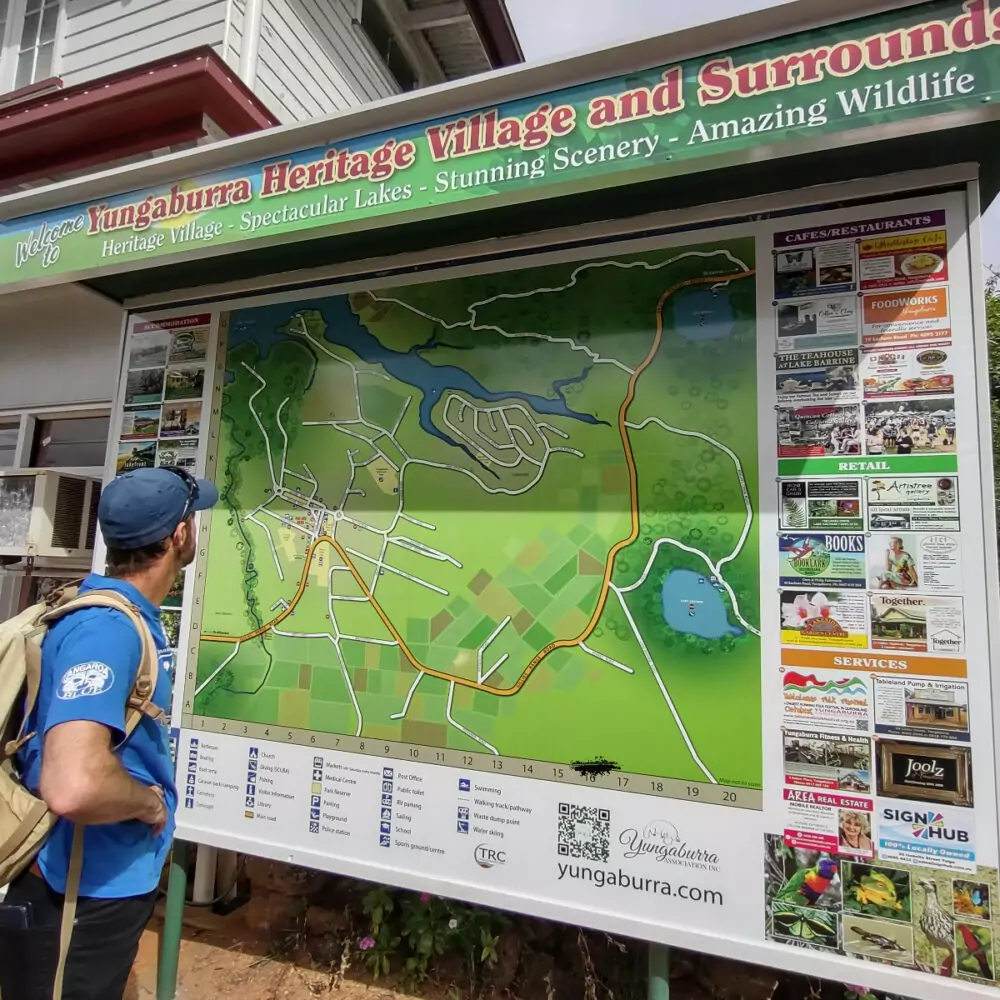 Yungaburra is a cute little town and host the Yungaburra Markets on the 4th Saturday of each month. It's quite a big market and worth a look for local arts and crafts.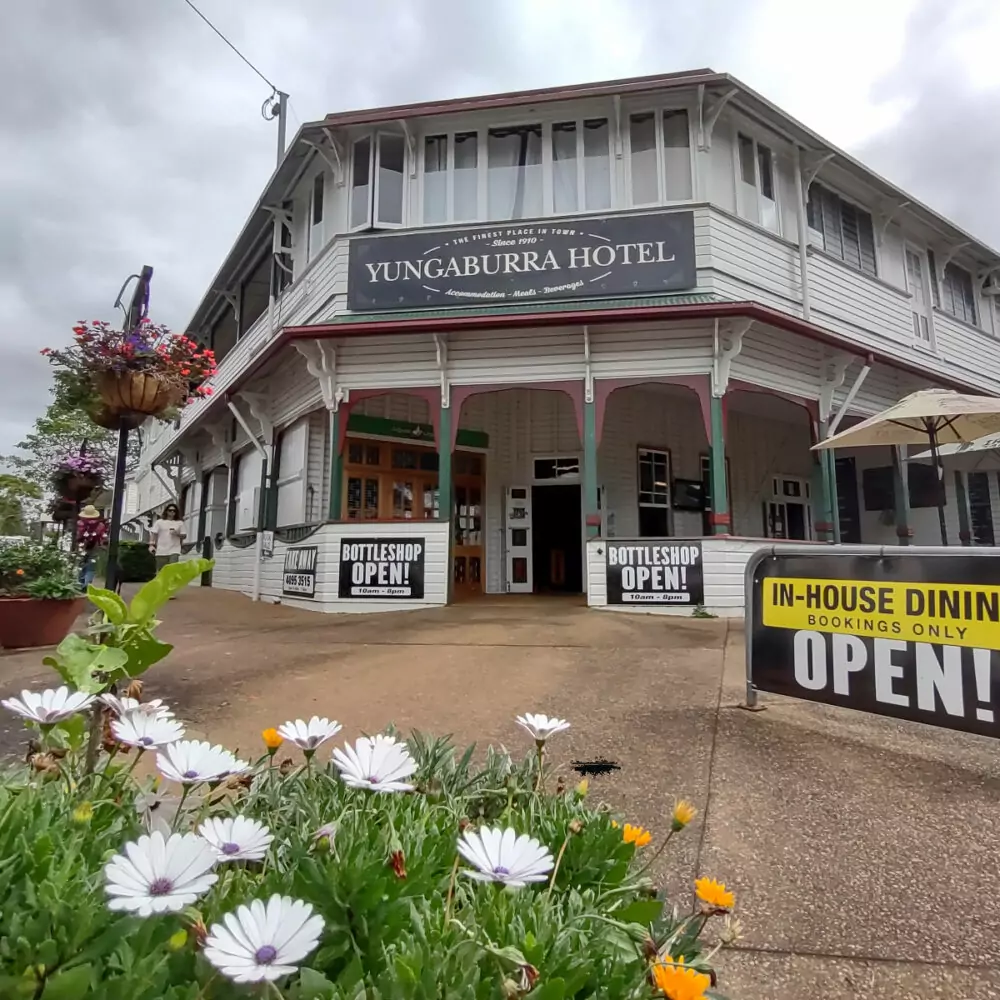 If you've been to the Port Douglas Markets or any of the other local markets, it's similar, but more rural rather than tourist-focused.
Famous Fig Trees on The Tablelands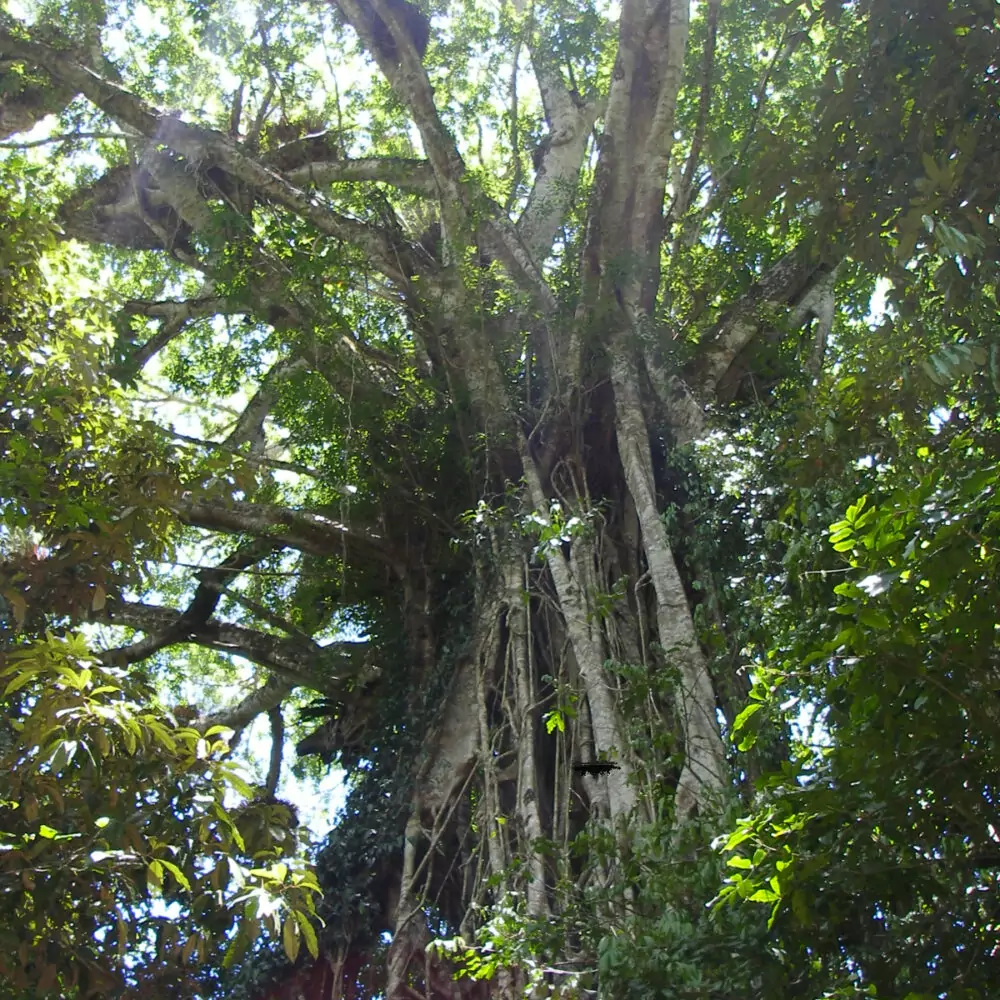 You may have heard of the Curtain Fig Tree on the Tablelands, but there are actually several huge old fig trees with names up here.
The Curtain Fig is near Yungaburra in the Curtain Fig National Park, it's a short hike from the car park.
You may also want to visit the Cathedral Fig and the Clohesy River Fig Tree.
The Cathedral Fig is on Danbulla Rd, in Danbulla itself on the way down the hill to Gordonvale.
War Memorials on the Tablelands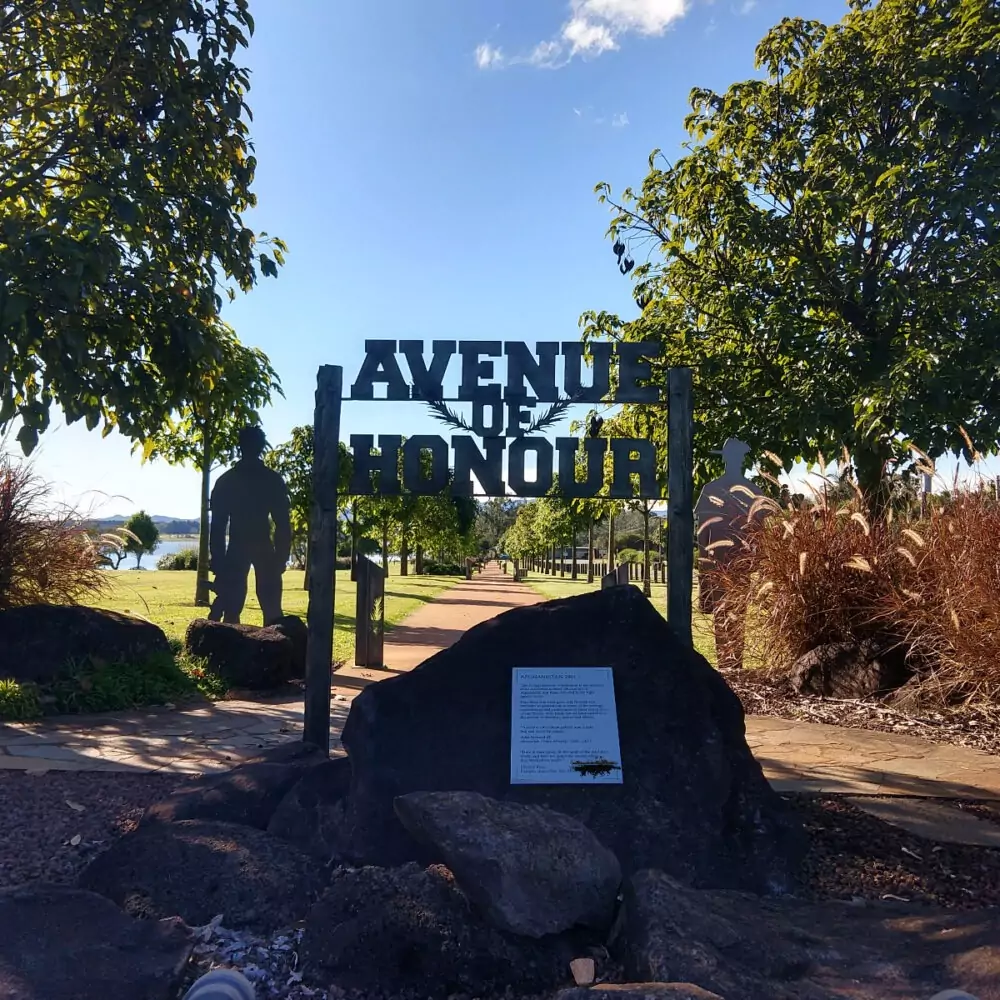 The Tablelands had military bases in WW2, the old hospital building and war graveyard is still there today.
There is also a memorial to the local lives lost in the Afghanistan War, just outside Yungaburra, near Lake Tinaroo.
Chillagoe and Chillagoe Caves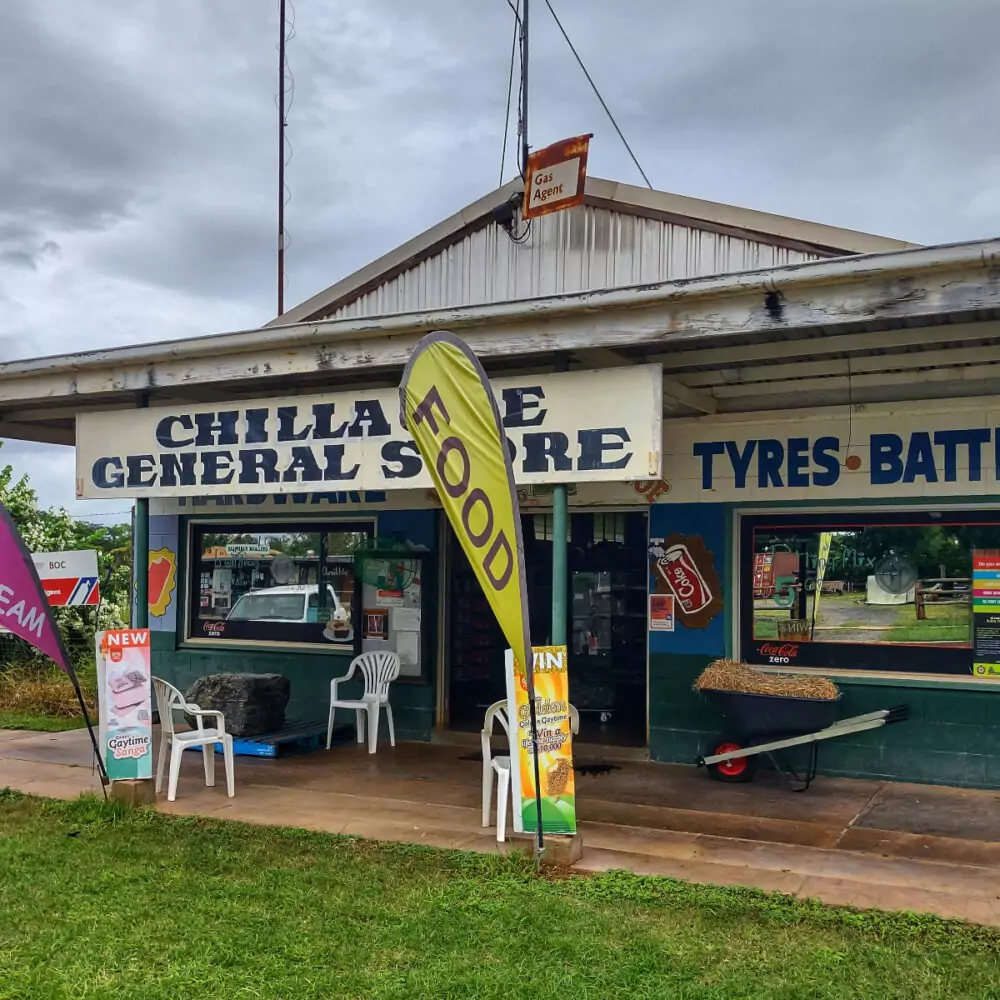 Chillagoe is quite a drive, about 2 hours from Atherton and 160km. Much of the road was just dirt, but most of it is now sealed other than a part outside Almaden.
But visiting Chillagoe is quite the adventure and this little town has several hidden gems.
Chillagoe is home to limestone caves that were formed some 400 million years ago. If you can overcome your claustrophobia and get through the narrow entrance, spectacular caverns and passages await.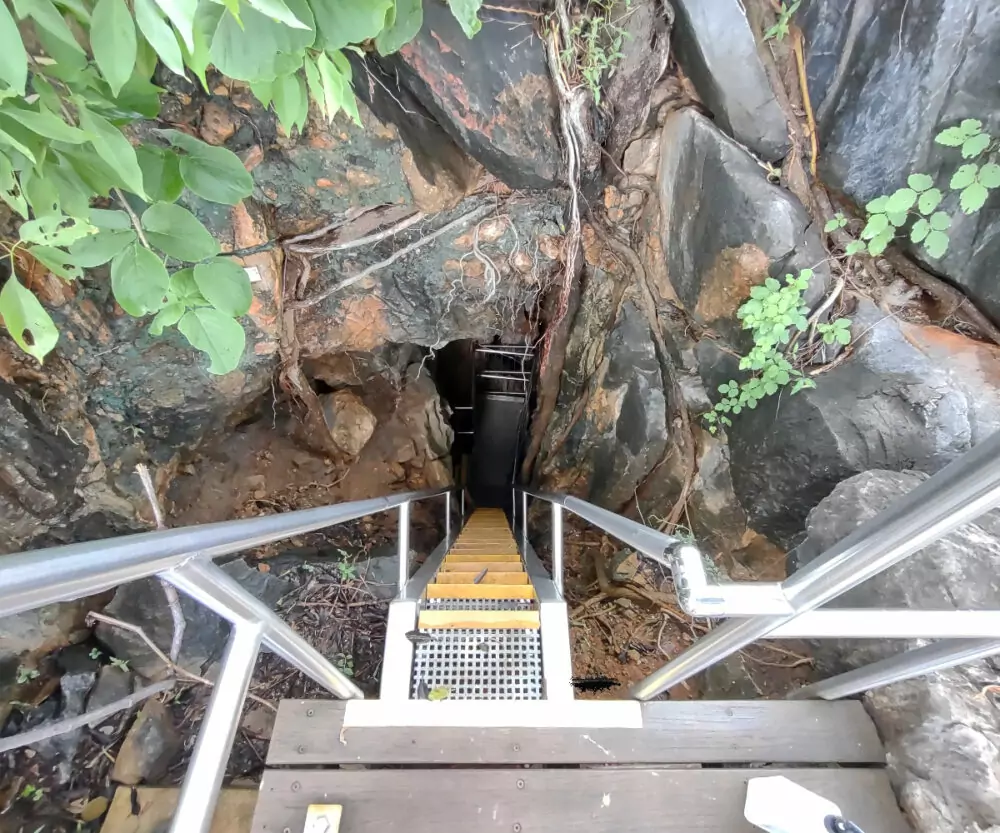 Aboriginal rock art can be found just a few paces from the caverns. Other things to see in Chillagoe include the old pub, post office, and a bank vault which sits by the side of the road.
There is also an old mining site at Chillagoe, the Chillagoe smelter operated until 1943, and dealt with copper, gold, silver, and lead.
There's a visitors' center nearby with some interesting local Aboriginal history. We had to book the tour of the caves with the ranger at the visitor's center.
We were the only visitors that day. It's definitely worth visiting Chillagoe if you have an interest in caves or country Australia, it's a cool spot and I'll share more photos in a post about Chillagoe soon.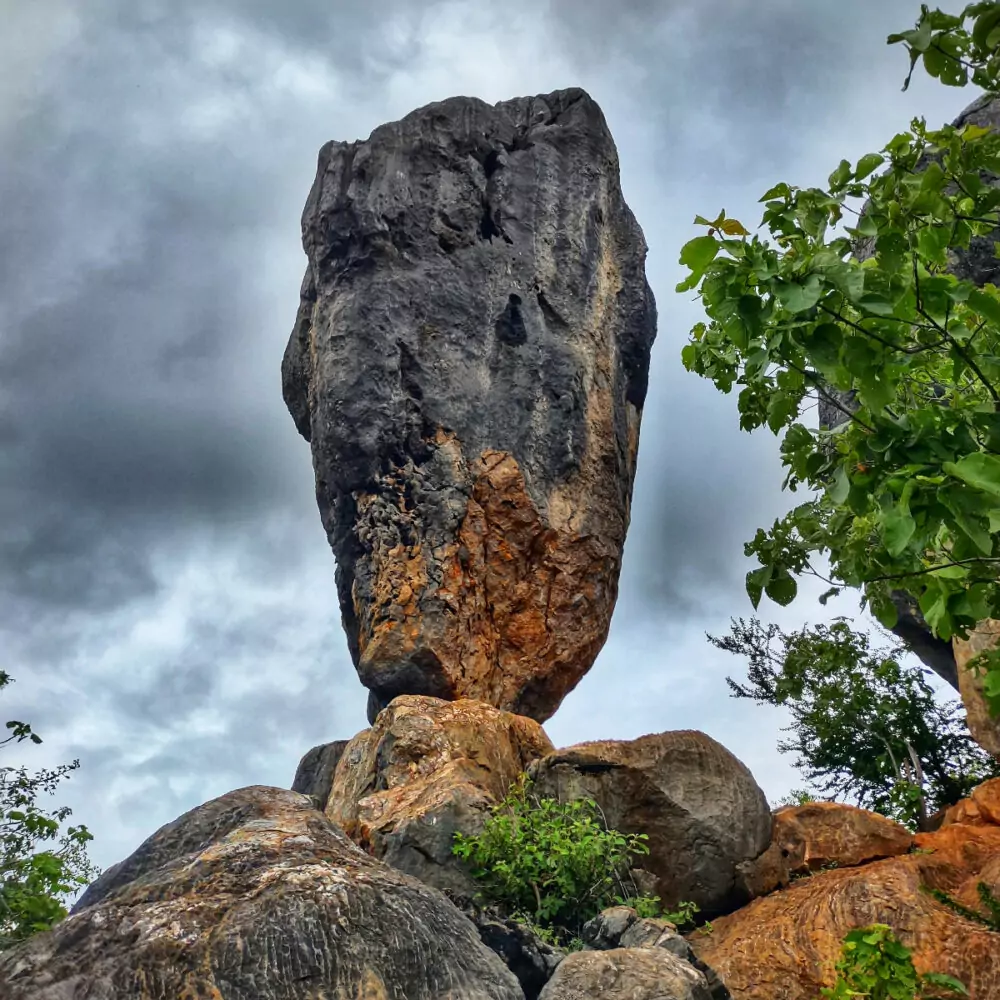 We took a guided tour available with a ranger, the caverns are kept locked, but visitors are free to explore much of the park and take the short hike to see the standing stone.
Animal Feeding and Petting on The Tablelands – Hectic Valley Farm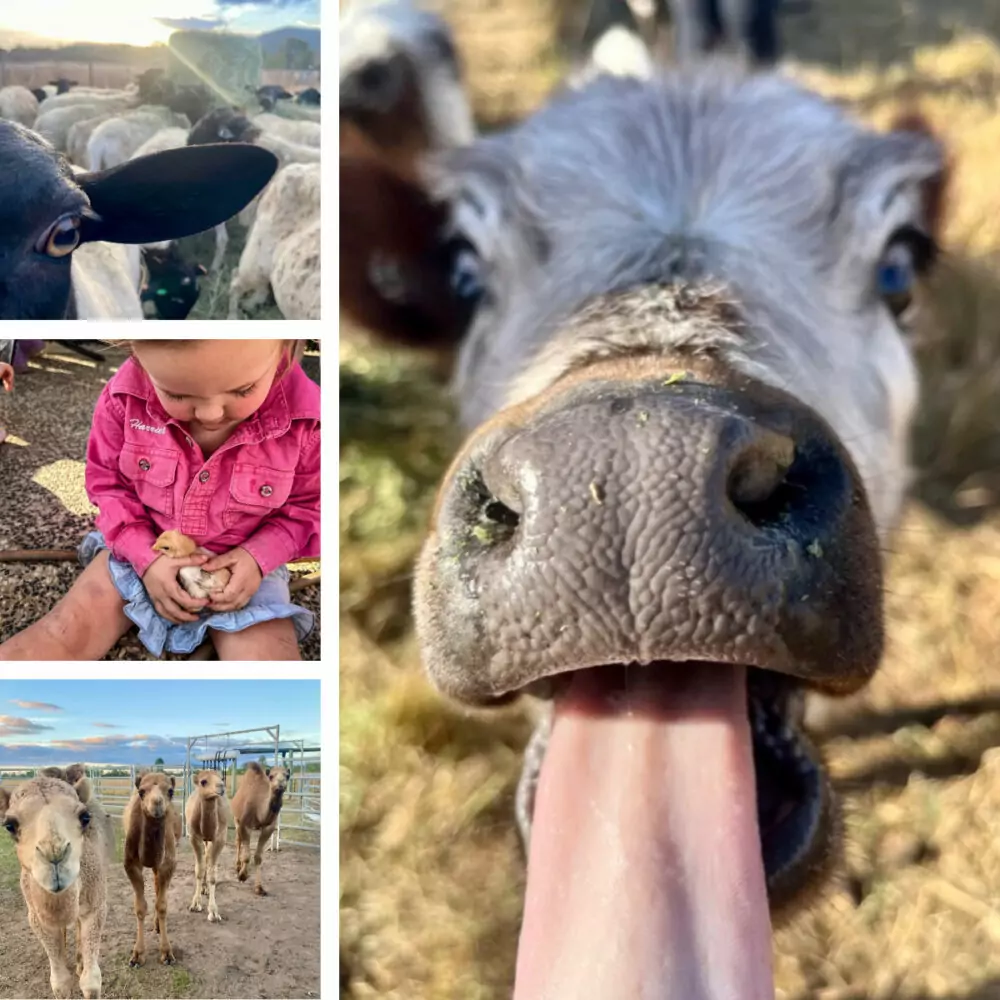 Kirsty at Hectic Valley Farm is a huge animal lover and has built herself quite a little petting zoo over the last few years.
There is a campsite at Hectic Valley, plus the chance to take part in animal feeding and petting sessions, for a small fee. Find when you can meet the camels, peacocks, mini cows and draft horses on the Hectic Valley Facebook page.
There is also a Hectic Valley website, where you can buy poultry and lambs in season. Kirsty has Dorper sheep, my farm in Julatten has Australian White sheep and mini goats. We also have birds and lambs available sometimes.
Hectic Valley is at Mutchilba which is about 25 min drive from Mareeba.
Drive Times on the Tablelands
Mareeba to Atherton about 30 minutes
Cairns to Atherton about 1 hour 30 mins via Smithfield or Gordonvale.
Port Douglas to Atherton about 1 hour 38 minutes up the range road to Julatten and Mount Molloy
Port Douglas to Lake Tinaroo about 1 hour 45 minutes
Atherton to Lake Tinaroo, about 20 minutes
Yungaburra is pretty much on Lake Tinaroo, it's a huge lake.
We hope you found our guide to the Atherton Tablelands useful, if you need any more information just reach out in the comments or on one of our social platforms, you can even email Alyson, James and the team directly at contact@worldtravelfamily.com, we're always happy to help our readers plan trips to our part of the world and we've even acted as private tour guides from time to time.
If you'd like to hire a car during your stay, use this car rental comparison tool to find the best deal!

We also suggest you take a look at this company to get a quote for all kinds of the more tricky adventure or extended travel insurance.

Try Stayz / VRBO for an alternative way to find rentals on homes/apartments/condos in any country!