This post may contain affiliate links.
To the north of Cairns and Port Douglas, you will find the oldest rainforest in the world, the Daintree Rainforest. Daintree Village, Daintree River, Daintree Rainforest and Cape Tribulation are areas you will most certainly want to see during your time in Port Douglas and Far North Queensland. A look at everything the Daintree has to offer and how to get there from Port Douglas (or Cairns) by private car or by tour. There are multiple ways of seeing and staying in the Daintree and the rainforest conceals tourist attractions and natural wonders. Welcome to our Daintree travel blog and guide, freshly made.
Port Douglas to Daintree Rainforest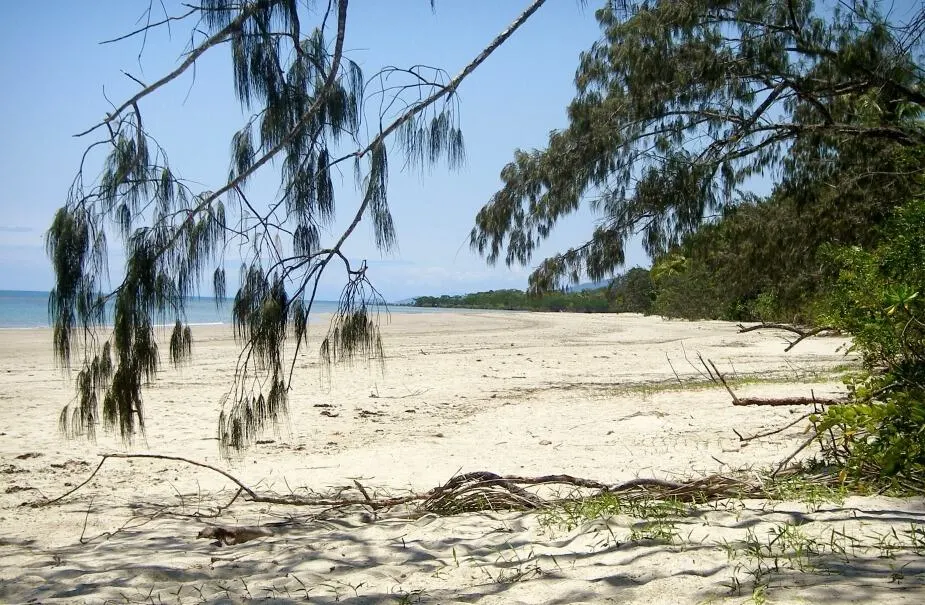 Port Douglas is south of the Daintree River and the Daintree Rainforest really begins the moment you get off the little car ferry and begin to strive through the mangroves, fan palms and high rainforest canopy. It's like rolling off into another world.
The easiest way to see the Daintree Rainforest and Cape Tribulation from Port Douglas is to book a one-day safari tour. This is one of the most in-demand tours in the whole of Australia, so check it out here for a best price guarantee and to reserve your place.
Mossman Gorge is a small patch of the Daintree National Park, on the Port Douglas side of the river, so if you only have half a day you can simply book a shuttle to Mossman Gorge, 10-20 minutes away. Book the return shuttle here. There is no public transport.
Alternatively, hire or rent a car (use this tool to find car hire deals) and self-drive to Daintree and Cape Tribulation. It's nice to be able to explore at your own pace. The roads in the rainforest now have tarmac for quite a long way past the car ferry over the Daintree river.
Port Douglas to Daintree Distance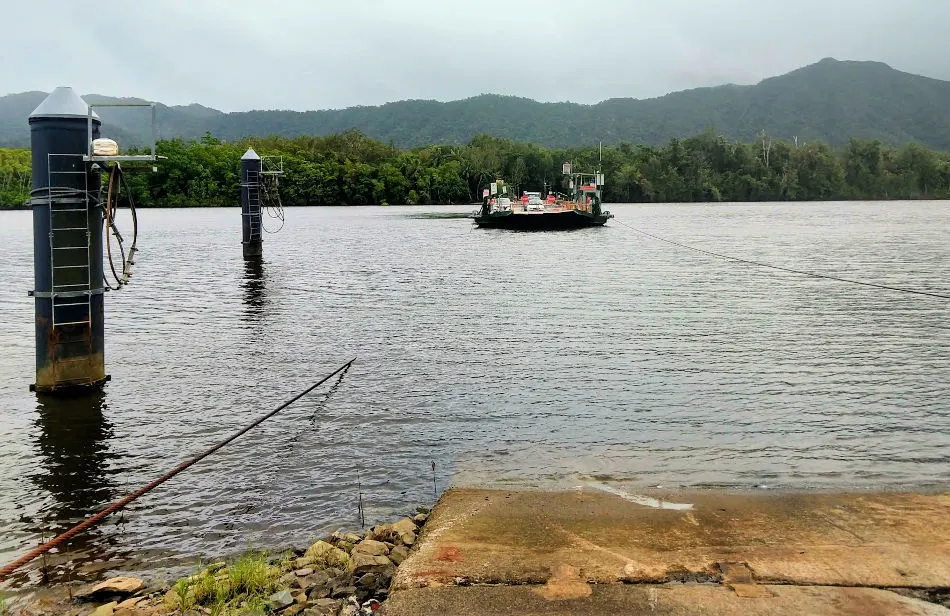 The distance from Port Douglas to the Daintree Visitors Centre is 69 km and will take approximately 90 minutes in a car. This includes the ferry crossing across the Daintree River. The cost is $28 return on the ferry (at the time of writing). Locals in possession of a Douglas Pass can cross for free.
The Daintree rainforest stretches north over 70 KM from the Daintree River to the Bloomfield River and encompasses Cape Tribulation, where Captain Cook was shipwrecked over 200 years ago.
Cape Tribulation is located in the Daintree rainforest just before the sealed road gives way to the 4wd dirt road.
There isn't a lot of public transport heading to either Daintree village or Cape Tribulation and the Daintree Rainforest.
A few tour operators do the run from either Cairns or Port Douglas to Daintree and or Cape Tribulation.
Can You Visit Daintree Rainforest Alone?
Yes you can visit Daintree Rainforest alone, there is no need to take a guided tour and you do not need a 4 wheel drive vehicle. The road passes through the Daintree Rainforest. You can admire the rainforest from your car or stop, park and walk into the rainforest on one of the several boardwalk walking trails. You can visit the Daintree Discovery Centre or go canopy zip-lining. You can also park at various beaches and walk on the sandy beaches. There are hotels in the Daintree Rainforest, plus some low-key tourist destinations and food outlets. Just watch out for crocodiles and cassowaries!
Is it worth staying in Daintree Rainforest?
You can easily see the Daintree Rainforest in a single day road trip from Port Douglas or even Cairns,and this is enough time for most visitors. If you'd like to spend a night surrounded by rainforest, yes it is worth staying in the rainforest and there are plenty of places to stay including hotels, campsites and eco lodges. We list the best hotels in the Daintree Rainforest later on this page.
How much does it cost to go to the Daintree Rainforest?
There is no admission fee, entry is free. If you have your own vehicle you will simply have to pay for your petrol and the toll to cross the ferry across the Daintree River. There is no bridge. Tours to the Daintree Rainforest vary in cost but they are fairly expensive, a full day tour to the Daintree from Port Douglas starts at around $140 Au.
Port Douglas to Daintree Village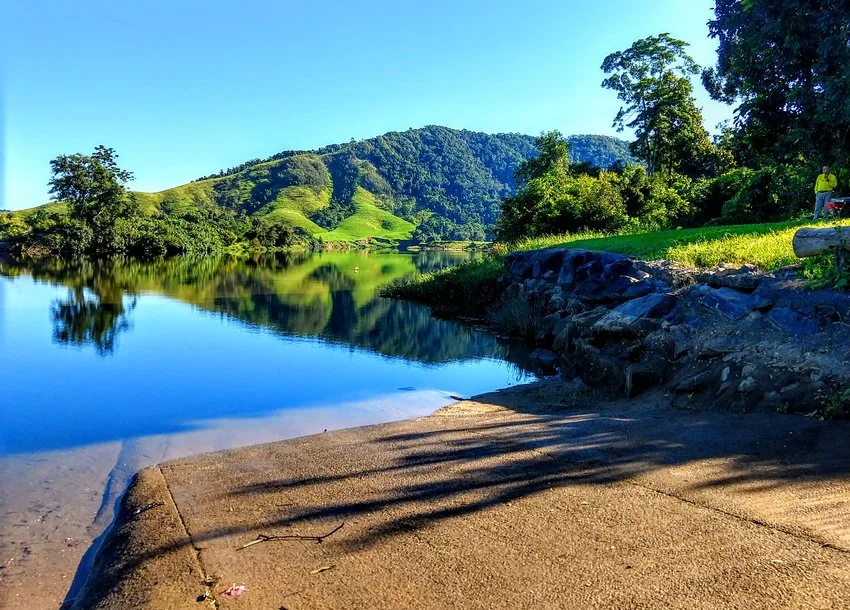 It is worth noting that Daintree Village isn't located on the coast and is on the south side of the Daintree River inland approximately 60 km.
Access from Port Douglas is direct and is approximately 50 km. Just head north, stay on the Mossman Daintree Road for Daintree Village or take a right turn for the Daintree Ferry before you reach the village.
Daintree Village is not on the direct route to the cape from Port or Cairns (Great Barrier Reef Drive) but you could take a look as a side trip. It's a pretty spot, very picturesque and with real charm.
The only road north from Daintree Village is a serious 4 wd track that can only be accessed in the dry season, called the Creb Track after the electric company that put it in.
There are a few tourist shops and restaurants in Daintree Village and wildlife and crocodile spotting tours leave from the river jetty in the village itself and from just outside the village.
There is a camping and caravan spot here with lovely views and restaurants and hotels nearby.
Staying in Daintree Village
There are a few places to stay in Daintree Village. Daintree Village is not in the rainforest, it is a small community of the other side of the Daintree River. It's worth a look. Watch out for the "Big Barramundi".
Daintree Tours From Port Douglas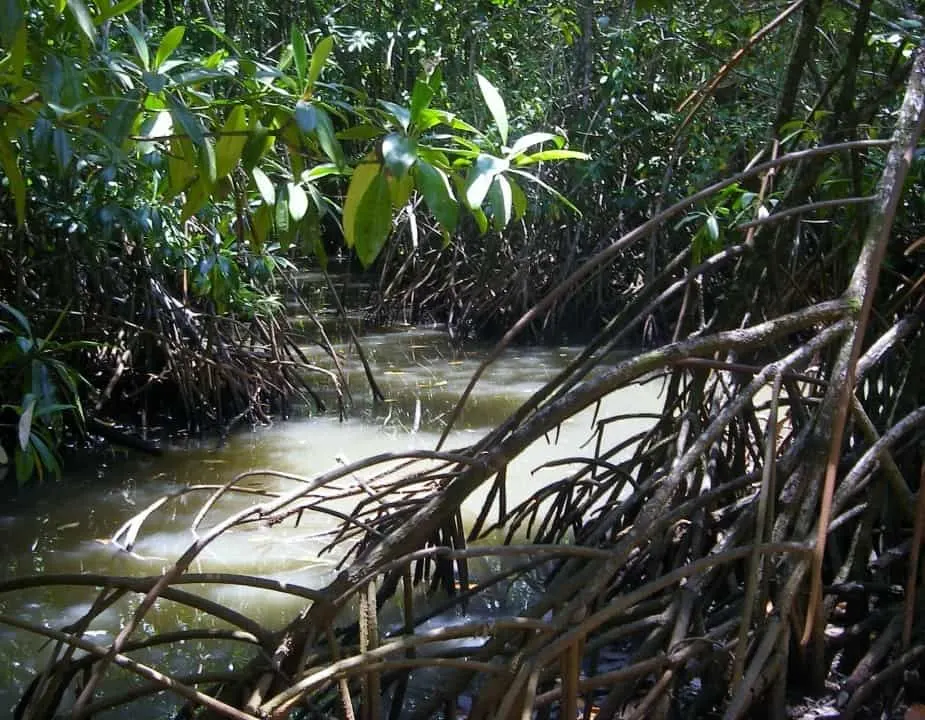 There are a whole heap of tours that will take you to the Daintree Rainforest and Cape Tribulation from Port Douglas or Cairns.
Styles vary, you can head north by car, 4 WD vehicle or book a tour that combines luxury reef boat and rainforest tour. While in the forest you can walk, spot wildlife, canopy surf or bungee jump.
I'll just send you here to take a look at your Daintree tour options. This is the company we use and recommend and they have a lowest price or money-back guarantee.
I'm certainly going to be doing another helicopter ride when we're back in Port Douglas for Christmas. They are amazing! Reminder- Look here.
Staying in the Daintree Rainforest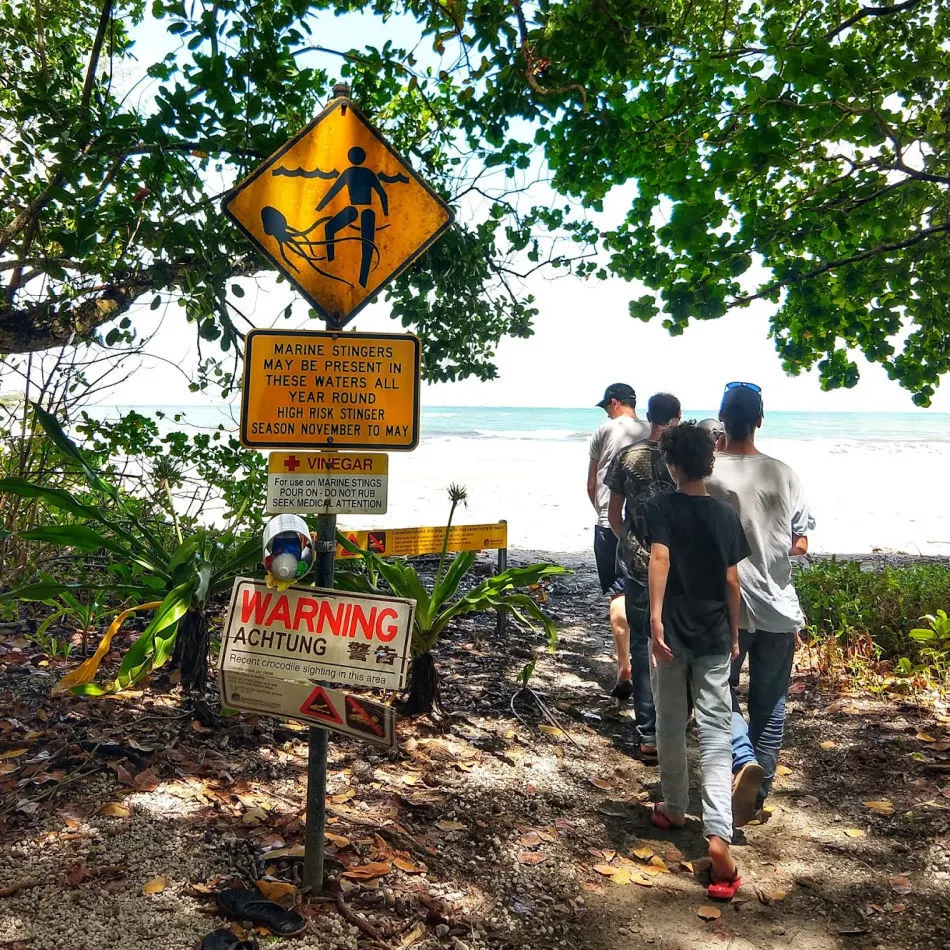 There are quite a few hotels, hostels and campsites within the Daintree Rainforest
Daintree Manor B&B
Thornton Beach Bungalows Daintree
Noah Creek Forest Stay Eco Huts
Tea Tree Cottage
Coral Sea Views
Daintree Crocodylus Village (Cow Bay) Safari style tent-huts. Bar, restaurant and self-catering kitchen. Dorm, doubles twins and huts for 4. Games room, bike hire, pool table.
Earthship Daintree (Cow Bay) Isolated villa for 2, solar and eco powered, hilltop sea views. Free wi-fi.
Daintree Rainforest Retreat Motel
Wildlife, Crocodiles, Cassowaries, Mosquitoes and More in The Daintree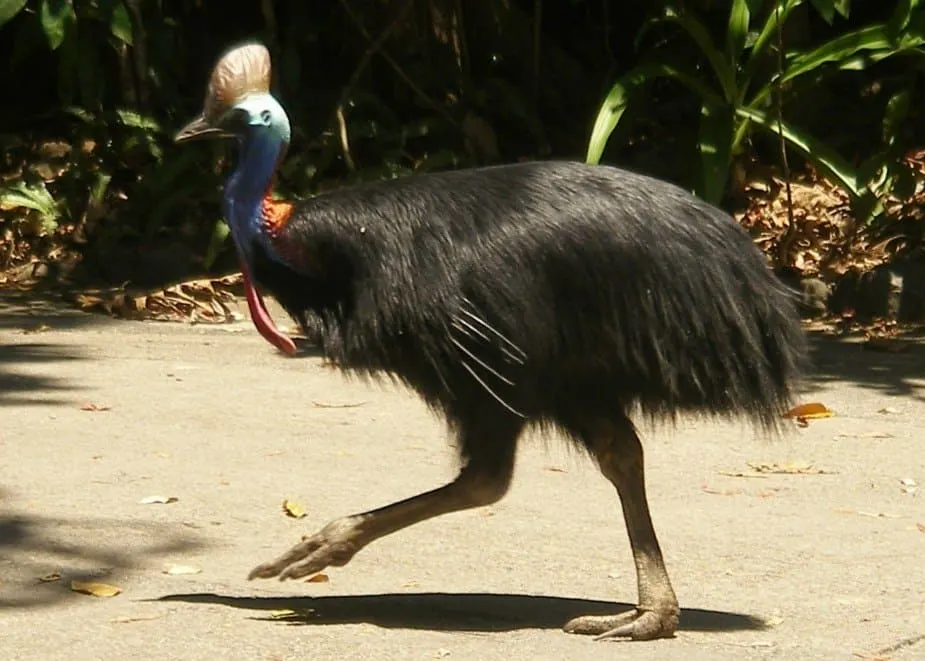 You will find the following wildlife in the Daintree Rainforest and Cape Tribulation
Cassowaries (Southern)
Bennet's Tree Kangaroos. These are rare and I've never seen one in the Daintree but I know people who've seen them on the Atherton Tablelands and behind Port Douglas on The Bump Track. There are breeding tree kangaroos at Port Douglas Wildlife Habitat. Unlike Drop Bears, these are real.
Monitor Lizards
Daintree Ringtail Possums
Wild pigs
Sea Cows or Dugongs. This is how Cow Bay got its name.
Sea Turtles
Whales, Humpback and Minke, migrate along this coast
Dolphins, we've seen them around Lizard Island.
Not a complete list of course, but just some of the animals, and one plant, to keep an eye out for.
Mosquitos are common. You will need repellent.
Attractions in the Daintree Rainforest
Jungle Surfing Canopy Tours. Ziplines through the canopy. Check it out here!
Daintree Ice Cream Company- this has recently changed hands and we think the ice cream is better now.
Floravilla Ice Cream Factory at the Cow Bay turn off.
Daintree Discovery Centre. Raised walkways, education centre and rainforest canopy tower. Book your slot here.
Daintree Entomological Museum
The Daintree Lookout
Most people will stop at the Daintree lookout and the view of the rainforest and river is pretty spectacular on a clear day. There are often coach parties and small crowds here. It's correctly called the Mount Alexandra Lookout and is about 10 minutes drive from the ferry crossing.
Walking in the Daintree- Boardwalks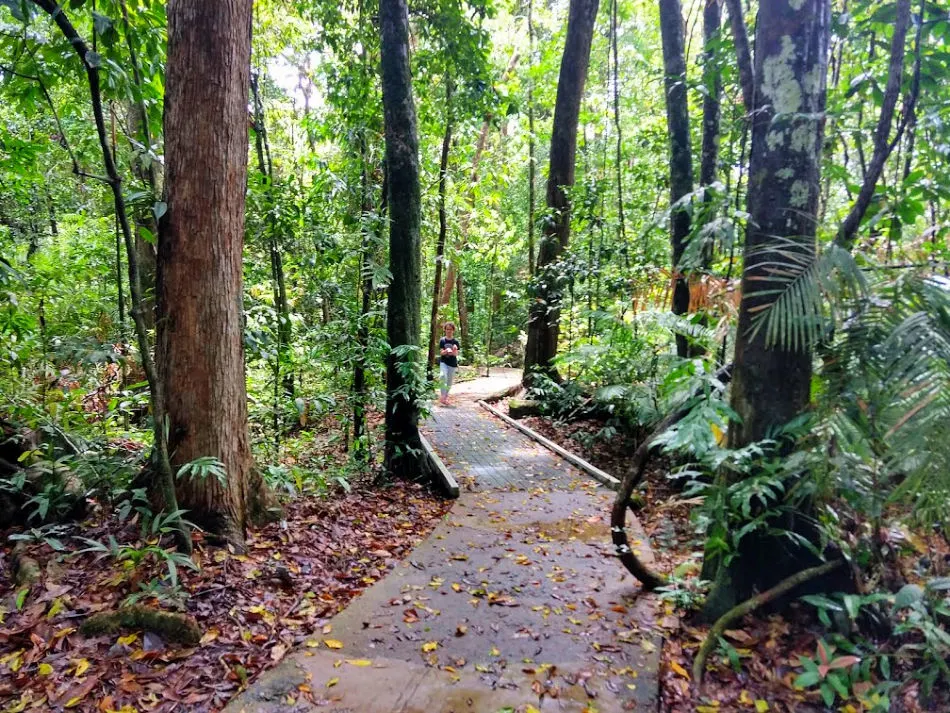 It's best to stick to the boardwalks if you want to explore the swamps and rainforests, for your own safety, and for the sake of the forest. You can see some incredible plants and animals. Most of these boardwalks have free parking areas and basic toilets. Distances and times to walk are a rough guide only.
Jindalba Boardwalk 45 mins 650m there and back.
Jindalba Circuit Track 1.5 hours 3 km circuit
Marrja Boardwalk and Botanical Walk 45 mins 1.2 Km
Dubuji Boardwalk 1.2 km 45 mins
Kulki 600m 10 mins
Mount Sorrow 6 hours + 7km, hot and challenging!
Beaches in Daintree and Cape Tribulation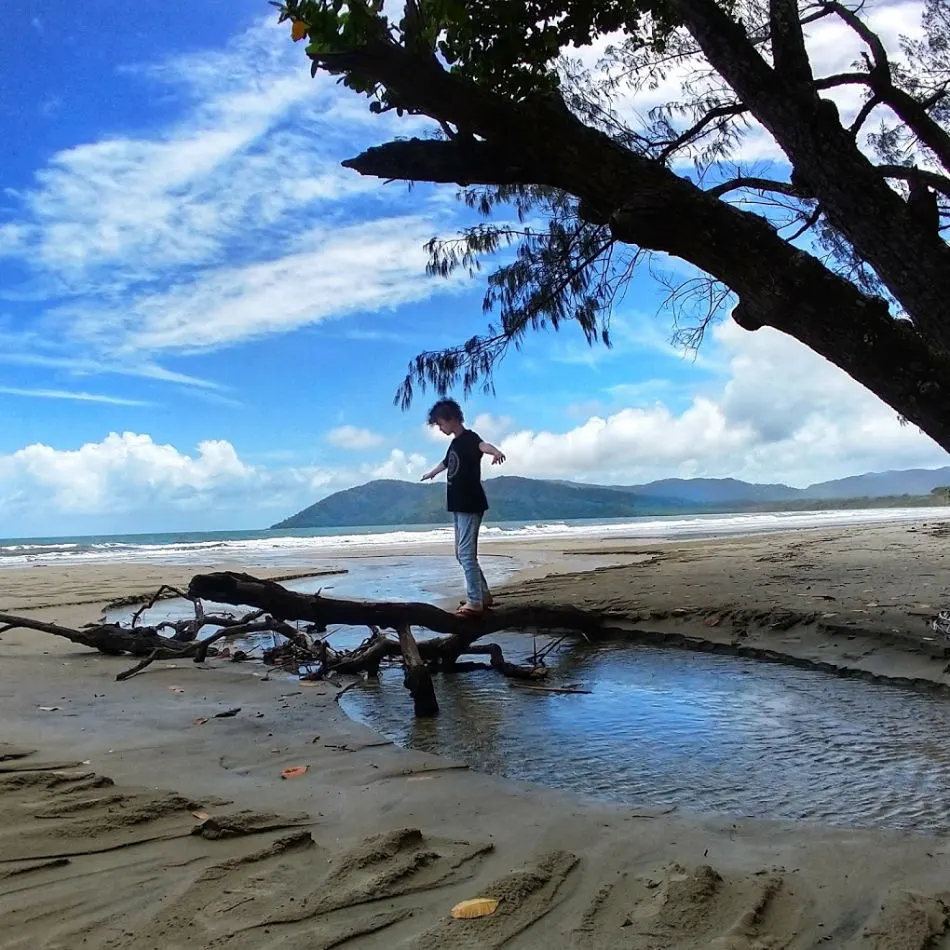 Cow Bay
Thornton Beach
Cape Tribulation Beach
Myall Beach
Noah Beach
Thornton Beach has a nice little cafe come bar or restaurant set just behind the beach. It's a nice spot to stop and take a stroll on the sands. You can also walk easily at Cow Bay, there is parking at both.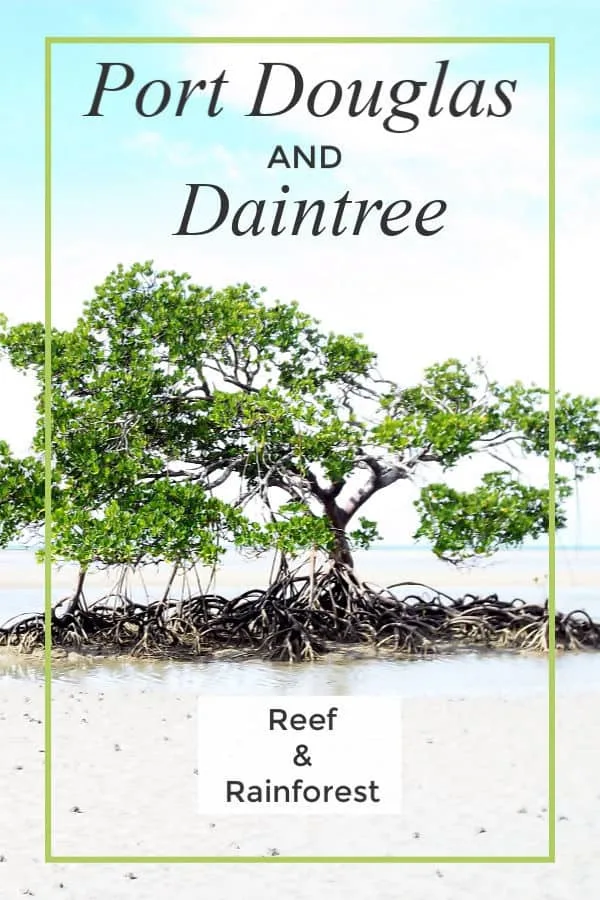 Do you use Pinterest? We have possibly the biggest and most popular Port Douglas board on Pinterest. Find video and photography pins of this region on our board.
Daintree Rainforest and Cape Tribulation are must-dos from Port Douglas or Cairns. As you can see there are multiple things to do and see in the Daintree. There are also plenty of places to stay in the worlds oldest rainforest and Cape Tribulation. We hope you have found this travel blog useful. Any questions about Port Douglas to Daintree and travelling in Far North Queensland put them in the comments below. Want more information on travel to and around Australia? You need our Australia Travel Blog page. Or visit our full Port Douglas Reef Trip information page.
If you'd like to hire a car during your stay, use this car rental comparison tool to find the best deal!

We also suggest you take a look at this company to get a quote for all kinds of the more tricky adventure or extended travel insurance.

Try Stayz / VRBO for an alternative way to find rentals on homes/apartments/condos in any country!