This post may contain affiliate links.
Trekking watches have made huge advances in the last 5 years. With the invention and continued improvement of GPS based watches they are now more accessible to more people. You can still get great trekking watches without GPS capabilities and I've listed a few favourites below but for me the best trekking watchs should have GPS capabilities along with the usual features for rugged outdoors use. As I'm heavily into sports, Ironman triathlon and ultra running. I like to make my trekking watch do double duty. I discuss the suitability of these watches for both trekking and sports below.
Some of the minimum features to include in a trekking watch are a compass, barometer, altimeter, temperature and of course, world time and date.
The watches listed below include these details and most have many more extras.
The limit really is down to your wallet and needs.
Phone messages can even be displayed directly on your watch. Perhaps not what you want if you are looking to escape the daily grind in the wilderness, but handy in day to day lives.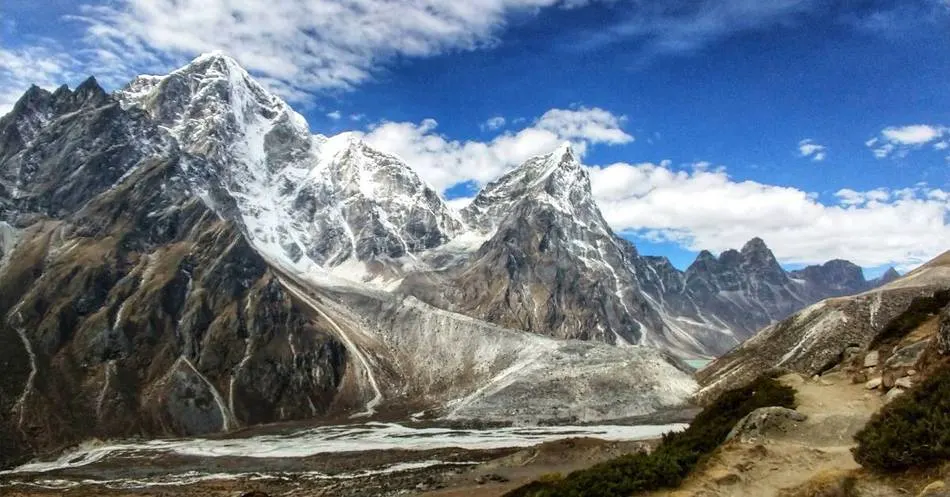 Trekking Watches
Below are a selection of both GPS watches and traditional watches that will greatly enhance your trekking experience.
My pick is the Garmin Fenix 6 (click through here if you're in the UK , Europe, or USA), For those of us in Australia it's a bit more complex, we have to click this link for the Garmin 5x sapphire.
I'm a big Garmin fan and user, but check out other models below.
We've taken a look at the specifications and data on these watches as available online.
This information is intended as a guide for you only, please double-check all specifications before purchasing as models can vary.
Features to Look For in a Trekking Watch, Explained
Altimeter. You'll want to know what altitude you're at.
Compass. Make sure you're heading in the right direction.
Barometer. Keep track of weather changes.
Multiple Time Zones. Easy for travelling, flip between time zones rather than fully resetting.
GPS. Your exact location, the distance you've walked, remaining distance.
Rugged Build. You don't want to smash it.
Thermometer. So you can brag about how cold or hot it was.
Watches with Heart Rate Monitoring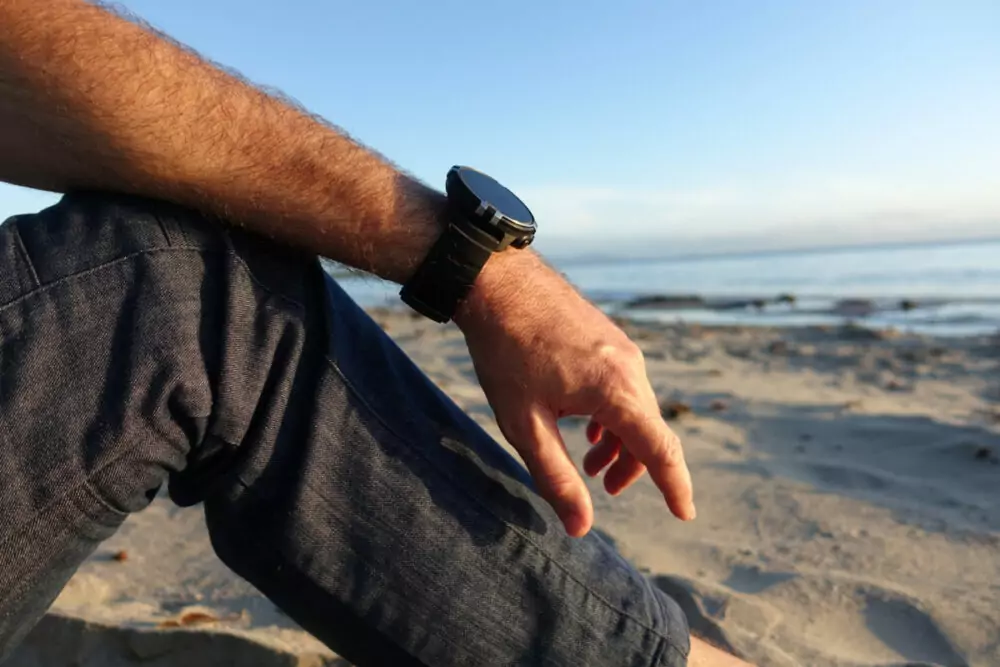 For trekking purposes, you don't really need heart rate monitoring. As I buy watches for triathlon and Ironman events as well as for trekking, my watches always have heart rate monitoring (via a chest strap) and recording features.
These watches connect wirelessly (Bluetooth) to a phone to give a heart rate profile in training and during events.
I find this feature invaluable to monitor my fitness and training progress.
4 of the watches here, the Garmin Fenix 5 Sapphire, the Suunto Sport Baro, the Suunto Ambit 3 and the TomTom Adventurer have this feature.
These watches are more expensive than those without heart rate monitors and if you don't need the watch for sport or training this feature may be overkill.
Other Bonus Features to Look Out For in Trekking Watches
Solar Power
Tides
Moon phase
GLONASS, similar to GPS, an alternative satellite system better at higher or lower latitudes and in built up areas like cities.
None of them makes tea just yet.

Garmin Fenix 6 Pro Sapphire-My Pick
Garmin Fenix 6 Pro- Black. Click the image above or here to check prices.
The Garmin Fenix 6 Pro is Garmin's flagship watch and comes in 5 varieties and styles.
It replaces the older Fenix 5 (pronounced phoenix) with, I think, better specs and finish.
The list of what this watch does is comprehensive, from downloadable maps to even monitoring your heart rate and lactate threshold levels.
These watches are huge on the Ironman circuit and are a hugely desirable travel and outdoor sports accessory.
HR ( heart rate) monitoring via wrist or chest strap. Available with or without a chest strap.
GPS watch with colour

topographical U.S. mapping.

Pulse Ox Sensors

Hiking, running and cycling maps and other outdoors navigation features

Rugged design with stainless steel bezel, buttons and rear case.

1.3″ screen

that is 18% bigger than previous Fenix watches.

Weight – silicone band: 98 g ; metal band: 196 g

Built-in navigation sensors include GPS and GLONASS to track in challenging environments.

3-axis compass, gyroscope and barometric altimeter

2000 ski resort maps and runs preloaded
Music storage on your watch allows music to be played directly to Bluetooth headsets from your wrist
Provides stats for activities such as hiking, swimming, running and cycling
Garmin Pay supported allows for contactless payment via your watch

Connected phone features include notifications automatic uploads to Garmin Connect online via wifi and personalisation through free watch faces and apps from the Connect IQ store
Suunto Spartan Sport Baro
Suunto SS023310000 Spartan Sport Wrist HR . Click the image or this text check prices.
Suunto's answer to the Fenix 5 and the upgrade from their Armbit 3 watch. This watch promises a whole bunch of options.
HR measurement by wrist. A chest strap can be added for more accurate heart rate data

Responsive touch screen with added bezel buttons, helpful if you're wearing gloves

Battery life up to 40h with GPS makes this one of the best battery lasting watches on the market

Steel bezel and mineral crystal glass give this watch a brilliant finish and it won't look out of place in any situation from the wilderness to a business meeting

Barometric altitude give accurate altitude readings and 100M water resistance makes sure getting wet isn't a problem

GPS/GLONASS route navigation making it accurate in nearly all situations and will pick up signal quickly and efficiently. Route navigation with POI and breadcrumbs to avoid getting lost. Also has ETA on preprogrammed courses

Sport expertise and support for over 80 sports with racing and interval use. Including trekking, triathlon, golf, and skiing
Suunto 5

Suunto 5 HR Monitor Running GPS Unit, Copper Burgandy. Check prices.
The Sunnto 5 is a newer model that sits between Sunnto's 3 and 7 model but is still a solid unit. The price reflects this and you'll save considerable money on the two watches above without losing many features.
It is worth noting that Sunnto 7 is primarily a smartwatch running Android and as such doesn't have the same functions or battery life as more sports-based outdoors watches.
It makes up for this in other ways that users may find more beneficial.
Suunto 5 tracks over 80 preloaded sports and also your daily routine. From steps to heart rate and even sleep you can check and see just how you're performing in the Suunto app.
Battery life is great and you can personalise it to what you're doing with different modes giving up to 40 hours of tracking with gps on the ultra setting.
While it is unlikely you just have the time option on that will extend the battery to 14 days and with step tracker and mobile notifications you'll get an impressive 7 days still.
Heart rate (HR) monitoring by wrist or chest strap.

HR monitoring while swimming.

Speed, pace and distance recorded.

Sleep habits and stress and recovery tracking.

GPS with full route navigation.

Altimeter

Barometer,

Compass

50 meter water resistance

Great adaptive battery life, 20-40 hours with reminders to charge before big activities and options to increase battery life while running

Connect Suunto 5 peak to your smartphone for syncing your activities, customizing on the go and seeing calls and notifications on your watch

Activity-based

recovery time to make sure you have enough rest between activities

Bike power meter support (Bluetooth Smart) and multiple sports in one log ( must be bought separately)

Discover new routes with heatmaps on Suunto app
CASIO Smart Watch WSD-F20 Protrek Smart
Casio Men's 'PRO TREK' Touchscreen Quartz Resin Outdoor Smartwatch, Color:Orange (Model: WSD-F30-RGBAU)
The Casio smart watch isn't as advanced as the 3 watches above in terms of sports functions or battery life but where Casio smart watch shines is when you're off grid and hiking or trekking. With a colour screen and the options of downloading maps it really becomes its own.
Being an android wear watch you'll need to download apps from google but once done it enhances the watch bringing it closer to the 3 watches above. A good watch if you want to go trekking and have your phone on your wrist without getting loads of stats and graphs to flip through afterwards.
No HR monitoring

Smart Watch with Android Wear 2.0 with

GPS

Touchscreen

Full Color Map Display and off line use to download map data

Location Memory current position and write memos on the map

Compatible with smartphones running Android versions 4.3 and later and iPhones 5 and beyond running iOS 8.2 or above (limited functionality with iPhone)

Built-in quad sensors provide real time notification of activity tracking, altimeter, barometer, and compass readings without the need for a phone

Water resistant to 50m (165ft: in general, suitable for short periods of swimming, but not diving or snorkeling

Quartz Movement time keeping for accuracy
Casio Men's PRW-2500T-7CR Pro Trek Tough Solar Digital
Casio Men's PRW-2500T-7CR Pro Trek Tough Solar Digital Sport Watch. Click the image to check prices.
The Casio Pro Trek watch isn't a smart watch and it doesn't have GPS. If you don't need to have a map on your arm and are happy navigating with one, this is a great purchase. Two strong selling points are that it is solar powered, and waterproof to 200m. Both things you'll struggle to find on any smart or GPS watch.
If you were so inclined you could actually keep the watch in the dark for 5 months before it would need a charge via the sun or just under 2 years with battery saver mode. It still comes loaded with great features you'll use outdoors such as digital Compass, Altimeter, Barometer, Thermometer.
No HR monitoring

Solar Power

Multi-Band Atomic Timekeeping

Duplex LC Display,

Tide Graph (tide level for specific date and time),

Moon Data (moon age of the specific date and moon phase graph)

200M Water Resistant which is suitable for prolonged snorkeling and non scuba diving

Digital Compass

Altimeter & Altimeter Memory

Barometer

Thermometer

Full Auto EL Backlight with Afterglow,

5 Independent Daily alarms

Hourly time signal,

World Time,

1/100 second stopwatch

Countdown Timer,

Battery level indicator,

Power saving function,

Full auto-calendar (pre-programmed until the year 2099),

12/24 hour formats

Battery: Solar rechargeable battery, Approx. battery life: 5 months on full charge (without further exposure to light), 23 months on full charge with Power Saving Function (without further exposure to light)
Polar Vantage M GPS Running Watch Wrist Based Heart Rate Monitor
Polar Vantage M with Advanced Running, GPS and Wrist-based Heart Rate. Click the image to check prices.
For the price this watch is great. It doesn't have the full features of the more expensive Garmin or Suunto models but where it stands out on its own is the ability to cover all the multi sport functions with a good deal of information yet not break the bank.
You'll get all your phone notifications to the watch which is normally limited to the higher end watches. A solid buy if you have a limited budget.
Heart rate monitor: With a built-in heart rate monitor this tracks your pulse without a separate chest strap

This watch will do hiking, swimming, biking and running.

GPS sport watch

Training load pro lets you know how hard you're really working

Long battery life

Phone notifications

Sleep plus which monitors sleep and sleep patterns

24/7 activity tracker logs your heart rate, steps, active minutes, and calories burned.
Best Selling Men's and Women's Sports and Outdoors Watches Today
Predictably, most of the watches appearing in the bestsellers lists are cheaper or low-cost watches. The majority of people won't need a top-end, high spec trekking watch. But you and I do.
The key is to do your research and know exactly what you want and like.
Also if you buy a brand new model from any company expect some teething issues as the firmware is upgraded as bugs are identified and fixed.
Buying an older model (only 6-12 months since release) can eliminate those issues and you'll have a good idea if the watch is a success or not.
In five years of travel and high altitude trekking in Nepal and elsewhere, I've used both conventional watches such as the Casio Pro Trek and the Garmin multi sport watches. I love my current Garmin and it does everything I need and I would say I use 80% of the functions most of the time. You need to weight up what you'll need and what you'll use and then find the watch that suits. I always prefer to get one that has a few more things than I need because it saves upgrading a year later if you do decide to take up a new sport or outdoor pursuit. We just got back from Everest and are heading back to the Himalayas for Pakistan and the K2 trek soon. Enjoy the mountains!
If you'd like to hire a car during your stay, use this car rental comparison tool to find the best deal!

We also suggest you take a look at this company to get a quote for all kinds of the more tricky adventure or extended travel insurance.

Try Stayz / VRBO for an alternative way to find rentals on homes/apartments/condos in any country!