Namche Bazaar Nepal or Namche Bazar is a town that most trekkers pass through on the Everest Base Camp trek. Namche Bazaar is a real hub and important acclimatisation stop for trekkers and it's grown from a market town to a tourist destination in itself. It's a wonderful town, I love everything about it. I'd heard the name, dreamed of going and saw it for the first time a couple of years ago on our first trek in the Everest region. Recently we returned on the Everest Base Camp trek. On most of these treks you will visit Namche twice, it's an up and back route with most people flying in and out of Lukla airport. If you're heading to Everest, Gokyo Lakes, Island Peak or any of the classic routes, this post is about what to expect in Namche.
This post was written before the global shutdown, Namche today may be a lot quieter. We hope these businesses have survived and we'll be back soon to find out.
Namche Bazaar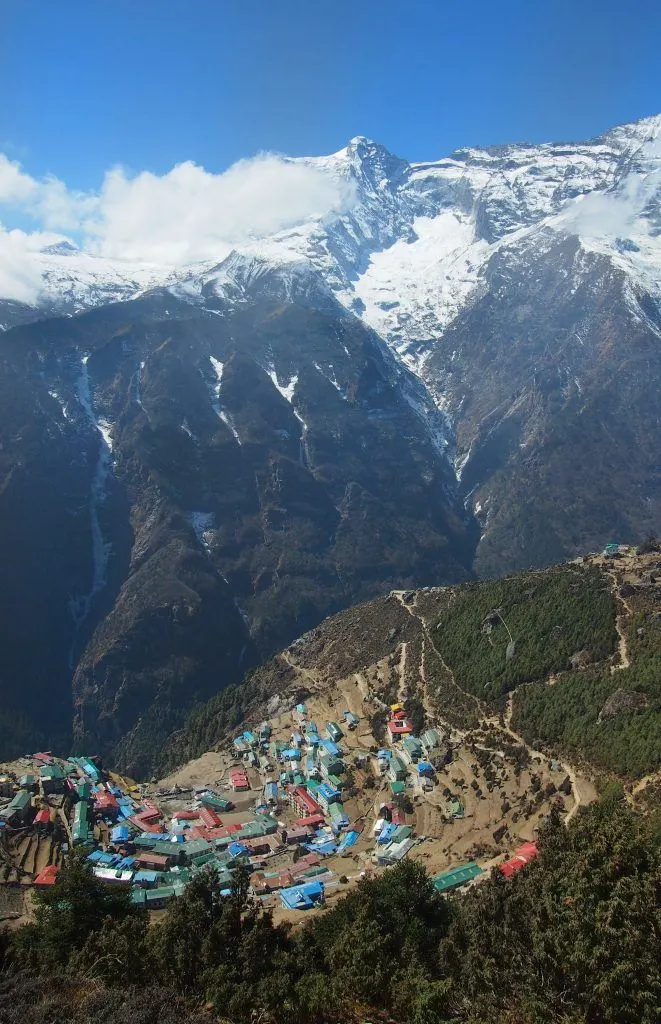 Trekking To Namche Bazaar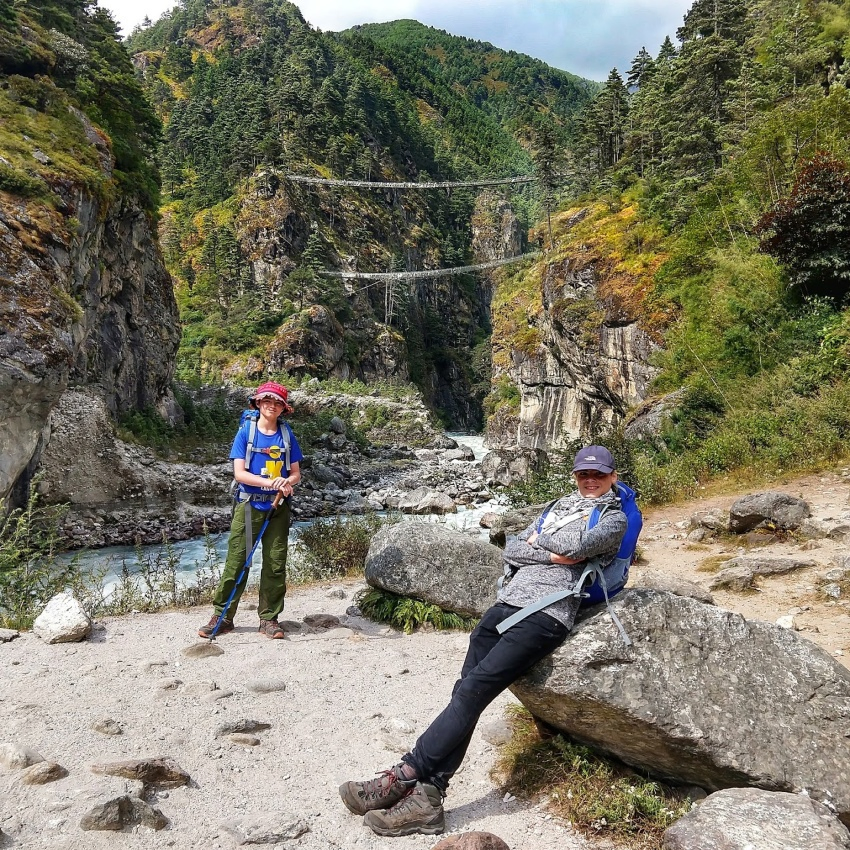 The general advice is to spend two nights in Namche on the way up to allow for acclimatisation. Namche Hill is formidable and is one of the tougher parts of the classic Everest Base Camp Trek. You gain a lot of altitude on Namche Hill.
The first time we reached Namche we all struggled up there. Snow was blowing sideways, we were exhausted and we had to cross "that" bridge in bad conditions.
On our first trek, we'd started our journey by flying into Lukla, weren't acclimatised, and hadn't yet built our trekking muscles.
The second time around we'd walked up to Namche from Phaplu because of flight cancellations. Nothing was going into or out of Lukla airport and there was a days-long backlog of trekkers. We chartered our own flight with a small group of strangers and flew to Phaplu instead.
It was a lot of fun and added 3 or 4 days to our trek, it also made us fitter and better acclimatised. Namche Hill was a breeze that time. If anything in the Himalayas can ever be called a breeze.
The bridge before Namche, my mum calls it " That " bridge, is the highest of the trek. I'm not scared of heights but my mum is terrified, it takes lots of chocolate to get her across. She wrote a post about scary bridges on the Everest region treks.
Namche Bazaar Video
We made this short video to show you a little more of what Namche Bazaar is like.
Things to Do in Namche Bazaar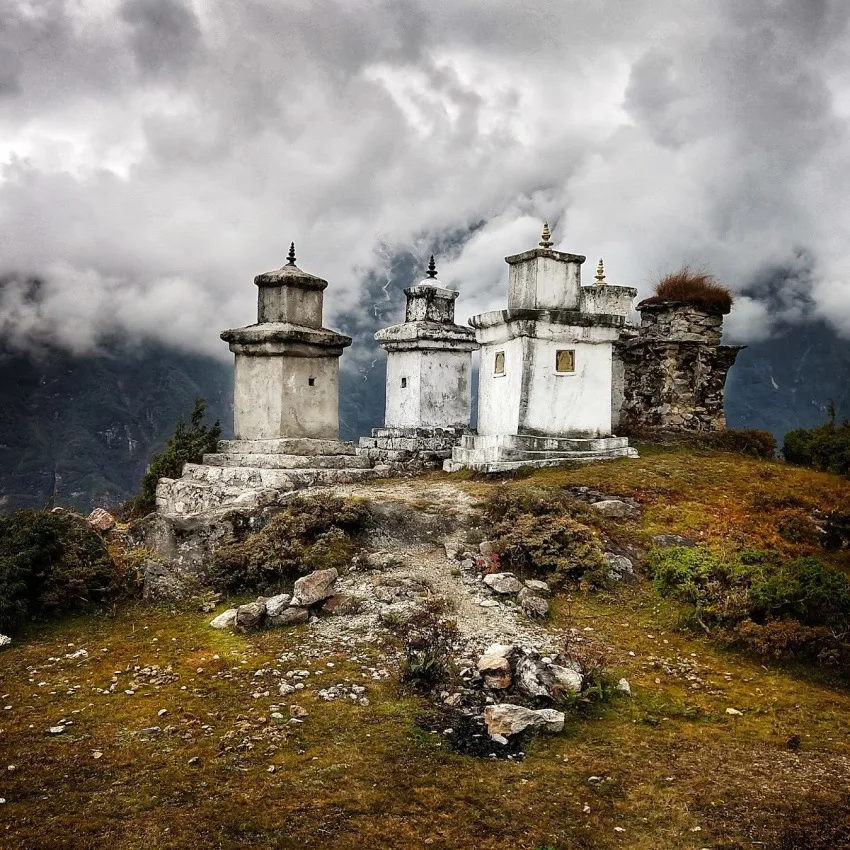 A quick list of things to do in Namche Bazaar, if, like us, you end up staying a few days.
See the Everest View Hotel
See the Hillary Memorial Chortens
Rock Paintings in Namche
Visit Khumjung ( See our post on The Hillary School and Yeti Skull at Khumjung Monastery- button further down the page)
Eat chocolate cake at The German Bakery
Watch afternoon or evening movies in one of several venues
Visit the Irish Bar
Check out The Sherpa Museum.
Hike to the Everest Lookout and Tenzing Norgay Statue
Visit the Sagarmatha National Park Museum
Visit Namche Monastery
Photos of Namche Bazaar
A few photos from around Namche town. This is what to expect. Once you're over the climb up, this, to us, this town in the clouds, is a paradise.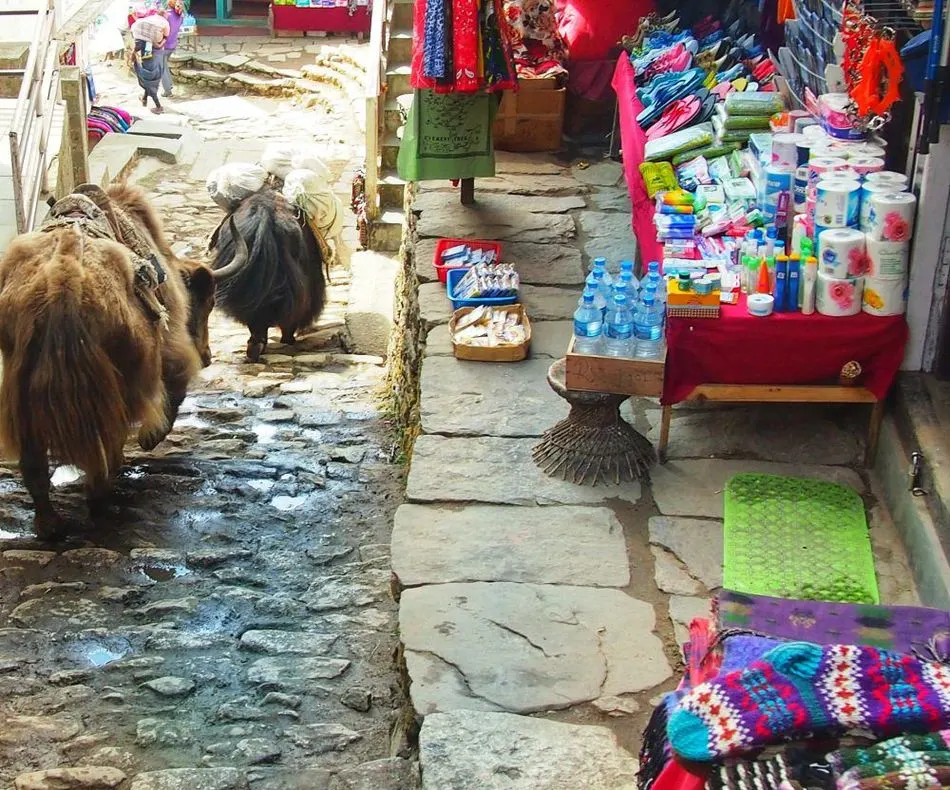 The Hotel We Use in Namche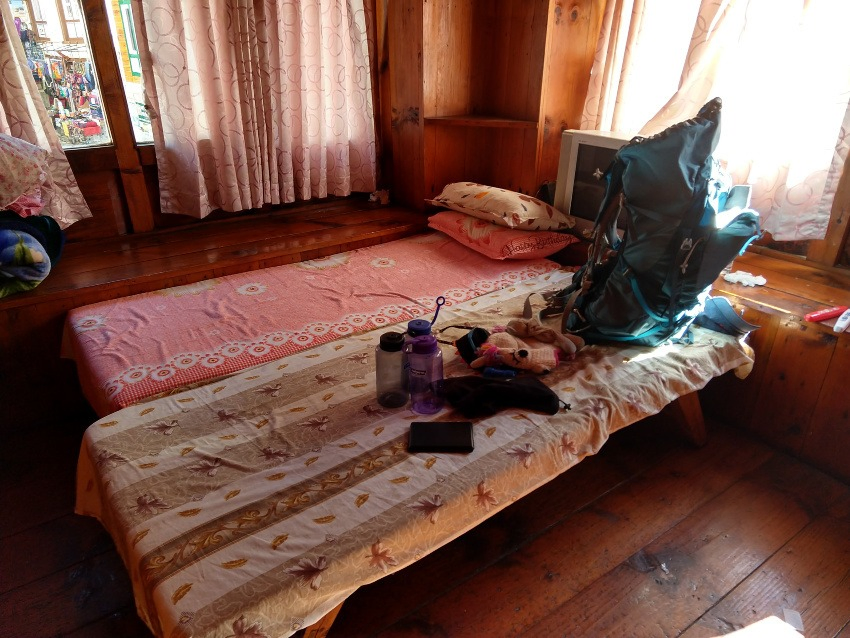 This hotel, lodge or tea house we use in Namche is a nice one, we've used it 3 times.
We've used 2 other hotels in Namche and they weren't as good. We trek independently, we find hotels on arrival usually, but in peak trekking season expect them to possibly be full, particularly if tour groups are staying.
There aren't many hotels on the trek that you can book online. If you choose to take a guide he will sometimes call ahead and make reservations or, at busy times, shoot off ahead of you to get there early. It can be first come first served.
A few hotels you can book in Namche are below. Our favourite hotel isn't online but we're trying to find the name for you. On our return from Everest Base Camp we had flu and giardia, we spent an extra few days in Namche and we also spent 3 days there instead of the normal 2.
We like Namche a lot and there is good food to be had and interesting things to do, along with some nice acclimatisation treks or day hikes.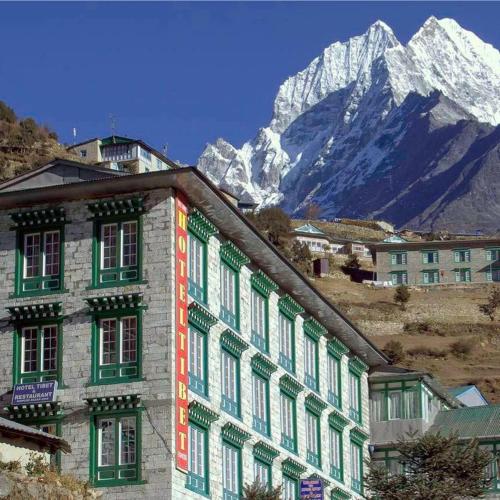 The Hotel Tibet, Namche Bazaar.
Not many of Namche's Hotels are online. This one has solid reviews, a 9.1 score on Agoda. Click through on the photo or above to see more hotel options in Namche.
Rooms are generally for two, expect small cubicles, thin walls, no heating and no power points unless you book an upmarket hotel.
In the mountains, the general rule is that you buy dinner and breakfast at your hotel, if you don't the room price could rise. Back in the day, the room was free, guests just paid for food.
You'll still find this from time to time outside the standard trekking route stops and we've seen it on the Phaplu to Lukla route.
Namche Bazaar Altitude
Namche is tucked away on the side of a hill within the Khumbu region at 3,440 meters and is the main trading hub in the area.
You will probably walk up to Namche from Phakding, that's the classic route, but going down it's possible to walk all the way from Namche to Lukla in one day.
Phakding is at 2,610m, So on your Phakding to Namche day you climb 730 m as you ascend Namche Hill. It's one of the toughest days on the trek.
Altitude sickness officially only becomes significant above 2,500m. We (my brother and I ) put together a post on altitude and acclimatisation here.
If you're thinking of taking Diamox my mum wrote about that. We did and we didn't. More than once we have tried taking it, maybe it helped, maybe it didn't. We were fine, but read about my dad's bad experience with Diamox.
It was easy and cheap for us to buy Diamox in Kathmandu. You can probably buy it in Namche too, there were at least 2 pharmacies. We went to them searching for giardia medication but decided against buying that in the end, giardia should pass without drugs. We had a doctor friend we were able to contact from Namche who told us that.
Syangboche Airport
Syangboche Airport is a semi-abandoned airstrip located above Namche. The strip is the closest one to base camp but it is rarely used by tourists due to the acclimatisation risks.
The strip is not licensed for commercial use (at time of writing) and only one engine aircraft and helicopters can land on the strip. Now it is mainly operated for the use of cargo and charter helicopters.
When we faced flight cancellations to Lukla, trekkers who were short of time were chartering helicopters to Syangboche, it can be done. But it's a huge jump in altitude. My dad refused to do it.
There is also a helicopter pad just outside Namche, we've seen that one used for evacuations.
History of Namche Bazaar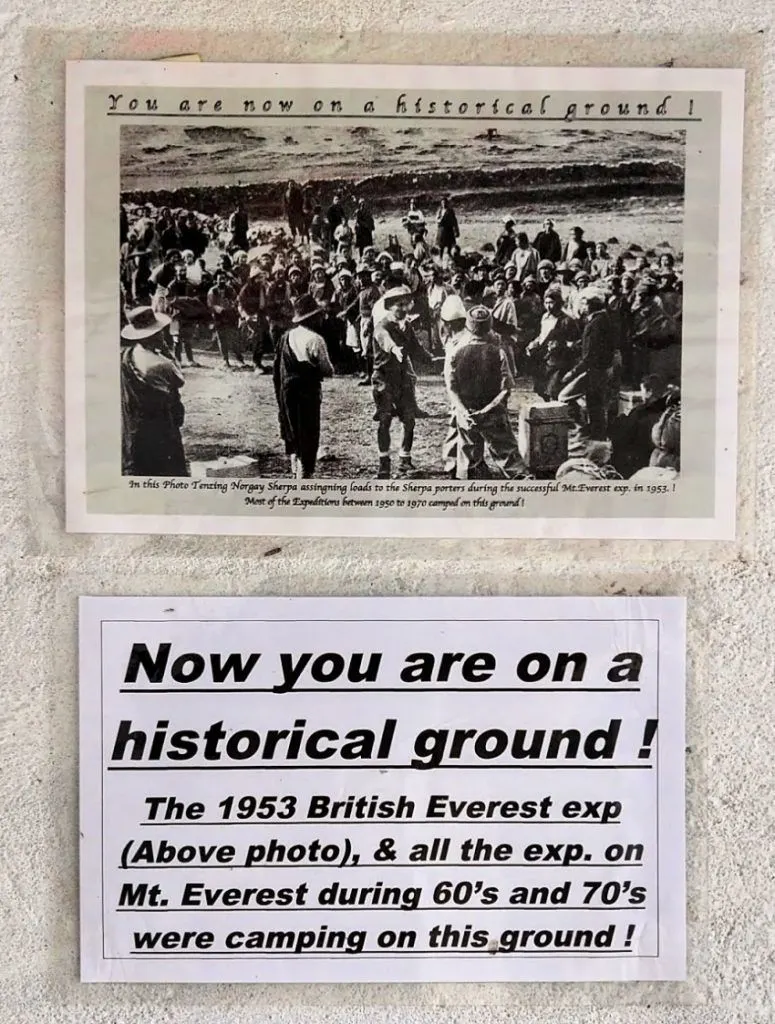 I'm still working on this section right now, it's really interesting how the Tibetans migrated into this valley, became the Sherpa people of Nepal and Namche became an important stop on the trade routes of the region.
I'm still researching this, more to come!
Acclimatisation Treks From Namche
Namche is one of the first places you stop where you can do an acclimatisation trek. The trek itself will take you up towards the Everest View Hotel which is near the towns of Khumjung and Kunde.
Khumjung is where you will find the Hillary School and the famous Yeti Skull at Khumjung monastery. It's a cool thing to see!
Departing Namche you climb a steep zig-zag path as far as the airstrip, it's a tough climb. On arrival you should try to get up to the lookout and Tenzing Norgay station, it's only a little higher than Namche, but it's better to go higher and sleep lower if you can.
There is a nice walk on the other side of Namche Bazaar too, carry on past the monastery and helicopter landing pad.
Hillary Memorial Chortens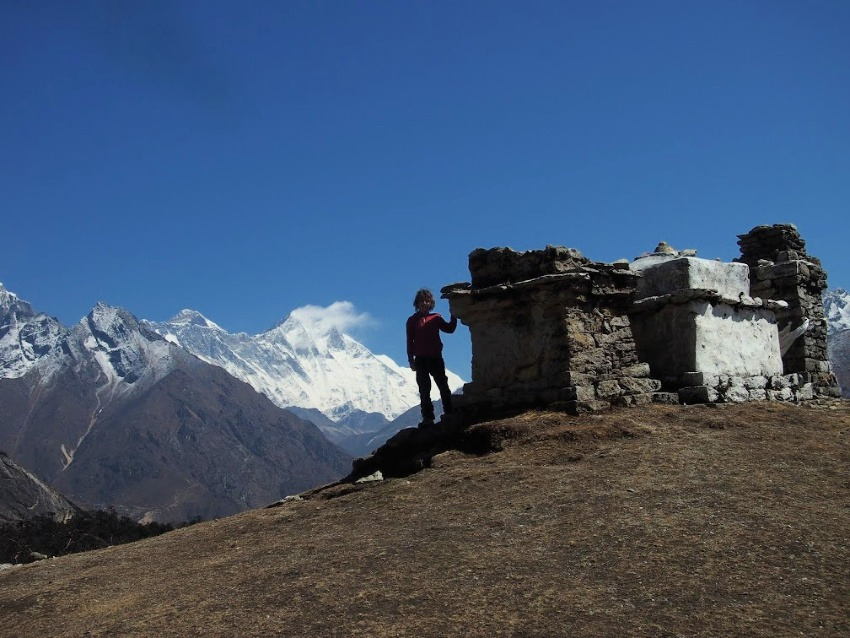 A triplet of chortens or stupas mark an incredible viewpoint between Kunde, Khumjung, and The Everest View Hotel.
They are dedicated to Sir Edmund Hillary along with his wife and daughter, victims of a helicopter crash in the region. Most people miss this one, it's worth the side trek from Namche Bazaar.
Rock Art Above Namche
Above Namche monastery you can find rock paintings of Khumbu Yul-lha, the protector deity who lives in the mountain behind Namche Bazaar. It is a sacred animistic site and you should show suitable respect.
We haven't been, but we've been told it's there.
The Irish Pub in Namche Bazaar
You will find the highest Irish pub in the world in the town of Namche Bazaar.
Like any good civilised town, there is an Irish pub in Namche Bazaar. We stopped there on the way down from Everest Base Camp and it was actually pretty nice.
Mum and Dad had a few beers which came with free popcorn. We kids were allowed in and we played darts, pool, and table football with our family and other trekkers. We thought it had a really nice atmosphere.
Wifi in Namche Bazaar
Wi-fi is tricky because it's often pay-to-use in the lodges. The German Bakery allowed us to use their wifi and charge our phones for free so long as we kept buying tea and cakes. It was a pretty good signal and their cakes and coffee were great. Just keep eating and drinking.
They also have nice clean bathrooms, we'd clean our teeth here sometimes because the bathroom at the less nice lodge was disgusting.
You can buy data and you may be able to get a signal in Namche. The lodge we use is pay to charge, some others aren't. A solar battery pack is very handy in the Himalayas.
Shopping – What Can You Buy in Namche?
You can buy a lot in Namche, there are plenty of trekking shops plus the more upmarket stores like Sherpa and some branded Western labels. You should also be able to find cheap trekking gear, clothes, and equipment fairly easily.
The shops are very similar to what you find in Thamel Kathmandu, but on a smaller scale. People say Namche is more expensive than Kathmandu, we didn't think it was much different for socks, trekking poles and souvenirs. Consumables were more expensive. Don't believe the shops in Phakding who tell you everything is cheaper there, they're lying. We bought a lot of socks there, spending an extra few days trekking meant we really needed clean socks.
Laundry in Namche
We had laundry done is our lodge. It was expensive but it came back dry. Tiny ( unclean) sinks and cold weather make it pretty hard to hand wash and dry on the trek. We did at our second acclimatisation stop at Dingboche but in Namche we couldn't and would have had nowhere to dry it. We'd already been trekking for 5 or 6 days when we reached Namche, if you're starting from Lukla you shouldn't need laundry yet.
Food and Drink in Namche
Food and drink shouldn't be a problem at Namche as the little town has plenty of cafes, restaurants, bakeries and bars. In case you have too many yummy pastries, there was also a dentist.
So food really shouldn't be an issue. Other than the famous German Bakery there were quite a few nice coffee shops in Namche Bazaar serving good cakes, some of them were very modern.
There were a couple of steak houses where your sizzler most likely won't be steak as you know it.
We stay vegetarian, we've seen the porters carrying the meat up to Namche. However, buff and yak steaks are pretty good!
Want to read about food in Nepal? We have a post about Nepali food for you here. Some shops sell wine, beer, and spirits in Namche, there is plenty of chocolate!
The Highest Hotel in the World
The Everest View Hotel lays stake to being the highest hotel in the world. We went, we looked, it was crowded and we didn't like it.
The famous terrace with Everest views was absolutely packed so we don't even have a good photo. You can see me climbing the steps in the video.
The Sherpa Museum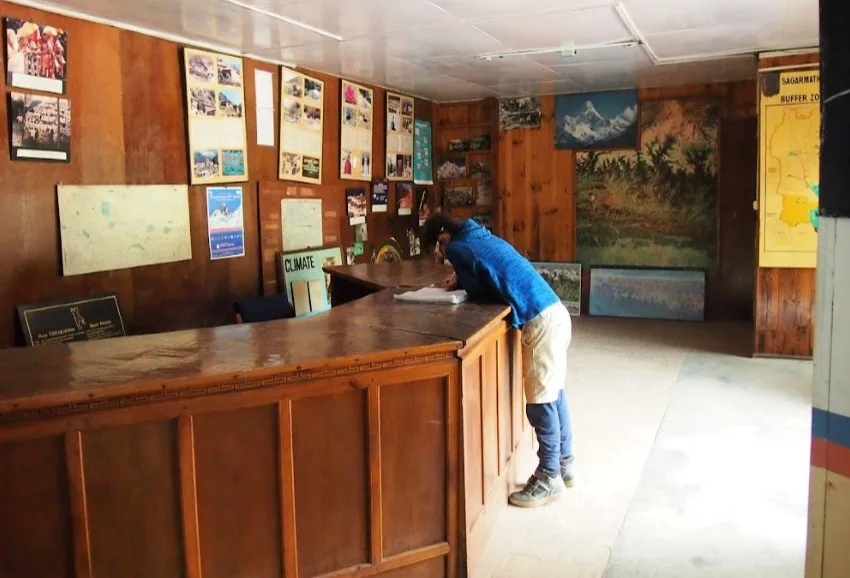 The Sherpa Museum is unmissable, you absolutely must check it out. I won't spoil it for you by showing photos of its most characterful exhibits.
The photo is of me signing the guest book the first time we went, I was 12. See if you can find our signatures.
Sagarmatha National Park Museum
Namche Monastery
Namche Monastery is a monastery a little bit above the village and is worth going to see. It's not far past the German Bakery.
You can go inside usually, and when we were there an old monk showed us around and gave us sweets in exchange for a donation.
It's small and nowhere near as awe-inspiring as Tengboche Monastery, but worth seeing. The helicopter pad is just beyond the monastery and if you continue on this path there is a nice little day trek.
Can You See Everest From Namche Bazaar?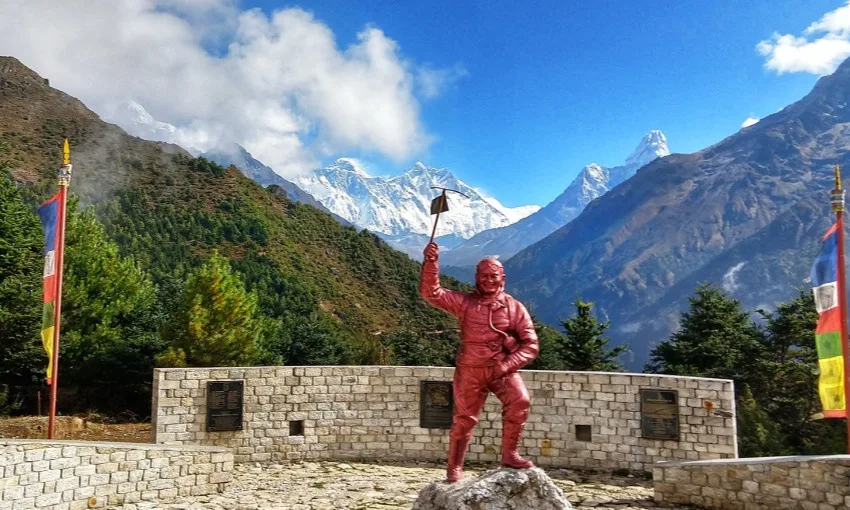 No, you cannot see Mount Everest from Namche Bazaar, but you could have seen Everest on the way up Namche Hill. Just before the checkpoint, there is a potential Everest view but 3 times out of 4 that we've been there the mountain was in cloud.
Just above Namche at the museum and statue of Tenzing Norgay, there is another viewpoint. We've seen Mount Everest from here too, but beware cloud.
You can also see Everest, as the name suggests, from the Everest View Hotel above Namche on the classic acclimatisation trek. People go up there by helicoper just to see Everest, then return to Kathmandu. It can get very crowded.
Namche Market
Every Saturday morning (we were told), people from surrounding villages come to Namche to sell their wares. The items they sell vary quite a bit, from electronics, clothes, and trekking gear to agricultural products like butter and cheeses.
Can You See Namche Bazaar, Everest and Everest View Hotel Without Trekking?
You can, if you don't want to brave Namche Hill you can get up here by helicopter, it isn't cheap but would make a pretty amazing day trip. When we were at the Everest View Hotel there were plenty of helicopters coming in and out and you'll see them in our video at the top of the page.
Use our link below to look at your options and get an idea of prices. All tours from Kathmandu are here, from scenic flights to organised treks to book.
Namche Bazaar Nepal
We love Namche and we hope you have time to enjoy it on your trek. You'll probably find arrival tough, but it should get easier. You're very lucky to have such an incredible opportunity, enjoy!
There are a bunch of related posts and related videos below, find any that are useful to you. Don't forget to watch our short video filmed around Namche Bazaar and share to Pinterest. Thanks!
Namche Bazaar, The Everest Base Camp Trek, and Nepal Travel
A collection of videos and posts about Nepal, trekking, Everest, Annapurna, Kathmandu, flights to Lukla and other places you must see in Nepal (plus those suspension bridges) can be found on our main Nepal content page. Enjoy your time in beautiful Namche Bazaar, its a great place to visit.
If you'd like to hire a car during your stay, use this car rental comparison tool to find the best deal!

We also suggest you take a look at this company to get a quote for all kinds of travel insurance.

Try Stayz / VRBO for an alternative way to find rentals on homes/apartments/condos in any country!