This post may contain affiliate links.
If I told you travel in Nepal with kids was easy, I'd be lying. Nepal has been the most challenging place we've ever taken the children, and that includes India, but it's been worth it many times over. They got sick less in India and didn't have to hike up any mountains.
So here for you, in case you're as crazy as us, is our rundown on why Nepal with kids is the best of ideas and the worst of ideas. Is Nepal family-friendly for a holiday or vacation, and what should you do and see in Nepal with your children? Things to do in Nepal with kids, and the practicalities of visiting Nepal with kids.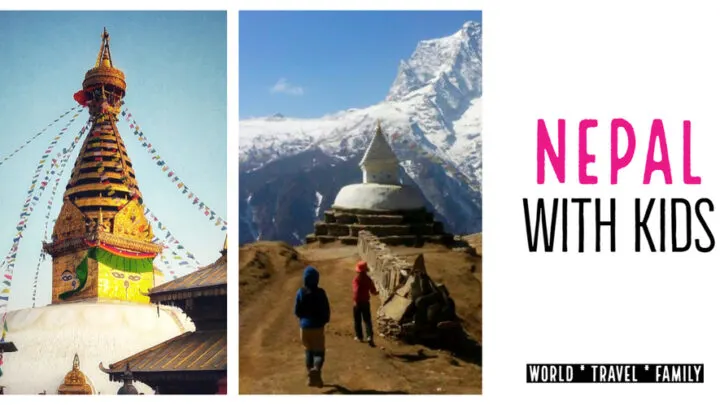 You will never find another country as rich in culture, history, adventure, and natural beauty, as Nepal. It's simply stunning.
This country deserves our support and I would encourage everyone to get out there and spend your tourist dollar just as soon as you can.
Another bonus of travelling in Nepal, we met and had a chat with the very gorgeous Prince Harry. He was also in Nepal to help drive tourists back after the earthquake.
There is a lot of information and first-hand experience in this post to help you get your kids to Nepal, safely, and have an incredible trip.
The index below should help you find what you need. We have dozens of posts on Nepal here at World Travel Family. If you can't find what you need, just ask.
Nepal With Kids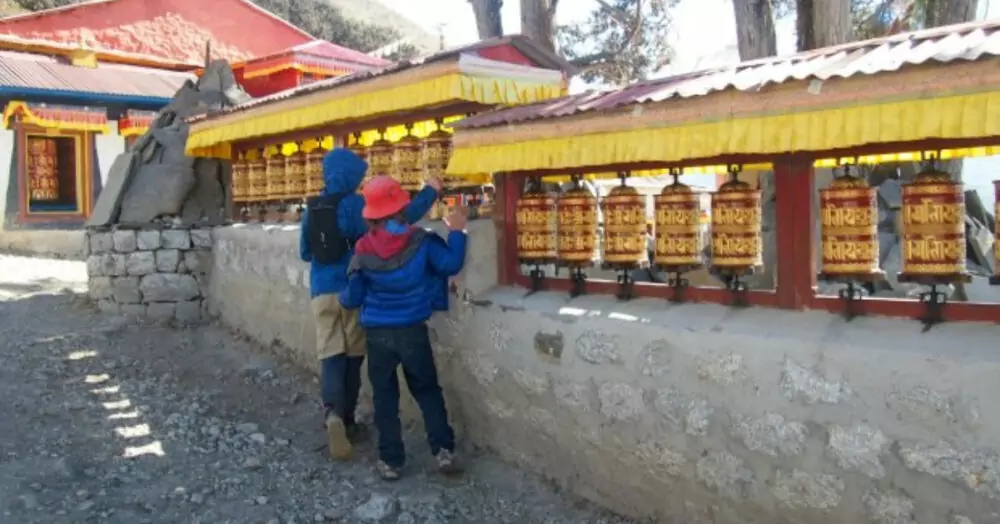 People take their kids to Nepal in various ways, so whether you're going for a two week family holiday or vacation, a month, or to make the most of a three-month visa, we've done that and we can help you with that.
We'll cover as many aspects of Nepal with kids as we can in this post.
We are particularly keen on family trekking in Nepal. Our kids have been to Everest Base Camp and we've completed the Annapurna Circuit Trek, which includes the short Pune Hill hike.
The Annapurna Region, along with the Everest Region, are hugely popular. In peak season, expect crowds. Maybe in the trekking season of late 2021 into 2022, this won't be so bad.
Things To Do in Nepal With Kids
Ideas for things to do in Nepal with kids. Nepal is best for an active, outdoors, family holiday, with plenty of cultural interest and sightseeing. Bring adventurous eaters with curiosity and a love of adventure.
Spot tigers and rhino at Chitwan National Park.
See the monkeys at Swayambhunath, the monkey temple.
Try local dishes like momos and dal bhat, take a cooking class
Tour Kathmandu on a cycle rickshaw.
Take your kids trekking.
Jungle adventures and rafting.
Scenic flights and scenic lookouts with incredible views.
Shop for souvenirs in Kathmandu.
Enjoy peaceful parks and the great outdoors.
Row boats in Pokhara.
See the spot where Buddha was born and explore the International Peace Park at Lumbini
Marvel at the ancient temples, stupas, and squares in the Kathmandu valley.
One Month Trekking & Touring Nepal
A month in Nepal gave us the chance to walk or hike in the Everest region, not all the way to Base Camp, which took us three weeks. But a month will give you time to get a good walk up there, with kids.
Visiting Pokhara for enough time to see it properly and fully exploring Kathmandu was possible in one month. We also visited Bhaktapur, not for from Kathmandu.
There wasn't time for us to fit in Lumbini or Chitwan into a one-month Nepal itinerary. You could also easily arrange a shorter trek in the Annapurna Range, from Pokhara in one month.
If you want to see tigers and rhino in Chitwan, know that the peak trekking season (October) is not the best time to see rhino. The best time of year to visit Nepal with kids will depend on what you plan to include in your itinerary. If you're heading to the mountains I wouldn't take kids in winter.
Poon Hill is a popular short trek, but it's not an easy one. If you go up to Poon Hill from Pokhara there are a lot of steps and they may not suit little legs. Coming down those steps is hard on your knees too.
Everest Base Camp With Kids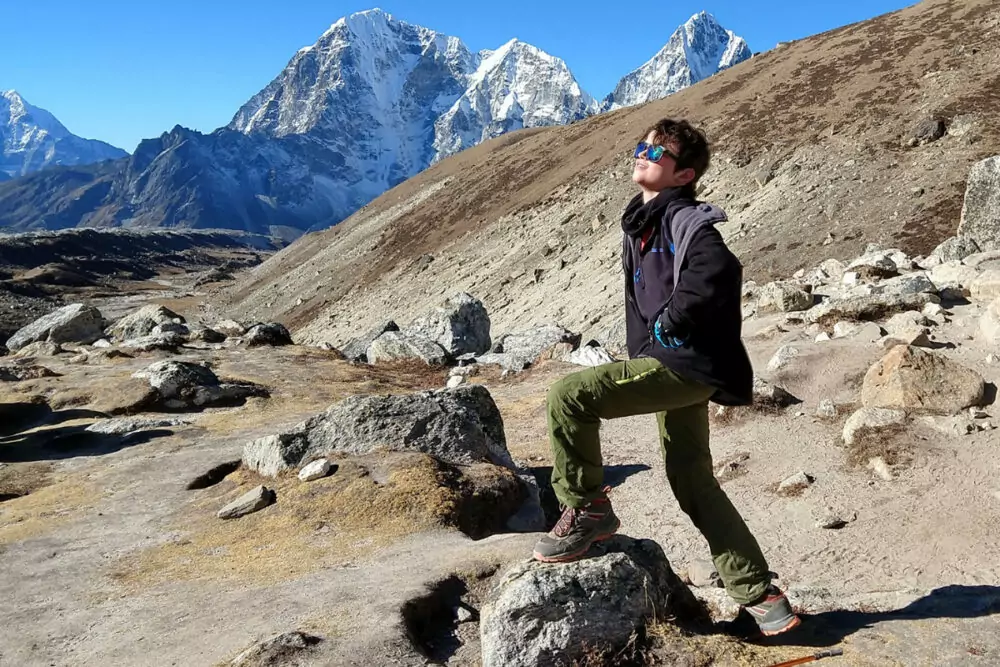 If your trip to Nepal is all about the mountains, The Everest Base Camp trek has to be the ultimate experience. Our kids have been to Everest Base Camp. They were 13 and 11 when they completed the trek and they did well.
We faced hardships but it's possible with some common sense and plenty of time. Altitude, dangers from yaks, and getting sick are real issues. See our full post on Everest Base Camp Difficulty here.
I would strongly suggest not doing this with small kids but tweens and teens did fine.
Three Months in Nepal With Kids
The second time we took the kids to Nepal we had a 3 month visa. This allowed us to see much more of Nepal than ever before, including Chitwan National Park, Bhaktapur, Lumbini, Pokhara, Nagarkot, Namche Bazaar, and of course Kathmandu. We have separate posts on all these destinations.
Long-term travel like this is impossible for most families, we know. We're in the fortunate position of being professional travel bloggers. We need, and love, these long trips to discover everything piece of information we are able to give you here.
Onward Travel From Nepal
If you have time, it's possible to take a tour of Tibet from Kathmandu. We highly recommend it but it was tough on the kids and, of course, hugely expensive, Our Tibet blog is here. You can travel by road from Kathmandu to Lhasa, it takes several days, you can then fly back.
Bhutan is also fairly accessible from Nepal. We've been, but not via Kathmandu. Bhutan is an incredible place but we all know how expensive it is!
You can easily (usually) travel south into India from Nepal. We've done it by road, but not with the kids.
Best Things To Do in Nepal With Kids
If I were taking my kids to Nepal for the first time, I would be sure to do at least some of the following. A list of things to do in Nepal with kids is below.
Aside from trekking, adventure, and wildlife, allow plenty of time in Kathmandu. This city is buzzing and full of ancient, religious, and cultural attractions. The must-sees are Swayambhunath (The Monkey Temple), Pashupatinath (you will likely see cremations here and the smell isn't good, not for sensitive kids), and The Durbar Squares. You will most likely be staying in Thamel, the backpacker area of Kathmandu. It's a good base. If you want to spend more there are child-friendly, more luxurious hotels, in the city.
Chitwan has got to be on your list for kids. We had a wild rhino in our hotel garden and there are elephants walking the streets. You stand a chance of seeing a tiger, unfortunately we didn't. A long, fruitless safari could be boring for kids, but there are plenty of crocodiles on the river banks and we saw the tame rhino daily. He's a feature in Sauraha.
Trekking is OK for some kids, not for others. Our kids have been to Everest Base Camp. We've also trekked in the Annapurnas and Poon Hill. Himalayan trekking can be dangerous and I wouldn't take small kids, however, you can take a porter to actually carry your child if you see the need. We took a Sherpa guide first time to increase the adult to child ratio. Second time we went alone to Base Camp. Our guide to trekking in Nepal is here.
Pokhara is a sleepy, relaxed, beautiful lakeside town. If your teens want to try adventure sports like paragliding or parachuting, you can do it here. Likewise, rafting and river camps are nearby. We just like to enjoy the Pokhara vibe and maybe take a boat out on Phewa Lake. I've not let my kids jump off mountains strapped to kites yet, but we have friends who have.
Take a class of some sort. Cooking classes are suitable for even younger kids, my teen opted to make a kukri (a traditional knife) with a master craftsman. Check sites like Back Street Academy to see what's available in Kathmandu or Pokhara. A cooking class is a great family vacation activity, but momos are hard to make.
White water rafting is popular in Nepal and some operators will accept older kids on less demanding trips. This activity can be dangerous.
Kids Getting Sick in Nepal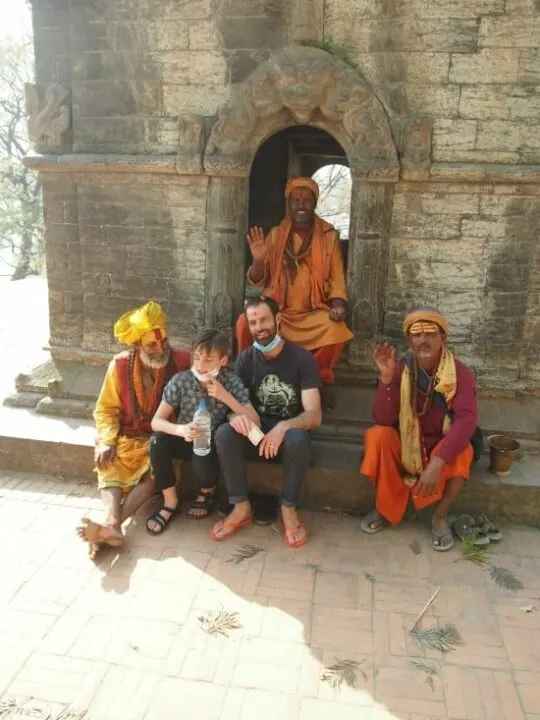 In one month in Nepal, we had night-time vomiting 5 times. Once both children were sick on the same night giving us a constant bathroom relay of Dettol and buckets, all night. This has never happened to us before in our 3 years of travel.
At home in London, yes, but never on the road. There has also been diarrhoea, regularly, with some extreme emergencies. This has never happened to us before either.
My husband was a little off-colour, but thankfully, I was fine. Maybe this is because I'm the family clean freak and won't put anything near my mouth unless it's been incinerated, washed, wiped, and coated in hand sanitiser gel.
I also stay vegetarian and stick to local Nepali dishes.
We never managed to pinpoint what made the kids sick, but the problem was at its worst in Kathmandu, a city globally notorious for tummy trouble. (Don't even think about visiting this part of the world without Travel Insurance, this is the one we use)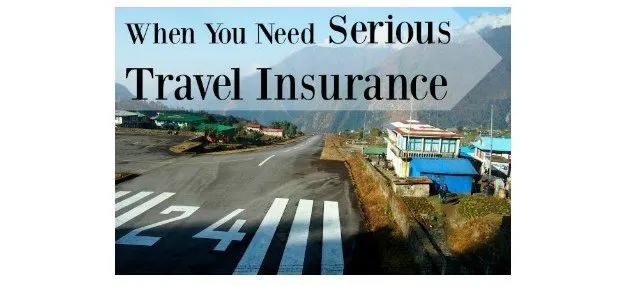 When we first arrived in Nepal we were pretty relaxed about food, the boys ate the things they normally eat in India, Sri Lanka, Thailand, or anywhere in Asia.
Once the first round of vomiting started we cut right back to heavily cooked foods, pre-bottled, chemically treated or boiled water and big brand name soft drinks only.
We bought Dettol soap, hand gel, and wipes and used them regularly. This is something we hardly ever do, yet they still got sick. It seemed that no matter what they did, these kids of mine were intent on putting the wrong things in their mouths.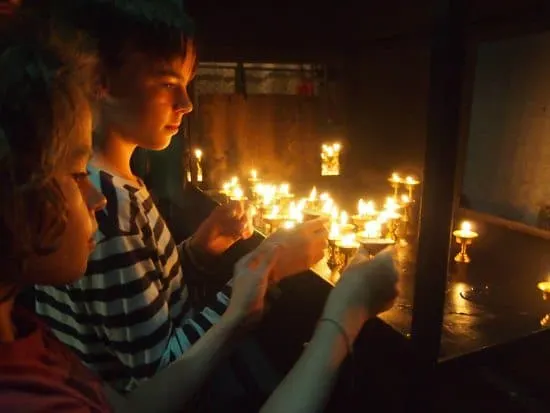 Even after prolific warnings my son still ate a bowl of complimentary peanuts towards the end of our month, he was up all night.
They would still drink directly from cans without wiping them thoroughly. They would just have to order a hamburger rather than dal.
It was incredibly difficult to keep them away from everything that might make them ill again, but they wanted to take the risk to order foods they love. They're old enough to make their own choices and learn from them, sometimes. But even with the intermittent sickness, they were OK, still cheerful and not massively under the weather.
They still saw the beauty in their surroundings, marvelled at Nepal's wonders and played and chattered between themselves. The sickness didn't destroy the trip.
Air Pollution in Kathmandu and Kids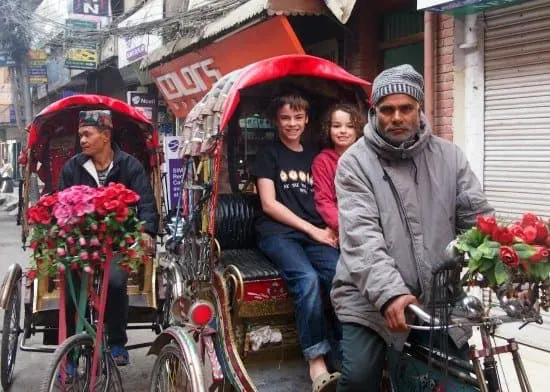 The air pollution in Kathmandu is pretty bad. Around Thamel, the backpacker area of the city, it seems OK, it's only in traffic that you really notice it.
You can easily buy masks from local shops or the huge Thamel "Supermarket" and trekkers' provisions shop. I wouldn't visit Nepal with kids if they had respiratory problems, certainly not Kathmandu.
We had a few bad air days in Pokhara too, before the air cleared. The mountain air, by contrast, is incredible.
No Power, No Water, No Heat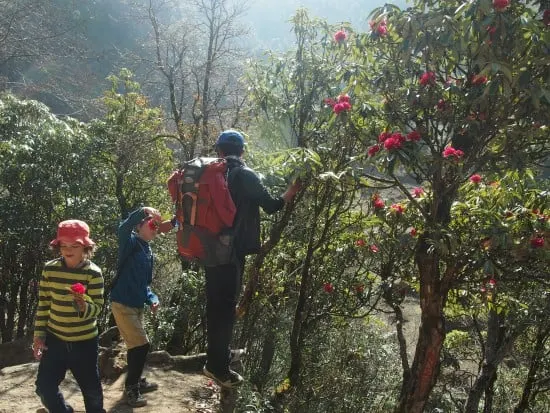 Power cuts or outages can happen every day in Nepal. Things were better the last time we visited, but previously they happened to fairly predictable schedules.
It was more the case that sometimes the power was on, rather than sometimes it went off. Most bigger shops, guest houses, and restaurants had variably-good back-up in the form of generators and solar power.
Our guest house in Kathmandu ( Stupa Guest House, click through to get rates) did a good job of keeping us lit and in power. Sometimes we used battery packs and torches, but we managed.
The fuel embargo was officially over at the time of our one month visit, it didn't impact us in any way other than sharing public buses with large fuel containers occasionally. There were still fuel queues for locals.
Hot showers were hard to find, the above guest house had a back-up gas shower that always worked even when the lights went out. On the treks, you can buy a hot shower from about $3 US each in most guesthouses.
The higher you go the more expensive that gets. None of us had more than half a dozen showers in a month, we're not dirty, that's normal for trekking.
Similarly, you can't freely charge your electrical equipment in most trekking guest houses. Some charge $2 per charge, others $2-$5 per hour. It was free to charge in our Kathmandu guest house and in Pokhara we found a café that was happy for us to stay and charge devices so long as we ate there.
A Solar Charger (UK link) ( USA link here) would be a fabulous thing to have. We have a full post on travel gear for Nepal and for trekking.
In the mountains there is usually no heating in bedrooms and almost zero insulation. The restaurant/kitchen of your tea house will have a wood burner but at bedtime you just dive under the blankets. The kids had sleeping bags, we didn't, we all managed fine, we weren't cold in bed.
Taking Kids to Altitude in the Himalayas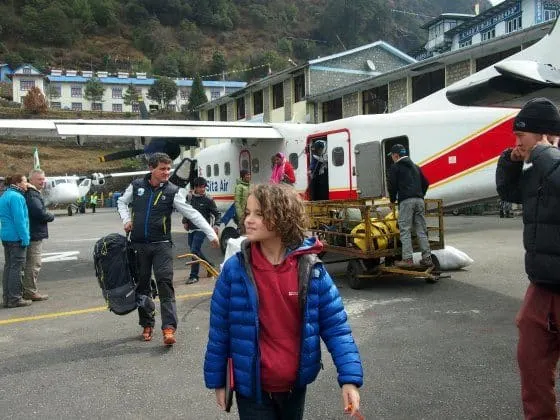 We flew from Kathmandu to Lukla at 2,843m. Flying into altitude isn't a great idea and I was worried that the children would be affected when we got off the plane. Even though Lukla isn't massively high, I was still concerned.
You can read about the white knuckle flight to Lukla and landing at the world's most dangerous airport by clicking through. The kids coped far better than their mum did with the whole tiny plane thing.
When we got off in Lukla, D and I had slight headaches but as we descended during that afternoon of trekking through woods and fluttering prayer flags, they went away never to return.
One the first day of your trek towards Everest from Lukla, you descend in altitude. This is a good thing.
We had no further altitude issues at all on our short walk above Lukla. My older son eventually made it to 3,800m and stood at Tangboche Monastery triumphantly regarding Everest with me.
Kids seem just as likely as adults to develop altitude sickness, although research is hard to find. The first response to altitude sickness is to descend. Always have that option and know the symptoms to look for.
There is no way I would take very young children, who couldn't communicate their physical experiences to altitude. But why listen to me right? Who am I, just a mum with a deep interest in mountains, a few high altitude treks under my belt and a background in hospital medical science. I'm not an authority.
Altitude Causes Bad Dreams and Nightmares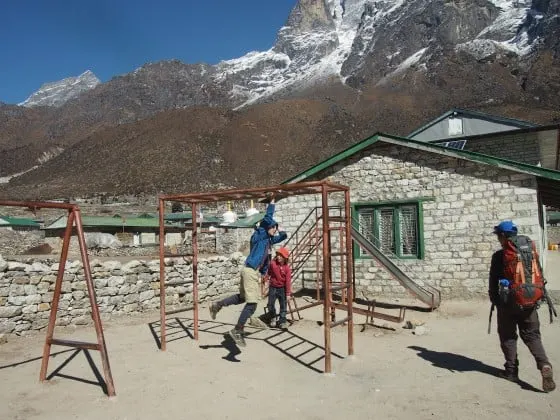 Most people tend to have very vivid dreams at altitude and this is something most bloggers writing "Nepal with kids" posts won't tell you. It affected us badly when my son was younger.
One of my children suffers from night terrors intermittently, this was certainly amplified at altitude. The dreams have been improving with age and I couldn't remember the last time he had a night terror, but he had 2 while we were in the Himalayas.
The rest of the family had strange dreams too. If you're planning Nepal with kids, particularly going to altitude, this is something to really consider.
Trekking in The Himalayas with Kids, Why It's Great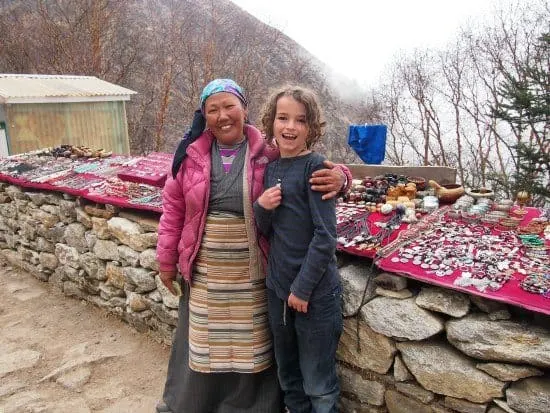 The only way to see this part of the world, the high Himalayas, is to walk. It is without doubt, totally, indescribably, breath-taking. Both visually and spiritually.
Your children will witness unique cultures that few people experience or understand along with abundant local animals and plants.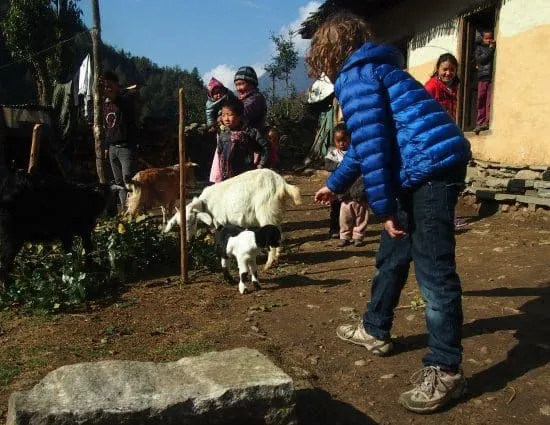 They will come away with a new idea of what is humanly possible as they witness porters carrying loads of up to 100Kg at altitude for many days and see how locals scratch a living from the soil and livestock.
They will develop a new idea of what they are physically and mentally capable of.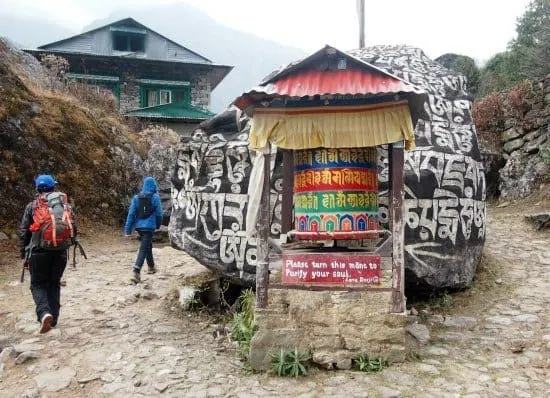 Walking can either be a silent meditation or an opportunity to talk, with family, with other trekkers from diverse backgrounds, or with locals. You meet the most interesting people up mountains.
You will never see anything as beautiful as sunrise in the snows of the Himalayas.
Heights, Scary Bridges, Precipitous Drops, Landslides, Yaks and Other Dangers of Trekking in Nepal With Kids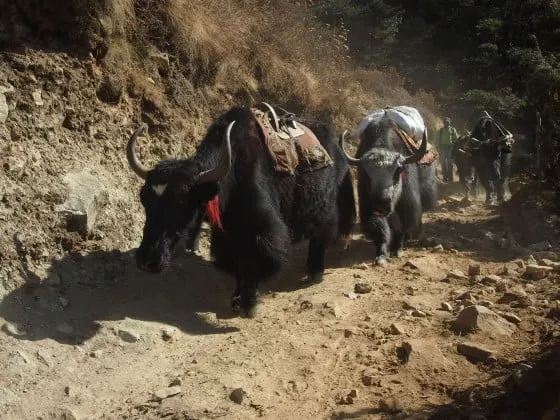 There are dangers in the mountains, probably the biggest are yak and donkey caravans. If you're standing on the cliff edge side of the path when they come through, you'll more than likely be pushed off.
We crossed precarious bridges hundreds of meters above the valley floor, sometimes in high winds, rain and snow. There were landslides where the path had been taken out, some easy to cross, some very frightening.
There was wet, deep mud, full of donkey droppings that went on for hours and hours. No turning back, no alternate route, you just keep going.
My kids never showed any fear. They crossed the bridges with way more ease than I.
Our Sherpa guide, Nima, kept a very watchful eye on them, grabbing them, keeping up with them, protecting them. He was calm and confident and I don't think I could have done it without him.
I have a post about those bridges, if you've seen the movie "Everest", or even just the trailer, you'll know the bridge we had to cross. But they're not all that bad. Chef has video of me panicking, singing and swearing my way across the big one.
Long Bus Rides in Nepal With Kids
The bus rides go on and on, snaking around mountains on precarious paths. The bus journey back from Everest to Kathmandu was 13 hours and the most frightening of my life. The kids had no fear at all.
The buses, public and tourist, have plenty of leg-room, are pretty comfortable, but the risk of motion sickness is huge.
I dosed the boys with an antihistamine travel sickness medication before departure and had no trouble at all while those around us vomited into blue plastic bags.
After that first mega road trip, the bus from Kathmandu to Pokhara is a breeze, nothing frightening and only 8 hours. The tourist buses on this route leave in convoys and stop regularly for food and toilet breaks, some of the best food we've eaten in Nepal was on these road-side breaks.
Earplugs are a good idea on bus trips, and a good book. We'll be posting about these buses soon.
Food for Kids in Nepal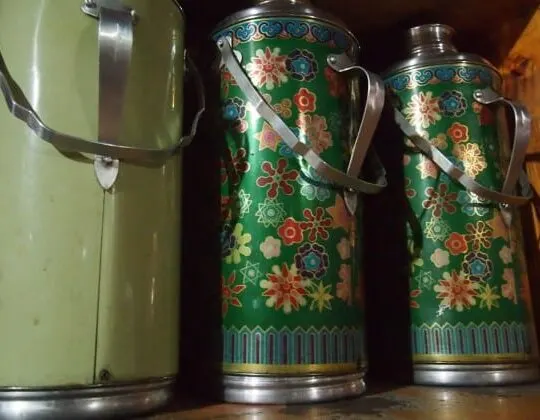 Menus in Kathmandu and Pokhara are extensive and diverse. If you have a mind to, you can order just about anything you like, but I'd urge caution.
Sticking to well-cooked Nepalese foods is a good idea. Nepalese food isn't very hot (spicy), momos, thukpa, and dal baht are normally fairly bland and contain plenty of vegetables.
Vegetable curries are available and, low down, chicken curries should be OK to eat.
On treks, your diet will become more limited, don't touch meat up there as it all has to be carried up. Protein comes from eggs and dal soup as part of dal baht.
Other than those staples, my boys ate a lot of fried potatoes with veg, you eat what they can grow locally and once you're up high in the mountains, that's mostly potatoes.
Trekkers drink flask after flask of hot tea, black, milk or variations on lemon, ginger, and honey. Tea should be safe, warms you up, and keeps you hydrated at altitude.
Soft drinks, chocolate and biscuits are available, but cost more and more the higher you go. Find a full posts on Nepalese food and food for treks here.
I Don't Want to Scare You Off Taking Kids to Nepal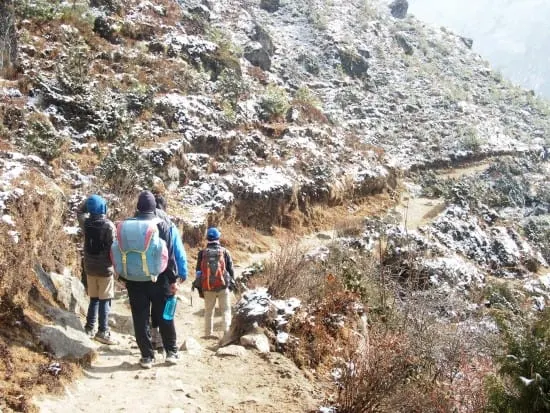 This last month has been one of the most wonderful of my life, being in those mountains with the kids has been magical but it has been hard. I think in many ways harder on me than on the kids.
I'm the stress head around here, I suffer from anxiety and obviously, I worry about the boys more than I worry for myself, I'm a mum.
Their father has been cool the whole time so my view IS an exaggerated one. But as always, I tell it like it is, for me and for them.
If I say that I'd do it all over again tomorrow with them, but the kids would hate me for it, does that give you a better idea? Now, years later, they'd love to return.
They found the walking less than fun, sometimes, but they did it and have incredible memories and self-esteem to hold onto for the rest of their lives.
Other times they ran on ahead, chatting, skipping, and hopping from rock to rock in a crazy Himalayan parkour. At those times we thought tackling Nepal with kids was our best idea ever.
The biggest challenge for them was being away from their computers for 12 days straight, and I think that would be their biggest issue about doing it again.
For Pinterest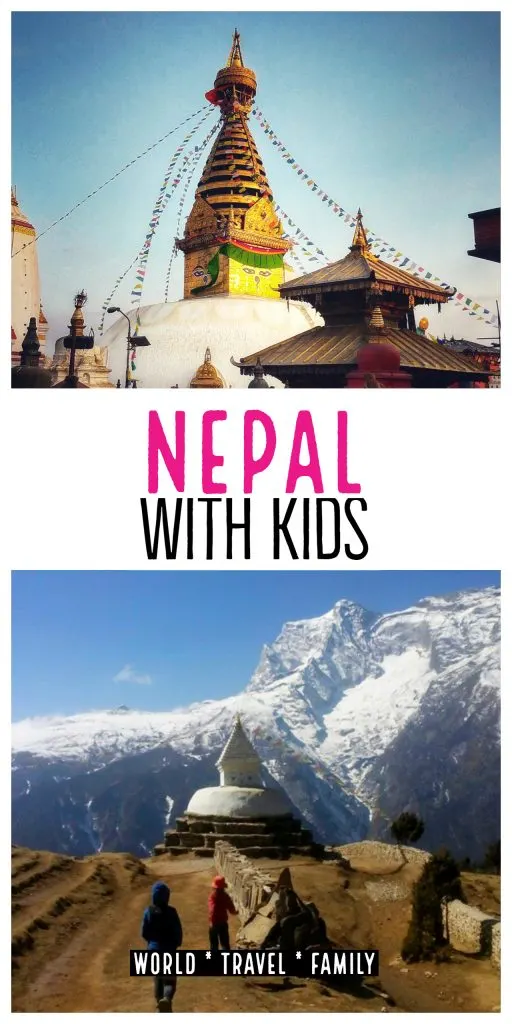 I will be back in Nepal and the Himalayas just as soon as I can once borders are open and health restrictions resolved. I'm not sure the kids would choose to come with me just yet, but they did it and they were awesome. Thanks for doing it with me kids, particularly D on our tough day trek to Tangboche Monastery and back, you were great company and huge encouragement when I found the going hard.
Please remember that the people of Nepal are some of the best in the world, they need the tourists to come back now, after the earthquake and after the pandemic. Nepal will be open soon, we hope, and absolutely fine to visit but climate change is moving fast and Nepal is on the front line. Want to see what gear you really need for Nepal, with kids or without? We were not sponsored by Stupa Guest House we just loved staying with Ram and his family and stayed with them again for our EBC trek. Visiting Nepal with kids is potentially wonderful, but Nepal can be a tricky country to visit even for adults. I hope I've been able to explain what issues you might face as parents, and at the same time encourage you to visit.
If you'd like to hire a car during your stay, use this car rental comparison tool to find the best deal!

We also suggest you take a look at this company to get a quote for all kinds of the more tricky adventure or extended travel insurance.

Try Stayz / VRBO for an alternative way to find rentals on homes/apartments/condos in any country!