This post may contain affiliate links.
It's so good to be back in Kathmandu! This is our third visit to Nepal and it will be our longest. We are in possession of 3 month tourist visas and have plans to make the most of them. Empty time stretches ahead of us, no more rush, stress or anxious preparations. Let's just do this thing! First up Thamel Kathmandu, my favourite part of one of my favourite cities in the world.
This time we are heading to the Everest region again for the full Everest Base Camp Trek. We're allowing 3 weeks for that, but duration is unimportant.
We'll also be visiting Lumbini and Chitwan, 2 places we've never been. Exciting times are ahead.
Thamel Kathmandu
Video: Walking in Central Thamel Kathmandu
A quick walk-round video of the very heart of Thamel, starting from our guest house. Just so that you know, basically, what Thamel is like and what to expect.
Arrival at Kathmandu Airport
It's 20 years since we first flew into Kathmandu in daylight via Bangladesh, all subsequent flight have been after dark, which is a shame.
The descent into the Kathmandu Valley and views of the Himalayas are pretty spectacular.
As it was, we could make out that unique Nepali double triangle flag picked out in neon on a hillside. Welcome to Nepal, land of mystery and mountains.
Arrival at Kathmandu airport is somewhat troublesome. We foreigners need to scan our passports into machines in arrivals, fill in an online form, grab a paper form, fill that in and present it along with the machine receipt to the visas clerk.
As there are 4 of us, 2 adults 2 kids, it takes a while. The arrivals clerk then relieved us of $100 each for our 3 month visas before issuing a second receipt which we presented at passport control. Then we got our stamp.
Tip: Bring US dollars, cash, you need cash for your Nepal visa and the dollar price was lower than the UK pound price for us. A nice round $100.
Baggage collection is also pretty different in Nepal, there is a queue to enter the baggage area, a security point with x rays and scanners ( you will need to remove metalic objects from your person but not empty your bags of laptops-a small mercy).
If you remember the time we met Prince Harry in Kathmandu, I always picture his tall royal gingerness coming through here, standing out like a sore thumb among the returning Nepalis, most not much taller than my younger son.
It's a crush and a shove but we've never had any problems at Kathmandu airport.
Getting From the Airport to Thamel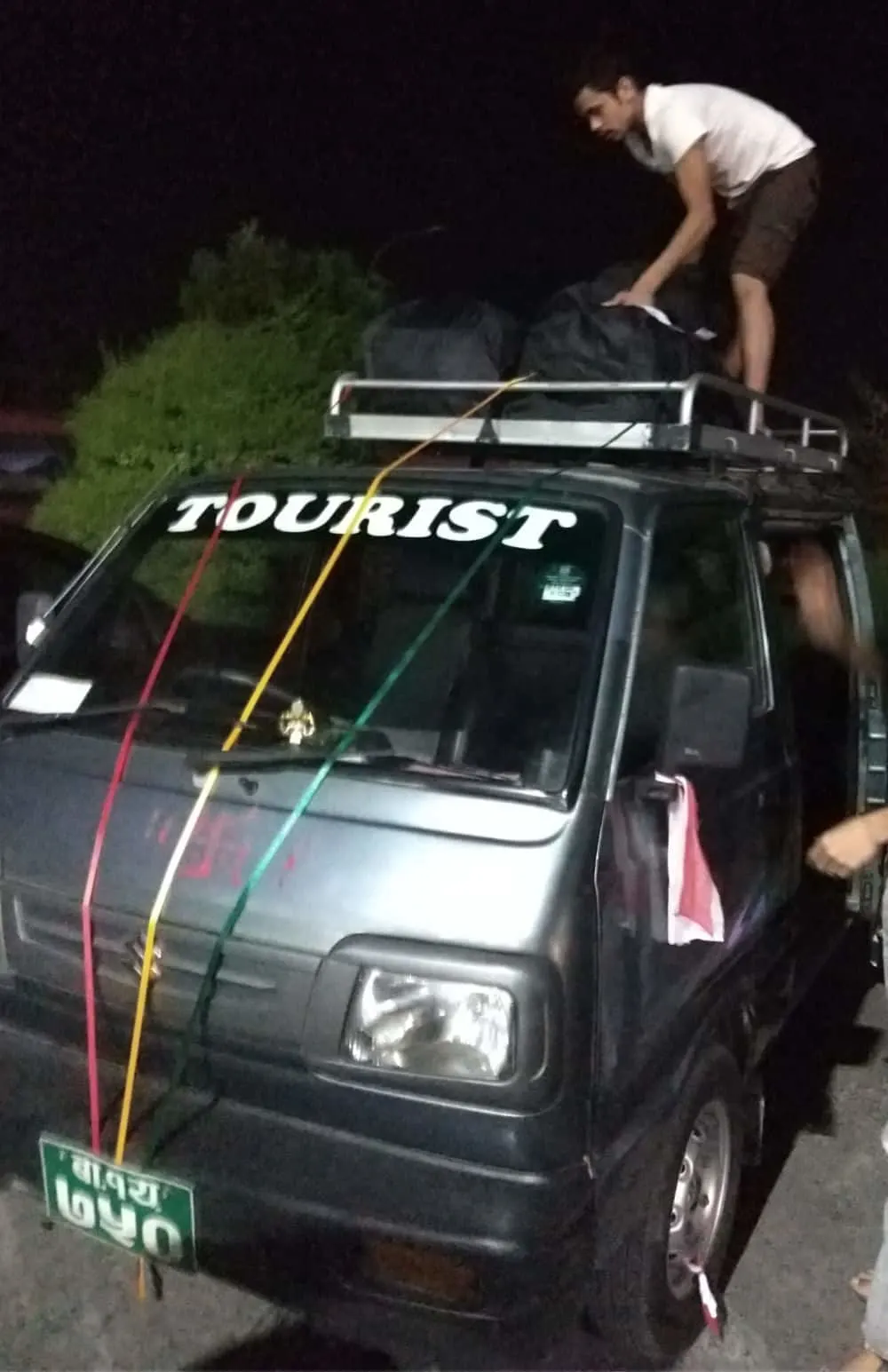 Then you are free. Everyone will want you to stay at their guest house, everyone will want to be your driver, we strongly suggest booking a guest house or hotel for your first couple of nights and arranging a free airport pick up.
Tip: Book a hotel in advance and organise a free airport pick up when arriving in Nepal. We're finding that Booking dot com has far more coverage in Nepal than Agoda. ( click through for their Kathmandu and Thamel listings) BOOK ONLINE. Local hotels will want cash and getting cash out is expensive. Online prices are generally NOT higher. We booked this hotel on their own website to be nice, they insisted on us paying cash, so our kindness cost us in fees. Use the booking engines, even for hotels on your trek if you can. It's possible, but many, most if not all, will still need you to pay at the hotel ( their credit card machines may not be working). It's kinda tricky. Also watch out for hotel and local taxes and fees. This is one country where we would recommend bringing in as much hard currency as you can. You pay 500 Rs every time you withdraw cash from an ATM.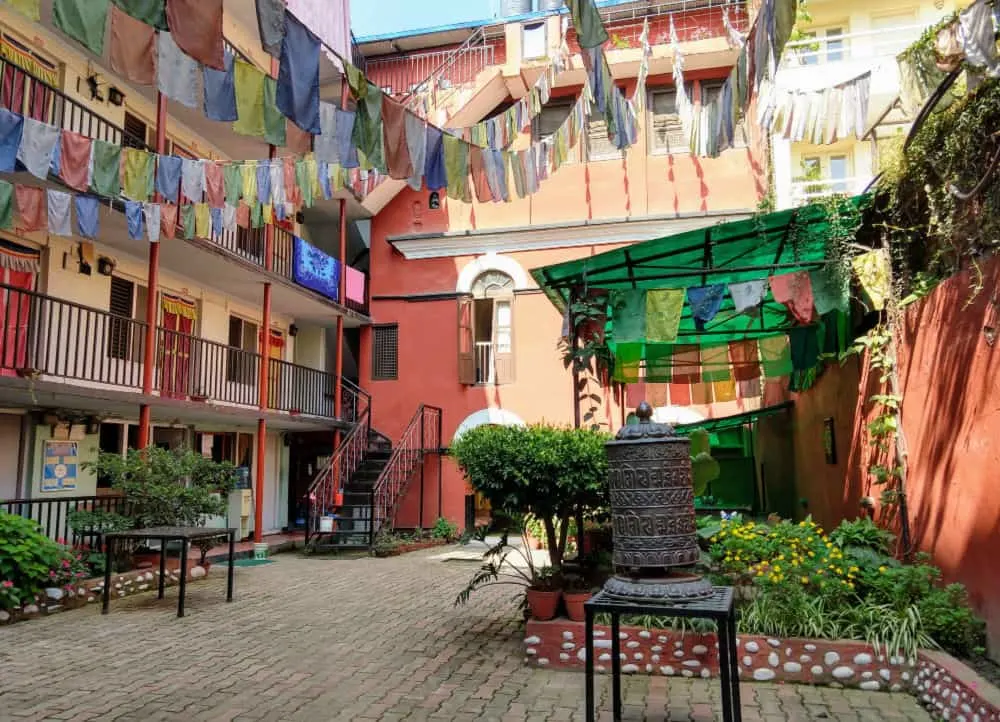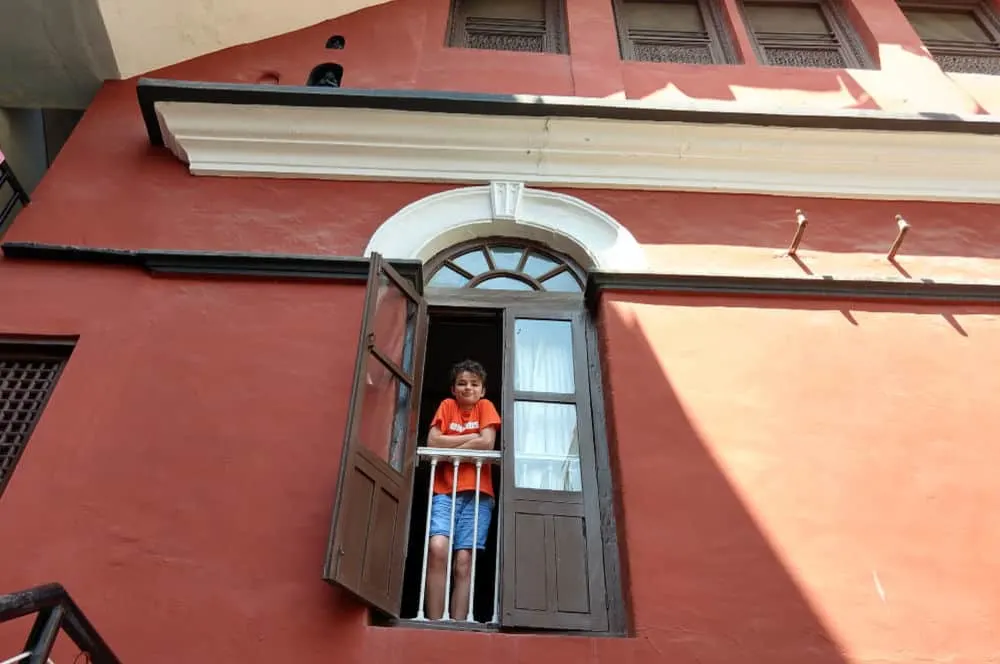 It's not far from the airport into Kathmandu and a taxi or bus will have you at your hotel in well under an hour.
Staying in Thamel
Most tourists stay in the backpacker area, Thamel. We love this part of town and highly recommend it for easy access to trekking shops, restaurants, accommodation, everything is in Thamel.
The roads here are newly repaired and the central area is traffic free which cuts back on traffic pollution.
Air quality can be bad in Kathmandu. During the Thamel road fixing work in 2017 and 2018 there was a lot of dust ( we've been told), but this is mostly finished now. Outside Thamel, as you walk towards Durbar Square through the markets, repair work is still going on and the roads are pretty rough in most parts of the city.
Earthquake Effects Today
Never forget the earthquake that these people have been through.
In 2016 we felt earth tremors almost every day. In late 2018, we're yet to feel one.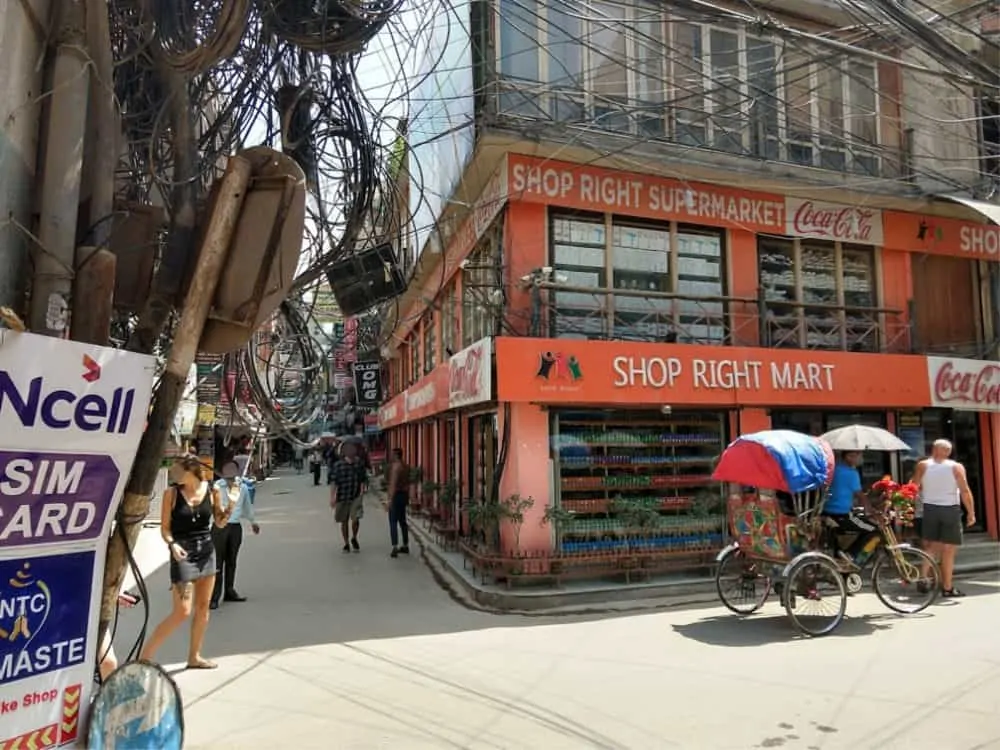 During our time in Kathmandu in 2016 ( only 11 months after the earthquake) power was off more than it was on. So far, touch wood, we've had a continuous electricity supply and reasonable internet so hopefully everything is back on an even keel.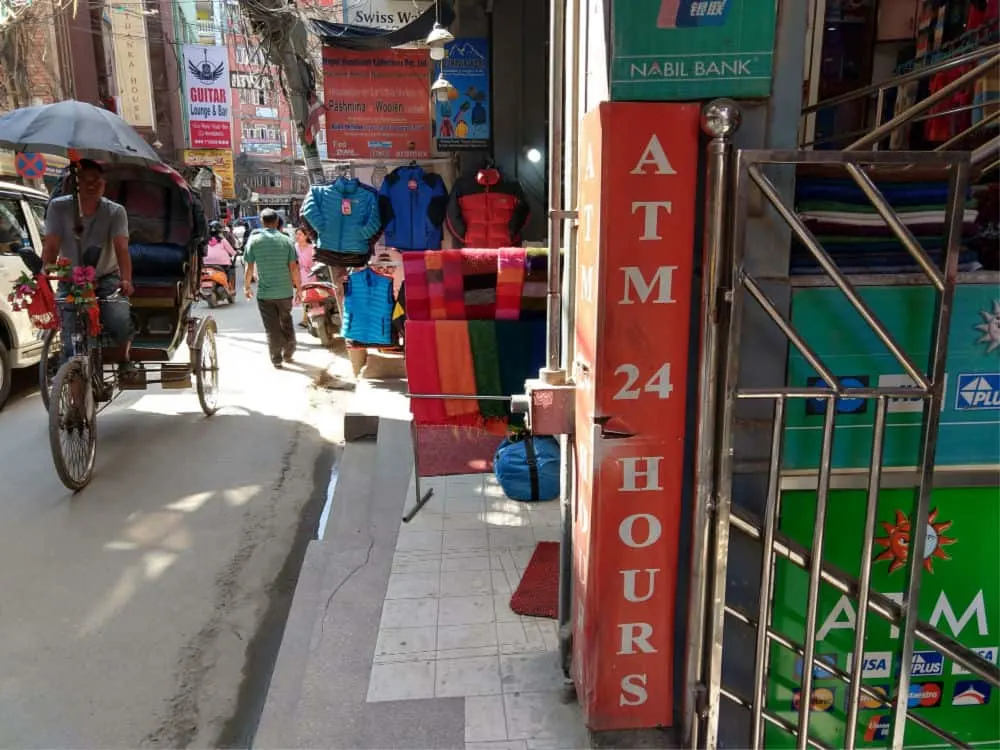 We picked a cheap and traditional style Kathmandu guest house, we like the old world feel and it's right in the centre of Thamel, footsteps from the famous trekker's supermarket on the crossroads.
Later we will go stay with our friend Ram at Stupa Guest House. We wanted to try something different first, his hotel is in a more traditional area, close to local markets and Durbar Square.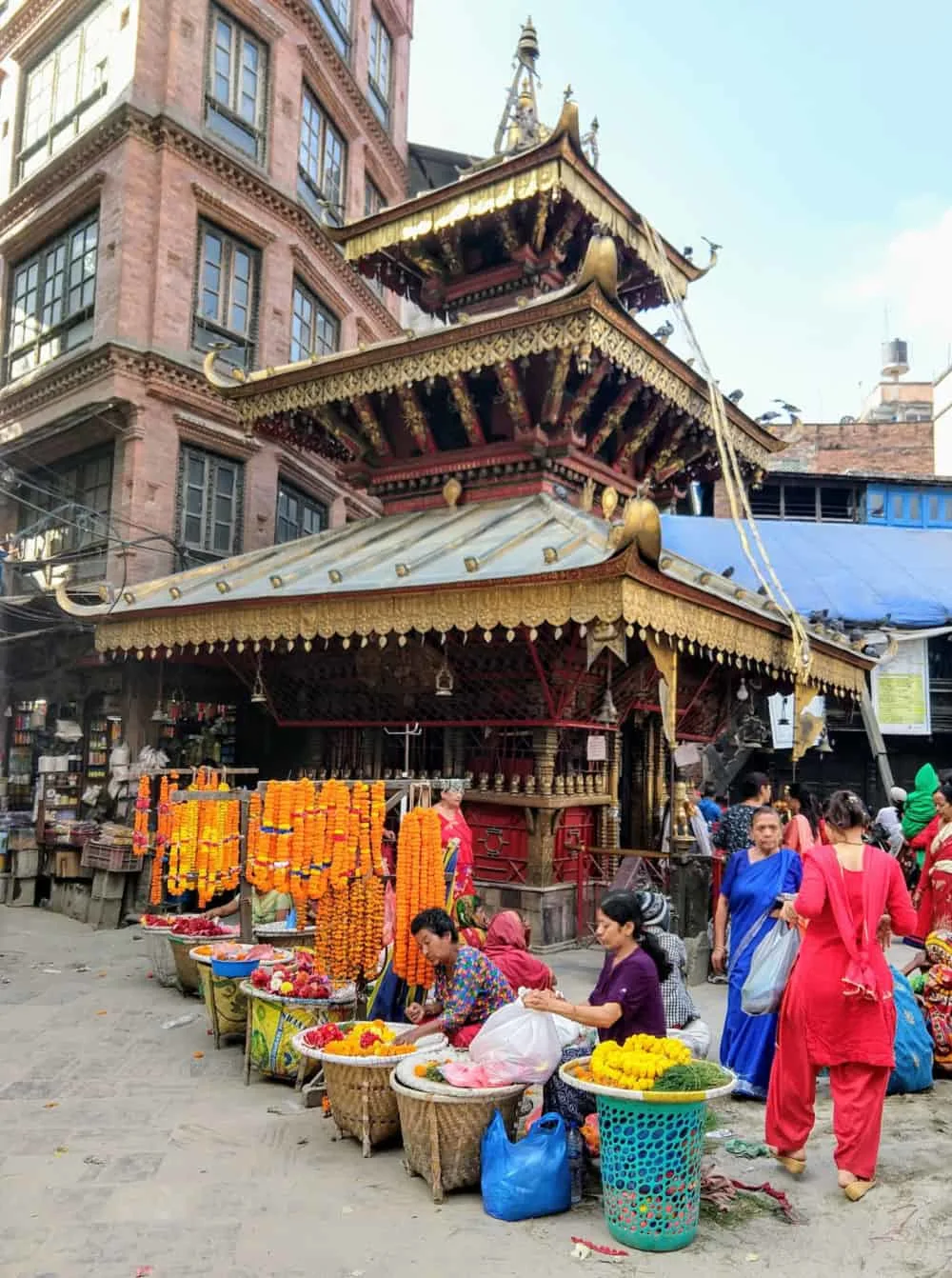 Food in Thamel
Food in Kathmandu is incredibly diverse, you'll find pretty much anything, Vietnamese, Thai, Italian, it's all here.
We've enjoyed Everest Beer and Ghurka beer, eaten at Israeli style tourist restaurants and sought out traditional dal baht.
We've walked, wandered and soaked up the sights sounds and smells. The kids have whined about bad wi-fi and being too hot. It IS hot, that was a surprise!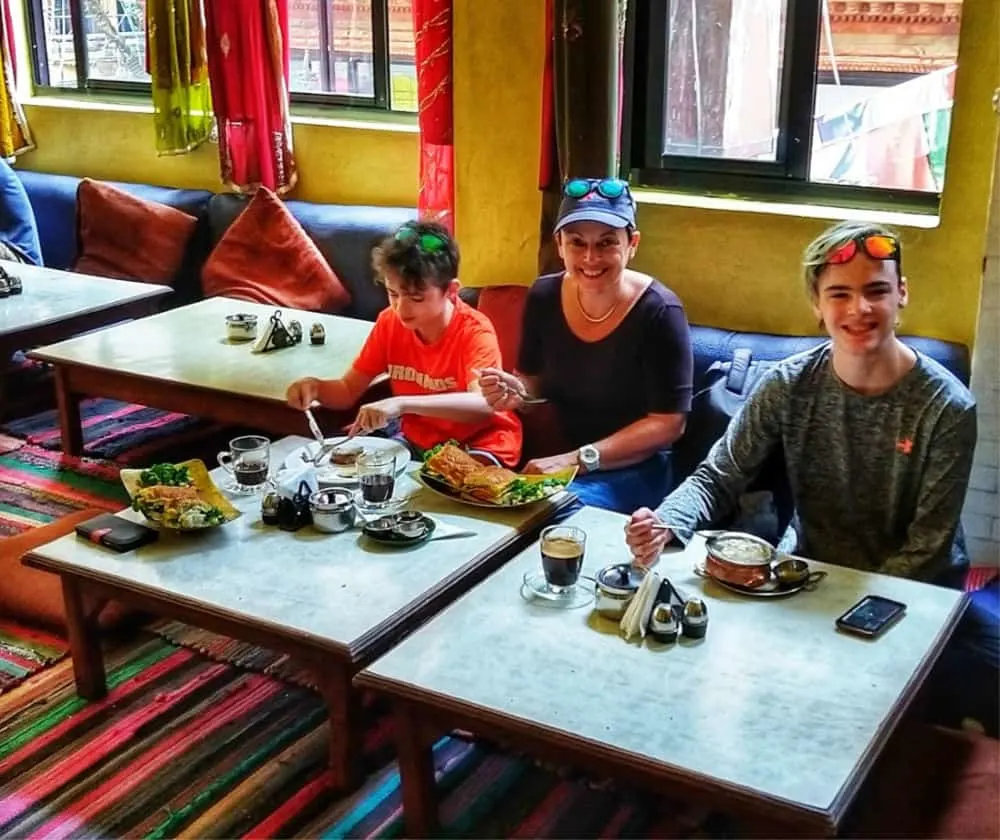 Food is pretty cheap, but beware hefty taxes, many tourist restaurants are now slapping on a 17% tax as well as a 10% service charge.
That ads A LOT to your bill. We have now found one very good Nepali restaurant that doesn't do this and the food is superb, more on that later.
Simple meals are coming in at around $2- $3 each. Beer prices have gone up too, beer is about 500 Rs a bottle in most places ( $1 =125 Rs approx.) We have a full post on food in Nepal here.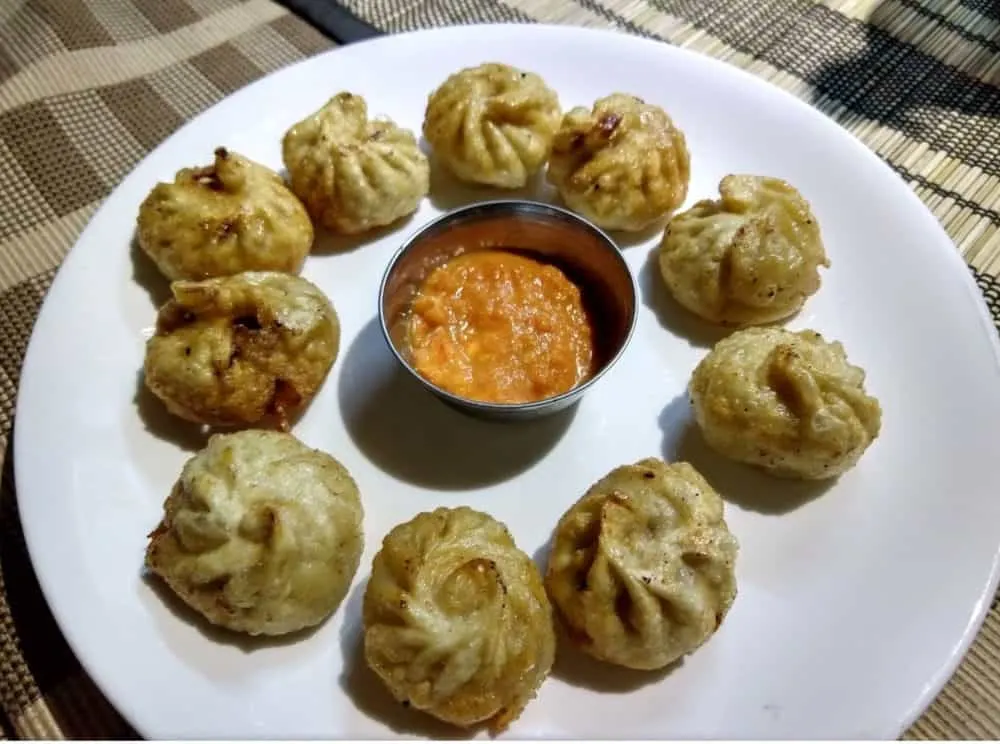 A hotel for 4 is generally well under $50 and in some places we're seeing prices as low as $20. Not in central Kathmandu, obviously, unless you really want to rough it.
Is it Safe in Thamel and Kathmandu?
I've walked solo through the back streets and markets, dipped into temples, strolled around stupas spinning prayer wheels, made friends and felt perfectly safe as a woman exploring on my own. I've taken a cycle rickshaw ride because the rickshaw guy needed my cash. I'm happy to walk, but he wanted me to ride. I'm very happy to give him a couple of bucks, no sweat.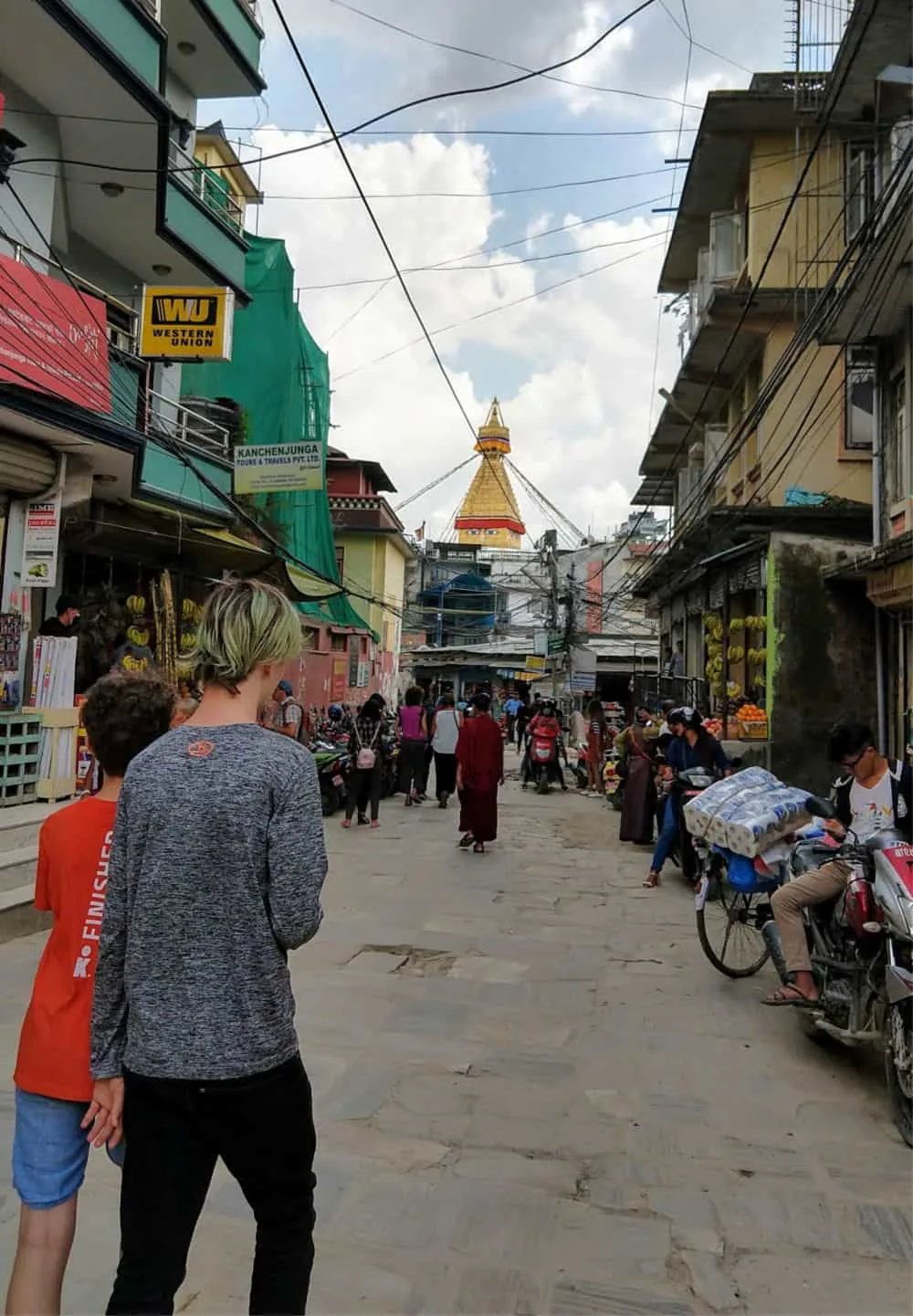 We took a family trip over to Boudhanath, just one of the Kathmandu Valley's UNESCO heritage sites.
A $6 taxi ride got us there, it's near the airport and the traffic and roads are terrible over there.
Last time we were here Boudhanath was still being repaired now it ( and the beautiful monastery to its rear) are looking great again.
Khatmandhu's other highlights(see our things to do in Kathmandu post here) ( Swayambunath, Pashupatinath etc) can wait for now, we're in no rush to return. I just wanted to check that the Boudhanath's stupa was restored, kind of like checking on an old friend.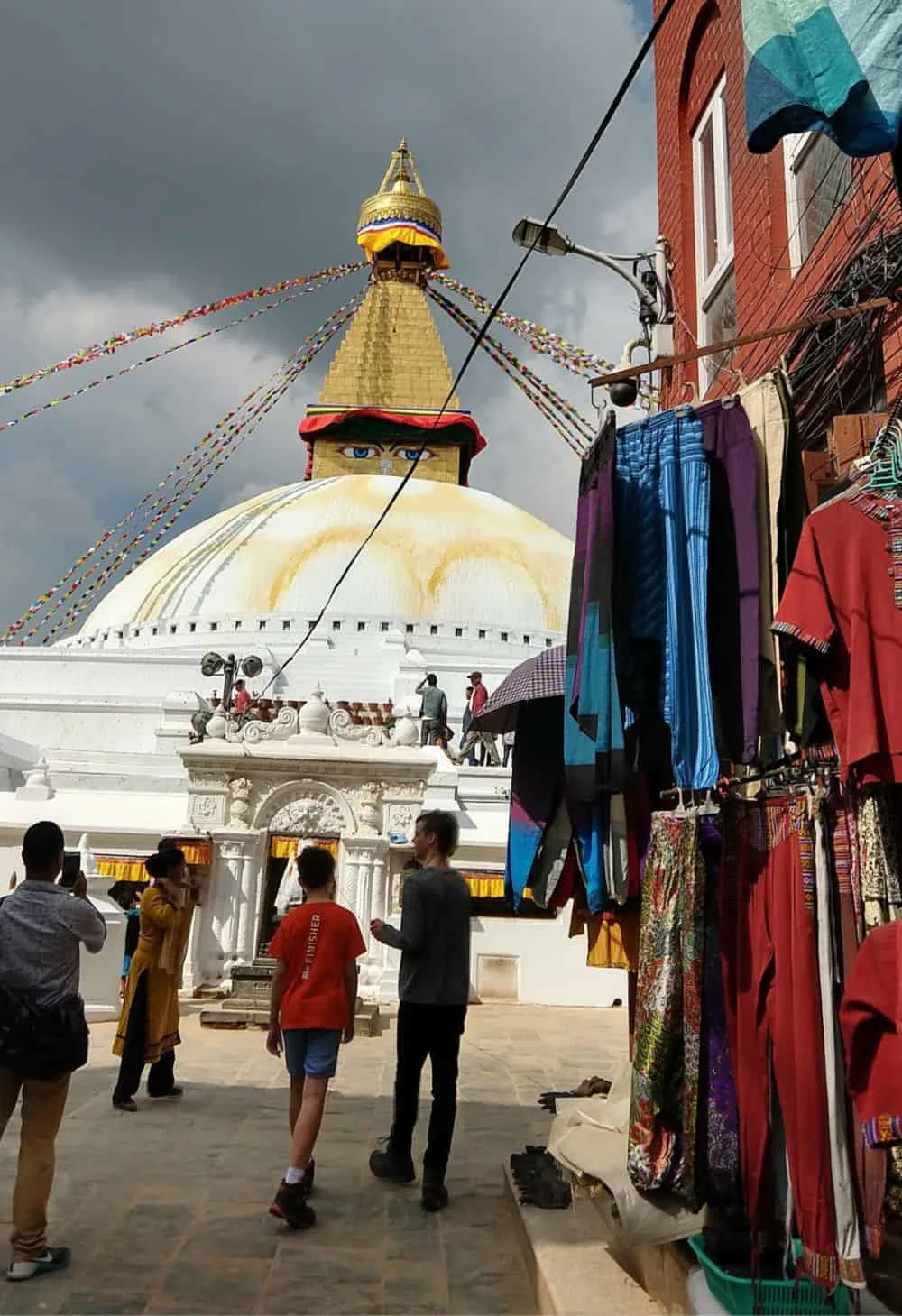 Arranging Onward Travel and Trekking from Kathmandu
This is super, super easy but you do have to watch out for sharks and shop around a bit.
There are a million people here wanting to be your travel agent or trekking guide and most are very short of customers. Be kind. We have Ram from Stupa Guest House, he's our friend and today has organised a car for us to Bhaktapur at well under the price we've seen elsewhere. It's good to have a fixer.
I won't talk too much about organising travel within Nepal here, just know that it is easy. However the experience of taking some of the buses, is certainly not easy.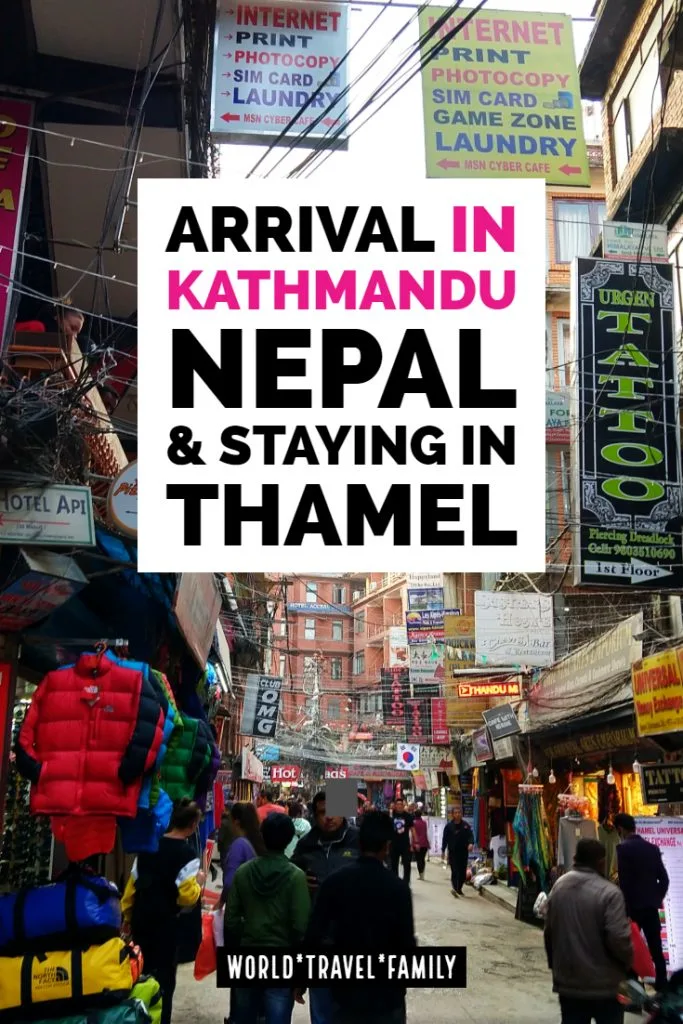 Now we will move on the Bhaktapur and Nagarkot, two places we've never been because 1 month visas plus 3 week treks don't give you much extra time. Then on to Everest and Tibet, from there, we don't know, but we want to see as much of Nepal as we possibly can in coming weeks and get it on the website. Stay with us!
If you'd like to hire a car during your stay, use this car rental comparison tool to find the best deal!

We also suggest you take a look at this company to get a quote for all kinds of the more tricky adventure or extended travel insurance.

Try Stayz / VRBO for an alternative way to find rentals on homes/apartments/condos in any country!