This post may contain affiliate links.
Nagarkot Nepal is a village on the rim of the Kathmandu Valley just under 30 Km from Kathmandu, 14 Km from Bhaktapur. It famously offers stunning Himalayan views and some nice shorter treks. You can get to Nagarkot from Kathmandu by road in under 2 hours, depending on traffic. It is possible to see Mount Everest from here and sunrise and sunset mountain watching is most popular although at certain times of the year the view will be better than others. Its population is just under 4,000 and there are plenty of hotels, some luxury, and small guest houses. Read about our experiences visiting Nagarkot, things to do in Nagarkot, accommodation options, and decide if you'd like to visit while you're in Nepal. You've reached our Nagarkot travel blog section, covering Nagarkot Nepal.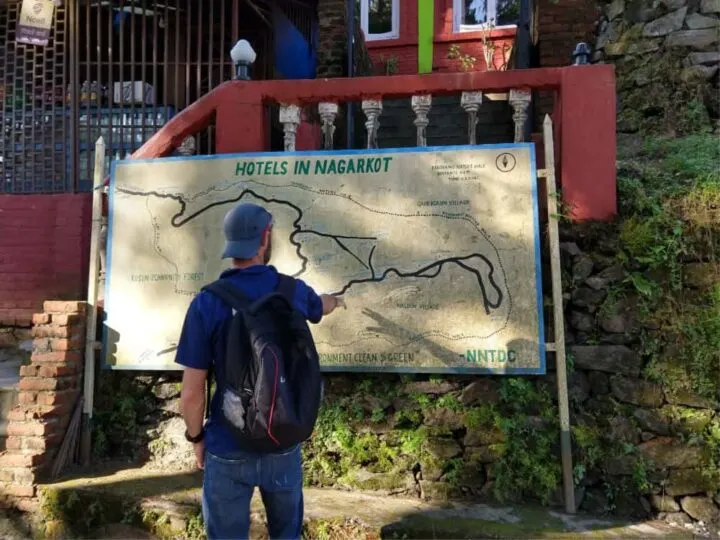 This post may contain affiliate links they cost you nothing extra if you choose to use them and we make a small commission.
Nagarkot is a funny little place. I would have loved to have seen it 20+ years ago, before mass tourism took hold. Was there anything there back then?
Today it seems that every building is a hotel. Precarious-looking multi-story guest houses cling to the mountain-sides promising spectacular Everest range views to eager visitors in Nagarkot Nepal.
Nagarkot Nepal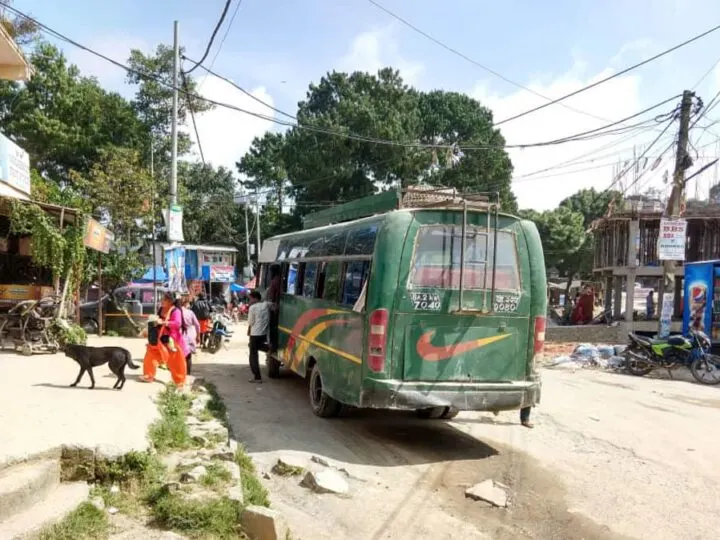 What else is there in Nagarkot? Other than view points and rooftops, there are a few wood and corrugated iron shacks, a handful of shops, military installations, a famous temple dedicated to Vishnu, and a selection of chickens, goats, puppies, schoolkids, and vehicles.
There are views, for sure, but you need to time your visit right or just be lucky.
There are also some nice walks, short hikes and day treks and a cheese factory. Day hikes include the Changunarayan hike.
Is it worth visiting Nagarkot? We think yes, it is.
We came to Nagarkot because we could. It was our third visit to Nepal and we'd never been so we went to see what it was like.
Of course, my secondary motive was to get Nagarkot on the blog, the more destinations in Nepal I can cover, the better, right?
I'm fully intent on making our site the most comprehensive in existence on travel in Nepal and places to visit in Nepal.
A few days at 2000m was a good idea for our Everest acclimatisation too, we could immediately feel the benefit in climbing steps with packs when we got back to Kathmandu.
We stopped a few days in Bhaktpur on the way and totally loved that ancient city, then travelled on to Nagarkot by local bus. That was quite the experience, see below.
The hotel we'd booked online (after much research) turned out to be smelly, dirty, dark, dank, and generally unpleasant.
It was near the Nagarkot main crossroads where the local bus stops. We checked in, dropped kids and packs and went for a walk. Just 100 m down the road we found a row of new sparkly guest houses and thought,
"Stuff this, let's stay somewhere nicer."
We took a look at the rooms at the spangly-looking Nagarkot Holiday Inn, not only were they cheaper ( $14 each for 2 double rooms) they were far more spacious and this hotel had a view. So we moved.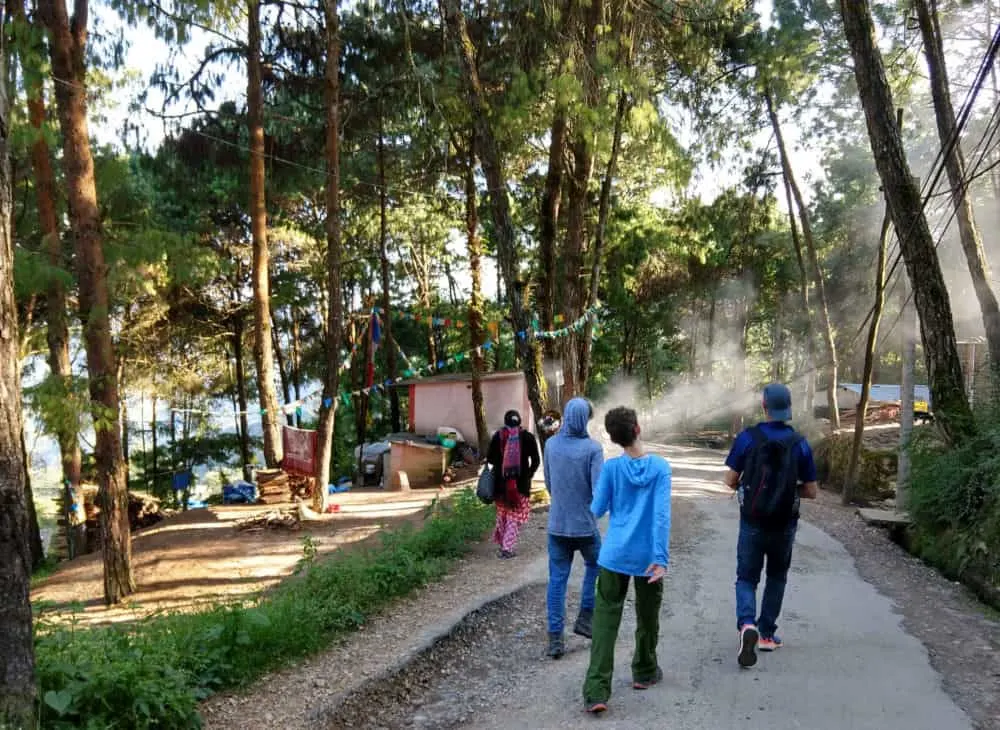 We headed back up to Smelly Skanky Bed and Breakfast and nicely explained that we were moving because their hotel wasn't quite what the internet had implied.
It had good reviews, I'd thought that many were fake (something we often find with TripAdvisor), but not all, now I'm convinced they were all equally dubious.
The owners were very nice about it, as was I, and we moved, to Nagarkot Holiday Inn (opens in new tab).
This Nagarkot hotel was nice, not perfect, but nice.
The owner was very friendly and helpful and the food (Indian, Nepali food and Western-style) was good and cheap enough. Give it a go.
That evening we walked the 4 km to the Nagarkot lookout but didn't quite make it.
We were just a hundred yards or so away when we stopped to take the photo below. Shortly after taking this I slipped in the mud falling heavily on my right buttock and took D's knees out in the process.
He fell on top of me giving my ear and head a good bashing.
We thought it best we go home at that point. It was cloudy anyway.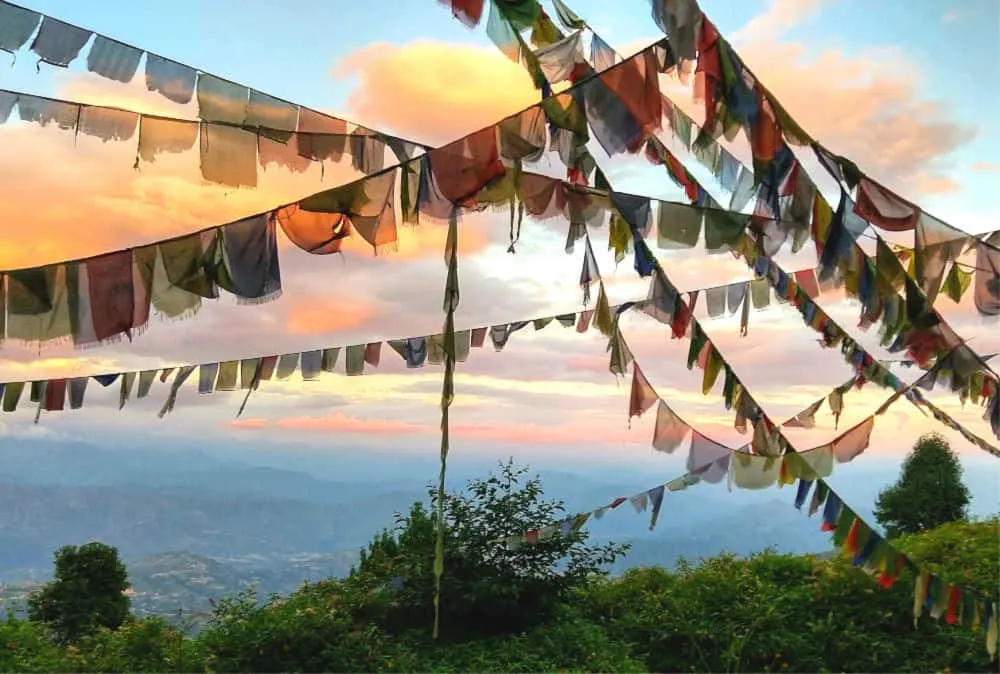 The next day dawn was spectacular but still no mountain views. Our very enthusiastic guest house owner took me up to his roof where we could just make out a few peaks of the Langtang range if I stood on a chair. At least I saw the snows briefly.
Unless I blow the picture up to grainy and pixellated you probably won't be able to see them, it was much better with the naked eye.
On a clear day, the views of the mountains must be spectacular.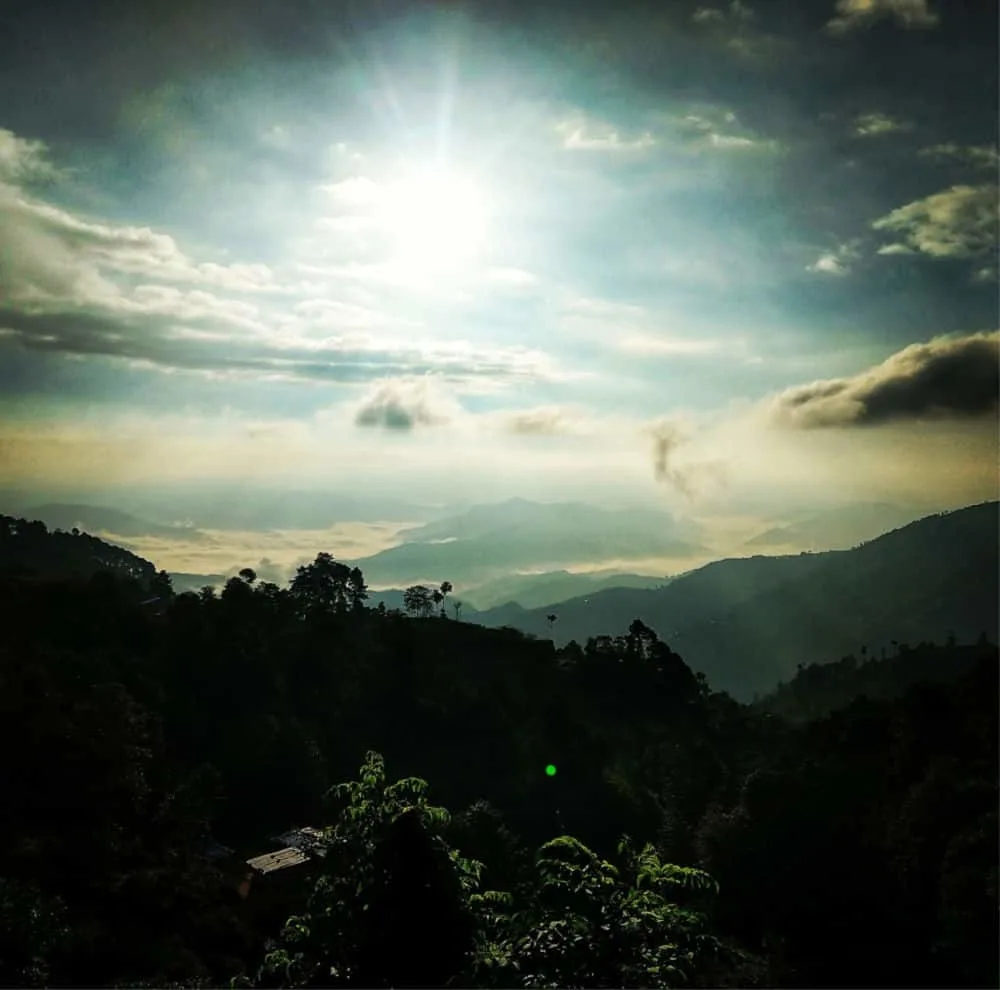 Chef and D both felt a bit rough so we skipped the long trek we'd planned for today in favour of a short 5Km "Nature Trail" through thick forest on narrow paths.
The kids whined and whinged but also laughed and joked. That is the nature of travel with kids.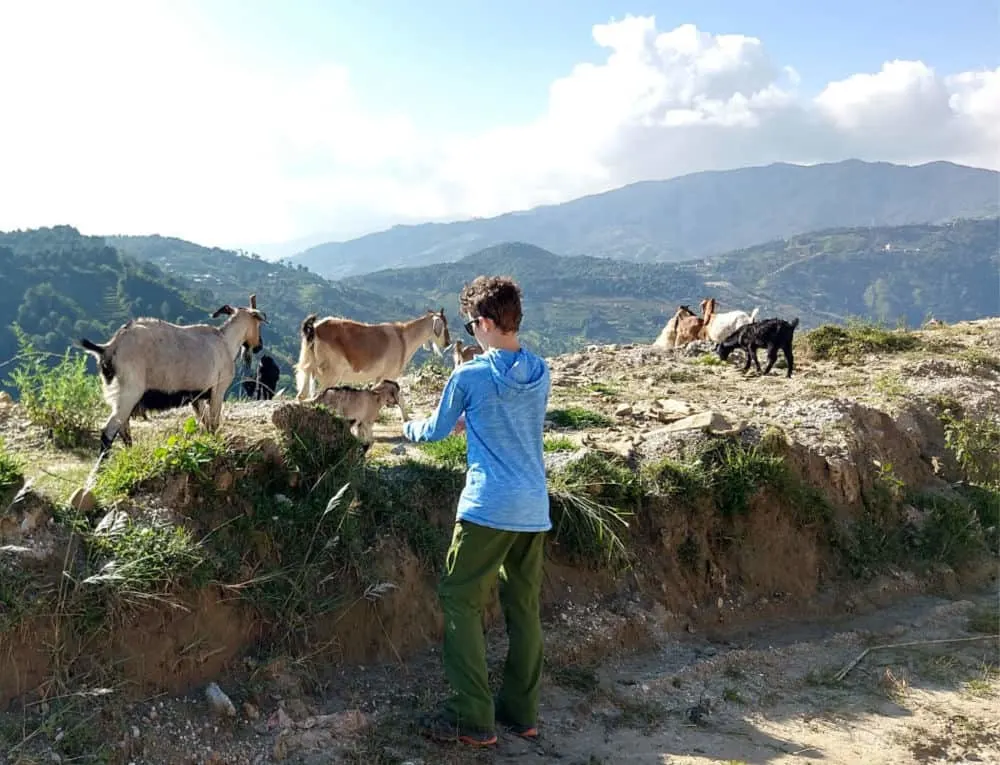 A quick solar-powered shower, yet another dal with rice, a Gorkha beer and bed, before hopping on the bus back to Kathmandu to get ready for our Everest Base Camp trek.
Can You See Everest From Nagarkot?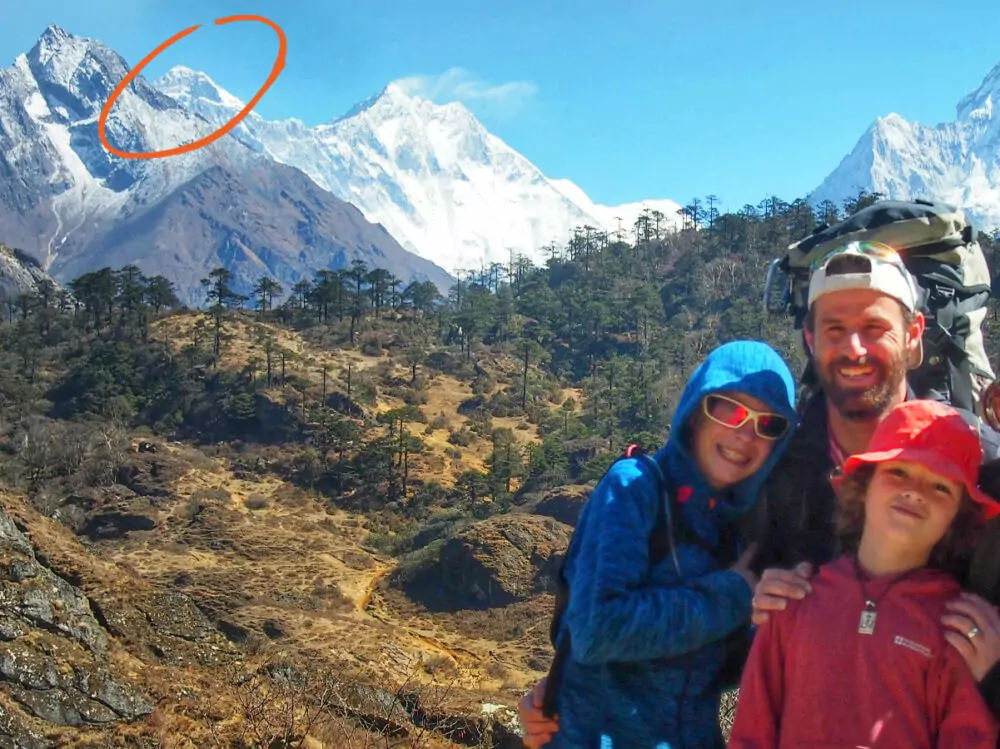 Yes you should be able to see Mount Everest on a clear day from Nagarkot. Mount Everest is 141 Km from Nagarkot and lies to the northeast of the town in the the Mahalangur Himal sub-range of the Himalayas. Nagarkot can offer views of Ganesh Himal, Langtang, Manaslu, and Everest Ranges if weather is good.
We could not make out any mountains clearly from Nagarkot on our visit due to cloud. Our hosts assured us that Everest should be visible if we stood on the roof on a chair.
Mountains You Can See From Nagarkot
On a clear day you can see multiple Himalayan ranges from Nagarkot. This means you can see multiple mountains over 8000m, these include Mt Everest (at 8850m), Cho Oyu (8188m), Mount Shishapangma, (8027m) Manaslu (at 8156m), Mount Annapurna (8010m), and Dhaulagiri (8176m), can be seen from Nagarkot. Thousands of smaller mountains can also be seen.
We couldn't see any because of cloud, but this was the information we were given at the time.
Book a Trip to Nagarkot from Kathmandu, With Views and Light Trekking
This is a great way to see the Himalayas, stretch your legs and see a little more of Nepal's countryside if your time is short. Take a look at this very affordable tour here, with guide, which includes the Nagarkot lookout and the Changunarayan hike.
Is Nagarkot Nepal Worth Visiting?
Yes, we thought Nagarkot was worth visiting. Particularly if you have plenty of time in Nepal and won't be trekking, but want to glimpse the mountains. It's also handy for acclimatisation.
Just remember that the road up to Nagarkot, once past Bhaktapur, is unbelievably bad. If you're going to brave the potholes, mud, switchbacks and alarming drops, you'd better make it worth your while by staying a bit longer.
Maybe they've repaired it now, who knows?
Taxis and private vehicles are pretty expensive (approximately 2000 Rs, $15 US). The bus to Nagarkot is 50-70 Rs each for the 2-part trip, depending on how much they want to charge you.
It is also possible to walk to Nagarkot from Kathmandu, readers have told me they've done this. The walk is only about 4 hours so you could walk to Nagarkot and back from Kathmandu in one day.
Nagarkot Admission Fee
There was a booth near the bus stop where they would like to charge you 300 Rs for the honour of visiting Nagarkot.
This kind of defies belief but at least it's not $15 each (15,000 Rs) as we paid in Bhaktapur. Bhaktapur is a historic (UNESCO listed ) city in much need of repair post-earthquake, so that charge is understandable (if steep).
300 Rs to enter Nagarkot, what exactly for? There is nothing historic here just guest houses.
Luckily, the guard was busy on his phone when we strolled past from the bus and we didn't even ask us to pay.
I've seen reports of an official government letter stating that such charges are illegal. It's only a couple of bucks, but if you feel strongly there is a letter in Nepali you can show that states this illegality.
I have no idea if this will work or not.
Where to Stay in Nagarkot?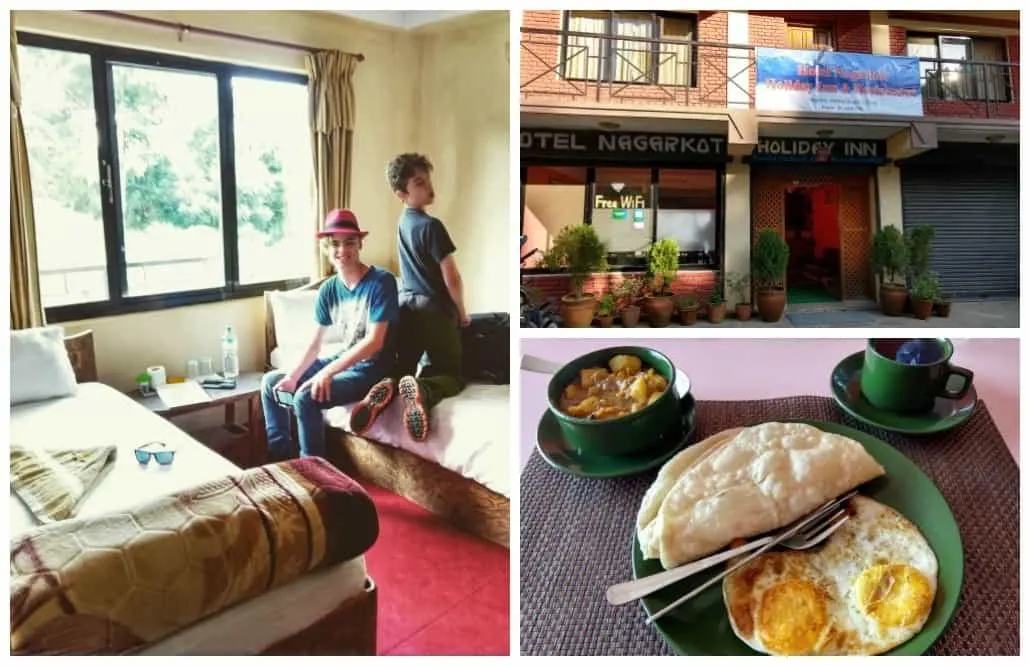 Nagarkot Holiday Inn
Nagarkot Holiday Inn. (opens in new tab) rooms from $12, decent wi-fi, doesn't include breakfast but a full breakfast will cost you around $2 and it's good. Not luxury, but does the job.
The Hotel at The End of The Universe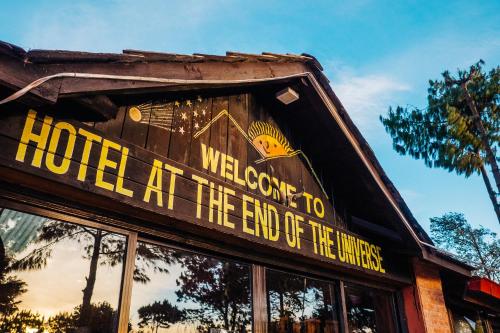 Worth a mention for its interesting name (taken from the Douglas Adams novel), The Hotel at The End of the Universe is a reasonably priced hotel/hostel with unique and interesting room styles. It offers guests Himalayan views and rooms with up to 5 beds for groups of friends or larger parties..The hotel is 5 km from the Look Out Tower. You really should take a look at this one, it's a unique, quirky and interesting place to stay.
Hotel Club Himalaya Nagarkot
This modern hotel is arguably the best in Nagarkot and comes with an expensive price tag. This hotel is certainly on the luxury end of places to stay in Nagarkot. Rooftop views here also give you one of the very best views of the Himalayas. This is a lovely hotel, with spa and indoor pool, perfect for a romantic stay. For families the hotel states that there is play equipment on site, plus rooms suited to family groups. You can take a look here. Expect to pay $200 to $700 per night depending on party size and room type.
Other Hotels in Nagarkot Nepal
The Himalayan Resort Nagarkot, and Himalayan Villa Nagarkot are both popular choices along with the Nagarkot Farmhouse Resort.
More Hotels in Nagarkot, see here (also opens in a new tab)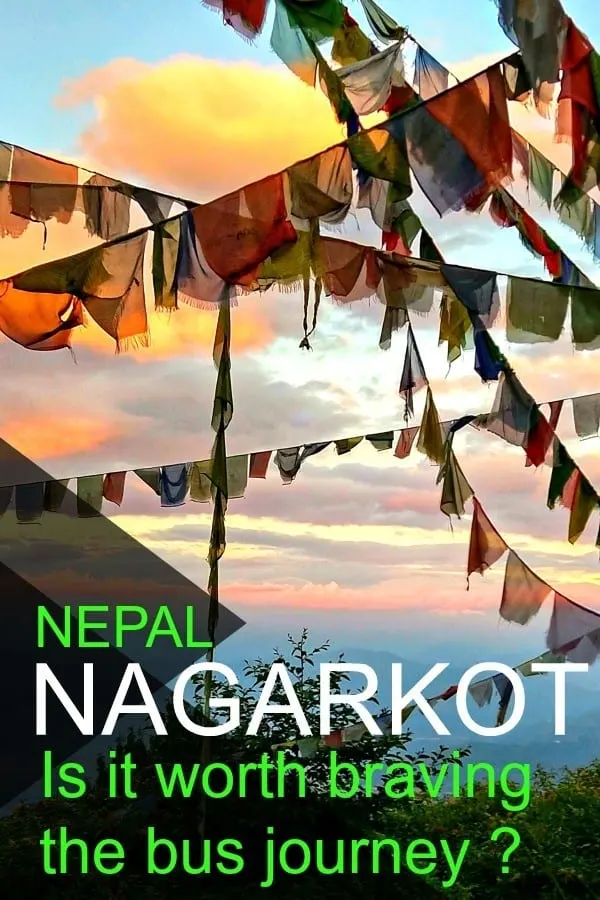 Best Times of Year to Visit Nagarkot for Himalayan Views
We were there in September, this is not a good time and we could only faintly make out a few snow-capped peaks through breaks in the clouds.
The monsoon is generally considered to be June to September, this in not a good time for views.
The best time to visit Nagarkot is from October to April. We experienced stunning clear skies in Nepal last October, November, and December, in the Everest region and from Pokhara.
In Kathmandu itself, pollution hinders this.
For more on weather in Nagarkot see here.
Tours to, Around, or Including Nagarkot Nepal
Yes, you can book various tours to Nagarkot, guided treks, and Nepal tours that include a visit to Nagarkot. This is a company we've used ourselves and trust internationally.
Nagarkot to Changunarayan Hike
This walk, from Nagarkot to Changunarayan is a short day hike or trek departing from Nagarkot. The trails pass through pine forests and Brahmin, Newari and Tamang villages before arrival in Changunarayan, home to a magnificent temple to Narayan.
How to Get to Nagarkot from Kathmandu
You can take the public bus, this will likely be your slowest option, or you can arrange for a taxi or private vehicle to Nagarkot (jeep or 4 by 4 ).
To arrange a car or jeep to Bhaktapur it's probably easiest to ask your hotel or travel agent in Kathmandu to make arrangements. Shop around for the best price and don't be afraid to negotiate.
Tours also exist from Kathmandu to Nagarkot. Be aware that you have to climb a very steep mountain and the roads are less than ideal. It's also possible to walk to Nagarkot from Kathmandu.
Nagarkot to Kathmandu Distance
Nagarkot is 21.5 km (13.4 miles) from Kathmandu on foot and 27.3 km (17 miles) from Kathmandu by road. You can walk to Nagarkot from Kathmandu in about 4.5 hours. The journey by road should take you just under an hour depending on traffic and road conditions, you need to take the Araniko Highway.
Kathmandu to Nagarkot Public Bus
The public bus to Nagarkot departs Kathmandu at Bhaktapur Bus Stop to the east of Ratna Park. This is the cheapest way of reaching Nagarkot, but will likely be the slowest way. A bus ticket to Bhaktapur should cost around 25 NRP. At Bhaktapur change buses and catch the bus to Nagarkot at Kamalbinayak Pokhari. This second bus journey should cost 45 NRP. So the total cost of getting the bus to Nagarkot from Kathmandu is 70 rupees or less than $1 US or Au. These prices may change and conversion rates do fluctuate of course.
Kathmandu to Nagarkot Tourist Bus
The tourist bus to Nagarkot is a more comfortable ride. This bus is direct and departs the tourist bus park in Kathmandu. The ticket cost is 400 rupees per person, about $3 Us, $4 Au. The tourist bus station in Kathmandu is on Swayambhu Marg on the northeastern corner of Thamel, the tourist district of Kathmandu. Departure times are normally every 10-15 minutes daily. However, this tourist bus has not been running in recent years. It may be running again now, you need to check locally. Most (maybe all) of the tourist buses from Kathmandu depart from this street, walk over and see which buses are running.
Nagarkot is closer to Bhaktapur than Kathmandu. Kathmandu being almost due west of Nagarkot, Bhaktapur is to the southeast. Bhaktapur is not on the way to Nagarkot from Kathmandu.
How to Get to Nagarkot from Bhaktapur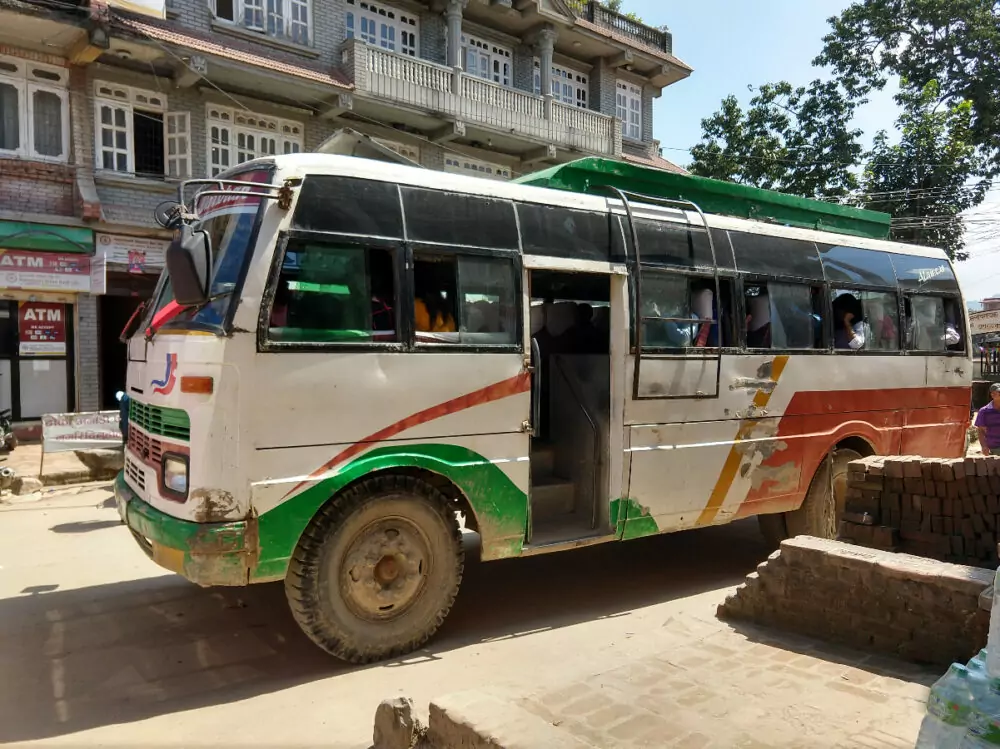 The same options exist as from Kathmandu. We opted to take the public bus from Bhaktapur to Nagarkot. Get there early and claim a seat, it will be a tight squeeze once the bus fills up. It's a bumpy ride on bad roads. At Bhaktapur catch the bus to Nagarkot at Kamalbinayak Pokhari. This bus ticket should cost 45 NRP, about $0.30 US. These prices may change and conversion rates do fluctuate of course.
Nagarkot to Bhaktapur Distance
Bhaktapur is 11.2 km (7 miles) southwest of Nagarkot, on foot. The road distance between Bhaktapur and Nagarkot is 12.4 km (7.7 miles) and this road is very steep and winding. The drive time is allegedly 32 minutes, it may be in a good 4×4 vehicle, the bus took much longer than this.
Hotels Near Nagarkot?
There are a lot of hotels in Nagarkot, not so many near Nagarkot, as it's in the mountains. If you'd like to stay near, not in Nagarkot, take a look at Bhaktapur or Kathmandu.
Both cities are much bigger than Nagarkot, with more historic architecture and more to see and do.
Nagarkot Elevation
Nagarkot Nepal is at an altitude of 2, 175 m. ( Kathmandu is 1,400 m).
You can certainly start your acclimatisation process by spending a few days hiking and staying in Nagarkot. It's not high enough to cause altitude sickness issues generally.
So all up, yes, Nagarkot for the win. I enjoyed the walking, the food, the views and this quirky little town. We hope you enjoyed our pics of Nagarkot. The bus ride up the Nagarkot hill is an experience. I'll post about that when we're back from Everest and indeed, fully finish this post. Just a couple more days before we fly to Lukla. Game on! We think our time in Nagarkot Nepal was a good thing to do to start the acclimatisation process and see another cool and interesting place in Nepal.
If you'd like to hire a car during your stay, use this car rental comparison tool to find the best deal!

We also suggest you take a look at this company to get a quote for all kinds of the more tricky adventure or extended travel insurance.

Try Stayz / VRBO for an alternative way to find rentals on homes/apartments/condos in any country!