This post may contain affiliate links.
Lukla airport clings to the mountainside high in the Himalayas of Nepal. Many trekkers heading to Everest Base Camp will begin and end their trek on the short sloping runway at Lukla. In this post, we share some facts, images, photos, and video of Lukla airport Nepal. We've spent days in Lukla waiting for flights and we've both walked to Lukla and flown to Lukla. It has to be one of my very favourite, and most terrifying, places in the world. A post about Lukla's Tenzing Hillary Airport, with photos and video.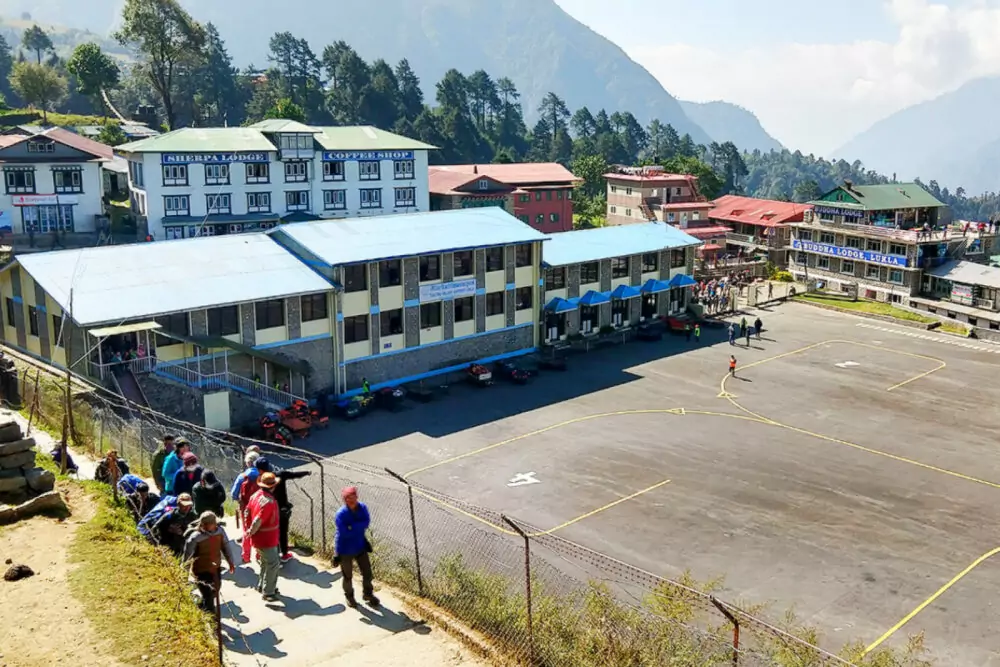 Before our first time in the Everest region I couldn't even imagine what Lukla airport would be like.
I'm not a good flier, I was half dreading this flight and half excited to be taking it.
I'd dreamed for years of these places in the Himalayas, Lukla, Namche, Tengboche, Khumjung (and its yeti skull) and Base Camp itself.
Now I know them all well and love most of them with a passion.
The only place I don't love up here is the Everest View Hotel, it's not pretty and gets very busy. You can see it if you take an acclimatisation trek from Namche or if you take the Khumjung route between Namche and Tengboche.
Alternatively, helicopters will take you here. But on with the post, information and facts about Lukla airport, with lots of photos and video of planes taking off and landing at Lukla airstrip.
There is another airstrip that's used by helicopters just beyond Namche, at Sayamgboche (SYH) near the Everest View Hotel. People fly up there by plane or helicopter just to get a view of Mount Everest.
It's much higher than Lukla at 3,748m making it risky for acclimatisation for passengers coming up from sea level.
This is actually the closest airstrip to Everest Base Camp. If Lukla is closed helicopters will sometimes take people here from Kathmandu.
There are no chartered passenger flights here at time of writing, the helicopter trip from Lukla is only about 10 minutes. The walk is usually 2 days.
This post may contain affiliate links from which we earn a commission if you choose to use them.
Lukla Airport Nepal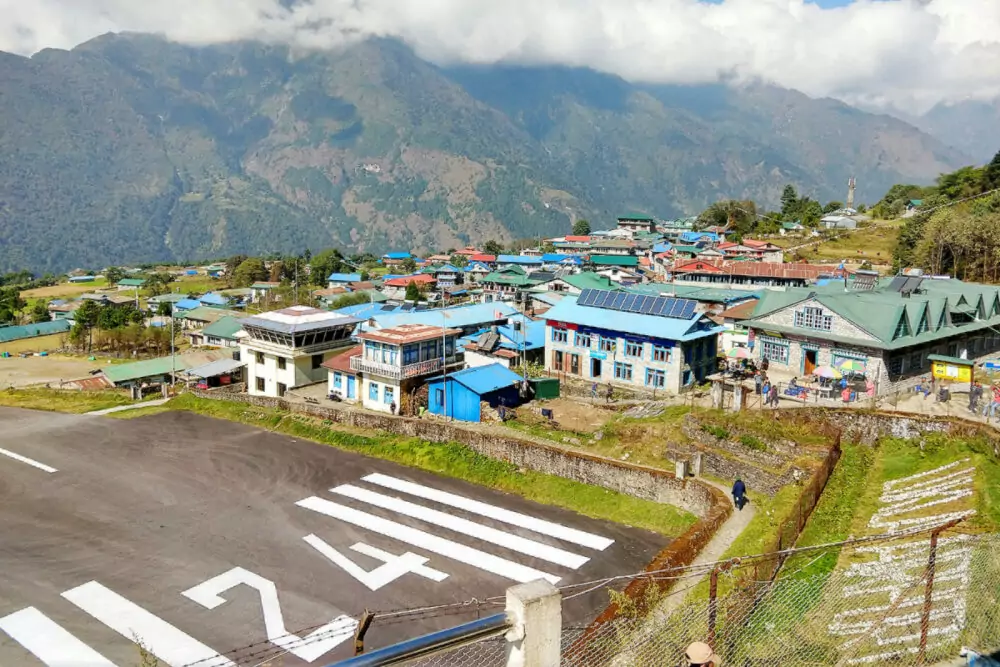 Where is Lukla Airport?
Lukla Airport is in Nepal, a country in South Asia. Its correct name is Tenzing Hillary Airport and it is the town of Lukla, at an elevation of 9,334 feet (2,845 m) altitude. Lukla is in Khumbu area of the Solukhumbu District in the Sagarmatha Zone of Northeastern Nepal. It is 138 km from Kathmandu, 62 Km walking distance to Everest, and not far from the Chinese border, which passes through Mt Everest. Lukla is in the Himalayan mountain range.
Can You See Mount Everest From Lukla Airport?
No, you can't see Mt Everest from Lukla airport nor from the town of Lukla.
You may be able to see Everest from your plane or helicopter to Lukla. The nearest Everest view point from Lukla is just before Namche Bazaar, which is normally the second day of your trek from Lukla to Everest Base Camp.
Lukla Airport Runway Length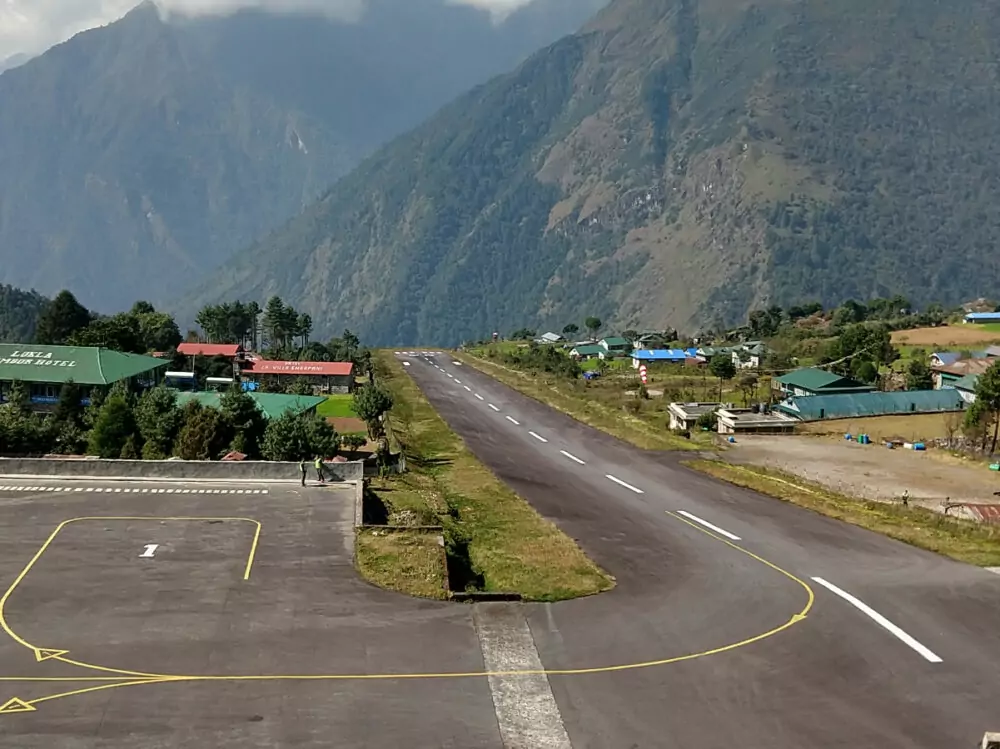 The runway at Lukla airport is only 527 m (1,729 feet) long. Planes are only able to land and take off on this runway because of its steep incline. (see photos below)
Facts About Lukla Airport
Some facts about Lukla Airport, Nepal.
Lukla Airport, Tenzing Hillary Airport, is where most Everest region treks start and end.
Lukla Airport is often described as the most dangerous airport in the world.
Lukla is in the Solukhumbu region of Nepal
The Lukla Airport buildings and runway are at an altitude of 2,860m.
The single, sloped runway of Lukla Airport started life in 1964, on the initiative of Sir Edmund Hillary.
The Lukla runway is just 527m long (1, 729 feet) by 30m wide (98 feet)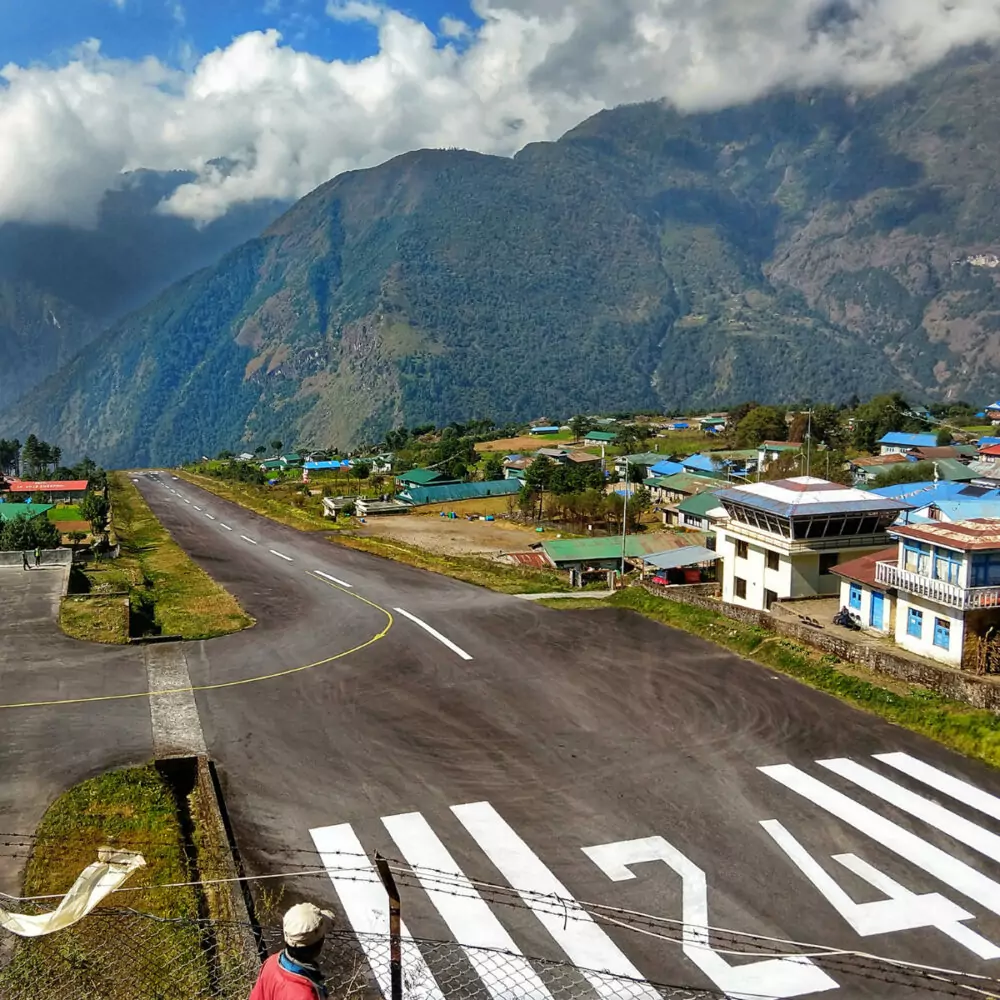 The runway slopes at a gradient of 11.7%. The gradient helps slow landing planes.
The airport code for Lukla's Tenzing Hillary airport is LUA
Lukla is a domestic airport.
Only very experienced pilots are allowed to land, due to the difficulties of successfully landing.
The short takeoff and landing is facilitated by the slope of the short runway.
Several airlines fly in and out of Lukla, including, Yeti, Tara, Summit, and Sita.
The approximate cost of a flight from Kathmandu to Luka is $220, but this varies.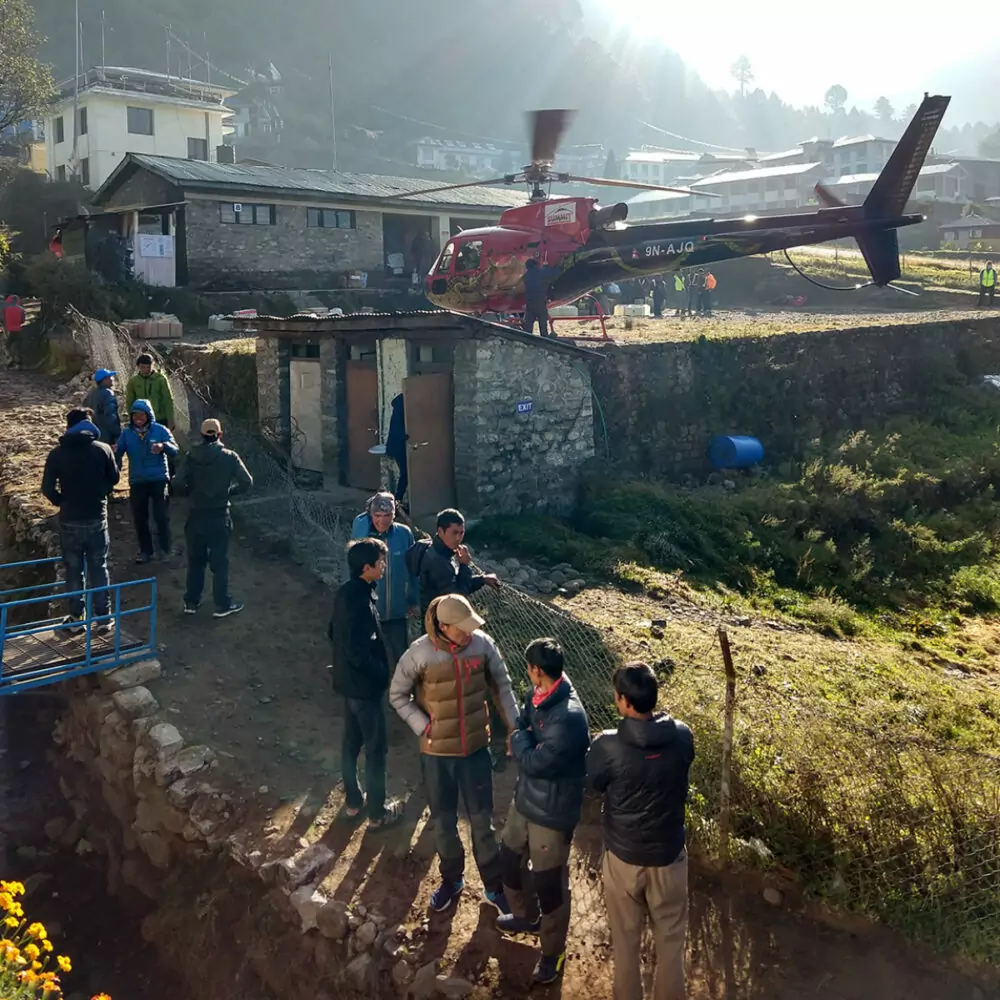 You can also take a helicopter to Lukla airport.
There are terminal buildings at Lukla airport and they're larger than you may expect.
Inside the terminal buildings there are rest rooms and places to buy snacks. You can buy tickets here too. Baggage handling is basic.
Lukla airport has hotels on either side.
Once you arrive in Lukla, there are no roads, all traffic is on foot or by an animal.
There are options in getting from Kathmandu to Lukla. without flying. You can walk to Lukla via various routes and take other planes and vehicles at least some of the way. Alternatively you can fly to Phaplu and walk from there to Lukla, which we have done. There is also a bus to Phaplu from Kathmandu, we don't recommend it.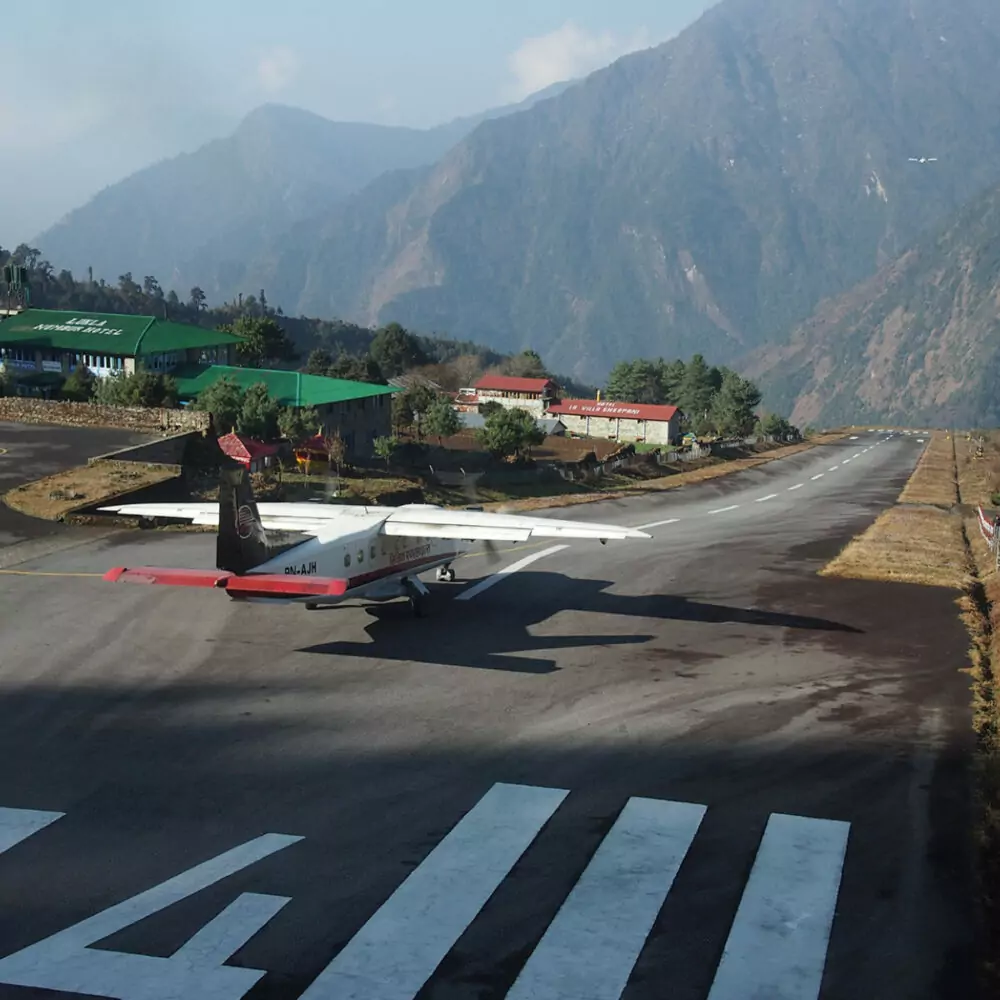 Bad weather and cloud close Lukla airport often.
Lukla is the gateway to Nepal's Solukhumbu district and Sagarmatha National Park.
Flying to Lukla, is by far the easiest, quickest and possibly cheapest way to go when you take into account the extra money you'll spend while trekking.
The Everest National Park doesn't begin at Lukla. You will enter the park on your trek and need a permit to do so.
Once the pilot commits to landing at Lukla Airport there's no space to maneuver so if anything goes wrong he has no chance of turning.
Lukla is Nepal's busiest domestic airport.
There are no navigational aids or night flying facilities at Lukla.
Lukla is normally pronounced Lookla. So says my Indian raised grandmother.
At the far end of the runway there's a drop of around 2,000 feet to the village , fields, and valley below.
On 14/4/19 there was a plane crash at Lukla airport. A plane taking off swerved to the right into the helicopter area. 3 people were killed, the pilot and 2 policemen standing in the helicopter area. It was the same plane we flew out on just months ago. A Summit flight, it may have been the same pilot who flew us safely home just weeks before, a young pilot with very shiny shoes, I remember him. We'd previouslt been staying in a hotel directly behind that helicopter landing zone and watched the constant stream of flights in and out and the huge volume of aviation fuel being used there in large plastic containers. Things could have been so much worse.
On arrival at Lukla it's normal to grab some breakfast of Lunkch in Lukla before starting the walk to Phakding. On this part of the trek you'll be going down in altitude, so if you have a headache it;s quite likely to go as you descend. There are plenty of hotels and restaurants serving good Nepali food, grab a dal bhat!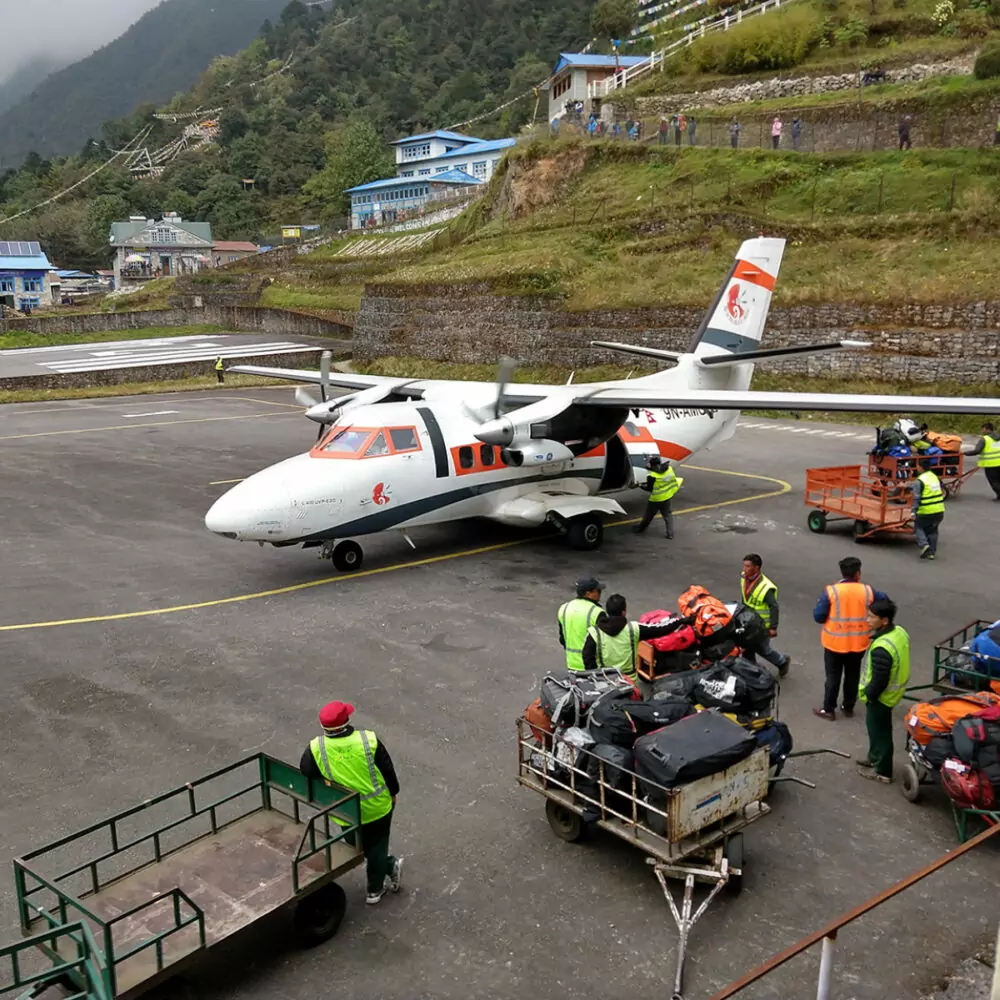 Kathmandu's internal airport usually opens at 6am, flight to Lukla are mostly scheduled early, from about 7am. They fly early to catch the clear skies necessary for the flight into Lukla airport.
Most of the local planes only seat 14 passengers.
Our bags were weighed, surprisingly, we were not.
Our large backpack (17Kg) was taken away from us and checked in to be placed at the back of the plane, our smaller one, (7Kg), I kept.
After minimal security and a light pat-down passengers for Lukla make their way to the internal departure lounge at Kathmandu. This holding area can get packed in Lukla flights are sdelayed or cancelled.
Delays are common, even normal on the mountain flights to Lukla. Planes can't leave until the runways, both at Kathmandu and Lukla, are somewhat visible through the clouds.
The flight from Kathmandu to Lukla airport is only 30 minutes duration from runway to runway and pilots guide the planes visually, there are mountains to dodge and that short airstrip to spot.
When flying into Lukla, sit on the left side of the plane for best views of the Himalayas, flying out, sit on the right. Seats aren't usually allocated by ticket.
There are cabin crew on flights to Lukla, usually one stewardess.
Passengers flying into Lukla are usually given a sweet and cotton wool for their ears on these Lukla planes. Taking your own earplugs is better. Carrying noise-cancelling headphones would be a lot of extra weight on your trek.
You can buy air tickets to Lukla yourself or via an agency. The agents will generally charge you extra and may completely rip you off.
You can buy an open-ended return ticket to and from Lukla, but if flights are cancelled an open-ended ticket will put you at the back of the queue and you could be waiting in Lukla days. Instead you can buy your return ticket when you arrive in Lukla town itself.
Kids flight tickets are less expensive than adult tickets usually on Nepal airlines.
It's possible to take a scenic flight to see Lukla, the Himalayas. Details on a 1-hour scenic flight from Kathmandu. are here. You can even take a helicopter tour to Everest Base Camp. Tours of Kathmandu and Nepal also available, from half day, to multiple days. See the many activities and tours you can book from Kathmandu available here. Booking these online will save you the hassle of dealing with the touts and agents in Kathmandu.
More Information on Lukla, Trekking, Everest, and Nepal
We have more content relating to Lukla, trekking, The Everest trek, and more amazing places to visit in Nepal. We also include videos on other towns on the Everest Base Camp trek. Just head to our Nepal section.
Thanks for visiting our site and being interested in our facts about Lukla Airport, often called, but not, the most dangerous airport in the world. If you'd like to read more about the flight to Lukla and other ways to get to Lukla, we have all that in other posts. We have a lot of content about travel in Nepal and trekking in the Everest region on our website. All of our Nepal Blog Posts in our archive. If you're looking for trekking travel insurance, try here. After arriving in Lukla you will walk for two days (some do it in one) to Namche Bazaar, another wonderful place to experience. You can read about the difficulties of the Everest Base Camp trek here. It can't be that bad, we took our kids, twice! Lukla airport is the starting point of many treks, but if you have time, it's possible to walk to Lukla.
If you'd like to hire a car during your stay, use this car rental comparison tool to find the best deal!

We also suggest you take a look at this company to get a quote for all kinds of the more tricky adventure or extended travel insurance.

Try Stayz / VRBO for an alternative way to find rentals on homes/apartments/condos in any country!