This post may contain affiliate links.
Trekking in Nepal is the ultimate trekking experience but there's more to trekking in Nepal than the famous Everest Base Camp (EBC) and Annapurna Circuit treks. This post tells you about the many hikes you can take in Nepal, helps you choose the right trek for you, and explains how to organise a trek. We also show the reality of what it's like on these treks to help you decide if it's really for you.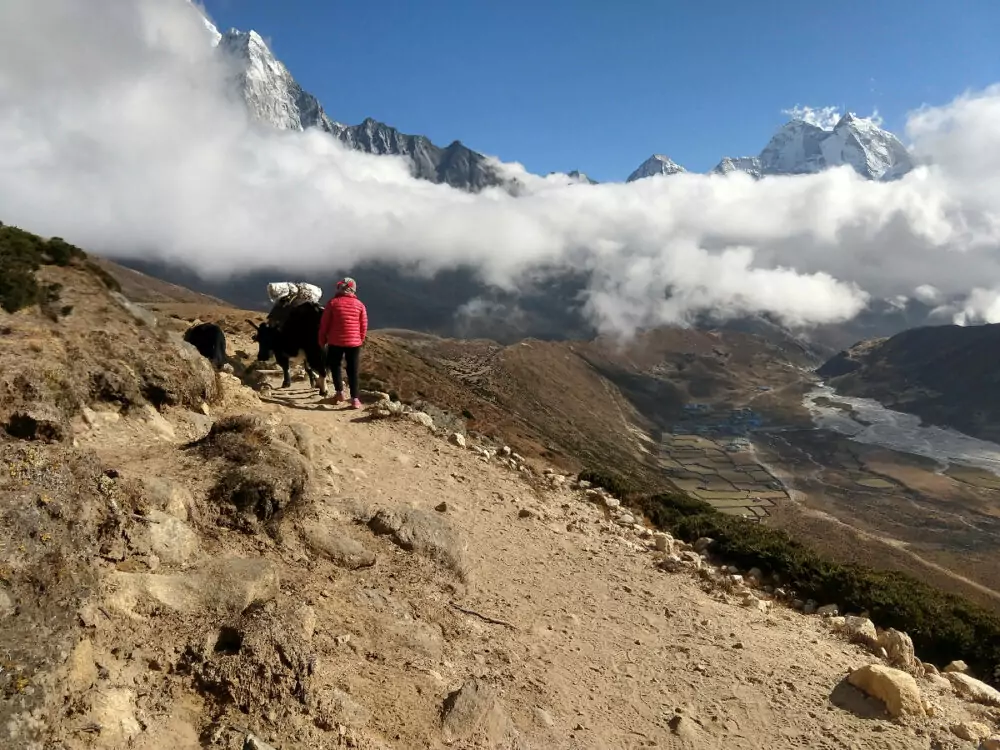 We aim to cover everything you need to know about trekking in Nepal in this post, to help you decide if you'd like to go trekking in Nepal, and which trek you would prefer.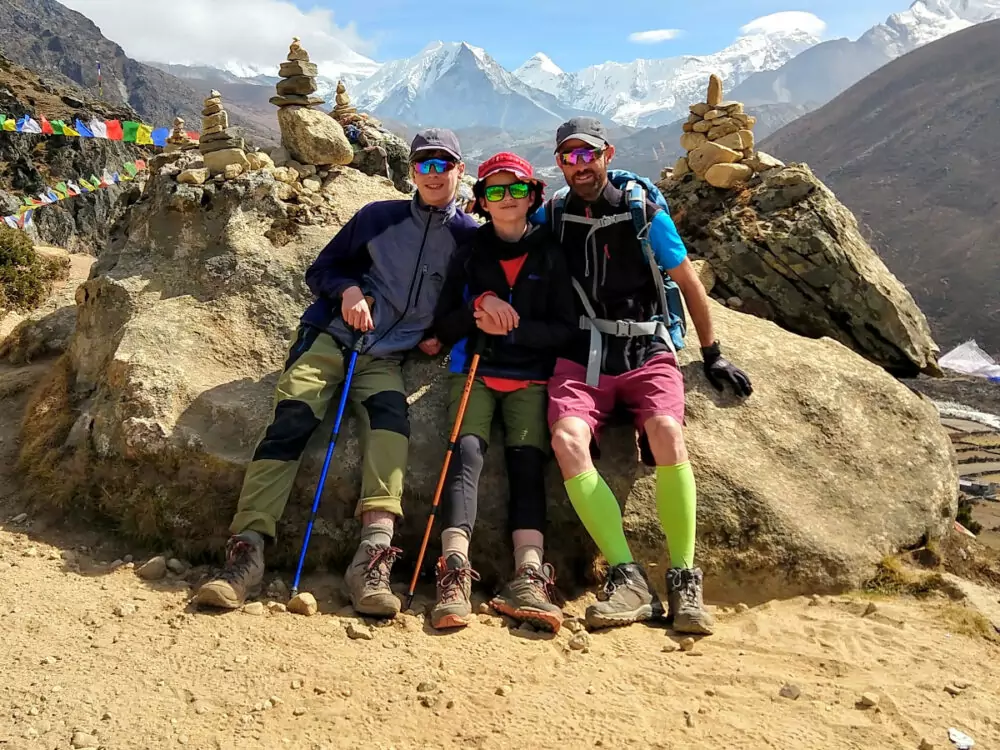 We'll also talk about the costs of taking on a trek in Nepal, it's not a cheap holiday. Nepal is a cheap country to visit, but in the mountains, there are a lot of fees and expenses. You need to know about all these extra costs.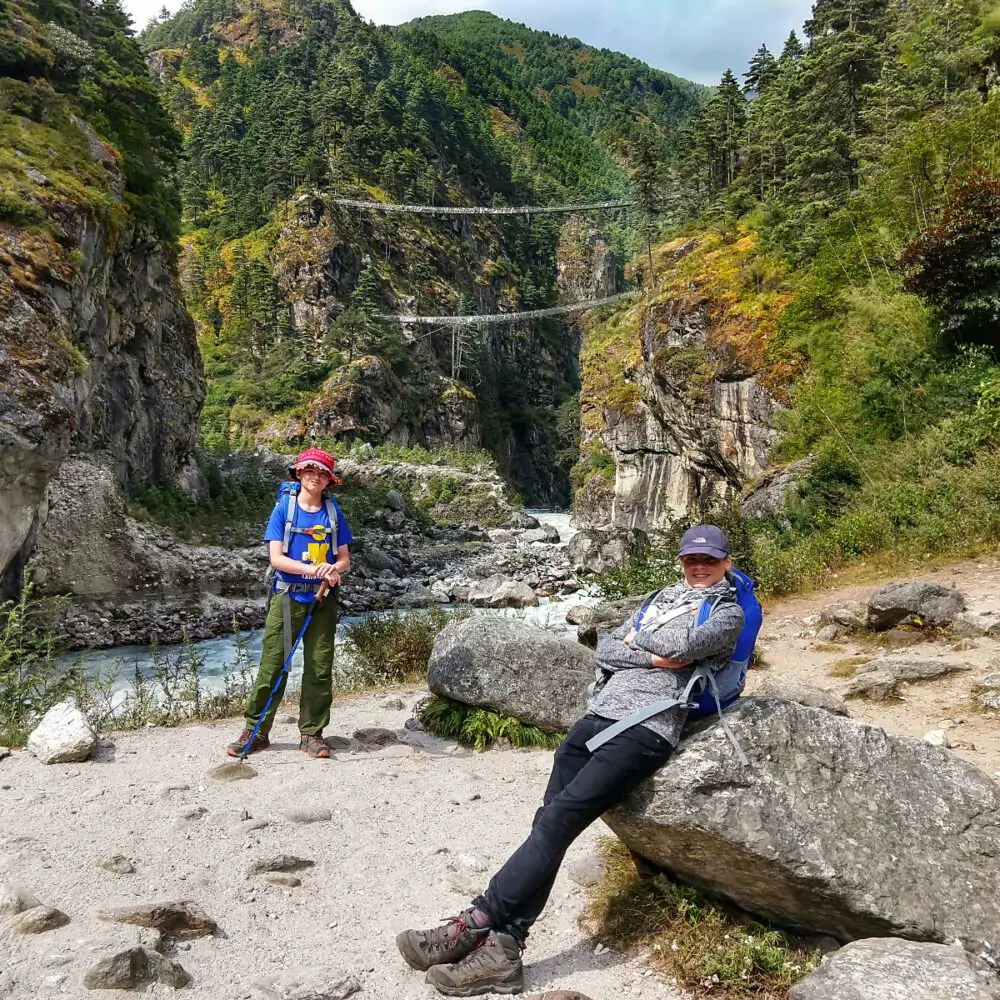 If you love high mountains, beautiful scenery, amazing cultures, and a physically demanding challenge, then there's no better place for trekking than Nepal.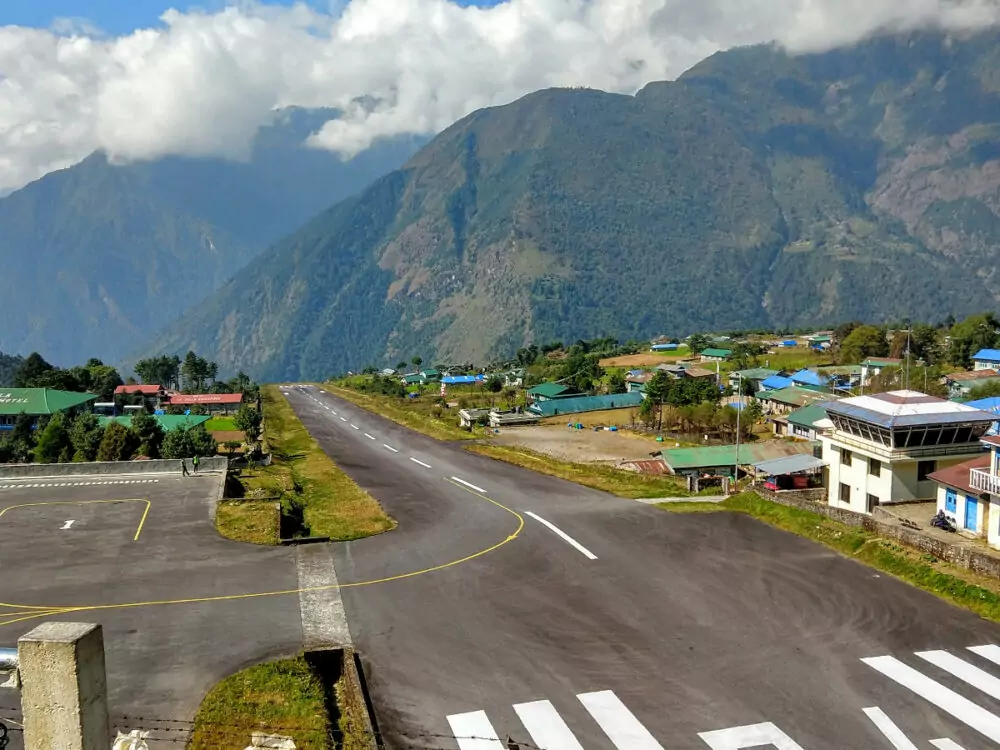 Home to the Himalayas and some of the world's mightiest mountains, Nepal attracts over 176,000 hikers a year according to government statistics. But which trek to choose? Which is the best trekking route for you and do you need a guide, porters, and a group or not?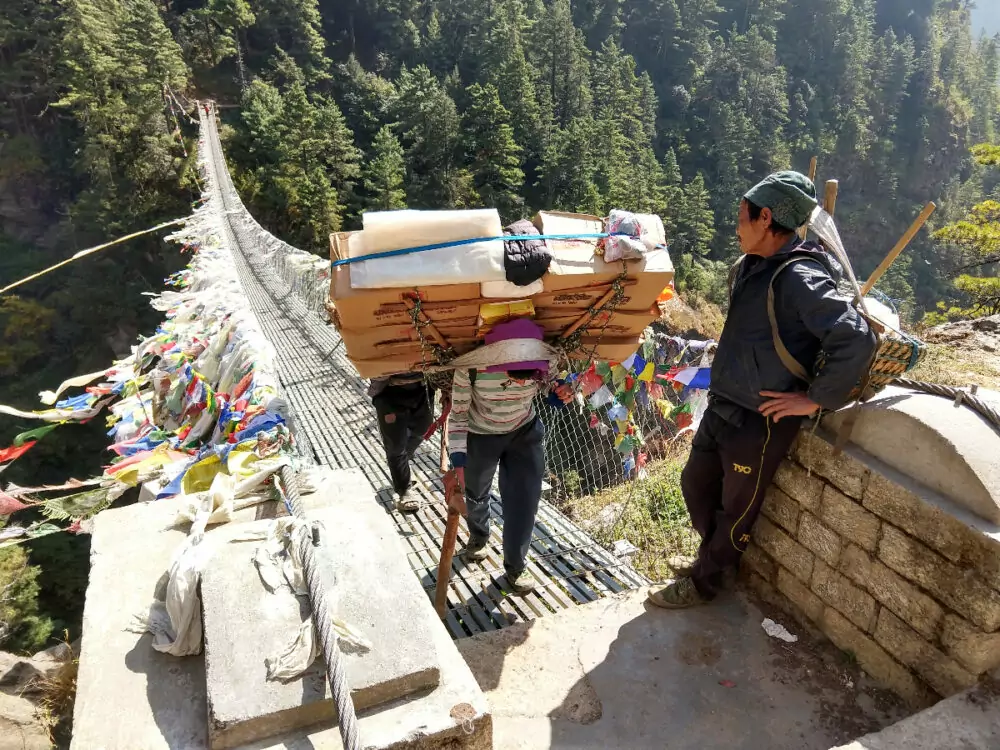 Here's a guide to the country's top treks and how best to tackle them.
What Is A Trek in Nepal?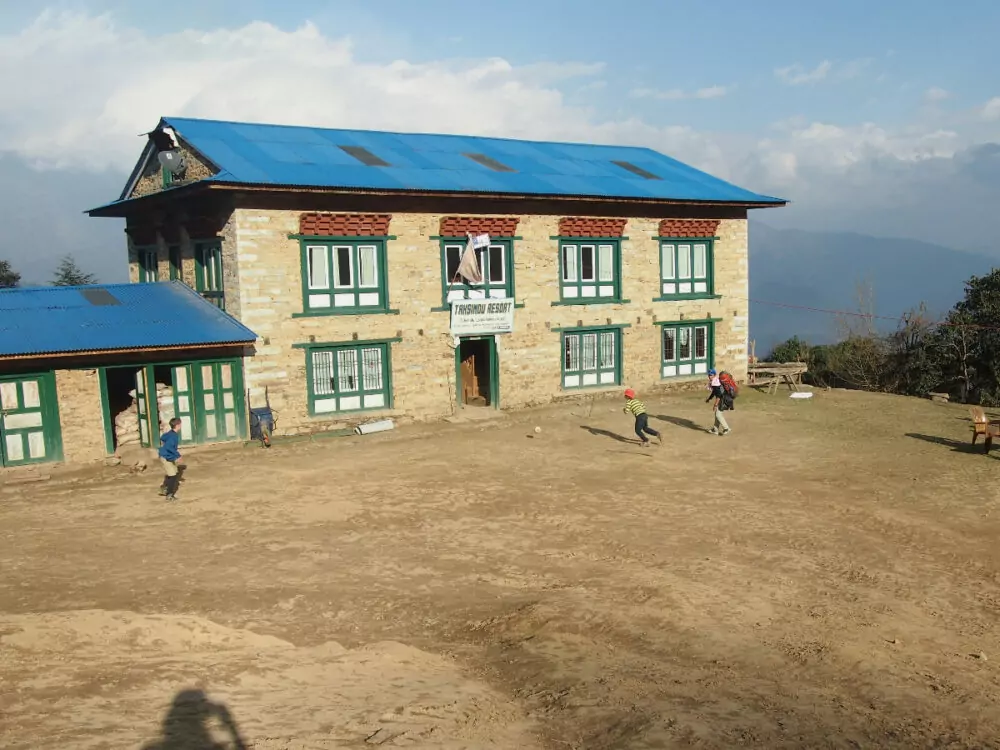 Treks in Nepal are multi-day hikes or walks, usually in the mountains. Trekkers carry their gear and clothing, or they can pay porters a daily fee to do this for them. Trekking in this region normally does not involve camping, trekkers stay in lodges or tea houses along the way. The trails are normally easy to follow and you don't really need a map or guide.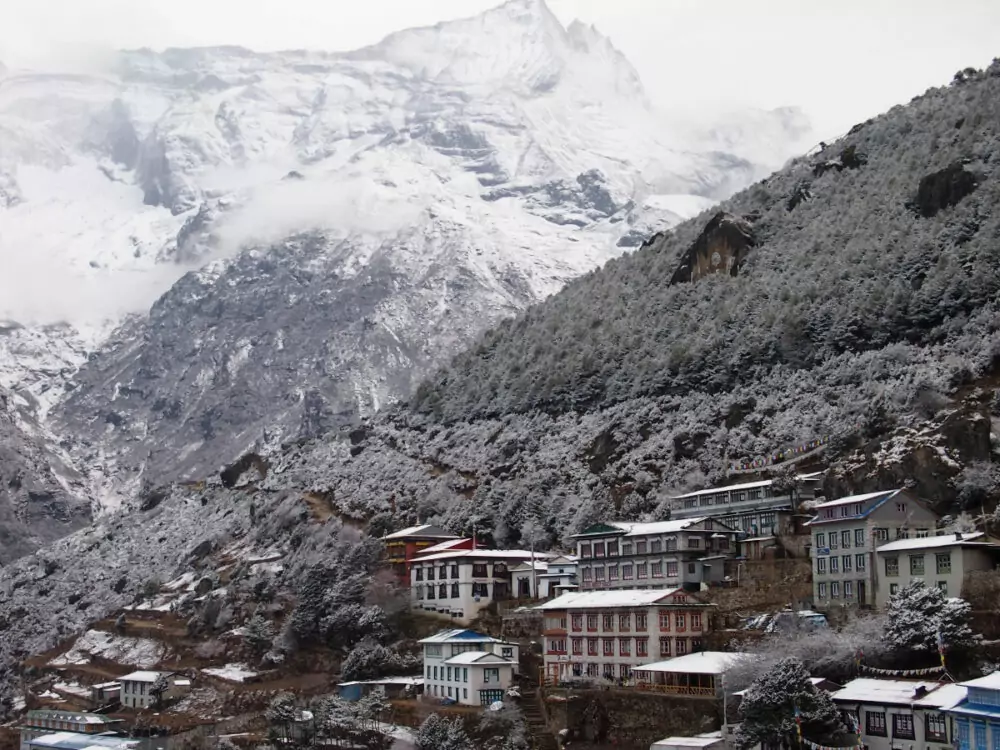 Unfortunately, the Nepali government are bringing in more and more legislation to make guides compulsory. Obviously, hiring a guide by the day is expensive.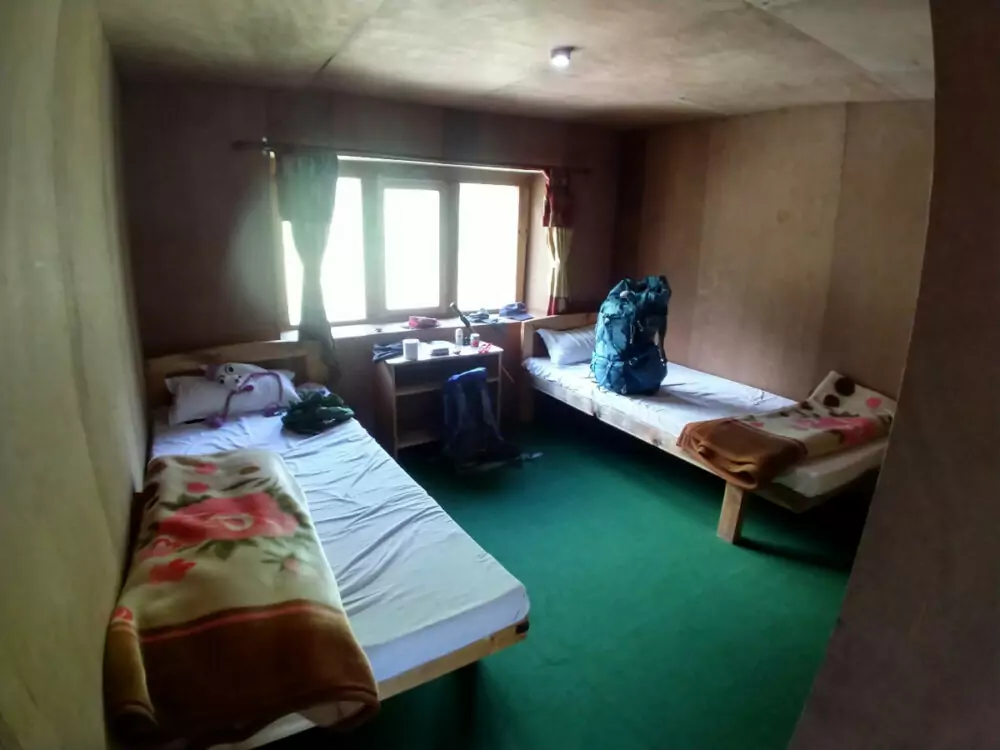 If you have any questions at all, please use the comments section at the end of the post, I'm happy to answer any questions you may have on trekking in the Himalayas in Nepal.
Could you save this to Pinterest please?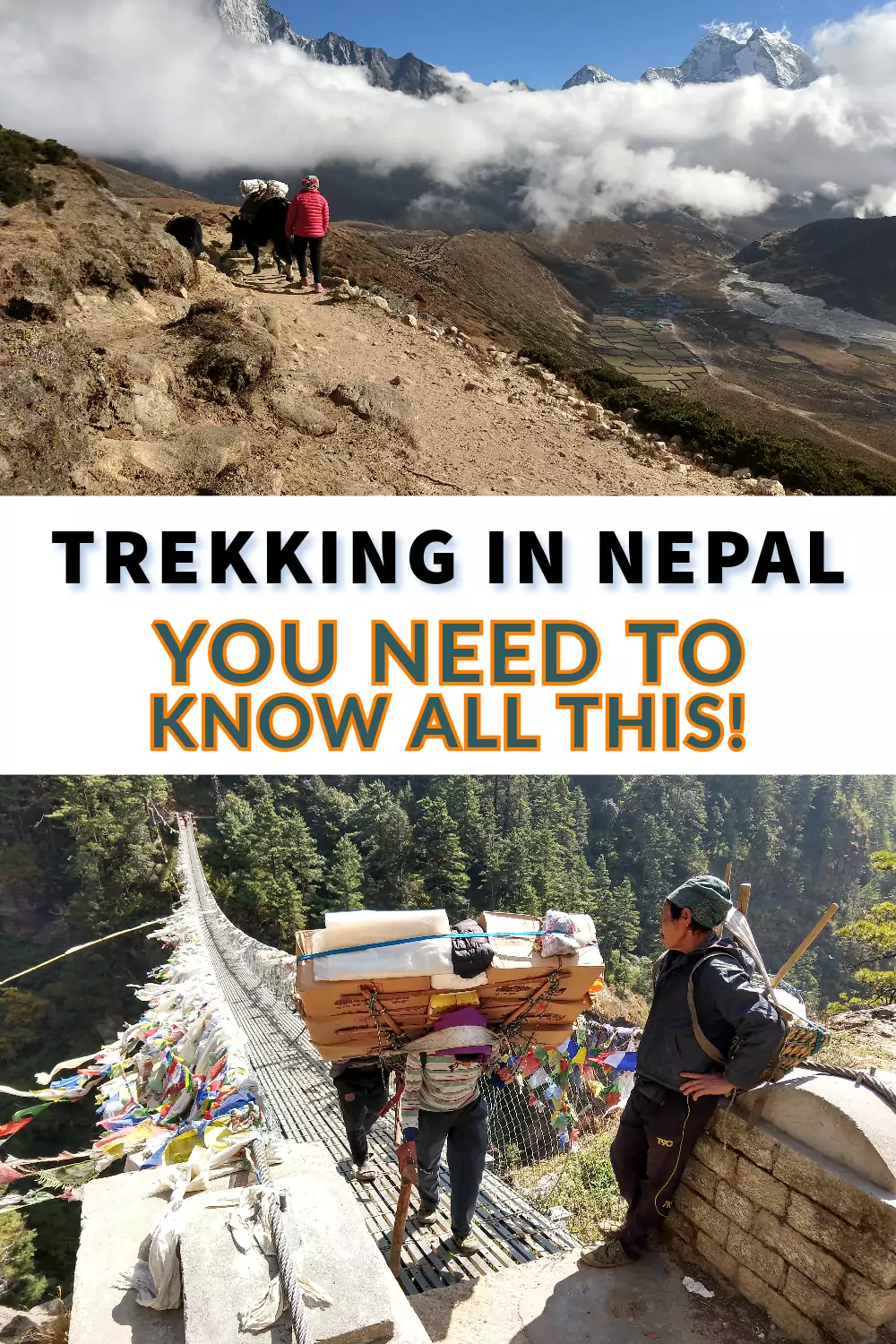 Can You Visit Other Places in Nepal And Go Trekking
Yes, treks are of various duration, some are short, others take 3 weeks. If you have the time you absolutely should see more of Nepal, it's a really good country to visit, one of my personal favourites.
You should allow a few days in Kathmandu, there is a lot to see there. You could then visit Pokhara, the bus journey takes a full day, or you could fly.
Nepal has rhino and tigers too, to take a wildlife safari you could visit Chitwan National Park.
We have a lot of information on travel in Nepal on this site, if you look for links or related content at the bottom of the page, you'll find what you need. Or simply click on our "Nepal" category link to browse all Nepal content, that's at the end of the page.
Trekking in Nepal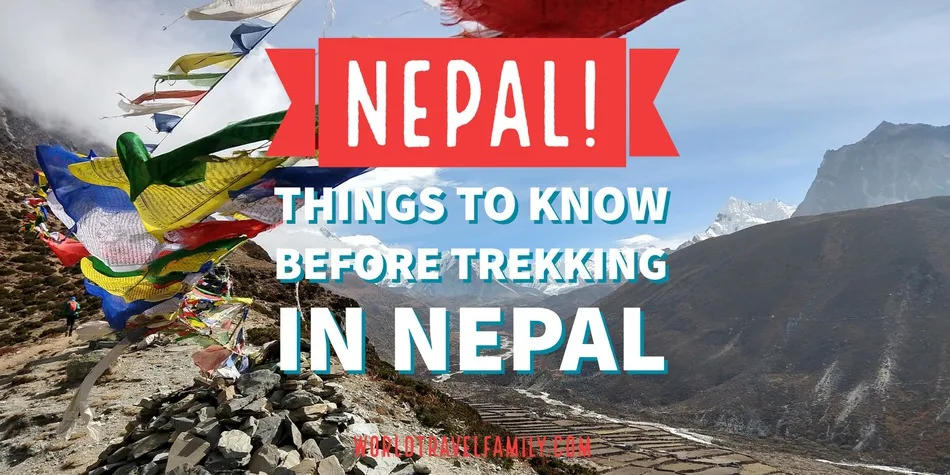 From permits and insurance to gear and guides, here are a few practicalities to consider before you start your trekking adventure in Nepal.
All information here is intended as a guide only, please double-check all information for yourself before you commit.
We include personal experiences and try to keep this page as up-to-date as possible, but things change often in Nepal, particularly prices. We last checked these prices on the ground in 2019.
Trekking in Nepal can be expensive, even if you trek as cheaply as possible costs add up.
If you take a guide and porter or go with a group, your Nepal trek will be very expensive once you factor in permits and gear.
Trekking will add significantly to your gap year costs. You'll find various tips on keeping costs down on our site.
When's the Best Time to Go Trekking in Nepal?
You should be prepared for unpredictable weather in Nepal all year round and it's best to avoid the harsh winter and summer monsoon seasons.
The most popular times for trekking in Nepal are late September to November and March to May. This varies depending on which route you choose, so double-check the best window for your specific trek.
We have trekked in winter, in January and February on the Annapurna circuit where we experienced a couple of blizzards and chest-deep snow on the Thorong La.
Trekking in peak season, October, the EBC route was very busy, but conditions were great. We never saw snow on the trails, just a light frost one morning.
The clear blue skies made for the best views and photos throughout Nepal at that time of year. There is always a reason that peak season is peak season.
Altitude Sickness and Trekking in Nepal
You'll most likely be trekking in Nepal at high altitude, which can lead to Acute Mountain Sickness (AMS). In the worst cases, this can develop into life-threatening High Altitude Cerebral Edema (HACE) or High Altitude Pulmonary Edema (HAPE).
Most trekkers experience at least mild headaches, fatigue and shortness of breath but if symptoms worsen, always descend.
There are some key precautions you can take to prevent AMS, including staying well hydrated, incorporating acclimatisation days into your schedule and even taking Diamox.
We have a full post on altitude and acclimatisation here along with this post on fitness for trekking in Nepal. If you want to read about our issues with altitude and Diamox in Tibet – just for fun, we have that too.
Do you Need a Guide, Porter, or Group to Trek in Nepal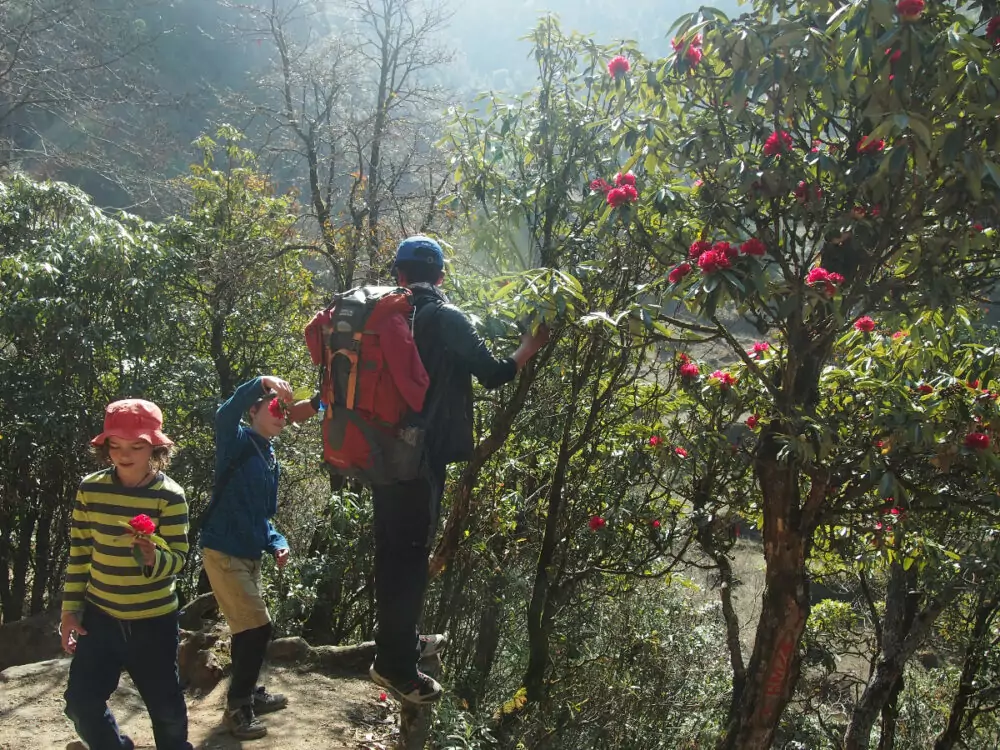 It was possible to trek many of Nepal's most popular trails such as the EBC and the Annapurna Circuit without a guide or porter, we have done this ourselves. We feel strongly that a guide is not necessary, but the Nepali government have other ideas.
However, in other places such as Mustang and Kanchenjunga, you'll need a Restricted Area Permit, which requires a Nepali guide.
Many trekkers choose to hire a guide or porter regardless, or go with an expensive tour company that'll arrange everything from permits to transport, porters, accommodation, and food.
Independent guides or porters cost around $20-25 a day and can be found in advance or when you arrive in Nepal, just make sure they're licensed and insured.
Our experience with guides and porters is mixed. Our first time trekking in Nepal, the Annapurna circuit in winter, we went solo. It was fine.
The second time, a shorter trek in the Everest region, we took a guide. This was purely to have a better adult-child ratio and keep the kids safer.
Our third Nepal trek, Everest Base Camp, we went trekking in Nepal without a guide but by random coincidence, bumped into our previous guide, Nema Sherpa.
We walked with him and his clients for much of the way just to be sociable.
He was very helpful in sorting out flights for us at Lukla. My choice would always be to not take a guide nor go with a group, go at your own pace, but obviously, solo trekkers or travellers venturing into the mountains for the first time, would benefit from a group.
We started our trekking adventures with group tours, many years age. Take a look at G Adventures group treks in Nepal, see if one of these group treks could suit your needs.
What Gear Do You Need for the Nepal Treks?
Here's our complete guide to Nepal trekking gear, but the most important thing is to have a good pair of hiking shoes or boots that you're comfortable in.
Yes, you can do it in running shoes, it's not unheard of, but I wouldn't be doing that in winter, nor if you were going very high.
It's best to layer up with leggings, trousers, t-shirts, and fleeces and pack light. You'll need to take a waterproof jacket, but hopefully won't need it, good-quality sunglasses to avoid snow blindness, strong sunscreen and lip block, hat, gloves and a buff.
Most trekkers these days choose to take one or two trekking poles, they help protect your knees from wear and tear. You don't usually need crampons, certain treks have icy crossing where you will need them.
Don't forget travel insurance that covers you for trekking at high altitudes. Other essentials include:
Basic medicine like painkillers, band aids and an antiseptic
Baby wipes, as its unlikely you'll be able to shower on the trail. Baby wipes are heavy and an environmental hazard, so limit them as much as you can.
Toilet paper, which can cost up to $4 a roll in remote areas
Headtorch, as many tea-houses have limited electricity. See our post on best headtorches.
Camera and memory cards
Power bar and solar charger, because charging can be expensive in tea houses
Water bottle, to refill with boiled, chemically treated or UV-filtered water
Good sunglasses. We use Sungod Sunglasses, design your own pair via our link.
Sleeping bag and liner if you want to avoid grubby tea-house blankets. Sleeping bags and jackets can be rented in Kathmandu for a few dollars a day. I did Everest Base Camp without a sleeping bag, just a liner.
Permits for Trekking in Nepal
You'll need the following permits to trek in Nepal. To apply, you must provide various documents including a photocopy of your passport, proof of travel insurance, and at least two passport-sized photos.
This section, obviously could and does change often, please check the latest Nepal government rules. You can easily get your photos in Kathmandu, but to save time, take some with you. Check size requirements.
Trekkers' Information Management System (TIMS) permit – designed so that the government can keep track of trekkers and respond to emergencies. Green cards are for independent trekkers and cost $20, blue cards are for groups and cost $10.
National Park permits – for trekking in 12 different national parks in Nepal, including Sagarmatha, Makalu and Langtang National Parks.
Conservation Area permits – for trekking in six different conservation areas including the Annapurna, Kanchenjunga and Manaslu Conservation Areas.
Restricted Area Permits (RAP) – in these areas you must have a Nepali guide and be trekking as a team of two or more people. Restricted areas include Mustang, Dolpo and Manaslu. Prices for RAPs range from $10 per week to $500 for the first 10 days of trekking in Dolpa district.
You used to buy a TIMS card and permits from the Nepal Tourism Board Offices in Kathmandu or Pokhara, on our last visit we had to buy the TIMS on the trek, just past Lukla.
This is part of an initiative by the Nepali government to keep the money where it belongs. These regulations change constantly.
Get more information about permits from the Trekking Agencies' Association of Nepal (TAAN), including fees for RAPs. Here's a full list of fees for National Park and Conservation Area permits in Nepal.
Video – An Overview of Visiting Nepal
If you're looking for more video we have full-length versions on our Everest Base Camp Trek Difficulty post and for Bhaktapur and Kathmandu. Expect more soon!
What Food Can You Expect in Nepal and On The Treks?
The food in Nepal is typically cheap, tasty, and vegetarian friendly. Here's a guide to Nepal's favourite dishes, but common meals include Nepalese dumplings,, called momos and dal bhat, a lentil soup with rice and vegetables.
You'll also find noodle soup and fried rice, omelettes, and porridge on trekking routes, as well as more expensive western staples in touristy areas.
On the main trekking routes, food is a lot more expensive than elsewhere and portion sizes decrease. Expect food prices to rise the higher you go.
What's The Trekking Accommodation Like in Nepal?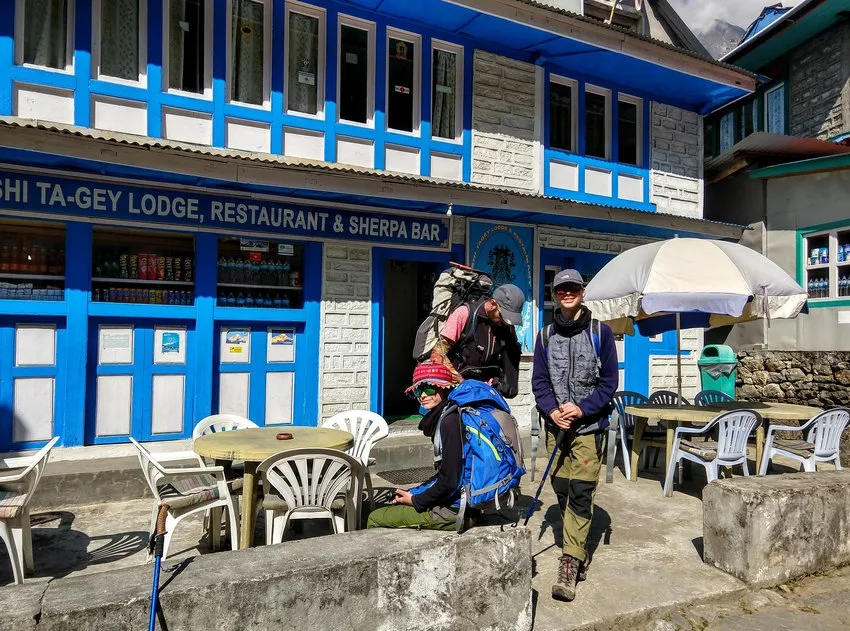 While some wilder treks in Nepal, such as the Upper Dolpo, require tents and camping gear, you'll mostly be staying in basic tea houses.
These usually feature private rooms with two or more beds, communal sinks and toilets, and a central dining room where you can relax and eat.
The dining room is normally heated with a fire or stove. Bedrooms are usually unheated.
Rooms usually cost between $1 and $5 but you're expected to buy your main meals in the tea house. Some don't have showers, often the shower will be in a hut, outside and you'll pay for hot water.
You'll also probably have to pay to charge your electrical devices. As you trek into more isolated areas, you'll find that standards are less western and you may encounter squat, outdoor toilets and scarce electricity.
Kathmandu – Where You'll Start
Nepal's capital, Kathmandu, is the start and endpoint for most hiking adventures in the country. It's the perfect place to spend some time acclimatising to the altitude, grab gear for your trek, organise onward travel and see the sights.
Check out these fascinating places to visit in Kathmandu, from Durbar Square to Swayambhunath, and Freak Street. Want to explore more of Nepal before or after your trek? Here are some of the country's top destinations:
Top Routes for Trekking in Nepal
There's something for every trekker in Nepal, from day hikes to multi-day adventures through lush forests to moon-like landscapes surrounded by Himalayan peaks. Here are some of the top treks in Nepal.
Everest Base Camp Trek (EBC)
Length: 12-16 days is usually quoted, we took 3 weeks and added trekking up from Phaplu.
Maximum elevation: 5,365m
Permits required: TIMS and Sagarmatha National Park permit
This iconic trek winds through mountain villages, pine forests, and across suspension bridges.
For most trekkers, the journey begins and ends with a hair-raising flight from Kathmandu to Lukla, dubbed the most dangerous airport in the world for its short landing strip nestled between peaks.
Highlights include gorgeous Namche Bazaar, hillside monasteries, the Khumbu icefall, and Base Camp tents, hiking to Kala Patthar's 5,600m summit and of course, coming face-to-face with the world's tallest mountain: Everest (known as Sagarmatha to the Nepalese).
You can extend your Everest Base Camp trek with various add ons including Gokyo Lakes and the trek up to Lukla from Phaplu
Gokyo Lakes Trek
Length: 10-12 days
Maximum elevation: 5,360m
Permits required here: TIMS and Sagarmatha National Park permit
An alternative or extension to the EBC trek, this route takes you to the village of Gokyo and the area's six emerald lakes. Branching off just beyond Namche Bazaar, you'll encounter waterfalls, high-altitude wetlands, and the longest glacier in the Himalayas, Ngozumpa.
The trek also boasts views of some of the planet's highest mountains including Everest, Lhotse, Cho Oyu and Makalu. Ascend Gokyo Ri for some of the best panoramic views of the Himalayas.
Three Passes Trek
Length: 18-20 days
Maximum elevation: 5,545m
Permits: TIMS and Sagarmatha National Park permit
This is a tougher alternative to the EBC and involves a similar route, crossing three passes that top 5,000m. The first is Kongma La at 5,545m, followed by Cho La at 5,420m and Renjo La, which reaches 5,345m and offers views of Lhotse, Everest and Makalu.
You can incorporate stops at Everest Base Camp and the Gokyo Lakes into your itinerary for the ultimate Khumbu region trek.
Annapurna Circuit Trek
Length: 12-18 days
Maximum elevation: 5,416m
Permits required: a TIMS and Annapurna Conservation Area permit
This is one of Nepal's most popular treks, loved for its diverse landscapes. You'll pass through subtropical forests, pastures and barren plateaus surrounded by views of the Annapurna Range.
Unlike the Everest trek, this hike is a circular route, you don't have to double back on your tracks when returning. Crossing the high pass on this route, the Thorong La, is the toughest day. You'll cross this pass around the middle of your trek and the villages and landscapes on the other side of the pass are spectacular.
Highlights of the circuit include ethnic villages, the world's widest pass Thorong La, its deepest gorge Kali Gandaki and beautiful Tilicho Lake. Note that road construction has compromised the unspoiled feel of the circuit in places.
Ghorepani Poon Hill Trek
Length: 4-7 days
Maximum elevation: 3,210m
Permits: TIMS and Annapurna Conservation Area permit
The Poon Hill trek is a shorter, easier hike that follows an ancient Trans-Himalayan salt trade route. You'll still get spectacular views of the Annapurna and Dhaulagiri ranges and pass through Rhododendron forests and local Gurung and Magar villages. The trek starts just 45 minutes from Pokhara and you'll get great sunrise views of the Himalayas from Poon Hill.
Annapurna Sanctuary/Base Camp Trek
Length: 10-14 days
Maximum elevation: 4,130 metres
Permits required: TIMS and Annapurna Conservation Area permit
This is a more demanding take on the Annapurna range. The trail takes you through forests and villages to Annapurna Sanctuary, a glacial basin surrounded by 10 incredible peaks. Annapurna Base Camp lies half-way along the trek and is the gateway for hiking nearby peaks such as Singu Chuli at 6,501m. Highlights include Modi Khola Gorge, Poon Hill and Rhododendron forests.
Helambu Circuit
Length: 6-7 days
Maximum elevation: 3,640m
Permits: TIMS and Shivapuri National Park permit
Set near the Kathmandu Valley, the Helambu trek takes you through valleys, forests and peaceful Buddhist villages in the Himalayan foothills. The lower altitude means it's a more comfortable trek that starts just two hours from Kathmandu in Sundarijal. The hike involves plenty of bridge crossings, waterfalls and spring wild flowers.
Langtang Valley Trek
Length: 7-10 days
Maximum elevation: 4,984m
Permits: TIMS and Langtang National Park permit
It might lack the highest Himalayan peaks, but Langtang boasts pristine forests, meadows and streams. You'll also get to trek close to the Tibetan border and enjoy views of Mt. Langtang Ri, Langtang Himal and Tserko Ri. The lower altitude and shorter length make this a relatively comfortable trek which starts around eight hours from Kathmandu in Syabrubesi.
Manaslu Circuit Trek
Length: 14-18 days
Maximum elevation: 5,115m
Permits required: TIMS card, Restricted Area Permit, Manaslu Conservation Area permit and Annapurna Conservation Area permit
Circle Mount Manaslu, Nepal's eighth-highest peak, on this testing trek. You'll traverse the border of Tibet and head into the Annapurna area on this rugged trail. The route only opened in the 1990s and passes through Tibetan-style villages with steep climbs, suspension bridges, monasteries and intricate carved stone tablets called Mani walls.
Makalu Base Camp
Length: 20-23 days
Maximum elevation: 5,250m
Permits required: TIMS, also the Restricted Area Permit and Makalu Barun National Park permit
Makalu is the world's fifth-highest mountain, which you'll see up close on this difficult trek. Set in the Everest region, you'll trek through the Makalu Barun National Park where the landscape varies from forests to meadows and glaciers. As Makalu lies just 14 miles east of Everest, you'll get to see some of Nepal's highest peaks along the way.
Kanchenjunga Circuit
Length: 18-20 days
Maximum elevation: 5,160m
Permits required: TIMS along with a Restricted Area Permit and Kanchenjunga Conservation Area permit
This extremely remote route runs along the border of Tibet in one of the least-populated regions of the country. Highlights include tropical lowlands, forests, the Yalung glacier and views of Makalu and Kanchenjunga, the world's third-highest peak at 8,586m. The demanding trek includes a day of crossing the Lapsang pass, which reaches 5,160m.
Upper Dolpo
Length: 21-25 days
Maximum elevation: 5,250m
Permits required: TIMS, the Restricted Area Permit and Shey-Phoksundo National Park permit
Explore Tibetan Buddhist culture in western Nepal on the Upper Dolpo trek. It's challenging, as you'll spend multiple days above 4,000m and cross passes like Jeng La, which reaches 5,000m, but the pay-off is that you get to experience the untarnished culture. Top sights include Shey Phoksundo Lake and Shey Gomba monasteries and the chance to glimpse wildlife such as snow leopards and blue sheep.
Upper Mustang
Length: 10-14 days
Maximum elevation: 3,810m
Permits required: TIMS and Restricted Area Permit and Annapurna Conservation Area Permit
This route only opened up in 1992 and passes through a politically-sensitive area close to Tibet. Navigate harsh landscapes in this former desert kingdom, with monasteries carved into cliff walls, deep ravines and snowy peaks. The Upper Mustang trail gives an insight into the trans-Himalayan region, offering views of Nilgiri, Annapurna and Dhaulagiri.
Still More Trekking Options in Nepal
Nagarkot day hikes
Mardi Himal
The Great Himalayan Trail
Kagmara La
Nar Phu Valley
Dhaulagiri Circuit
Rara Lake
Royal Trek
Bookmark to Pinterest!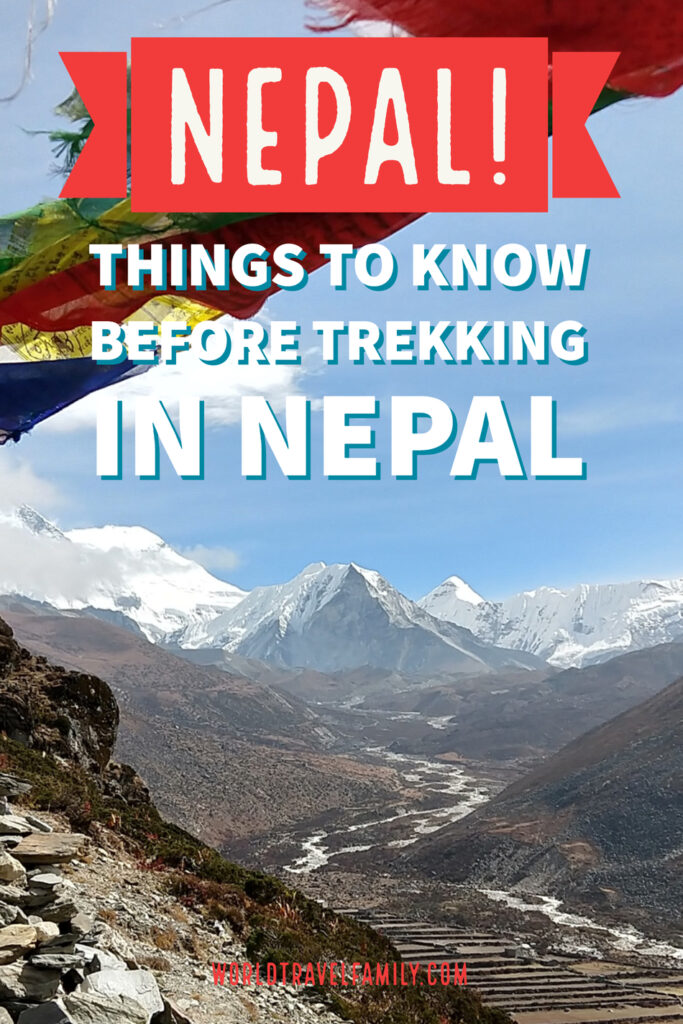 Your Pinterest image was taken by me while trekking in Nepal just above Dingboche on the EBC trek, this is on the acclimatisation hike for that 2 night stop. Click the Pinterest button to save!
Our Nepal Trekking Guide. Resources
You may find the following resources useful and you begin to plan your Nepal trek
Trekking in Nepal – Guide Conclusion
Trekking in Nepal has been one of the highlights of our entire lives, a bucket list item we ticked off and then kept revisiting. We have another Nepal hike in the planning stage, wait and see what that is! If you're unsure, I'd urge you to go. If, like me, you're terrified of heights, yes, that can be an issue. Is it safe? Well, accidents do happen. But if a small part of you thirsts for the mountains and the people of the mountains, do it, don't live with regret. We've done it from 8 years old to 52 years old and I think I have a few treks left in me yet. I'd suggest you don't take very young kids, I wouldn't take mine for safety and health reasons, but keep going until you can't walk anymore.
If you'd like to hire a car during your stay, use this car rental comparison tool to find the best deal!

We also suggest you take a look at this company to get a quote for all kinds of the more tricky adventure or extended travel insurance.

Try Stayz / VRBO for an alternative way to find rentals on homes/apartments/condos in any country!