This post may contain affiliate links.
You can get from Kathmandu to Lukla on flights (helicopter or small plane), bus, jeep, you can walk, or use some combination of these methods. This post is about your options for getting from Kathmandu to Lukla, as well as the experience of those Kathmandu/Lukla flights landing at Lukla Airport.
We have also walked to and from Lukla, and taken the bus back from Lukla on one of our Everst Base Camp treks, so you found a good source of information.
Is Lukla Airport dangerous? Yes it is, there are a lot of flight accidents in Nepal and there have been crashes at Lukla airport. Lukla is often described as the world's most dangerous airport, but it isn't. We felt these flight were safe enough to take our kids, but that choice is down to you.
We include a short video of planes taking off at Lukla airport.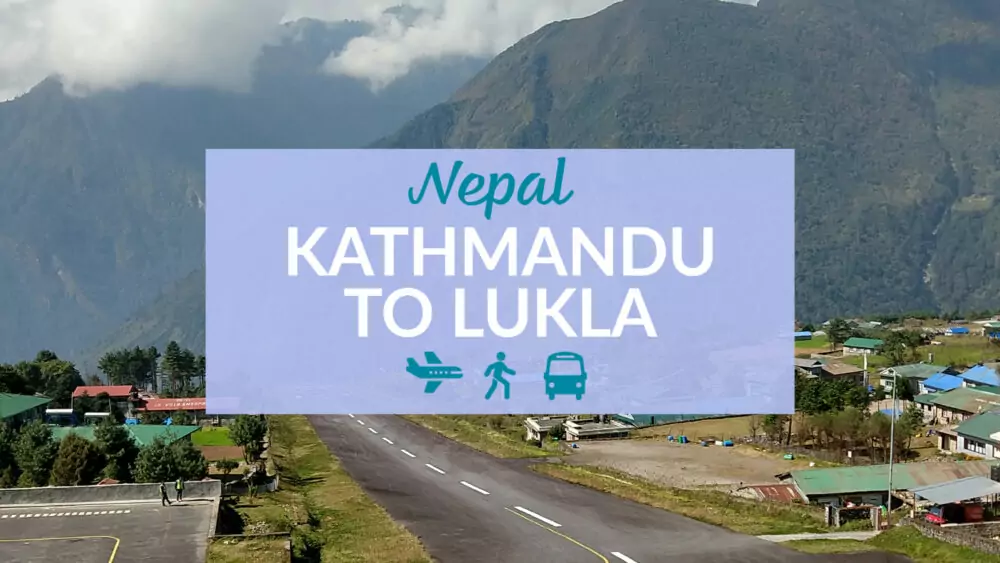 Lukla is where most Everest region treks start and Lukla Airport – Tenzing Hillary Airport – is often described as the most dangerous in the world.
Lukla is in the Solukhumbu region of Nepal at an altitude of 2,860m. The single, sloped runway of Lukla Airport started life in 1964, on the initiative of Sir Edmund Hillary. Due to the difficulties of successfully landing at the airport only very experienced pilots are allowed to land.
There are options in getting from Kathmandu to Lukla. The famous plane journey to the world's most dangerous airport isn't the only way.
We'll describe other options of travel between Kathmandu and Lukla below. We've flown into Lukla and out, trekked in from Phaplu and taken various bus journeys and flights to reach the Everest trekking route.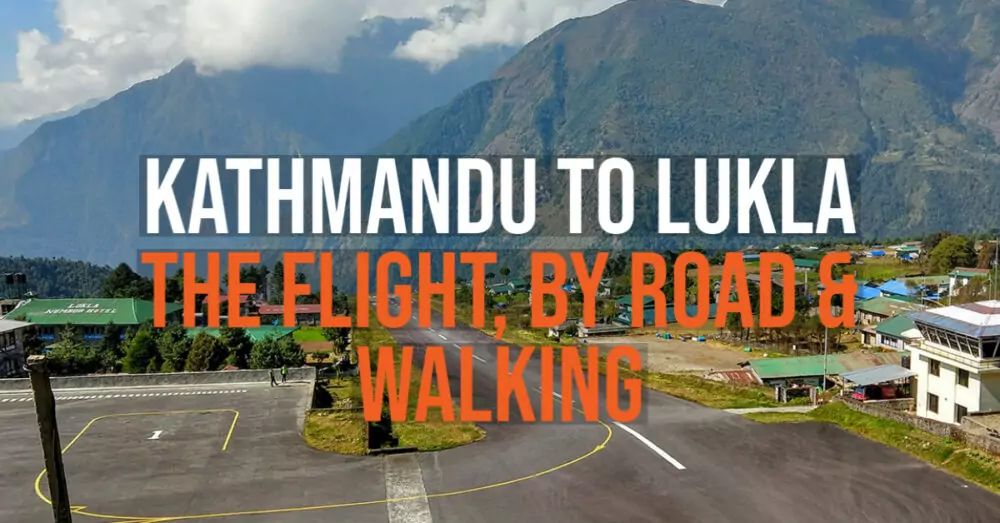 Kathmandu to Lukla
The journey from Kathmandu to Luka is by air for most trekkers. There are other options, including bus, private jeep and various road journeys combined with treks to Lukla.
The iconic flight is one you should take, but we also recommend trekking (hiking or walking) up to Lukla to join the main Everest Base Camp route.
Helicopter flights are also possible to Lukla from Kathmandu and may be essential in bad weather. These are usually more expensive than scheduled flights.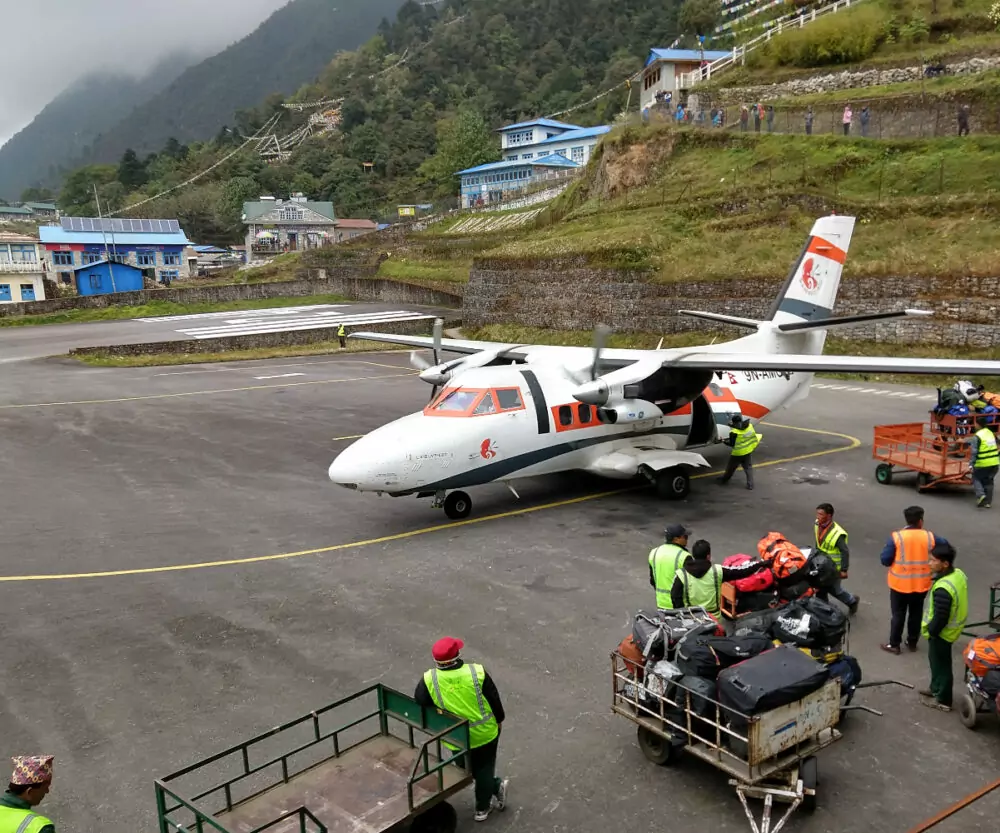 Our first time in the Everest region we just had to take the adventure of booking a flight into iconic Lukla airport, so we (I) faced my fear of heights and small planes and bought those one-way tickets.
We've actually flown in and out of Lukla twice now, see the update at the end of the post, we had cancelled flights and a few issues.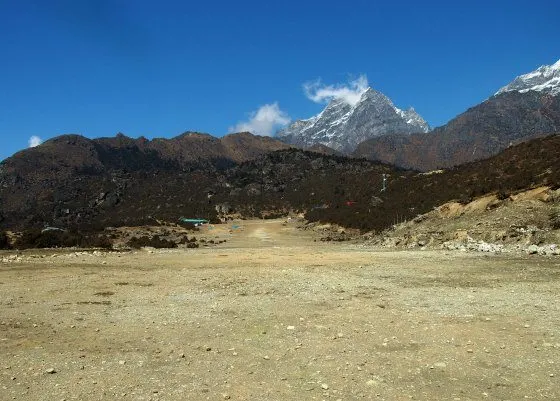 It was a ride of a lifetime, a dream come true. It was also pretty scary.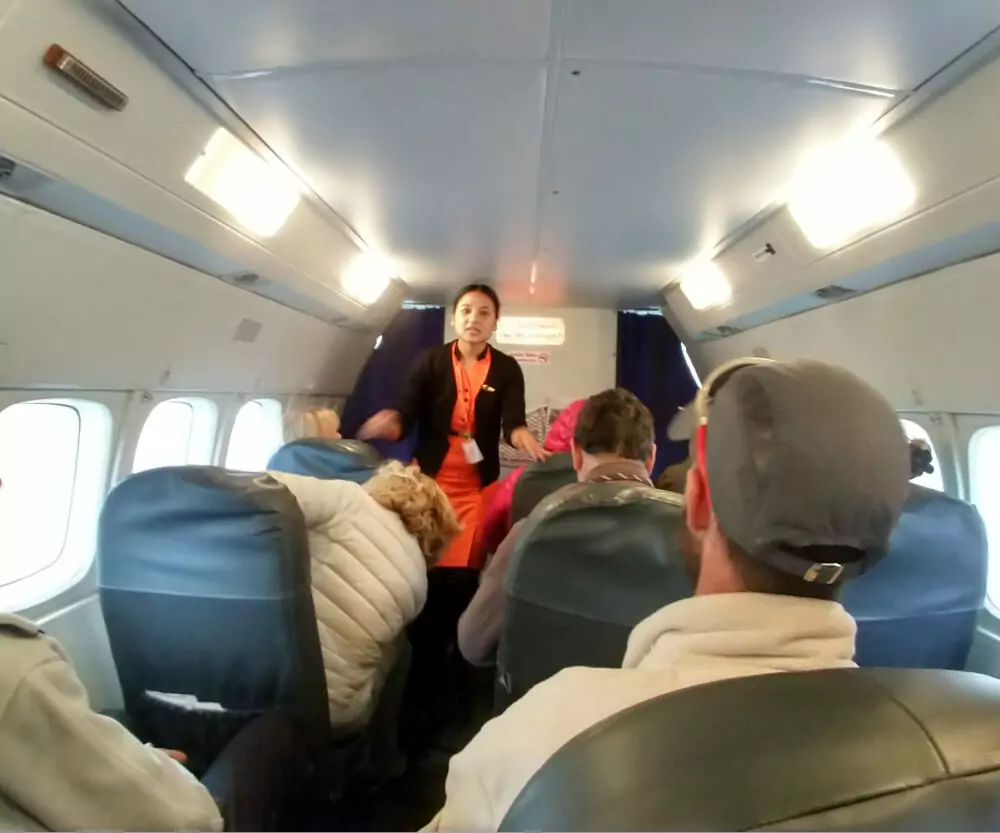 In those first few days of our Nepal trip there were two planes lost, both out of Pokhara and my anxiety was running on overdrive. In this post we tell you;
What that flight and landing is like.
What to expect at Lukla airport and in Lukla.
How to book your flights to Lukla.
All of the options on getting between Lukla and Kathmandu, bus, jeep, plane and walk.
How to see Lukla or Everest on a scenic flight from Kathmandu.
What our kids thought of it and will they ever forgive us.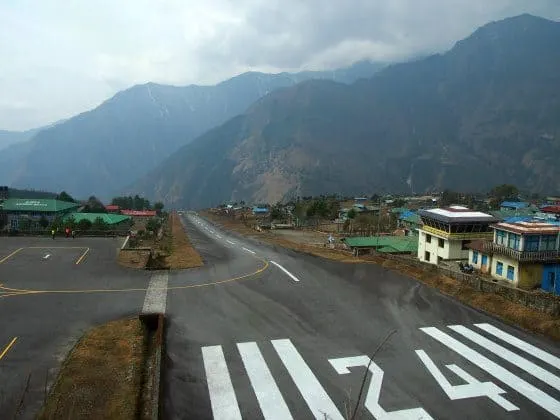 We took a little video of the planes taking off at Lukla ( below) on our first trip. A couple of years later we returned and made it to Base Camp. We now travel with good video gear, so there's lots more to come.
Flying to Lukla, is by far the easiest, quickest, and possibly cheapest way to go when you take into account the extra money you'll spend while trekking.
On our return from the Everest region, we walked from Lukla to Phaplu and took the 13-hour white-knuckle bus ride to Kathmandu. It's by no means an easy option and it's not all downhill. It was an adventure with highs and lows both real and figurative that will go in another post.
The Flight from Kathmandu to Lukla Airport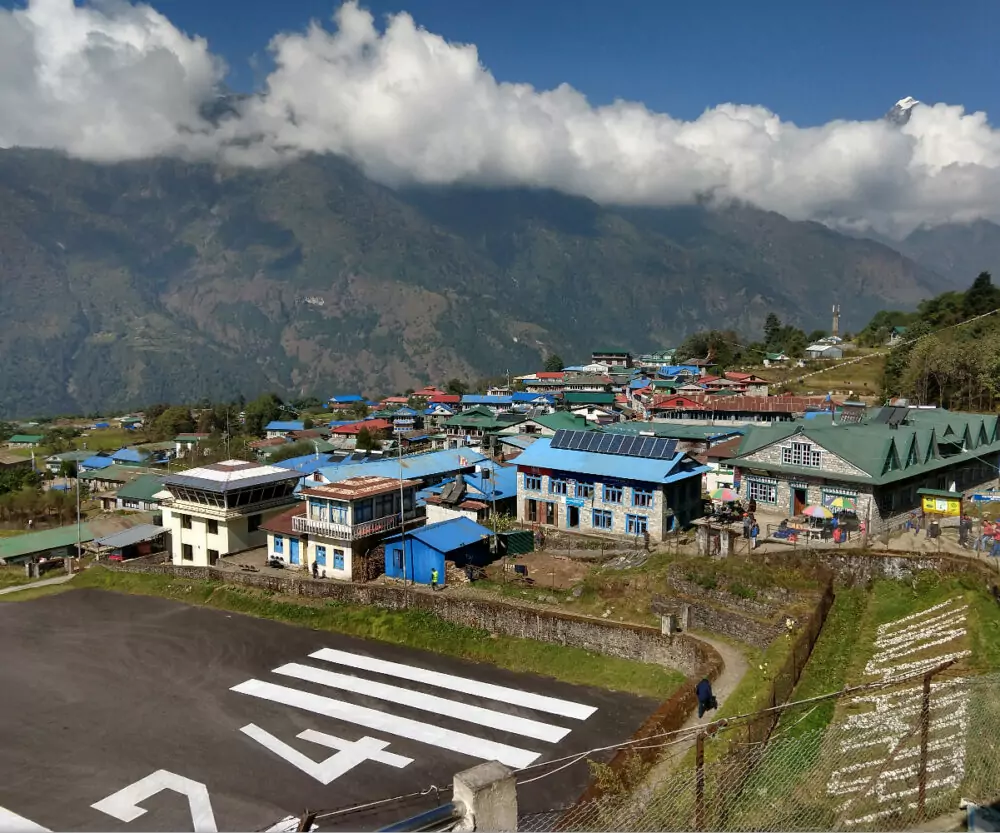 Lukla's Tenzing-Hillary airport at 2, 843m, is one of the most dangerous in the world. Some say it's the most dangerous.
It's also the most spectacular, I think.
This airport is where most trekkers and climbers start their journey to Everest Base Camp, other treks in the Everest National Park, (there are plenty of trekking options up there), and to the summit itself.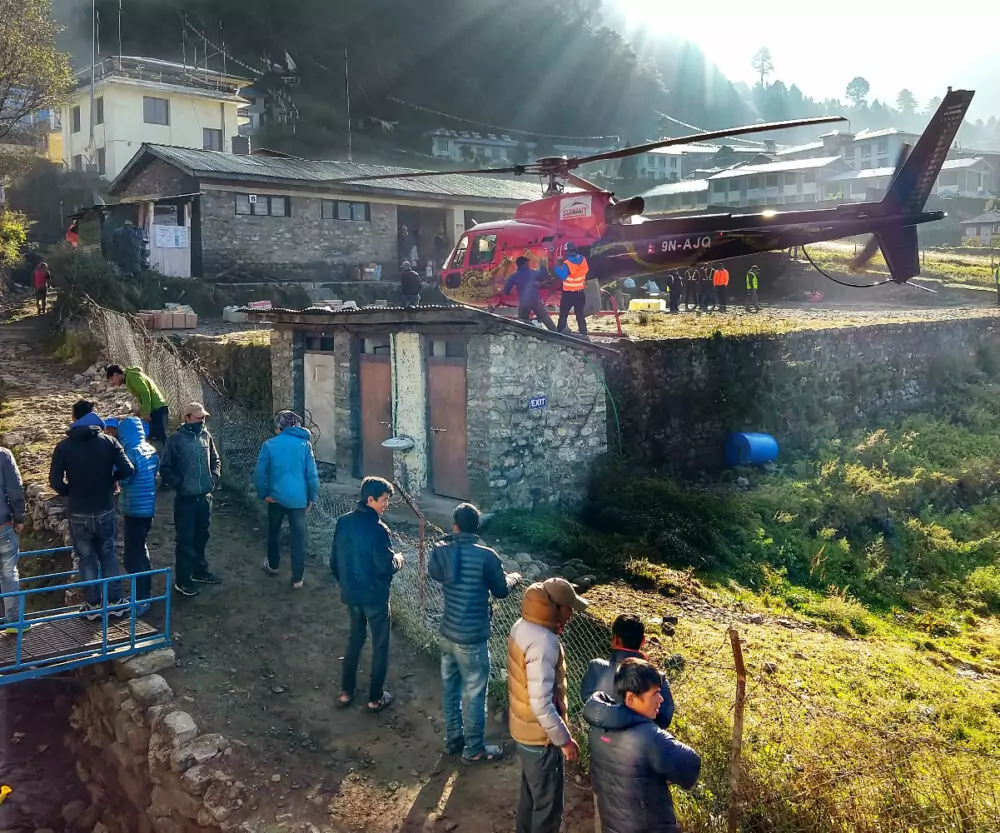 A short uphill runway slows tiny planes enough to veer sharply right into an airplane car park. All around are huge mountains.
Once the pilot commits to landing there's no space to manoeuver so if anything goes wrong the pilot has zero chance of pulling up. It's land it, or crash it.
I have video of one tiny plane after another taking off and landing, the traffic volume is huge when the weather is clear. I'll share the video when I can.
Flight Changes Ramechhap Manthali to Lukla
We have been informed that flights to the Lukla section do not take off from Kathmandu at certain times. They depart from an airport 5 hours away in Ramechhap – Manthali airport ( September October 2019 and Spring 2019)
This is because of runway maintenance and to reduce congestion at Kathmandu and is by order of the Civil Aviation Authority of Nepal. So, in addition to your flight to Lukla you will need to arrange transport to Ramechhap, this will generally be by road and you're looking at a very early start or an overnight stay in Manthali.
Please check and double-check this information for yourself, we were given second-hand information by a person in Nepal.
Private helicopters fly to to Namche Bazaar or maybe Lukla from Kathmandu Nepal, it's not clear if this is still possible, but they will cost you more.
Our Kathmandu to Lukla Flight Experience
We woke at 4.45am and were in the waiting taxi at 5.15am taking with us only what we needed for trekking. Most of our luggage stayed at our guest house in Kathmandu, free of charge.
We organised the early morning taxi through our guest house, it cost us 750 Rps, $7.50. Regular taxis are normally much cheaper than this in Kathmandu, (3-500 Rps Aiport to Thamel ) but this was a large jeep.
Kathmandu's internal airport opens at 6am, our flight, and most others, was scheduled for 7am.
Check in was easy, the queues were short, after all, most of the local planes only seat 14 passengers.
Our bags were weighed, surprisingly, we were not.
Our large backpack (17Kg) was taken away from us, checked in to be placed at the back of the plane, our smaller one, (7Kg), I kept.
After minimal security and a light pat-down we made our way through to the departure lounge for an expensive coffee and a Snickers. A lot of meals are replaced by Snickers when you're trekking in Nepal.
There were seats, but as time wore on they all filled up and then some. There are a few shops and a washroom in the terminal.
Fog lay thick over the Kathmandu runway as we settled in to wait.
It seems that delays are common, even normal on these mountain flights. The planes can't leave until the runways, both at Kathmandu and Lukla, are somewhat visible through the clouds.
The flight is only 30 minutes long from runway to runway and pilots guide the planes visually, there are mountains to dodge and that short airstrip to spot. Be grateful that they wait.
Once some degree of clarity was reached every pssenger in the departure lounge made their way to runway buses, one per flight. 14 people per plane.
We drove to the far end of the runway, picking our way through waiting aircraft before stopping.
"Is that our plane Mum?"
"Yes."
"I hate you!"
When we reached our Sita airlines twin-engine our driver announced that Kathmandu airport was till closed, so we'd just wait a little longer.
An hour later it was all systems go, the green light was given and every waiting plane had to get out of there while the skies were still clear.
We rushed from the bus to take or seats, buckle up and listen to the safety announcement before taxiing to take our place in the departure queue.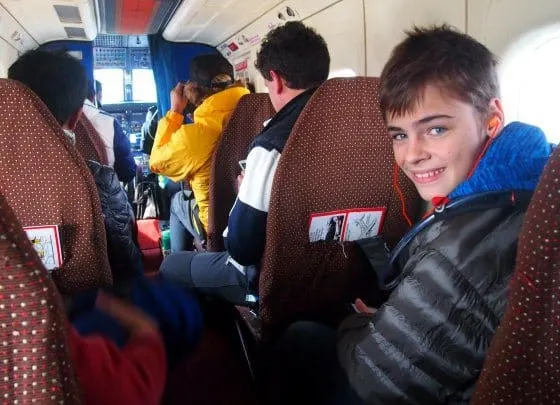 Yes, you read that right, there was a safety announcement, a liveried stewardess comes as standard on these flights.
After her chat she hands out sweets and cotton wool for ears before sitting at the back of the plane with the larger bags. I wouldn't want her job for the world.
Then we were off, soaring and roaring up through the fog and clouds.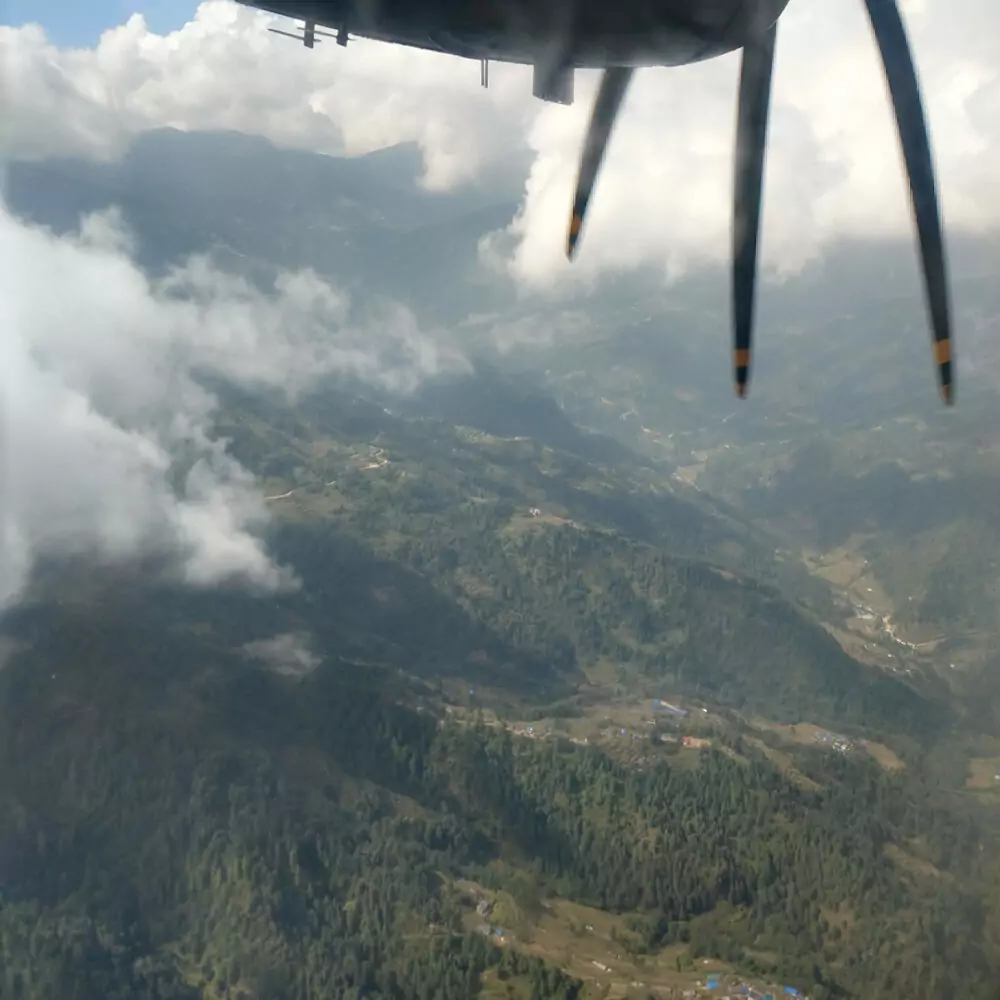 We grabbed seats on the left-hand side, the side you want for the best mountain views, but with fog, cloud and dirty windows, there was little to see. On a clear day the views must be amazing, we lucked out.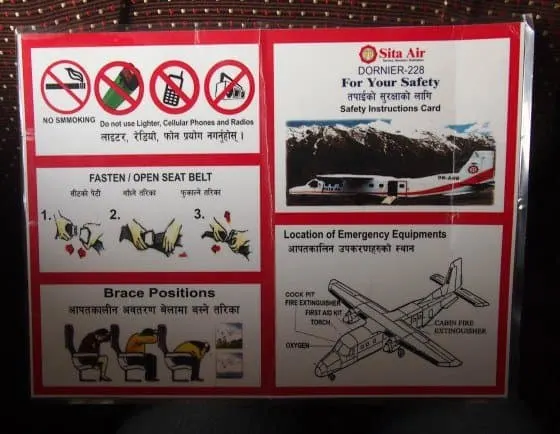 We bumped up and down and blew from side to side. I spent most of my time praying or in the brace position. The children read their Kindles as if it was an every-day bus ride.
In the final minutes of the flight it seemed the pilot is about to fly into a brown, craggy mountain as eagles flew just below us. At the last moment, he took a right turn and Lukla's tiny airport came into view.
The landing was fast and bumpy, but safe.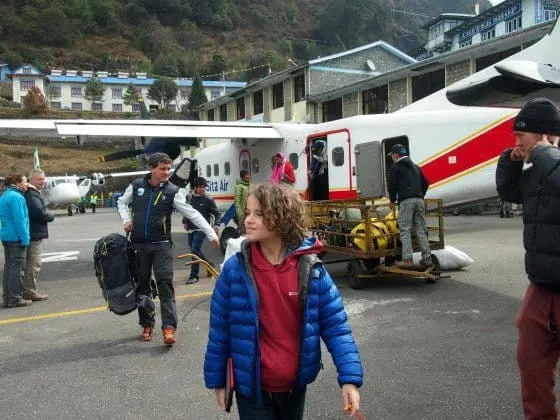 Within moments we were all off the plane, had grabbed our bags and were ready to go.
It was a flight that will stay with me forever, something I've always dreamed of doing, but I don't particularly want to do it again.
Tips on Flying to Lukla
Don't buy an open-ended return ticket. If weather is bad and flights are cancelled, you will be at the back of the queue for stand-by seats and could wait days. Get a fixed date or just buy a single. It's easy to buy a return ticket from Lukla when you are ready.
Sit on the left for best views.
Take earplugs for the flight or use the cotton wool provided.
Be prepared for a delay, take snacks.
If possible buy the tickets yourself direct with the airline eg. Tara, Yeti, Sita. Kathmandu agents will over-charge you. Use Skyscanner to find deals.
Children's tickets ARE less expensive than adults. The agent charged us full-price. (Trekking permits are also free for under 10s, the agent robbed us on these too, they cost 10000 Rps each, $10, not $20)
Lukla doesn't have much going for it other than plane watching. Namche is a much nicer place to spend a few days if you're ahead of schedule. You can walk down from Namche to Lukla in one day, but it's a big day.
Our tickets cost us $165 each, one way. Booking direct is cheaper.
Scenic Flights to See Lukla and Everest
Are You Looking For A Scenic Flight to See Lukla, the Himalayas or Everest Without Trekking? If so we can suggest this option, just click through for details on a 1-hour scenic flight from Kathmandu. It's actually quite an affordable way to see the absolute majesty of the mountains. These flights can be booked before you even leave home, so much less of a headache for you and more time to enjoy Nepal. They have a lowest price guarantee and the reliability of a big, well-respected company. If you have cash on tap and don't want to walk, you can even take a helicopter tour to Everest Base Camp. There are multiple tours of Kathmandu and Nepal also available, from a few hours, to multiple days. See the many activities and tours you can book from Kathmandu available here.
Cancelled Flights on the Kathmandu – Lukla Route
We've since returned and completed the Everest Base Camp trek with the kids. We had flight booked from Kathmandu to Lukla, but in October, peak season, there were a lot of cancelled planes and people were waiting days at the airport. Rather than paying thousands for a helicopter we hopped on a plane to Phaplu instead and walked to Lukla. This took us 4 days. Coming back from Everest our flight to Lukla wasn't booked, we winged it and got on a plane within a day of arriving in Lukla. People with booked tickets waited longer than we did. Some had been waiting 4 days.
Options in Getting from Kathmandu to Lukla
Bus to Jiri (1 905m, 9 hours) and Walk 6-7 days. Jiri is further along from Phaplu, same route plus 2-3 days.
Bus to Phaplu (2,413m, 13 hours) and Walk 3-4 days. We've done this. Read about the, interesting, bus ride.
Jeep, private or shared to Phaplu or Jiri. Quicker than the bus, less legroom,more expensive, more dangerous and Walk 3-4 days. We've researched and costed this from Phaplu, we picked the bus.
Fly to Phaplu (2,413m) and Walk 3-4 days. We've seen the airport.
Bus to Shivalaya and Walk 5-6 days. I know nothing about this route, sorry, I found it via Lonely Planet forums, I'm not even sure it's correct.
Helicopter to Sangboche (3,700m), just above Namche Bazar (3,500m), only for climbing expeditions really, the airport is below.
Fly to Lukla (2,860m)
Accident at Lukla Airport
Tragically on 14/4/19, today, there was a plane crash at Lukla airport. A plane was taking off when for some reason it swerved to the right into the helicopter area.
3 people were killed. The pilot and 2 policemen standing in the helicopter area. It was the same plane we flew out on just months ago. A Summit flight. Our deepest condolences to the families who lost loved ones so tragically.
Accidents at Lukla airport are pretty rare, this is the first we've heard of in our years of being interested in Lukla airport and Nepal generally.
Our hotel, last time we were in Lukla was right behind the helicopter area. We have friends up there, Sherpa guides, and local people. We just want them all to stay safe. News report here.
For you to bookmark to Pinterest, just hover and the red button will appear.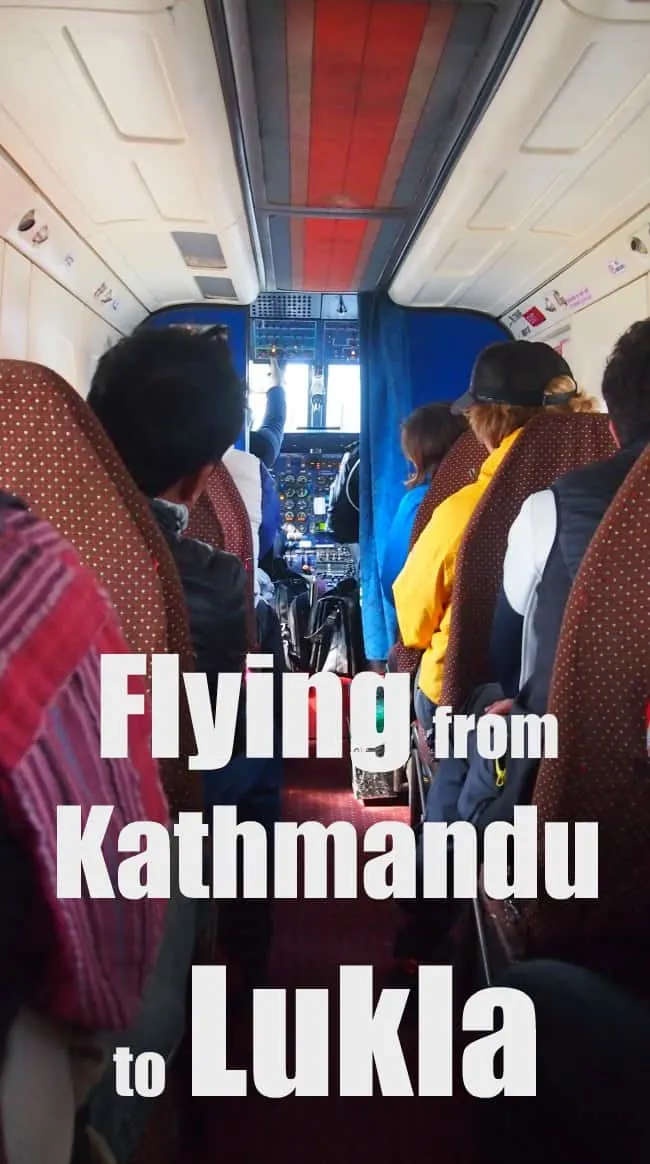 Thanks for following our story. There many more posts about travel in Nepal and trekking in the Everest region (with children, although information applies equally to adults of all ages) on our website. Start with all of our Nepal Blog Posts in our archive. If you're looking for trekking or open-ended travel insurance, try here. Your next big town after Lukla will be Namche Bazaar, read our full guide to wonderful Namche and find out why it's one of our favourite places on earth.
If you'd like to hire a car during your stay, use this car rental comparison tool to find the best deal!

We also suggest you take a look at this company to get a quote for all kinds of the more tricky adventure or extended travel insurance.

Try Stayz / VRBO for an alternative way to find rentals on homes/apartments/condos in any country!