This post may contain affiliate links.
When we think of skiing we normally consider Europe, the United States or Canada. Australians often head to Japan or enjoy their own domestic ski slopes. Then there is New Zealand for those in the know, but there are a whole bunch of less well known ski destinations scattered around the globe. My kids learned to ski in Romania, but what other unusual places to ski can we come up with?
6 Unusual Places to Ski Around the World
1. Ski a Volcano in Niseko, Japan
Niseko is a winter-wonderland sports paradise on Japan's northern Hokkaido Island, near the dormant volcano of Mt. Yotei. Major ski centers can be found on the slopes of Mt. Niseko-Annupuri.
Thanks to volcanic activity the area has many hot spring resorts, or onsen to enjoy apres-ski.
Several golf courses can be found nearby, with snow-capped peaks as a stunning backdrop.
The famously clear Shiribetsu River is a great base for white-water rapid activities.
Although European skiers rarely make it to Japan's slopes, the region is popular with Australian visitors.
Try vacation Niseko for accommodation in the area.
2. Apres-Ski on the Beach, Hawaii
You can ski on Hawaii's Big Island, then head to the beach for a tropical sunset cocktail
Mauna Kea, white mountain, doesn't have lifts, pistes or any ski resort facilities, instead you can reach the summit by 4 wheel drive before skiing down when conditions are good.
At nearly 4,270m, serious altitude, the mountain occasionally gets good snowfalls between December and February. This is skiing for the skilled and the adventurous.
3. Ski the Sunny Mediterranean, Cyprus
The Troodos mountain range of western Cyprus offers winter sports activity with a mythological theme at the only Skiing Center in Cyprus.
January to March is the time to visit for the best chance of snow.
Lifts and runs are named after the ancient Gods here, take a ride on Zeus!
In summer escape the Mediterranean heat for cool respite in the stunning forested mountains of Europes most southerly ski resort, about an hour's drive from the holiday town of Limassol.
4. Bag That 7th Continent, Ski Antarctica
Not many travellers can say they've been to all 7 continents, here's your excuse to go! Antarctica's Union Glacier isn't so much about ski lifts and runs, more about exploration and touring on skis over tough, isolated, terrain. Forget resorts, skiers bunk in tents and spend their days out on the snow with experienced guides.
This ski trip of a lifetime comes with a hefty price tag, around $30,000. Worth it? Maybe! I know I'd love to take my kids to Antarctica.
5. Safari and Ski, South Africa
Tiffindell is South Africa's only ski resort and has the distinction of offering the opportunity to view African wildlife and enjoy winter sports all in one day. Snow is guaranteed for around one-third of the year here, catch the white stuff in June, July and August, for the rest of the year there are plenty of other mountain activities to enjoy.
Don't miss the chance to Apres Ski in Ice Station, the highest pub in South Africa.
Tiffindell is rated #19 of CNN's top 100 ski runs in the world.
6. Have You Considered Romania?
Romania is where you'll find us hitting the slopes these days. Our local ski town has been our second home through the winter months and prices are outstandingly good. Excellent instructors took our children from novice to proficient within just a few one on one lessons. Learn more about travel in Romania here.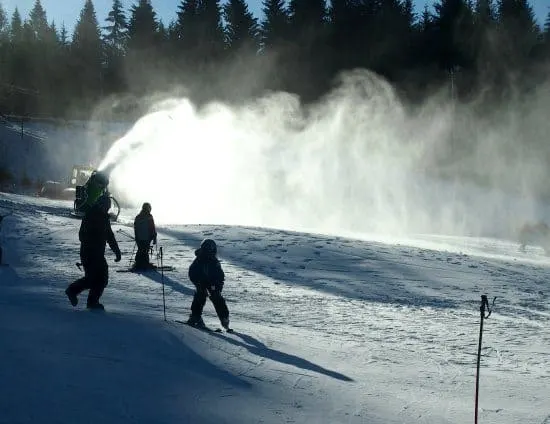 If you'd like to hire a car during your stay, use this car rental comparison tool to find the best deal!

We also suggest you take a look at this company to get a quote for all kinds of the more tricky adventure or extended travel insurance.

Try Stayz / VRBO for an alternative way to find rentals on homes/apartments/condos in any country!