We've had 5 Christmases on the road in the last almost 6 years of full-time family travel. Another one is coming up fast and this one will be "at home" for the first time. Did you know we're almost home?
I'm going to count this one as a Christmas while travelling too because returning to an empty house just days before Christmas, fresh off the plane with only the contents of our backpacks, is far from normal.
Our digital nomad family lifestyle will continue, but for now, we have to go back.
So how have we pulled this off? How have we managed to make Christmas special for the kids while travelling in foreign lands?
How to cope with buying gifts, cooking turkey and decorating Christmas trees while travelling full-time? Let's talk about that.
Christmas Around The World
We have spent Christmas, with the kids, in Singapore, London England, Wales, Romania and Australia. Pre-kids we had Christmas in Vietnam, India, Thailand and Cambodia, I'll mention those below briefly but it was a long time ago.
Tips For Surviving Christmas While Travelling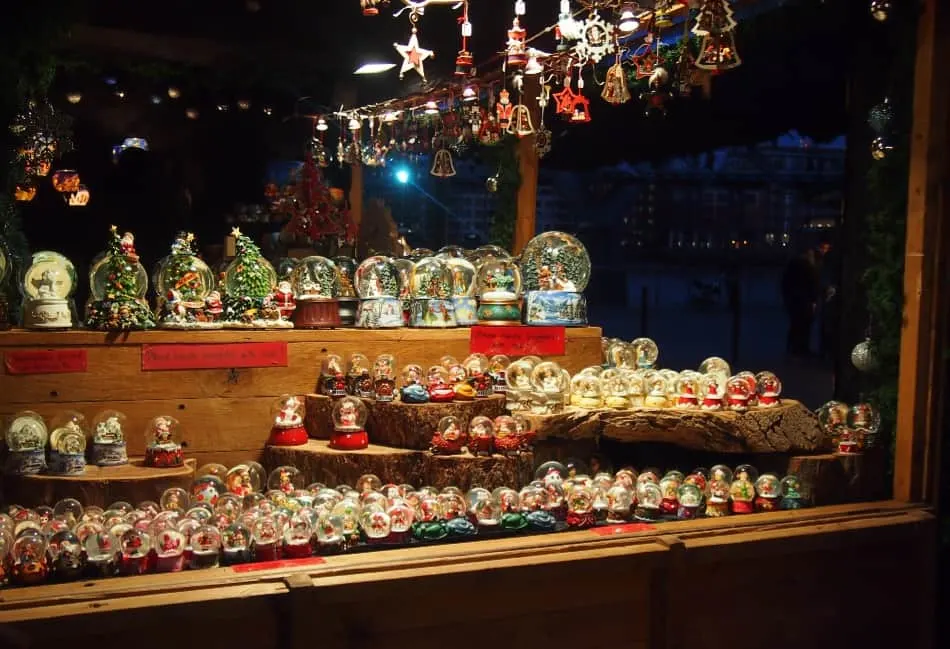 If you don't want to read the whole post, here's a condensed version, our top tips of enjoying your Christmas on the road.
Arrange your travels with Christmas in mind – to an extent. Budget for a Christmas splurge somewhere nice.
If you want to cook, book an apartment with a kitchen and decent kitchen equipment. Try AirBnb.
If you don't want to cook, book into a nice hotel with a huge Christmas buffet.
Become very good at hiding presents in your backpack or suitcase.
Buy Lego. They'll build it, then you can post it back home. My kids never play with Lego once it's been built – weird I know.
Buy the kids plenty of chocolate, you don't need to carry chocolate.
Always buy your husband or wife at least one nice thing. You'll feel terrible if they buy you a gift and you don't get a present for them.
Be somewhere where Amazon delivers at Christmas. This can be tricky!
Buy nice toiletries, they're necessary, useful, and not a permanent " thing" to carry.
Buy other useful travel items.
Feel good and environmentally sound about not sending or receiving Christmas cards. It's better for the planet! We just send cards to a very few very elderly relatives.
Avoid plastic junk.
Gifts of experiences are great, but on Christmas day I'd rather have a present to open and so would my kids.
Likewise gifts of charitable donations, I personally wouldn't do that unless I knew the recipient was absolutely passionate about that charity.
It's pretty easy to find Christmas celebrations wherever you are in the world, see below.
Save your "treat" travel experiences (theme parks, shows etc.) for the Christmas period to make it extra special for the kids.
Is Christmas Celebrated Overseas?
Christmas is celebrated overseas in the most unexpected places, often spectacularly. Not many countries will want to miss out of a consumer fiesta this big and in some countries, the religious aspect is massively important.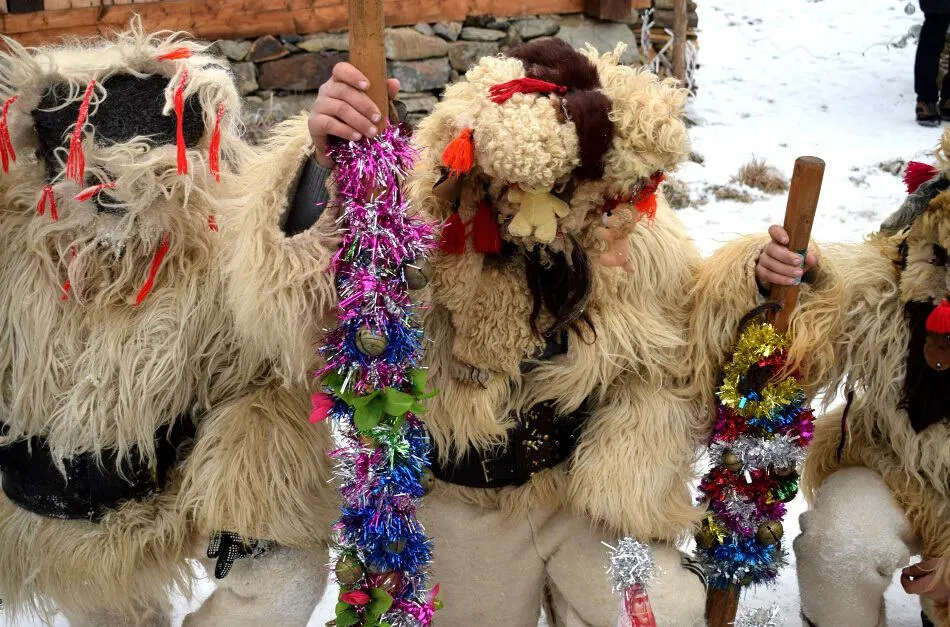 Still, I want to be in Romania for Christmas and this year I'm already missing it. Of course, they celebrate. Christianity is strong here be it Orthodox or Catholic, but they celebrate differently. Ancient pre-Christian and local traditions intertwine with Biblical festive celebrations. Expect bizarre costumes, goats, bears, giant cow-bells, and whip-cracking alongside Midnight Mass. The characters above are part of a nativity play with roots in Christian and pre-Christian heritage. We have a post on Christmas in Romania.
The photo below was taken in Kuala Lumpur Malaysia, just before Christmas. Malaysia is a country with many religions and traditions, you'll find all the festivals here. We enjoyed the malls and Christmas movies enormously, they're unusual after months in country Thailand or Vietnam. The Christmas blockbuster Star Wars movie and The Rock in Jumanji were in English in the huge sparkling malls. A good time was had by all, and we caught up with old friends at Back Home Kuala Lumpur.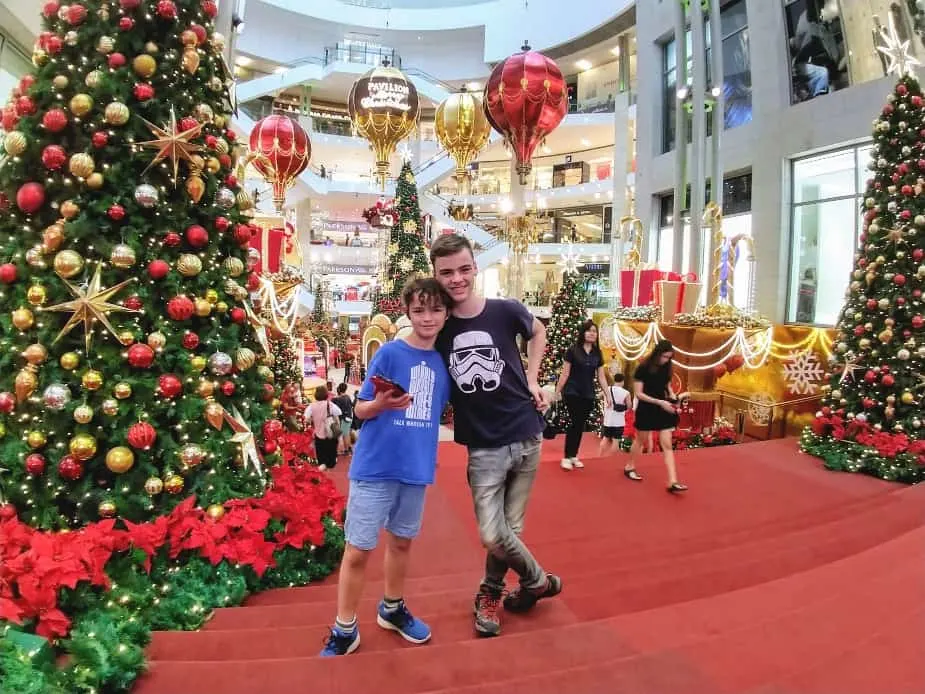 This photo was taken in Sukhothai Thailand, again, just before Christmas. Sukhothai is a quiet sleepy town in a fairly remote part of Thailand. You can't even escape Christmas here!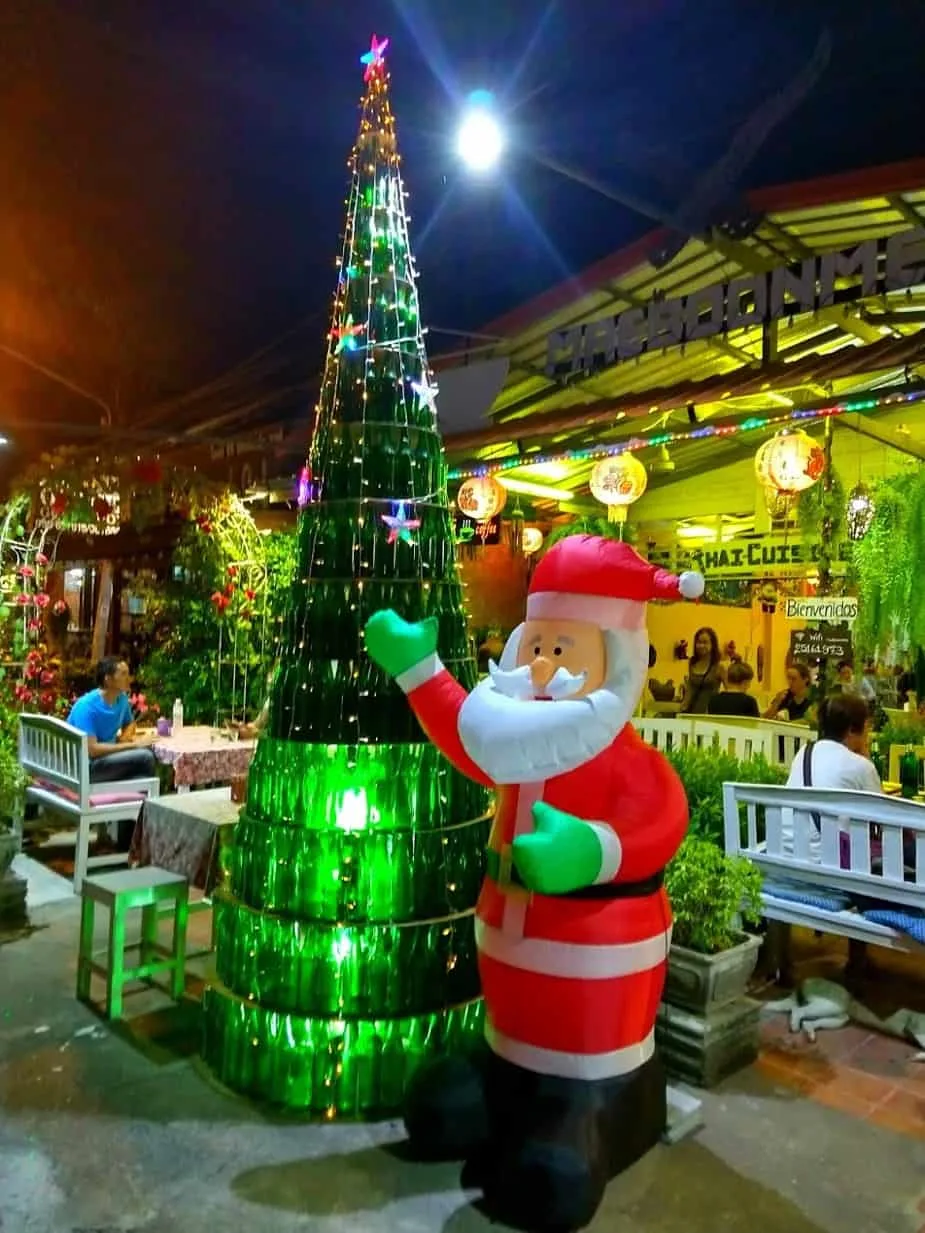 Then there is Chiang Mai, Thailand, home to the wonderful Maia Mall and my favourite co-working space. The lights and decorations are spectacular and markets and Christmas fairs happen regularly.
This town in Northern Thailand is home to huge numbers of expats and digital nomads, they're well catered for.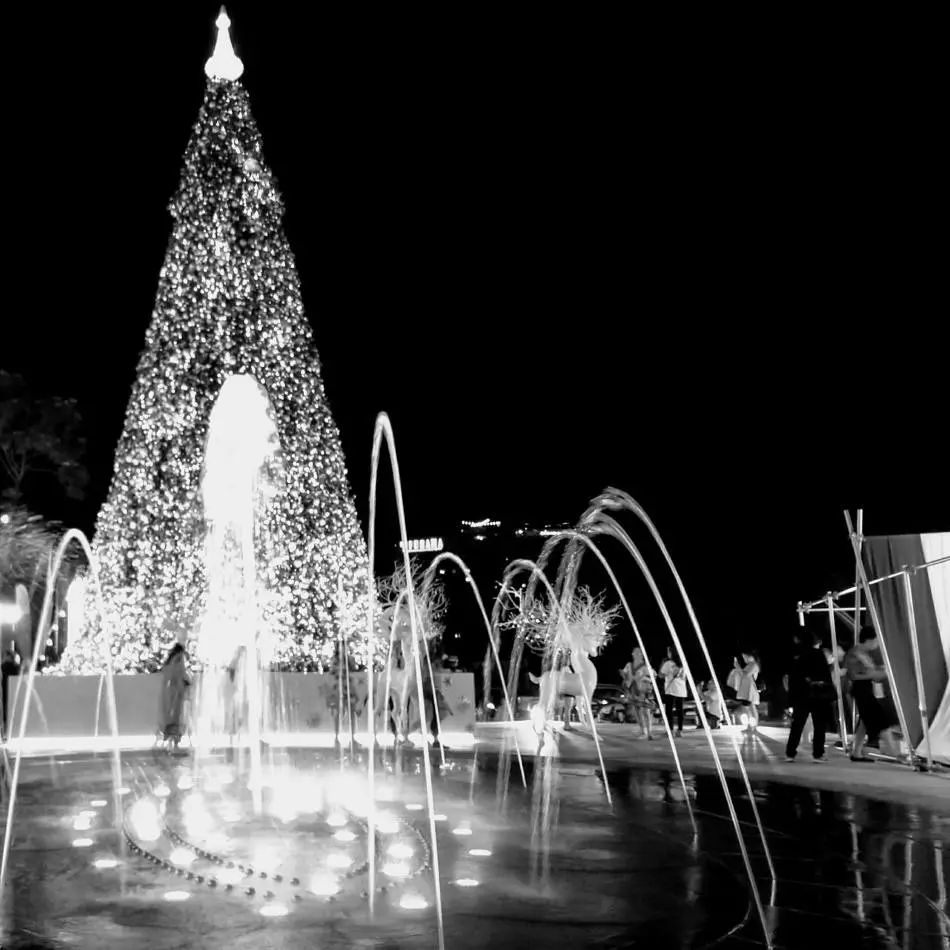 We checked out the Christmas blockbuster movies at a fraction of western prices before moving on to Singapore for Christmas day.
Spending Christmas in Singapore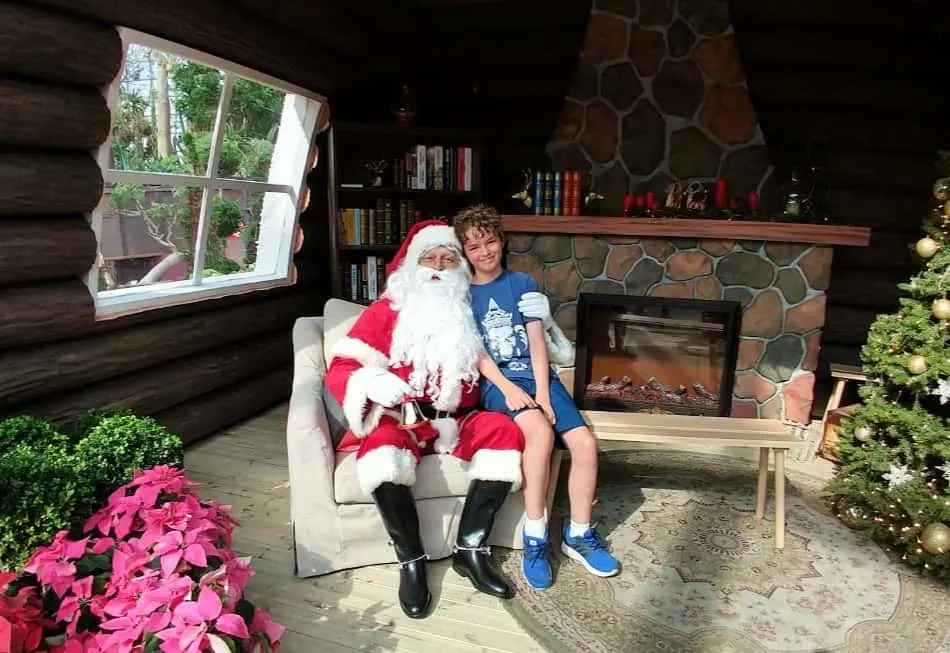 This was our flashiest Christmas to date and probably my least favourite. We planned this 2 week Christmas break as a treat for the kids but spending Christmas in a hotel, all be it a good one on Sentosa Island, didn't feel right.
We visited Universal Studios Singapore on Christmas Day itself. It was packed, it seems plenty of people had the same idea as us!
Spending Christmas in London, Wales and the UK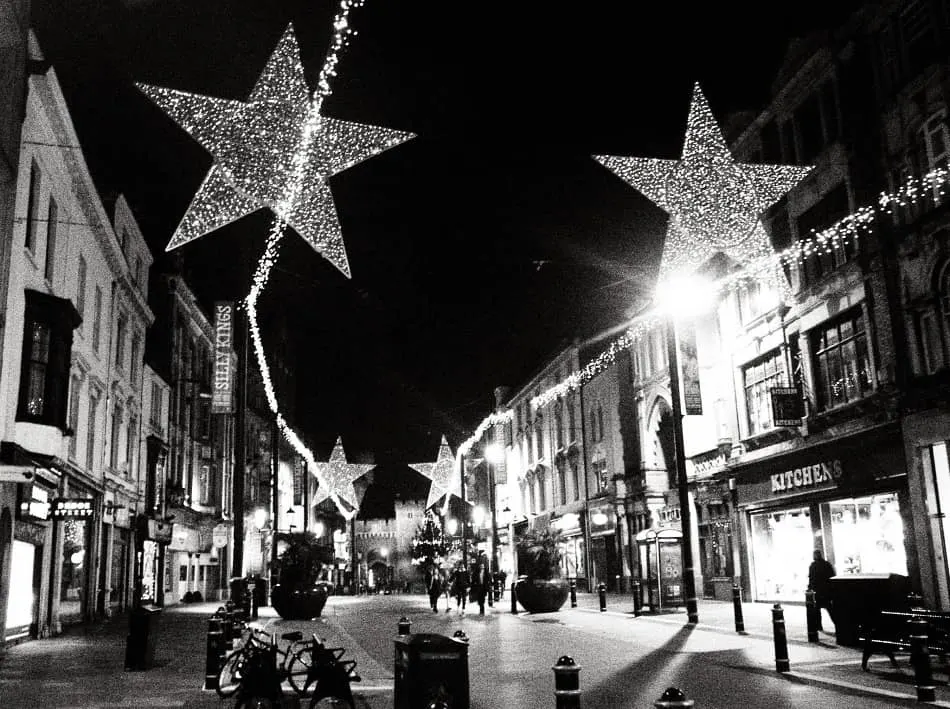 This is home for us.
I know I say we have many homes and are most at home on the road, but Christmas in the UK is what we're all most familiar with. That even goes for Chef, he's Australian but has spent more of his life out of Australia than in it.
Christmas in the UK involves lights, candles, decorations, Christmas markets and food fairs. It's cold, but I've never seen a white Christmas in Britain.
We ice skate, watch Christmas shows and eat mince pies and turkey. It feels right despite the crowds and frantic shopping frenzy.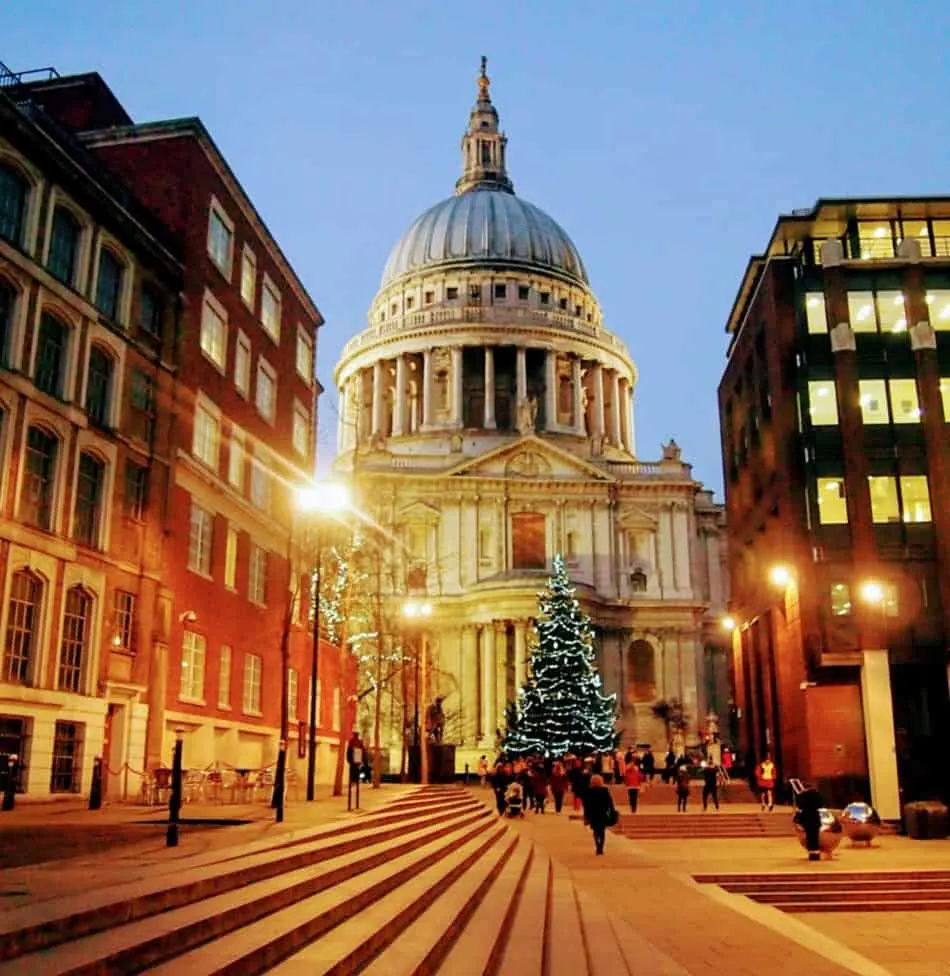 Both of our Christmases while travelling in the UK have been while we were stationary for a few weeks or months. It gave us time and space to have a relatively traditional Christmas while being nomads.
We catch up with friends and have a great time, our way. It's sad but a lot of us who live differently run into family difficulties, our family is no exception, so friends become our family. It's very, very common and most of us can do nothing but send them our love from a safe distance.
Spending Christmas in Romania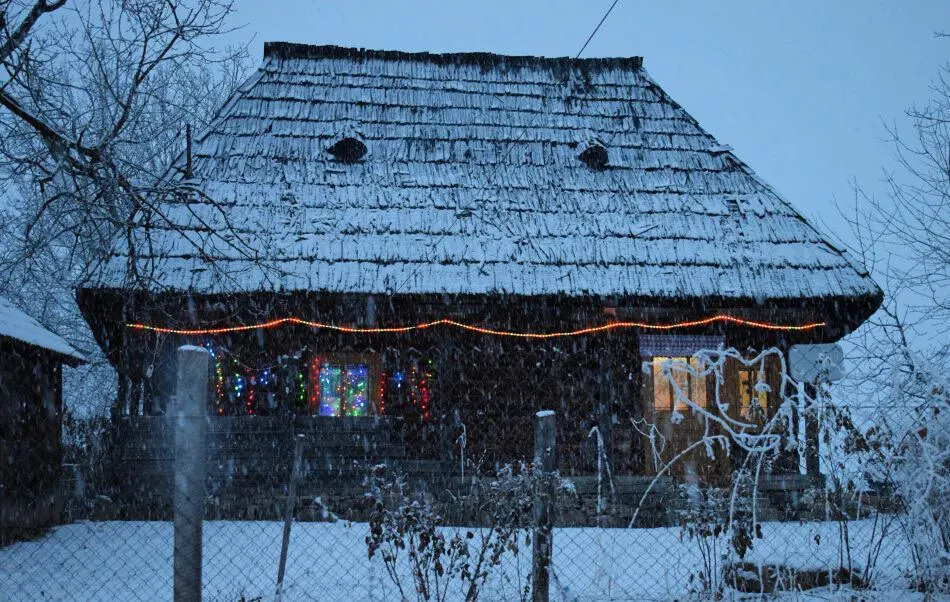 Our best Christmases!
Simplicity, family, togetherness, friends and lots and lots of snow.
We heated our 100-year-old farm house with a wood burning stove. Pots would bubble away on the top while our turkey cooked inside. Our little kitchen was the only room we heated when winter really got a grip so it meant we were all together, all the time, other than when one of us went out to chop or fetch wood.
We'd ski, toboggan and observe the amazing winter traditions around us. Christmas here was like nothing else. We have loads of content on Breb, our little village in the snow, a century or more in the past.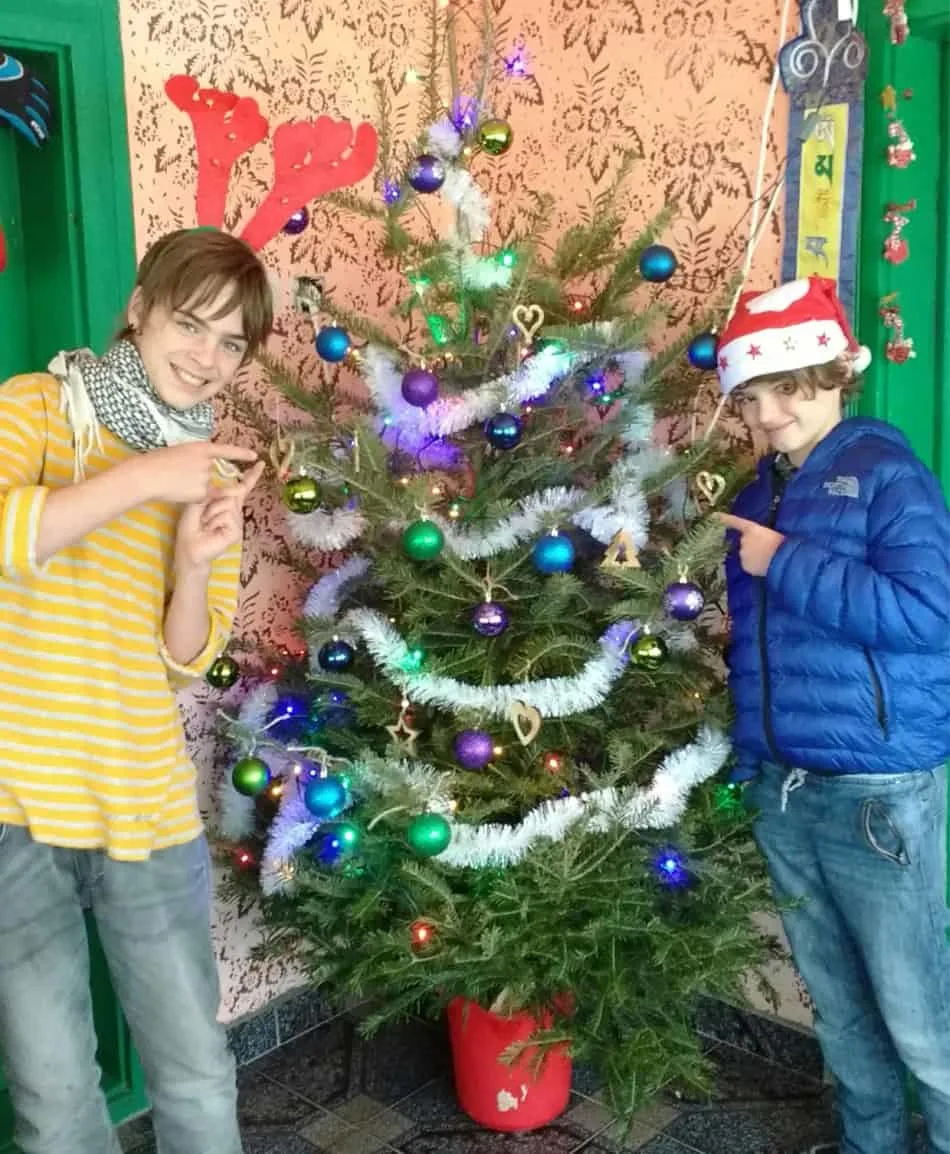 Spending Christmas in Australia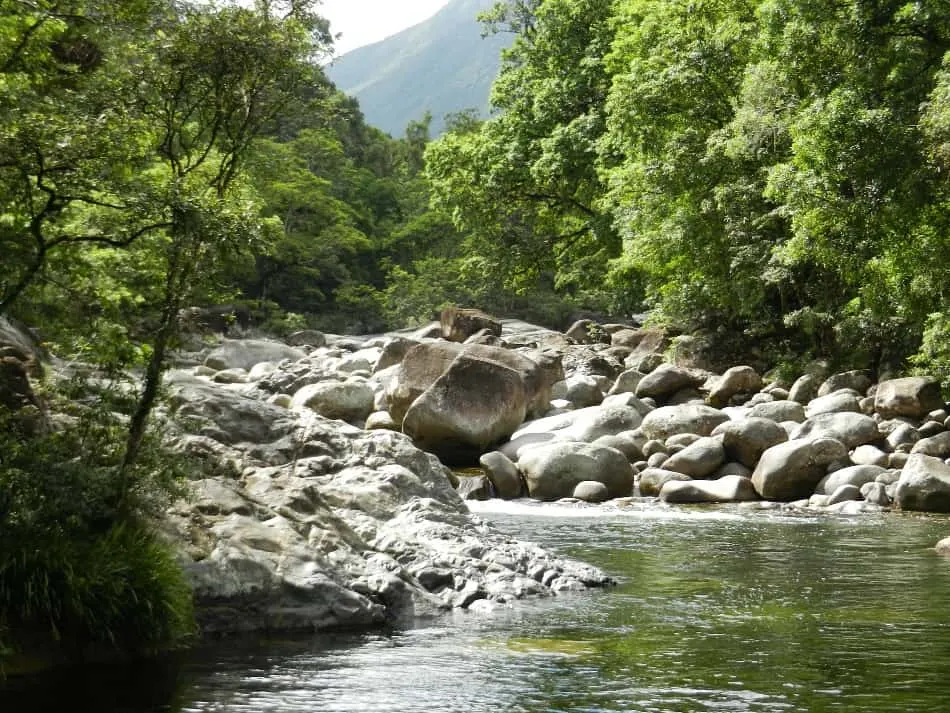 I think we've spent maybe 6 Christmases in Australia and Chef has worked every Christmas Day. This year he'll be home with us so we're hoping to make it a bit more special.
It's very normal for people to book into hotels over Christmas in Australia and the Christmas period coincides with summer heat and the long school holidays. Christmas was when Chef's hotel made most money with huge lunch and dinner buffets. There was no way he was getting the day off.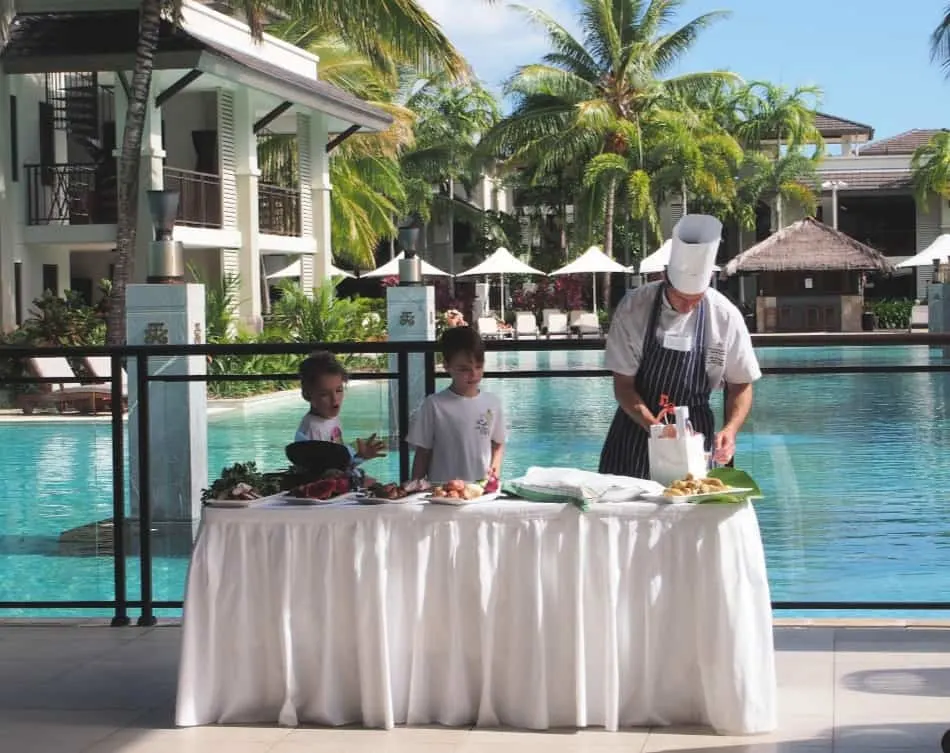 A perk of being Chef's family was that we got to spend a few days at his hotel- this one. (opens in new tab) It's a 5 star and one of the best in Far North Queensland, so we had lovely accommodation, good food, and that incredible pool, but without dad, it wasn't right.
This year will be different, I'll let you know how it goes.
Spending Christmas in India, Vietnam and Cambodia
These Christmases were a long time ago when we were travelling RTW or taking extended holidays, pre-kids.
Back then there was very little by way of western Christmas celebration in these countries but in India, specifically Christian Goa, we almost made it to midnight mass. The hotel staff invited us to go along with them but, unfortunately, we fell asleep.
On the backpacker circuit in Vietnam and Cambodia Christmas came with late night Christmas-Eve celebrations in bars, some decorations and Santa hats. On the big day itself we just carried on as normal. I suspect that today, Christmas will be a much bigger deal.
Christmas Gifts for Travelling Kids
We have a post with some gift ideas here.
Nobody with a travel lifestyle is going to gladly accept useless trinkets that have to be carried around the world. We can't waste baggage space nor weight allowances and posting items home is hard.
However, buying gifts for our travelling kids has never been an issue and yes, we do like to buy gifts. To us that IS Christmas, lots of presents including plenty of chocolate, so we do indeed buy presents.
Buying gifts of experiences is something we tend to do for birthdays. I like the kids to have plenty of unwrapping to do on Christmas morning, so yes, they get "stuff". But we keep their presents useful, necessary or short-term.
What do I mean by short-term gifts? Well, I like to buy things that they will use for a short period and then be done with. So, for example a kit to make something that once it's done it's finished with. A gift with a short shelf life that we don't have to carry around the world.
My kids are well used to my loathing of plastic so they don't expect that sort of item, short shelf life gifts don't have to be junk.
If it's something that can be re-used after my kids have used it we can leave it behind or pass it on to other people. We're very good at not becoming too attached to items.
Useful items we've bought for the kids at Christmas include all sorts of electronics, from laptops to phones to music players, nice smelling toiletries (we love LUSH), fun clothes (nothing boring), Kindle books, games, and travel gear.
Virtual gifts too, gifts that aren't physical like a subscription or a new computer game. These go down very well with my boys.
It's really not so hard to find things that they need and will love to receive as a gift at Christmas.
Christmas Gifts for Travelling Adults
My husband and I aren't really bothered about gifts so this isn't a big deal in our household. We tend to buy each other silly but useful things, chocolate, soap, socks, beer. It's pretty easy to make your partner smile on Christmas morning if the kids are happy.
Travel themed underwear was something Chef tried once, it was lovely, but just make sure you know your wife's, or huzband's size!
I love anything with a map on it. Check out these travel-themed scarves, that double as face coverings, scarves are always useful and don't come in different sizes.
Hiding Gifts and Wrapping Them With Kids and Backpacks
Santa has to come!
We're very good at subterfuge and dad's backpack is capacious. We've been lucky in that Chef has popped over to the UK a few times before Christmas when we've been in Romania. He'd go with an empty backpack, come back with a full one. I'm saying no more, but it's been fine.
I'm not a wrapper. I'm very aware of not using things that aren't recyclable, but we do wrap a few gifts for under the tree and the wrapping paper (be it traditional or brown paper) helps us start our winter fires.
Christmas Trees and Decorations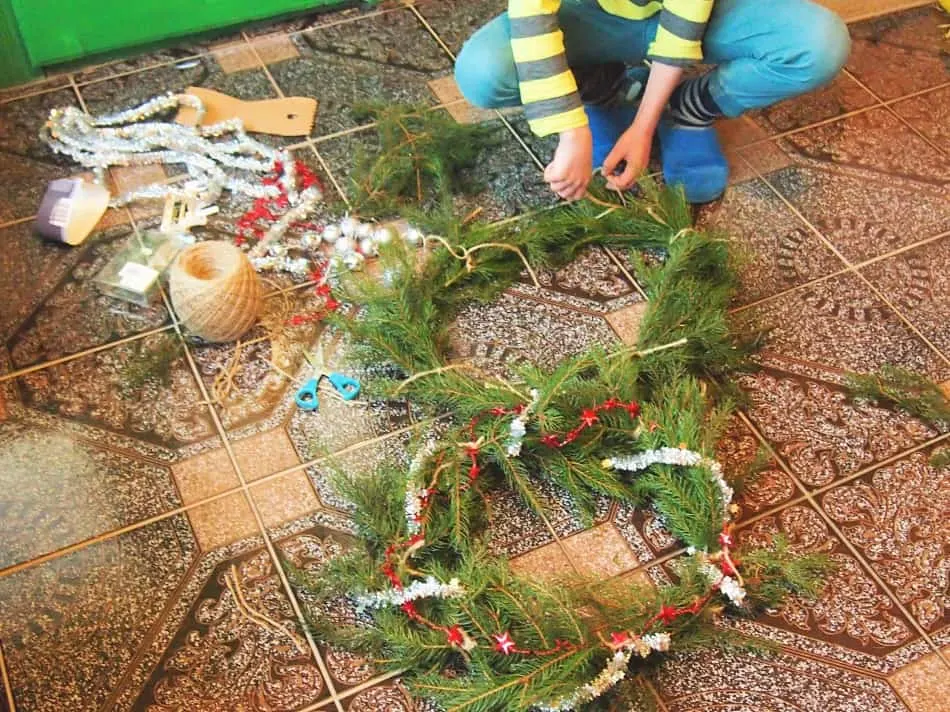 We keep it minimal. I'll put some very unconventional things on our Christmas trees from home-makes to any household item I have on hand.
In Romania we were blessed by nature so it was easy to fashion Christmas wreaths and other decorations out of pine branches and mistletoe. In other places we've gone without or found a small tree and lights.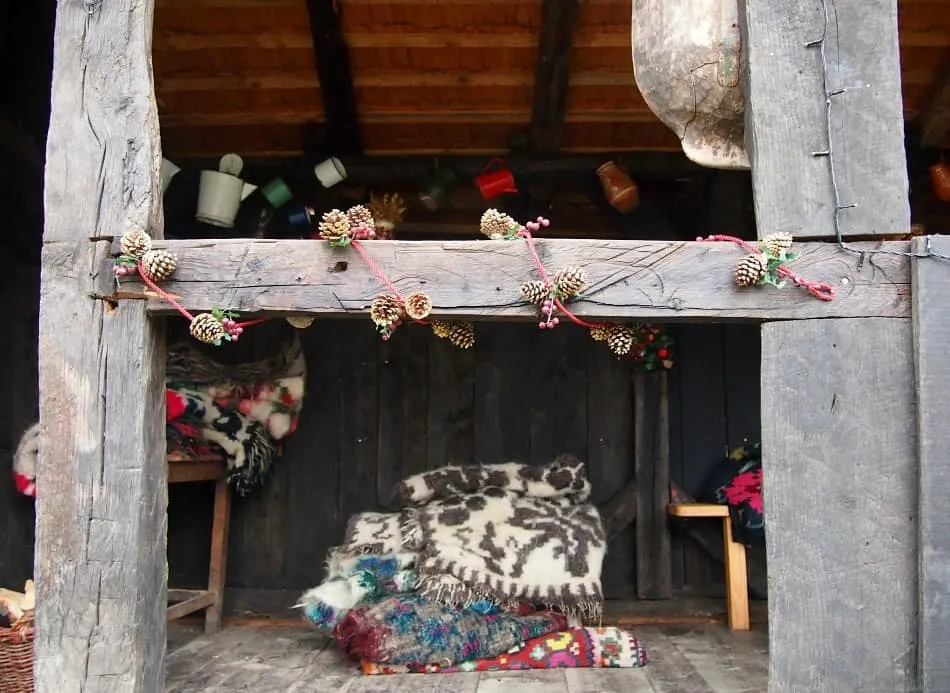 We've always bought stockings or Santa sacks, sometimes we use a sock, it depends. Those special stockings have been stashed around the world with various friends and family. Right now they are in a packing case on their way to Australia along with our rather huge Lego collection. We've never thrown away a Lego set and I don't think we've ever lost a piece.
I see Lego as an investment, not plastic junk. That stuff will last a lifetime and I'm hoping my grandchildren will get to use our sets one day.
Making the Whole Christmas Period special. Without Family or Parties
I've always felt the pressure of obligation at Christmas.
I'm not a party person (I'm an introvert) so having to attend parties and get-togethers has always been pretty low on my want list. However, this doesn't mean I don't love fun! I just need fun on my terms.
Having just my husband and kids with me, and sometimes a few very good friends, has been just perfect and we try to fill the whole festive period with fun things and good times. It's for the kids and for us.
So we'll splurge on meals out, an extra ski or skating trip, visits to markets and malls and sometimes, like last year in Singapore at Christmas, a theme park, zoo and more.
We also made that Christmas special with a few days on a private island resort. I know this costs. We're at that stage of our travel blogging career that we can do this, but as new travellers on a tight budget our Christmas fun came much cheaper.
Do we Miss Christmas "At Home"
Honestly, no.
I miss my parents and my brother's family and it would be nice to spend Christmas with Great Grand Nanna, but we can't so we don't.
Christmas isn't a big deal to us, maybe it is to you and you have Christmas-card-perfect family gatherings, but that's not the case in our family and never has been. The sacrifice of " missing:" Christmas is tiny in comparison to what we've gained, so we're happy with the balance of our lives.
This Christmas the boys' uncle will be with us. We're looking forward to stuffing our faces with turkey and drinking too much with Uncle Toby because it will be something different. Next year I really hope we're back on the road experiencing new things and new places.
In all honesty, Christmas just gets in the way for us. We're too busy to have to slot Christmas into our lives, but we do, for the kids. We want them to have every experience and every memory of a childhood well spent and surrounded by love.
I think because (almost!) every day is fun for us we don't look forward to the holidays as other people do. Sure, I work. I'll probably work a bit on Christmas day when I'm not busy with kids and cooking. I love my job, so taking time off isn't a focus.
Don't forget that you will experience and be a part of so many more festivals and celebrations on the road. If we felt we'd missed out on Christmas there is much to be gained by immersing yourself in other traditions. Tet in Vietnam, Diwali in Nepal, Easter in Romania, Thaipusam in Kuala Lumpur, every country has new and amazing festivities to enjoy.
We hope you have a lovely Christmas wherever you are and I just hope we all get through our Christmas pleasantly and stress free. Then back to travel!
How do you feel about Christmas? Is it a big deal or would you rather it was cancelled?
If you'd like to hire a car during your stay, use this car rental comparison tool to find the best deal!

We also suggest you take a look at this company to get a quote for all kinds of travel insurance.

Try Stayz / VRBO for an alternative way to find rentals on homes/apartments/condos in any country!